35 meals and snacks for UNDER $2.50 per serve
We at The Healthy Mummy believe everyone should be able to eat healthy meals no matter what their budget is.
In fact, Kaitie Purssell has shown us just how CHEAP meal prepping for the week with healthy food can be as she makes 22 meals and 13 snacks from the 28 Day Weight Loss Challenge for UNDER $2.50 per serve. 

Plus good news is that we have also got a BRAND NEW BUDGET Cooking book NOW IN ALL STORES and you can get over 120 budget recipes in here all under $2.50 a serve!
22 meals and 13 snacks for UNDER $2.50 per serve
"This month the 28 Day Weight Loss Challenge is focused on making servings for under $2.50," says Kaitie. "I don't have to cook for weeks now!"
In total, Kaitie spent around $80 on all ingredients needed for her meal prep.
What Kaitie made
Asparagus Chicken Mini Muffin Quiches x 9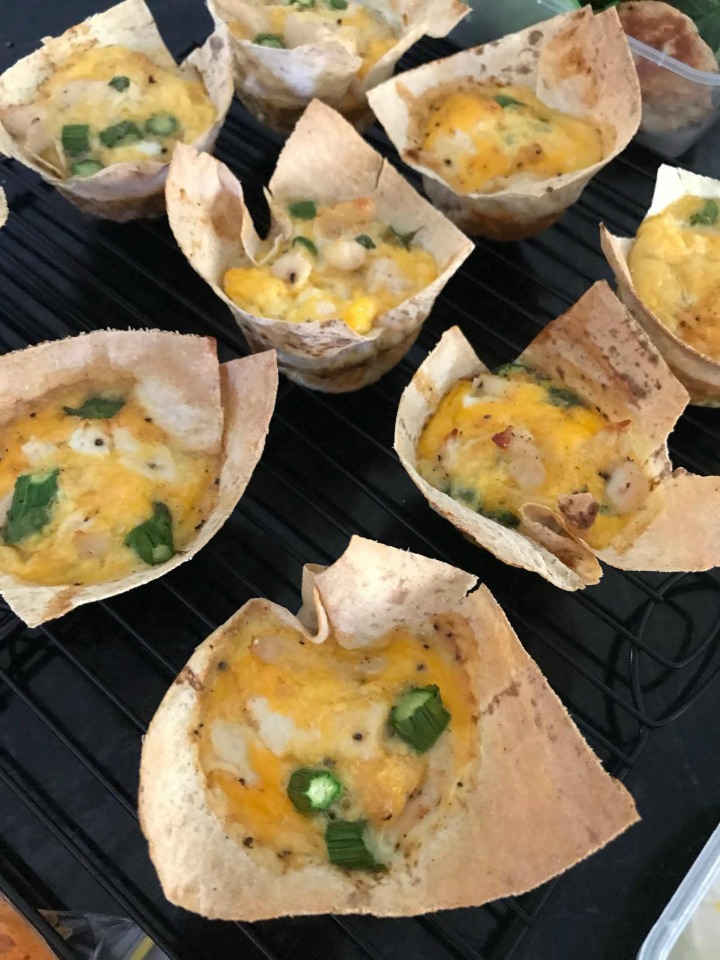 These mini quiches are a great savoury snack and super easy to make using Mountain Bread. They are perfect to make in a batch as they can be stored in the fridge for 3-4 days and can be served hot or cold. These quiches are 203 calories per serve. Or you could try this delicious mini quiche recipe!
Warm Honey Soy Chicken and Quinoa Salad x 5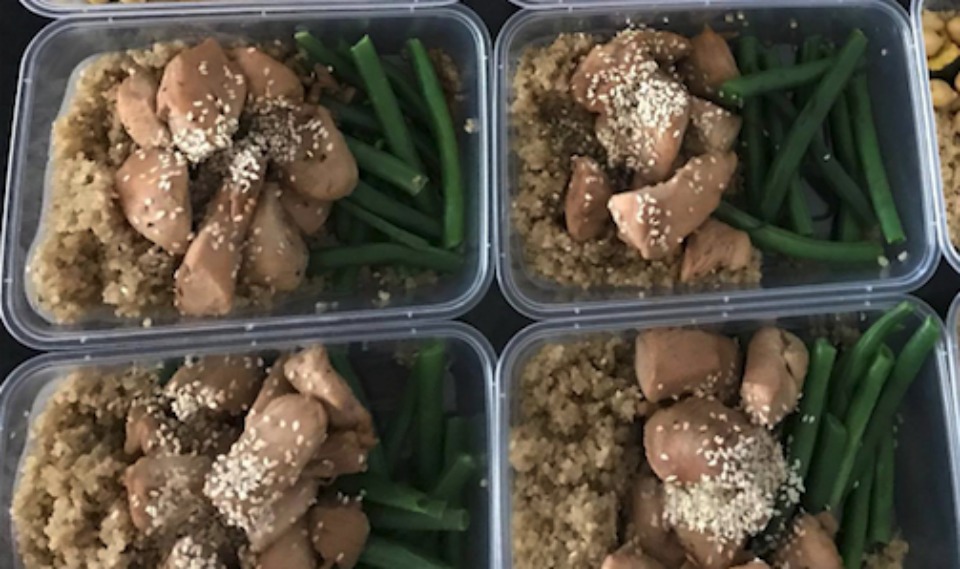 An easy to prepare, budget and family friendly meal. You could also use chicken thigh instead of chicken breast if you prefer, as this cut is usually cheaper than fillet. This is 242 calories per serve. 
Tandoori Chicken (uncooked ready to cook up when needed) x 8 
Brown rice is a great high fibre option to maintain fullness and slow the energy release of the meal. Combined with the lean protein of the chicken and spices, this meal will be a great addition to your menu – and it's only 430 calories per serve.
Jerked Chicken Skewers (minus the skewers) with coconut rice x 4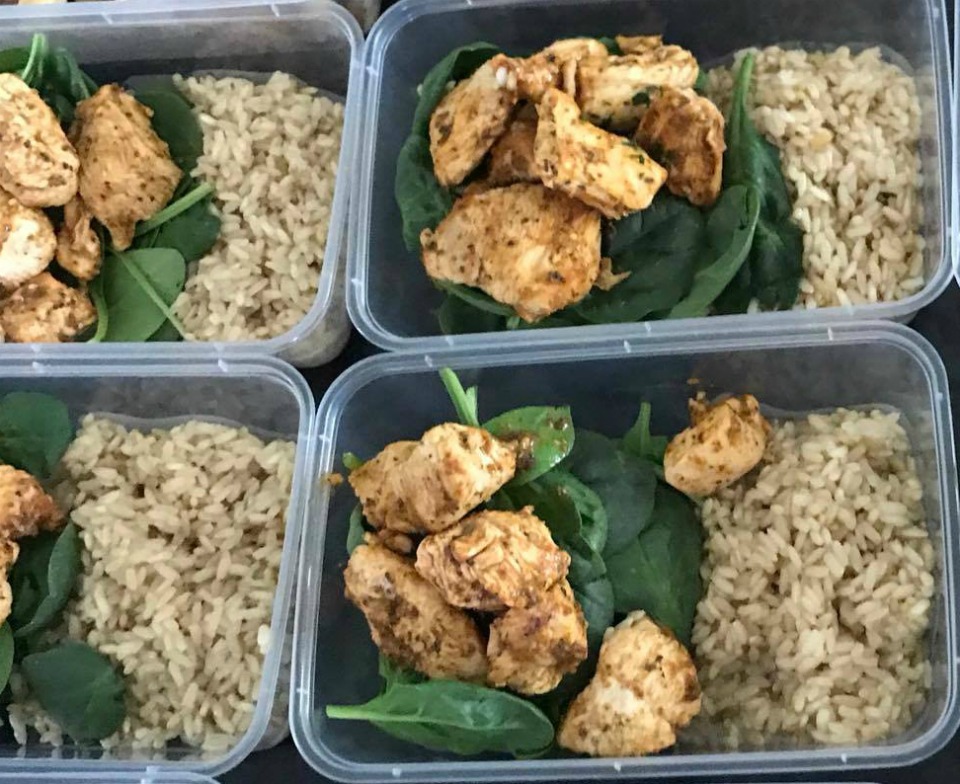 Bring some Cajun flavours to your kitchen with these chicken skewers. Jerk spice mix can be found in most large supermarkets with the herbs and spices or try a local deli that sells pre-made spice mixes. This meal is 390 calories per serve.
Chicken Rissoles with Veggies x 4 serves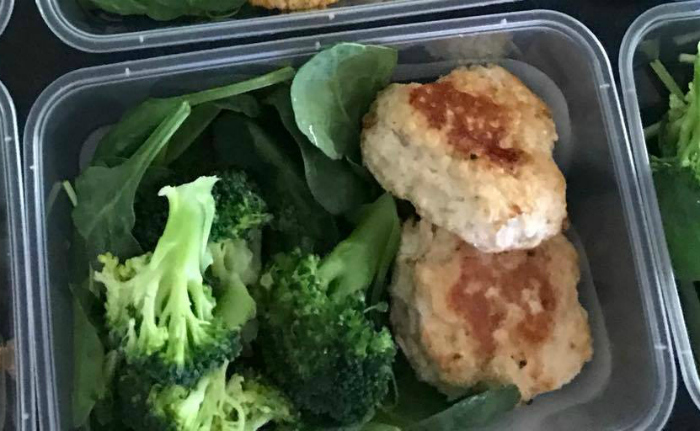 Using minced chicken, beef, lamb or pork in your meals is a great way to save money. Choose a lean mince to avoid excess saturated fats. This meal is 421 calories per serve.
Roast Veg Cous Cous with Mint dressing x 5 
Chickpeas are a great vegetarian and budget friendly replacement for your typical meat protein in meals. To keep costs down even more, you can swap the veggies for whatever is on special at your local greengrocer. This meal is 450 calories per serve.
Choc Chip banana bread x 4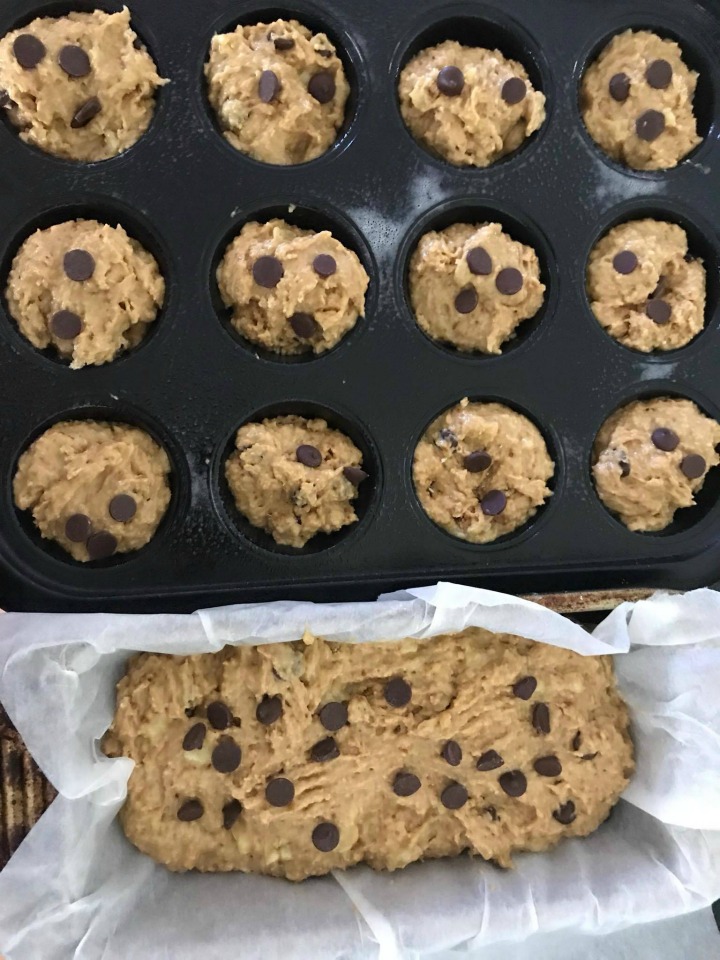 Banana and chocolate work so well together and this bread makes use of both fantastically. Plus, it's only 179 calories per serve!
Yogurt with passion fruit x 4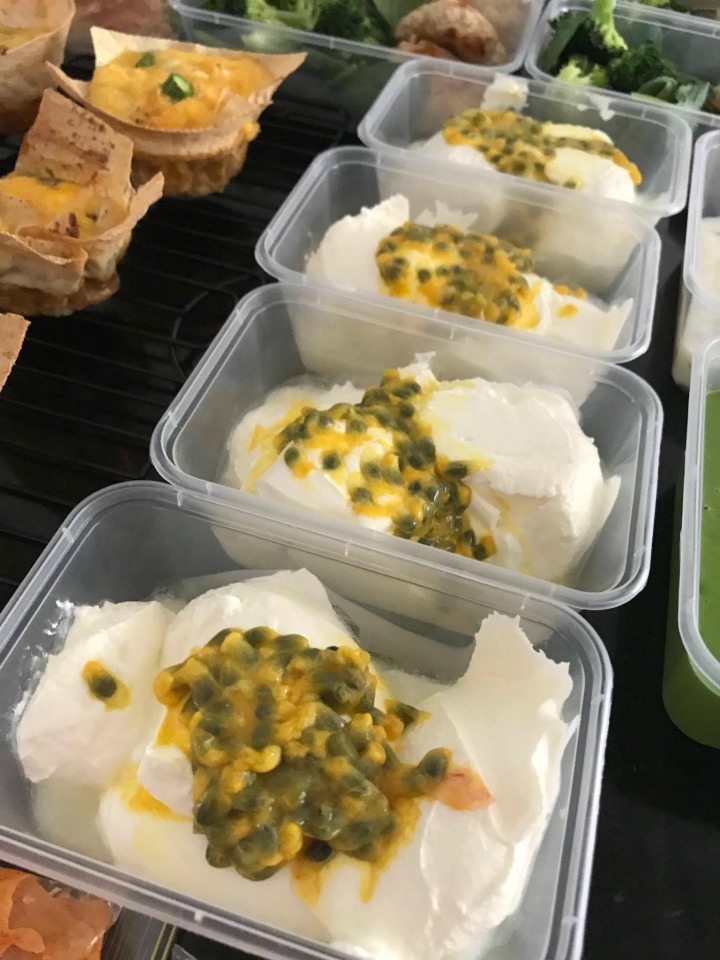 Extra items Kaitie purchased and included in her meal prep 
When it comes to your own grocery shopping and meal prep – here are some hot tips to keep costs down:
Bulk out beef with lentils
Use the same vegetables in the meals for the week to keep costs down
Opt for frozen vegetables (usually cheaper than fresh)
Bulk buy
Shop around and search the internet for supermarket specials prior to shopping
Always plan your meals prior to shopping and make/take a list, that way you only purchase what you need
Repeat meals and make use of leftovers
All the recipes Kaitie used for this meal prep come direct from the 28 Day Weight Loss Challenge – A Healthy Mummy weight loss and healthy eating program created especially for mums to help them hit their goal weight and improve their overall health.
All 28 Day Weight Loss Challenge members have access to these recipes.
The 28 Day Weight Loss Challenge includes a monthly (4 week) meal plan, which consists of 3 snacks and 3 main meals a day. As mums ourselves, we have ensured the 28 Day Weight Loss Challenge is family-friendly (meaning the kids will also enjoy these recipes), breastfeeding-friendly and of course budget-friendly.
So if you want to tackle your inner health, create affordable healthy meals and become a meal prep Queen like Kaitie – join our 28 Day Weight Loss Challenge.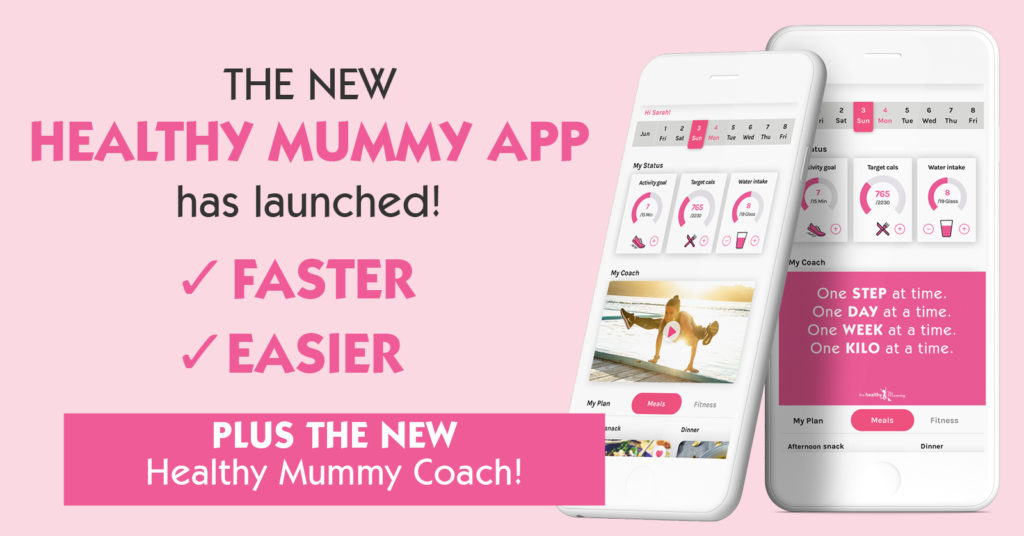 Kaitie's 21kg weight loss story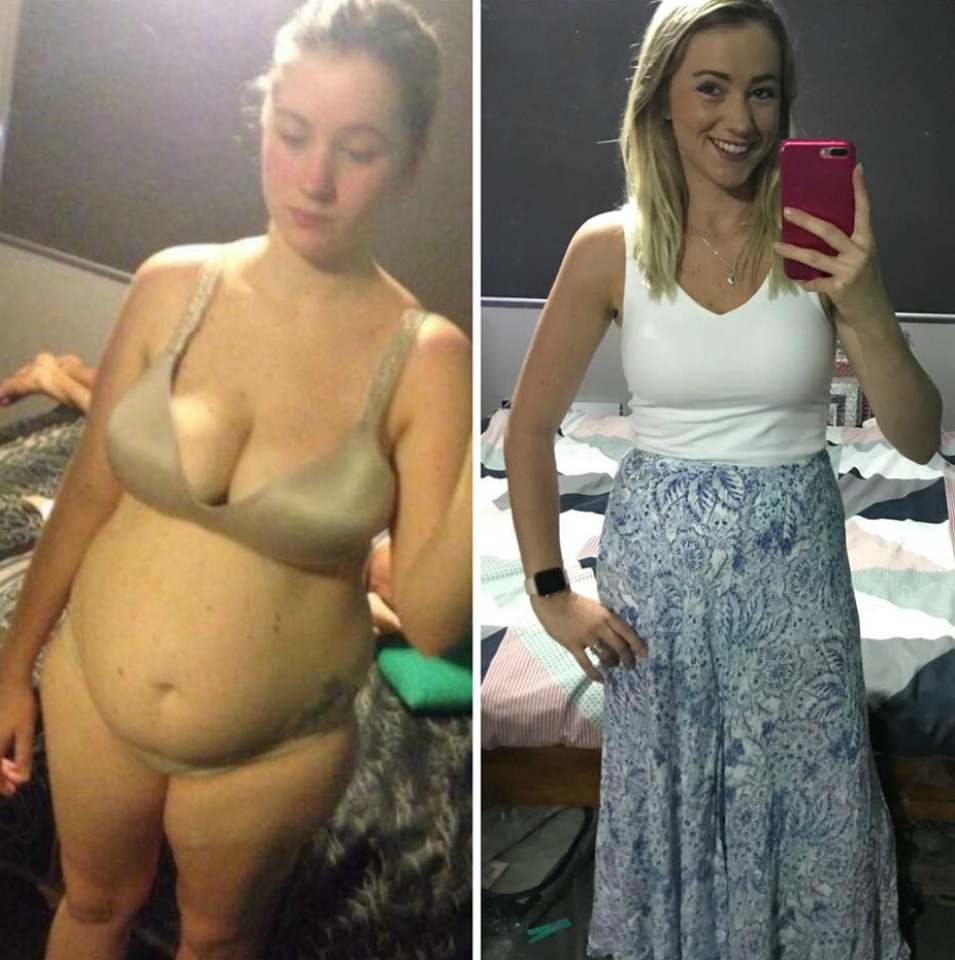 Kaitie credits her incredibly quick slim down to the 28 Day Weight Loss Challenges as well as The Healthy Mummy smoothies which she has now added to her regime to maintain her weight loss.
Kaitie says, "The Healthy Mummy has changed my views 110%! I love healthy food, I know what is in almost everything I eat, I save money and, believe it or not, in most cases, time by using the Healthy Mummy Meal Plans and cooking most things from scratch."
But Kaitie admits that her downfall was her diet. "For me, food has 90% contributed to my weight loss. I love food, I always have but I'm very slowly starting to love me too."