How this mum makes her healthy lifestyle work for her WHOLE family
This mum-of-two has lost an incredible 15kgs and is LOVING her new fit and healthy lifestyle overhaul.
Being on the 28 Day Weight Loss Challenge has not only helped Julie improve her physical health but she says it's had a positive influence on her entire family.
Here's how she makes it work for everyone in her household…

Mum makes her healthy lifestyle work for her WHOLE family
Julie is a busy working mum and has two little girls aged five and two, and she has been a 28 Day Weight Loss Challenge member for around three years now.
"I wanted to talk a little bit about how I use the Challenge and the App to make it work for me and my family," she says.
"One of my favourite things about the 28 Day Weight Loss Challenges is the awesome App and how easy having all of the information in the palm of my hand! Everything I need for meal planning and exercise are right there in the App."

Julie says both of her girls have different allergies but she can easily adjust her families meal plan.
"I do this to make this work for us, I have also found that many of the recipes are also easily adaptable to be free of my girls allergens," she says.

"Every week, when meal planning I can use the search function in the recipe hub to find meals specific to my family's needs and then I go from there – we need dairy, egg and nut free meals and there are plenty to choose from.
"One of the all time favourites that my girls love (as well as hubby and I) is the Devilled Sausages! This meal is guaranteed to be gobbled down!"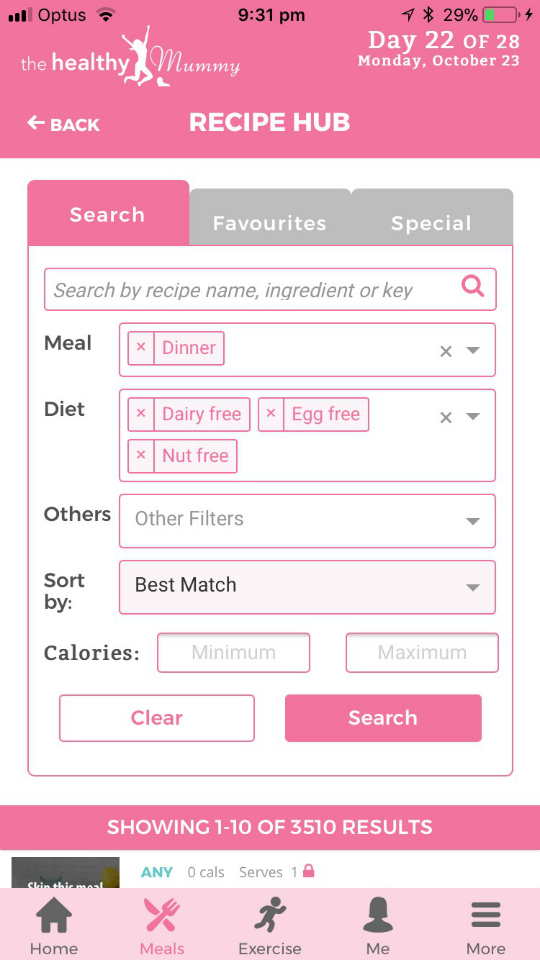 For the Devilled Sausages recipe, click here.
Working out in the comfort of your own home
Julie says she also loves that she can workout at home and doesn't have to sign up to an expensive gym.
"As I am a working mum, I have to try and fit my exercise in around my day. Personally I find it hard making it to a gym to workout and much prefer working out at home," she says.
"Over time, more and more exercise options have been added to the App which are all great for home workouts. My personal favourites at the moment are the Butt and Thigh workouts and the Core workouts – both are around 10-15 minutes in duration so easily able to fit in my day, I just set myself up in my lounge room and hit "play" on the workouts!

"My biggest tip to mums starting out on the Challenge, is to explore all the features as there are SO many great ones and it really is fully customisable and able to work in and around any family."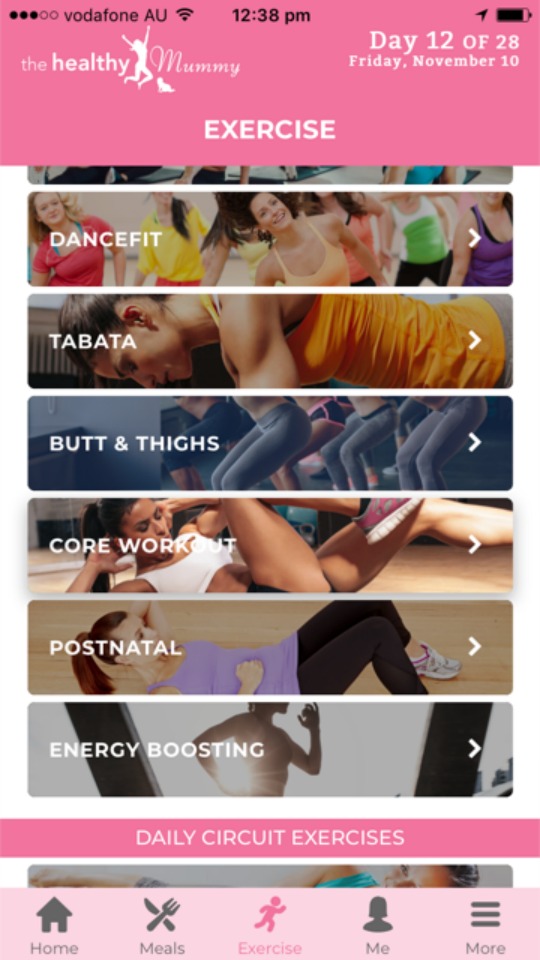 Julie's 15kg* weight loss story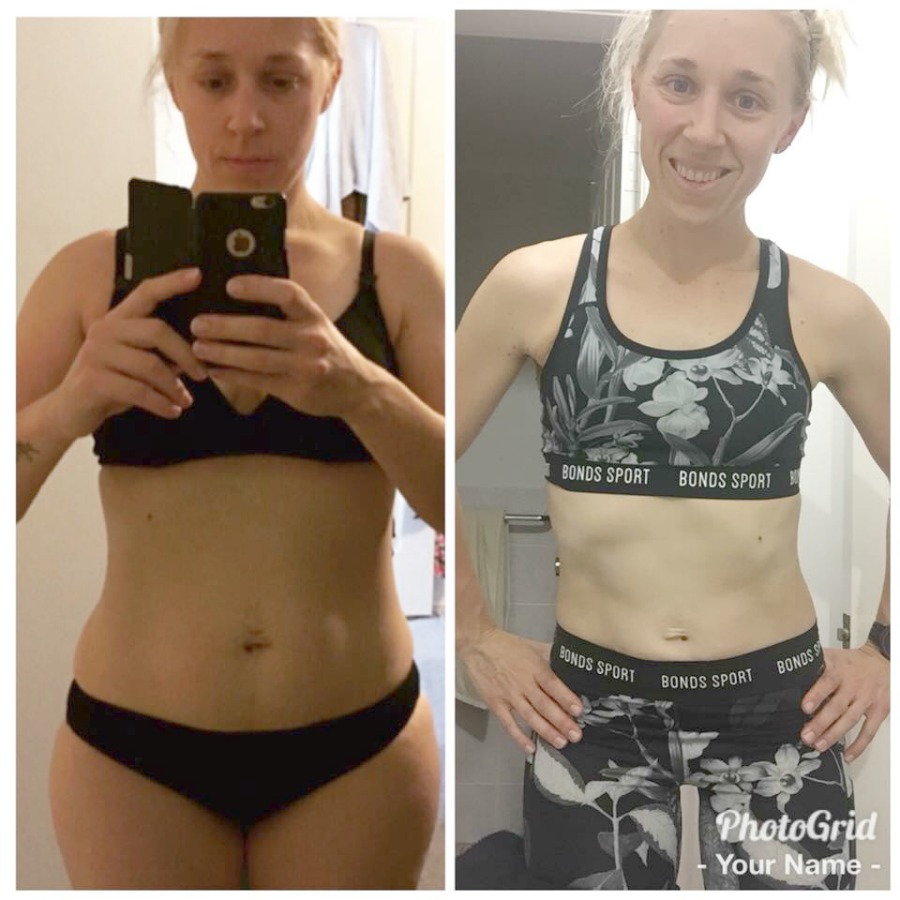 This mum-of-two has lost 15kgs and is loving her fit and healthy lifestyle.
Being on the 28 Day Weight Loss Challenge has not only helped Julie improve her physical health but she's also more confident than ever!
Julie says, "I was once that girl that thought I could never really be happy with what I saw in the mirror and never in my wildest dreams did I think that would be possible after having two kids but here I am!
And wow, she certainly looks fantastic!
"I've lost 15kg thanks to The Healthy Mummy and I couldn't be happier! I am fit and healthy and I like what I see!"
You're amazing Julie, keep it up!
Looking for ways to boost your energy?
We love these energy boosting exercises, but another great way to BOOST them is by joining our NOVEMBER 28 Day Weight Loss Challenge. Our November Challenge is our ENERGY BOOSTING CHALLENGE. That means, our meal plans will be loaded with recipes to not only help you lose weight, but feel energised!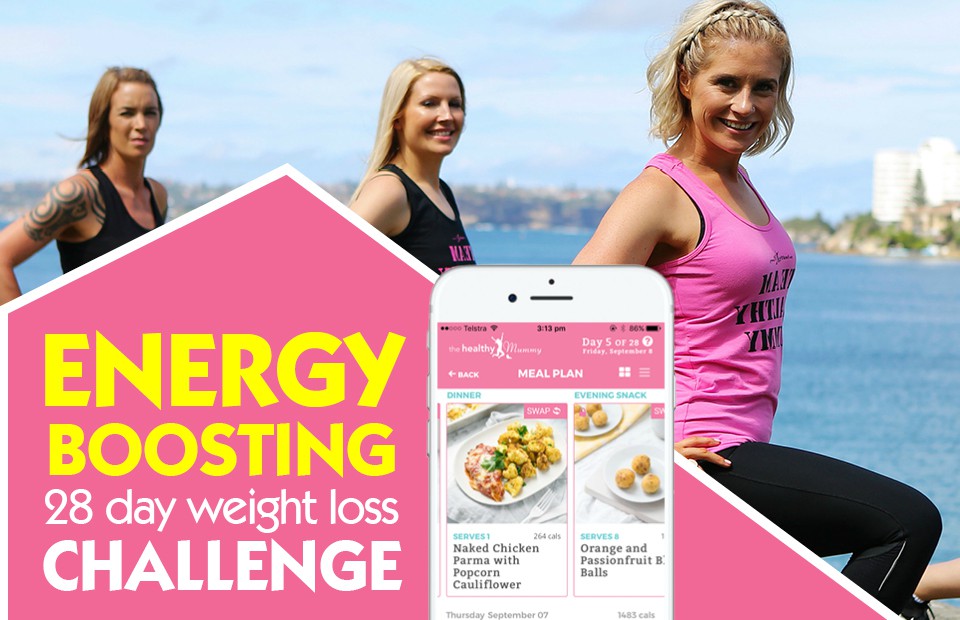 Our Challenge entails:
28 days of at home exercise routines (no gym needed) – with video instruction
Customisable and breastfeeding friendly meal plans
Time-efficient exercises for busy mums – under 30 mins
Challenge combines Pilates exercises with interval and circuit training (HIIT)
Suitable for basic to advanced fitness levels
Home to thousands of EASY-TO-MAKE recipes!
NEW CHALLENGE STARTS MONDAY
To find out more on the 28 Day Weight Loss Challenge click here.