Mum dropped over 35kg reveals what she eats in a day
We at The Healthy Mummy celebrate ALL women, no matter how much weight they've lost. This amazing mama may have lost 36kg by following the 28 Day Weight Loss Challenge – but more importantly, she is now loving her body.
Melissa reveals she is determined to reach her goals and boost her confidence in the process.
"By the end of this year I want to be 100% confident with my body and be able to fit into a size 8, I'm currently a 10," she says.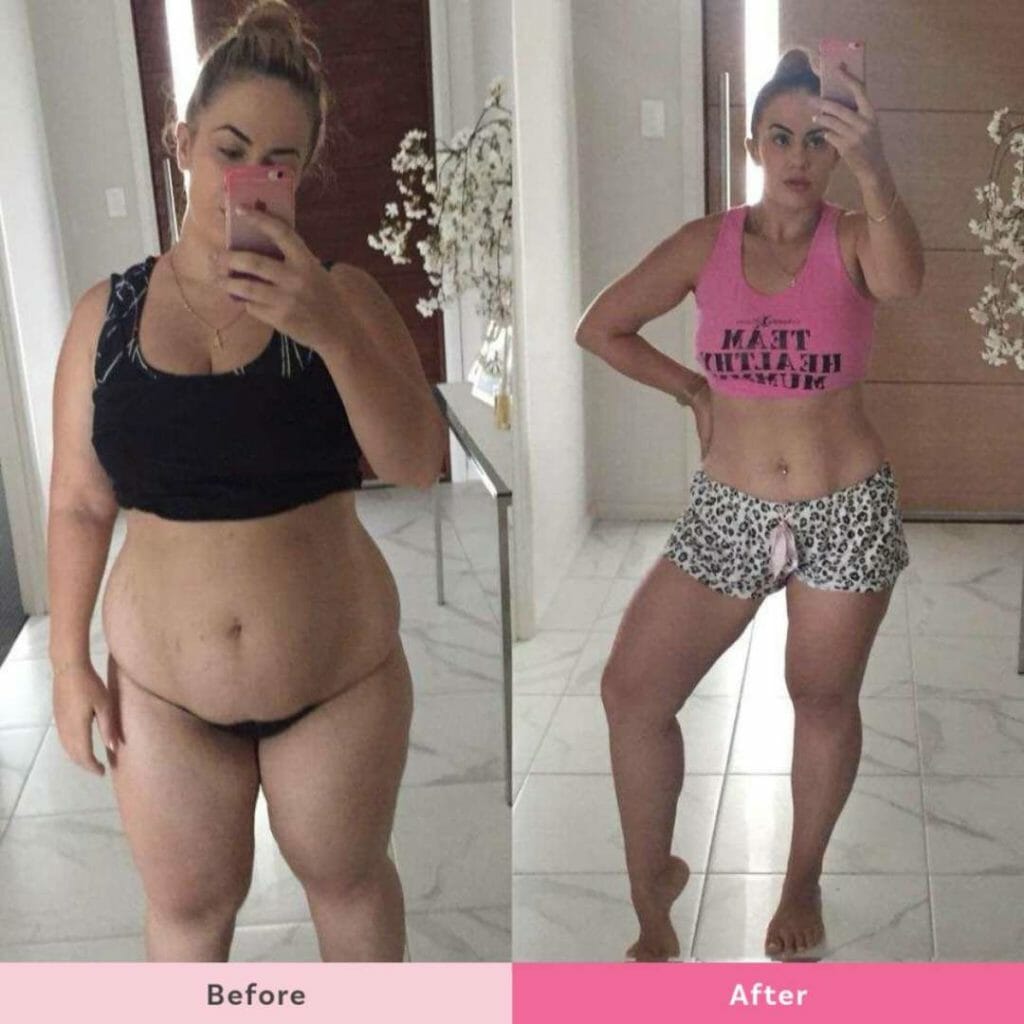 How Melissa maintains her weight loss
Since losing 34kg, Melissa is now down to 73kg and is looking forward to getting to 70kg by building and toning her muscles.
"I would say my meal plan is high protein, moderate carb intake," she says.
The busy mom-of-two has not only been following the 28 Day Weight Loss Challenge, she's also been drinking The Healthy Mummy smoothies, which work as a healthy meal replacement.
What Melissa eats each day:
Breakfast – Healthy Mummy smoothie in banana flavour with almond milk, oats, blueberries, half a frozen banana and honey.
"At about 12.00 I'll have a snack usually rice cakes with hummus and tomato," she says.
Lunch – Another smoothie, ice, almond milk, raspberry, frozen banana and Healthy Mummy vanilla shake mix.
"For afternoon tea around 4.00, I'll have a piece of fruit or yoghurt," she says.
Dinner – A meal from the 28 Day Weight Loss Challenge recipe hub, usually chicken and vegetables, Mexican, pasta, rice, or Italian.
Melissa reveals she's looking forward to the March Challenge – which is all about toning your booty and thighs.
"I love working on my butt I've always had a booty so it's good to be able to get that nice and perky, firm and round," she says. "My legs are a stubborn area so I'm excited to see how I can change them in a month."
Join Melissa on the 28 Day Weight Loss Challenge!
With more than 4,000 delicious (and healthy) recipes, 350 exercises & 24/7 support – the 28 Day Weight Loss Challenge is designed (and proven) to help busy mums like you lose weight!
To learn more about our challenge OR to join – click here.