Mums have gone on a BULK Cooking frenzy with the Healthy Mummy's 3 pot Meal Plan!
Mums in the Healthy Mummy community have been cooking up a storm in their kitchens with the new 3 POT Meal Plan!
Wow! Mums in the Healthy Mummy community have been cooking up a storm in their kitchens with the 3 POT Meal Plan as part of the 28 Day Weight Loss Challenge!
For anyone new to bulk cooking, this meal plan and its recipes provides a great opportunity for mums to get the most out of their time in the kitchen. By cooking up 3 bulk healthy recipes every week means the hard work is done in one fell swoop for lots of other wonderful and healthy meals to be used later in the week.
How the 3 Pot Meal Plan Works
All the meal plans in the Healthy Mummy App are completely customisable, giving you full control of what you cook. This includes the 3 Pot Meal Plan, which gives you 3 bulk recipes and then 3 different recipes to use them in. For example, The Bulk Asian Chicken becomes Asian Chicken with Rice and Broccoli, Satay Noodles, and Rice Paper Rolls.

For busy mums, having this head start, and knowing what you'll be cooking during the week, takes all the stress out of midweek meal times.
Not that these mums needed convincing! They couldn't to wait to try out the new recipes, save time and money and get organised!
Why do Mums love these Bulk Recipes?
Bulk Recipe 1 – Chilli Con Carne
Natalie Wyatt jumped in with the Bulk Chilli Con Carne. This can also be served with rice, Chilli Stuffed Capsicums or Chilli Nacho's Tray, or in any way you want that suits your family.
All these recipes are in the Healthy Mummy App.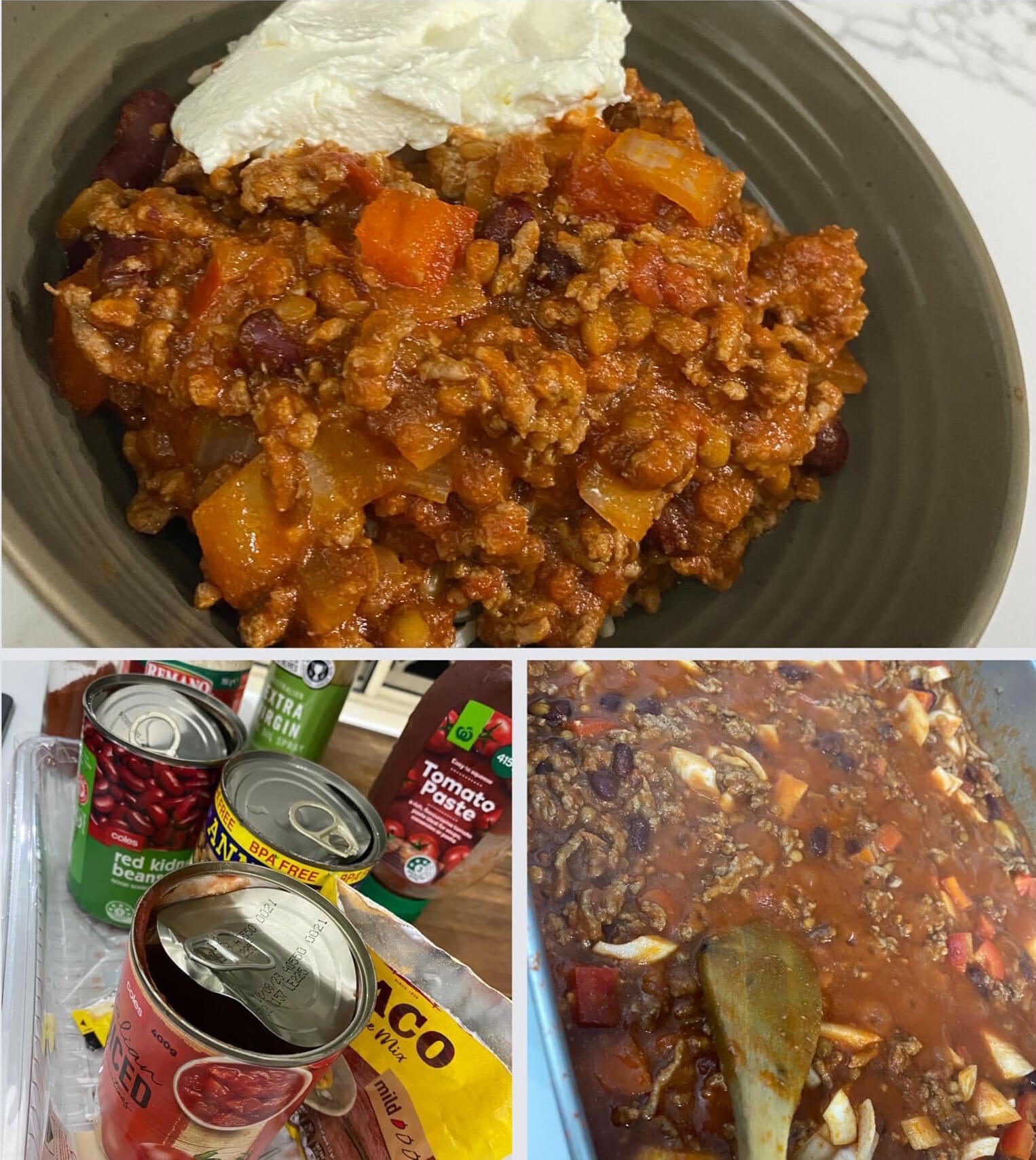 Natalie said, 'Bulk Chilli Con Carne. This is the best way to save money and time and such a great idea. It made 3 more extra meals for us (there are 3 of us) plus dinner tonight. We made the bulk chilli con carne with rice.'
Perfect for saving money and busy lifestyles.
So easy to make and saves so much time
Such a nice taste and not too chilli but you could add more but we kept it tame for the teen
So cost-effective as I has most things in pantry just had to buy mince.
Mum of 3 Danielle Mueller from Melbourne also loved how cost-effective the Chilli Con Carne is, and used it to serve with rice AND make the Chilli Nacho's Tray.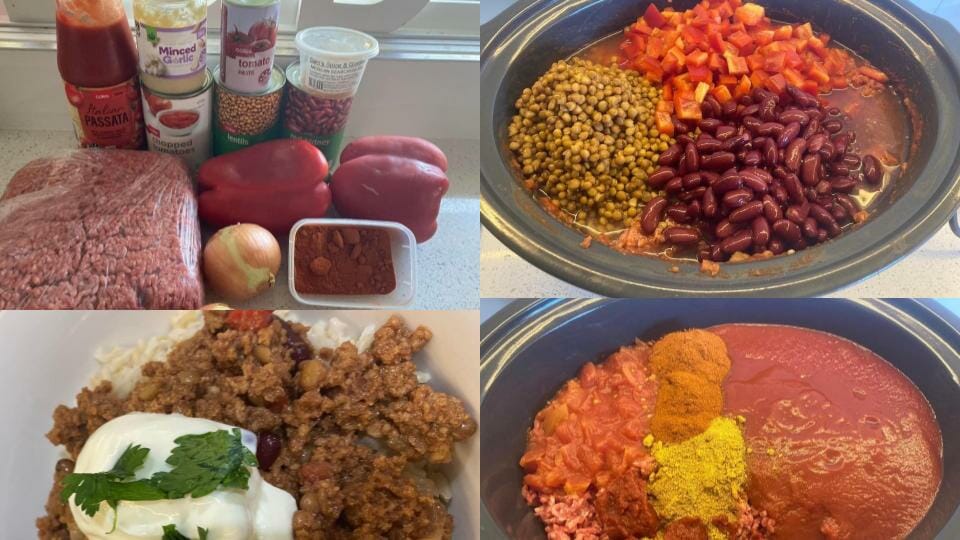 She said 'Bulk Chilli Con Carne in the slow cooker! Just for the meat this has only cost me $1.68 per serve because before doing the grocery shopping I checked my pantry and realised I only needed mince and capsicum!'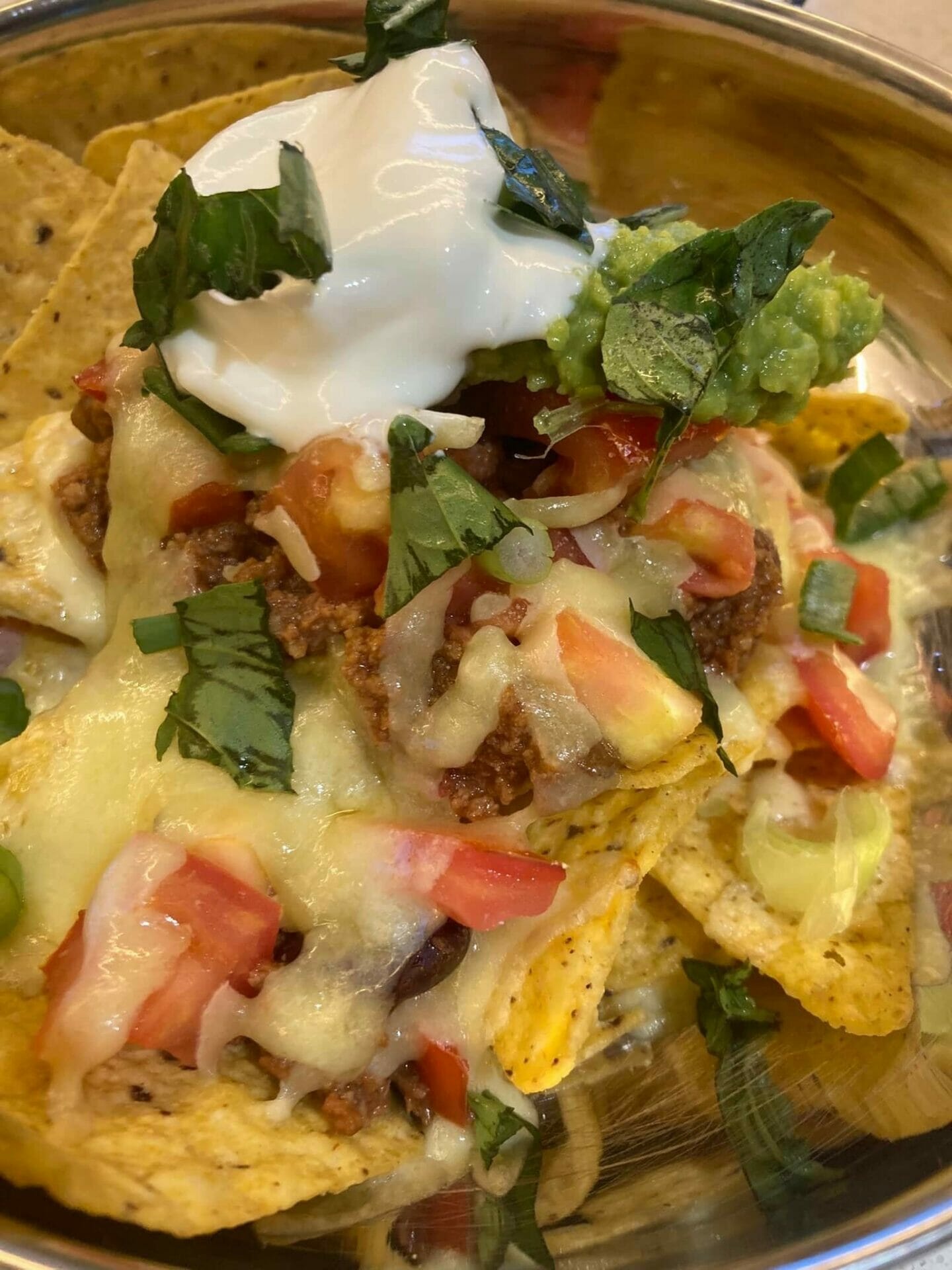 'Bulk Chilli Con Carne, Chilli Nachos Tray! What a great recipe! I didn't even have to do anything, master 7 prepared and made it all. Sorry I lied all I had to do was put it in the oven and on the table! But this is what I love about Healthy Mummy, it allows everyone in the family to be involved especially when a mum needs a break from cooking!'
'This was a hit with everyone but one child! So quick and easy and took less than five minutes! This is the kind of meal I love!'
Mum of 3 Jessica Lewis from the Gold Coast has lost 29 kilos with the Healthy Mummy and reveals the 3 pot bulk cooking meal plan came just at the right time for her!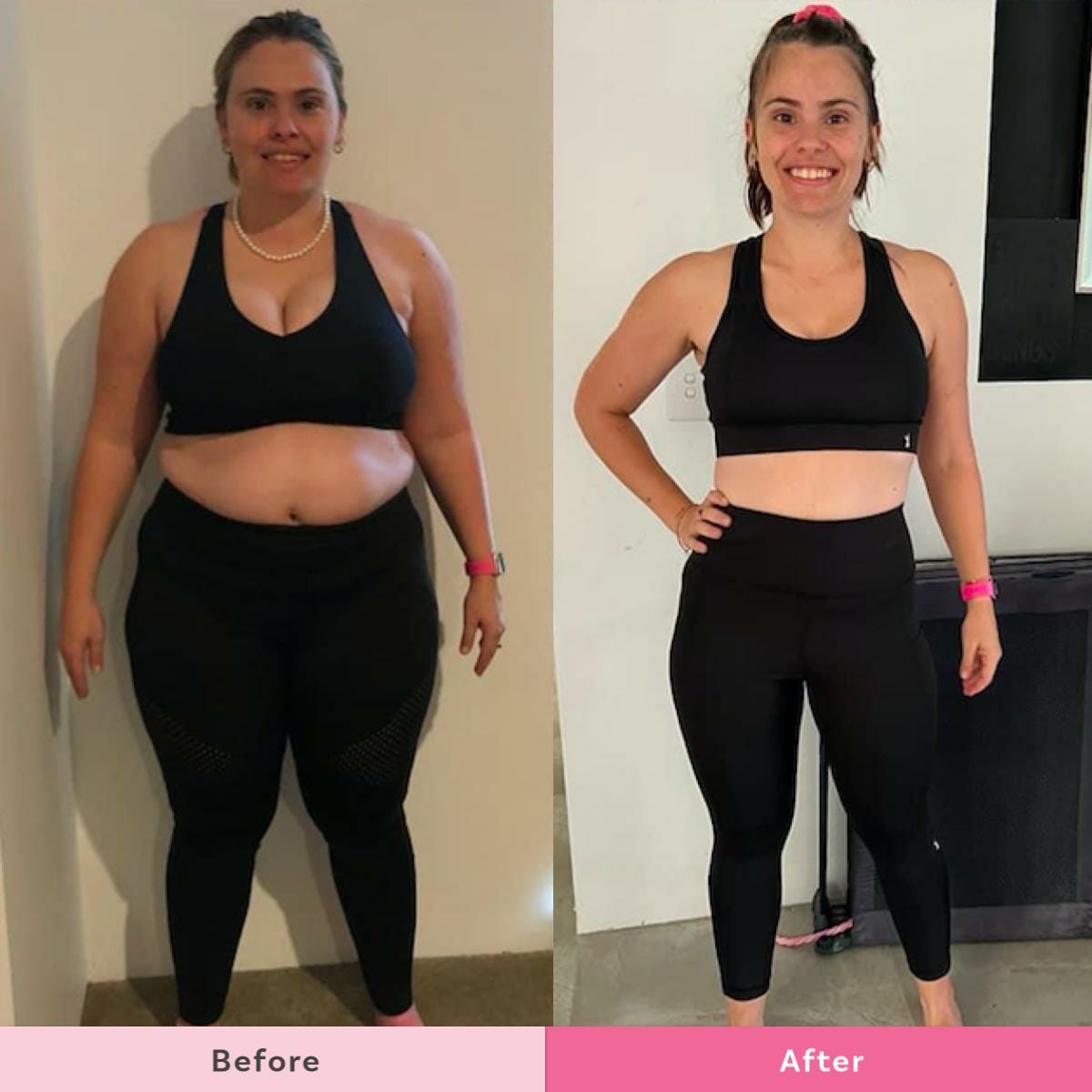 She says, 'I recently returned to full-time working and it's been tough. Trying to fit in exercise and cooking when I'm getting little sleep however the problem is I know how good I feel when I do these things so I'm not giving in until I'm settled! Then came the bulk meal recipes – it's like the Healthy Mummy knew I was trying to find a way to bulk and cook less often.'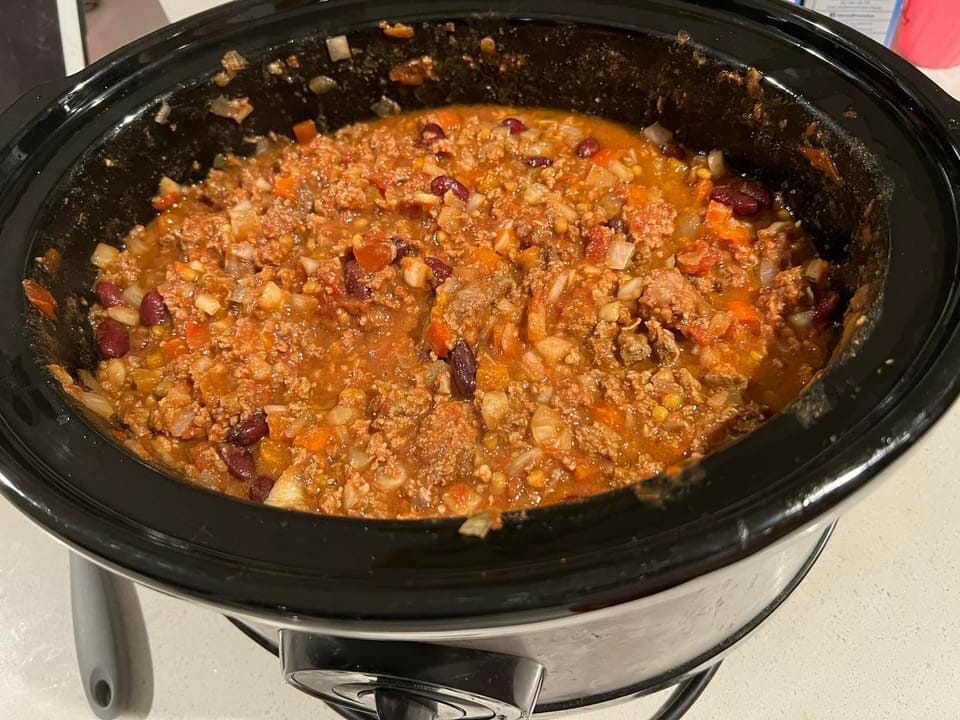 'Tonight I pre-prepared the bulk chilli con carne and I'm so excited for tomorrow!!! We are having the chilli nachos tray tomorrow; Thursday we will have chilli con carne with rice and Friday burritos with the same mix!! This is really going to be a game-changer! This will save me $ as there is less ingredients to get and time because basically next to no cooking other than heating the meal! Thank you Healthy Mummy! Genius!'
Bulk Recipe 2 – Cheesy Veggie Bake
Another great bulk recipe on this weeks meal plan was the Bulk Cheesy Veggie Bake, which can be turned into the Cheesy Tuna Veggie Bake and the Cheesy Veggie Bake with Sausages.
Get the Bulk Cheesy Veggie Bake recipe here
Healthy Mummy Amy Barden made a bulk batch for the week.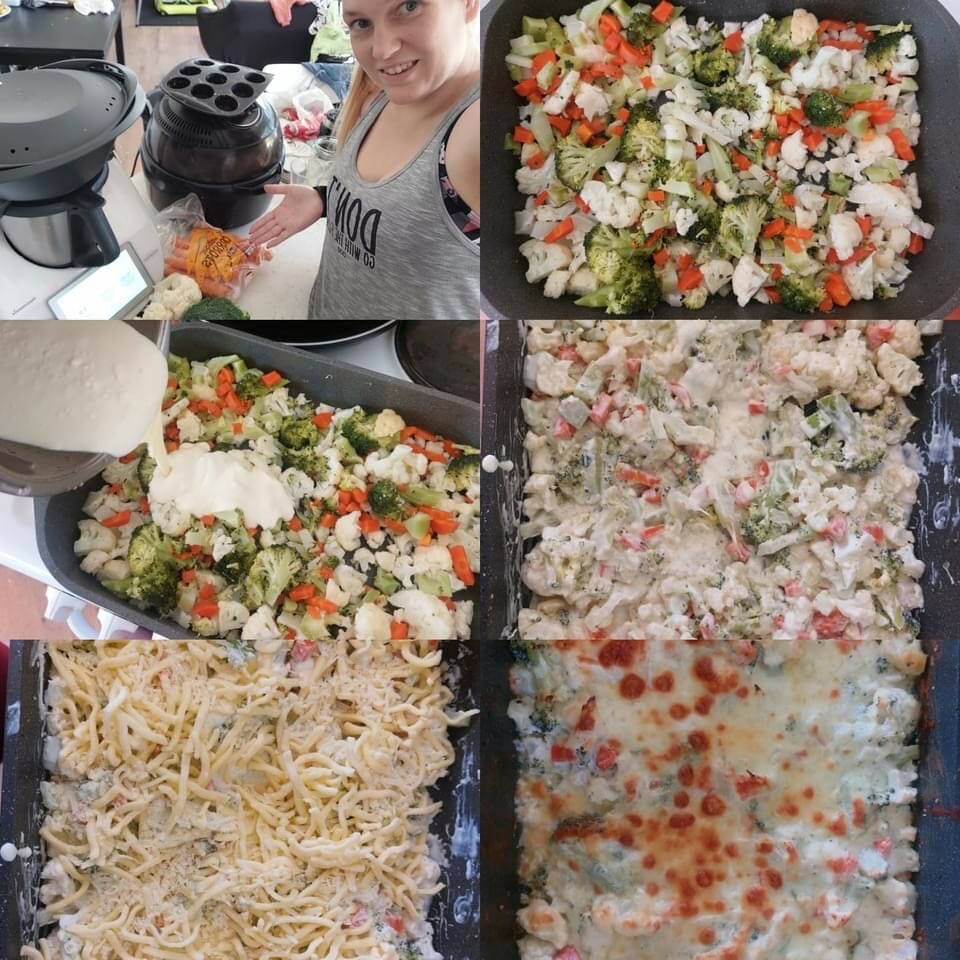 'Bulk Cheesy Veggie Bake! This meal is great on its own, add some meat to the side or bulk out with pasta (especially for meat-free Mondays). I'm going to try one a week for the Sugar detox challenge as I know it will help with going back to work full time.'
Busy Mum of 9 Lisa Rylance from Brisbane was also a big fan of the Bulk Cheesy Veggie Bake. The recipe makes two casseroles which serves 6 each and can be used a number of different ways.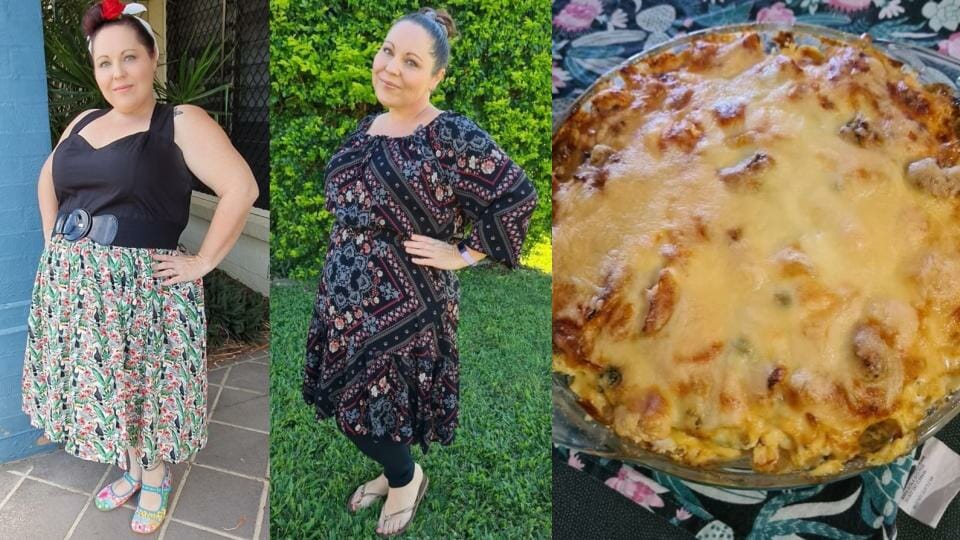 Lisa says, 'BULK CHEESY VEGGIE BAKE from the Healthy Mummy App! This one dish is part of the THREE POT MEALS,. What a game changer, it will save heaps of time in the kitchen!'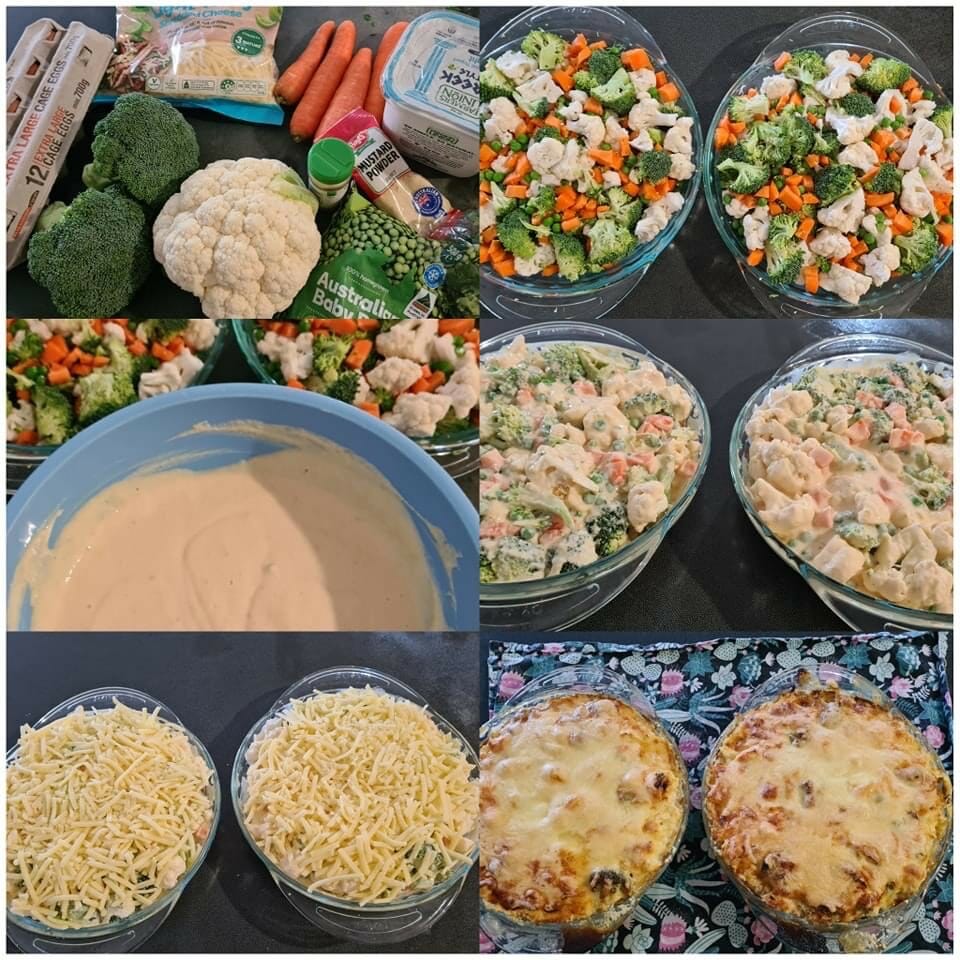 Healthy Mummy Grace Young, who has 7 children loved how the Bulk Cheesy Veggie Bake saved her a heap of cash, plus gave her the base for different meals for the week!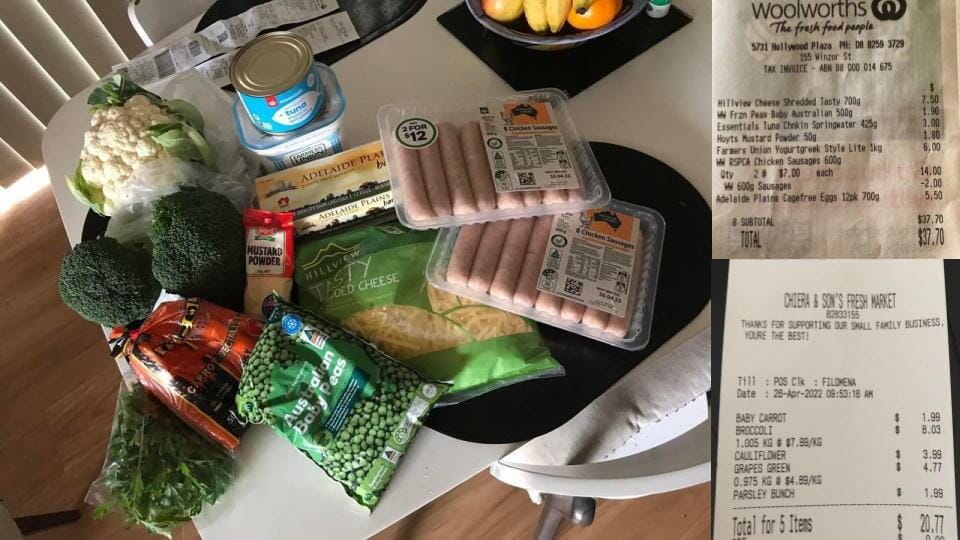 She says '20 serves for $58.47 Now how's that for budget-friendly!'
Bulk cheesy veggie bake (6 serves)
The cheesy veggie tuna bake (8 serves)
Along with cheesy veggie bake with sausages (6 serves)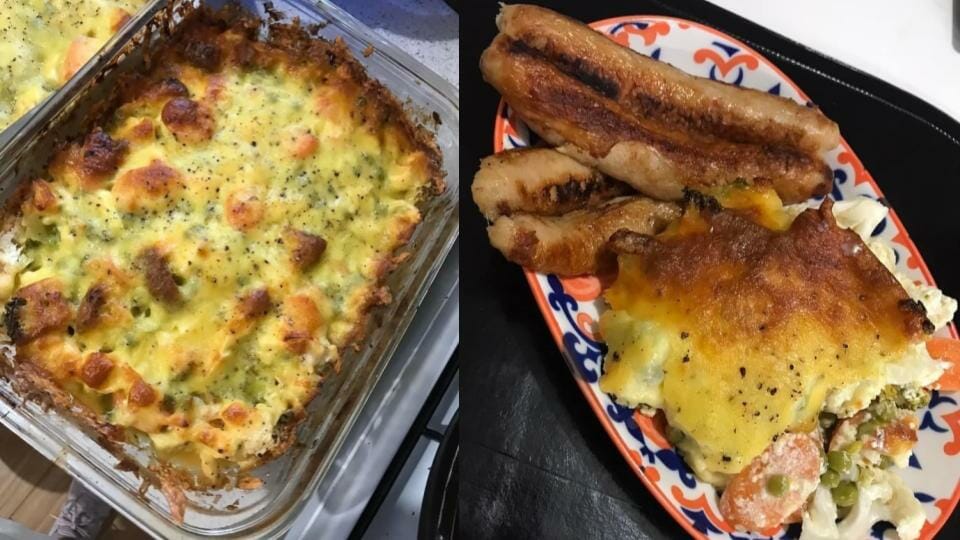 'The cheesy veggie bake turned out incredible. We had it with chicken sausages tonight. Tomorrow I'm turning the rest into the cheesy tuna bake definitely onto a winner-budget meal. No complaints even was asked for seconds and that never happens ever!'
Katherine Smith used the Bulk Cheesy Veggie bake and turned it into her newfound favourite recipe!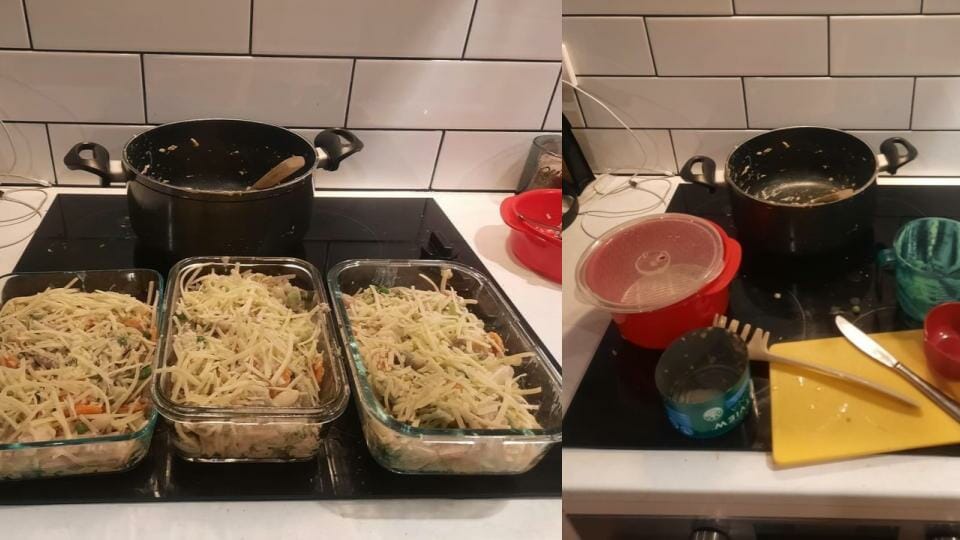 Katherine says, 'Bulk Cheesy Tuna Bake – where have you been all my life!! I've been searching for a good easy and HEALTHY tuna pasta recipe for ages…. IT IS here!! The bulk cheesy tuna bake!! And it makes so many meals!!! And honestly one of the easiest recipes too! To save time and $$$ I used frozen veggies and I honestly can't wait to eat this again!'
makes 8 meals
super easy recipe to follow
minimal mess
use frozen veggies to cut $$
low calories
large serves
high fibre
Bulk Recipe 3 – Asian Chicken
The third bulk-cook recipe on this week's meal plan was the Slow Cooked Asian Chicken. An absolute hits with mums for it's versatility, taste and family friendliness!
Get the recipe for Bulk Asian Chicken here
Mum of 3 Gemma Corey from Brisbane got stuck in and using the base recipe used it for different meals PLUS has leftovers in the freezer for meals next week!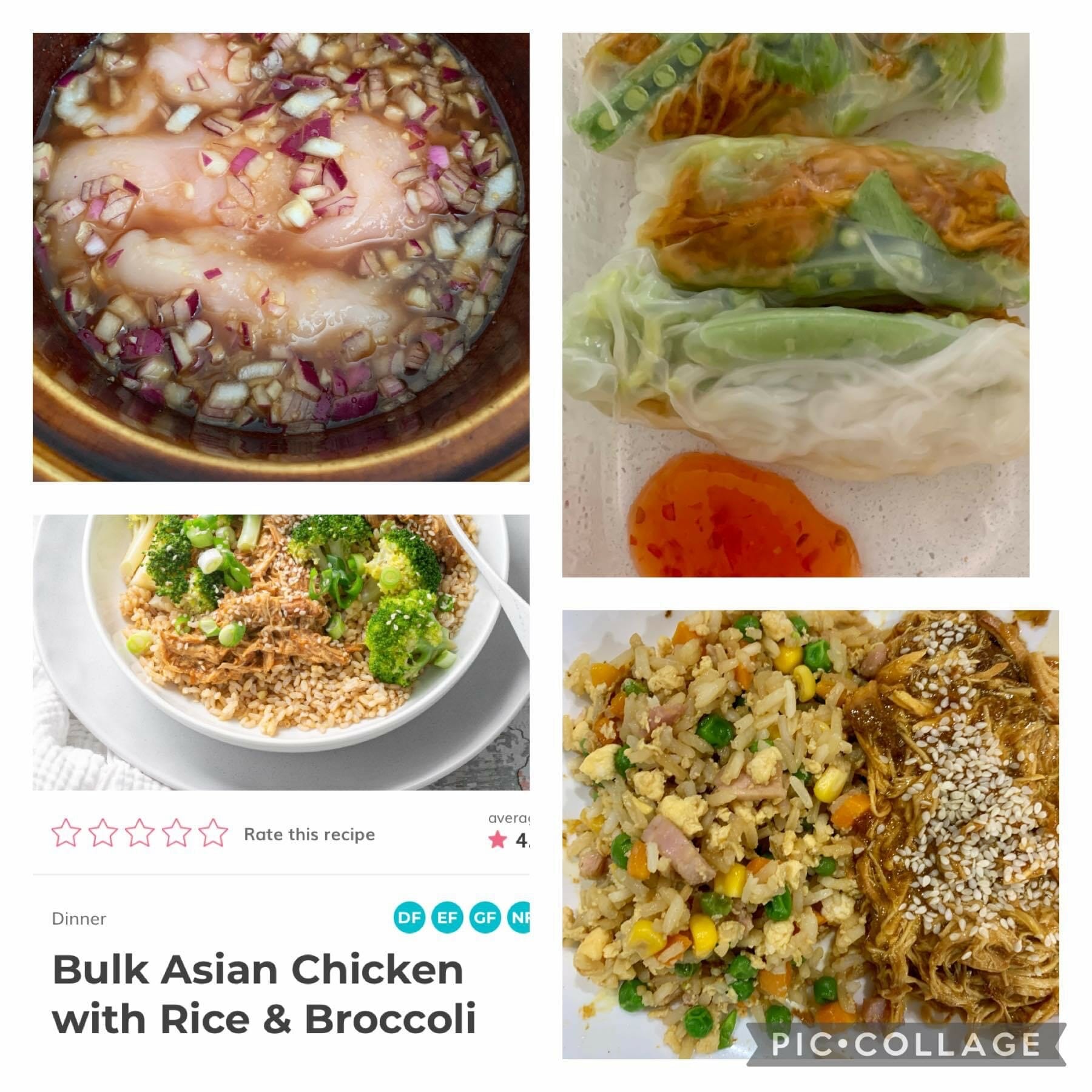 Gemma says, Cook once – eat thrice??? Huge time saver here!!!
'I tried the Asian Chicken with Broccoli and Rice! Made up the chicken in the slow cooker than paired it with Easy Fried Rice for dinner and prepped some Asian Rice Paper Rolls for another meal! I am keeping the leftovers in the freezer to add the Satay Chicken Noodles next week!'
Mum of 4 Ashleigh Williams from WA was happy to play around with the recipe for Bulk Asian Chicken to suit her family and still got other meals out of it.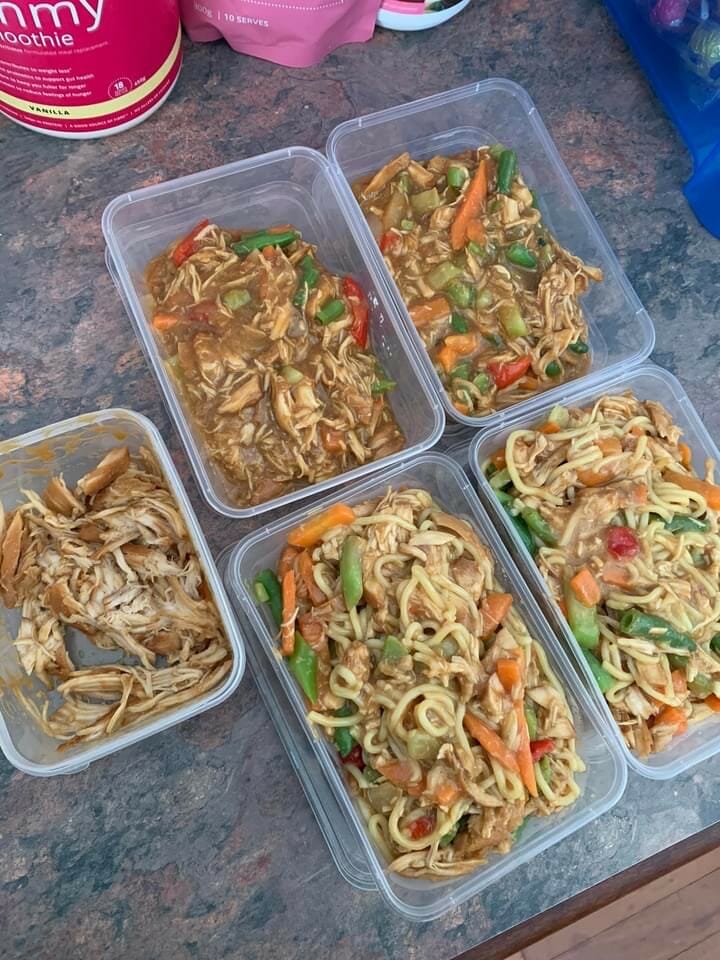 She says 'The first time I made the Slow Cooker Asian chicken I found it wasn't saucy enough for our liking.
This time, I followed the bulk recipe for the sauce but only used 1.5kgs chicken to make sure there was plenty of sauce. From this batch I got':
2 x Asian chicken with added veg to freeze and serve with rice
4 x Asian chicken Noodles with added veg
1 x container of Asian chicken with a bit less sauce to use in lunch rolls/wraps
'This is such a versatile recipe and you can easily use the Asian Chicken to make so many different meals.'
Fi Redding, mum of 2 from Melbourne, also loved the versatility of the Bulk Asian Chicken recipe and tweaked it to suit her.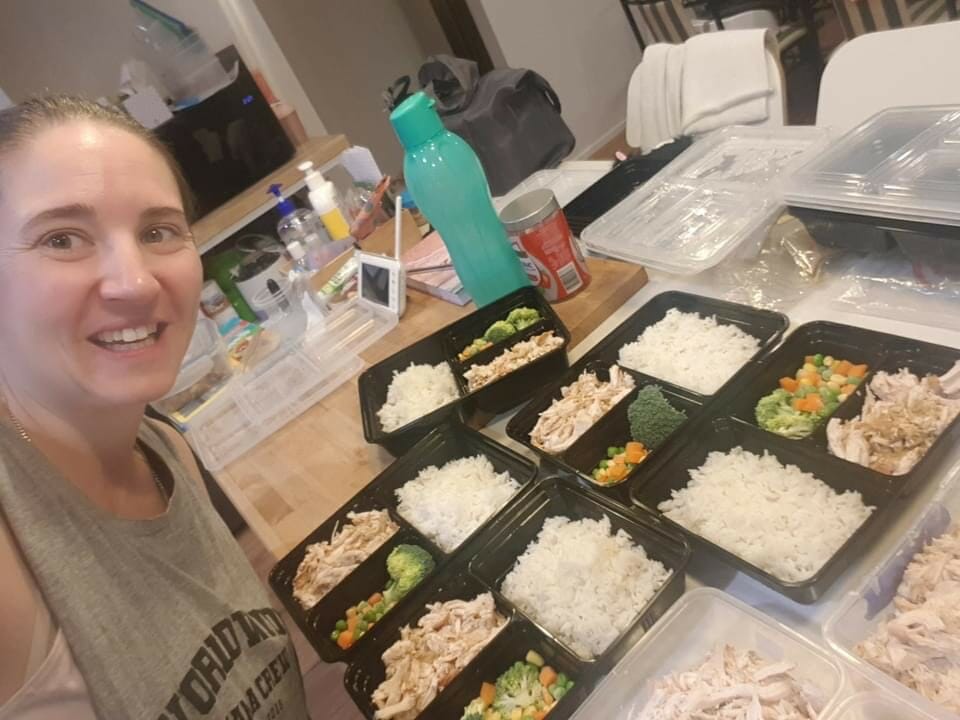 Fi says, 'The bulk chicken is such a fab idea. Low cost and super easy to make and taste great. I don't have a slow cooker so I cooked it in a heavy saucepan with foil under the lid at 120 degrees for 4 hrs.
Also as I'm not having soy I swapped the soy sauce for beef stock with a little vegemite and it worked great!'
Check out these Top Ten Hacks for Bulk Cooking and Freezing.
There hare HEAPS of different meal plans and thousands of recipes in the Healthy Mummy App.
Check out all the Meal Plans available and how to customise to them in the Healthy Mummy App!
Tired of wondering what to cook?
Now you can easily meal plan with our personalised plans & over 6,000 family & budget friendly recipes catering to a wide range of dietary requirements.
The Healthy Mummy is a holistic program to nourish your body with nutritious food and help you stay active in your busy, everyday life. Yours and your families well being should be a priority so let us take the hassle out of it.
Unlock the key to sustainable life changes that will leave you feeling your absolute best.