Inspirational mums celebrate their weight loss success and new healthy life
Anyone who embarks on a journey to improve their health has their own 'why'.
These incredible women are no different, each with different reasons for changing their lives for the better.
Thanks to following The Healthy Mummy 28 Day Weight Loss Challenge, they've each discovered a different version of themselves, one that looks and feels so much better.
Read more on their incredible results below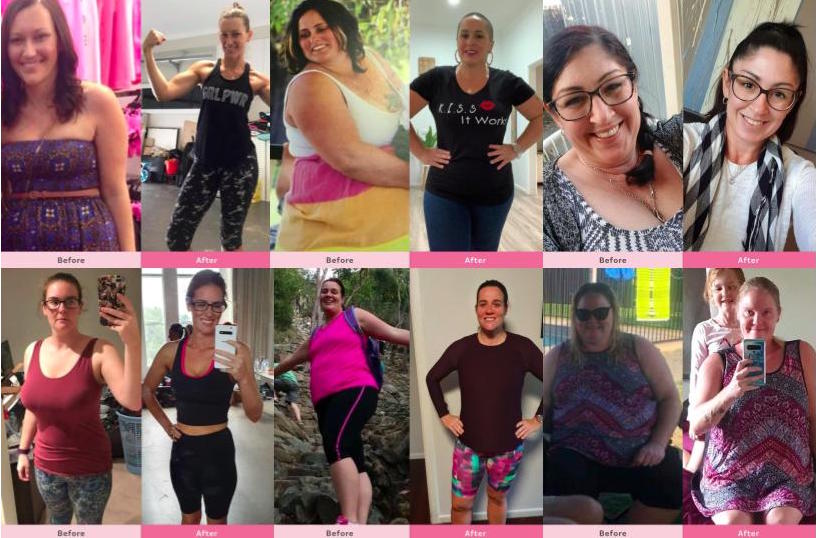 Caron Reynolds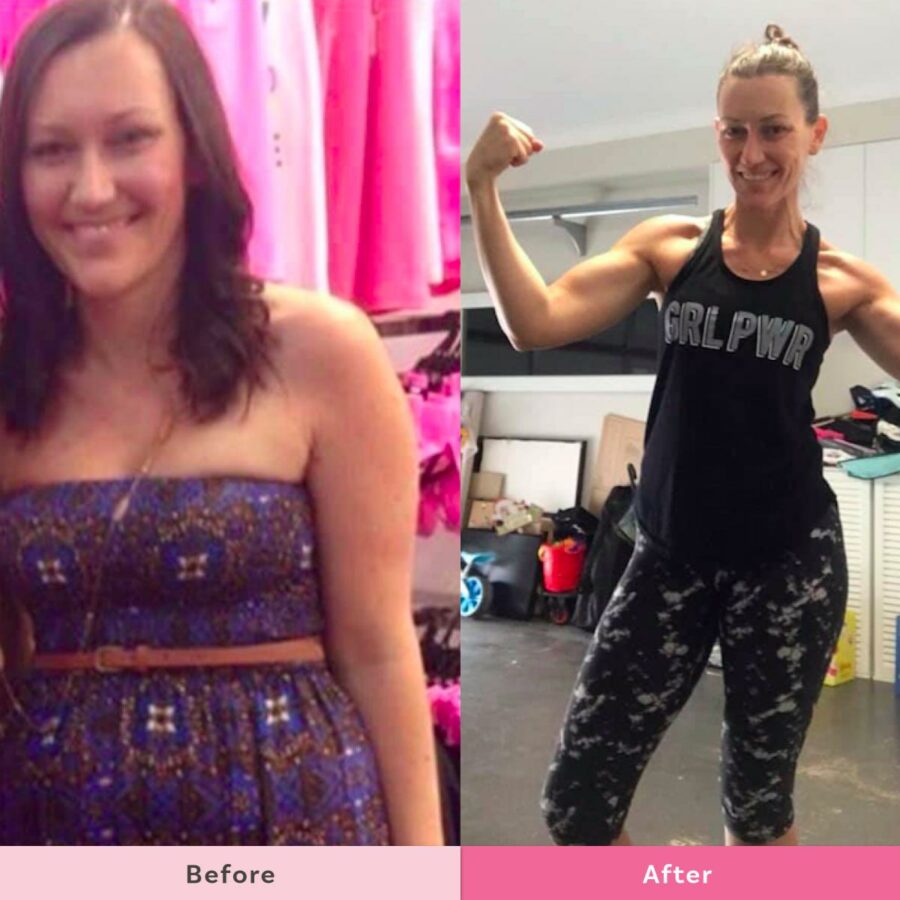 Caron says, "On the left was a couple of months into my Healthy Mummy weight loss journey when my first child was 6 months old versus today (he is about to turn 7).
My goals used to be to lose weight, be skinny then I'd be happy.
What rubbish! To me now, happiness is being STRONG, being FIT, being HAPPY and HEALTHY and CRUSHING any goal you have by making the conscious decision to do it and to go get it!
Cut the excuses, cut the BS, have an honest conversation with yourself and get it DONE!"
Kim White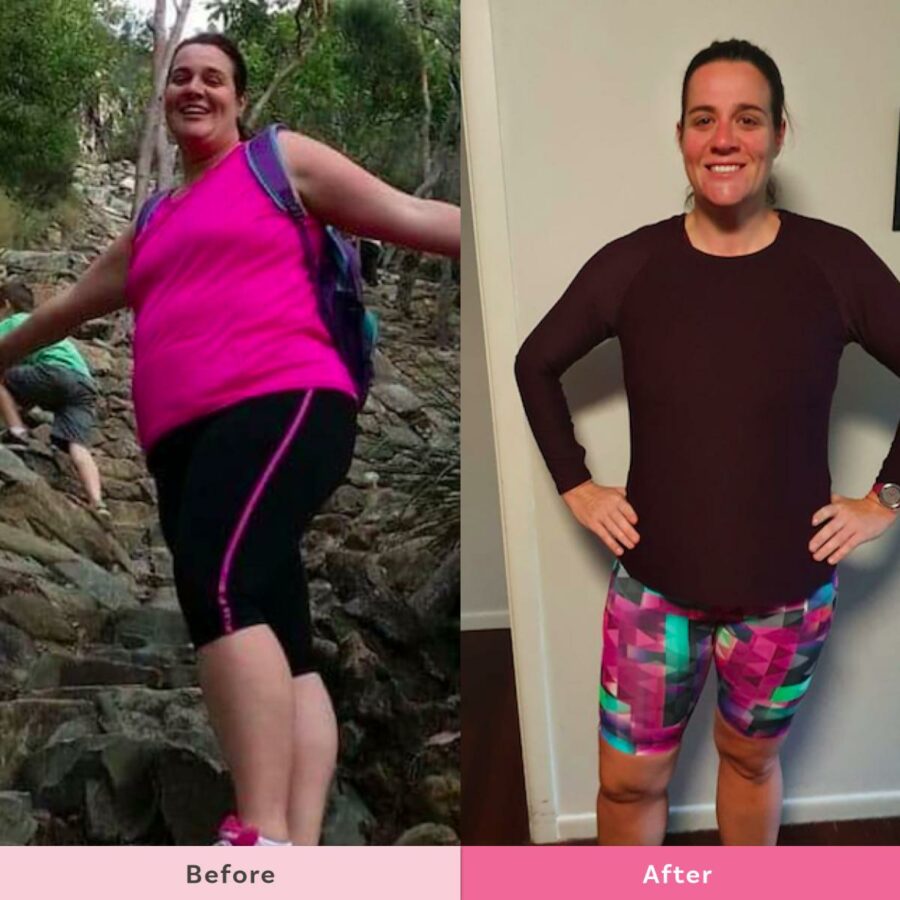 Kim says, "I have always done a little bit of exercise as I love the outdoors. But the difference is my relationship with food and my body/mind.
I LOVE food and all things sweet. I could and literally did eat cakes, lollies, chocolates and biscuits all day every day.
In Jan 2019 at 132.9 kgs, I decided enough was enough. Now eighteen-ish months later and 40 kgs gone, 160 plus cms gone, from a size 24 to a size 14, I am loving life besides this isolation life.
From unhealthy, unmotivated and just plain unhappy to healthy, mostly motivated and loving life.
Take a chance and start today".
Courtney Thursfield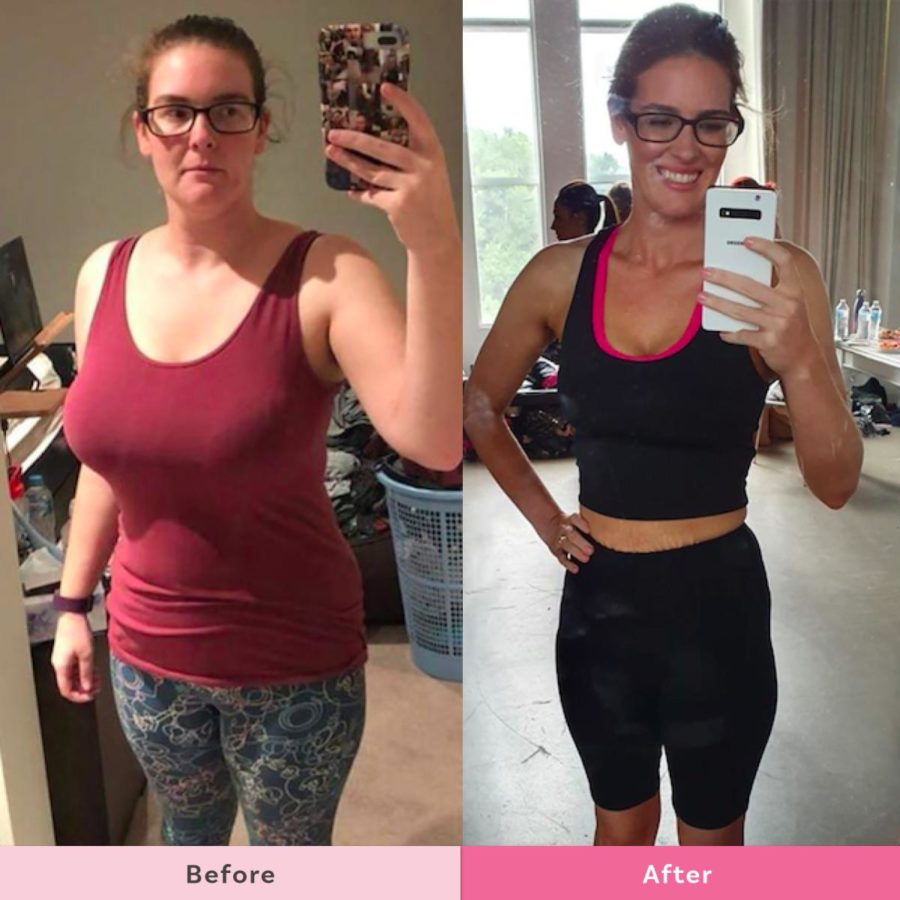 Courtney says, "Everybody has bits of their body that bugged them – and one of mine was my boobs.
I DON'T miss the back pain

I DON'T miss the shoulder dents from bras
I DON'T miss the awkward fit in tops
I DON'T miss needing to go to specific stores for my cup size

I DO love being able to wear a bra with thin straps!

I DO love getting posture back
I DO love being able to go for a run and not being in pain after because of bouncy boobs!
And I especially love being comfortable with my body!!!"
Nat Dillon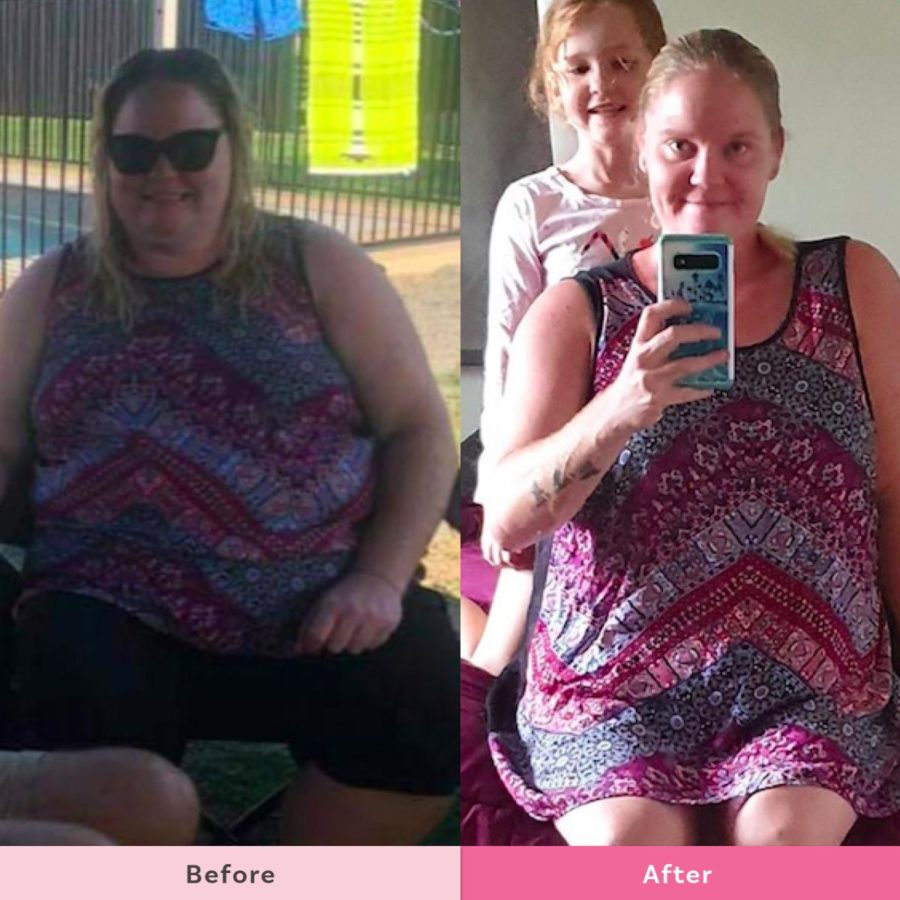 Nat says, "Same shirt – different woman!
I started The Healthy Mummy in Feb 2019, right after I had my gallbladder removed. Since then I have lost 36kgs! I have more energy, more drive and love the commitment I have to this journey!
You can too, just give yourself that credit that you CAN change your life and your ways!"
Michelle Knight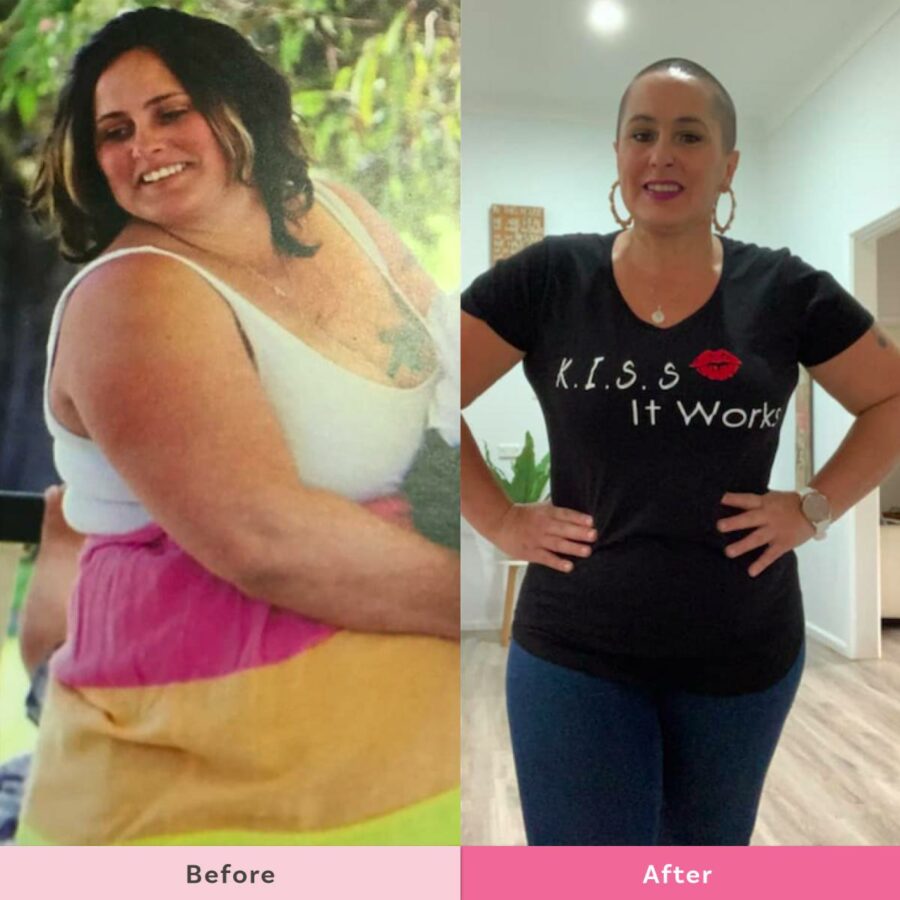 Michelle says, "I make choices each and every day, I make decisions each and every day, I make myself a priority each and every day. 
Size 20 to a size 10/12
41 yrs old – 48 yrs old
I have made myself a Healthy Mummy because it's a fantastic lifestyle and it suits my family. My health has benefited from living this lifestyle as my blood pressure is no longer stroke level. Would I recommend becoming a Healthy Mummy?
Absolutely….Because it works!"
Randa Jaide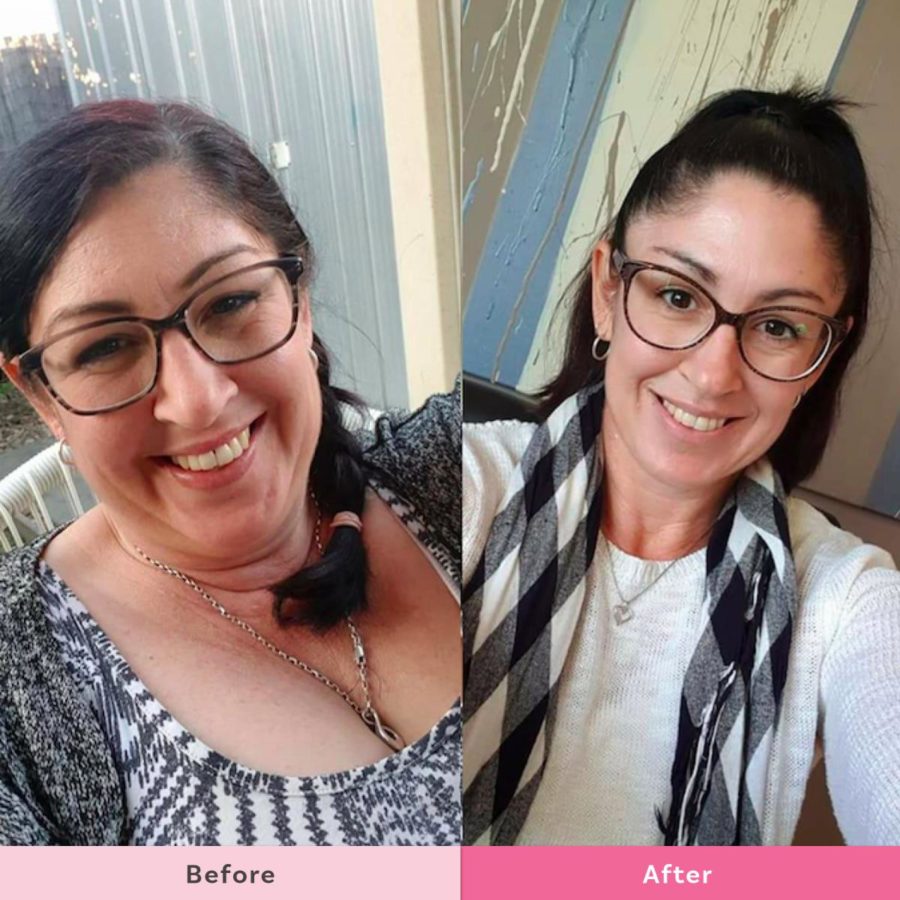 "Randa says, "Two years between photos 35kgs gone and a whole new perspective.
I'd just got my braces off in the first photo, it was one of the first steps I took in looking after me, a year later I joined The Healthy Mummy. I've got rid of 25kgs and I am now happy to report that I no longer require blood pressure medication.  A special Non-Scale Victory that I have been striving for but didn't think was possible."(Insert happy dance here!)
Thanks Healthy Mummy!"
Congratulations to all these amazing women and thank you for sharing your results with us.