These mums have lost weight, transformed their health and are learning along the way!
We pride ourselves on the support we provide when mums join The Healthy Mummy!
We have a community of mums who encourage, support and guide you on your journey because they've been there as well. We also offer support and guidance in our app.
All of this means along with recipes and workouts you are constantly learning when you're part of The Healthy Mummy.
These mums share how The Healthy Mummy has helped them transform and some of the things the community has helped them learn.
Losing weight, transforming your health and learning along the way – all the benefits of The Healthy Mummy!
Erin Fisher – "Figuring out that this journey isn't linear"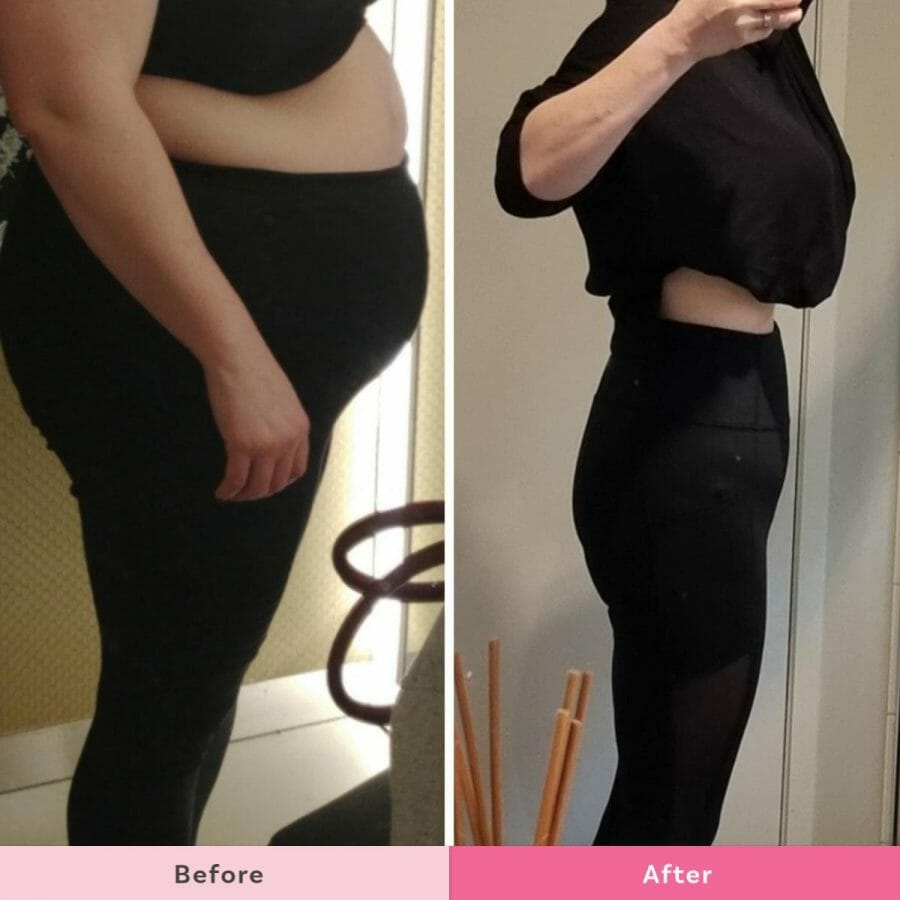 As the old saying goes, it's not about the destination it's about the journey along the way. Erin has been learning that the journey to health, weight loss and vitality isn't linear, it's full of ups and downs, stops and starts but it doesn't mean it's not worth it or it's not working.
"11 months of consistency, not perfection. Figuring out that this journey isn't linear there are lots of steps forward and a few steps back. No 'wagon' to get on and off- a day of no exercise won't change everything, a day over calories won't ruin all my effort, just keep going. Take progress pictures."
"I don't always like what I see when I take pictures, but sometimes they can also be such a big motivation and show us that being consistent does make a difference- especially when the scales might be saying other things or not moving where we want in a specific time frame. The further I get through my health and wellbeing journey I'm realising there really isn't a special number that I always thought there was and often the scales can be more of a hindrance to my well being. Of course, I'm proud of my weight loss, but mostly the change in my health and the scales can't tell me that!"
Shelley Moore – "I can not wait to see what I can achieve in 2022!"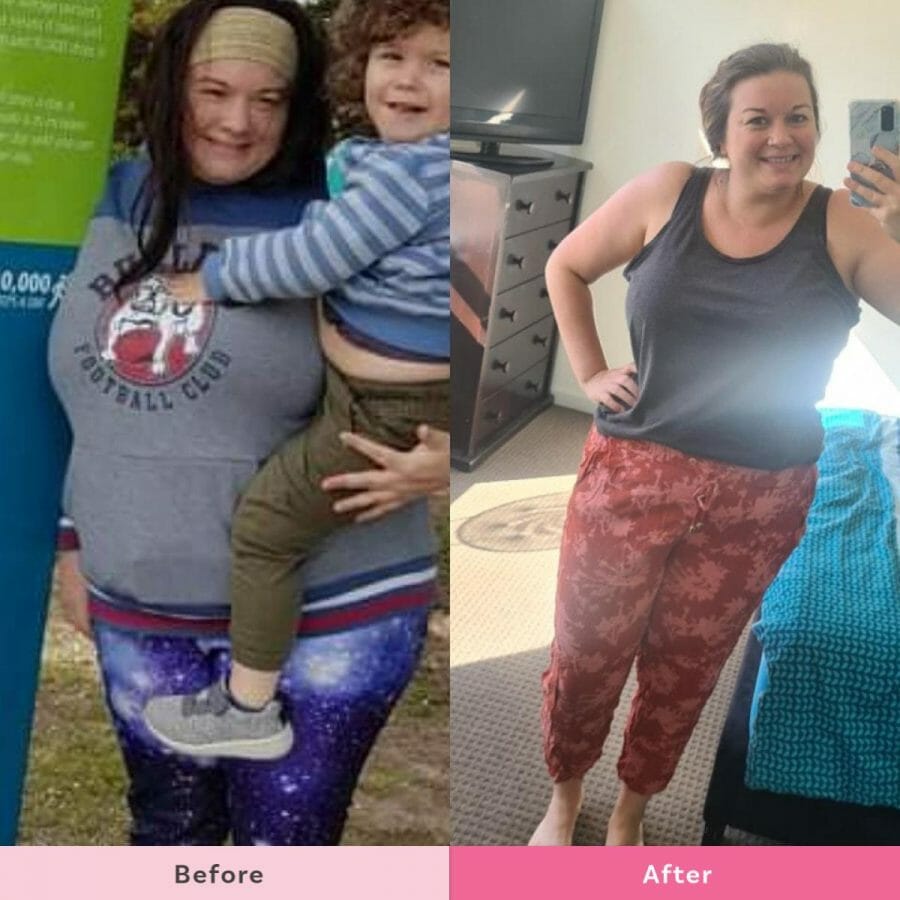 After seeing amazing progress in 2021 with The Healthy Mummy Shelley is excited to see what 2022 brings.
"Eating well and incorporating exercise with The Healthy Mummy program has helped me to become a healthier version of myself and I can not wait to see what I can achieve in 2022!"
Gemma Corey – "Don't trust the scales – trust your jeans!!!"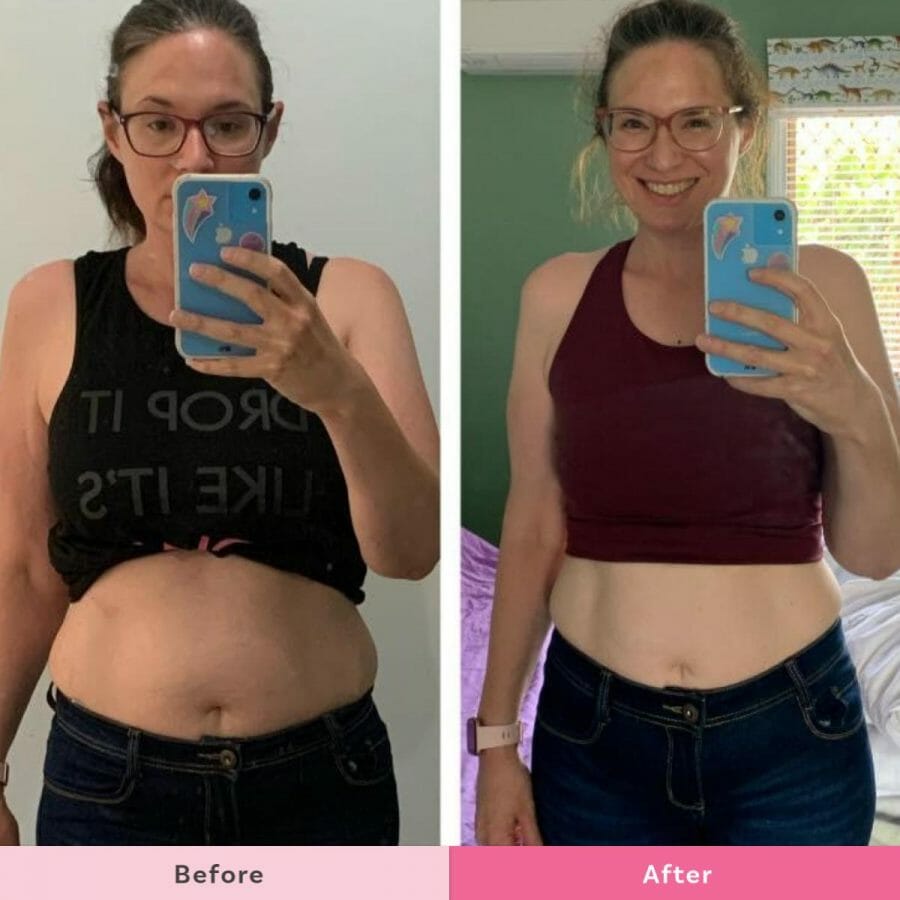 We're big believers in not relying on your scales to tell you the whole story of your weight loss and Gemma is proving it with this transformation – no change in the scales but her jeans fit differently.
"Don't trust the scales – trust your jeans!!!
There is no difference in my weight between my before and after! But I can definitely see some big changes in how my pre-pregnancy jeans fit!
Sticking to my target calories and committing to doing a workout from the Healthy Mummy app per day have made these changes!
Can't wait to see the changes our next challenge will bring!!!"
Melanie Phillips – "Learning how to dress for my shape and embracing those curves"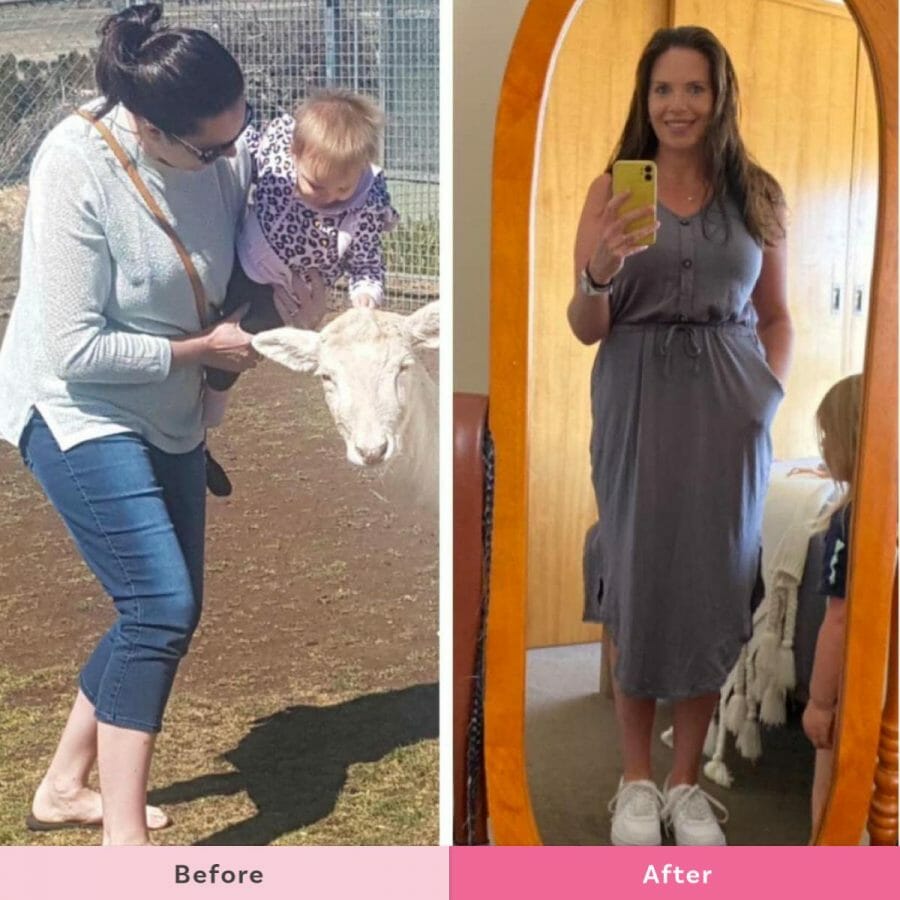 Melanie has seen her dress size drop down to 10/12 but it's been more about learning to dress for her body and love her natural curves.
"In 3 years I've gone from a size 16 to a size (depending on the brand) 10/12.
I've gone from hating on certain parts of my body to learning how to dress for my shape and embracing those curves!
It's all thanks to The Healthy Mummy app, Healthy Mummy Smoothies, supplements and a whole lot of self-love."
Bridget Flint-Chapman – "I'm the best version I can be"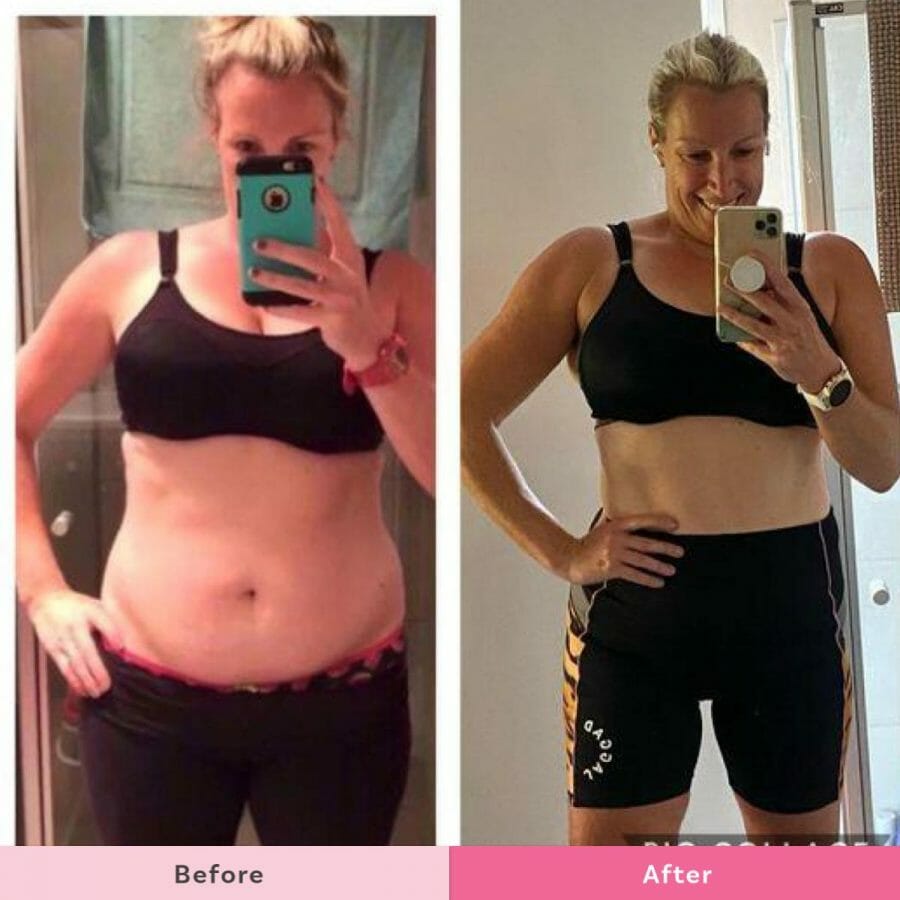 It's been 6 years on The Healthy Mummy for Bridget and she's never felt better! She's the best version she can be and she thanks The Healthy Mummy for that!
"Throwing back to over 6 years ago. I stood in front of the mirror tired, frustrated and over trying to lose weight. It was the moment I took the leap and signed up to Healthy Mummy and haven't looked back.
Fast forward to 6 years later and I'm the best version I can be, strong, energised and healthy."
Bec Tickner – "3.5kg until I hit my goal!!!!"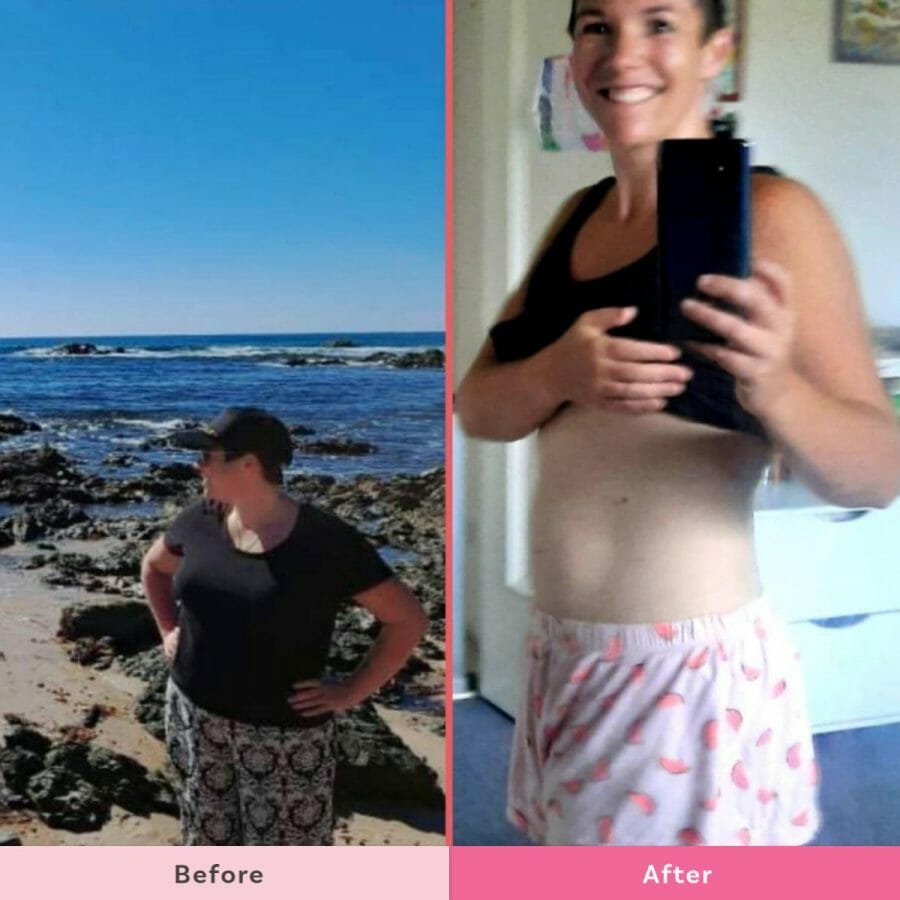 No one likes an early morning wake-up but as mums, we're used to it and this time Bec didn't mind because she saw just how far she had come in her weight loss journey so started her day on a high!
"This morning my kids woke me up at 430am and I was not happy……that is until I go to the scales and saw that I'm now down to 61.5kg!!! 3.5kg until I hit my goal!!!! So at 5 am this morning I was taking progress photos with a huge smile on my face.
I love the fact that I can upload my progress photos on The Healthy Mummy app, honestly, at first, I hated it but now I'm so glad I did the uncomfortable and took the before photos and uploaded them as it shows just how far I've come.
I've lost 14.5kg and am feeling the healthiest I have in years."
Nicci Wright – "I have gone from a size 22/24 to a 14/16 in 6 months!"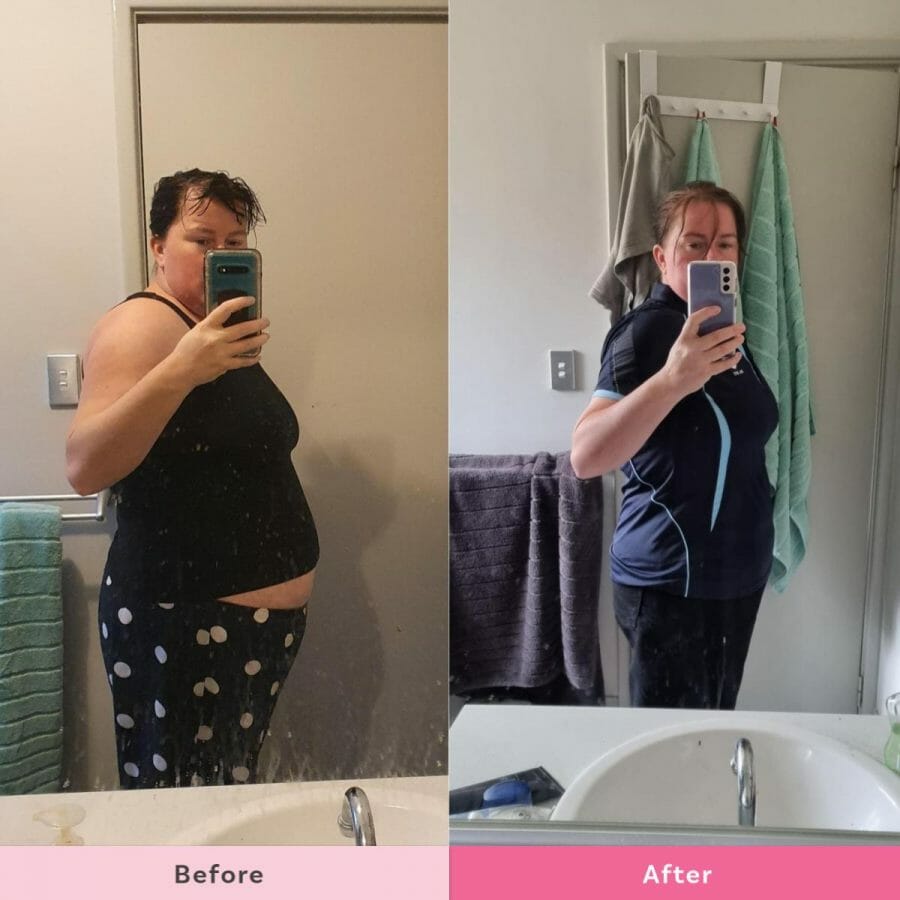 Nicci has been knocked down on her journey but she's picking herself up again because she's already seen results and she knows she has the support, guidance and knowledge from The Healthy Mummy community to help her.
"From 115ish kgs to 90.3kgs!
If it wasn't for The Healthy Mummy teaching me, guiding me and supporting me I would still be on the path I was: Eating to mask my emotions, eating cause I was bored.
I have gone from a size 22/24 to a 14/16 in 6 months!
This week has seen me jump back on the wagon (need to remember to log my food etc in the app haha) so here's to my Healthy Mummy journey take 2!"
Join the 28 Day Weight Loss Challenge TODAY
Did you know the 28 Day Weight Loss Challenge is designed to help mums lose 4-5 kilograms a month WITHOUT avoiding whole food groups, going hungry and rigorous gym workouts?
The 28 Day Weight Loss Challenge is home to 4,000 recipes, 4 weekly meal plans, 350 exercises, workout videos plus 24/7 support.
The 28 Day Weight Loss Challenge is not only a sustainable way to lose weight but is family-friendly, breastfeeding-friendly and can be customised to suit all dietary requirements (for example, gluten-free, vegan, vegetarian etc).
What's more every month on the Challenge is a NEW THEME – meaning 100 new recipes, exercises and meal plans!