Mums are going 'COCONUTS' for The Brand New Coconut Coffee Body Scrub!
The Healthy Mummy SKIN range of beauty products has been super popular with mums all over and now, The Healthy Mummy has released a BRAND NEW addition to its range, The Coconut Coffee Body Scrub is here!!!
And this is no ordinary scrub! It contains the  All-Natural Australian Mineral Dust, Mica. Renowned in the beauty industry for its ability to create a natural shimmery finish, it will leave your skin with a beautifully radiant glow!
Mums are raving about this decadent and luxurious new product!
"If you're looking for a little bit of luxury to add to your day, THIS IS IT"
"This Body Scrub smells amazing, like, "can I eat it?" kind of amazing!"
Hear more reactions from real mums who have been lucky enough to try it!
New Coconut Coffee Body Scrub
If you're after a 3 in 1 product that leaves your skin feeling silky smooth – the Coconut Coffee Body Scrub is for you!
It EXFOLIATES, MOISTURISES and gives you a SHIMMER, for softer and visibly smoother skin.
This amazing new body scrub uses coffee seeds to exfoliate and revitalize the skin, while the coconut, jojoba, grapeseed and macadamia oil moisturises for a silky finish.
Our Body Scrub is gentle enough to use 2-3 times a week, or before a night out to give yourself an extra special glow!
Eco-Friendly Exfoliant
Unlike a lot of exfoliant scrubs, The Coconut Coffee Body Scrub contains no microplastics. The coffee seed acts as an effective and eco-friendly exfoliant!
Just like your morning coffee, you'll want this to be part of your routine.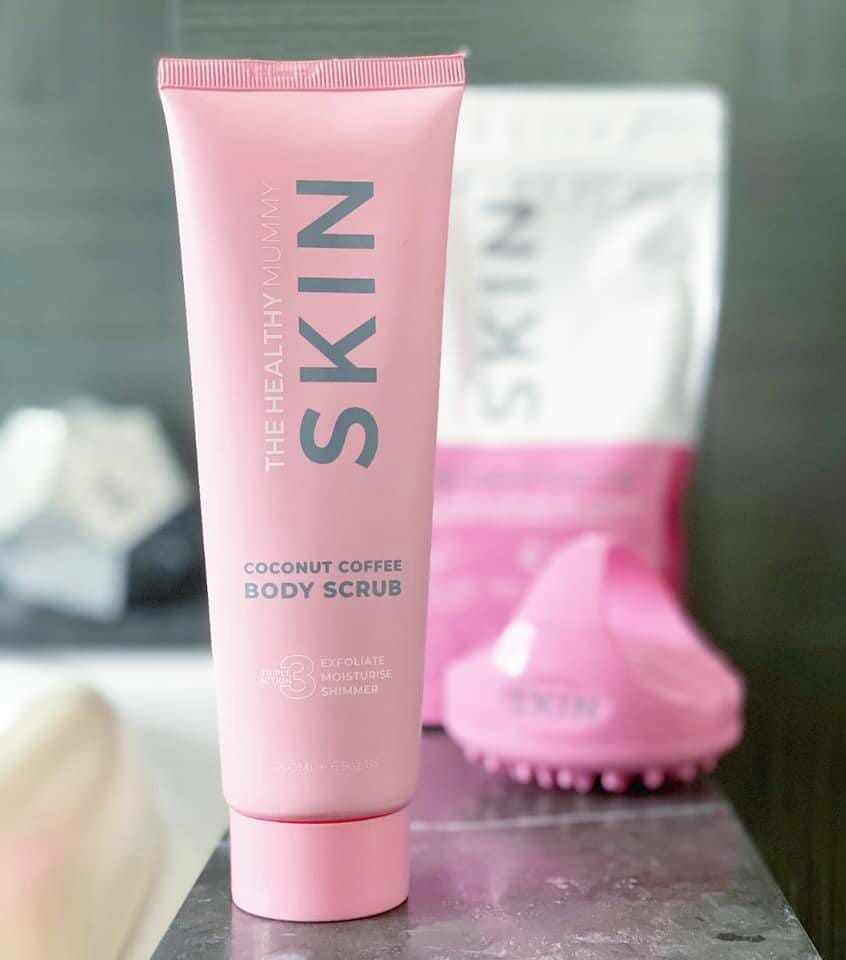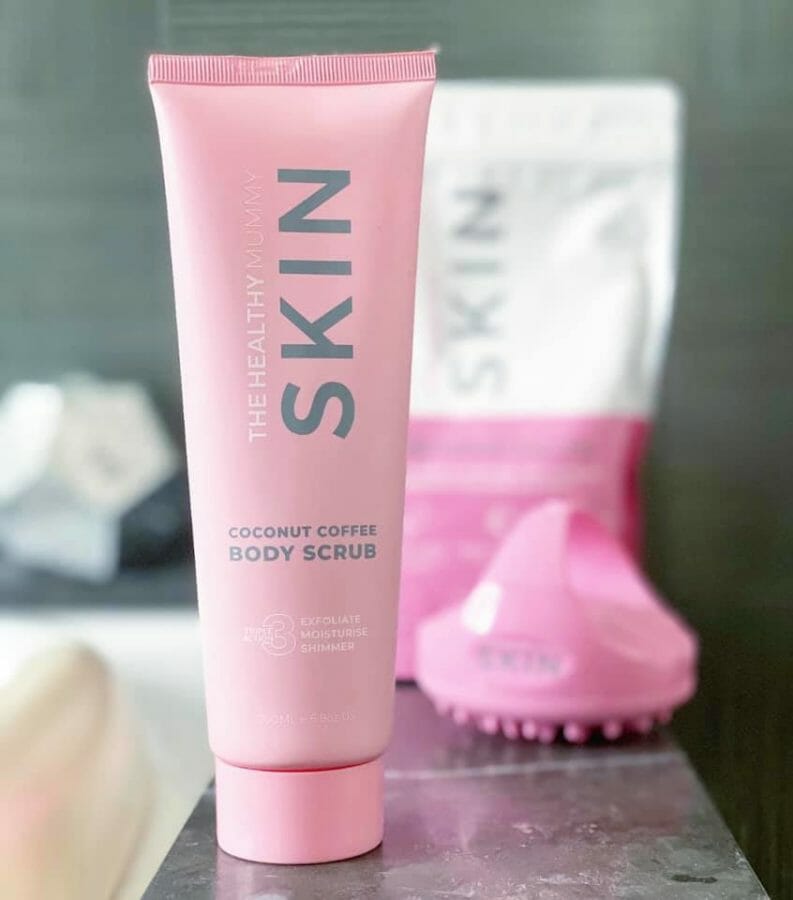 Don't just take our word for it! Hear what Real Mums are saying about this new Body Scrub!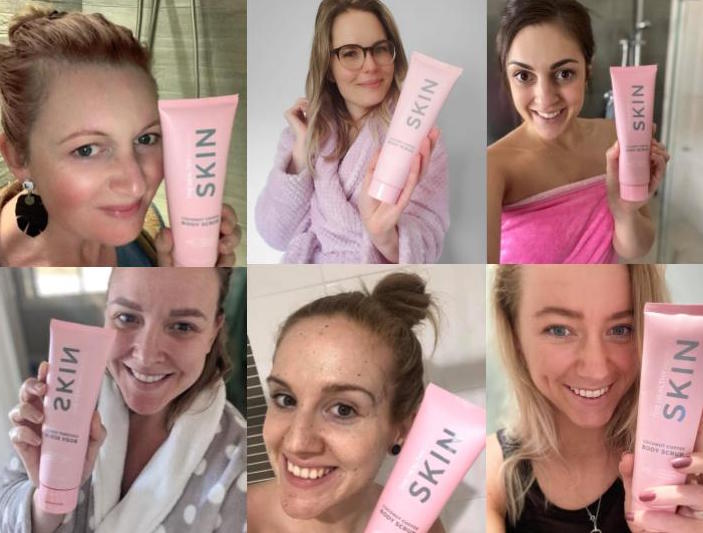 Bec Jackson is a big fan of the entire SKIN range. Bec says "I spy something new!"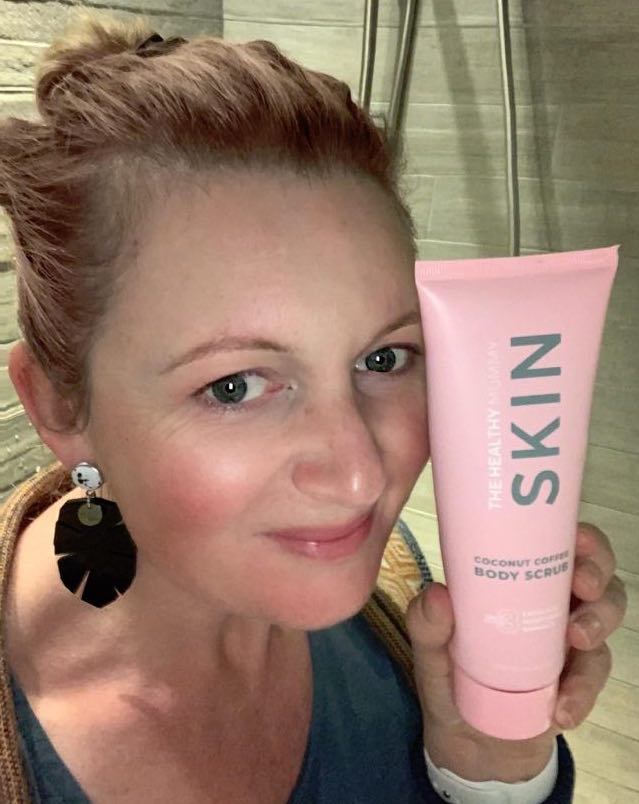 "The Healthy Mummy  Skin range is my go-to. All the products smell divine and the body scrub is no exception. My skin felt amazing afterwards and so soft and I smelled like some decadent dessert! I'll be adding this to my Skin routine weekly for sure!"
Kaitie Purssell gives this the Coconut Coffee Body Scrub a 10 out of 10!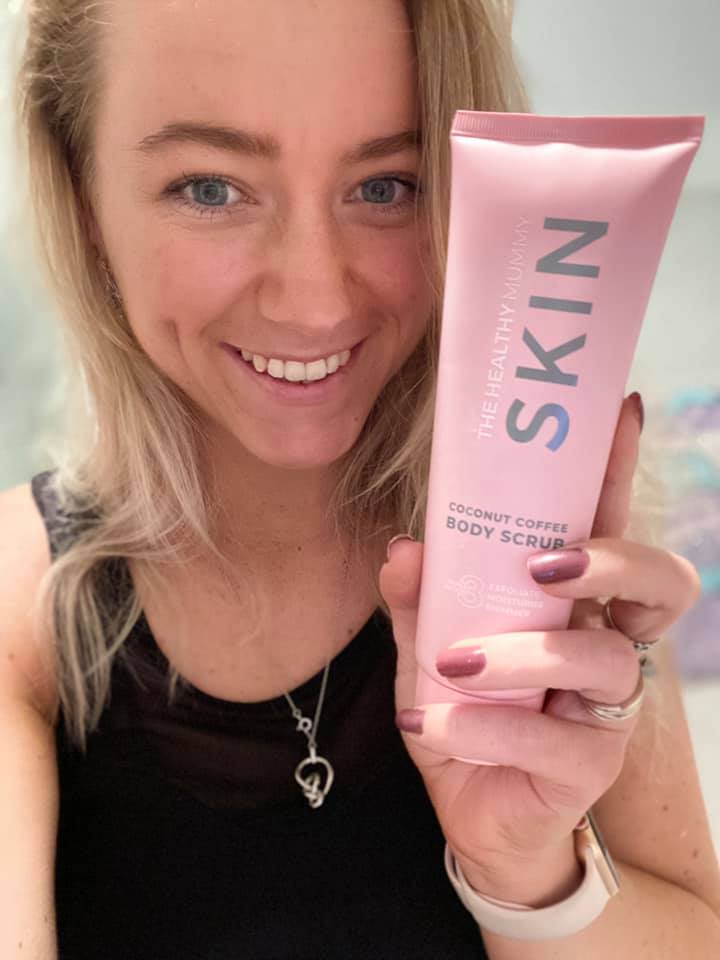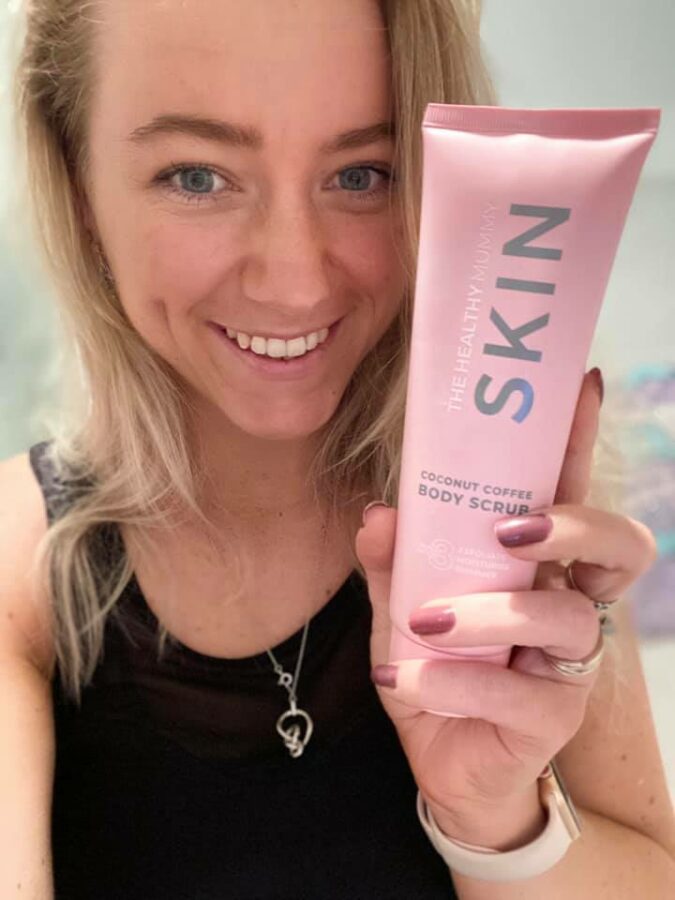 Kaitie says "I am in love with this new body scrub! It smells absolutely divine! It left my skin feeling incredibly soft, shimmery and hydrated for hours after using it."
Samara Khoury says "If you're looking for a little bit of luxury to add to your day, THIS IS IT!"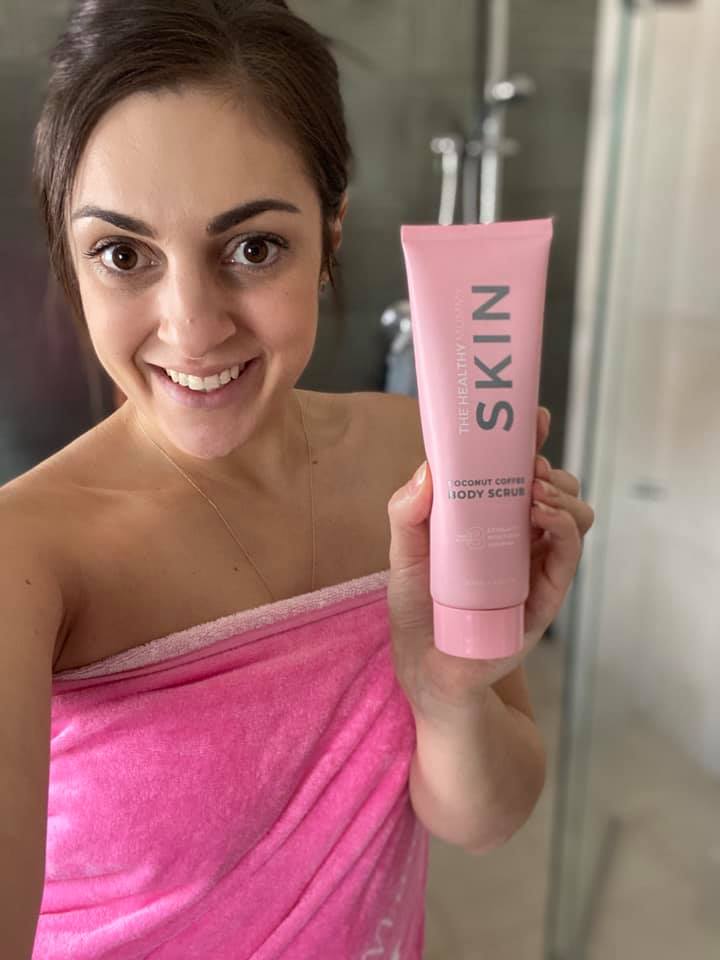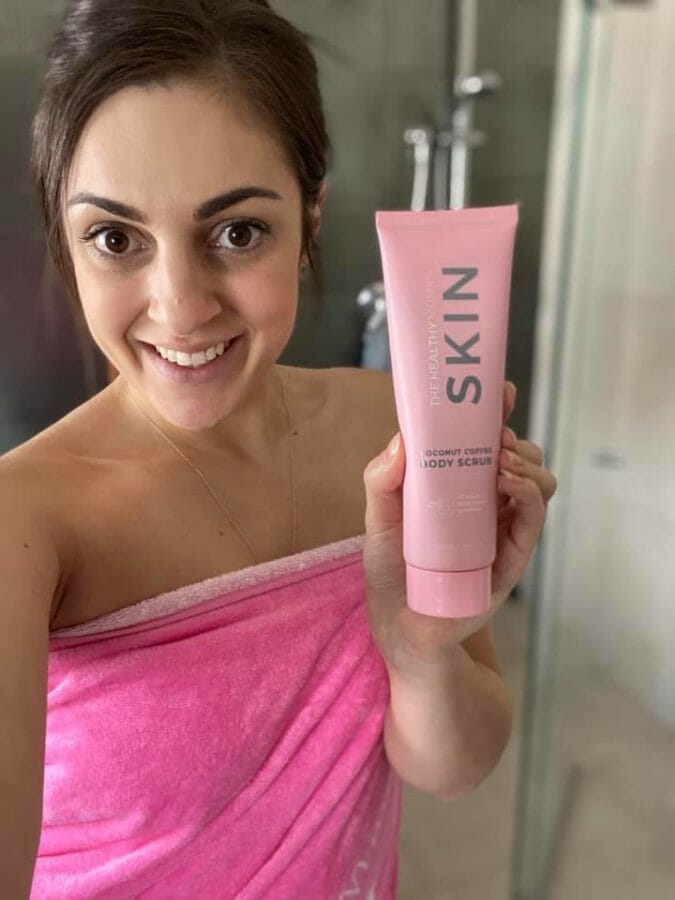 "The NEW Coconut Coffee Body Scrub is the perfect addition to your self-care days! It smells incredible and left my skin feeling brighter and smoother. The SKIN Coconut Coffee Body Scrub left me feeling super smooth and smelling amazing!"
Lauren Kolstad says  "Although TLC don't want no scrubs – this mumma loves a body scrub!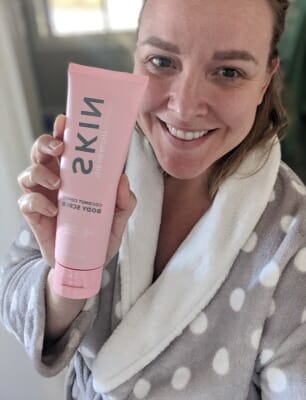 "It smells divine and makes my skin oh so smooth. I use body wash afterwards and then apply the Healthy Mummy Body Sculpting lotion after I hop out of the shower to finish off my morning routine."
Cat Christ likes a Body Scrub to exfoliate well AND moisturise – she wasn't disappointed!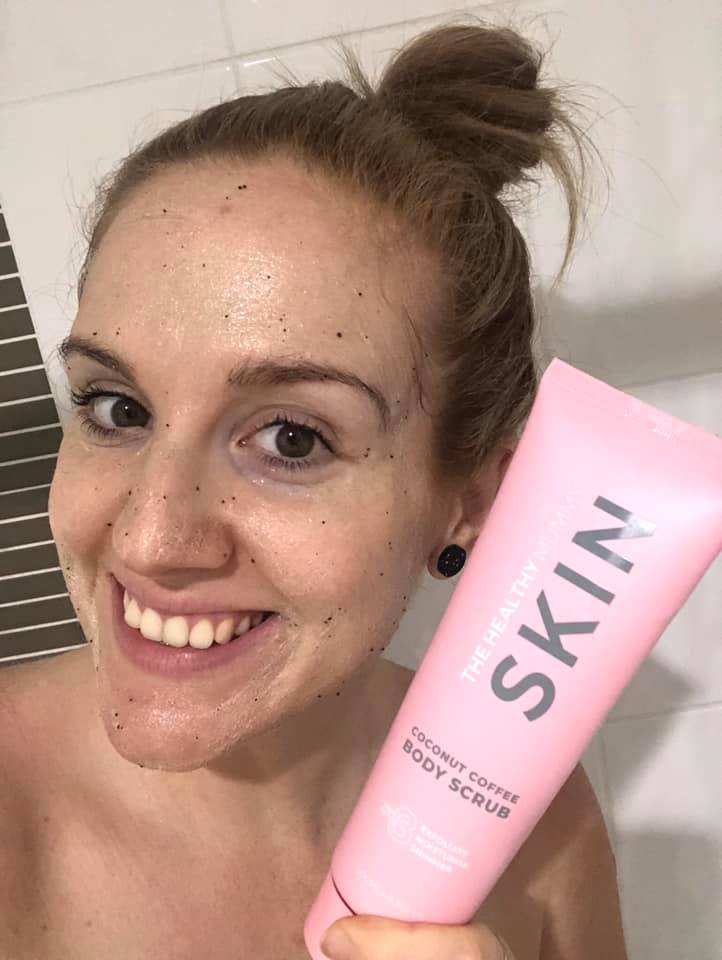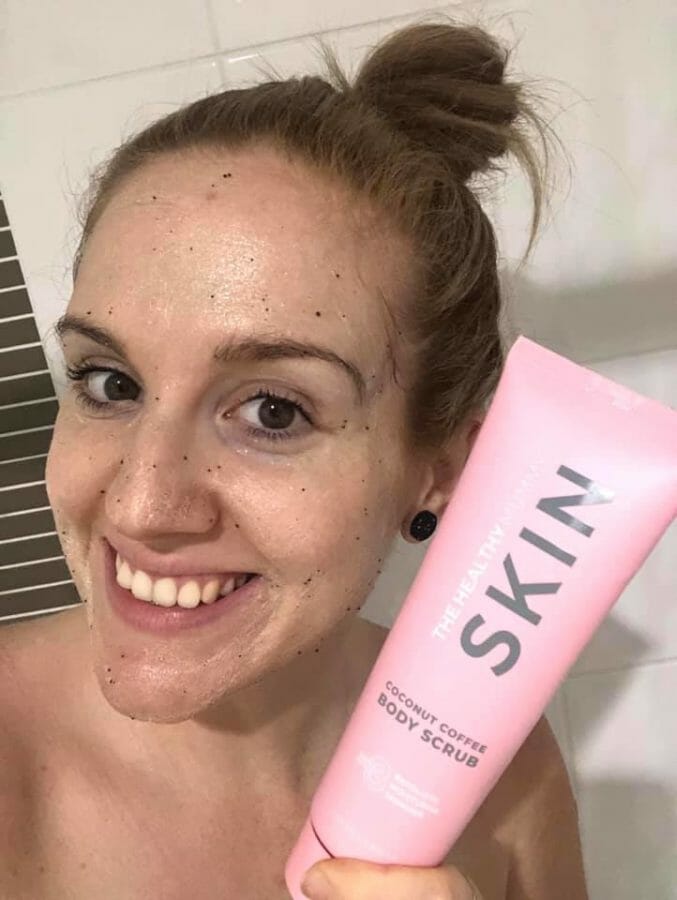 She says "I love a good body scrub, but I like it to be abrasive enough to feel like it's actually done its job and The Healthy Mummy Coconut Coffee Body Scrub does exactly that! The moisturising part of the scrub is brilliant! I don't have to rush out of the shower with a tight sensation on my skin to moisturise, it's already done for me.
I love a bit shimmer and shine, and this scrub certainly packs some shimmer! I found a quick rinse with body wash removes some of the shimmer if it's not really your thing. My skin was left feeling super smooth and soft, and smelling delicious!
This Body Scrub smells amazing, like, "can I eat it?" kind of amazing!"
Cassie McKay says  "I love the new Body Scrub! It was so luxurious and it smells AMAZING!"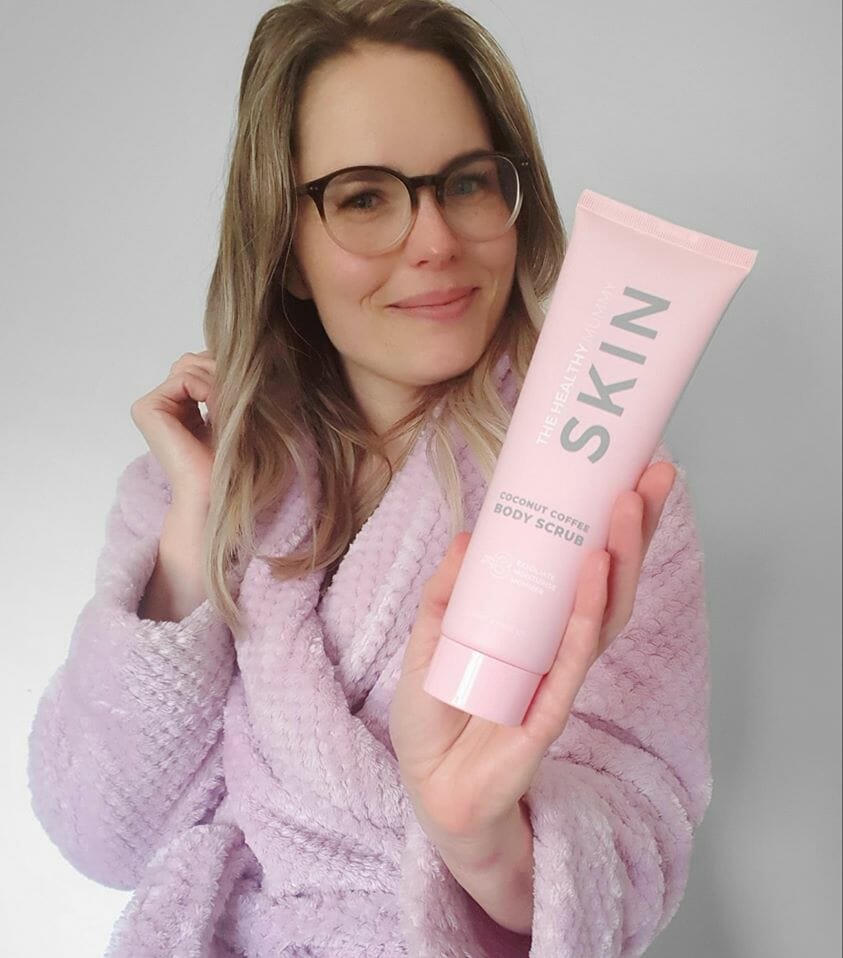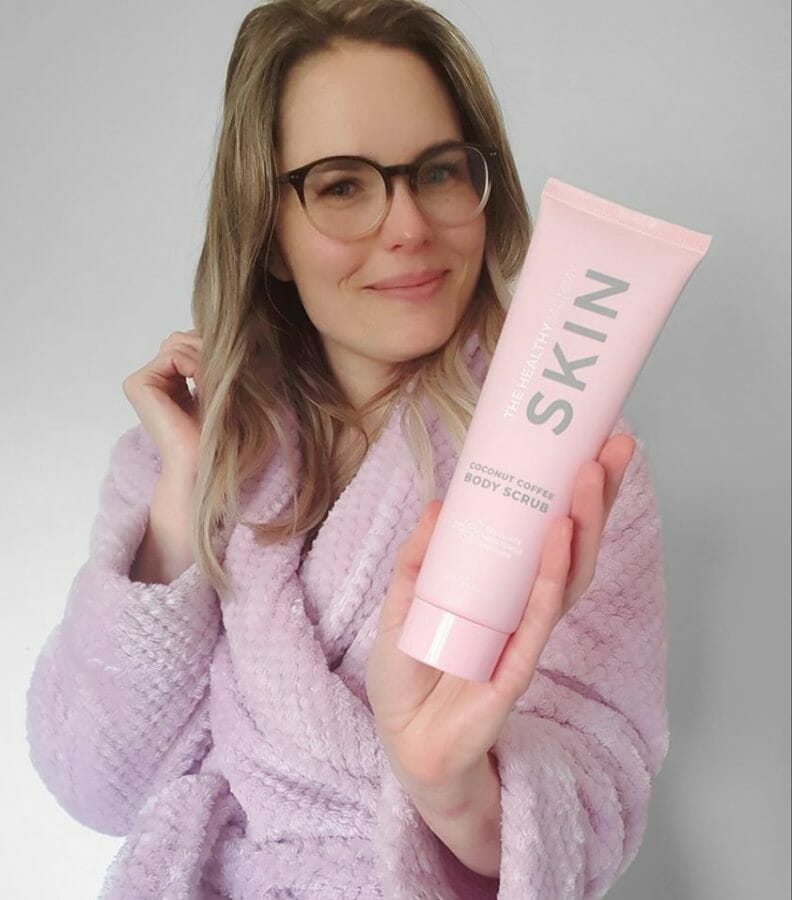 Are you ready to TRY IT!!!
Click here to get your own Coconut Coffee Body Scrub!
REASONS TO LOVE THE COCONUT COFFEE BODY SCRUB
Triple action: exfoliate, moisturise and shimmer
Polishes and hydrates for visibly smoother and softer skin
After use, skin feels cleansed and nourished
Natural active ingredients such as Coffee Seed exfoliant, Jojoba Oil, Kaolin Clay, Shea Butter, Coconut Oil and Grapeseed Oil
Plus, the body scrub is vegan, paraben-free and not tested on animals
NOURISHING INGREDIENTS
Coffee Seed Exfoliant deeply exfoliates the skin and reduces the appearance of cellulite. Rich in antioxidants and phytonutrients which help maintain optimum skin condition.
Jojoba Oil is nourishing, highly absorbent and soothing. It deeply hydrates and encourages healthy skin regeneration and renewal. This natural oil is rich in Vitamin E and is very close to the skin's natural sebum which makes it great for all skin types, especially those that are prone to outbreaks. As Jojoba Oil doesn't clog pores it's perfect for anyone prone to body acne.
Kaolin Clay helps to remove impurities from the skin such as dead skin cells, excess oil, toxins and dirt. It is a gentle yet effective exfoliator that removes impurities without drying out the skin or causing redness or irritation. Australian Kaolin Clay is perfect for balancing stressed and sensitive skin.
Shea Butter protects, regenerates and moisturises the skin.
Coconut Oil is naturally antibacterial, anti-fungal and moisturizing. The oil nourishes the skin, plus it contains Vitamin E and healthy fats which helps to make skin smooth.
Grapeseed Oil possesses regenerative and restructuring qualities which allow for better control of skin moisture. It is reputable for reducing the appearance of stretch marks and is a good ingredient to deal with generally damaged and stressed out tissues. The oil absorbs into the skin easily and leaves skin feeling soft.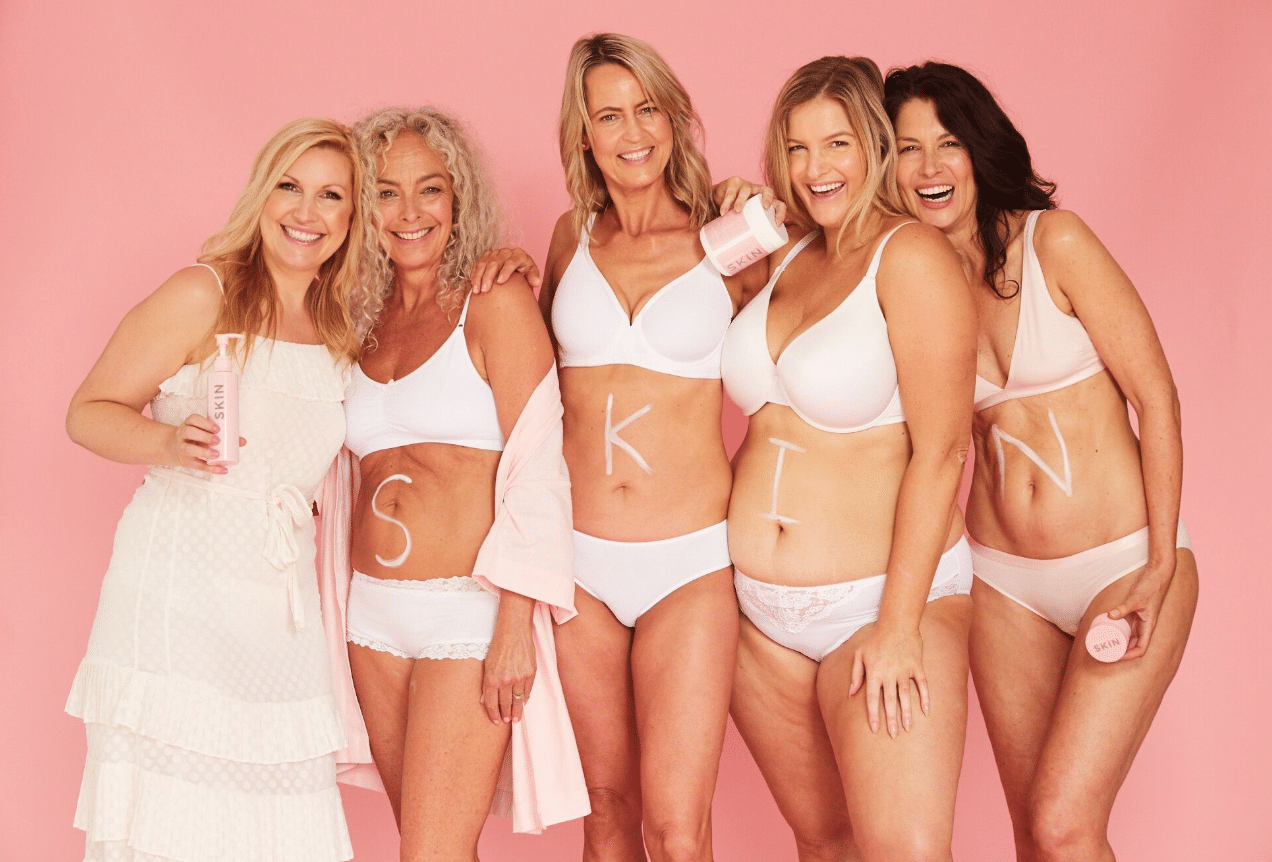 To shop the entire SKIN Range CLICK HERE