The Healthy Mummy is now available in Woolworths
The Healthy Mummy is launching a range of brand new Tummy products in Australian supermarket Woolworths! Find out more about it.
We're so excited that The Healthy Mummy is now stocked in Woolworths nationwide! We've developed three brand new products in our popular Tummy Smoothie range, which are available exclusively at Woolworths to make healthy living even easier and more convenient for busy women and mums. What's more, you'll find a few of our best sellers in select NSW stores.
For the past 12 years, The Healthy Mummy has empowered mums to live healthier lives and as a team of busy mums ourselves, we're committed to supporting women of all ages, lifestyles and life stages.
Exclusive smoothie range available at over 900 Woolworths stores
This has been the motivation to develop our new Tummy Smoothie range, so you can easily pick up products that give you real results, readily available across Australia in over 900 stores. The range consists of three NEW products, including the revolutionary Tummy+ Smoothie.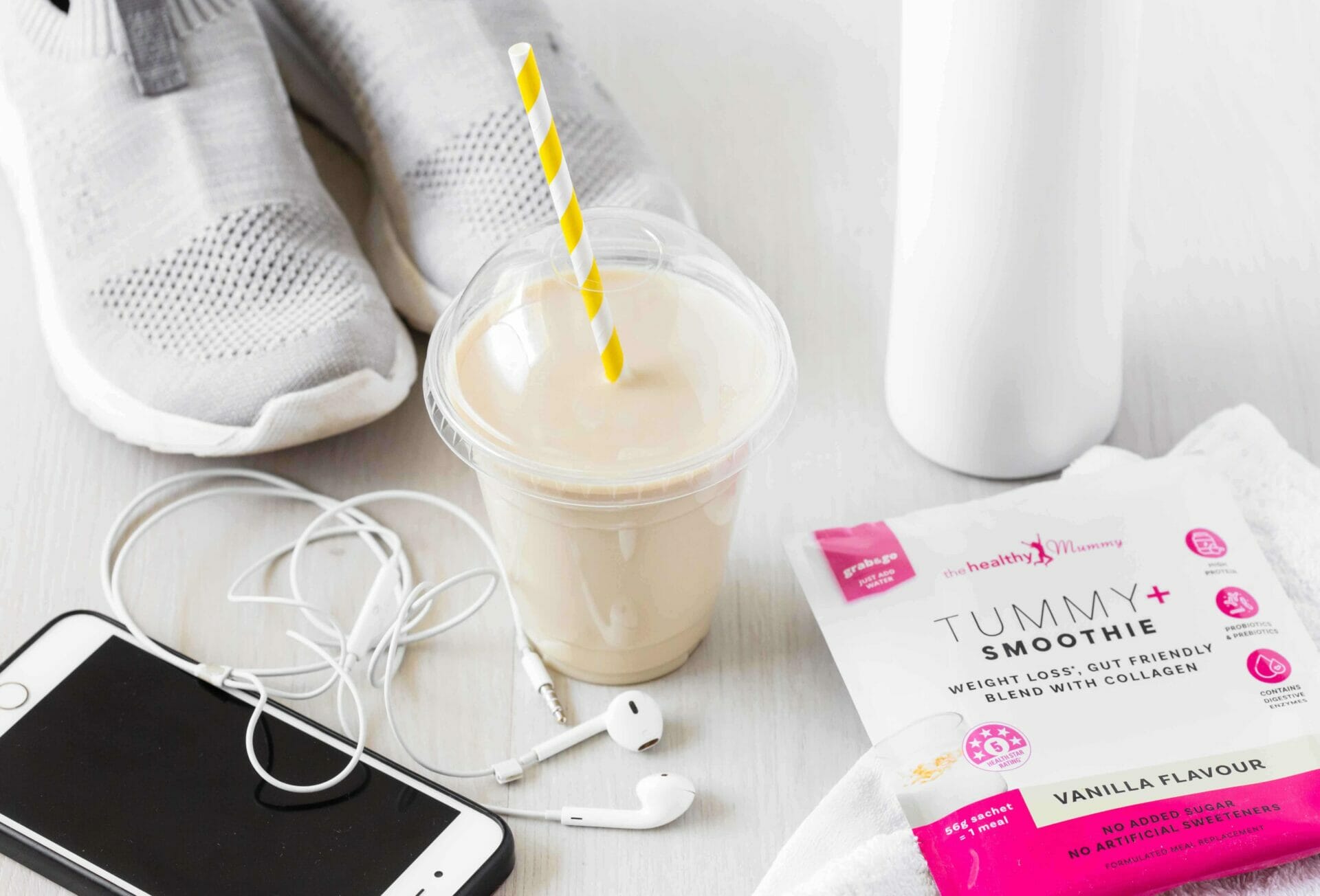 Tummy+ has been highly anticipated, inspired by countless requests across our wonderful online community of over 1.5M mums, with fourteen individual sachets of Vanilla and Chocolate flavoured Tummy+ Smoothie in a convenient and simple to use variety pack.
So, why the plus symbol +? Tummy+ has been formulated by expert nutritionists to include additional benefits such as a higher protein content for increased energy and fullness. Protein is an essential macronutrient that helps to keep us full. Your body uses the amino acids in protein to build lean muscle which makes you stronger and also burns calories even when you are not active. It also helps sustain muscle during weight loss, improve muscle fitness, immunity and antioxidant function, build HDL (good) cholesterol and enhance insulin and leptin function – all of which contribute toward optimal weight management efforts over time. This special formulation has a 5 star health rating and has been designed with convenience in mind – it's simply a grab & go sachet, you just add water for a complete meal or snack alternative to help you achieve your weight loss goals.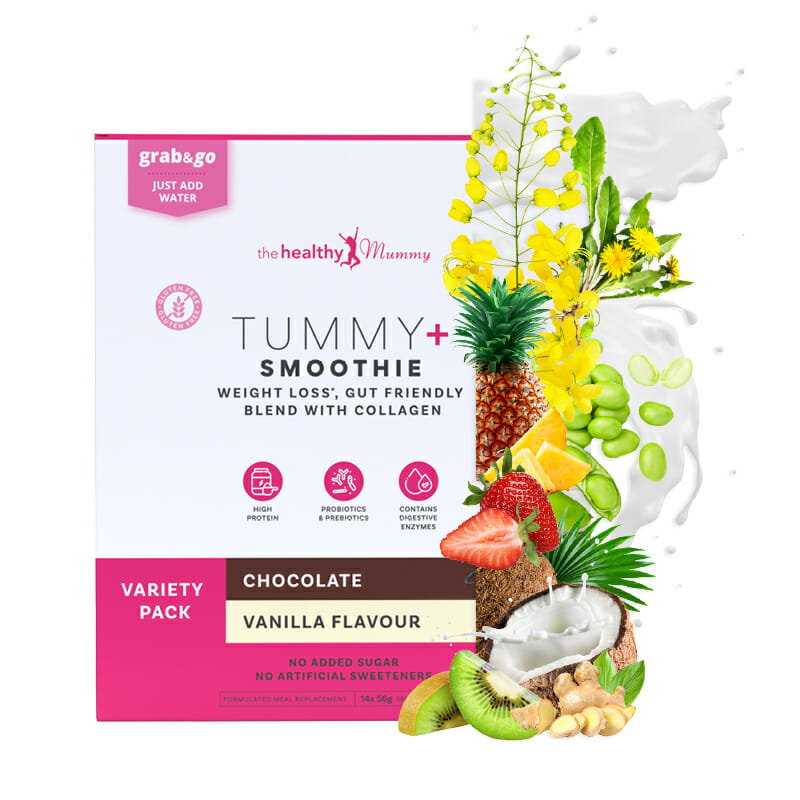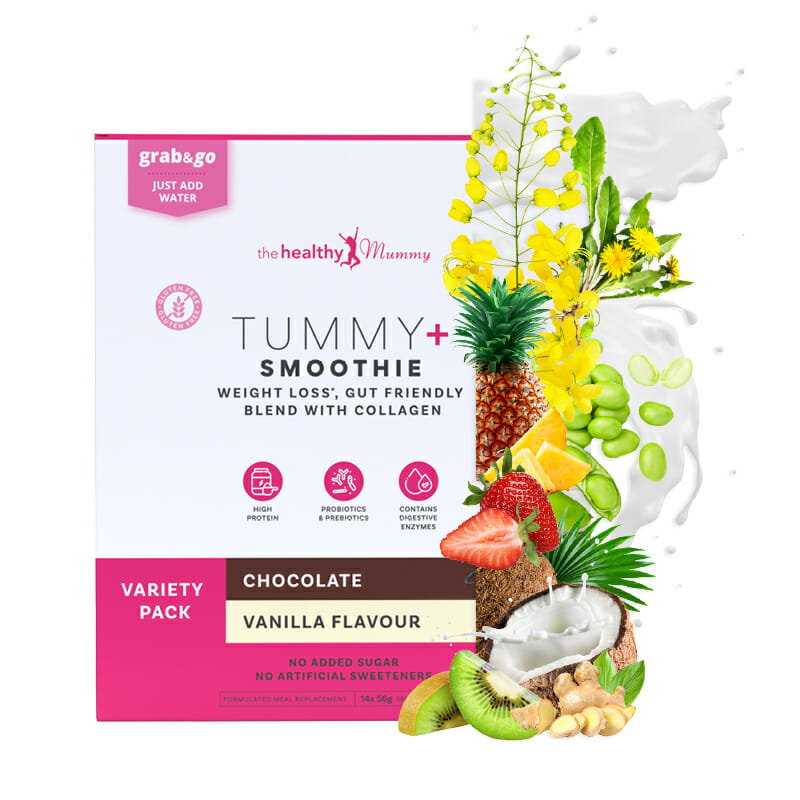 Foods you recognise
The Tummy Smoothie range is made with whole food ingredients such as real fruit and veggie powders like strawberry, kiwi fruit and carrot as well as prebiotics and probiotics, digestive enzymes and our revolutionary Tummy Complex providing 23 essential vitamins and minerals in each serving. This gut-friendly formula is also gluten-free and contains no added artificial ingredients or fillers meaning you get a complete and convenient meal helping you create long lasting sustainable change.
Soybeans contain 'phytoestrogens'. Phytoestrogens are found in plants that have a hormonal impact on oestrogen in the body.
These low-calorie, bright and juicy little fruits are full of vitamins and minerals, some of which have powerful health benefits like reducing cholesterol and blood pressure.
Kiwi fruit is high in fibre and hydrating so it gives your bowels a good kickstart!
Carrot and ginger helps reduce belly bloat.
Pineapples are packed with fibre and have a mild diuretic effect.
Rice is a good supply of energy, helps fight inflammation, reduces the risk of cancer, prevents constipation, helps control blood sugar levels and supports your immune system.
What's available in the new Tummy range?
Alongside Tummy+ you'll find specially formulated tubs of Vanilla and Chocolate Tummy Smoothies. Perfect to keep at home in the pantry, they have all the benefits, in your favourite flavour. The formula has gone through countless iterations to get the tastiest blend of natural ingredients, so you're fuelling your body and getting the most deliciousness and creaminess out of every sip. It has never been so easy to ditch the guilty milkshakes.
BONUS eBook full of delicious smoothie recipes
With any new health habit, it's important to make it stick, so we want to make incorporating smoothies into your routine as easy as possible. On the back of our new Tummy range tubs, simply scan the QR code to claim a FREE copy of our Ultimate Smoothie Recipe Guide (RRP $25). It's packed with healthy recipes to supercharge your smoothies, as well as ideas for using your smoothie powder in food. Nutritionally-backed recipes help you to take your results even further, with added ingredients such as berries rich in antioxidants, seeds and nuts to boost nutritional value, there's something for everyone!
Along with our NEW Tummy range stocked nationwide, there will be concept stores in NSW – Mortdale, Glenrose and Double Bay, where you will also be able to pick up our popular Premium Smoothies in best-selling flavours Vanilla, Double-Choc and Caramel and our customer favourite energy-boosting Super Greens!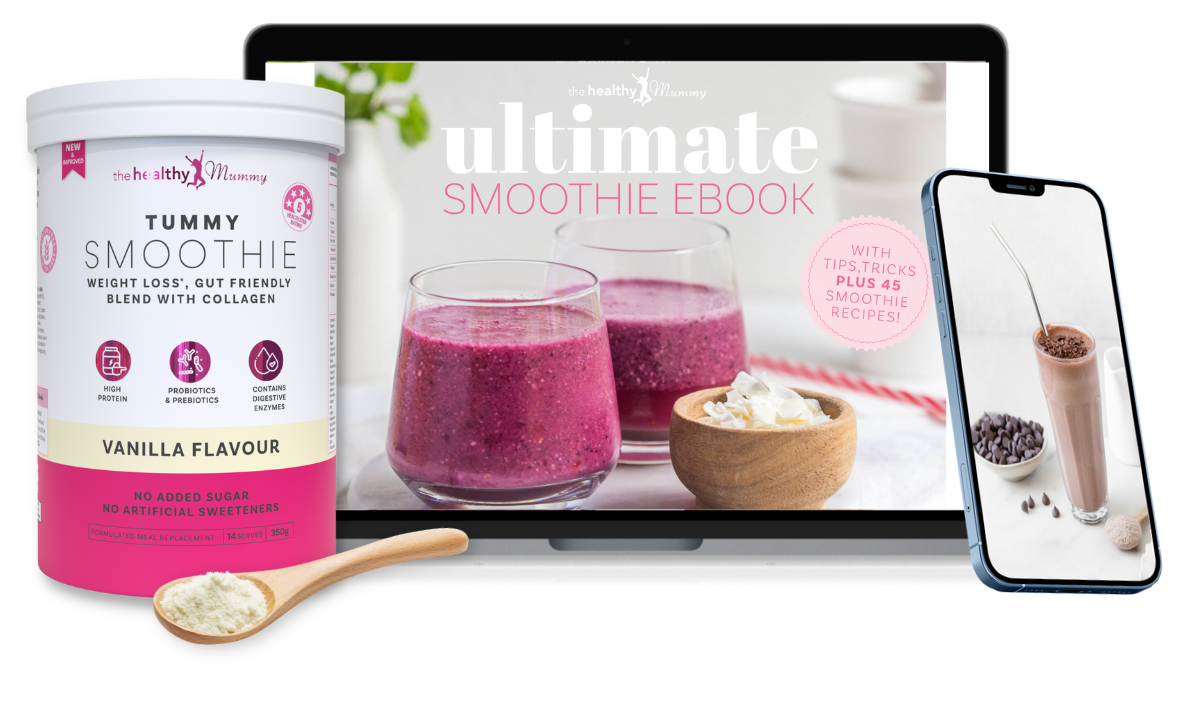 Check out our new Tummy Smoothie range in Woolworths stores or buy them online!
More of your favourite Healthy Mummy products now available in store!
You can now purchase more of your favourite products in Woolworths stores including our best selling tummy Bloat, Metabolism Support and Apple Cider Vinegar tablets!
Over the next couple of weeks our tummy Bloat, Metabolism Support and Apple Cider Vinegar supplements will be distributed throughout Woolworths stores nationwide. Tummy Bloat and Apple Cider Vinegar supplements will be stocked in around 890 stores and our Metabolism support supplement will be available in around 290 selected Woolworths stores. These products will typically be found in the aisle with vitamins and supplements, separate from our Healthy Mummy Smoothie range.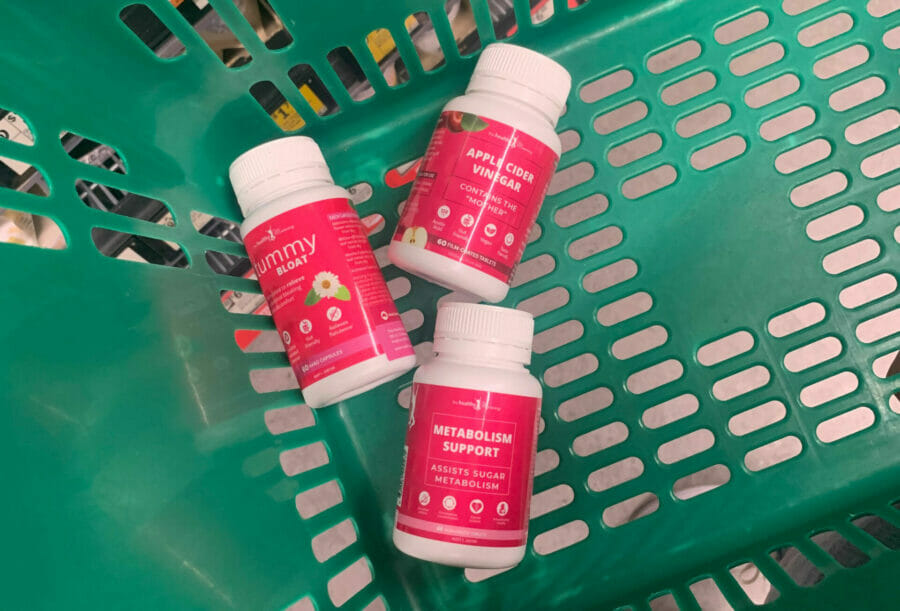 Our tummy BLOAT supplement is a gentle formulation designed to help relieve abdominal bloating and discomfort. The Healthy Mummy's BLOAT blend – featuring chamomile, lemon balm, activated charcoal and peppermint in a convenient hard capsule – is friendly on your gut and can help reduce flatulence, naturally.
Our Metabolism Support supplement is formulated to work with four key foundations thyroid care, metabolism (fat and carbohydrate), glucose handling (uptake and transportation to cells) and energy production. These are key foundations to help you succeed and achieve your goals.
Our Apple Cider Vinegar supplement is a convenient once-daily serving so you can enjoy all the age-old benefits of Apple Cider Vinegar, without the sour taste of liquid versions. Making it friendly to your gut and your taste-buds!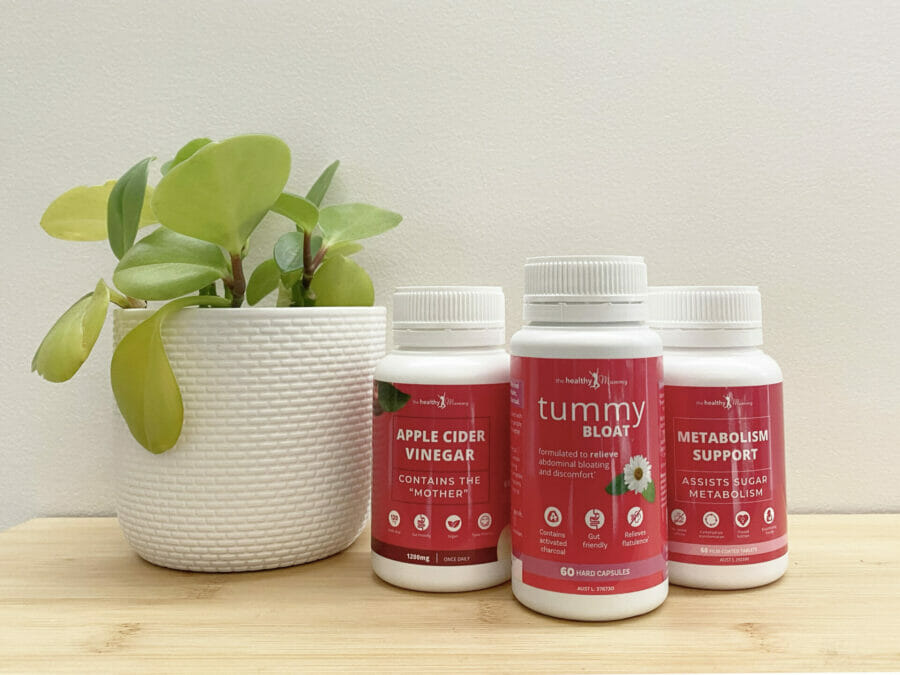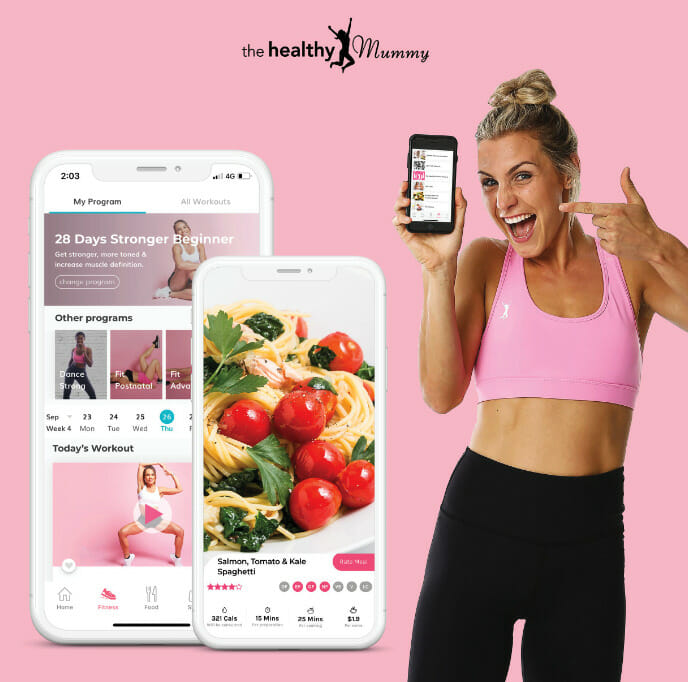 Are you ready to become a Healthy Mummy?