These 7 mums share their October achievements and how they're going to ATTACK November!
Now that October has come to an end, it's time to reflect and see how you did this month!
These 7 October Motivating Mums share what they've loved the most about the October Belly Blaster 28 Day Weight Loss Challenge as well as their top tips to help ATTACK the November Energy Boosting Challenge, check them out!
These 7 mums share their October achievements and how they're going to ATTACK November!
Alicia Whitbread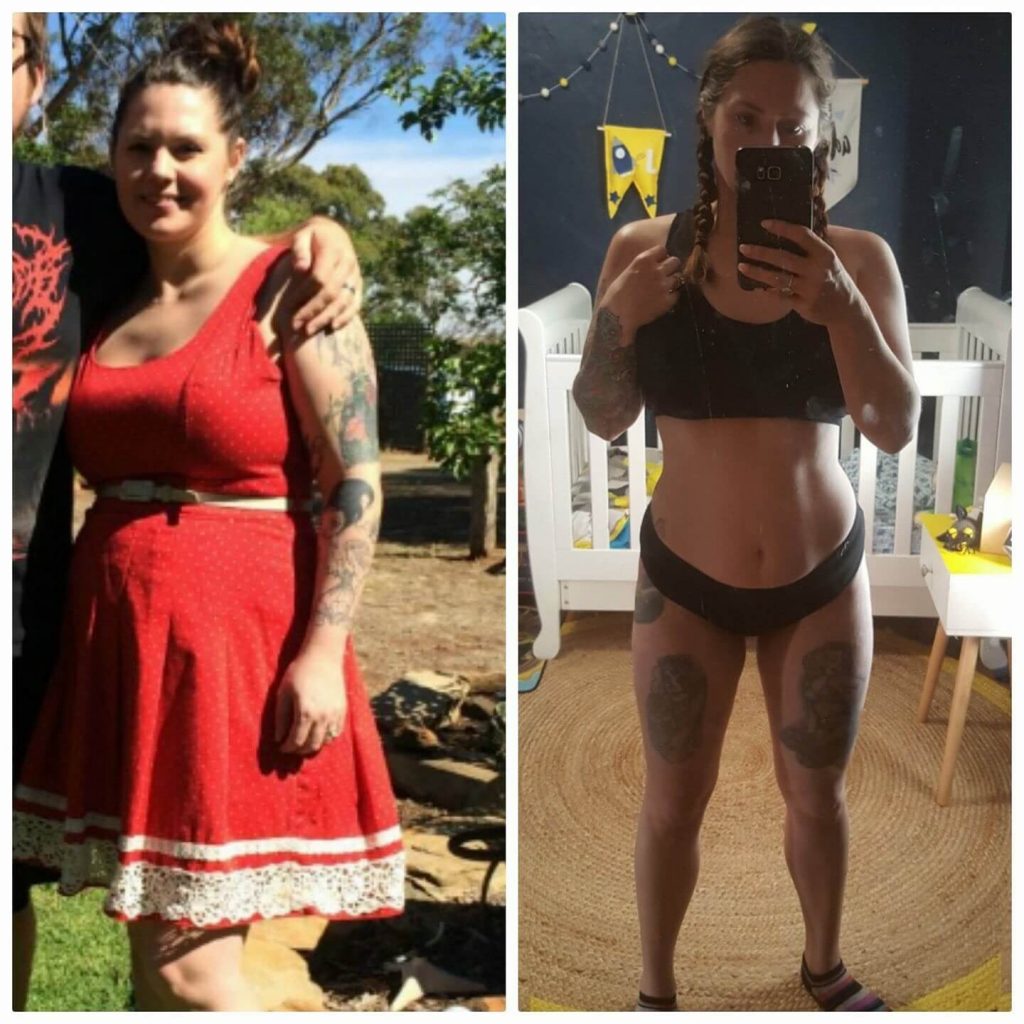 This month, Alicia has loved the food, exercises, the support from the group while on the 28 Day Weight Loss Challenge. 
"I have lost 4cm off my thighs and 7cm from my stomach."
"I am definitely fitter, previously a Les Mills gym class had me pooped, now I'm doing daily challenge exercises, plus other exercises from the app and backing it up with a gym group training session, all in one session at the gym."
"I feel I am definitely going in to summer much more confident, not just with my body, but also mentally."
Alicia's top 3 tips to stay on track this November:
1. Keep fluids up
2. Make small achievable daily goals
3. Never leave the house without healthy food and water to avoid bad snacking.
"My November goal is to boost my energy to get more out of every day and to take my weight loss with The Healthy Mummy to over 30kgs."
You've got this Alicia!
Kylie Spry
This month, Kylie has loved discovering new meals that she hadn't tried before, the tough but worth it Core Exercises and the Mind, Body Breath Exercises.
"I've lost 3kg, got to my goal of getting to a total loss of 30kg, currently at 31.3kg lost altogether."
"Didn't take measurements, but clothes are definitely fitting better!"
"I do feel stronger. I can do chin-ups and my lower back feels stronger from doing the Core Exercises."
"Definitely feel more confident going into summer, actually got swimwear in the mail today and they fit!!"
Kylie's top 3 tips to stay on track this November:
1. Lock in your non-negotiable exercise.
2. Stay hydrated with the warmer weather coming.
3. Prep as many meals and snacks as you can to avoid temptation.
"My November goal is to keep working on the Butt and Thigh Challenge and hopefully lose 4kg. Also, try new foods and recipes!!"
Well done Kylie, get ready to smash November!
Brooke Jones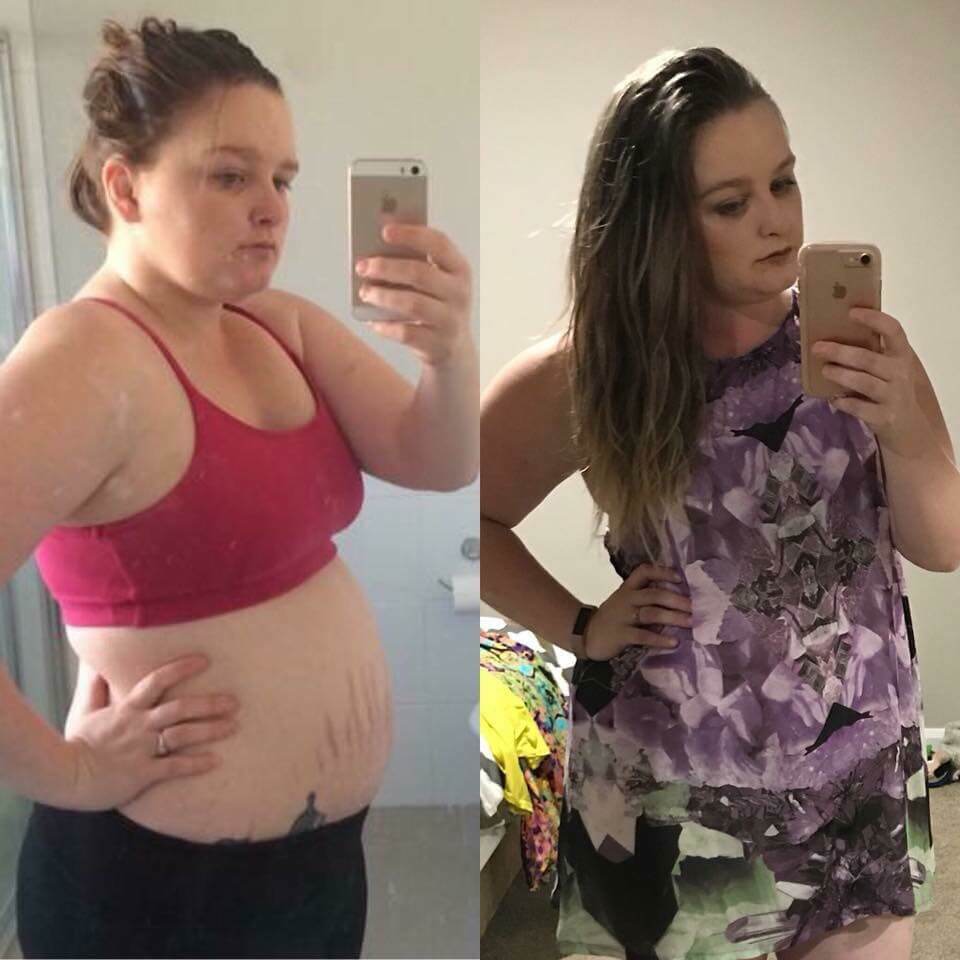 This October, Brooke has loved all of the Core Workouts, the delicious food and says she has gained a new confidence in herself.
"I have only lost 1kg in October but have lost 20cm off my body."
"I feel so much better about myself. I am now able to comfortably hold a plank for 2 minutes, so I know that my core has strengthened over the month."
"I definitely feel more confident and feel like by the time summer comes I will be that little bit closer to where I want to be."
Brooke's top 3 tips to stay on track this November:
1. Don't sweat the small stuff, if you have a bad day just get back up the next day and try again.
2. Failure to prepare is preparing to fail. Be ready for anything life can throw at you. Prep meals and snacks and you have no excuse but to smash it.
3. Keep your eye on the prize. Remember your 'why' and keep it in the forefront of your thoughts and smash your goals.
Great goals Brooke, you go girl!
Hayley Campbell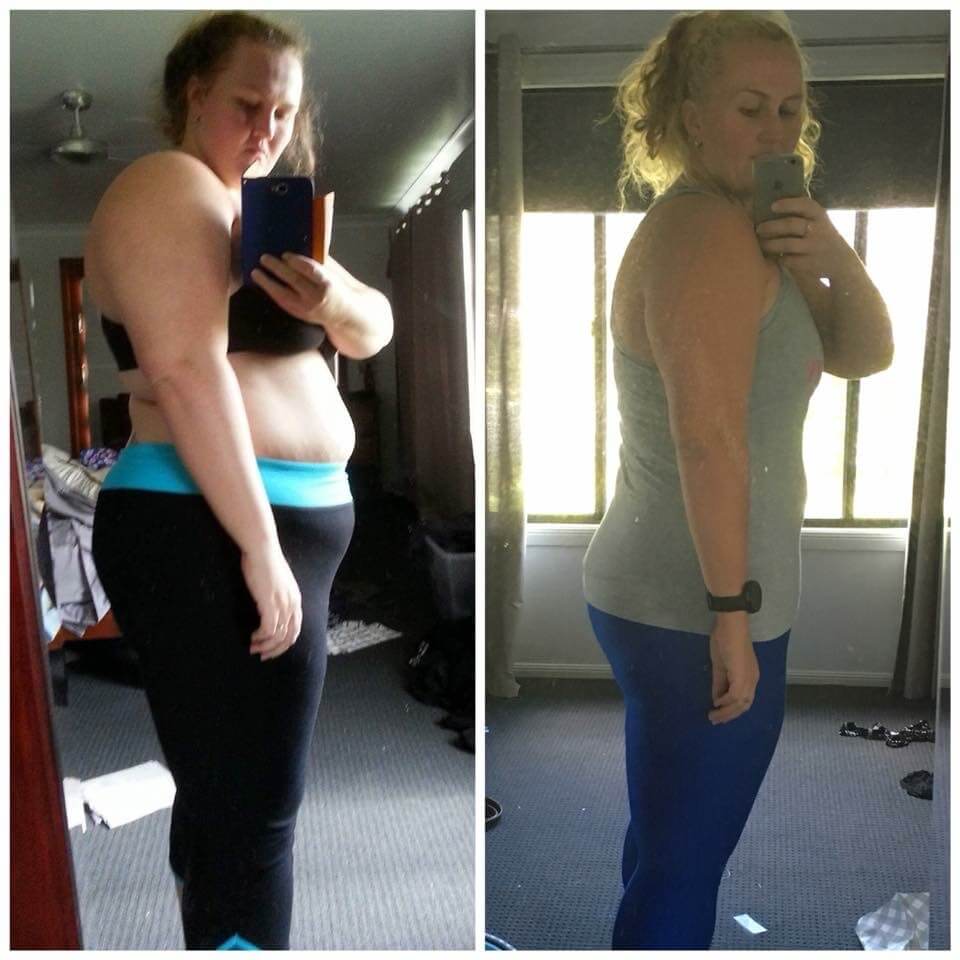 This year has been a battle for Hayley as she has been sick or injured for most of it. And though she hasn't lost any weight, this month she's had some huge non scale victories!
"I have run my first 3km – 2km further than ever before! I can do sit-ups, switch lunges, and full burpees."
"Consistency has gotten me here. I have been spot on with my food and I have been dedicated to at least 3 big workouts a week and other active recovery days. The protein powder has been a great addition to my strength gains this month."
Hayley's top 3 tips to stay on track this November:
1. Make a plan the day before for your exercise.
2. Sign up to classes to stay accountable
3. Find a buddy to bounce your progress and achievements off of.
Awesome fitness achievements Hayley! Well done!
Julie Durbhakula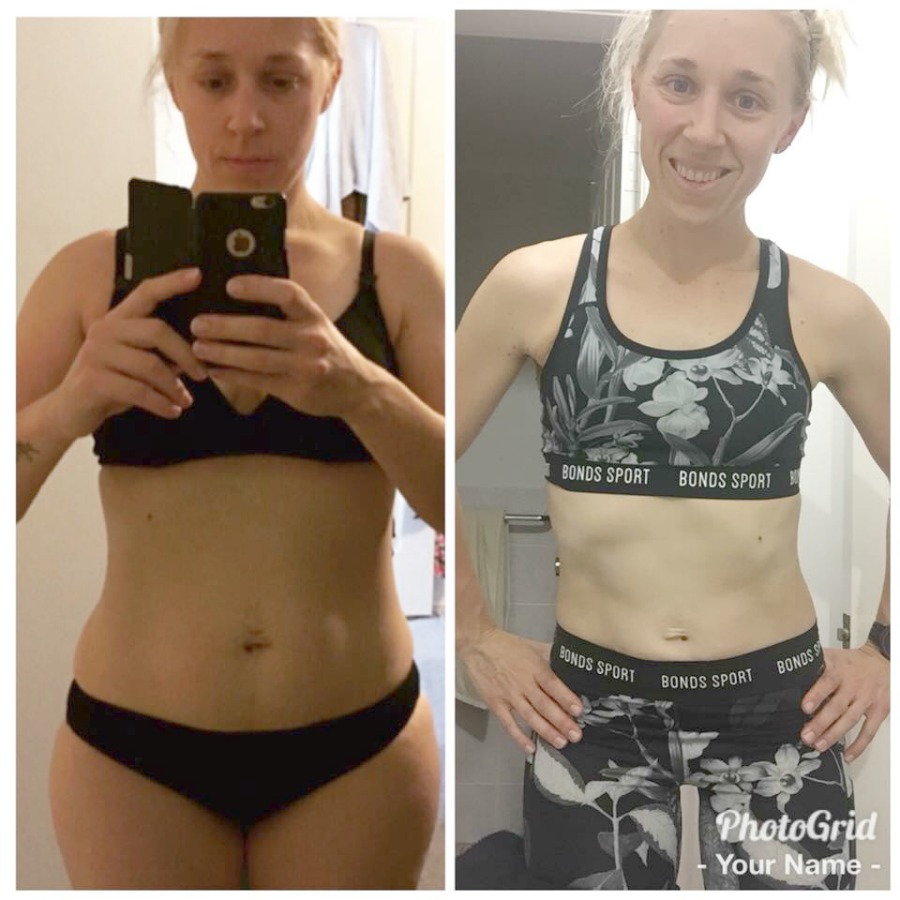 Julie has LOVED the new Core Workouts and has seen fab improvement in her core area as a result. She's also loved trying new, delicious recipes and the positive, supportive vibe in the Private Support Group. Amazing!
"I haven't dropped any weight but that's not my goal anymore. I am in maintenance and toning mode and I have definitely seen improvements in my muscle tone and my physical strength."
"I think I can honestly say that for the first time I feel like I could wear a bikini without boardshorts and be confident about how I look."
Julie's top 3 tips to stay on track this November:
1. Use the motivation in the support group, feed off the success others are having to help you create your own success.
2. Be prepared! Prep your snacks, set yourself reminders to drink water, schedule time to exercise. Make the commitment to yourself, your health is worth investing in.
3. Believe in yourself! Distancing yourself from negativity and having a positive attitude goes a long way.
Julie adds, "My personal goal for November is to continue on from the good work I have achieved in October, I have been more adventurous with my food and I'd like to continue to widen my food horizons."
Go Julie! Can't wait to see you rock your bikini!
Rochelle O'Connor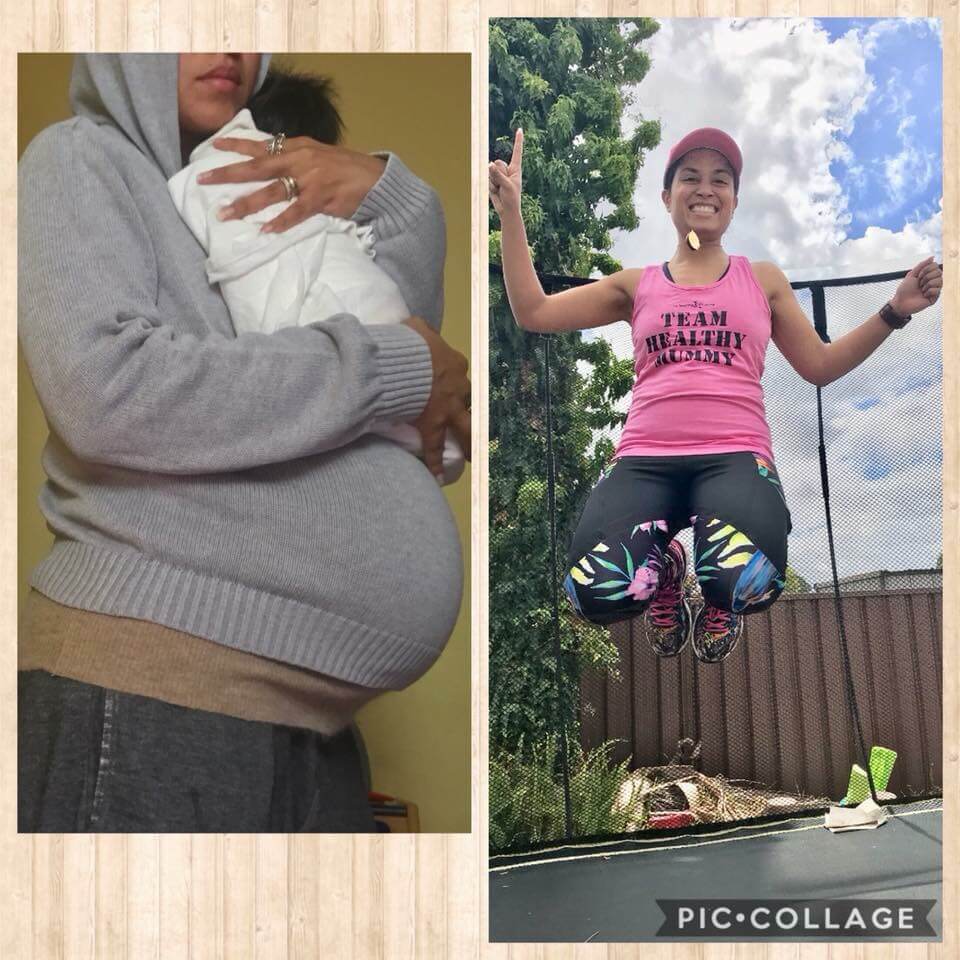 While following this month's 28 Day Weight Loss Challenge, Rochelle says that cooking and exercising is a family affair, she's saved so much time and money and she hasn't had to join a gym!
"The October 28 Day Weight Loss Challenge has helped me lose 5kgs, given me more core strength the new core exercises are AMAZING. It's given me more stamina, confidence in myself and focus on what I need to do to achieve my goals in life."
Rochelle's top 3 tips to stay on track this November:
1. Plan your month- know which days will be special occasions/higher calorie days and try not to include a "cheat day" within that week- the special occasion is your cheat day for that week.
2. If you are lacking motivation or stamina try exercising with your children. They are like your own little cheer squad and you will find yourself capable of the greatest of things with their support
3. If you are pressed for time, just start and end your day with Tabata- it's only 4 minutes and it will encourage you to want to be more active the more often you do it- consistency and discipline is the key.
"My goal for November is to maintain my Super Greens for coffee exchange. Build my energy levels so I can get even more out of the awesome challenge exercises and nourish my family with all the fabulous challenge food… maybe get even closer to my weight loss goal!"
Woohoo, go Rochelle!
Sam Geeves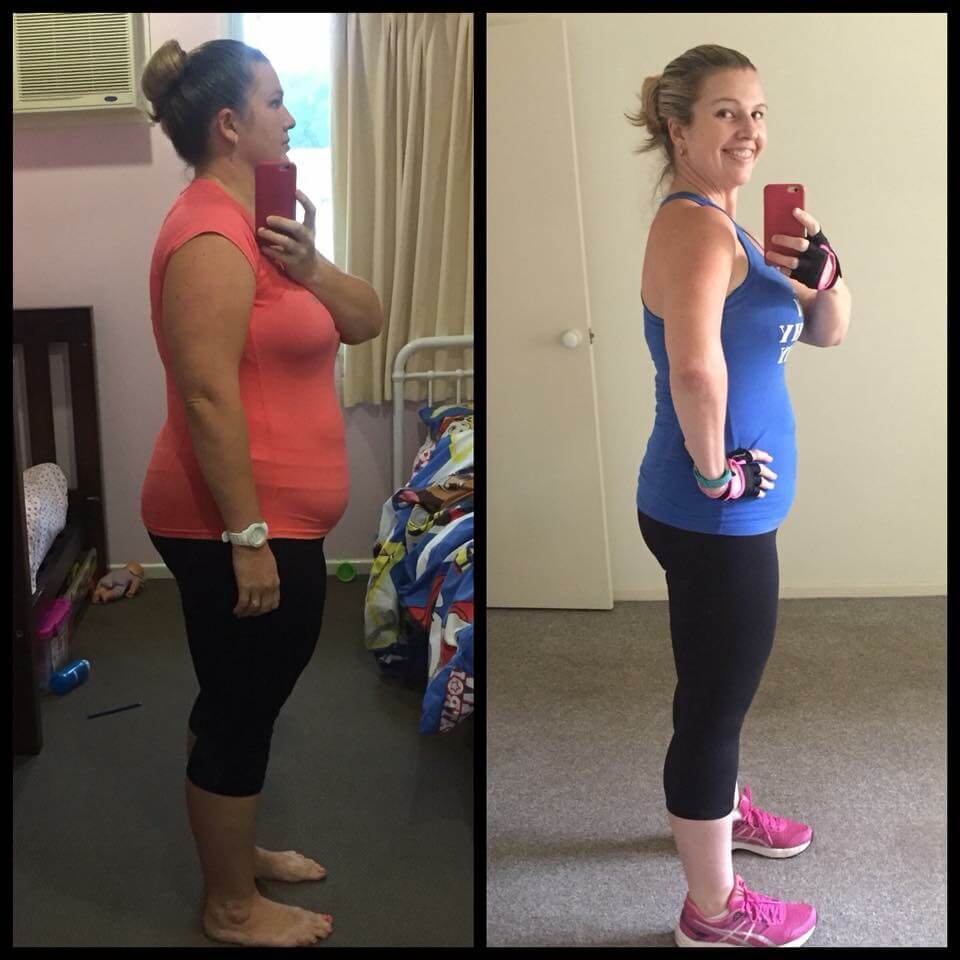 This month on the Challenge, Sam has loved the amazing menu options, the Core Exercises included in the app and is feeling fitter and ready to take on her second Parkrun and is going to try to beat her first time from a few months ago.
"I have continued to plateau and then drop weight throughout the month due to hormones. My shape has changed again and my new size 12 clothes are becoming looser. Must be time for another trip to the shops!"
"I am 100 grams off reaching my goal for October with a few days to go!"
Sam's top 3 tips to stay on track this November:
1. Make the best choices you can in the circumstances! Christmas parties are approaching so be sure to simply choose the best options when it comes to food or even bring a plate to share!
2. Keep moving your body every day despite the weather! It's going to be heating right up from now on so stay hydrated and keep up your exercise!
3. Be prepared! Snack or meal prep can be as little or as much as you like. If you have a spare half an hour during the day whip up some bliss balls, slice or muffins for the fridge/freezer or simply chop some fruit and veggies. Having healthy prepared food is key to success by combatting hunger and mindless snacking.
"My November goals are much bigger than October! I want to increase my challenge exercises and add more in each day and increase my runs to twice a week. I also plan to keep going with my Super Green coffee swap challenge because it has me feeling AMAZING!"
Love your tips Sam, keep up your fab work and attack those goals!
Join the November 28 Day Weight Loss Challenge!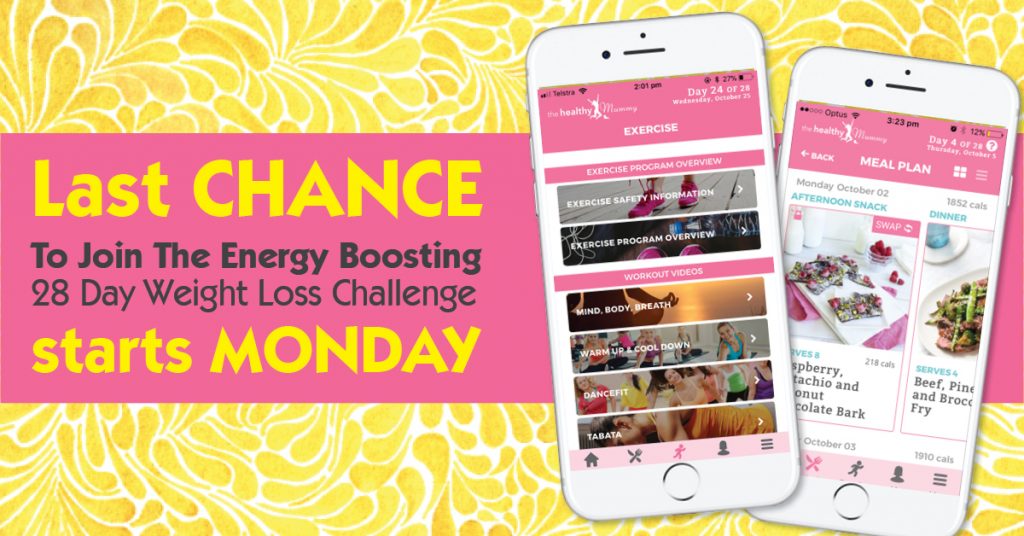 With more than 3,500 delicious (and healthy) recipes, 350 exercises & 24/7 support – the 28 Day Weight Loss Challenge  is designed (and proven) to help busy mums like you lose weight!
Our November Challenge will be LOADED with delicious and healthy recipes to help you BOOST YOUR ENERGY, get the most out of your day and ready to tackle the FINAL weeks before summer!
To learn more about our challenge OR to join – click here.