New mum shows off her stretch marks to celebrate postpartum bodies
You won't see this strong mama covering up her stretch marks. Oh no, she wants the world to see exactly what a post-baby body looks like, and to celebrate it too. And we 100 percent agree with her!
Abagail Wedlake, who gave birth to her daughter four months ago, proudly shared snaps of her stretch marks on Instagram, and has now been hailed by mums around the world.
On one of the pics, Abagail wrote: "A mark for every breath you took, every blink, every sleepy yawn. One for every time you sucked your thumb and slept in perfect darkness. One for every dream you dreamt.
"It was your home and where I grew to love you. I've earned these stripes and am embracing them more and more every day. Postpartum bodies are different but show the beauty of being given the chance to bring life into this world."
Abagail exclusively tells The Healthy Mummy that she started posting pics of her marks to help empower herself and other women.
"Just after birth I felt extremely insecure about my body," she admits.
"Not only did I have all the extra skin and stretch marks, I had a big caesarean section scar along with it. I decided to share the pictures of my stretch marks because I was tired of seeing the "perfect" bodies the media portrays.
"I wanted other mothers to see that they are not alone. That stretch marks are nothing to be ashamed of."
Abagail says while she was pregnant she couldn't get her head around all the body changes. 
"When I was pregnant I struggled with the weight gain and wondering how my body would be after giving birth," she reveals.
"I got my stretch marks at about 36 weeks pregnant and was devastated, thinking I'd never be able to wear a bikini out in public.
"That morning before I posted that picture, staring at the mirror holding my daughter I realised that these are earned. I carried her for nine months and earned these stretch marks and the caesarean scar below them."
Since posting the pics, Abagail says so many people have liked and shared her pics.
"I thought since I have a small following on Instagram I could help other mothers feel more confident. I never expected it to get 16,000 likes and seen by over 500,000 people," she adds.
"I couldn't believe how positive the reactions were! How fast the pictures being reposted.
"I'm so thankful to have moved so many women and helped them become more comfortable and accepting of there new postpartum bodies."
Thank you Abagail for reminding us mums that stretch marks, marks and other baby-related scars are OKAY and totally normal.
While many of us would rather not have stretch marks – it's good to remind ourselves that these marks occurred because of something amazing – bringing a beautiful, baby into the world. And that is ought to be celebrated!
Just like Abagail, Healthy Mummy community member, Annette Palma, recently shared a pic with us of what a postpartum body really looks like. Annette also went on to reiterate to mums – your body isn't going to bounce back over night – and that's okay. You can read more of Annette's comments here.
For more inspiration, read mums being encouraged to embrace post baby bodies in beautiful photo series and the power and destruction of photoshop – 13 celebrity photoshops.
Further information on stretch marks in pregnancy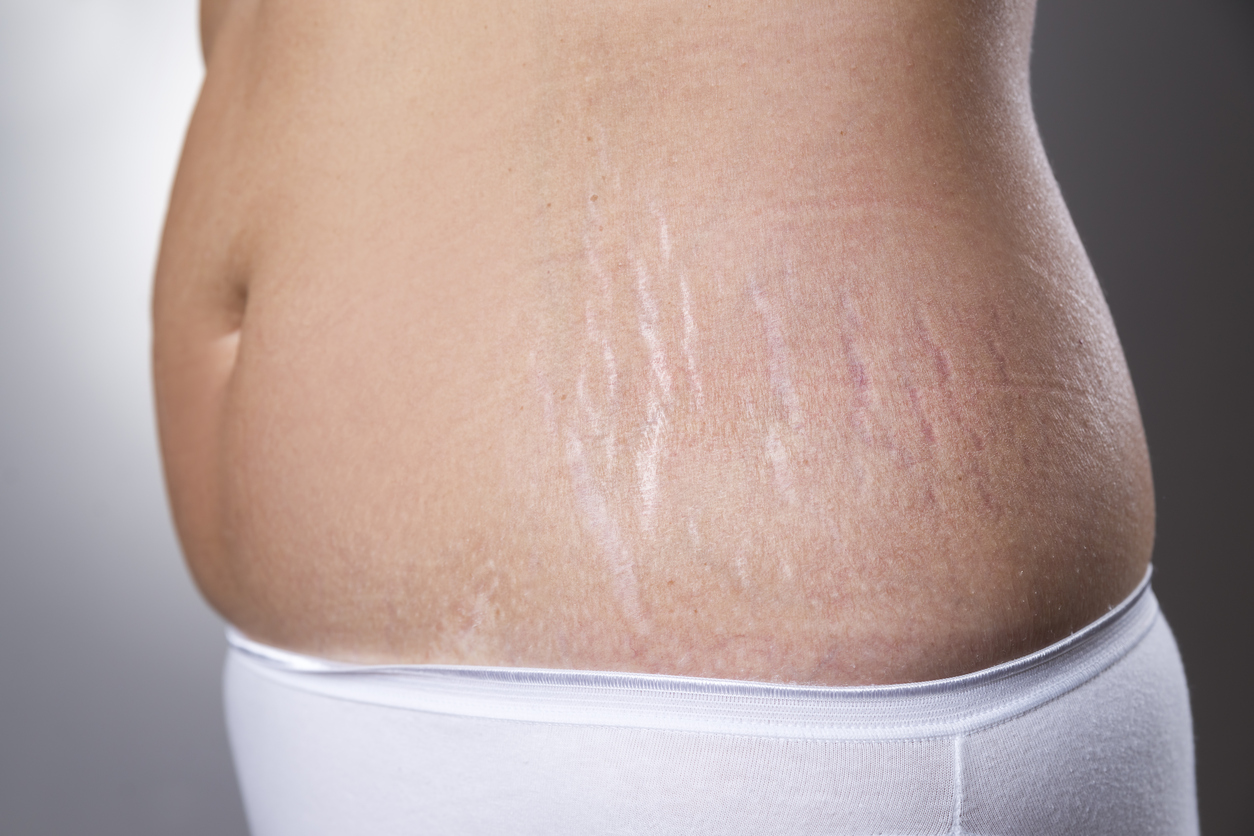 Stretch marks are small streaks that appear on the skin when it is forced to stretch quickly when your body expands.
They generally appear on the lower abdomen when the belly is forced to expand to accommodate a growing baby, although some women will find stretch marks on their buttocks, hips and upper thighs.
Stretch marks start out purple, brown or red in colour and then over time they will fade to a silvery colour that matches your skin tone – this will take, on average, about 6-12 months.
It's hard to predict exactly how many women will get stretch marks. More than half of pregnant women will get stretch marks, and it's thought that young mums, especially teen mums, are more prone to getting stretch marks than older mums.
You're also more likely to get stretch marks if your mum or sister got stretch marks during their pregnancy.
If you're having twins or multiple babies, carrying a big baby or if you're carrying a lot of amniotic fluid, you are also more likely to get stretch marks as your skin has to stretch and expand much more. The faster your skin has to expand, the more stretch marks you are likely to get.
For more information on stretch marks, click here.