Pregnancy Calorie Intake & BMI/BMR Calculator
Women are often encouraged to "eat for two" during pregnancy, but this shouldn't be taken too literally. While it's important to meet the nutritional needs of both mum and baby, this doesn't mean eating twice as much.
Surprisingly there is only a small increase in the amount of energy (calories) you need to eat while you are pregnant. During the first trimester, a woman's energy intake should remain roughly the same, so extra food is not required. It's only in the second and third trimester that energy needs increase, but only slightly.
To meet the extra energy and nutrient requirements during this time, it's recommended that pregnant women
consume an extra 2 1/2 serves of wholegrain foods per day (about 300 cal/1255kJ), as well an extra serve of bread: 95cal (795kJ) lean meats and/or meat alternatives per day (about 120-140 cal/500-600kJ).
Overall this equates to approximately an extra 400 calories (1674kJ) a day. If you're overweight or underweight, you may need more or less than this. Speak to your doctor or midwife for further advice
As everyone has a varying metabolism and activity levels, you may find you need more energy or are still hungry. If so, choose extra serves of nutritious snacks, such as fruit or a handful of nuts. Always eat to satisfy your appetite and continue to monitor your weight to ensure a healthy weight gain
How many calories do you need
To maintain a healthy weight in pregnancy our Healthy Eating 7 Day Pregnancy Plan ranges between  1500 – 1785 calories a day and as a guide we would we recommend not going lower than 6500 kilojoules (1500 calories) per day. To increase calories have more healthy snacks or increase portion size accordingly.
However, everyone has a different metabolism and you can calculate yours below to determine how many your body needs below so you can adjust your calorie intake accordingly.
Please click here to read advice on healthy weight in pregnancy and why it is essential for the health of mother & baby
BMR Calculator
[bmrcalcpreg]
Your BMR can  be calculated on our calculator below.
Our BMR calculator will give you your daily energy needs depending on how much exercise you do.
Please note that these are guides and you should listen to your body and if you need more snacks you should eat them and you should never starve yourself or go hungry if you are trying to lose weight.
For more information on weight gain in pregnancy click here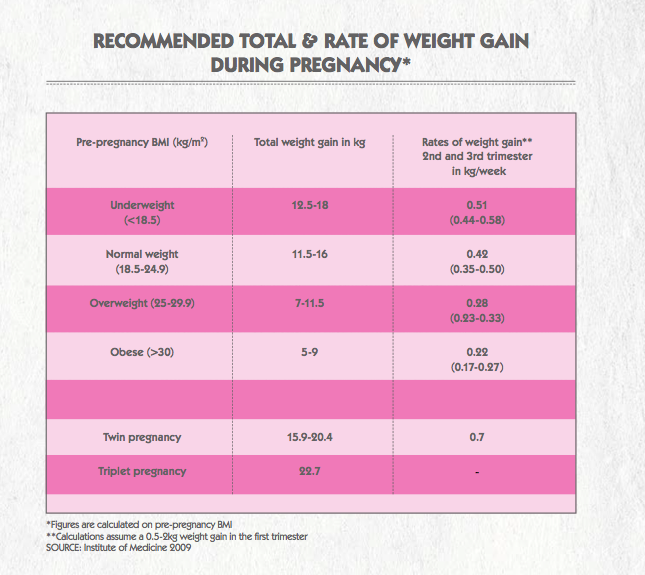 Disclaimer: Always speak to your doctor before changing your diet,taking any supplements or undertaking any exercise program in pregnancy. The information on this site is for reference only and is not medical advice and should not be treated as such, and is not intended in any way as a substitute for professional medical advice..
Our plans promote a health weight gain in pregnancy to benefit the mother & baby and you can read more on this here 
The owners of The Healthy Mummy do not make any representations or warranties, express or implied and shall have no liability or responsibility to any person or entity with respect to any loss or damage caused or alleged to be caused directly or indirectly by the information contained herein and nothing in this disclaimer will limit or exclude any liability for death or personal injury resulting from negligence, limit or exclude any liability for fraud or fraudulent misrepresentation, limit any liabilities in any way that is not permitted under applicable law or exclude any liabilities that may not be excluded under applicable law.