Pregnancy weight gain – what is healthy?
We very much see it as our responsibility to encourage women and educate women about healthy pregnancy weight gain as this is critical for the health of the woman and baby in pregnancy.
Hello gorgeous pregnant mums! We hope you are enjoying our Private Healthy Mummy Pregnancy Support Group
Pregnancy is an amazing time where our body undergoes so many changes but for some women the weight gain in pregnancy can be worrying and confronting.
Unfortunately, it also causes some women to have self-esteem issues and to think about ways to lose weight in pregnancy or to stop gaining weight.
This troubles us greatly at the Healthy Mummy as for a healthy pregnancy a woman needs to gain weight and we want to encourage all women to embrace their pregnancy body and love their new curves.
We very much see it as our responsibility to encourage women and educate women about how important it is to gain a healthy amount of weight in pregnancy as this is critical for the health of the woman and baby in pregnancy.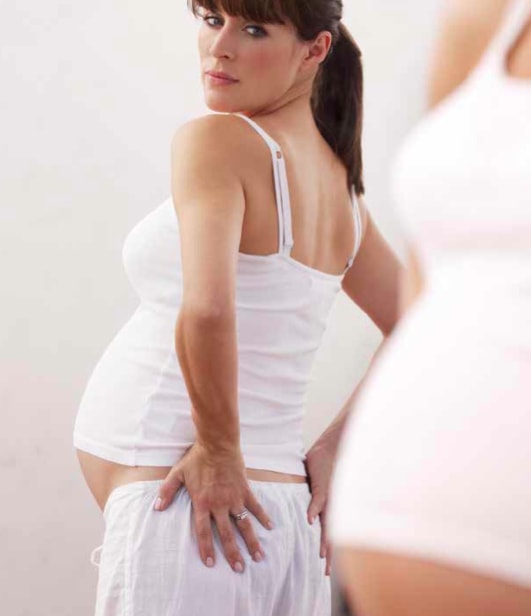 We want you to be body confident and make your pregnancy healthy, fit and educated
We also have asked one of our fantastic nutritionist, Kathleen Alleaume ,to outline to key information below surrounding weight gain in pregnancy which we hope will debunk some of the myths and remember – you are growing a baby you need to focus on eating lots of healthy foods and nourishing yourself – this is not the time to worry about weight loss or if your favourite jeans do up.
And although we do understand that it can be hard to see your body change remember that there is lots of time post birth to think about healthy weight loss and now is the time to enjoy your body growing and changing.
We will also be bringing you later this week a pregnancy BMR calculator so you can work out how many calories you need for your body type in pregnancy – and as a rough guide it is approximately 400 extra calories in the 2nd and 3rd trimester.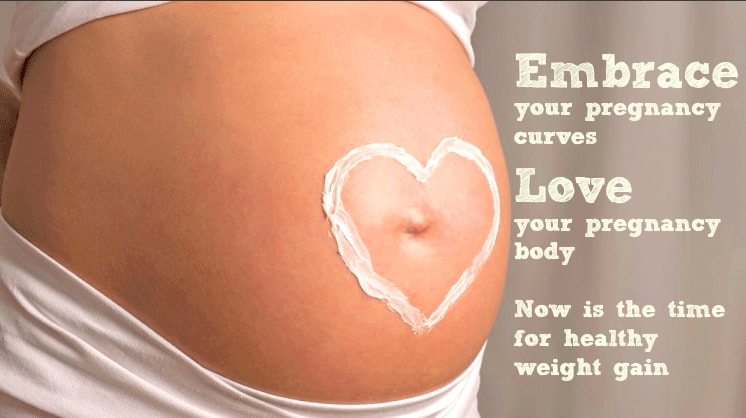 Weight gain – how much is normal?
Many women fear the inevitable weight gain of pregnancy, even though it is completely normal.
How much weight you need to gain depends on various factors, including your age, current state of health, and pre-pregnancy weight or body mass index (BMI).
Optimal weight gain
For women in a healthy weight range, the recommended average weight gain is 12kg. You can expect to put on around 1-2kg in the first trimester and about 1-2kg each month after that.
The important thing to keep in mind is that most of the weight gained is not body fat.
Your baby at full term makes up about one-third of this weight and the rest of the body weight is distributed between the uterus, placenta, blood volume, amniotic fluid and breast tissue.
This extra weight provides an optimal support system for the growth and development of
your baby.
Underweight vs overweight
If you are underweight or have a low body mass index (BMI), you will need to gain a bit more weight (between 12.5kg and 18kg) as inadequate weight gain may increase the risk of preterm birth.
Conversely, if you are above your recommended weight range, you will be encouraged to put on a little less weight than average, as gaining too much weight during pregnancy can also be problematic for you and the baby. It's really important to get the balance right.
Remember, pregnancy is NOT the time to start dieting or trying to lose weight.
Dieting to lose weight during pregnancy can be hazardous to you and your baby, particularly as a weight loss regimen may restrict important nutrients.
Use healthy lifestyle habits – gentle exercise and mindful, nutrient-focused eating – to manage your pregnancy weight gain, support your baby's health and make it easier to lose baby weight after the birth of your baby.
Obesity-related health risks for mothers
Women who are overweight or obese during pregnancy may face several possible health risks, including high blood pressure, gestational diabetes, a large baby (macrosomia) and the necessity of a caesarean section, as well as difficulty losing weight after the baby is born, which can also increase a mother's long-term risk of diabetes, heart disease and some cancers.
Obesity-related health risks for the baby
The developing foetus of overweight or obese women are also at increased risk of health problems, including birth defects and childhood obesity. Speak to your doctor or midwife if you have any concerns at all about your weight level.
For advice on healthy eating and exercise in pregnancy please see our Healthy Pregnancy Eating & Exercise Book  and for a nutritious snack in pregnancy see our Healthy Mummy Pregnancy Smoothie both of which will be launching very soon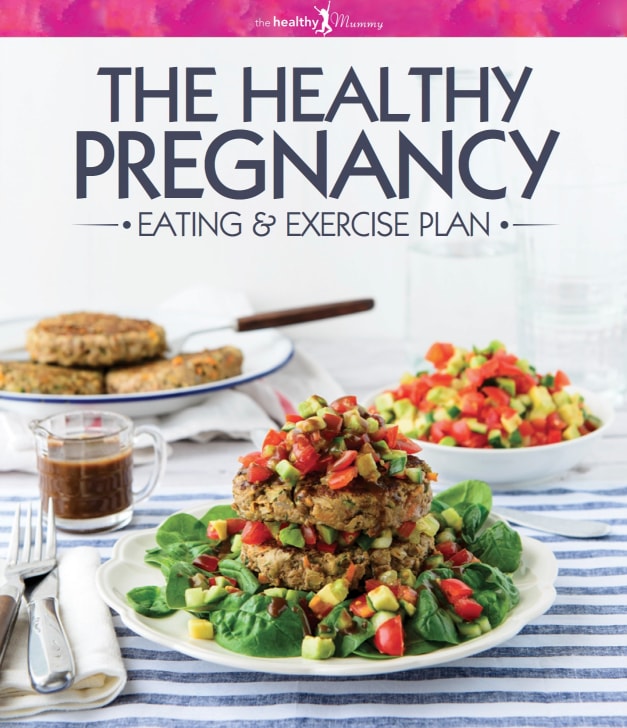 Disclaimer: Always speak to your doctor before changing your diet, taking any supplements or undertaking any exercise program in pregnancy. The information on this site is for reference only and is not medical advice and should not be treated as such, and is not intended in any way as a substitute for professional medical advice..
Our plans promote a health weight gain in pregnancy to benefit the mother & baby and you can read more on this here.
The owners of The Healthy Mummy do not make any representations or warranties, express or implied and shall have no liability or responsibility to any person or entity with respect to any loss or damage caused or alleged to be caused directly or indirectly by the information contained herein and nothing in this disclaimer will limit or exclude any liability for death or personal injury resulting from negligence, limit or exclude any liability for fraud or fraudulent misrepresentation, limit any liabilities in any way that is not permitted under applicable law or exclude any liabilities that may not be excluded under applicable law.