Read how these mums have lost over 84 kgs and a huge amount of centimetres.
It is that time of week where we celebrate the amazing weight loss achievements of our lovely Healthy Mummy 28 Day Weight Loss Challenge mums.
We love to celebrate the amazing weight loss achievements of our lovely Healthy Mummy 28 Day Weight Loss Challenge mums and these mums results are well worth celebrating!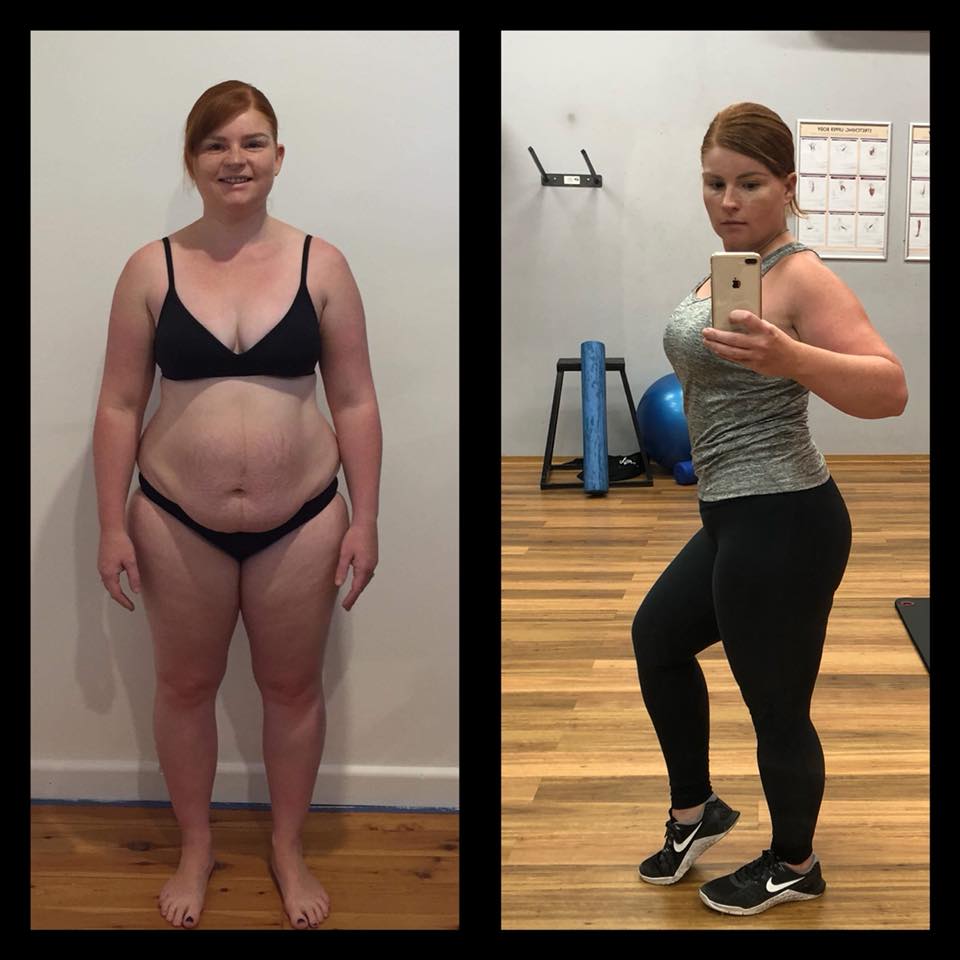 Stacey Webb has lost 6 kgs
Stacey says, "I am a Mum to four children aged six years, four years and three and a half month old twins."
"Pictures are me at one month postpartum with the twins and three and a half months postpartum with the twins."
"6 kilos lost and 38cm lost."
"I don't make excuses, instead I try to incorporate my exercise into my busy life."
"I have loved and enjoyed my pregnancy as well as my postpartum journey. I am still on my journey however so far I have gained energy, motivation, determination and confidence. The Healthy Mummy 28 Day Weight Loss Challenge has contributed to that and I am so grateful. Best thing I did was join!"
Leah Connell has lost 3.4 kgs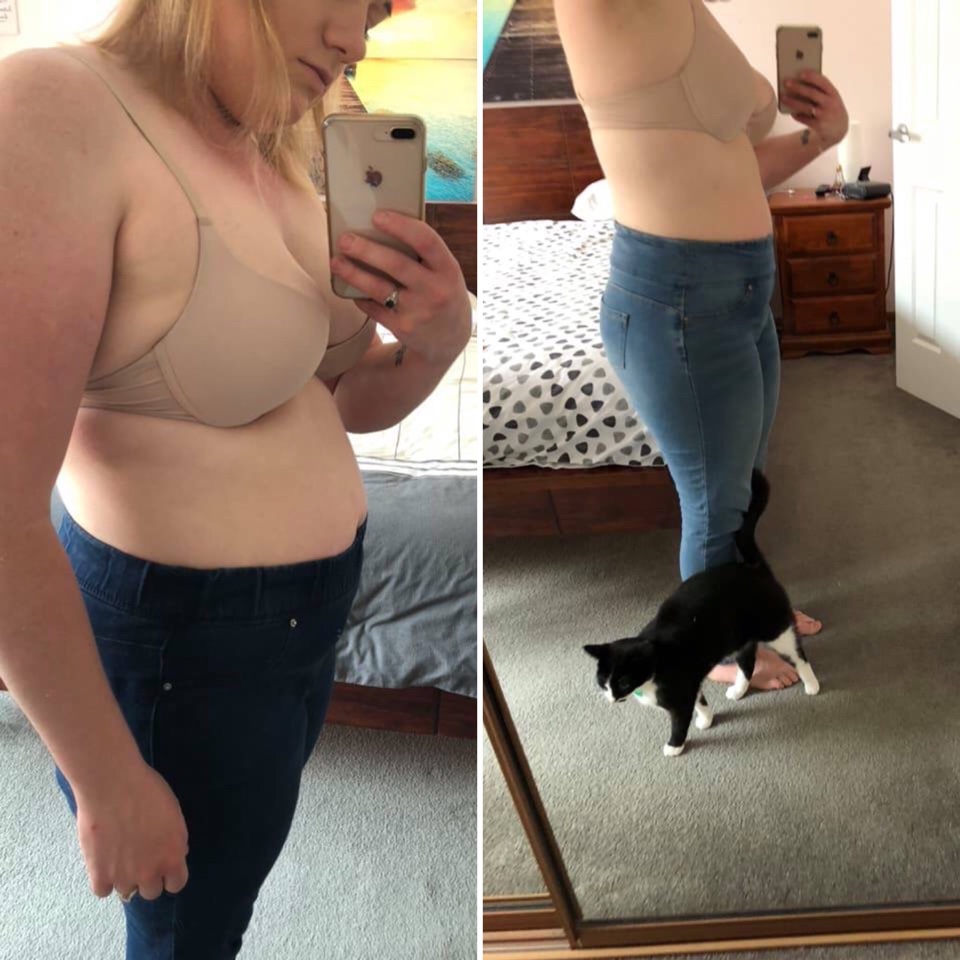 Leah says, "A month for me today. I have been using the smoothies and free recipes."
"I feel amazing and have dropped two dress sizes. I have gone from size 16 to size 12 and now the 12 are getting too big."
"In a month I have lost 4.3 kg but a lot of centimetres all around. I feel like a completely different person."
Elyce Thomson has lost 28 kgs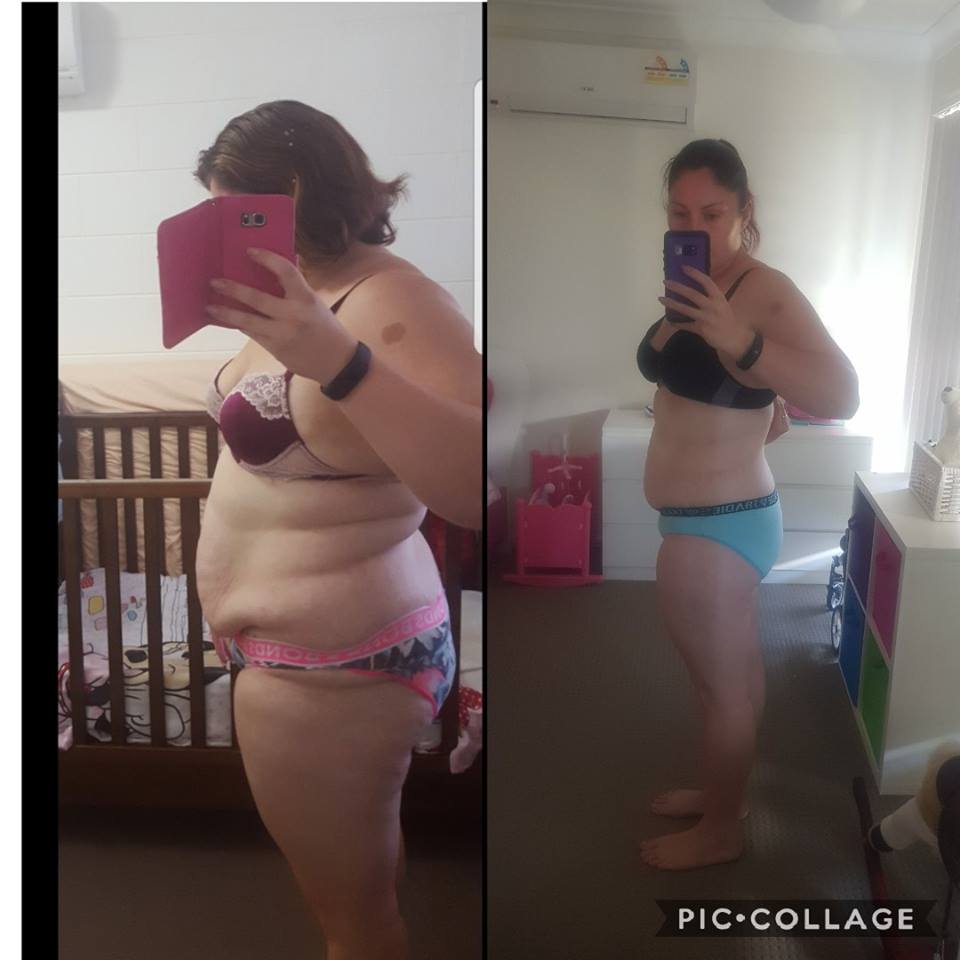 Elyce says, "12 months ago – 114kgs size 20 & extremely unhappy! Fast forward to now – 86kgs and currently in between a size 14 and 16."
"12 months ago I switched to online shopping. I was devastated. Was too embarrassed to walk into a clothing store. Didn't want to find something I loved but then find out they didn't make it big enough or yet try it on and didn't like it."
"I use to try something on and think to myself "I seriously am not this fat" and would refuse to buy it."
"It took a lot for me to realise the person in that mirror was unfortunately me. It is exactly how I looked and I honestly really needed to do something about myself."
"Today I have officially lost 28kgs. I walked into normal clothing stores today, I didn't have to worry about them not having my size like I use to, I walked in, found something I liked, reached for my size easily, tried it on and walked out satisfied within 5 mins."
"For the first time in seven years I didn't have to shop in the plus size section and for the first time in a long time, I am finally happy with self. I am starting to love myself again! I'm not embarrassed about myself anymore."
"I still have another 6kgs to go so I'm far from done yet, however in 12 months I know I have achieved a lot, I know I have worked my absolute butt side off, even though I've cried and probably thrown more than one tantrum when the scales weren't moving."
"But I've battled the plateaus and I'm still succeeding! I can not thank The Healthy Mummy and The Healthy Mummy community enough! Without finding The Healthy Mummy and reading so many success stories god knows where I would be!"
Natalie Carling says she has loved being a part of a helpful community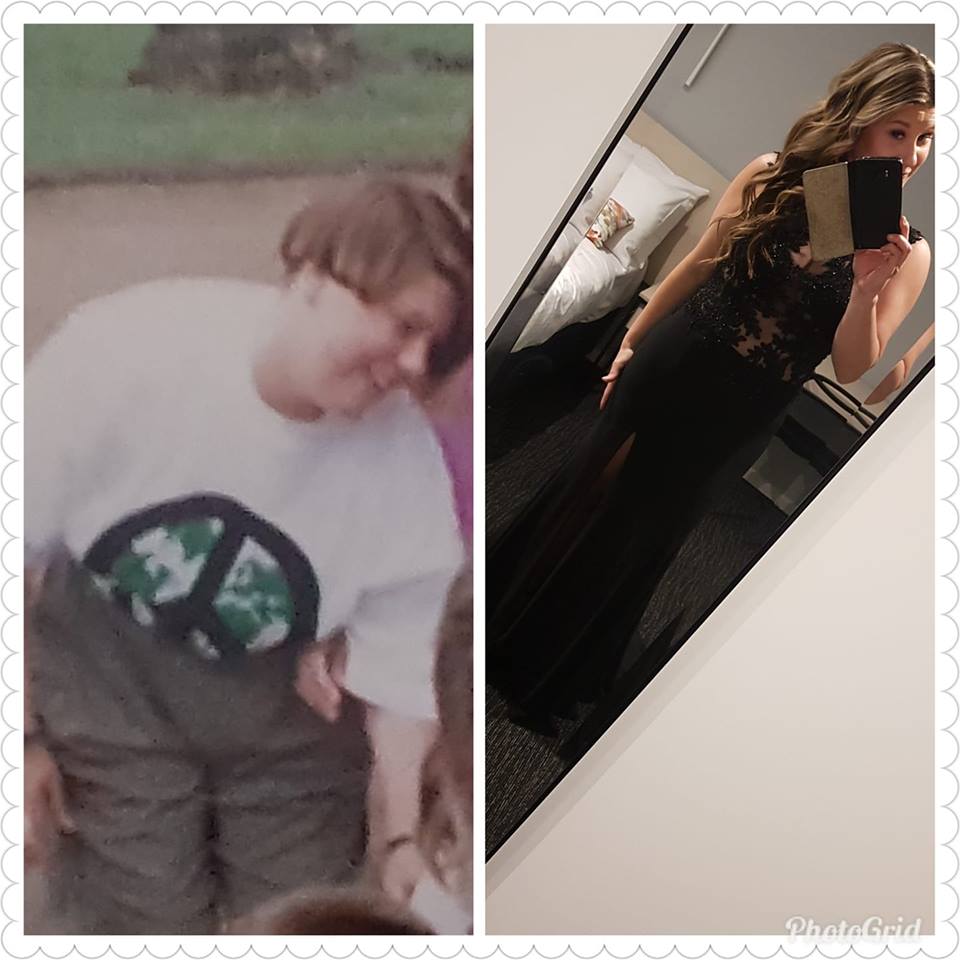 Natalie says, "I've always struggled with my weight. Was bullied at high school and was constantly called 'Fat Nat' which caused so many issues mentally."
"After I had my first child I decided I wanted a healthier lifestyle."
"It took me years and years to lose weight but was always up and down. I could never maintain it."
"When I fell pregnant with my third child five years ago, I discovered The Healthy Mummy. It was honestly the healthiest pregnancy EVER. At seven months, people were shocked how good and healthy I looked."
"I started off with the pregnancy smoothies and free recipes. Then once I had him, I took the normal shakes and continued with the free recipes until I joined the 28 Day Weight Loss Challenges over a year ago."
"I have never felt healthier and energized."
"I'm not sure exactly how much I've lost as I don't have scales but I'm now in a size 10. The picture on the left is before I had kids age 16-17. The picture on the right is now age 42. Five pregnancies, four babies, three of them in the past four years (two full term)."
"The past four years The Healthy Mummy has taught me so much about food. I have loved and enjoyed every minute following everyone's journeys and being apart of such a helpful community."
Katelyn Gordon couldn't be happier with her results so far!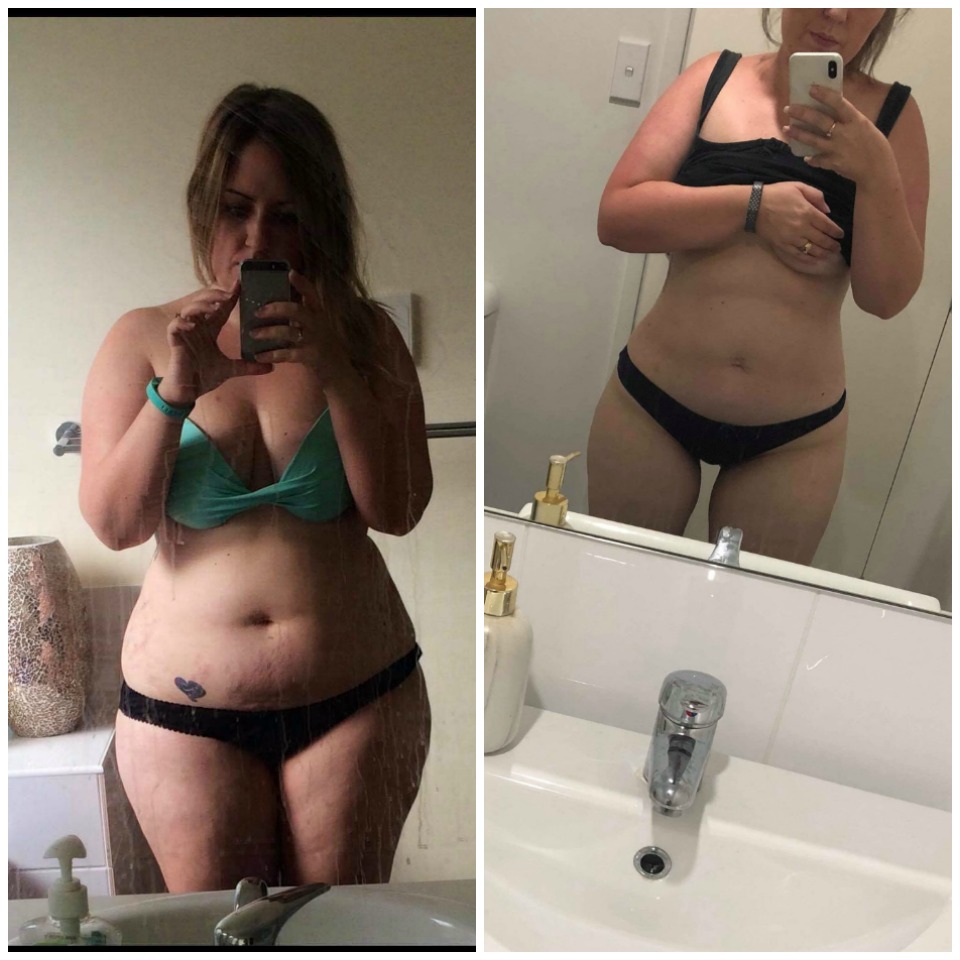 Katelyn says, "14 cms from my waist 12 cms from my thighs!"
"I honestly could not be happier with my results so far. I have now started with the smoothies for breakfast and WOW how convenient. I cannot live without The Healthy Mummy 28 Day Weight Loss Challenge app, it's just so fantastic."️
"I can't wait to continue my journey. SO PROUD OF MY FLASHBACK!"
Hayley Campbell has lost 46 kgs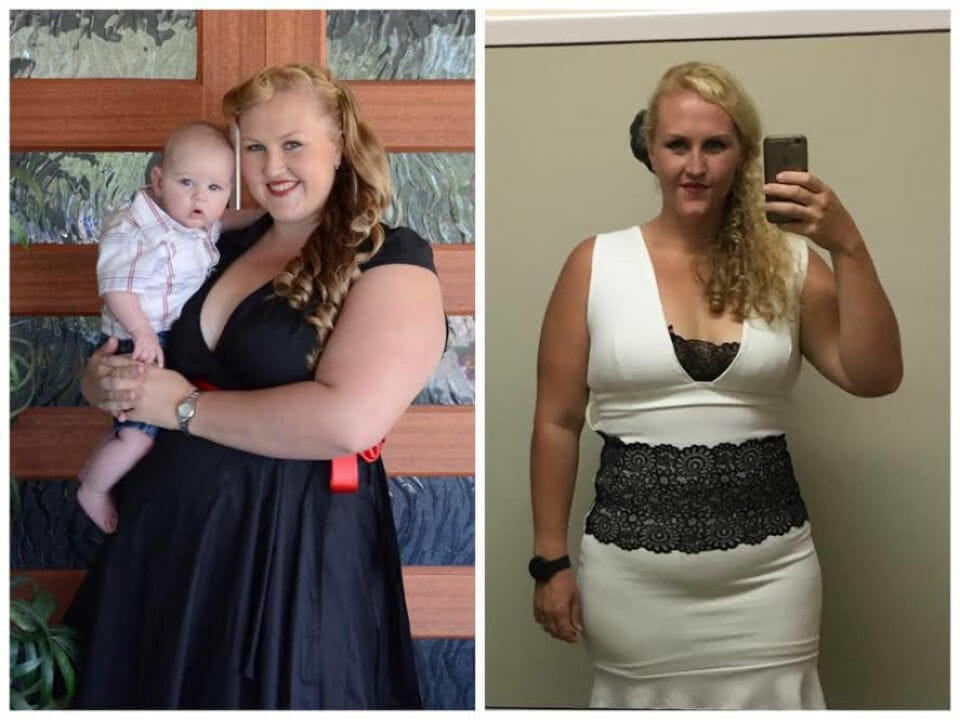 Haylee says, "From an all black wardrobe to wearing my first ever white dress (other than my wedding dress)."
"There is no way I would have had the confidence to do this before. My journey with The Healthy Mummy has been as much about weight loss as it has been about self discovery and reducing my social anxiety and boosting my confidence."
"From 140kg to 110kg." 
"From couch to 10km run."
"From never having done a squat to several high intensity workouts a week."
"I can't believe I missed out on all of this for most of my life. But here I am, proof that you can turn it all around."
Thank you for sharing your journeys with us, mums and well done on your amazing achievements!
Want help maintaining a healthy and balanced eating routine?
The 28 Day Weight Loss Challenge has been designed to help busy mums create a healthy lifestyle.
Nutritionist-approved healthy meal plans give you alternatives to 'sometimes foods', customising tools to suit your taste, budget and family needs PLUS at home exercise workouts!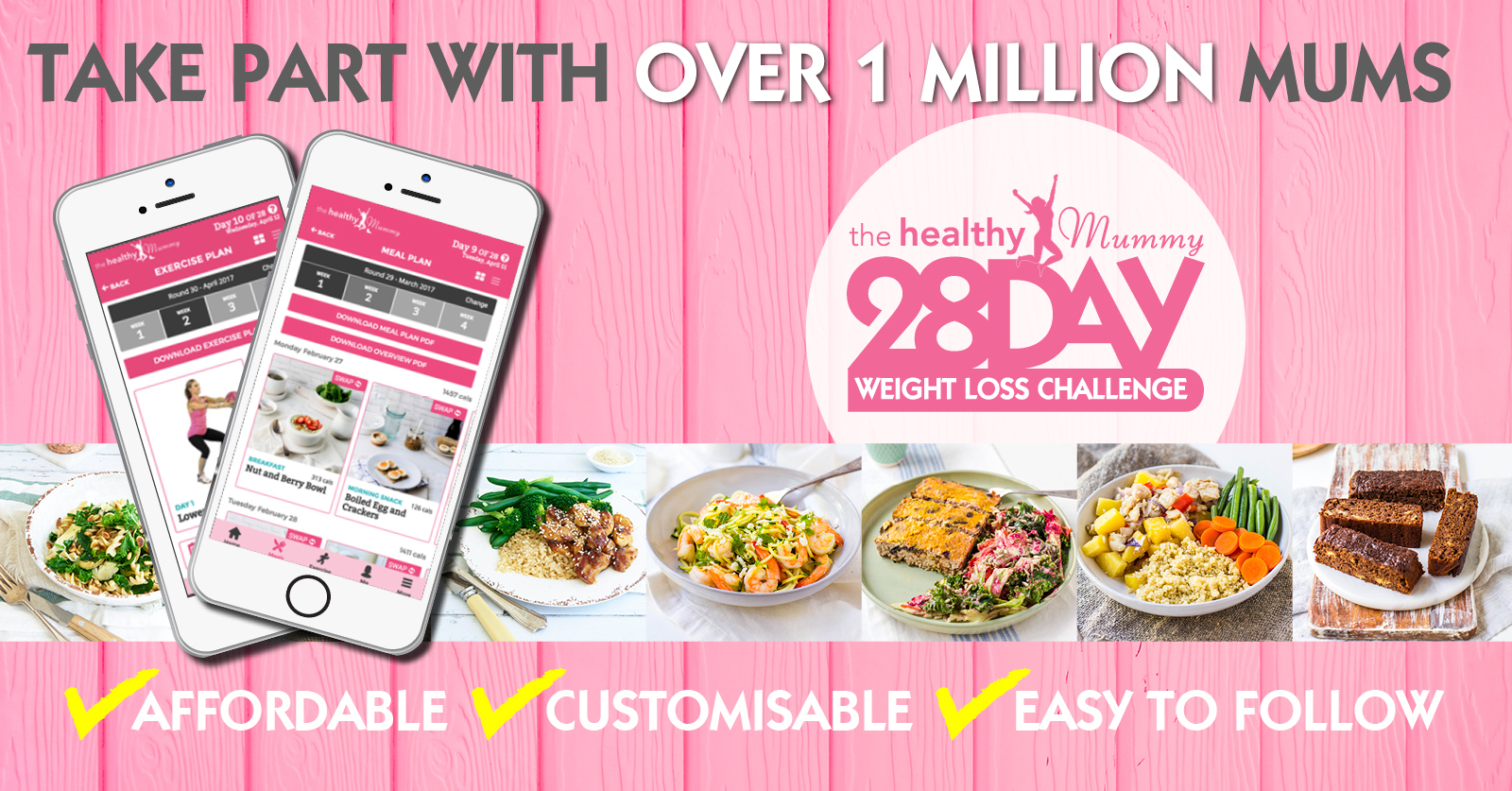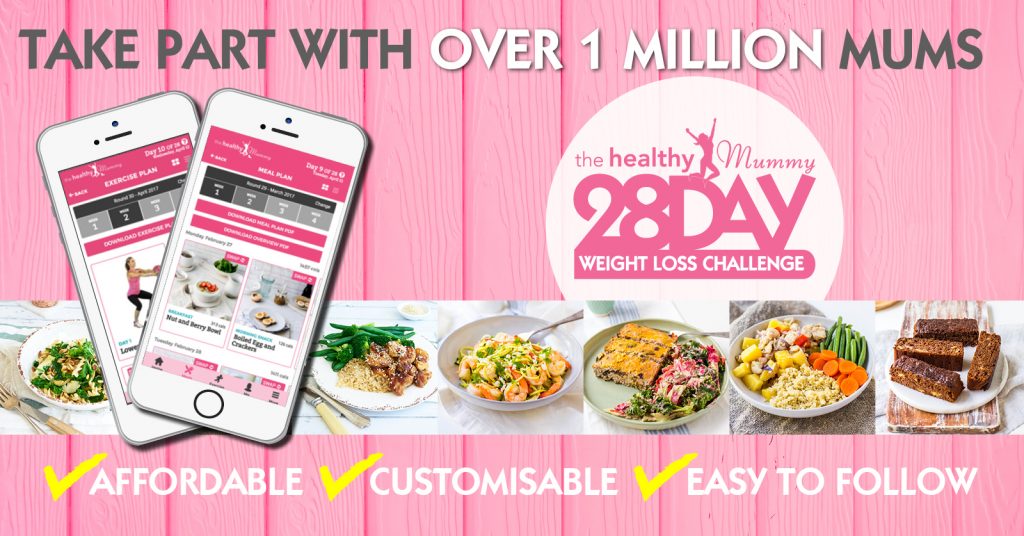 Our 28 Day Weight Loss Challenge includes:
28 days of at home exercise routines (no gym needed) – with video instruction
Customisable and breastfeeding friendly meal plans (including a 7 day cleanse)
Time-efficient exercises for busy mums – under 30 mins
Challenge combines Pilates exercises with interval and circuit training (HIIT)
Suitable for basic to advanced fitness levels
Home to thousands of EASY-TO-MAKE recipes!
Find out more information and join up here! 
Try our delicious Smoothies? Click to BUY Smoothies.