The Healthy Mummy Gingerbread House
Try making this healthy and festive Gingerbread House that not only tastes amazing, it's decorated with all the good stuff!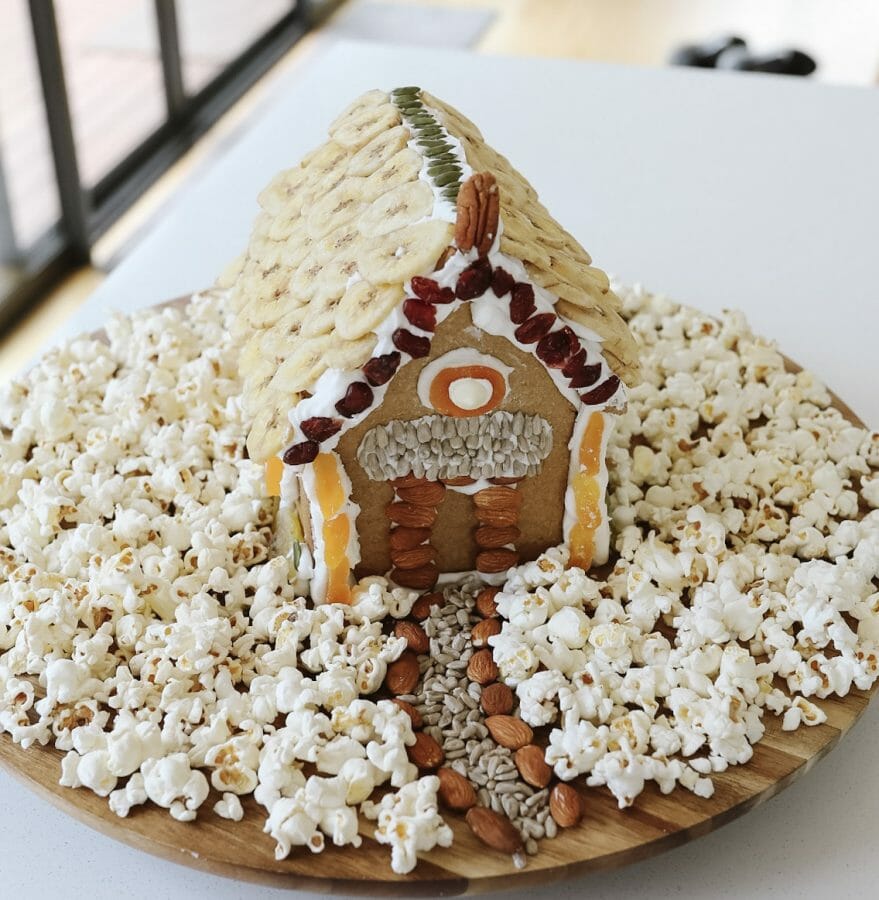 Nothing says Christmas more than a beautifully decorated gingerbread house. OK, let's be honest, if the kids are involved it doesn't necessarily have to be 'beautifully' decorated!!! The whole point is that it's a fun activity and something that you can all do together.
No matter how much the kids are involved in the making of our gorgeous Healthy Mummy Gingerbread House, one of the things you will definitely avoid with this recipe, is the SUGAR CRASH that inevitably follows a lolly laden, sugar filled gingerbread house!
Our recipe uses coconut sugar, wholemeal flour, maple syrup, butter and eggs for the yummy gingerbread dough, so you're building a healthy little home perfect for all the little gingerbread people in your house.
Plus, it's decorated with fruits, nuts, seeds and popcorn so looks just as pretty and festive (but without all the nasties!)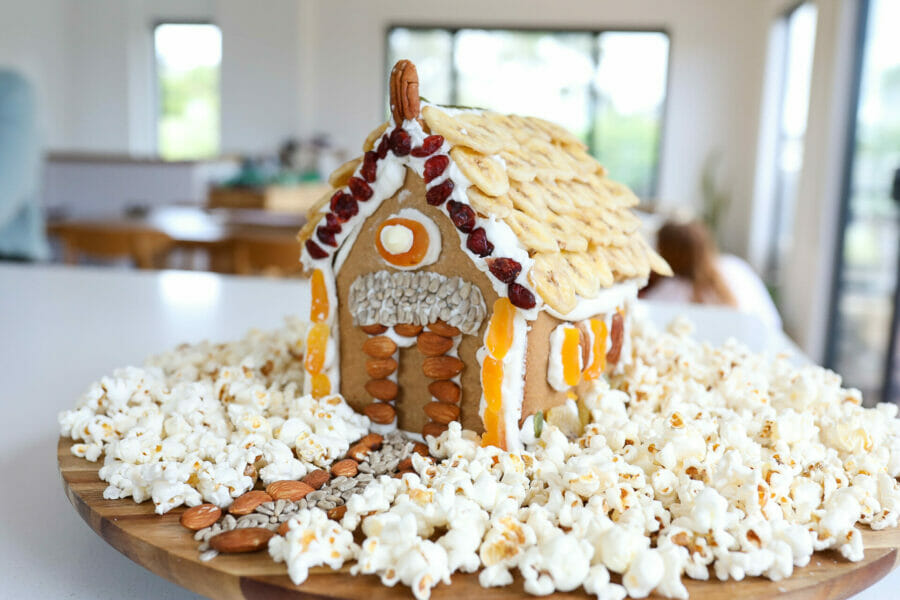 How to make your Gingerbread House
First you'll need to make your dough. Once it's done, make sure you chill it properly. It'll make rolling out and cutting so much easier.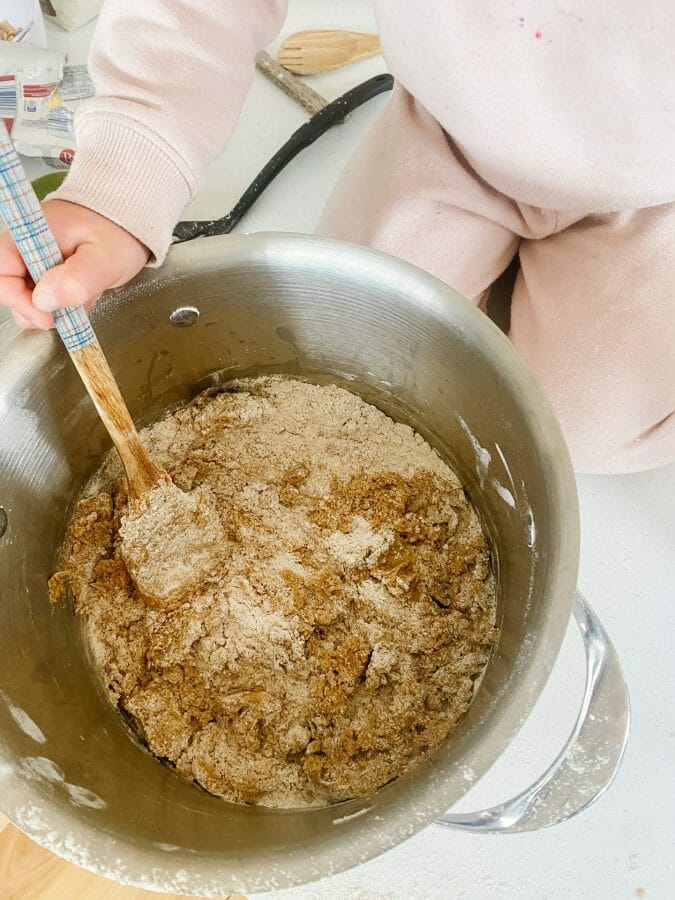 The Healthy Mummy Gingerbread House Template
Once you're dough is chilled, use this template to print and cut out for the 2 sides of the house, the front and back of the house, and 2 roof panels.
Click here to access the Gingerbread template
Once you've rolled out your dough, use the template to cut out your dough into the appropriate shapes for your house so you can then bake them in the oven.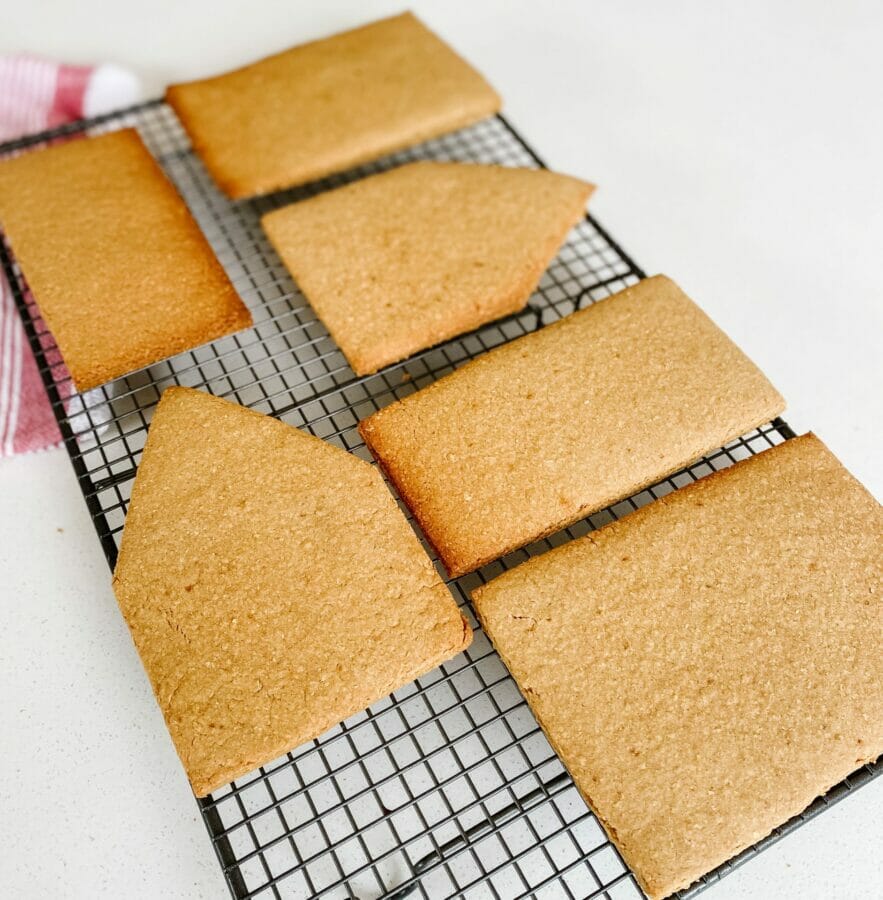 Once cooled completely, you can start assembling your house!
Building and Decorating your House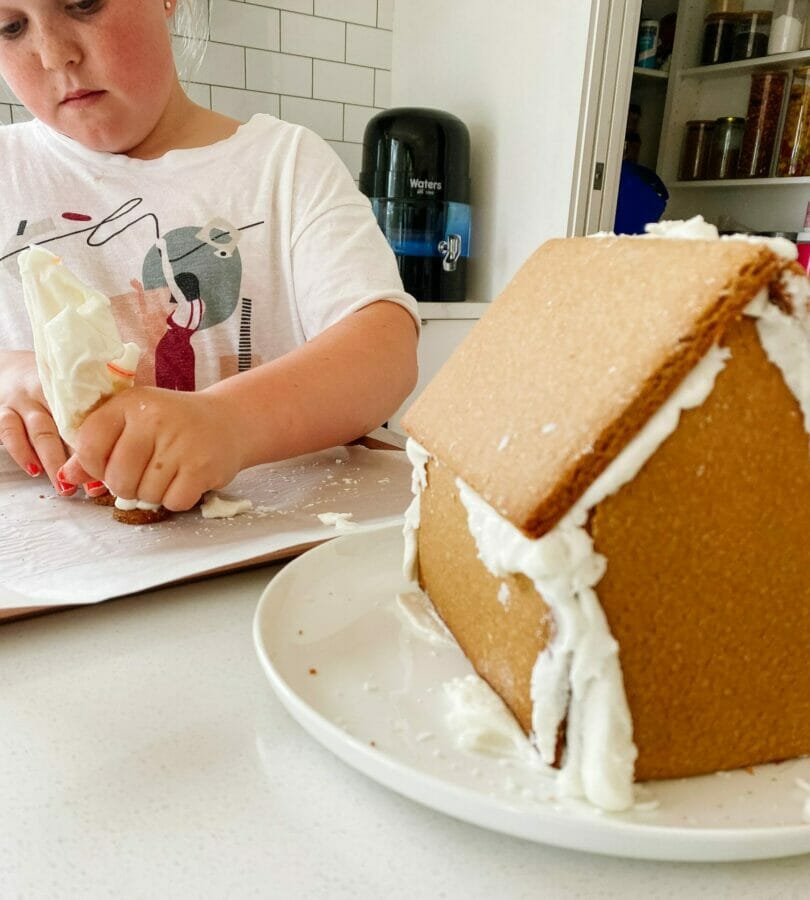 You want a sturdy house, and your Royal Icing is the glue that holds your whole house together. Using a piping bag or zip lock bag with hole in the corner, pipe the icing along the edges of the sides, front and back walls and roof to construct the house. Hold each panel for 30 seconds before moving on to the next panel. Don't rush this bit!
Now it's Time to Decorate!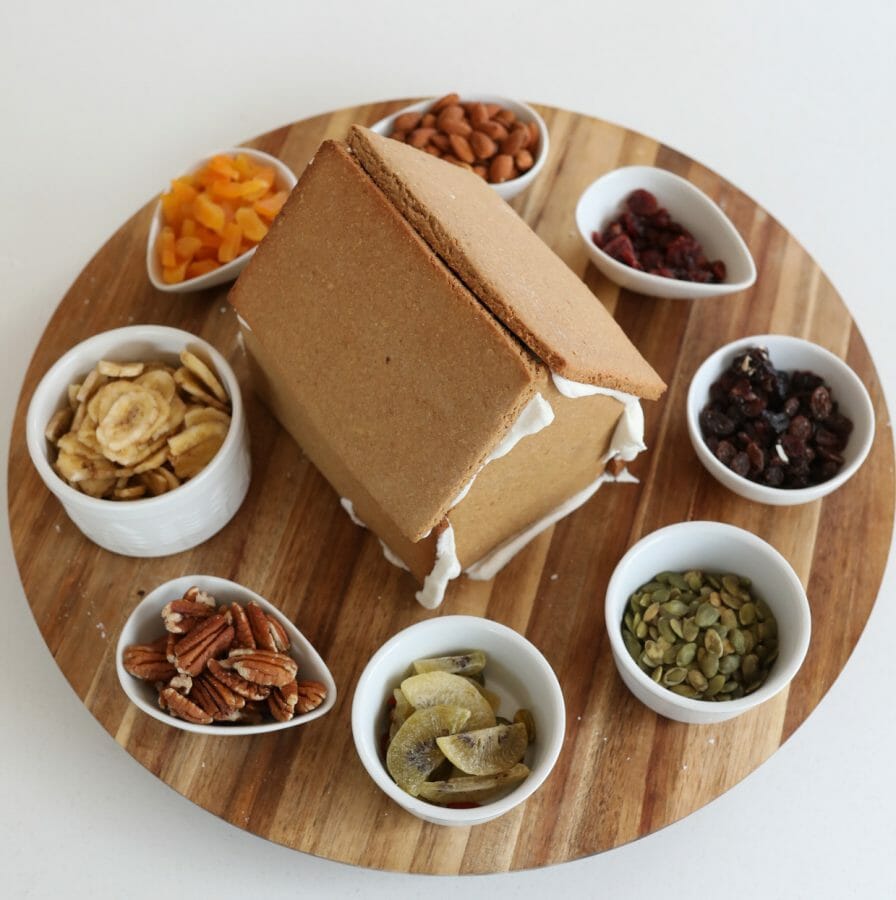 This is the fun bit! The sky is the limit here with what you can decorate with and how you decorate your house.
Decoration Options:
Pecan Nuts
Almonds
Cashews
Sunflower seeds
Pumpkin seeds
Pepitas
Fresh fruit: bananas, kiwis, strawberries
Dried fruit: apricots, cranberries, sultanas
Popcorn
The Royal Icing is your best friend here and can always cover a multitude of errors! Seeing as this recipe makes two houses, you could always use one for the kids to have a practise run!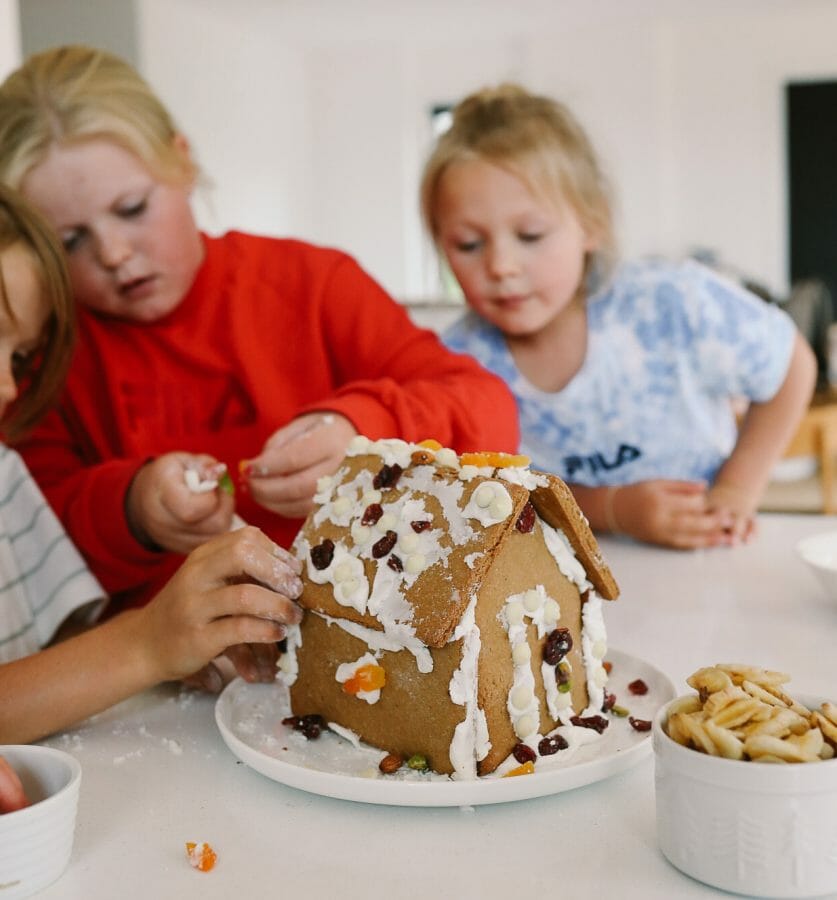 The Finished Product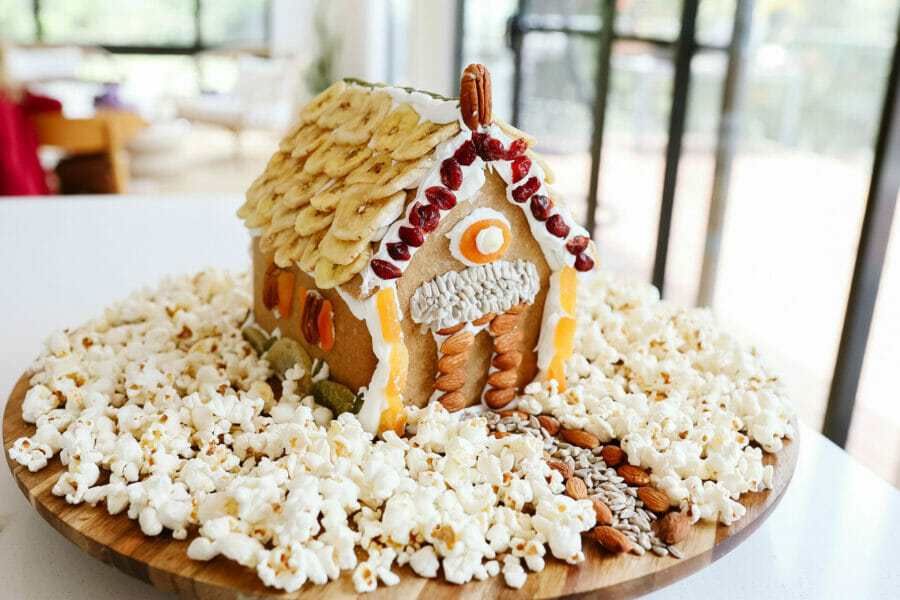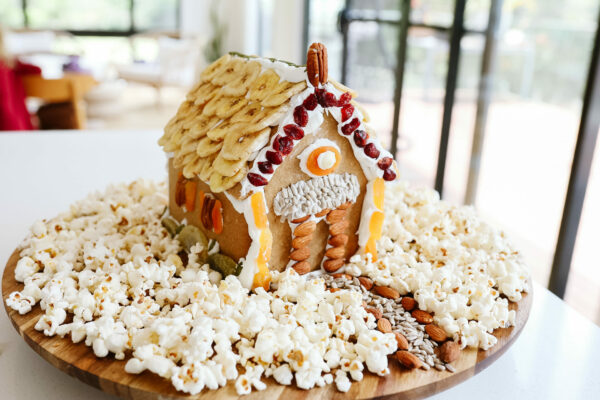 Passive Time

1-3

hours chilling time
300

grams

butter

3

large eggs

3/4

cup

maple syrup

1

cup

coconut sugar or rapadura sugar

6

cups

wholemeal flour

4

tsp

ground ginger

2

tsp

ground cinnamon

2

tsp

baking powder

1

tsp

salt
3

egg whites

6

cups

pure icing sugar
Passive Time

1-3

hours chilling time

300

grams

butter

3

large eggs

3/4

cup

maple syrup

1

cup

coconut sugar or rapadura sugar

6

cups

wholemeal flour

4

tsp

ground ginger

2

tsp

ground cinnamon

2

tsp

baking powder

1

tsp

salt

3

egg whites

6

cups

pure icing sugar
In a large bowl, combine the sifted flour, ginger, cinnamon, baking powder and salt.

With an electric mixer, beat the butter until it starts becoming light and fluffy. Continue mixing and add in the sugar slowing, half cup at a time. Beat until all in combined well. Continue mixing and add in the eggs one at a time. Then add in the maple syrup and mix until we'll combined.

Add the wet mixture to the dry mixture and mix thoroughly. You can use a food processor or electric mixer but as it starts to become like dough, you can use your hands. Make sure all the mixture is coming together well, rolling the mixture into a ball.

Divide the ball of dough into 4 and place each ball of dough between 2 pieces of baking paper and flatten. Place into the fridge to chill and firm up for 1-3 hours.

Preheat oven to 175 degrees fan forced. Print and cut out the healthy mummy ginger bread house template.

Remove the dough from the fridge. With a rolling pin, roll out the dough in between the baking paper to 1/4 inch thick.

Place the templates onto the dough and using a sharp knife, cut out the pieces of the gingerbread house. Make sure that you have two matching panels for your side walls, two matching panels for the roof and two matching panels for the front and back. The mixture will make 2 gingerbread houses so you can cut out a second lot of house pieces, this is great! Otherwise, once you cut out one set of house pieces, you can use the remainder mixture to create gingerbread men or other Christmas shapes of your choice to bake and decorate.

Remove the top sheet of baking paper and lay the pieces onto lined baking trays.

Bake for 15 minutes or until the gingerbread biscuit pieces are brown around the outsides.

Remove from oven and allow to cool on the tray for 5 mins, then let cool fully on a cooling wrack.

Once completely cool you can begin to make the royal icing to stick your gingerbread house together. You will need you seperate you eggs and put your egg white into a medium mixing bowl.

Start beating the egg whites for about a minute, until they become light and foamy. Continue mixing and add the sugar by 1/2 cup at a time slowing. You need to make sure the 1/2 cup of sugar is mixed in well before you add the next, and don't stop mixing. A electric mixer is key here. Once all mixed through well, continue beating on high for 5 minutes. It should become stiff and thick.

This is when you scoop the royal icing into a piping bag or zip log bag with a hole in one corner.

Time to build your gingerbread house! Start by taking one side wall panels and one peaked wall panel. Pipe a thick line of icing along the bottom of the side wall panel. Then, pipe a thick line along the bottom and one of the inside edges of the peaked wall. Hold the pieces down onto your base (cardboard cake base, flat platter, large plate) and together for 30 seconds to make sure it sticks, holds and drys well. Continue this for each piece until you have the house complete and rood on. Don't forget to hold the pieces in place gently to stick and hold before moving onto the next.

It's time to decorate! Using your choice in nuts, seeds and dried fruit, decorate your gingerbread house. Go perfect or let the kids go nuts with it. Use the royal icing as the glue, fill any gaps in the build and enjoy your very own creation.
Get more healthy amazing recipes and weight loss support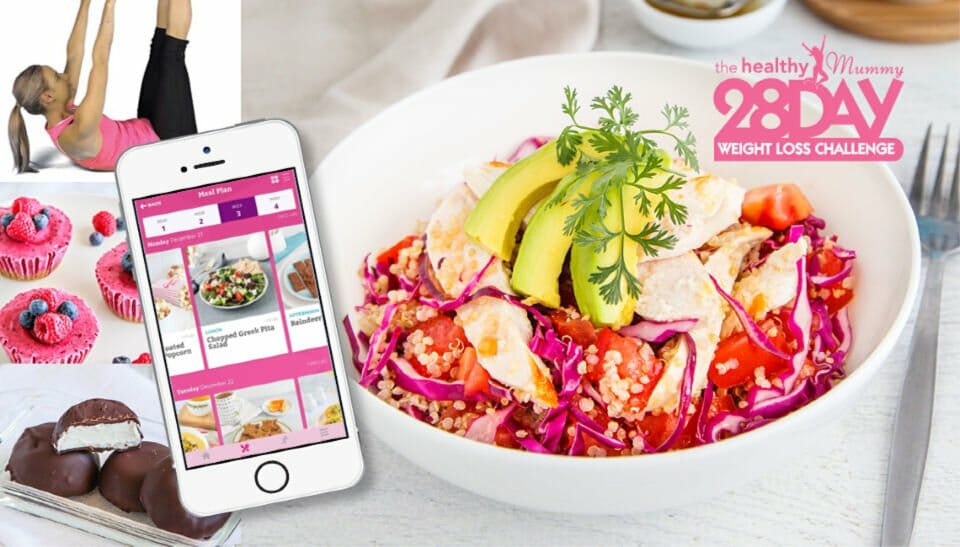 Join The Healthy Mummy's next 28 Day Weight Loss Challenge and get amazing community support, healthy meal plans, and more healthy dinner recipes. To lose weight, you'll find our community of healthy mums are just the support you're looking for. We'll see you on the inside!