These 10 incredible mums have lost 367kgs and are here to inspire and motivate you to reach your goals!
These incredible mums have not only kicked some amazing weight loss goals but they are feeling empowered and ready to embrace life. They are here to help support, inspire and motivate mums to live their healthiest life!
These incredible mums have all achieved epic weight loss results and in the process have become better versions of themselves.
Not only do they feel empowered, but they also look and feel amazing!
All ten of these incredible mums have had the most life-changing and inspiring weight loss journeys and transformations, and we couldn't be happier for them!
They are here to share their tips, inspire and motivate other mums to take the plunge to better health!
The epic weight loss journeys of these 10 amazing mums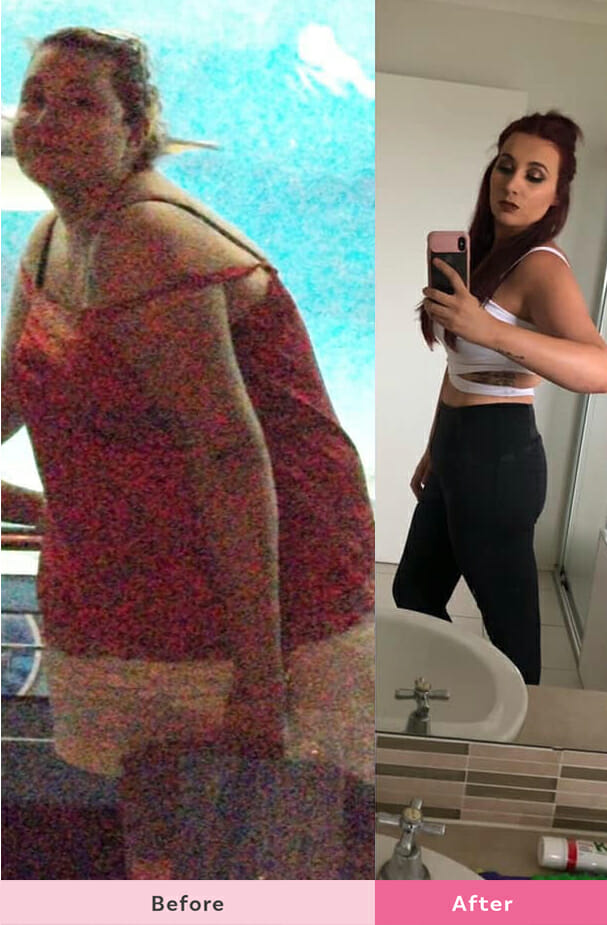 1. Melanie Arnold-Stemm wanted her real self back!
Melanie Arnold-Stemm is a 28-year-old mother of a four-month year daughter and lives in Queensland. She has lost 62kg in total, 55kg with The Healthy Mummy 28 Day Weight Loss Challenges. 
She started her weight loss journey the day after she left her husband.
"I knew both my daughter and I deserved the real me back!" 
She realised this promise to herself and her daughter when she reached her weight loss goal and became her old self again!
Melanie's advice for you is, "Do not overthink it,  keep it simple and always take on a small change every day."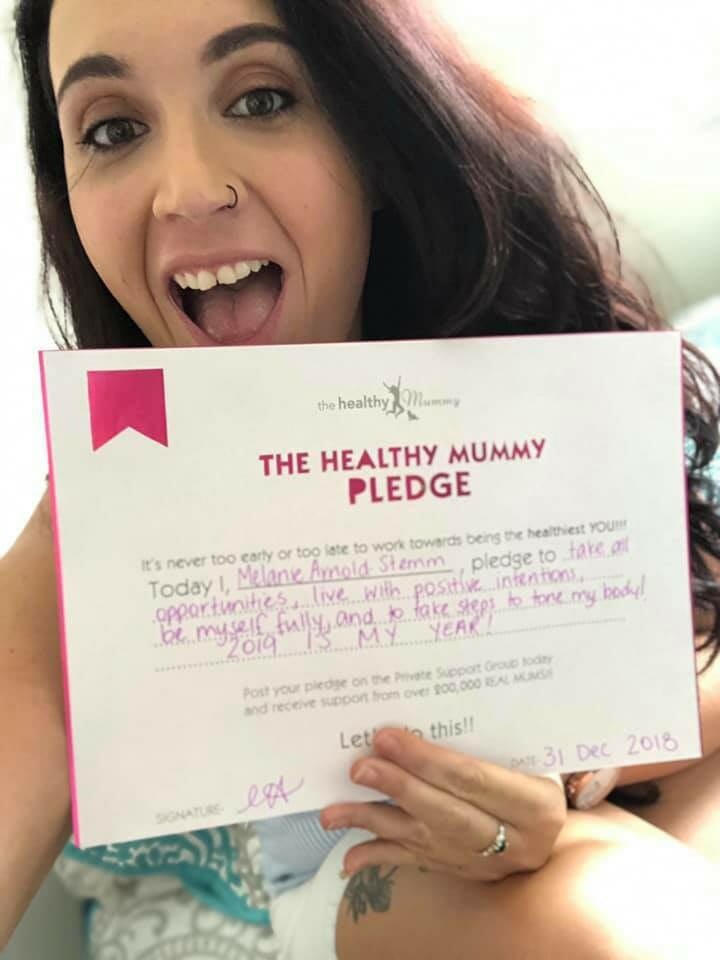 Melanie's top three tips:
"Divide your day into eight 3 hour time blocks; if you 'slip up' with food or feel like you've had a down moment, enjoy it (if it's food) or focus if its mind, make yourself accountable and own it, look up at the clock and reset at the next three hour point. No tomorrow or Monday resets, always today!
Use YOU as your main motivation, and only compare yourself to you. You can use others as motivation, but if you compare yourself to them, you'll more than likely find that you will start to feel bad, causing negativity which effectively reduces productivity, but if you use it to cheer yourself on, the positivity ramps up and you're even more willing to succeed than before! 
Take the photos – they make the world of difference! It's daunting but just do it."
2. Teegan Jones says meal prepping has been instrumental to her success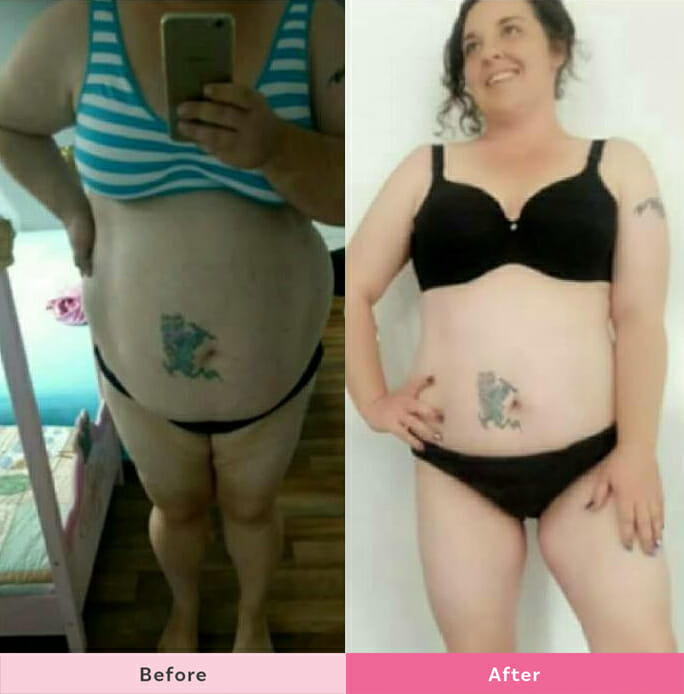 Teegan is 31 years old, she has a four-year-old daughter and lives in Queensland. So far on her Healthy Mummy journey, she has lost 37 kgs!
Teegan was tired of not having the energy to interact or play with her daughter and didn't want to be a sideline mum any longer. She longed to be the best version of herself, for herself and for her daughter and for her husband.
Teegan also wanted to be the best role model for her daughter and wanted to educate her on what it means to live a healthy lifestyle.
"I wanted to be what I am now, confident, active and full of life!"
Teegan wants to have another baby and through that pregnancy, her dream is to stay healthy and active throughout.
She has some advice and words of wisdom for anyone who is thinking about joining.
"DO IT.  It's the best gift you will ever buy for yourself and your entire family."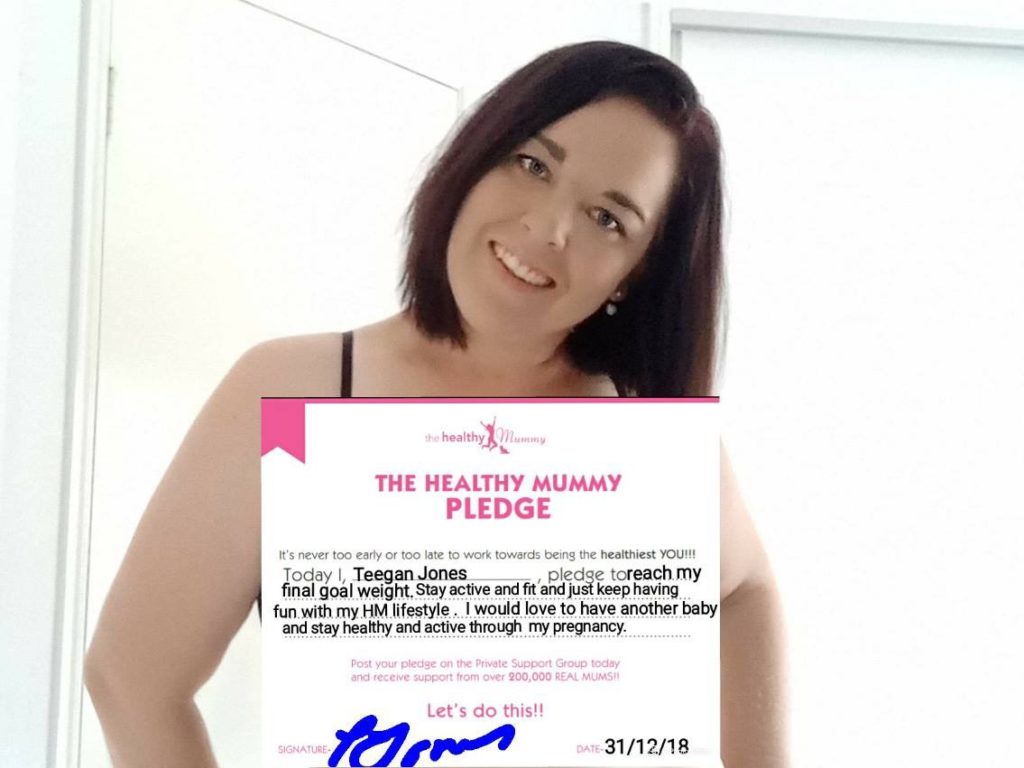 Teegan's three tips to stay on track
"Stay focused and work hard and things will fall into place 
Have faith in yourself and have faith in the program stop wishing and start doing.
Stay one step ahead of yourself at all times plan prep and stay organised."
3. Zena Mason was looking for healthy cooking inspiration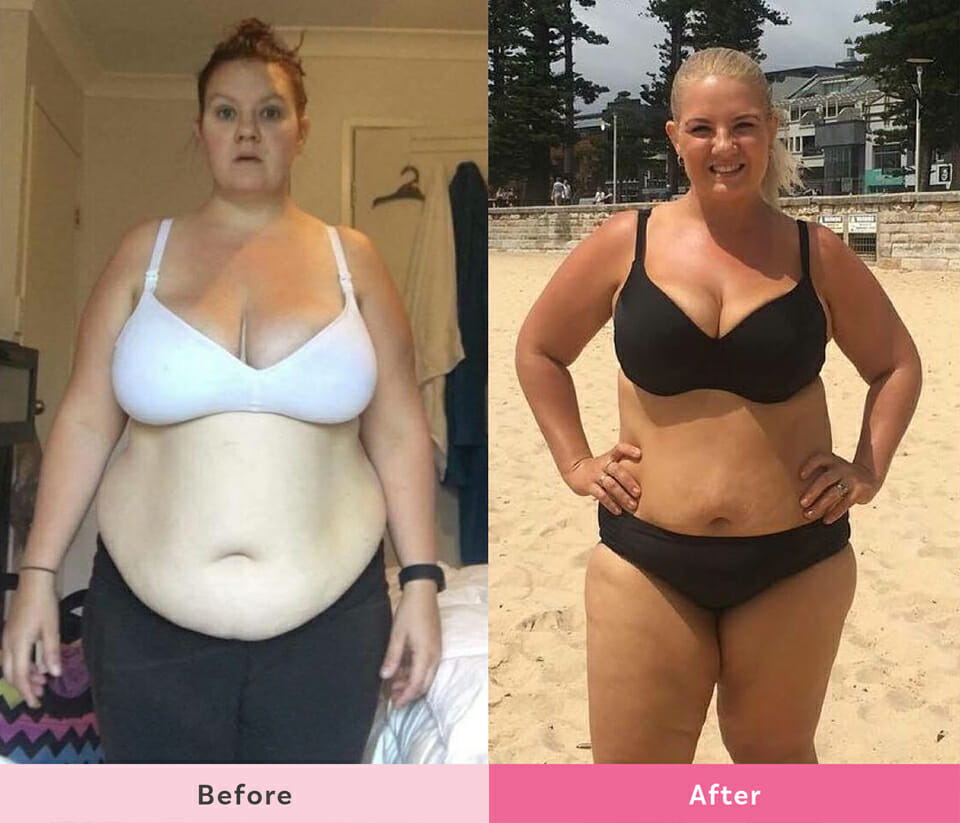 Zena is a 31-year-old mum of 4-year-old son, son Anakin and a daughter in heaven. Her son was diagnosed with CMPI (Cow's Milk Protein Intolerance) when he started solids and it was then that Zena started looking for inspiration to start cooking healthy meals for herself and her family.
Since joining the 28 Day Weight Loss Challenges, she has lost 20kgs.
"My pledge for 2019 is to nourish my body with good food, drink over 2L water daily, exercise daily and reach 10,000 steps!" she says.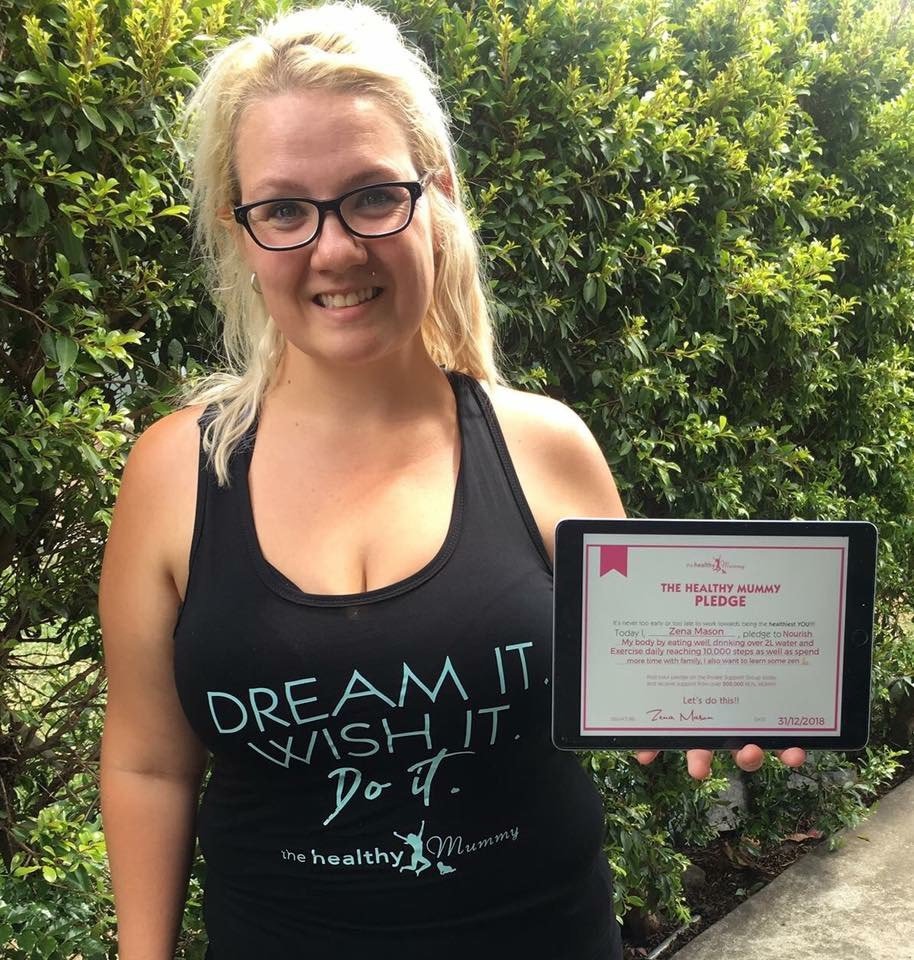 Zena understands how daunting it is starting anything new and to truly trust a program. But she found that in The Healthy Mummy. "We are real people with real successes and real mum problems!" she says of The Healthy Mummy community.
"We are all trying to make it work with our long to-do lists and not enough arms and time in the day," she continues.
Zena's three top tips
"Make meal planning food prep and exercise date in your calendar. For someone who has used all the excuses under the sun, this method has been instrumental.  
Be sure to go through the app and favourite all your recipes this will help when meal planning 
Shop from the cupboard first before heading to the shops this will reduce your shooing bill dramatically."
4. Jenni Wright was depressed and forgot who she was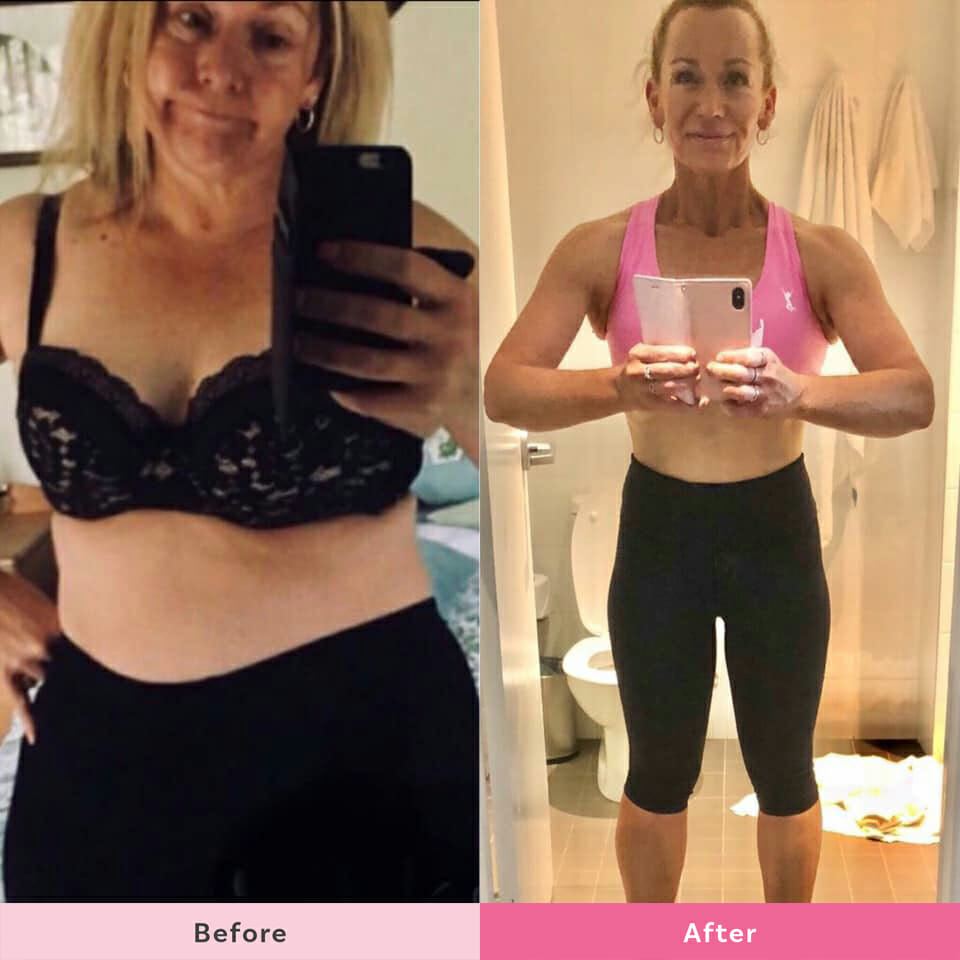 Jenni is a 40-year-old mum of two teenage children, 18 and 15 and lives in Victoria and she has lost an inspiring 35 kgs.
Jenni felt she needed to find the real her again. "I was depressed and forgot who I was, I needed to find the real me again."
Her Healthy Mummy pledge is:
"Drink more water 
Go to bed earlier 
Maintain her weight."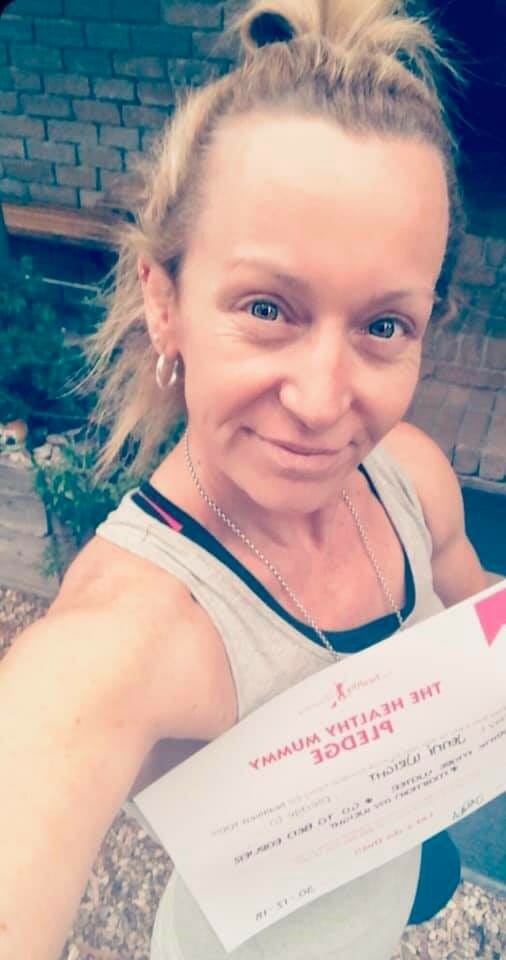 Jenni has two bits advice she would like to share with you:
"Take it slowly it won't happen overnight but it will happen
Don't be too hard on yourself if you have a bad day, tomorrow's a new day." 
"My tip for 2019 is – Never give up!" says Jenni.
 5. Stephanie Marriot wanted to feel great in her own skin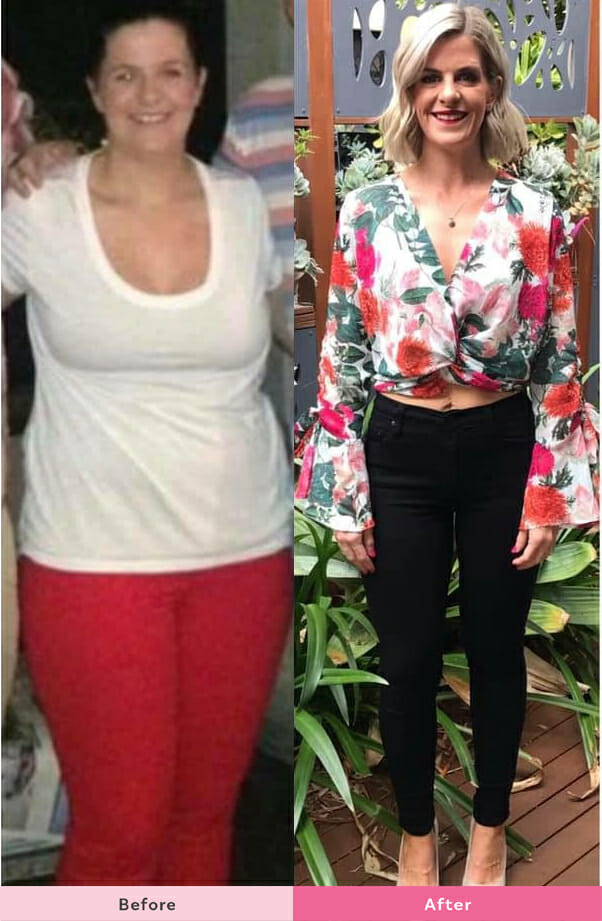 Stephanie is a 32-year-old mum to three children, ages six, four and three years.
Stephanie wanted to change the way she felt about herself, and feel proud of herself once more.  She wanted to be able to wear whatever she wanted, but mostly she aspired to be a good role model for her kids – she didn't want them to face the problems of being overweight as the grew older.
She has lost 19 kgs and has achieved all of these things!
Stephnie pledges to speak more kindly to herself and pledges to unfollow social media accounts that make her feel she is not good enough as she is.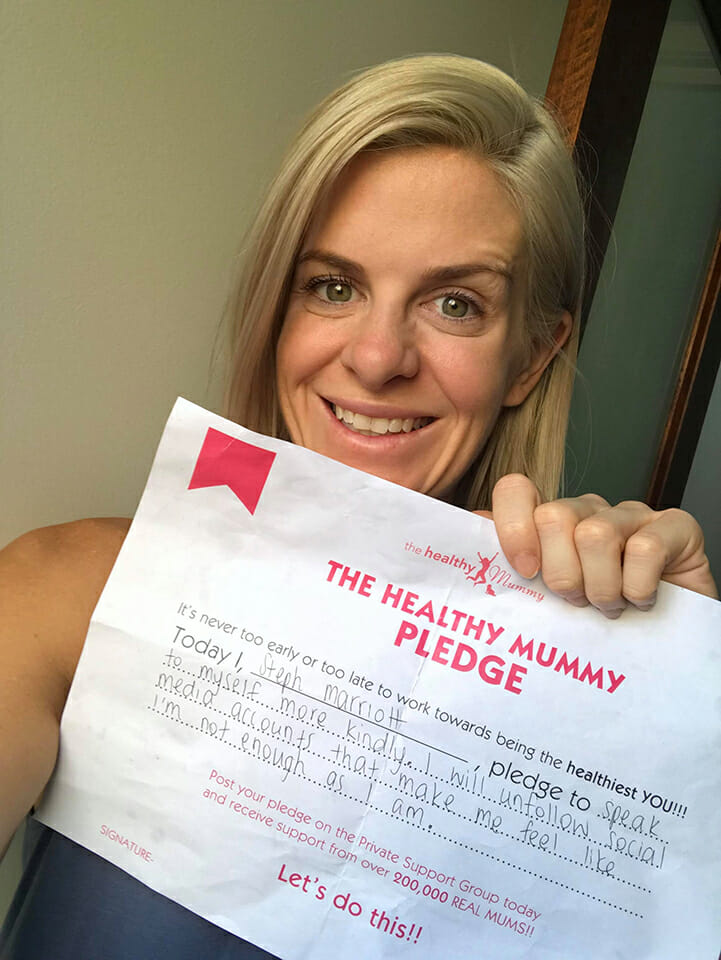 Here are her three top tips for anyone contemplating The Healthy Mummy journey:
"Have a freezer stash that you can use when you absolutely cannot be bothered to cook. 
Don't over complicate things, repeat snacks and lunches. 
Tell EVERYONE what you're doing and ask them to encourage you. You'd be surprised just how many people want you to succeed and will help you out."
Stephanie urges you to take a chance on the 28 Day Weight Loss Challenge
"What is the worst that could happen," she says. "You've got one life, and if you're unhappy, you should try absolutely anything to change it." 
6. Cicily Goodwin has lost 53kgs and 6 dress sizes!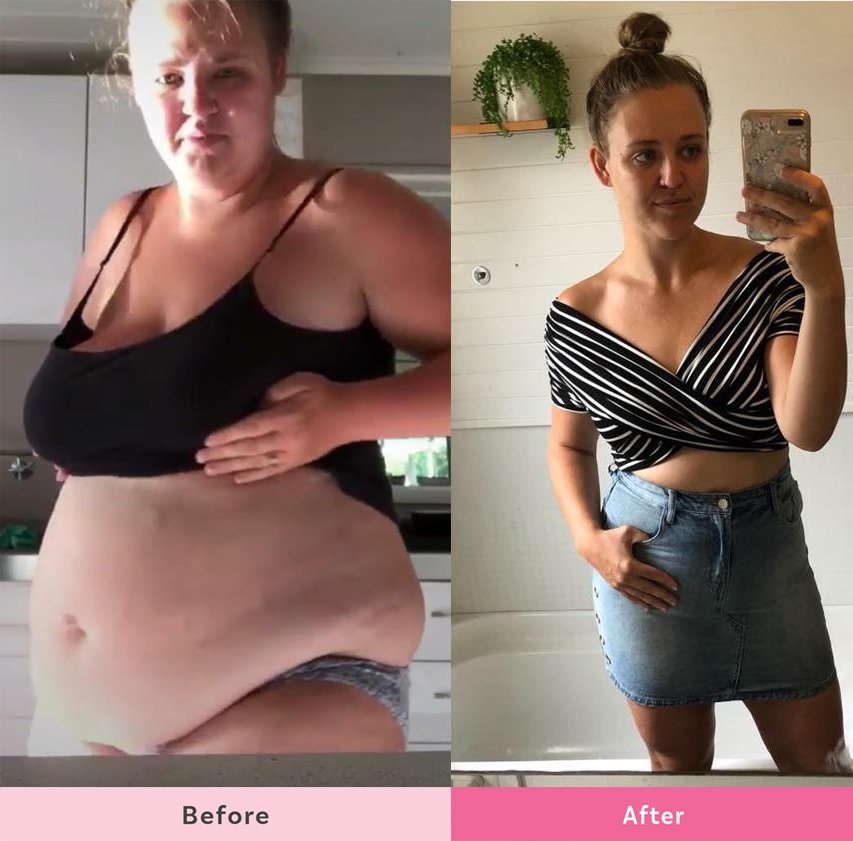 Cicily is a 24-year-old mum of two children, ages four and two who lives on the North Coast of NSW. Cicily has lost an amazing 53kgs and six dress sizes following The Healthy Mummy 28 Day Weight Loss Challenges.
Cicily wanted to lose weight the healthy way. She joined The Healthy Mummy Facebook group and was inspired by the mums in the community. She was in awe of these real mums achieving real results and losing weight the healthy way.
"The 28 Day Weight Loss Challenge gives you a structure, it's easy to eat healthily. It is easy to stick to and do it in a sustainable way," Cicily explains.
"The 28 Day Weight Loss Challenge does everything for you and is great for the whole family."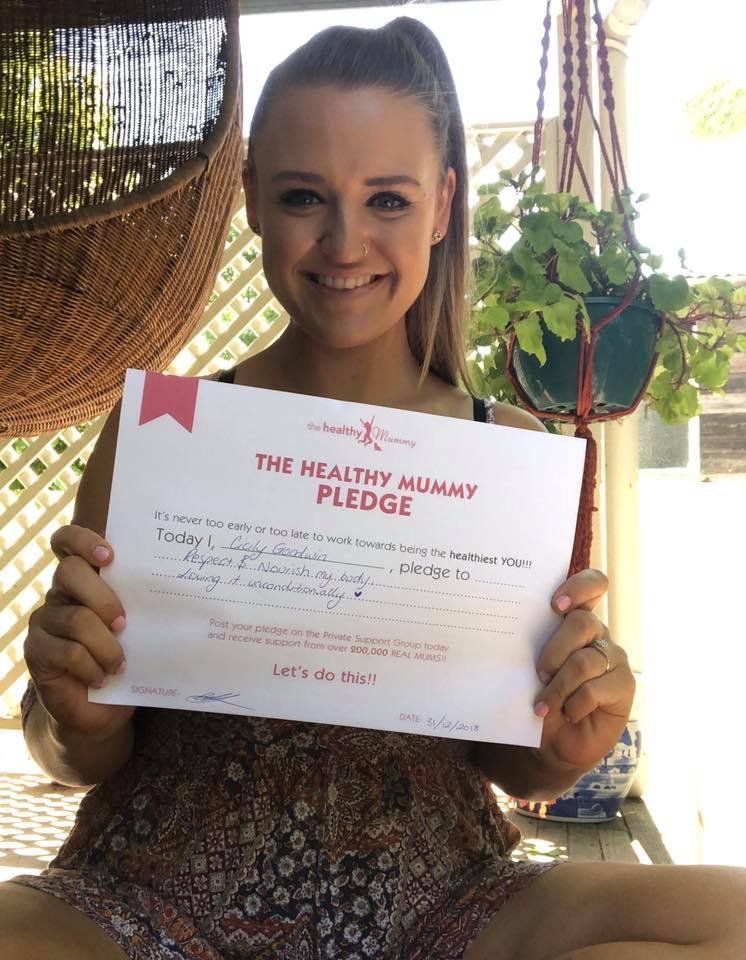 Here's are Cicily's three top tips to stay on track:
"Set achievable goals. I aim for 700grams per week, this lets you LIVE and means if you have a dinner out, you can still reach your goals. 
Eat what you love! If you don't like the look of something in the meal plan, think about what you do feel like & search the hub for a healthier version! If you're excited about what you're eating, you're more likely to stay on track.  
Make goal charts, motivation boards, write in a journal every day to show yourself what YOU want & what you CAN do. Keep it positive. Your attitude determines your direction, so BELIEVE in yourself."
7. Melissa Timmer wanted her old self back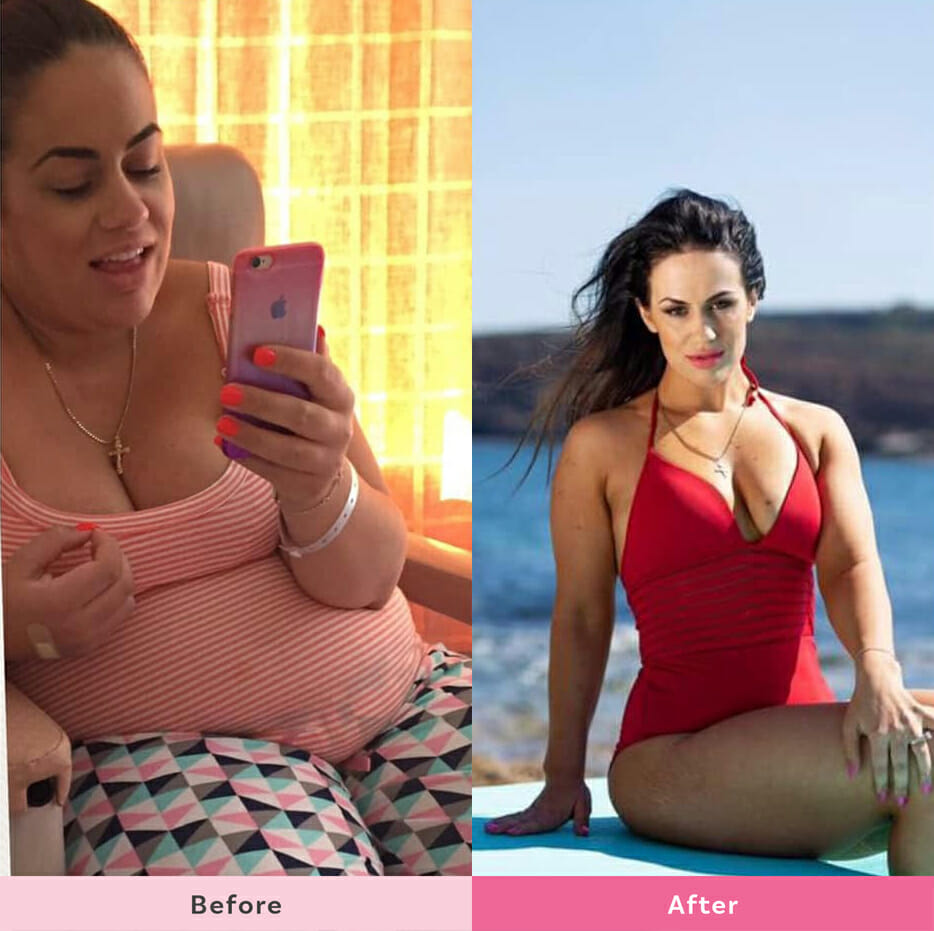 Melissa is a 29-year-old mum of two kids aged five and two who from NSW who has lost 32kgs and is feeling more like herself.
Melissa said when she joined The Healthy Mummy she wanted to lose weight the healthy way, she wanted it to be sustainable and not a quick fix, plus she wanted to lose weight while she was breastfeeding.
In 2019, Melissa wants to be the best role model for her kids and the people around her. She wants to help and encourage other mums to live a healthy lifestyle. She also wants to continue making and achieving new goals for herself.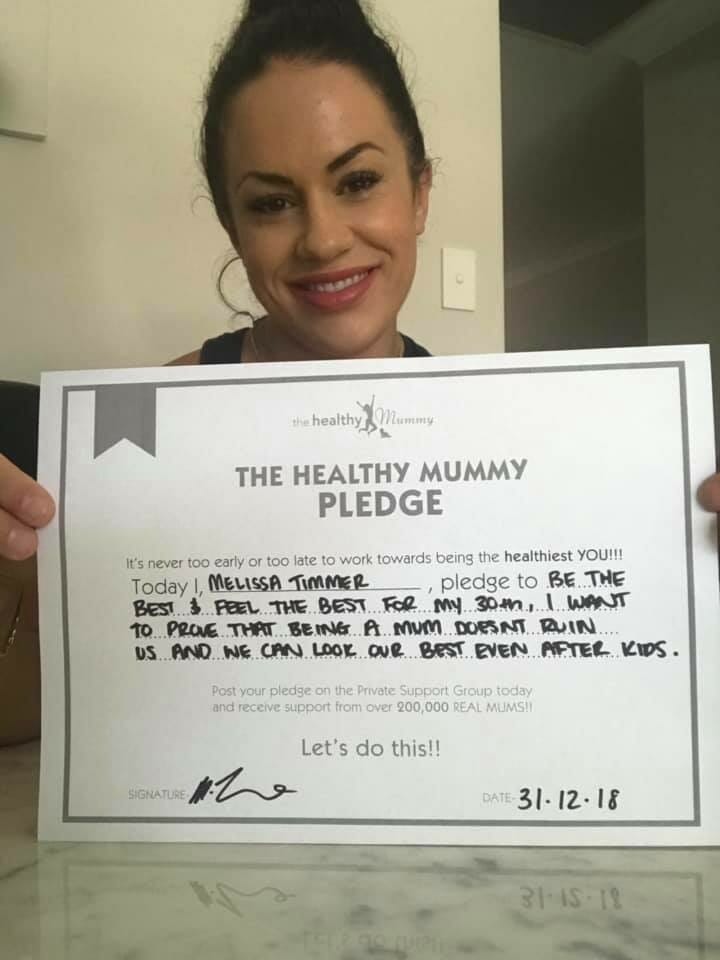 "You are worthy of trying and giving something a try, take the advice from other mums on this page and help yourself in bettering you," Melissa explains.
Here are Melissa's three top tips for you:
"Start by cooking one meal in bulk and freezing it. 
Going slowly will win the race. Show your kids and explain what changes are going to happen so everyone is mentally prepared for a change as this will help you stay on track and get them talking about it. 
Clean out your cupboard and anything that would lead you to be tempted to eat badly."
8. Hanna Fazldeen wanted to keep up with her kids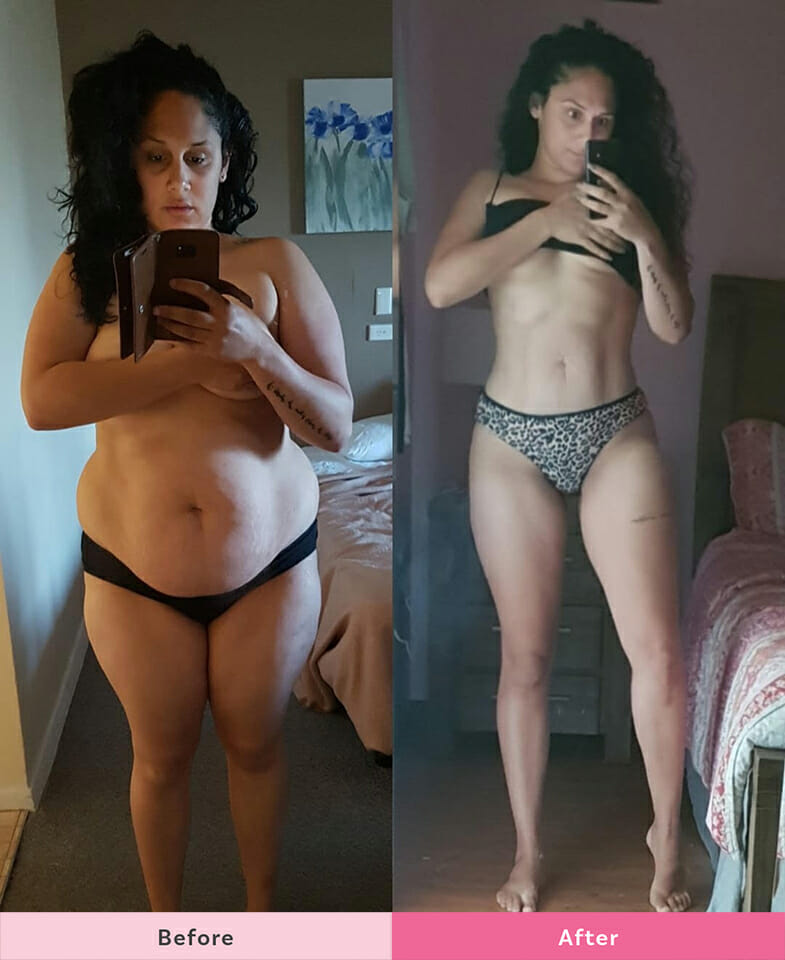 Hannah is a 28-year-old mum of FIVE kids ages ten, nine, five, three and two from the Mid North Coast of NSW and she has lost 28kgs in 11 months.
She started her journey to keep up with her kids and help her mental health.
In 2019, Hannah wants to continue smashing her goals and lose her last 5kgs.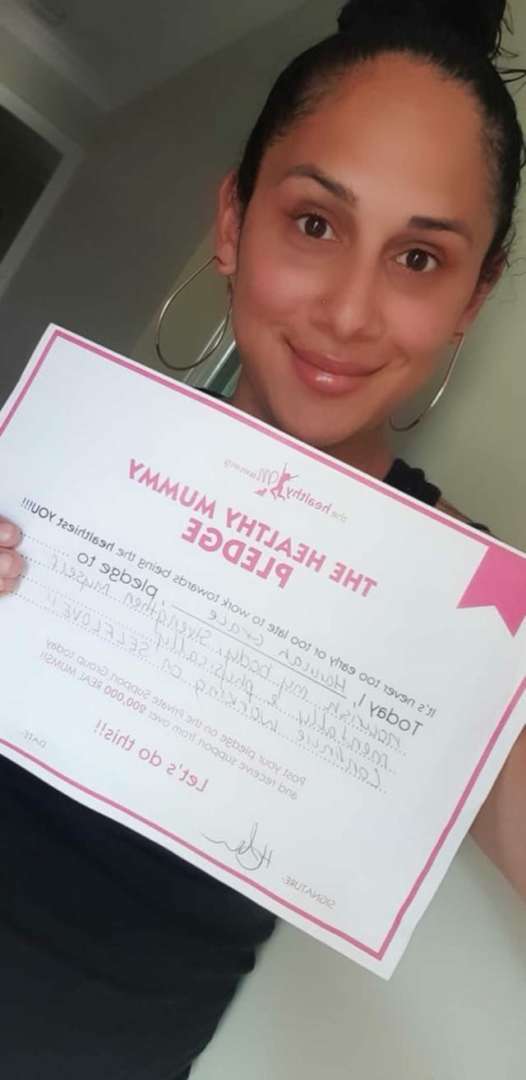 Her advice for anyone who's thinking about joining the 28 Day Weight Challenges is "take it day by day and stay consistent."
Hannah's three tips to stay on track:
"Learn to meal prep
Utilize everything from the app to the support groups on facebook to the products.
Keep moving. Daily walks.. cleaning the house.. playing with the kids."
9. Chloe Emma Cox mostly wanted to feel comfortable!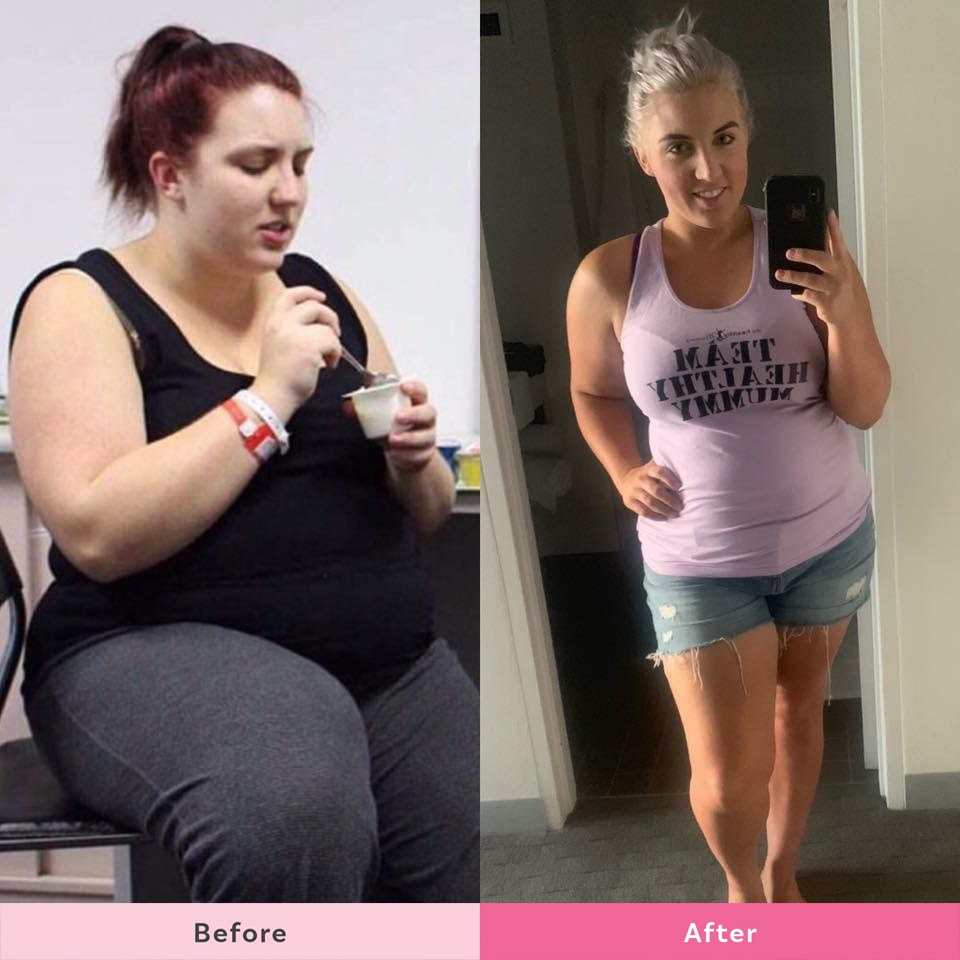 Chloe is a 25-year-old mum of Sienna (4), Maison (2) and Elijah (1) who from the Lake Macquarie area of NSW who has lost a total of 40kgs.
Chloe joined The Healthy Mummy because she didn't want to be the mum sitting on the sidelines anymore.
"I wanted to be present and in alll the photos and feel comfortable!"
In 2019, Chloe wants to work on her mental health and sneak lots of veggies into her kid's meals without them knowing!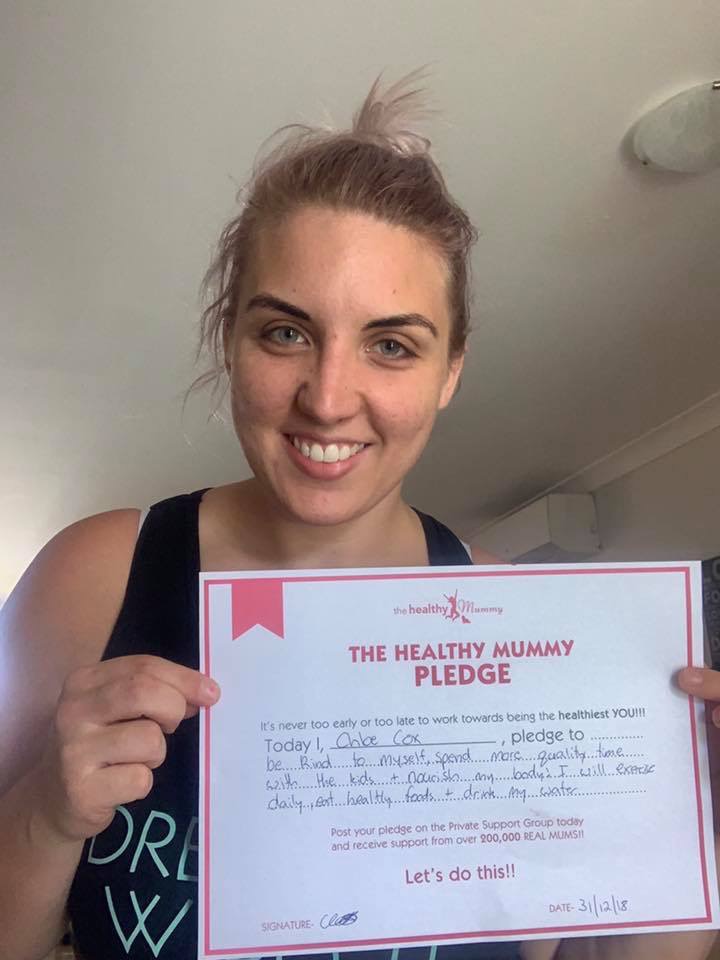 "Just do it! You'll thank yourself in 28 days time and wonder why you hadn't joined years ago," she says.
Chloe's three top tips
"Take each meal at a time, if you indulge don't write the day off, have some water and make a better choice the next time you eat  
Don't over complicate it. Cook double at dinner = lunch or a freezer stash for another night. Pick two or three snacks and rotate them for the week. Make it suit you!  
Don't deprive yourself! Feel like pizza? Search the recipe hub and pick from the 63 options. Same goes for chocolate and the 274 recipes you can choose from." 
10. Sally Stepniewski wanted to be a good role model for her 3 kids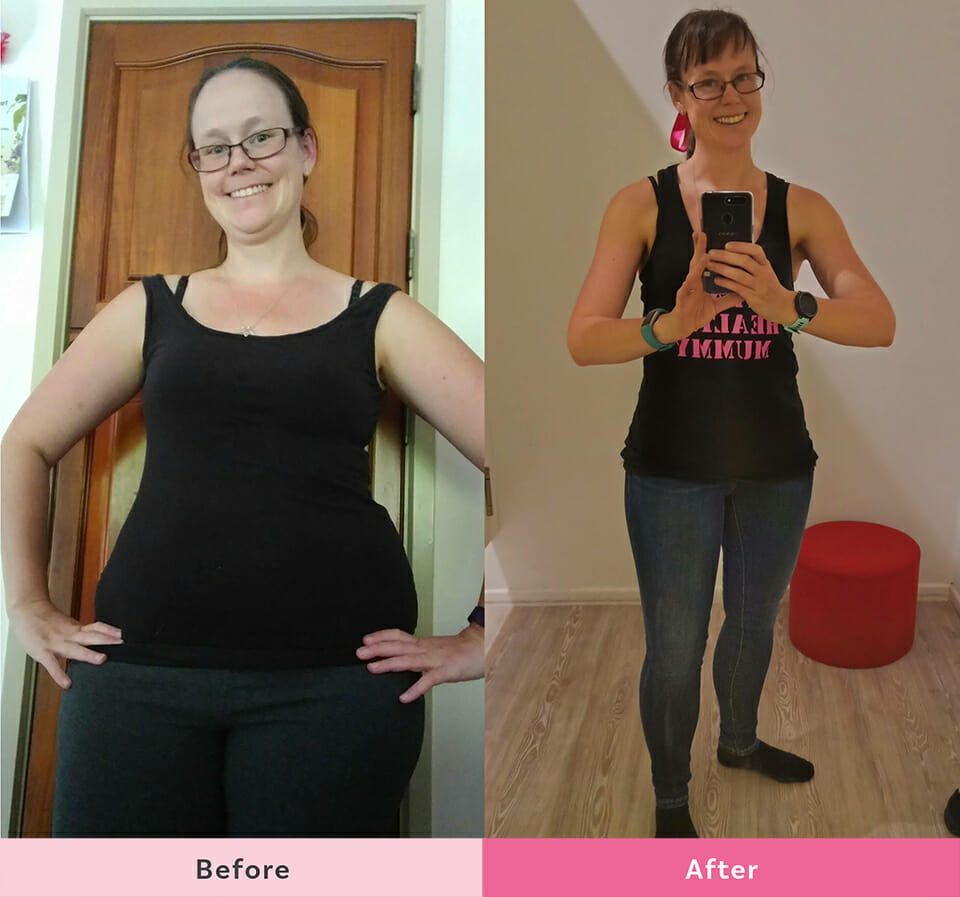 Sally is a 35-year-old mum to twins boys, Wyatt and Maiya (5) and little miss Corah (2) from Victoria who has lost an epic 41kgs in 14 months.
She has gone from a size 20 to 8-10 and has maintained this weight for six months!
She started her journey when a photo made her realise how unhappy, unhealthy, overweight and anxious she was, she decided to do something about it. She didn't want to be an unfun mum and wanted to be a good role model for her kids.
"I was also about to return to work full-time with three kids aged three and under, the idea of a meal plan to do the planning for me was so appealing."
Sally wants to make 2019 the best year EVER!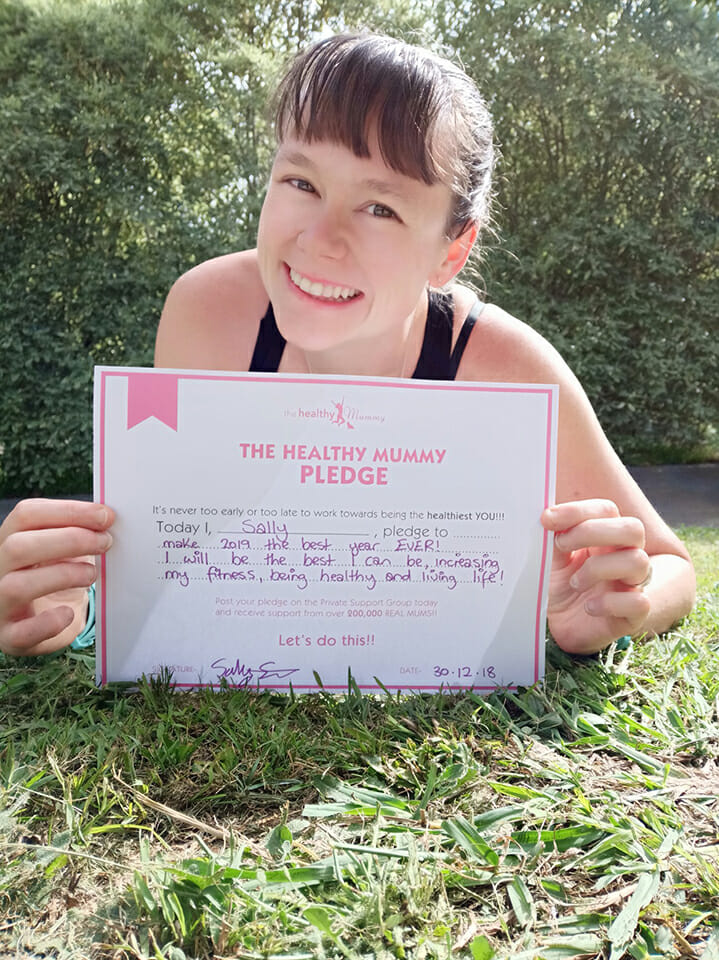 "I will be the best I can be, increasing my fitness, make time for me, make healthy choices and live life," she says.
Her advice for other mums considering making a change is anyone can do it! She urges you to not compare yourself to others as everyone's journey and battles are different.
"When first starting – start small, learn about the importance of fuelling your body properly, of the value of water, of how moving your body every day has major health benefits. Make some time for you – mental health is so important!" she explains
Sally's three tips to stay on track:
"Prep food/snacks to help keep you on track – it doesn't have to be a bulk cook up, simple snacks or preparing your meat and veg for the week has major benefits during the chaos of the working week. When cooking dinner, make extra for next day lunch or some for the freezer.
Take photos – you may hate the way you look now, but progress shots really show how amazing you're doing. Take these at the start of every 28 Day Weight Loss Challenge or every week, when you put them together after a month you'll see all your hard work.
Take advantage of the amazing support group. Share your progress, ask questions, check out inspiration and ideas from other ladies, and be involved."
We can't wait to see you all kill 2019 with such amazing goals and so much success already!
Join these mums and take The Healthy Mummy Pledge and make 2019 your healthiest year yet!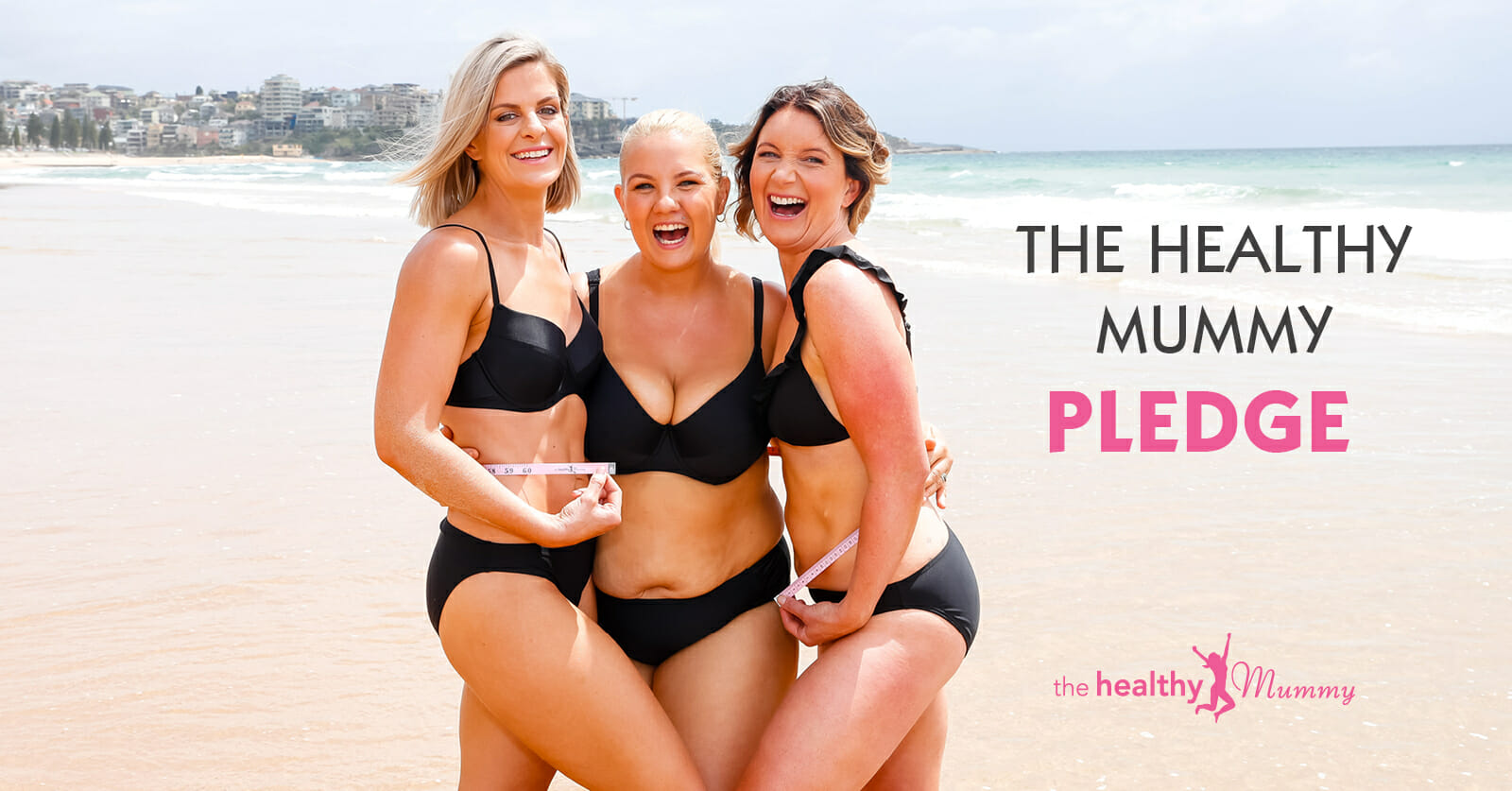 In order to stay accountable and on track, it's time to write your Healthy Mummy 2019 Pledge!!!
Download The Healthy Mummy 2019 Pledge HERE.
Join these mums and thousands more on the 28 Day Weight Loss Challenge.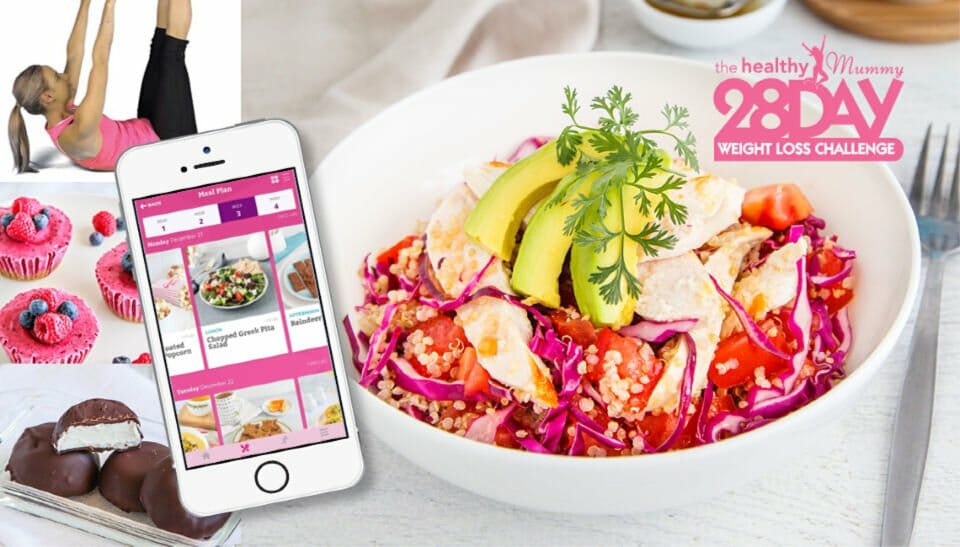 If you are interested in kickstarting your weight loss and want to improve your energy – not to mention – improve your overall health and wellbeing – our 28 Day Weight Loss Challenge is an awesome program to check out. 
Our 28 Day Weight Loss Challenge includes:
28 days of at home exercise routines (no gym needed) – with video instruction
Customisable and breastfeeding friendly meal plans (including a 7 day cleanse)
Time-efficient exercises for busy mums – under 30 mins
Challenge combines Pilates exercises with interval and circuit training (HIIT)
Suitable for basic to advanced fitness levels
Home to thousands of EASY-TO-MAKE recipes!
To learn more about our 28 DAY WEIGHT LOSS CHALLENGE CLICK HERE or PURCHASE SMOOTHIES HERE.