This mum has maintained her weight loss success and see her confidence soar thanks to The Healthy Mummy!
Randa Jaide is an inspiration because of the confidence she exudes! Check her out in her latest bikini purchase...hot mama!
Randa Jaide is an inspiration not just because of the amazing weight loss she has achieved and maintained, but also because of the confidence she exudes! Check her out in her latest bikini purchase…hot mama!
Randa has been using The Healthy Mummy weight loss program and has lost 35kg and kept it off whilst toning her body.
Read more about her confidence journey below.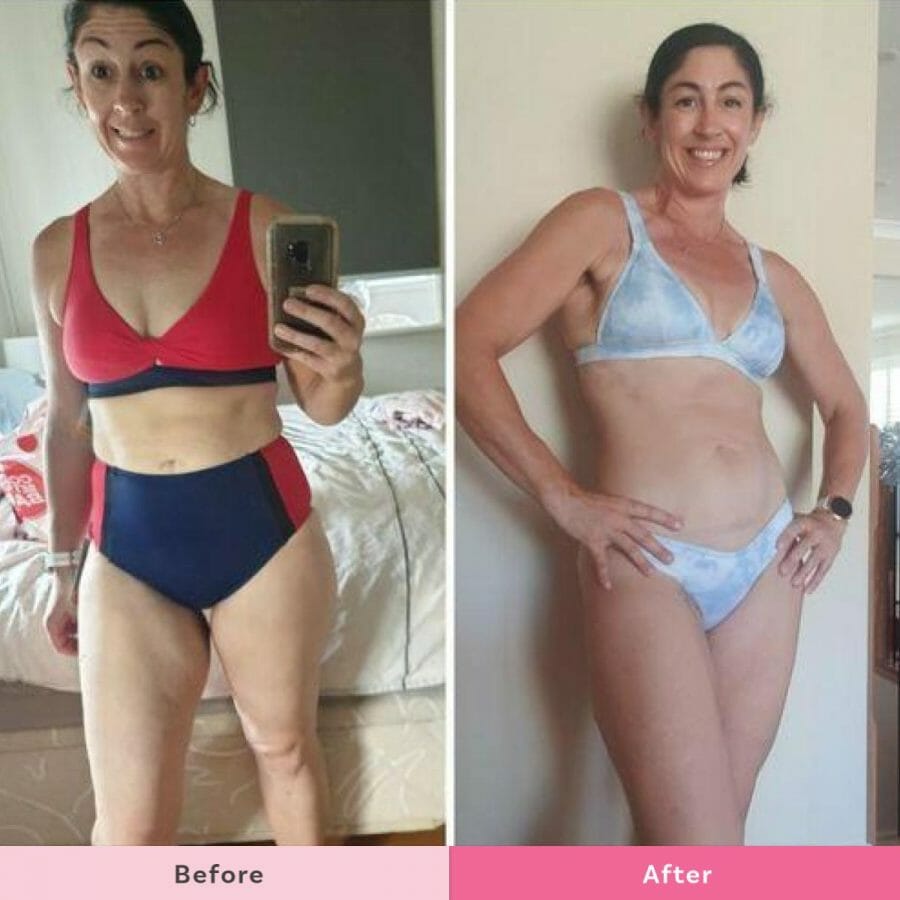 Weight loss maintained and confidence soaring all thanks to The Healthy Mummy!
Healthy Mummy Randa is just beaming with confidence in her new bikini!
"Last year's swimsuit purchase vs this year."
After losing 35kg with the help of The Healthy Mummy 28 Day Weight Loss Challenge Randa has been successfully maintaining this weight loss for the past 12 months whilst toning her body and working on her mental health. But it wasn't until she purchased a new swimsuit for summer that she realised just how much of a change in confidence she'd had.
"For the last 12 months, I have been maintaining a 35kg weight loss, lost through The Healthy Mummy, focusing on toning and continuing to work on my mental health. So when I stepped even further outside my comfort zone and purchased a new bikini, a size 10 straight off the shelf, simply because I liked it and didn't worry about the high waist or whether it was going to cover my stretch marks and loose skin, I knew my confidence had hit a whole new level! It's shining through in my everyday life, not just body confidence."
"Thanks, Healthy Mummy for helping me find ME!"
Randa's Healthy Mummy journey
Randa started her journey with The Healthy Mummy in 2019 with no idea just how much it would change her life.
"In June 2019 I made a life-changing decision, and that was to join The Healthy Mummy, even if I didn't realise this would be the case at the time."
Starting with just a Healthy Mummy Smoothie and a 3 month trial of our app she began to see changes in her health so was hooked and never looked back.
"I ordered my first smoothie tub and signed up for a 3 month trial to the app, I went into it with a focus on just being healthy and able to move more freely and comfortably with my kids. I didn't have a goal weight in mind I just wanted to see what would happen.
It turned out this was the best way I could've managed my lifestyle transformation, it meant I put no pressure on myself and didn't set myself up for failure, only to succeed."
From walking just 3-5km a day to completing her first half marathon, Randa has seen so many changes in her life since she began her Healthy Mummy journey.
"When I first started I walked between 3-5km a day then incorporated the app workouts and as my body began to shrink and become stronger I set myself a goal to be able to run, again, I never imagined that in September this year I would complete my first half marathon!"
She's gone from 104.5kg down to 69kg which is a weight she's happy with so now her focus has switched to maintaining the weight loss and new healthy lifestyle.
"With my food now I'm maintaining is very much the same as when I started my journey as my aim was to achieve a healthy maintainable lifestyle something I could do forever and with Healthy Mummy that's exactly what I got, a way of life."
Join the 28 Day Weight Loss Challenge
Did you know the 28 Day Weight Loss Challenge is designed to help mums lose 4-5 kilograms a month WITHOUT avoiding whole food groups, going hungry and rigorous gym workouts?
The 28 Day Weight Loss Challenge is home to 4,000 recipes, 4 weekly meal plans, 350 exercises, workout videos plus 24/7 support.
The 28 Day Weight Loss Challenge is not only a sustainable way to lose weight but is family-friendly, breastfeeding-friendly and can be customised to suit all dietary requirements (for example, gluten-free, vegan, vegetarian etc).
What's more every month on the Challenge is a NEW THEME – meaning 100 new recipes, exercises and meal plans!