How a balanced diet has helped my once unbearable period pains…become barely noticeable
You can learn a great deal about your health by taking notice of your menstrual cycle, particularly if your period is late, early, longer or excruciatingly painful.
Your period is something you've likely to have been experiencing for decades, and over the years you've probably had your fair share of menstruation confusion, especially during pregnancy, breastfeeding and weaning.
Irregular periods, heavy bleeding, clots, discomfort and skipped cycles are all normal in these circumstances.
But when you're not pregnant, recovering from birth, breastfeeding or on any hormonal medication, strangeness in your regular cycle or incredible plain can be your body's way of communicating to you that something could be wrong or in need of extra attention and care.
How a balanced diet has helped my once unbearable period pains…barely noticeable
For many years, 28 Day Weight Loss Challenge member Cassandra suffered from dysmenorrhea. Dysmenorrhea is the medical term for pain associated with your period. There are two types of dysmenorrhea: "primary" and "secondary".
Primary dysmenorrhea, while typically less severe and far more common, is painful menstruation that is sometimes accompanied by vomiting, diarrhoea and fatigue. It is generally not linked to disease and, according to Cleveland Clinic, occurs 1-2 days before your period is due.
Secondary dysmenorrhea however is generally linked to the likes of endometriosis, infection or some sort of disorder within the female reproductive area.
Women experiencing period pain, no matter the severity, should chat with their healthcare practitioner and enquire how their personal and individual that-time-of-the-month discomfort can be managed and or treated.
Cassandra, however, informed The Healthy Mummy she felt a reduction in her period pain and was able to better manage her primary dysmenorrhea by following a healthy lifestyle, which includes 3 daily snacks and 3 daily meals – most of which come from the 28 Day Weight Loss Challenge.
How Cassandra was able to ease her period pain
Cassandra says, "Most of us have experienced it at some point in our lives. I used to think it was normal to experience pain, but for me it is now a distant memory."
The mum reveals she has experienced her fair share of horrible period pain and cycle-related craving, but found that the better her diet, the better her body copes with it.
As a result, Cassandra admits, "The period pains I experience now are barely noticeable. A big improvement from when I used to be curled up on the couch with my wheat bag and a packet of chips."
Cassandra says she follows a balanced diet at all times. That is one that contains wholegrains, vegetables, fruit, legumes, lean meat and dairy and treats in moderation.
Handling more painful periods
While the following tips are by no means a 'cure' or 'solution' to those suffering from dysmenorrhea (again, chat with your healthcare practitioner if you are worried about your menstrual cramps) Cassandra says they certainly helped her manage her period pain – and may be beneficial to those who suffer from less severe period pains.
1.Eat 3 meals and 3 snacks
Firstly, eat 3 meals a day and 3 snacks – especially if you have cravings. If you can keep your body fuelled with the right stuff you are less likely to go on a marathon chocolate binge which will no doubt only make you feel worse. 
2.Drink more water
Increase your intake. The more water you drink, the less fluid your body holds on to. This means less bloating. I don't even get pre-period bloat anymore since increasing my water intake.
3.Go bananas for bananas
Eat bananas – not only are they rich in potassium,  they are contain magnesium. Both of these are great for relaxing muscles and reducing cramping.
4.Don't be afraid of chocolate
You can still have chocolate – just make better choices.
Most chocolates are loaded with sugar (which, from my experience, can make your cramps worse, plus they can send your blood sugar off on a rollercoaster ride). Dark chocolate is a good choice, try for at least 70%. Otherwise, try making some Healthy Mummy snacks.
I suggest having Peanut Bubble Crunch, Twix Bars and Healthy Caramel Slice on hand.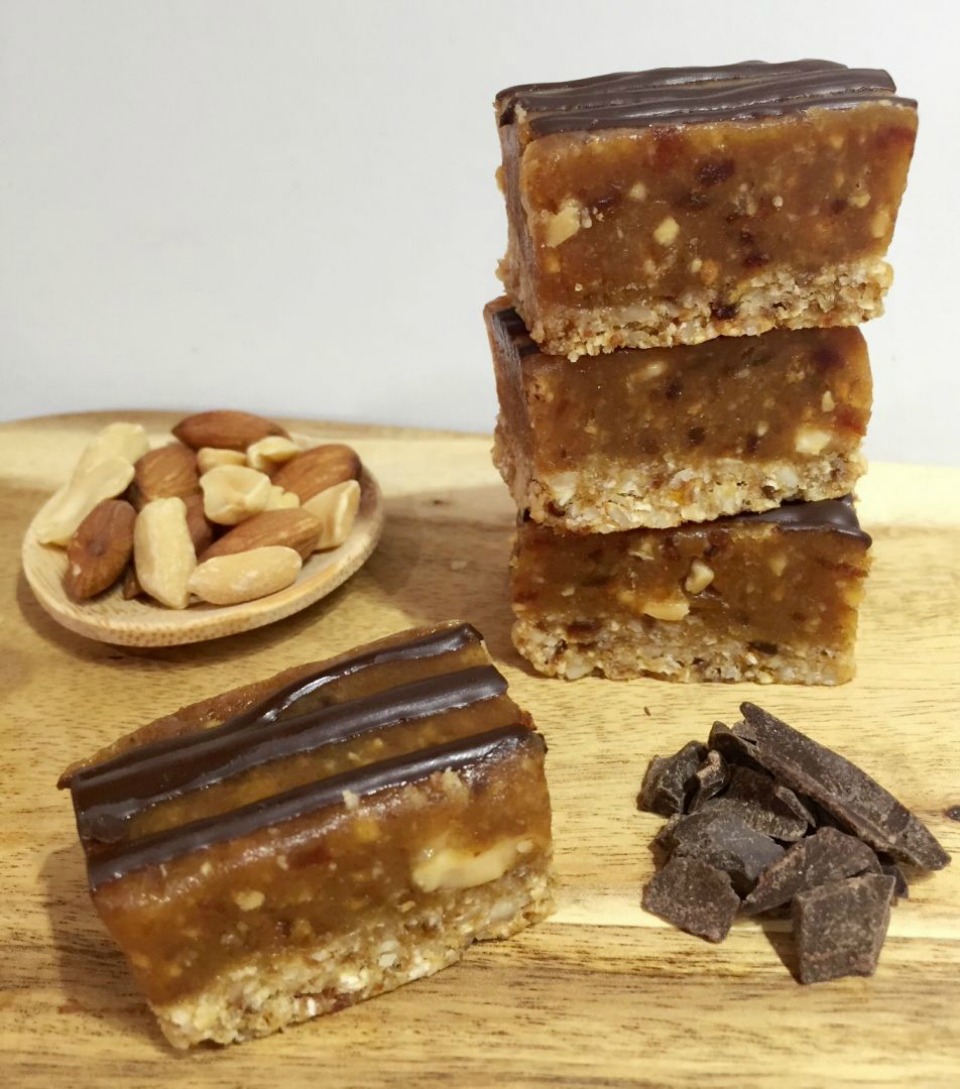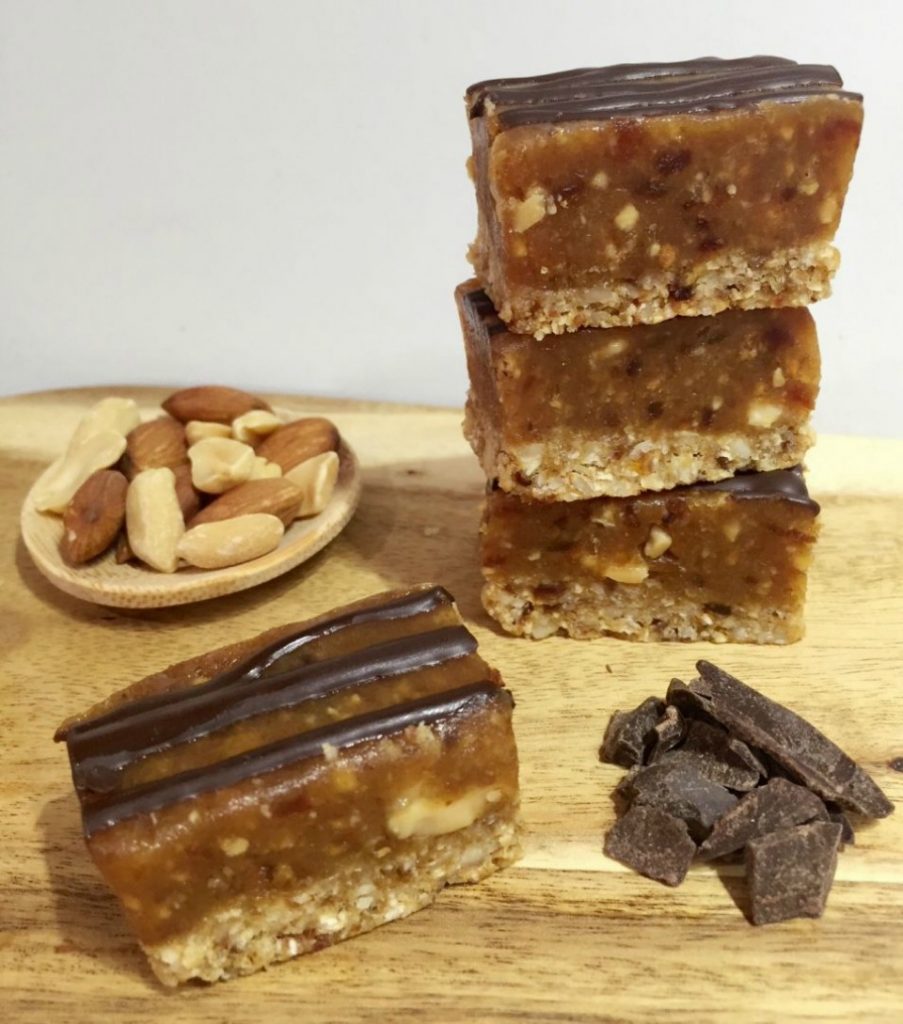 You can also find other healthy treat alternatives on The Healthy Mummy. Think Mexican lasagne, Stove Top Lasagne. The 28 Day Weight Loss Challenge App is full of IDEAS! 
5.Make a Healthy Mummy Smoothie
Drink your smoothies! The Healthy Mummy Smoothie mixes are formulated specifically for women and are LOADED with essential vitamins, and contain 25% RDI for magnesium, iron and calcium. A Sneaky Snickers smoothie often gets me through when the chocolate cravings hit!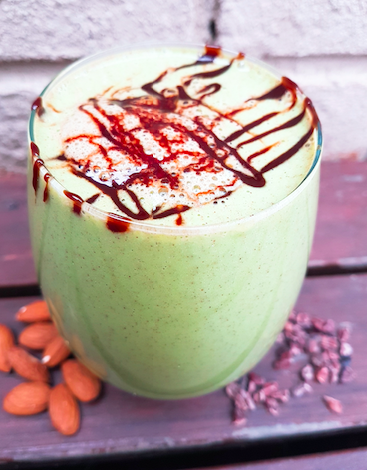 I have also come up with, what I call, PMS smoothie, containing Healthy Mummy Chocolate Smoothie Mix, a banana, LSA, chia seeds, spinach dates and cacao.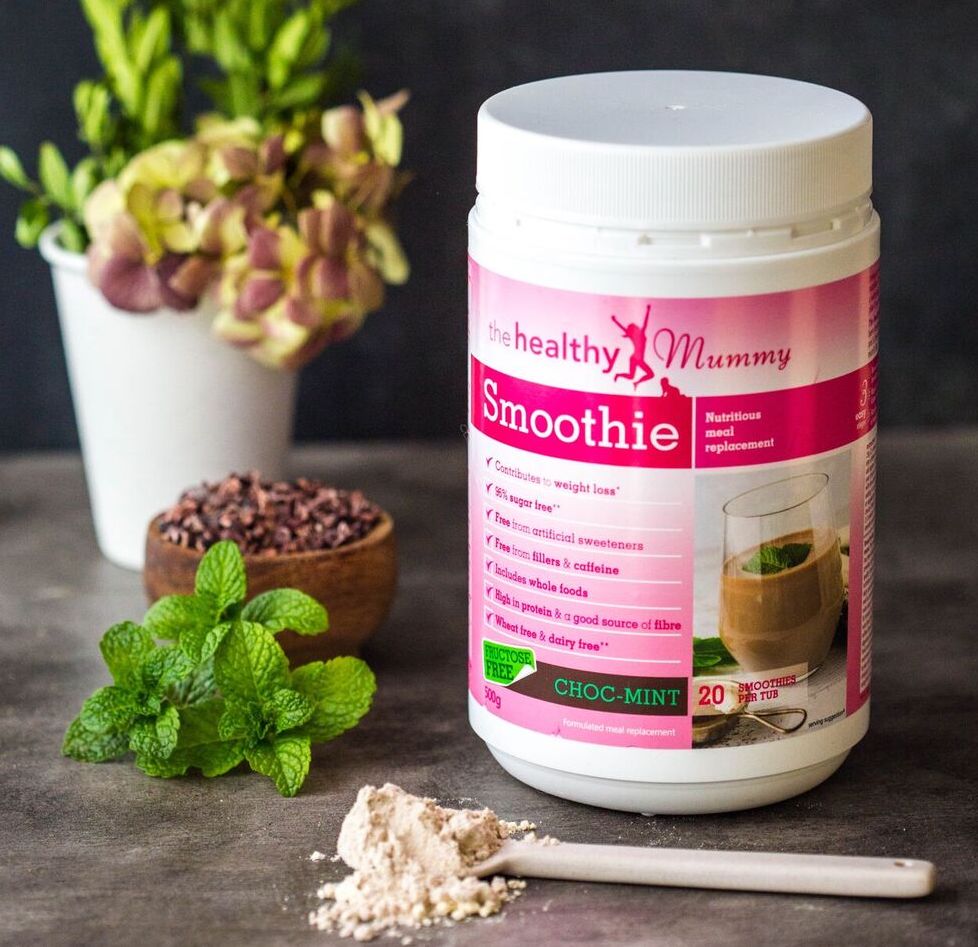 6.Track your period
I now have to track my cycle through an app, as more often than not I am not aware that my period is about to start and what to expect. 
For more information about what's a 'normal period' perhaps this blog will be useful to you, What Is Your Period Trying To Tell You About Your Health? Again, if you are concerned about your period pain – see your doctor. 
Eating healthily has also helped with Cassandra's weight loss goals
Since joining the 28 Day Weight Loss Challenge Cassandra has been able to follow a healthy, balanced diet. As a result, she says she has lost 8.3kg. 
What's more, she says she been able to reduce her sugar intake without missing out on yummy treats and MINUS the guilt.
"I'm glad I reduced sugars slowly and without any guilt. This is a lifestyle change and I feel so much better for it. I have cut sugars down quite slowly so have never felt as though I am missing out on anything," she adds.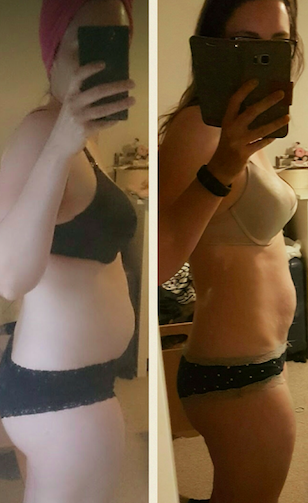 If you are wanting to follow a more balanced meal plan and eat delicious, wholesome recipes – whether it be to lose weight or to help improve your overall health and wellbeing – our 28 Day Weight Loss Challenge is an awesome program to check out. 
Our Challenge includes:
28 days of at home exercise routines (no gym needed) – with video instruction
Customisable and breastfeeding friendly meal plans
Time-efficient exercises for busy mums – under 30 mins
Challenge combines Pilates exercises with interval and circuit training (HIIT)
Suitable for basic to advanced fitness levels
Home to thousands of EASY-TO-MAKE recipes!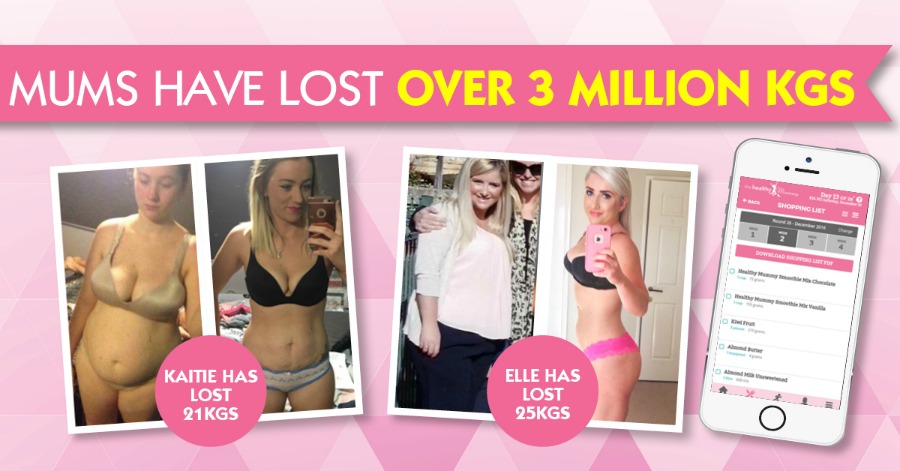 To learn more about our 28 DAY WEIGHT LOSS CHALLENGE CLICK HERE.