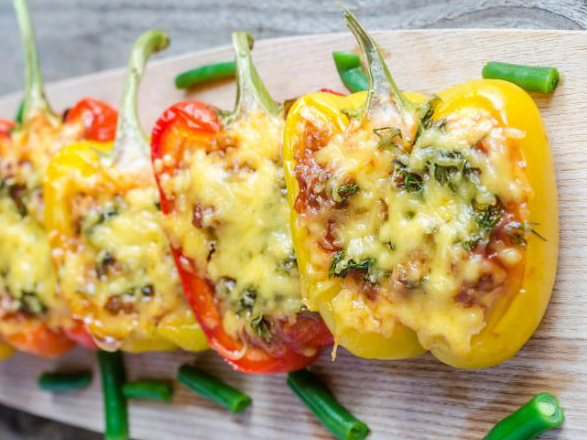 Veggies are packed with literally hundreds of different nutrients and vitamins, many of which have the potential to fight serious diseases and to boost weight loss – so are great to include in your healthy eating plan.
Veggies also contain lots and lots of dietary fibre, and dietary fibre is super important in the fight to lose belly fat.
Dietary fibre fills you up – it's as simple as that. The more your food fills you up, the less likely you'll be to crave foods that are full of fat and calories – helping to keep your weight down.
But dietary fibre helps to boost pregnancy weight loss by keeping your bowel movements regular, as you cannot digest it – so you have to get rid of it by expelling it as waste.
Dietary fibre actually swells in the tummy when you drink water, so it keeps you full, but the bonus is that because you have to expel it, you take in fewer calories from it. Eating a range of fruits and veggies every day and including them in your weight loss plan will ensure that you get the vitamins and nutrients needed for health, and it will also boost your weight loss.
Plus, many vegetables are jam-packed with flavour, giving you maximum flavour for minimum calories.
Olive, Basil and Feta Stuffed Red Capsicum
Ingredients
4 red capsicum
75g feta cheese
2 tbsp. finely chopped fresh basil leaves
1 small red onion
16 small cherry tomatoes
16 pitted black olives
4 small courgettes
Salt and pepper
1 tbsp. extra-virgin olive oil
Directions
Slice the capsicum in half through the stem and carefully scoop out the seeds and pith, being careful not to nick the flesh of the capsicum with your knife. Slice the courgettes in half and chop and thinly slice the red onion.
In a bowl, mix together the red onion, tomatoes, olives, courgettes, basil, salt, pepper and olive oil. Place two red capsicum halves on a square of tinfoil. Divide the mixture between the red capsicum halves and crumble the feta cheese over the top. Bring the tin foil up and over the red capsicum and scrunch to make a parcel. Continue until you've used all of the ingredients.
To cook, either bake the parcels on a baking tray at 180C for around 10-15 minutes or until everything is tender. You can also pop the parcels onto a BBQ for around 10 minutes, which will give the dish a lovely charred flavour. Alternatively, dispense with the tin foil and bake the pepper halves directly on a baking tray to brown the cheese.
Recipe serves 4. Calories per serving: 193. You can serve them as they are, or with a light green salad for lunch.
If you are ready to lose weight then The Healthy Mummy plans offer a healthy and safe exercise and diet plans that are safe if you are breastfeeding.
Plus we have Cookbooks, Calorie Bibles, Exercise DVD's, Meal Replacement Smoothies and Our 28 Day Plan in our shop.