10 healthy Christmas recipes JUST FOR YOU!
It's the holidays which means it's time to enjoy the company of family and friends and some good food. To help you stay on track through the holidays we have collected 10 healthy Christmas recipes, check them out!
It's the most wonderful time of the year! A time to be with your loved ones and indulge in delicious and decadent food and drink.
Here at The Healthy Mummy, we are here to guide and show you how to enjoy these special times and festive food without spoiling all your hard work.
In fact, you can continue to lose weight! So today we want to give you our TOP TEN favourite healthy Christmas recipes – just for you.
10 healthy Christmas recipes to help you celebrate this holiday season
Choc Rum & Raisin Semifreddo Pudding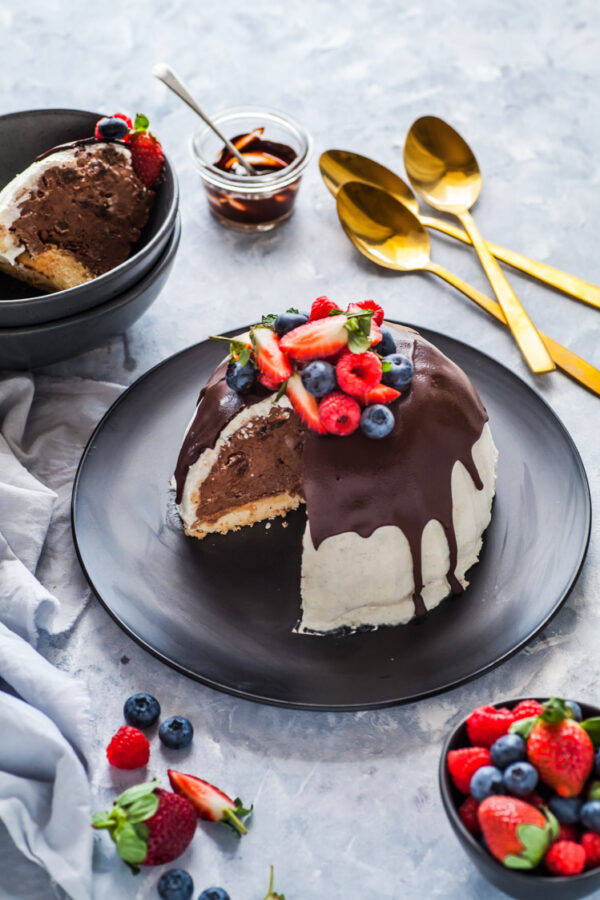 A decadent but healthy dessert option that is perfect to prepare for the festive season or anytime you are entertaining.
Ingredients
1 cup sultanas (170.0grams)
2 tbs brown rum (40.0 mls)
3 egg yolk (75.0 grams)
2 tsp vanilla extract (10.0 mls)
5 tbsp Natvia (80.0 grams)
3 cups reduced-fat Greek natural yoghurt (780.0 grams)
1/4 cacao/ cocoa powder (25.0 grams)
4 Italian sponge biscuits (50.0 grams)
1/4 cups coconut oil, melted (60.0 mls)
dark chocolate (70%), melted (100.0 grams)
1 cup mixed berries (fresh or frozen) to garnish (150.0 grams)
Method
Add the sultans and rum together in a bowl and stir to combine. Set aside for at least 2 hours or overnight if you have time.
Line a small domed bowl with two layers of plastic wrap and set aside.
Fill a saucepan with a cup of water and bring to the boil. Add the egg yolks, one teaspoon of the vanilla and 3 tablespoons of the Natvia to a heatproof bowl and set over the saucepan of boiling water making sure that the water doesn't touch the base of the bowl. Stir the egg yolks until they thicken slightly about 5-8 minutes. Set the egg yolks aside to cool slightly.
Add 2 cups of the yoghurt, the sifted cacao/cocoa powder and rum soaked sultanas to cooled egg yolks and stir to combine. Pour the mixture into the lined bowl.
Line the top of the mixture with the sponge finger biscuits making sure to cover the entire top. Cut down the biscuits to fit the base to cover it fully.
Place the bowl int he freezer and freeze overnight or until firm.
Remove the semifreddo from the freezer and tip onto a serving platter making sure the sponge ginger base is at the bottom.
To make the topping, mix the remaining yoghurt, remaining Natvia, remaining vanilla and the melted coconut oil together in a small bowl. Spread the yoghurt mixture over the top of the out-turned pudding using an offset spatula. Once evenly covered place back into the freezer for an hour to freeze.
Break up the dark chocolate into a small microwave-proof bowl and heat for 30-second increments until it has completely melted.
Remove the pudding once the yoghurt layer has frozen and put the chocolate over the top of the pudding so that it runs down the edges.
Working quickly before the chocolate sets, top with a range of fresh or defrosted frozen berries.
Let the Choc Rum and Raisin Semifreddo Pudding sit for 15 minutes to soften slightly before cutting into wedges and serving.
164cal/689kj
Simple Homemade Christmas Roast Chicken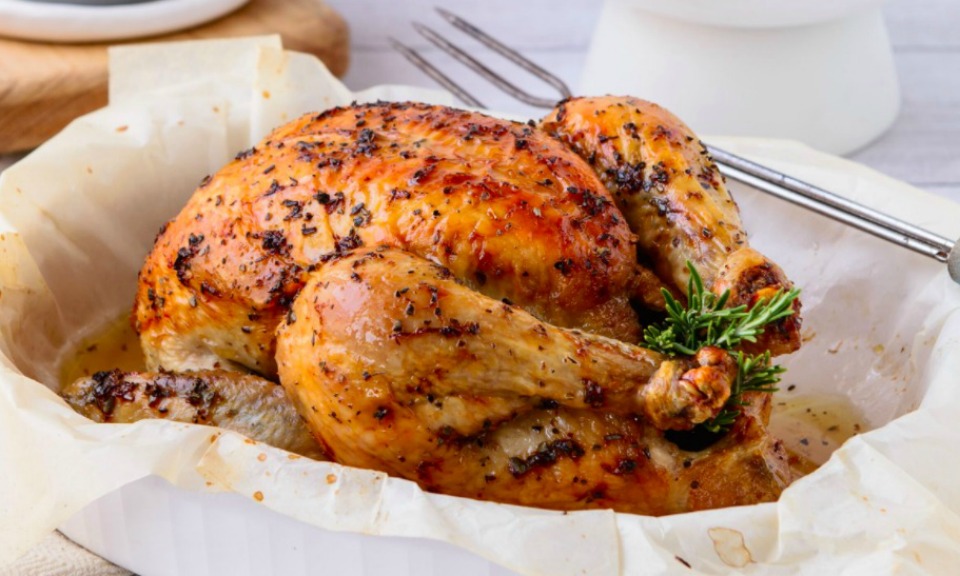 This wonderfully moist Roast Chicken dish is full of flavour and will look fantastic on your table not just for Christmas day, for ANY DAY!
Four Ingredient Fruit Cake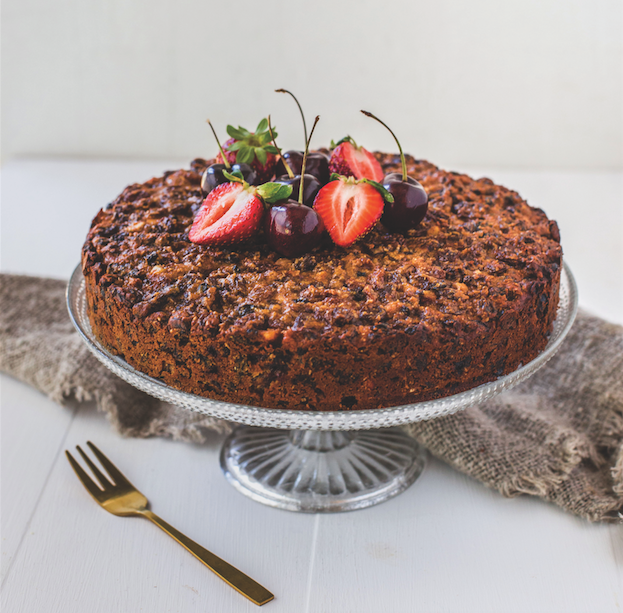 A super easy to prepare and delicious fruit cake to suit any special occasion or to have on hand for a healthy snack.
Ingredients
dried mixed fruit (1000 grams)
2 cups cranberry juice (500mls)
1 tbsp butter (16.0 grams)
2 cups wholemeal self-raising flour (240.0 grams)
1 & 1/2 tsp mixed (1.5 grams)
Method
In a large mixing bowl, add dried fruit and pour over cranberry juice. Mix well. Cover with plastic wrap and place into the refrigerator to soak overnight.
When ready to prepare the cake, preheat over to 150c. Grease a 25cm round springform pan with butter. Set aside.
Remove fruit from the refrigerator and add the flour and mixed spice. Mix until well combined.
Pour batter into prepared pan, smoothing out the top.
Bake for 90 minutes or until a skewer inserted into the middle comes out clean.
Removed from the oven and cool slightly for 5 minutes.
Cover with foil and allow the cake to cool completely in the pan.
Once cooled, remove from pan. Can be decorated with fresh fruit of choice.
Slice into 15 pieces (one piece is one serve) Store leftovers in an airtight container in the fridge for up to a week.
267cal/1123kj
Blueberry Breeze Cocktail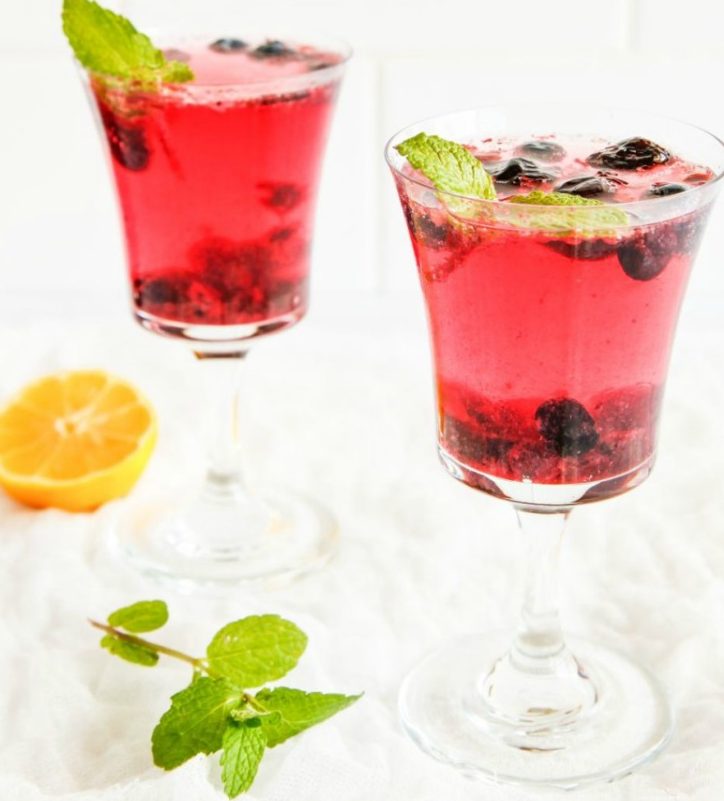 Christmas parties are often a time when you might celebrate with an alcoholic drink or two but be mindful of the extra calories alcohol can add to your daily totals.
This cocktail recipe is a healthier option and great to make to share with friends.
Ingredients (makes 1 serve)
2 tablespoons blueberries, fresh or frozen
2 teaspoons lemon juice
1/2 cup soda water
150 mls of sparkling wine
Method
Muddle the blueberries by squashing with the back of a fork.
Combine with soda water and lemon juice in a serving glass.
Top with sparkling wine to serve.
86cal/360kj per serve
Healthy Fruit Trifle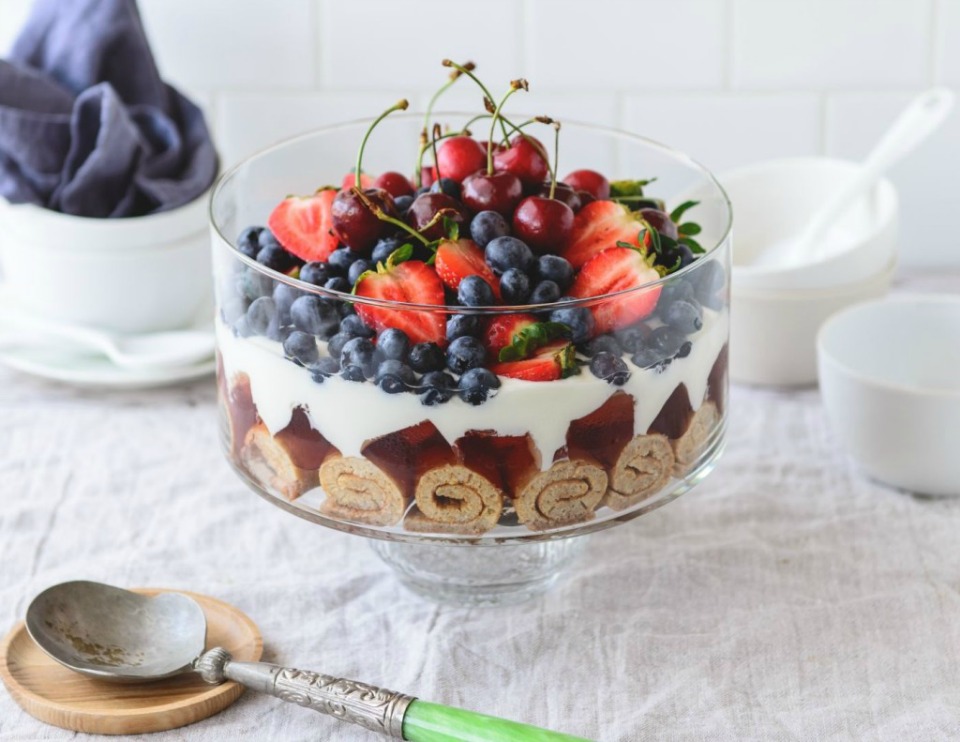 For a real show-stopper on the table over the holidays,  prepare this healthy fruit trifle to treat everyone.
Ingredients (makes 8 serves)
1 tablespoon powdered gelatine
1 & 1/4 cups water
1 cup apple & blackcurrant juice, no added sugar
1 cup wholemeal self-raising flour
2 separated free-range eggs
1 cup reduced-fat milk of choice
1 teaspoon vanilla extract
2 cups reduced-fat Greek natural yoghurt
1 punnet strawberries
1 cup blueberries, fresh or frozen
1 cup fresh cherries
2 tablespoons crushed peanuts
Method
Start by making the jelly. In a large jug sprinkle gelatin over 1/4 cup of the cold water and leave for a minute or two to soften. Boil remaining cup of water and add to gelatin mix, stir until gelatin is dissolved and liquid is clear. Stir in 3/4 cup of the apple and blackcurrant juice, reserving remainder of juice for later. Pour jelly mixture into a shallow dish and refrigerate for several hours, or overnight, until firm.
When jelly has set make the pancake rolls. Place the flour in a mixing bowl and stir in milk, egg yolks and vanilla until smooth.
In a separate small mixing bowl beat egg whites with an electric mixer until soft peaks form. Fold small portions of the egg white through the pancake batter until well combined.
Heat a non-stick frying pan over a medium heat. Scoop batter into pan using a 1/3 cup measure. Cook pancake until just golden on both sides, place on a piece of paper towel, roll tightly and set aside to cool. Repeat with remaining batter and sheets of paper towel to make approx 6 pancake rolls.
To assemble trifle gently unroll pancakes to remove paper towels, pancakes will keep their rolled-up shape. Slice each roll into 4 or 5 rounds. Arrange around the base of a large bowl and drizzle with remaining 1/4 cup of apple and blackcurrant juice.
Cut jelly into cubes and spoon over the pancake rolls. Sprinkle with nuts.
Top jelly with yoghurt. Quarter strawberries and arrange with blueberries and cherries on top of yoghurt. Refrigerate for at least 30 minutes or until ready to serve. Enjoy your Christmas with our Christmas Recipes check out for more!
185cal/773kj per serve
98 Calorie Individual Christmas Pavlovas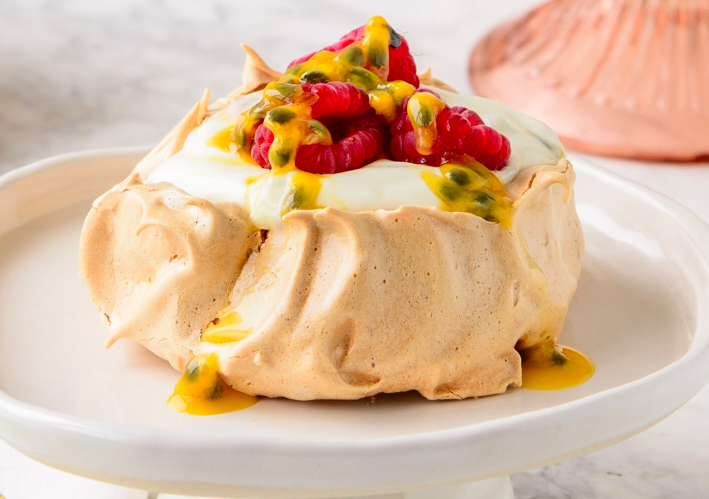 Pavlova is a favourite dessert for many at Christmas time, and thankfully you don't need to give it up when following a healthy eating plan. Another Delicious Pavlova Recipe!
This simple Christmas recipe shows that you can still indulge in delicious festive food while you lose weight.
Healthy Baked Ham with Pineapple Glaze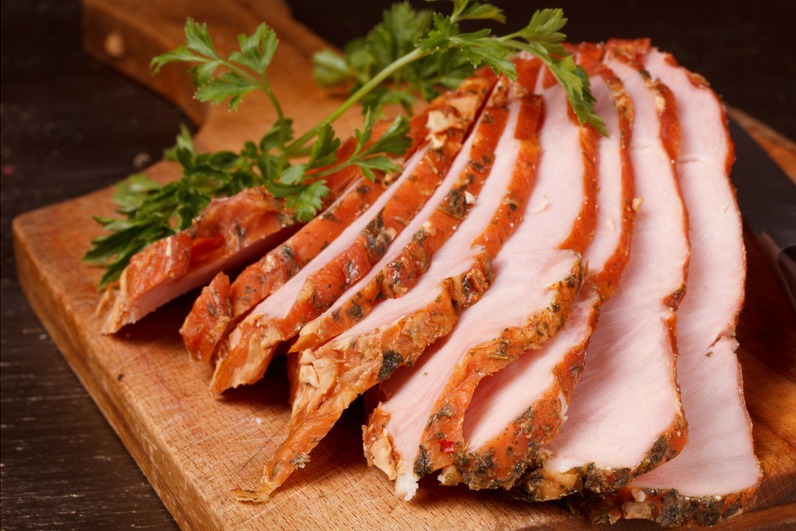 If you and your family love baked ham during the holidays, you'll be pleased to know that it's actually quite easy to prepare yourself.
Unlike some traditional recipes that use brown sugar for the glaze, we love this Christamas recipe as it's sweet thanks to the pineapple juice and balsamic instead.
Take a look at the recipe here.
Festive Waldorf Salad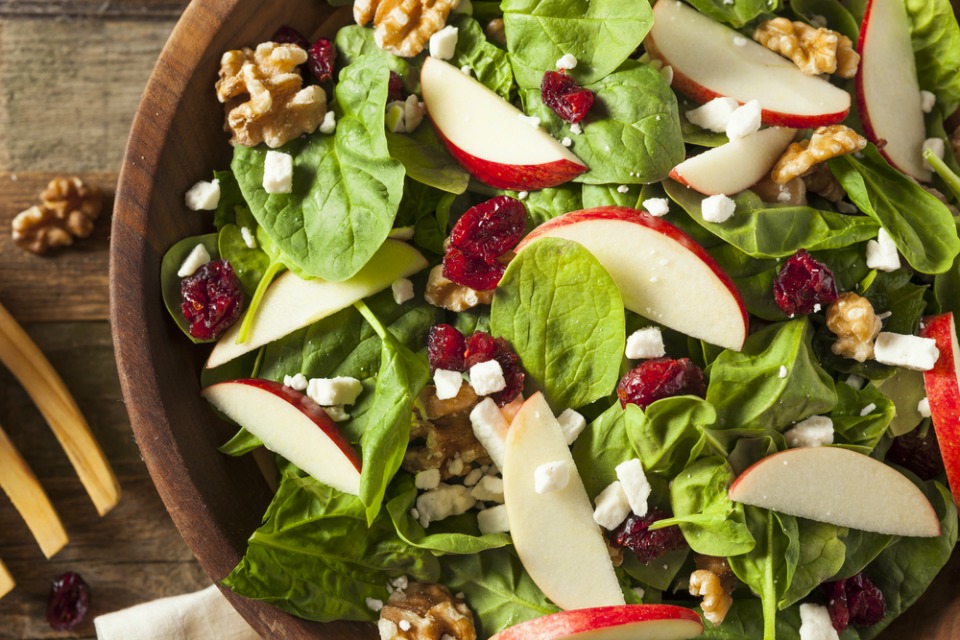 The traditional Waldorf Salad was created in the 1890s by the maître d' at the Waldorf Hotel in New York City. This version features a lighter dressing, plus the addition of healthy cranberries to give it a festive touch.
You could also add fresh mango or some grapes if you have some on hand and like the sweetness.
This Christmas recipe calls for dried cranberries. However, if you can find them, frozen cranberries are available in some supermarkets and have about 4x fewer calories than their dried cousins.
Refined Sugar-Free Mince Pies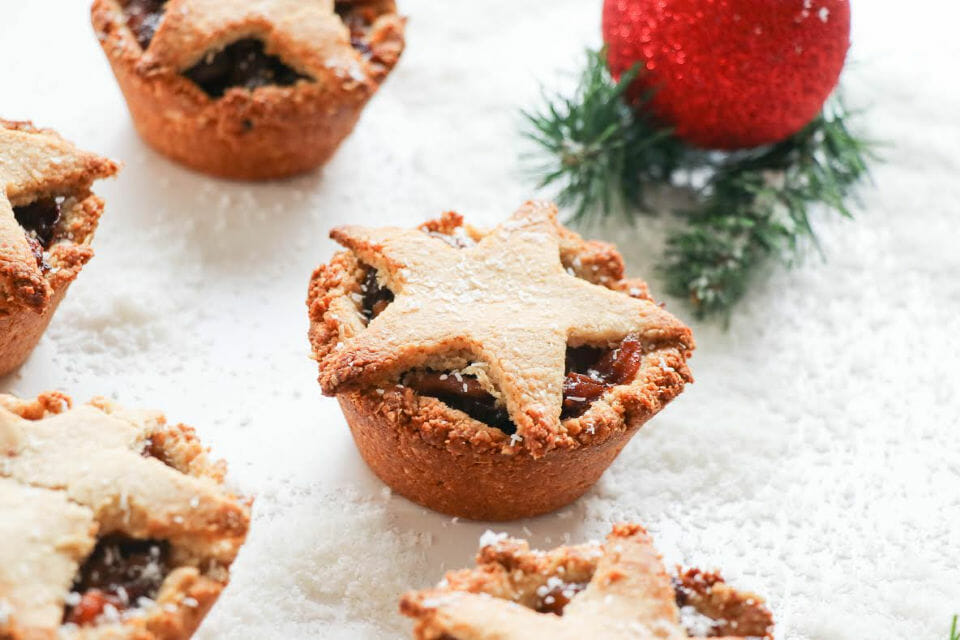 For some people having a holiday meal isn't the same without some of their old favourite treats, this can be hard when you are following a healthy eating plan.
Which is why we have a healthy fruit mince pie recipe for you, that is refined sugar-free!
The Christmas recipe list might be long but don't let that fool you, it's very simple and easy to make.
Red and Green Roasted Veggie Cous Cous Salad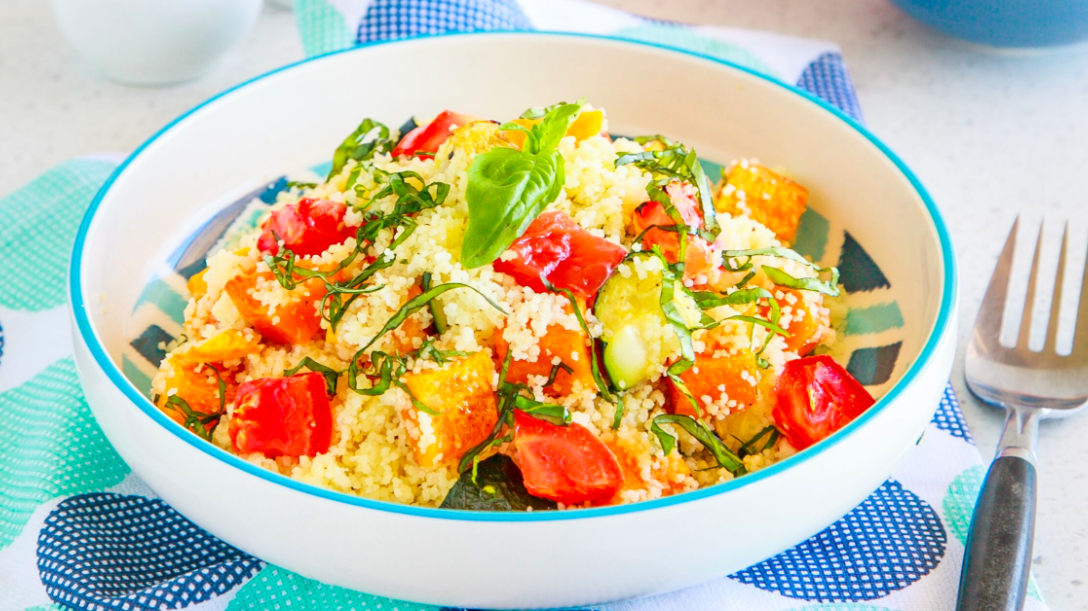 Couscous is such a versatile grain, it seems to just soak up the flavours of whatever you put with it, and what better flavours than roasted veggies! enjoy our delicious couscous salad recipe!
This Christmas recipe dish is perfect to enjoy as a side dish for Christmas Day, especially if you are following the 28 Day Weight Loss Challenge. It even uses red and green vegetables for that festive touch.
For plenty more festive faves, check out The Healthy Mummy Christmas Cookbook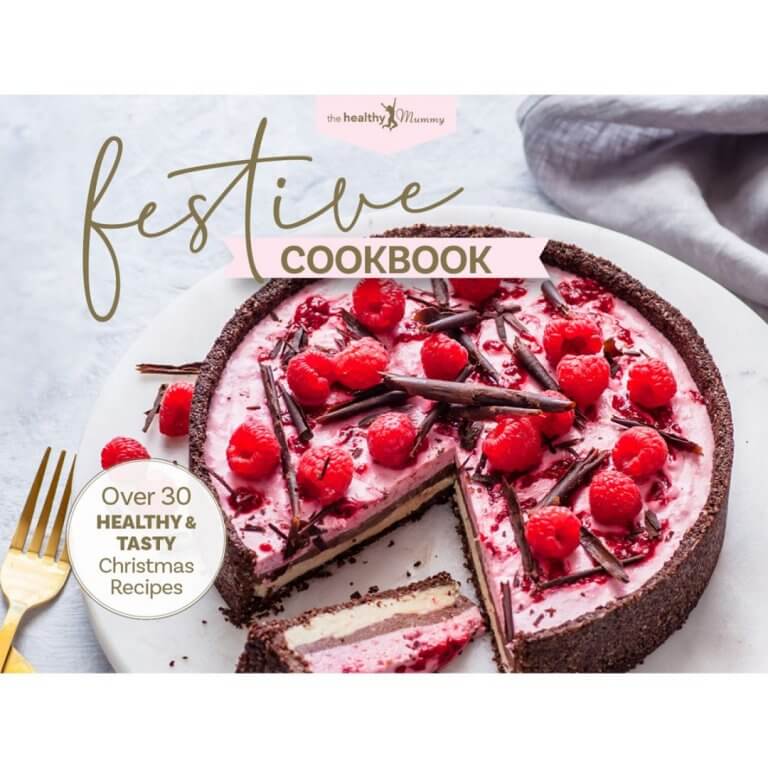 The Festive Cookbook is an absolute must have this Christmas.
This eBook features everything from how to stay on track during the silly season to dos and don'ts on alcoholic beverages. The book also features a range of healthy yet delicious recipes including Starters, Sides, Mains, Desserts, Smoothies, Leftovers and Cocktails.
Don't forget, you can join the Healthy Mummy 28 Day Weight Loss Challenge and start your journey to a healthier and happier you.
For all the details and to sign up, click HERE.
Find more recipes on the 28 Day Weight Loss Challenge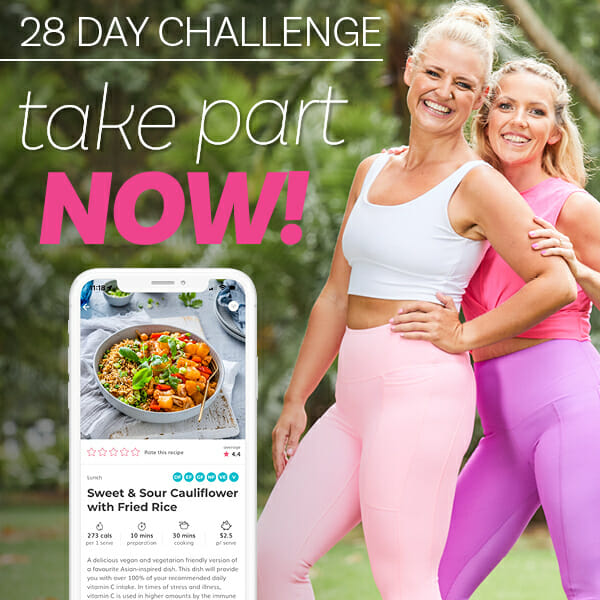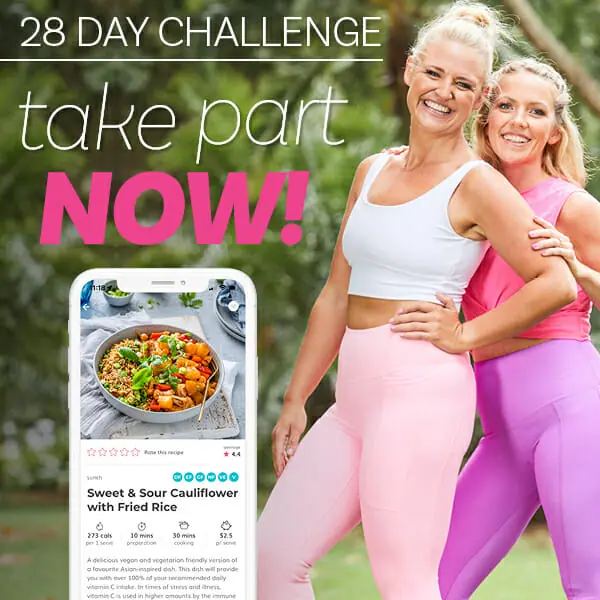 The no.1 mums only health, fitness & weight loss program – 28 Day Weight Loss Challenge.
It is like a PT, Coach, Nutritionist & Chef – ALL IN YOUR POCKET – with EASY to follow food & fitness plans
You get unrestricted access to:
Nutritionist & chef designed weekly meal plans
Personal Trainer crafted At-home workouts- 28 minutes and under
Daily Motivation from My Coach
Personalised Shopping lists to make life easy
Over 4,000 healthy and delicious recipes at your fingertips
REAL TIME support from The Healthy Mummy Team and OVER 200,000 other mums