28 of the most unusual celebrity baby names
When it comes to picking a moniker for their children, many celebrity parents like to think way outside the baby name box. Because, you know, that's show business.
When it comes to picking a moniker for their children, many celebrity parents like to think way outside the baby name box. Because, you know, that's show business.
If you want a name that is a little bit closer to fame, then you need check out these ones below.
Here are 28 of the wackiest names chosen by stars for their kids…
28 unusual names celebrities have chosen for their kids
1. Apple Martin Paltrow
Apple is the daughter of Gwyneth Paltrow and Chris Martin.
2. Audio Science Clayton
Audio is the son of Shannyn Sossamon and Dallas Clayton. "We wanted a word not a name, so my boyfriend read through the dictionary three or four times," says the actress.
3. Aurelius Cy Andrea Busson
Aurelius is the son of Elle Macpherson and Arpad Busson. Aurelius has a Roman sound to it – but it seems he's dropped the first name and goes by Cy.
4. Blue Ivy
View this post on Instagram
Blue is the daughter of Beyonce and Jay Z. She has younger twin siblings called Rumi and Sir.
5. Bronx Mowgli Wentz
View this post on Instagram
Bronx is the son of Ashlee Simpson and Pete Went. His middle name comes from the main character in The Jungle Book.
6. Cosimo
View this post on Instagram
Cosimo is the daughter of musician Beck and Marissa Ribisi.
7. Cricket
View this post on Instagram
Cricket is the daughter of actress Busy Philipps and her husband Marc Silverstein.
8. Destry Allyn Spielberg
Destry is the daughter of Steven Spielberg and Kate Capshaw. Destry means 'warhorse' in French.
9. Dream Kardashian
Dream is the daughter of Rob Kardashian and Blac Chyna. The Kardashians are known for their usual baby names.
10. Elsie Otter Pechenik
Elise is the daughter of Zooey Deschanel and Jacob Pechenik. Her middle name was chosen because they "both love otters".
11. Kal-El Copolla Cage
Kal-El is the son of Nicolas Cage and Alice Kim. Kal-El is Superman's Kyrptonian name.
12. Heavenly Hiraani Tiger Lily Hutchence Geldof
Heavenly (known as Tiger Lily) is the daughter of the late Paula Yates and late Michael Hutchence.
13. Ilya Vue Hart
Ilya Vue is the daughter of actress Ashley Scott and singer Steve Hart. The youngster's name is pronounced as 'I love you'. Say, what?!
"It took us about four days after she was born to name her because we weren't 100 percent, and then at the end I thought, 'I just love it," says Steve.
14. Kyd Miller Duchovny
Kyd is the son of David Duchovny and Tea Leoni. He goes by his middle name Miller.
15. Memphis Eve Sunny Day Hewson
Memphis is the daughter of Bono and Alison Hewson. However, she's known by her middle name Eve, which comes from the word seven – the time she was born at 7am.
16. North West
View this post on Instagram
North is the daughter of Kim Kardashian and Kanye West. She was given this name because it means "the highest point". North has siblings called Saint and Chicago.
17. Pilot Inspektor Lee
Pilot is the son of Jason Lee and Beth Riesgraf. His name comes from the song by Grandaddy with lyrics: "He's simple, He's Dumb, He's the Pilot."
18. Princess Tiiaamii Crystal Esther Andre
View this post on Instagram
Princess is the daughter of Katie Price and Peter Andre. Tiaamii comes from the names of her grandmothers, Thea and Amy.
19. Rainbow Rotella
Rainbow is the daughter of former playboy bunny Holly Madison and her husband Pasquale Rotella.
20. Rocket Zot Worthington
Son of Sam Worthington and Lara Bingle. Rocket's middle name is Sam's dad's nickname.
21. Romeo Beckham
View this post on Instagram
Romeo is the son of David and Victoria Beckham. He has brothers Brooklyn and Cruz and a sister called Harper Seven.
22. Satchel Lewis Lee
Satchel is the daughter of Spike Lee and Tonya Lewis. Satchel is named after baseball star Satchel Paige.
23. Scout LaRue Willis
Scout is the daughter of Demi Moore and Bruce Willis. She has sisters Rumer Glenn and Tallulah Belle.
24. Sonnet Noel
Sonnet is the daughter of Forest Whitaker and his wife Kesiha. She also has sisters called True and Autumn and a brother called Ocean.
25. Sunday Rose Kidman Urban
Sunday is the daughter of Nicole Kidman and Keith Urban. "Sunday, that's our favourite day. Because I think there's something to do with Sundays where, if you're lonely, Sundays are a very lonely day. And if you're happy and you've got your family and the things around you, then Sunday's a beautiful day. So our baby's called Sunday," said Nicole.
26. True Thompson
View this post on Instagram
True is the name of Khloe Kardashian and Tristan Thompson's daughter. She's named after Khloe's grandad.
27. Zola Ivy Murphy
Zola is the daughter of Eddie Murphy and Nicole Mitchell.
28. Zuma Nesta Rock Rossdale
The second son of Gwen Stefani and Gavin Rossdale. Zuma gets his name from Zuma Beach in Malibu. He has brothers Apollo Bowie Flynn and Kingston James McGregor.
The Healthy Mummy Pregnancy Smoothie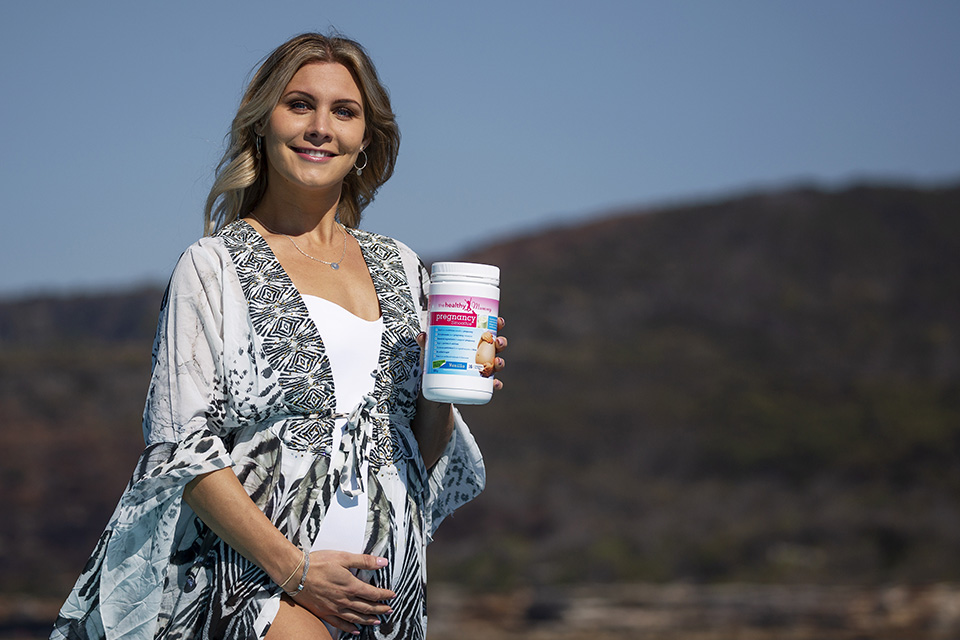 The Healthy Mummy Pregnancy Smoothie is designed to complement, not replace, your prenatal vitamin intake. Our nutritionists ensured that the vitamins and minerals in the smoothie are at a low level so there is no risk of doubling up on any pregnancy vitamins.
It is ideal as a high-protein, high-calcium snack in pregnancy. You can download the Pregnancy Smoothie Label here.
To purchase yours, click here.
*Please note that The Healthy Mummy Pregnancy range promotes healthy weight gain in pregnancy*