Big LOVE for these 4 mums celebrating 4 non-scale VICTORIES
Four mums share their AMAZING non-scale victories, proving that weight loss success is not just about the number on the scales.
Four AMAZING Healthy Mummy mums share their non-scale weight loss victories with us and we couldn't be happier for them.
Far more important than the number on their scales, these confident mums who are losing weight and improving their health with The Healthy Mummy 28 Day Weight Loss Challenges are doing things they never thought possible.
Check out what is making these mums jump for joy below.

Non-scale weight loss victories
If you are on your journey to lose weight it is important not to rely solely on the numbers on your scale. Take a look at your other achievements since you started losing weight.
Maybe there is an activity or fitness challenge you can do now that couldn't do before, a dress you can now fit into, a speaking or public event that you embrace with enthusiasm. They are all non-scale victories and they are all worth celebrating.
Four of our Healthy Mummy mums share their victories below.
Mum-of-four Phoebe Phillips fits back into her Year 10 leavers dress!
This may just look like a mum in a pretty dress but for Phoebe Phillips, this represents a victory!
She says "The moment your year 10 leavers dinner dress fits you again! (And you can actually breathe in it).
I've had four babies since then and neglected my body for years.
But after finding The Healthy Mummy and losing 34 kilos, I'm back to pre-baby weight and happier than ever!"
The Healthy Mummy share your joy Phoebe! Woohoo!
Melanie Elks wears a swimsuit (with no cover-up) and has the BEST time with her kids.
Mum Melanie may not be at her goal weight YET, but she sure knows how to rock a swimsuit.  Pushing her fears aside, she embraces her beautiful, curvaceous body – wearing her swimsuit with pride and having the best time with her kids. Go Melanie!
"My weight loss is nowhere near where I want it to be and I know that's because I need to work harder at that however today I did something I have very much struggled to do for years!
I'd decided I was not going to let myself feel too uncomfortable in my body to stop it playing with my kids and it felt amazing!!!!
I really don't like the tops of my legs and you would never usually see me in 'bikini' bottom without shorts etc but today I wore my bathers proudly no shorts in the middle of town at our 'water park' – (even was brave enough to ask Hubby to take a pic).
I made the decision to be comfortable, to play with my kids, and in my mind started to teach my almost 4-year-old daughter it's ok to not have the perfect body and still feel good about yourself." 
Michelle Murphy embraces new body and wears a dress for the first time in over a year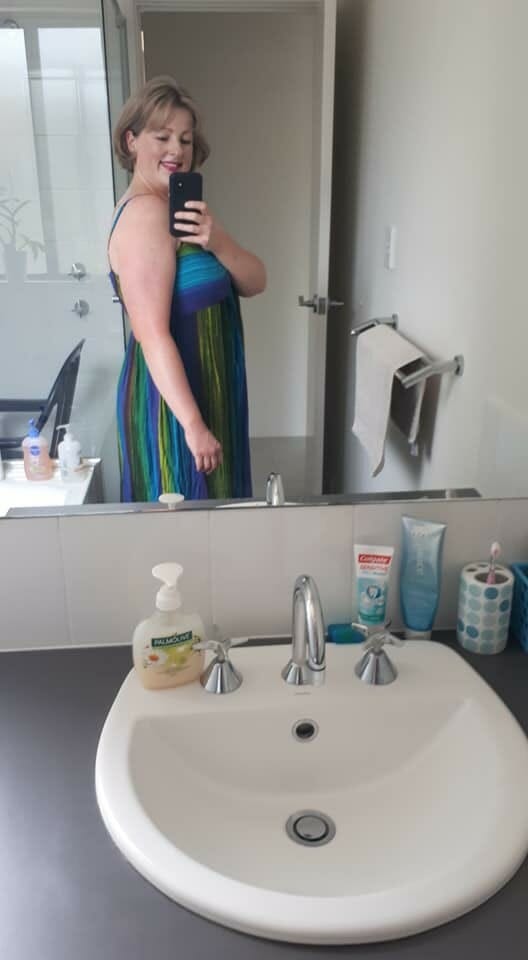 For mum Michelle, feeling comfortable enough to wear a dress is the perfect non-scale victory and doesn't she look great!
With her eyes lit up and a big smile Michelle says "I'm in a dress for the first time in over a year!
I've still got 8kg until I reach my goal weight and I'm not really happy with my body yet but I'm EMBRACING this TRANSITION phase and feeling proud that I'm 18kg lighter." 
And so you should be Michelle. Well done!
Tears of happiness for mum Bec Jackson who is no longer a sidelines mum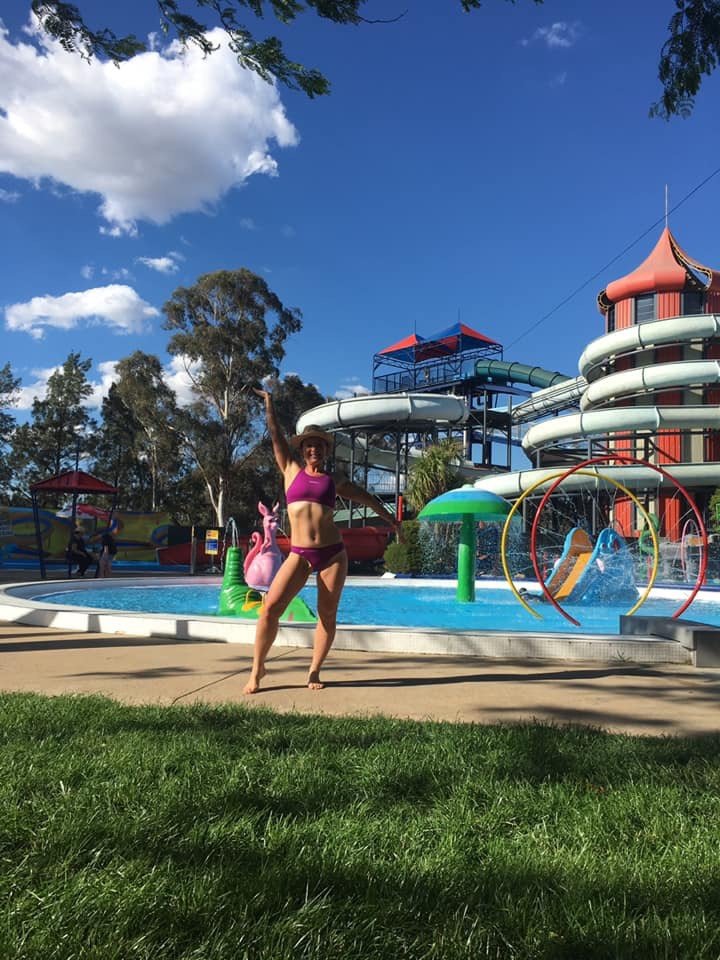 Hearing her children tell her they were so happy they had a 'fun mum' was the ultimate reward for mum Bec who pushed her fears aside and embraced a day at the waterpark with her kids.
Bec says "Happy First Day of Summer!
It's taken almost 40 years but I finally visited a water park and hit the water slides! With my kids!
I won tickets to a Summer Eve pool party and we rode all the slides, had sausage sandwiches and snow cones and they said we are so happy we have a FUN MUM!!!
I saw a post yesterday which said we get 18 summers with our kids! Wow, that's perspective. My eldest only has six left before he's an adult including this one.
Riding the double slides with him yesterday and seeing his delight bought tears to my eyes. He asked to take this picture below! He even made me step out into the sunshine when I was standing in the shadows because he said you'll want to keep this photo mum!
So I love this pic! Mostly because this was taken through the eyes of my 12-year-old son! Who was so happy and proud and loving that his mum was fully engaged in such a fun afternoon! I loved that my girls saw this. Even though they are too little to articulate it – they saw me role-modelling how I'd like them to be in their bodies as they grow up! This is my WHY!
Find you why. Get involved. Don't sit on the sidelines. Don't wait 40 years to ride the water slide. Be fierce and beautiful.
18 Summers with them is what we have before they are adults. What an incredible gift to be able to make the most of this one!"
Wow Ladies! The Healthy Mummy team are thrilled for you all.  Thanks for sharing your non-scale victories with us.
Want to be a Healthy Mummy? Take part in the affordable, realistic and easy-to-follow Mums-only Challenge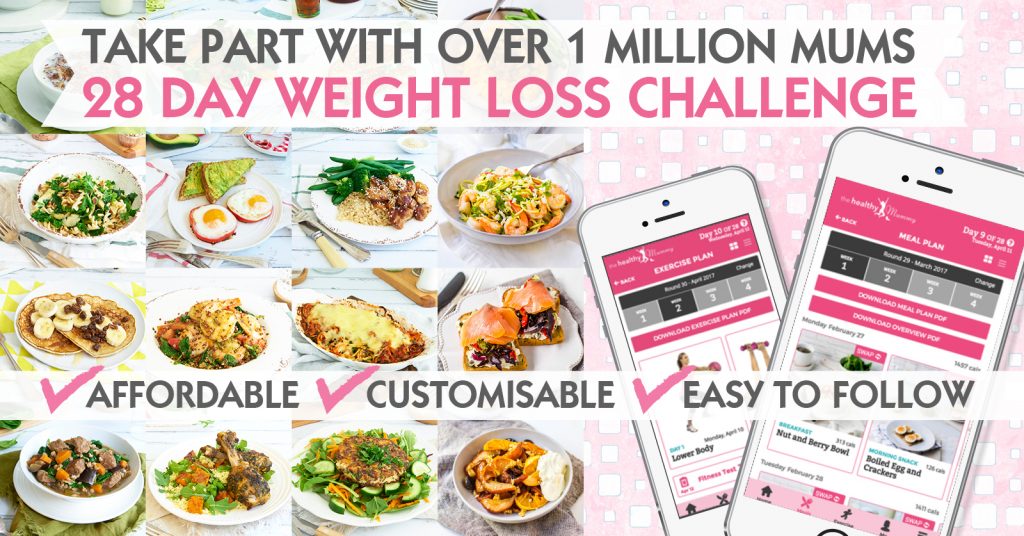 Think of the 28 Day Weight Loss Challenge as the best value personal trainer, dietitian, meal planner, chef and motivational coach with DAILY support – that you have access to every day – without the high cost and all created JUST FOR MUMS.
Each month is DIFFERENT on the 28 Day Weight Loss Challenge. EVERY MONTH you receive NEW 28 Days of FAMILY FRIENDLY customisable meal plans, daily exercise plans with videos and daily support. It's also breastfeeding friendly.
The 28 Day Weight Loss Challenge has been able to help thousands of mums lose more than three million kilograms (combined).