Halloween movies that aren't too scary for your kids
Kids usually want to watch scary Halloween movies around this time, but you might want to make sure they're age-appropriate and won't give them nightmares.
It is inevitable kids will want to watch scary movies around Halloween, but you'll want to make sure what they're watching is age appropriate and won't give them nightmares.
To help decide which Halloween movies could best suit you children, here is a list of family-friendly movies so your little one can get into the spirit (get it?) of things – without getting too scared.
However, it's all subjective and of course, as you know what's best for your child. Use this as a guide…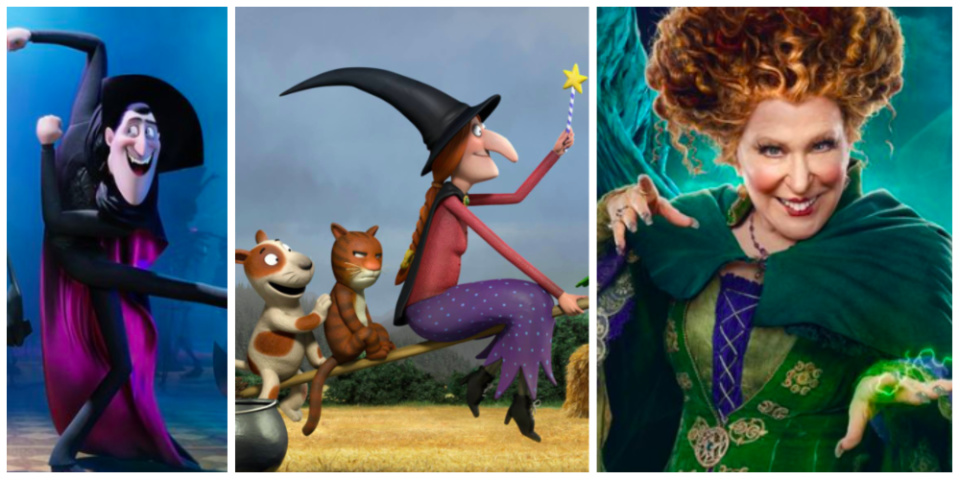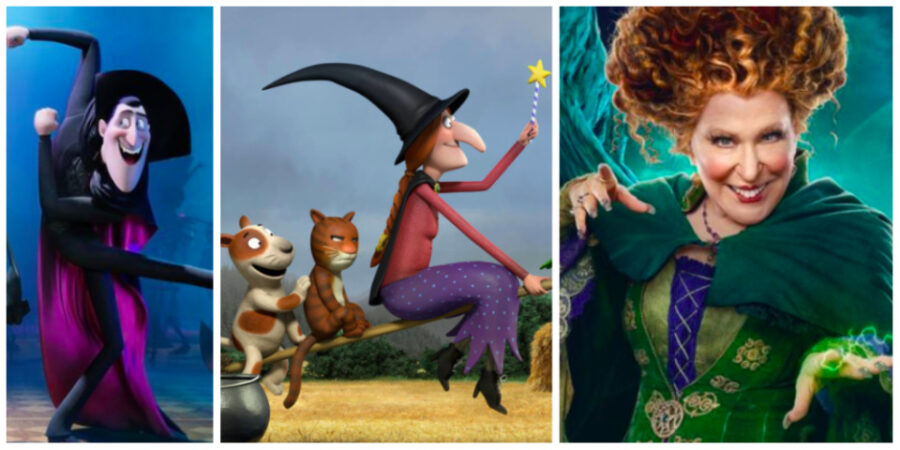 Halloween movies for kids aged 5 +
1. Curious George – A Halloween Boo Fest
Curious George: A Halloween Boo Fest (2013) pic.twitter.com/xGgrf9ANJ4

— Skeletons in Film 💀 (@SkeletonsinFilm) October 2, 2022
Hang on to your hats and get ready for a spook-tacular good time, with Curious George. Autumn is here, bringing colourful leaves, hay rides, pumpkin patches, and the annual Boo Festival.
You can download this on Google Play.
2. Spooky Buddies
At Halloween, the Buddies, Air Bud's adventure-seeking pups, investigate mysterious happenings at a mansion reportedly haunted by the Halloween Hound.
Where to watch in Australia: Apple TV
3. Alvin and the Chipmunks Meet the Wolfman
Alvin and The Chipmunks meet The Wolfman on Toon Disney! pic.twitter.com/0TZrdgPxHm

— Horror4Kids (@horror4kids) December 31, 2020
The cheeky and cute singing sensations of Alvin, Simon and Theodore stage a production of Dr. Jekyll and Mr. Hyde and things get seriously creepy.
You can purchase on Amazon.
4. Dreamworks Spooky Stories
In three Halloween tales, Shrek and his friends tell scary stories, Ginormica and the Monsters fight mutant alien pumpkins, and Shrek battles a ghost.
Where to watch in Australia: Netflix
5. Room on the Broom
Adapted from the book by Julia Donaldson about a kindly witch who invites a host of animals for a ride on her broom.
Where to watch in Australia: Apple TV, Netflix and Stan
Halloween movies for kids aged 6+
1. Hotel Transylvania
View this post on Instagram
When monsters want to get away from it all, they go to Count Dracula's Hotel Transylvania, a resort where they can be themselves without humans.
One weekend, Dracula invites special creatures to celebrate his daughter's birthday but a nice human crashes the party and falls in love with her.
Where to watch in Australia: Netflix and Stan
2. Alpha and Omega: The Legend of Saw Tooth Cave
When a wolf pup named Runt sneaks off to explore a mysterious cave, he meets and befriends a wolf driven from her pack because she's blind.
3. Monsters Inc
View this post on Instagram
They might have human-sounding names, but these two closet-dwelling creatures have one job and one job only — to scare the pants off little kids.
But they're not doing it to be mean, but rather out of necessity, as the monster world's source of electricity is children's screams.
Where to watch in Australia: Apple TV, Disney +
4. A Magic Puppy
Molly decides to plan a surprise for her best friend, Adam. She casts a magic spell, but it goes awry and turns his mother's boyfriend into a dog.
5. Scooby-Doo! Mystery Incorporated
Scooby-doo mystery incorporated pic.twitter.com/ljUjKDMfL9

— Luís (@ShaggyRogers000) October 16, 2022
In this animated update of the cartoon classic, Scooby-Doo, Shaggy and their pals solve spooky mysteries in a hamlet bedevilled by supernatural bedlam.
Where to watch in Australia: Apple TV, Binge, Foxtel
Halloween movies for kids aged 8+
1. The Witches
#31dayhorrorchallenge@NOFSpodcast

October 18: Witchy Woman
The Witches (1990) pic.twitter.com/aXO9jj0mKH

— 8𝔹𝕚𝕥𝕃𝕒𝕟𝕥𝕖𝕣𝕟034 (ℌ𝔞𝔭 #𝔈𝔣𝔣𝔱𝔬𝔟𝔢𝔯) (@8BitRider_034) October 18, 2022
Based on Roald Dahl's classic novel, the main character, Luke, and his mice encounter a bunch of scary witches at a convention of sorts, and the kids in it find themselves in perilous situations on more than one occasion.
Where to watch in Australia: Apple TV
2. Halloweentown
A young woman discovers that she, like her ancestors, is a witch. Using her newfound powers, she takes on the evil being that has been tormenting her family for ages.
Where to watch in Australia: Apple TV, Disney +
3. Casper
View this post on Instagram
A paranormal expert and his daughter bunk in an abandoned house populated by three mischievous ghosts and one friendly one.
Where to watch in Australia: Apple TV, Binge, Foxtel, Netflix
4. Hocus Pocus 1 and 2
View this post on Instagram

We now have two Hocus Pocus films to pick from. Though both are PG rated, it might be wise to wait until your child is over 10 before viewing these films, unless you feel that they won't be scared.
Where to watch in Australia: Apple TV, Disney
Looking for some easy DIY Halloween costumes, well read here.
Make some HEALTHY Halloween snacks for your movie
1. Halloween Spider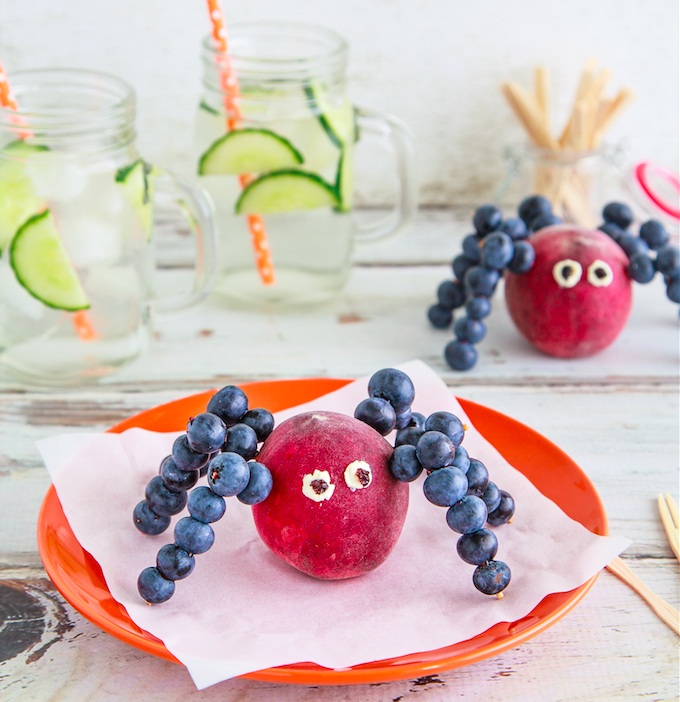 Ingredients:
1 large peach per spider being made
A small cup of  blueberries
Some Toothpicks for the legs
A tsp of cream cheese and a few raisins for the eyes
Directions:
Create four holes on each side of the peach. Insert blueberries onto the toothpicks. Pop one of the toothpicks into the peach and a second toothpick into the last blueberry of the previous toothpick.
Repeat for the rest of the seven legs.
Then dot some cream cheese on the peach for the eyes and pop a raisin in each blob of cream cheese
Make sure you supervise young children due to the toothpicks in this recipe
2. Scary Monster Teeth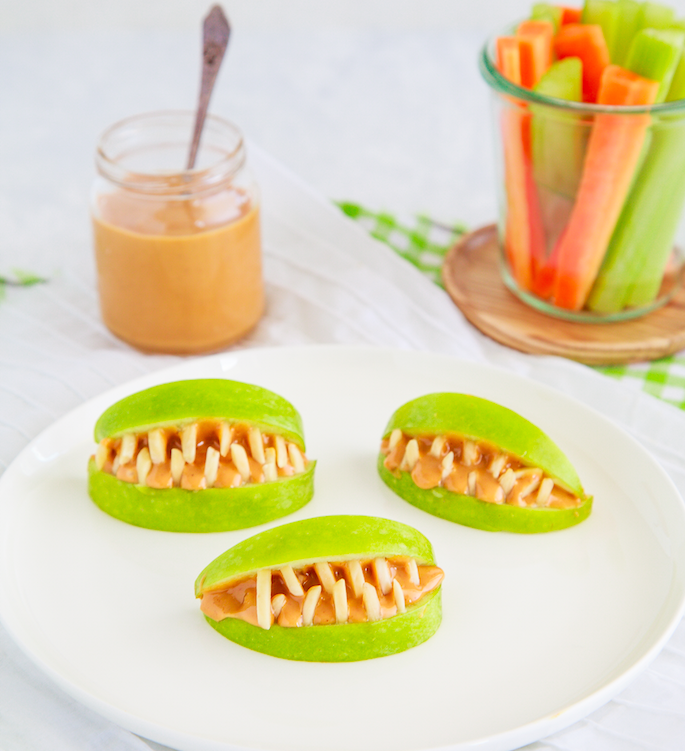 Ingredients:
2 large apples
Nuts of choice – we used slivered almonds
1 pot of peanut butter ( you can also use almond butter)
Method
Cut apples into slices, then spread peanut butter onto the apple slices to join the apples together to form the mouth
Insert the nuts to act as scary teeth
3. Web Pizza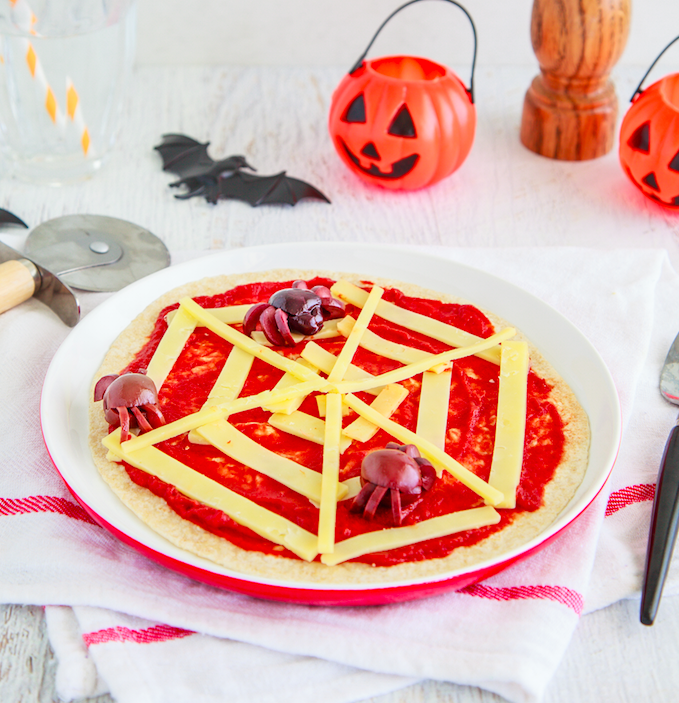 Ingredients:
Method
Spread the tomato sauce over the pizza base. Separate or cut cheese into smaller strips for the spiders web. Place in a cobweb pattern on the pizza. Bake for 10-12 minutes in a hot oven until the cheese is melted.
Get creative and use olive halves and slices to create scary spiders
4. Pumpkin & Ghosts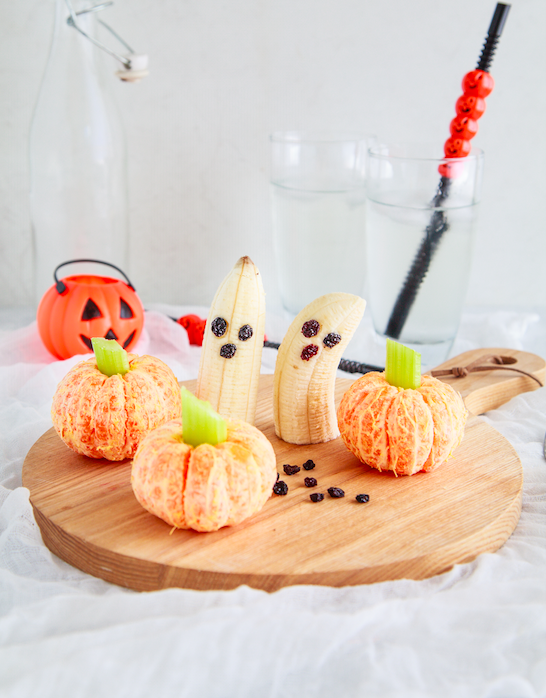 Ingredients:
Clementines
Bananas
Celery
Rasins
Method
Peel the clementines and remove the core. Slice celery into skinny strips, and insert into the middle of the clementine.
Peel and cut the bananas in half. Push two raisins into the banana for eyes and one for the mouth.
5. Capsicum lanterns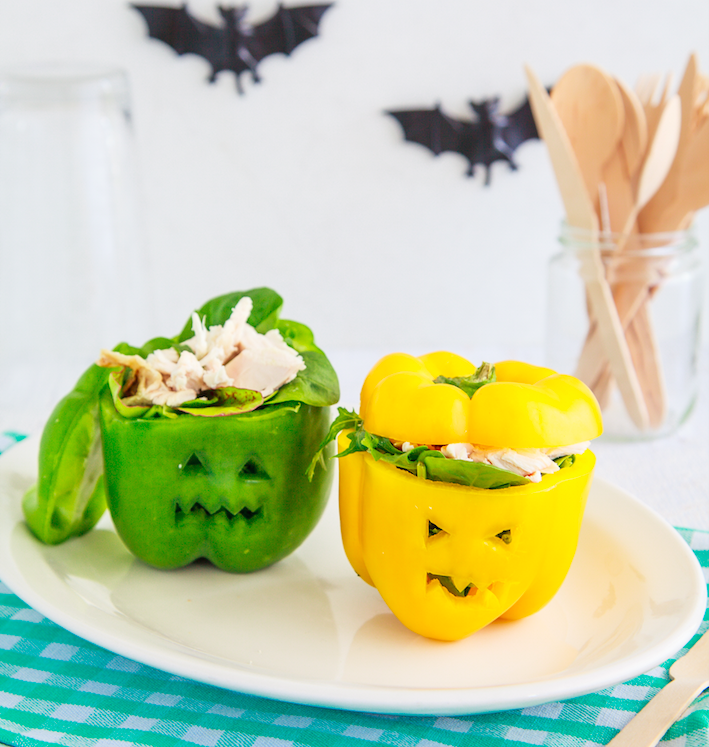 Ingredients:
Capsicums
Mixed salad
Shredded cooked chicken
Method:
Cut faces into the side of the capsicum as you would a pumpkin using a small sharp knife. Cut the lids off the capsicum. Remove the seeds inside. Stuff pepper with salad mix and top with the shredded chicken.
If you love pumpkin, here are 5 delicious healthy snacks you can make for Halloween with pumpkin.
Watermelon monster
Healthy Mummy Amy Atkinson is always up for making new things from existing Healthy Mummy recipes, just check out her delicious Strawberry Crush Smoothie recipe.
She was more than happy to send through some Healthy Mummy Halloween treats.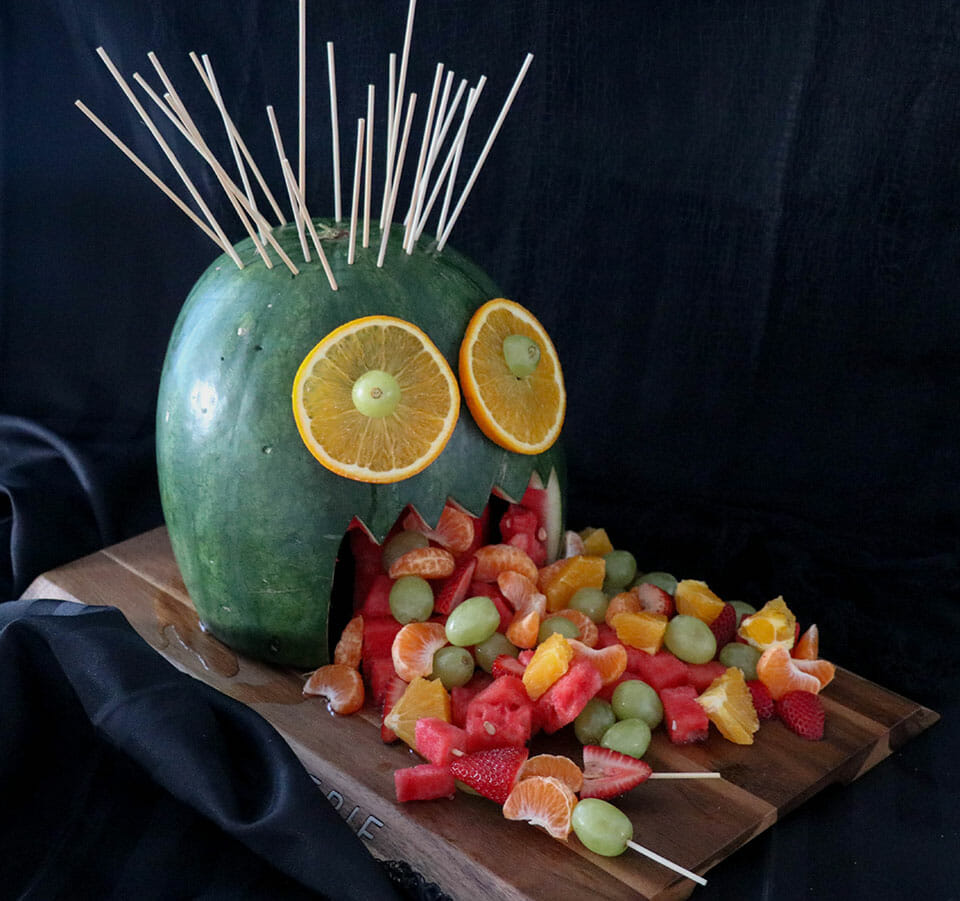 What you need:
1 full watermelon or half, depending on how big you want it
Packet of skewers
Any fruit of choice.
Method:
Cut the bottom of your watermelon and scoop the contents out so it is hollow.
Set aside as you'll need to dice it for the platter.
Draw where you want to cut for teeth and carefully cut out.
Stick the skewers in the head as this is what your guests will use to pick the fruit up with and make a kebab stick.
Use the ends of 2 skewers to stick the eyes on.
Dice up the fruit you want to use and mix it up and lay it on the tray.
The Healthy Kids Smoothies have been specially made as a healthy snack for kids
Ideal if you have fussy eaters or want to ensure your children have a nutritious and healthy smoothie snack. It also has a 4.5 Health Star Rating when made with skim milk. It contains NO added sugars.
What do you need to know about The Healthy Kids Smoothie
It is a nutritious snack made for kids

It contains probiotics

It contains 16 Vitamins and minerals

It contains NO artificial colours, sweeteners, flavours, preservatives or MSG in the product

It is rich in protein

It contains NO added sugar

It contains 16 Vitamins and minerals – when combined with milk
Get your Healthy Kids smoothie here!