HEALTHY Halloween recipes you MUST try
Halloween is often a time when you will be tempted to veer off your healthy eating plan, but here are some healthy Halloween recipes.
Halloween is often a time when you will be tempted to veer off your healthy eating plan and dip into all the sweet treats that are floating around.
This is especially true when you have kids who love the sugar hit. But you don't have to do what everyone else is doing!
There are many healthy, delicious recipes that you can tweak to make some fun Halloween treats.
Healthy Mummy community member and mum Sophie Barrett has put a Halloween spin on some of her favourite Healthy Mummy recipes.
Healthy Halloween recipes for you to make this year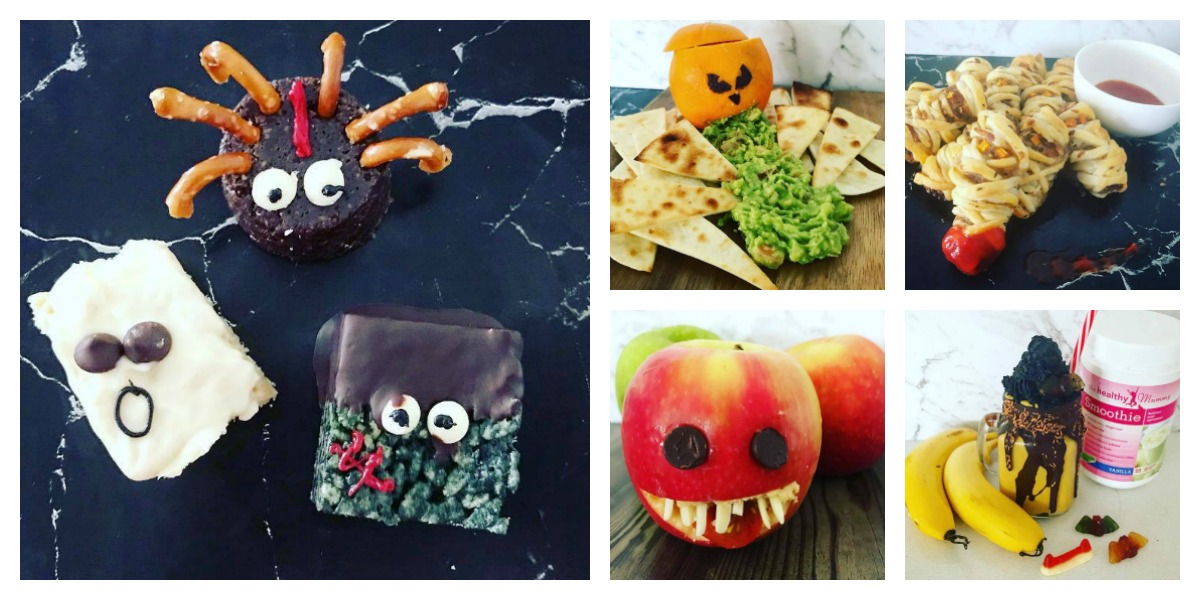 "Jack-o-lantern" Guacamole vomit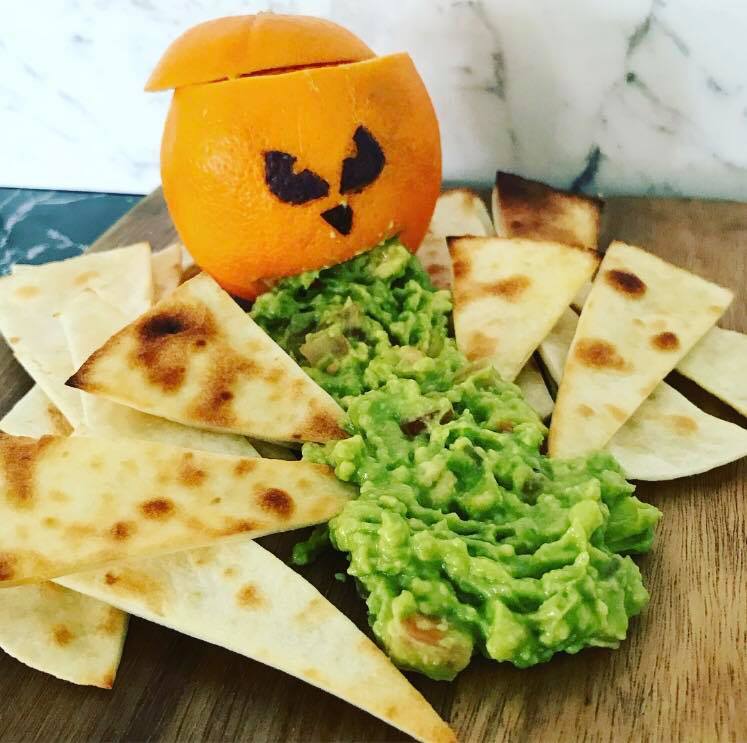 Ingredients:
Orange
1/4 avocado
1/2 clove garlic
salt
Pepper
Squeeze lemon juice
Wrap/pita bread
To make guacamole:
Crush the garlic, then mash together with the avocado with a fork
Season with salt & pepper, and mix in the lemon juice
Remove the insides of the orange, and carve the "Jack O Lantern" mouth and draw on eyes
Cut up the wrap like "teeth" and place it on an oven tray and lightly spray with oil
Roast in oven till crispy
To assemble, place the orange on a board. Make the guacamole "spew" from the lantern's mouth, and place the "teeth" around the edge.
Serves 1
Halloween smoothie bowl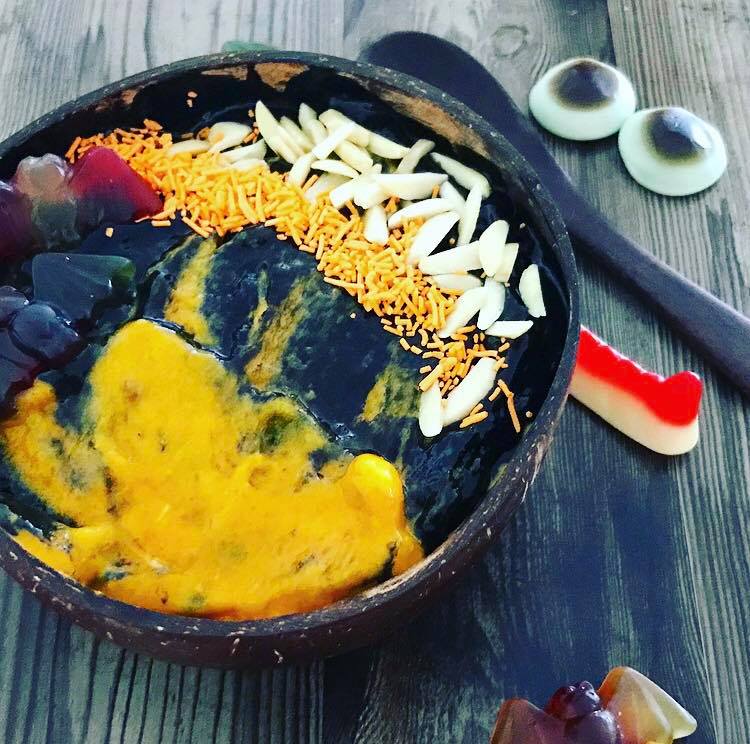 Ingredients:
2 frozen bananas
3/4 Cup almond milk
2 frozen apricots
2 frozen cubes of passionfruit
1 tbsp Vanilla Smoothie powder
1 tbsp Chocolate Smoothie Powder
1/2 tbsp activated charcoal powder
1/2 tbsp Dunaliella Salina powder
To make the orange smoothie:
Place 1 frozen banana, apricots, passionfruit, vanilla smoothie powder & Dunaliella Salina powder with 1/2 cup almond milk into a blender or processor and mix until blended together. Place this into your bowl.
To make the black smoothie:
Place 1 frozen banana, 1/4 cup almond milk, activated charcoal and chocolate smoothie powder into a blender or processor and mix until blended together. Place this into your bowl.
Swirl them together using a knife or skewer. Top with chosen toppings. I have "teeth" (Almond slivers) & orange sprinkles.
Serves 2. Calories 428 total.
Pumpkin spice smoothie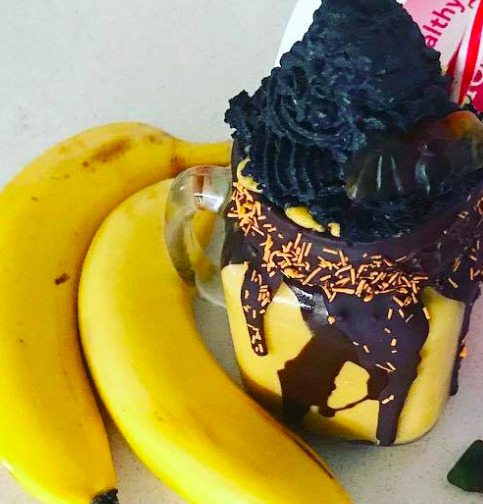 Ingredients:
1/2 cup pumpkin (roasted for sweetness)
1/2 frozen banana
1 cup almond milk
1tbsp maple syrup
1 serve vanilla healthy mummy smoothie
1 tbsp oats
1/2 tsp cinnamon
Pinch of nutmeg
Handful of ice
For black whip; coconut cream chilled in fridge and 1tsp activated charcoal powder
Method:
Place all smoothie ingredients in a blender and blend until combined
For black whip – use the solids from the coconut cream chilled overnight. Place the solids and the charcoal into a mixer, and whip until it has a semi-soft consistency, swirl on top.
Calories:
Smoothie only 319
With an optional whip, add 142
Total: 461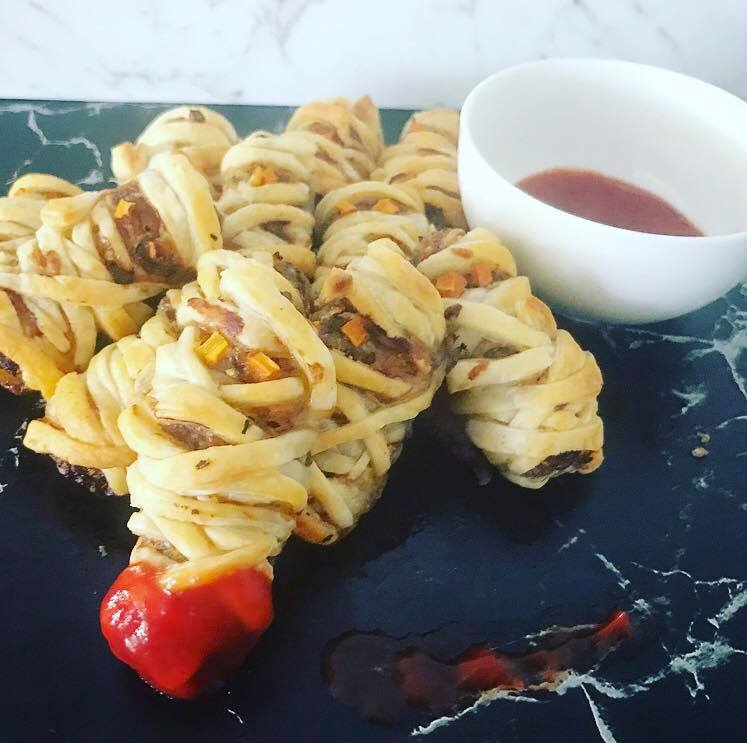 2 sheets of puff pastry were used
Method:
Make mince mix as per normal.
Cut strips from the puff pastry.
Make palm size "logs" of mincemeat, and start wrapping the puff pastry strips around the mince to create a mummy. Slightly stretch the pastry as you go, because you're layering the pastry, you want it to be a bit thinner.
Place on a tray, and make little "eyes" using some carrot
Cook as per the normal recipe
Makes 24 Mummies
Peanut bubble crunch "ghosts" and zombies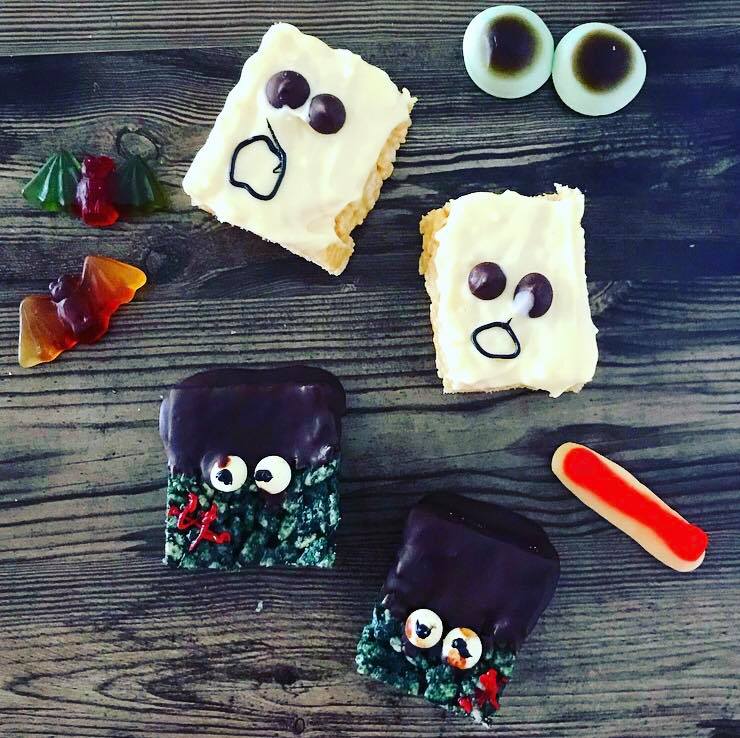 Grab the original recipe here.
Adjustments to the original recipe
Don't use Cocoa – instead, I used 1tbsp Spirulina
You'll need TWO pans. Long loaf pans
Method:
Make as per recipe. When you get to adding cocoa, add in Spirulina instead.
Place one "flavour" into each pan and set it in the fridge. DON'T pour chocolate over the top.
Once set, cut into 8 slices each.
To make the ghosts:
Melt some white chocolate
Dip each piece into the white chocolate.
Add on two chocolate chip eyes.
Draw on a mouth using an icing decorator pen.
To make zombies:
Melt some dark chocolate
Dip each green piece into the dark chocolate for "hair"
Stick on eyes using white chop chips
Using a black icing pen to draw on eyeballs, and a red icing pen for "cuts"
Makes 8 of each – 16 TOTAL
Weetbix slice "spiders"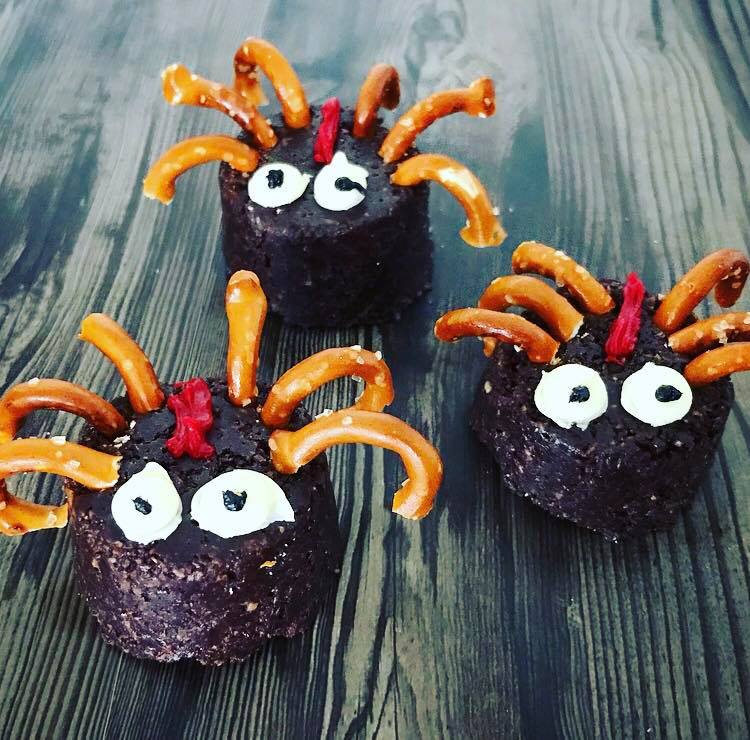 Make recipe as per instructions.
Instead of using a loaf tin, I used a silicone muffin pan. (Makes 12)
DO NOT top with chocolate
Once set in the fridge, take out of the mould
Use pretzels for legs, stick them into the sides.
Stick on white chop chips for eyes.
OPTIONAL: Decorate with icing red pen to make redback spiders.
Apple monsters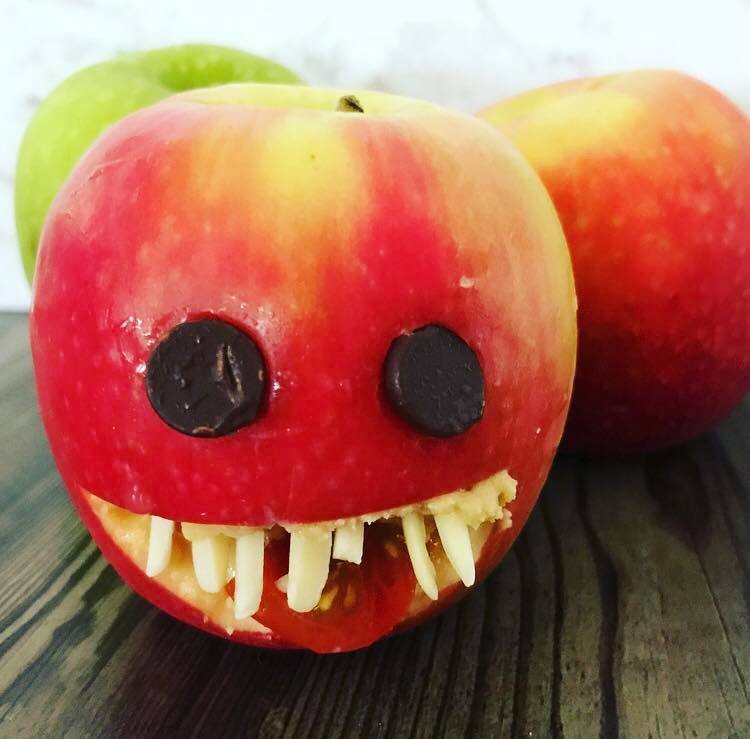 Ingredients:
1 apple
Almond Slivers
Cherry tomato
1 tsp peanut butter
2 chocolate chips
Method:
Cut a mouth into the apple
Coat the inside of the mouth with peanut butter
Use the almond slivers to make "teeth"
Cut the cherry tomato in half and use as the tongue (Could also use a strawberry slice)
Stick in the 2 chocolate chips as eyes.
Serves 1 – Calories 163
Now that is a Halloween party we want to go to! Thanks, Sophie for sharing your ghouly good twists on our Healthy Mummy recipes.
Tired of wondering what to cook?
Now you can easily meal plan with our personalised plans & over 6,000 family & budget friendly recipes catering to a wide range of dietary requirements.
The Healthy Mummy is a holistic program to nourish your body with nutritious food and help you stay active in your busy, everyday life. Yours and your families well being should be a priority so let us take the hassle out of it.
Unlock the key to sustainable life changes that will leave you feeling your absolute best.