Mum makes 29 HEALTHY homemade takeaway style meals for $100 – that's $3.44 per serve!
If you LOVE takeaway food like pizza, piri piri chicken and Thai food, it doesn't mean you have to ditch them for good!
In fact, you can still enjoy these meals but just have HEALTHIER homemade versions. Not only will it help you with your weight loss journey but it will save you heaps of money too. That's what we like to hear!
Samara Syed has made 29 healthy homemade takeaway style meals from the 28 Day Weight Loss Challenge and it only cost her $100 – that works out at $3.44 per serve.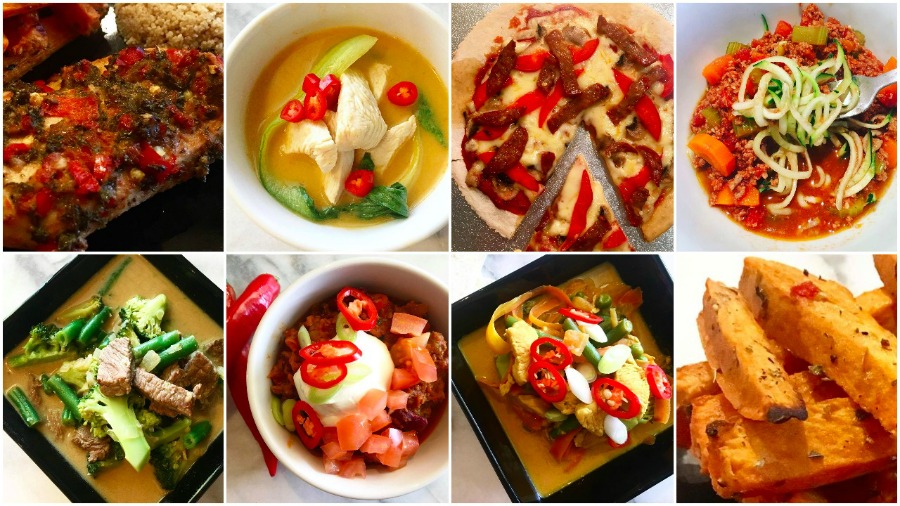 29 healthy homemade takeaway style meals for $100 – that works out at $3.44 per serve!
A takeaway pizza could cost you anything from $20 upwards or a Thai green curry meal from $25 or more and that doesn't take into consideration delivery fee either!
Samara says, "There is an unfortunate misconception that takeaway is often easier than eating at home. I cannot tell you how wrong that is!
"I've decided to prove to you how SIMPLE, CHEAP and DELICIOUS cooking at home can be compared to getting takeaway."
Cooking your food at home means you get more control over what you are putting in your body. You also get to keep a lot more cash in your wallet too!
"I've chosen to do a meal makeover of some classic takeaways such as pizza, Mexican, Thai and my favourite – Nandos," says Samara.
"The best thing is, you will probably have several of the ingredients needed already sitting in your pantry or fridge!"
Samara suggests making a heap of takeaway meals that you can then freeze for times you're busy or don't want to cook.
"Homemade meals can be just as instant if you make a batch of them to freeze. In fact, it can be quicker and more instant to defrost one of these meals than it is to order and wait for delivery!"
The takeaway alternatives Samara made:
Pizza using the 2 ingredient pizza dough x 3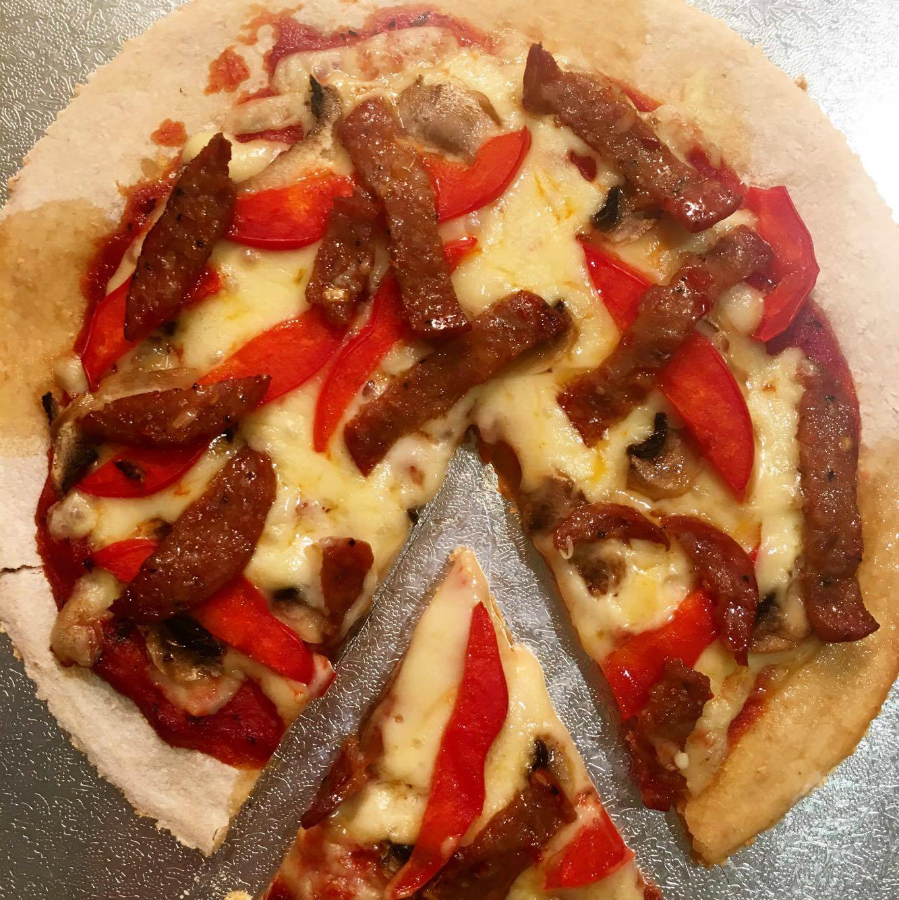 Here at The Healthy Mummy HQ we are all busy mums like you. So when a recipe like this 2 Ingredient Homemade Pizza Dough comes along, we just HAVE to share it.
If you haven't got yeast in the house, or don't have time to wait around for dough to rise – this is your new go-to recipe. One large pizza to serve four with 151 calories per serve
To get the full recipe, click here. 
Piri Piri Chicken with Sweet Potato Fries and couscous x 2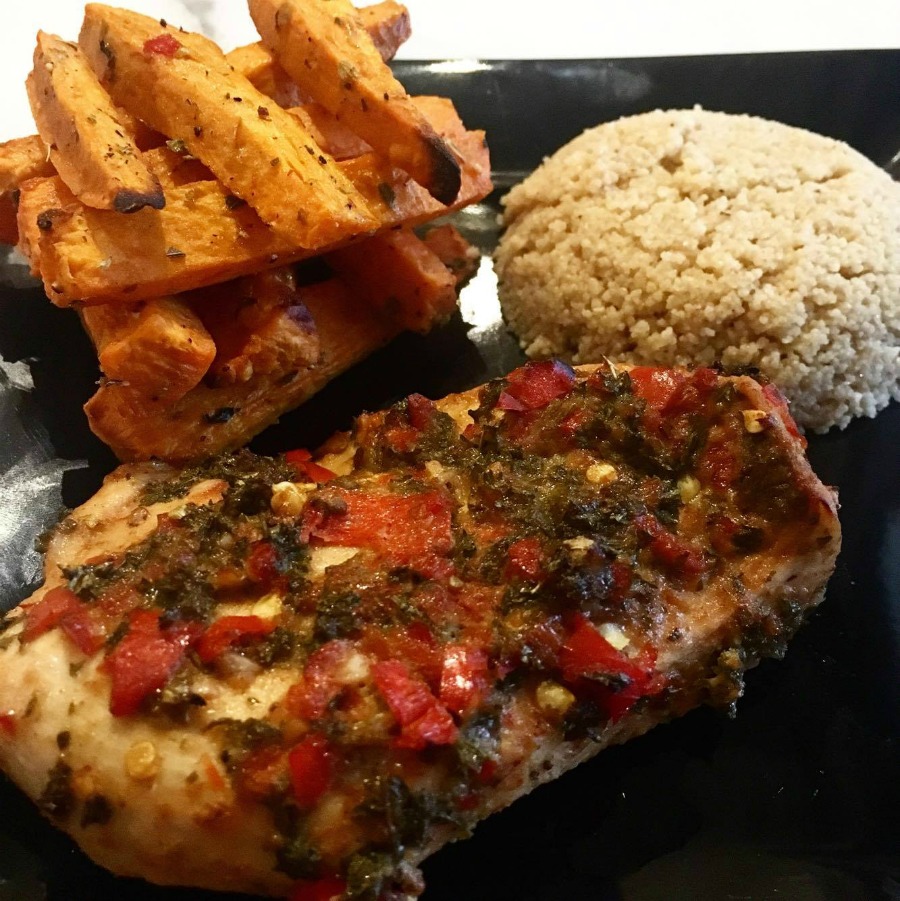 A family friendly chicken dish. Marinate the chicken ahead of time so it's ready to go when you want to cook or even marinate and then freeze so you have an easy meal to cook on a busy night.
The Piri Piri Chicken and couscous works out at 382 calories per serve. This recipe is available for Challenge members and can be found on the 28 Day Weight Loss Challenge recipe hub. 
Whether you call them fries, wedges, or hot chips – most people can't resist. Sweet potatoes are a better choice than white potatoes  when cooking fries.
The Sweet Potato Fries are 152 calories per serve. You can get the recipe for this here. 
Chicken Laska x 4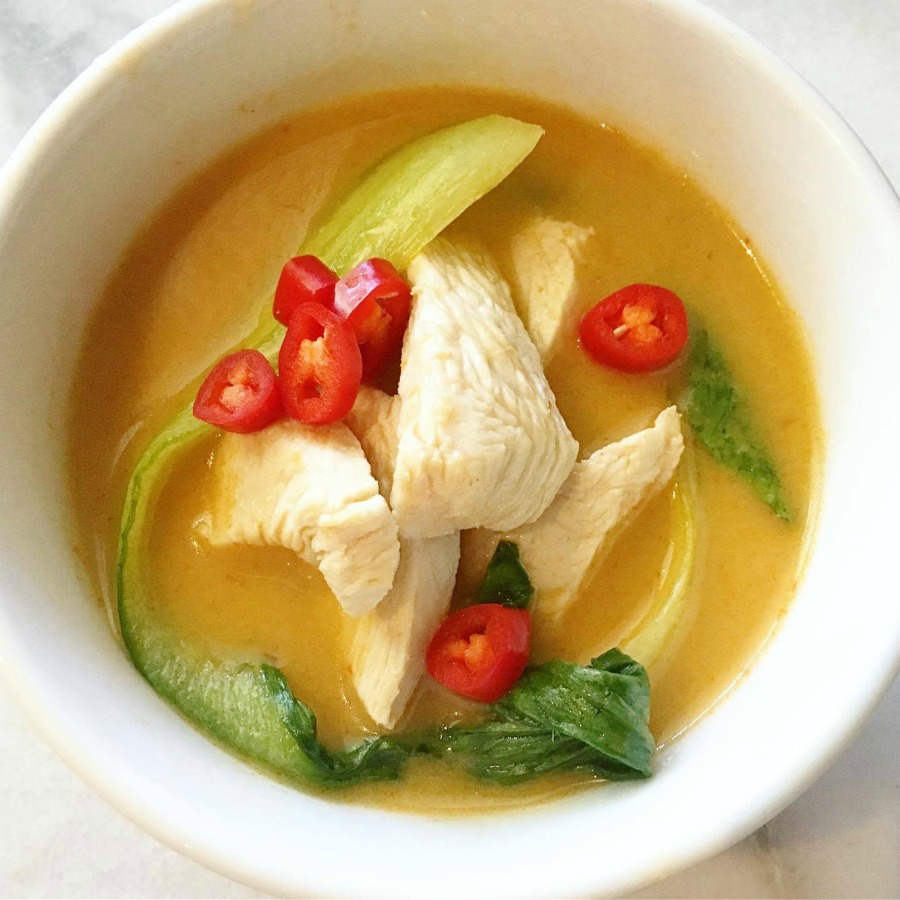 If you are looking for a fast, healthy and weight loss friendly meal – then this incredible Laksa (from our 28 Day Weight Loss Challenge) is easy, delicious and much lower in calories than your typical take-away laksa.
It also works out at 404 calories per serve.
Thai Beef and Broccoli Soup x 4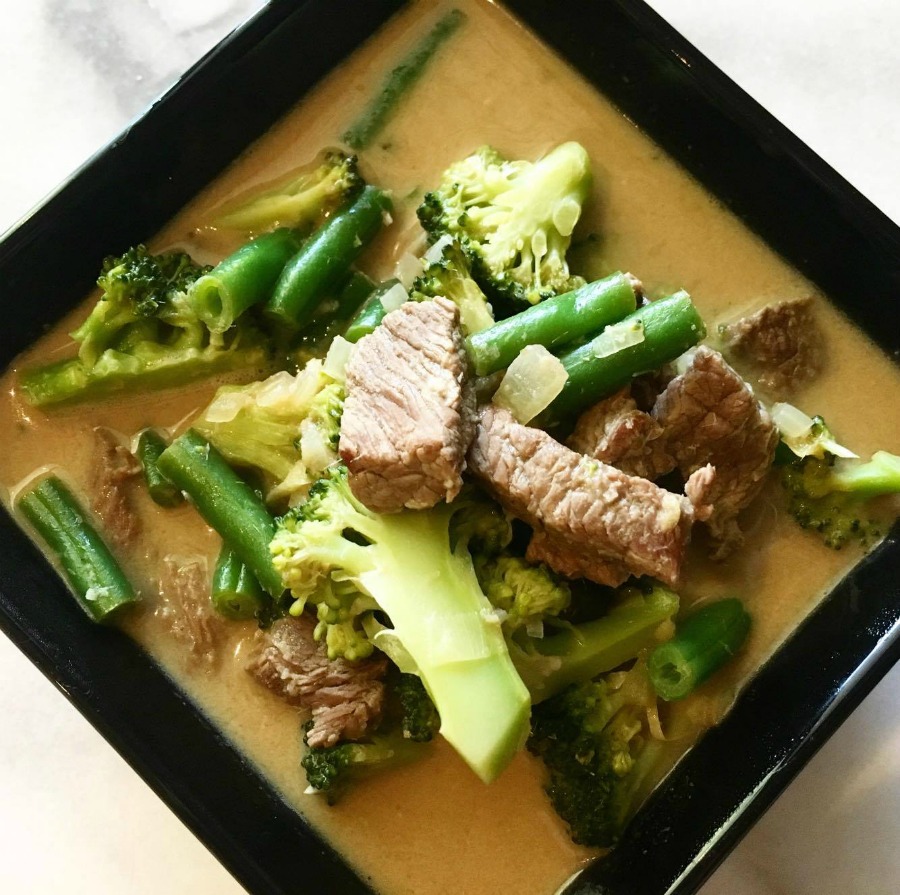 Beef is a great source of protein and combined with the high water content of soup and the various vegetables, this meal is a great addition to a belly busting healthy eating plan.
This meal works out at 342 calories per serve.
You can find this recipe on the 28 Day Weight Loss Challenge recipe hub.
Yellow Chicken Curry x 5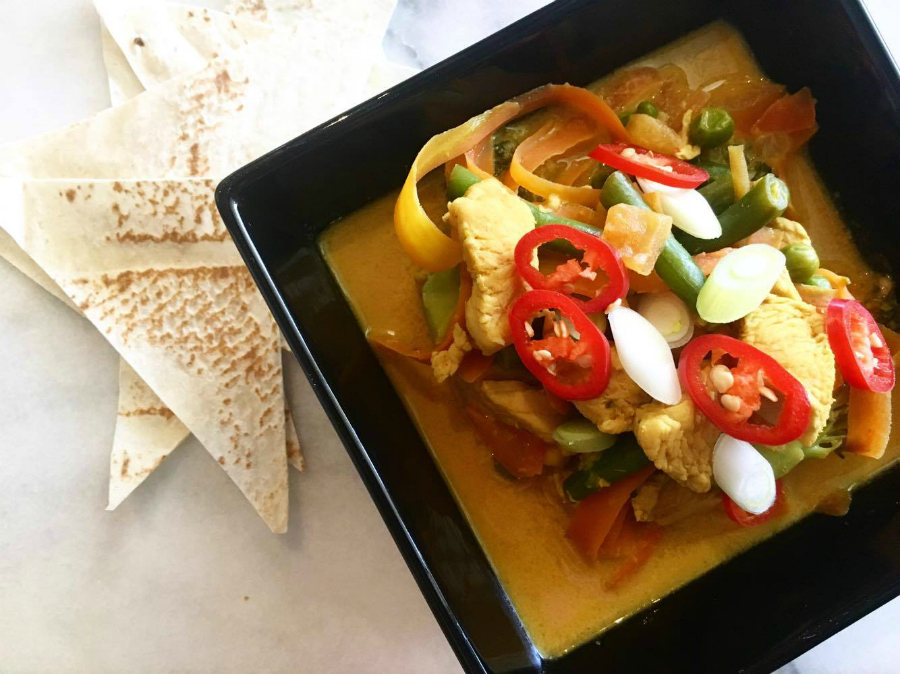 Here is a fantastic chicken curry recipe from the 28 Day Weight Loss Challenge that is packed with fresh vegetables.
We love recipes like this that you can make double of and freeze for those busy nights. This is a mild curry loaded with flavour, making it a wholesome meal for the entire family.
This works out at 382 calories per serve.
Chilli Con Carne x 6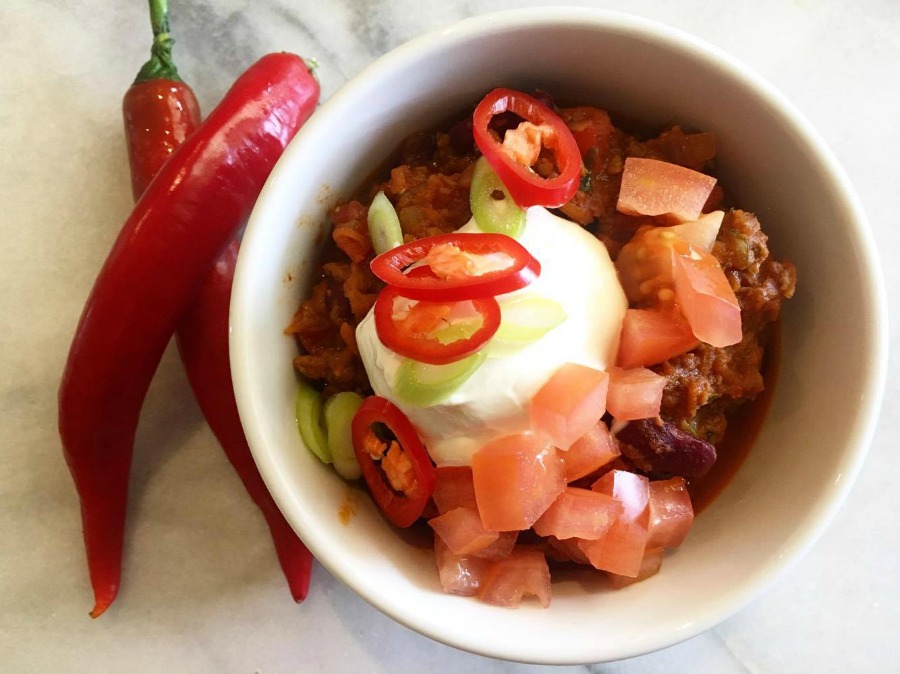 Chilli con carne is a healthy eating option on a budget which is great for the WHOLE family. You can eat it burrito style, on rice (brown) or with some salad and some tostadas.
This Chilli Con Carne is 300 calories per serve.
Check out the full recipe for this here.
Healthy spaghetti bolognese x 5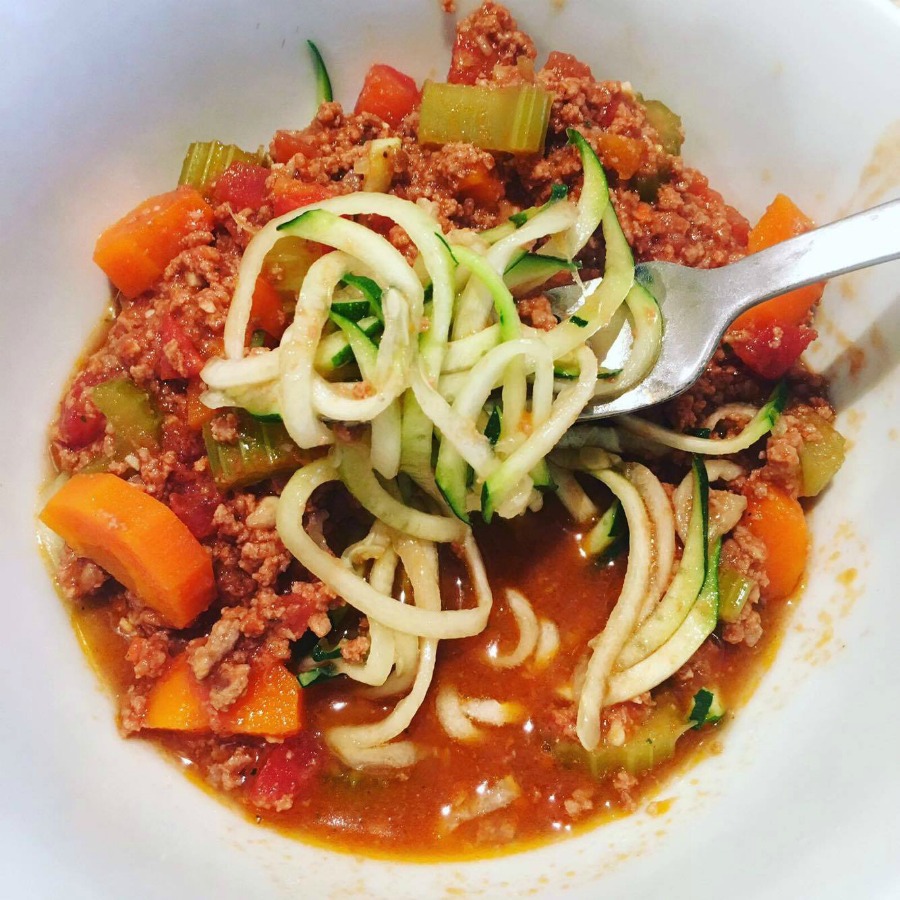 Here is a great one pot meal that will feed a family of 6 (or provide delicious leftovers). And you can cook it all in the same pot!
Save time on washing up and mess by creating this tasty one pot wonder from the 28 Day Weight Loss Challenge for a mid-week meal in around 30 minutes.
This spag bol is a healthy alternative to an Italian takeaway and is only 493 calories per serve. Samara has opted to use zucchini pasta (zoodles) with her dish. For more Homemade recipe try our delicious homemade sausage rolls recipe!
Samara's meals look so good! They look better and more appetising than a takeaway!
Samara's incredible 17kg weight loss journey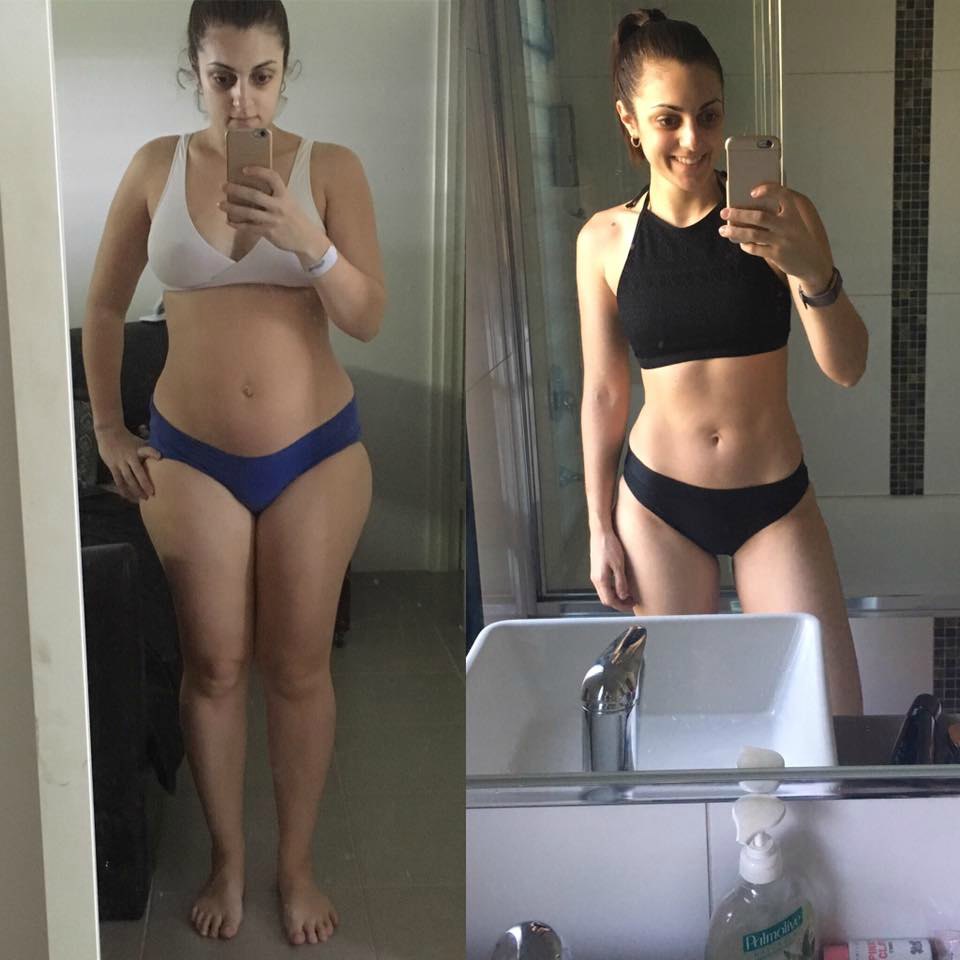 Samara says, "When I used to look at people's progress photos, my head would try to tell me that the results should come almost instantly. This is to show you that it takes time.
"I didn't go from 1 to 6 instantly. There are all these other photos in between!! Slowly but surely I am getting closer and closer to my ultimate goal body!!
"I still have off days, I still have down days. I still have dimples in my butt!! But I'm more confident and happy than ever before."
If you haven't joined up to the 28 Day Weight Loss Challenge yet, this is your sign! This is what you've been waiting for! Do it! You won't regret it!
Become a Healthy Mummy today!
If you are inspired by Samara's before and after pics and want to take charge of your own health and weight – then join our 28 Day Weight Loss Challenge TODAY.
With more than 3,500 delicious (and healthy) recipes, 350 exercises & 24/7 support – the 28 Day Weight Loss Challenge  is designed (and proven) to help busy mums like you lose weight!
To learn more about our challenge OR to join – click here.