Healthy and delicious kids lunch box and after school snack ideas
Looking for healthy snacks to include in your kid's lunch boxes and/or as after-school treats? Look no further. Healthy Mummy mum Eleanor shares favourites.
Looking for healthy snacks to include in your kid's lunch boxes and/or as after-school treats? Look no further.
Time poor mum-of-four Eleanor Hannah shares easy to prepare lunch box snacks that are delicious and nutritious and will keep your kids feeling satisfied longer.
And best of all, these can be all be prepared in advance, freeing you up from the daily grind of what to put in their lunch box.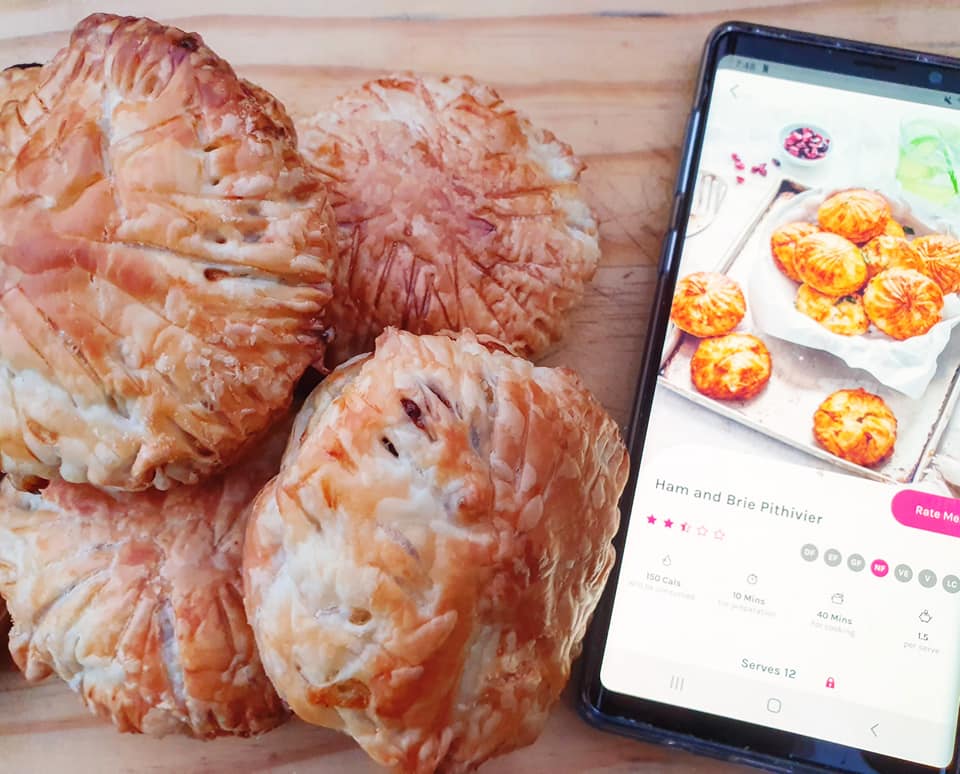 Healthy Mummy 28 Day Weight Loss Challenge member Eleanor Hannah shares how she goes about feeding her family of six for around $150/week from the Challenge recipe hub and the simple snacks she meal preps to keep her children's appetites satisfied longer.
Warning: These snacks are so yummy, you might be inclined to save them all for yourself!
Sunday meal prep for a busy mum
Eleanor says "Meal prep Sunday done and dusted.  I started super early this morning as I work from home on a Sunday so did bits in between work.
We are a family of six, four kids ages 14,8,6 and 4 all good eaters with no allergies.
Our meal plan is super basic and has repeated snacks.
We are on one income at the moment as hubby is having chemo and we are almost halfway through a 12-week treatment and I work full time from home."
Weekly shop for $150 feeds a family of 6
Eleanor has been living The Healthy Mummy lifestyle for several years now along with her entire family.
As a 28 Day Weight Loss Challenge member Eleanor gets access to a weekly meal plan and a recipe hub with over 4,500 recipes to choose from.
Eleanor says "We have max $200 a week to spend on our groceries we usually spend around $150 and I put aside what we don't spend, for another week if we need to buy more.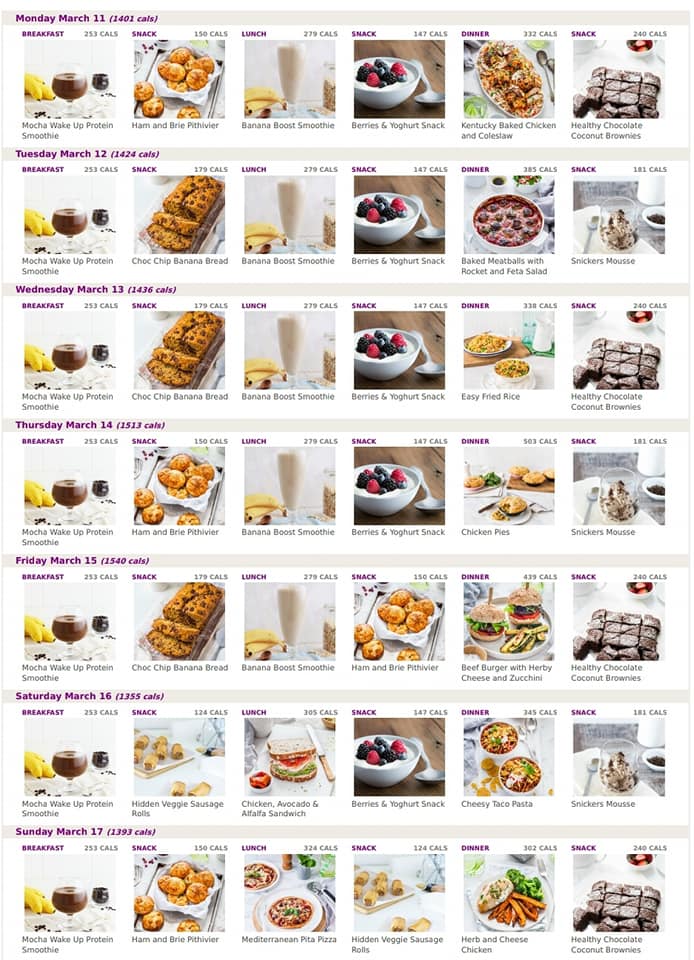 We used to spend way more but I've got it down to a fine art now.
I choose meals that are either easy to prep or quick to make and snack recipes I can make in bulk as I am time poor.
That's the beauty of the 28 Day Weight Loss Challenge! You can make it work for you and your family."
Healthy kids lunch box and after-school snack ideas
Well aware of the benefits of meal prepping Eleanor shares some of the easy snacks she makes in a few hours during the weekend for the week ahead.
Chocolate Chip Banana Bread (in muffins)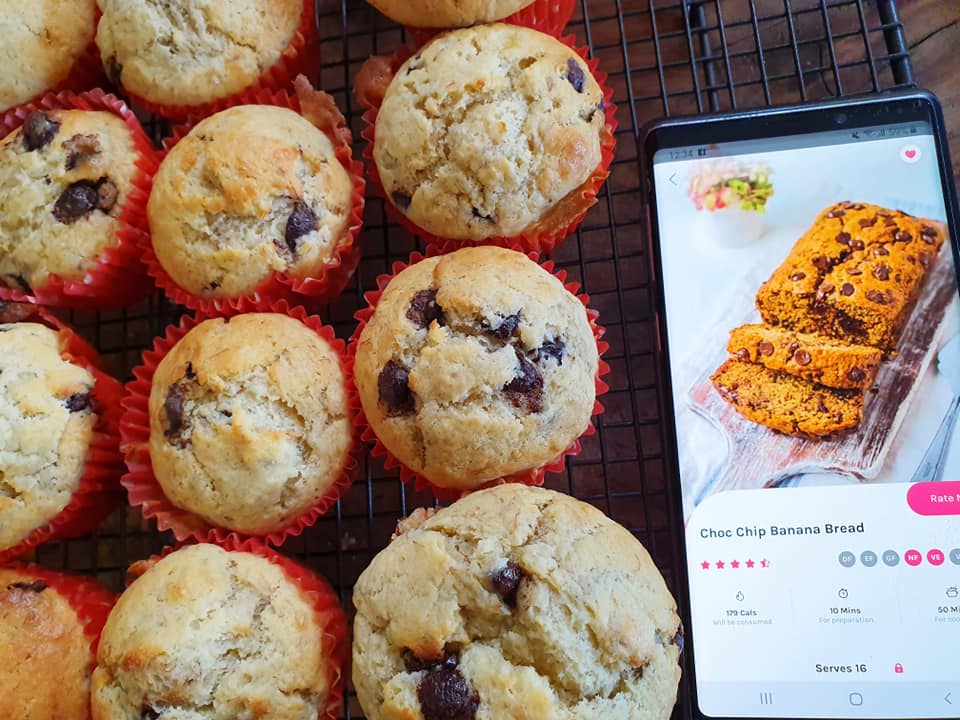 Kids love banana bread and they love chocolate, so adding them together is a no-brainer for lunchbox success. Equally, adults love this too.
Why not make a double batch and freeze half in single serves? Then take out of the freezer the night before to defrost on the bench in time for lunchbox making in the morning. To access the recipe join 28 Day Weight Loss Challenge.
Ham and Brie Pithivier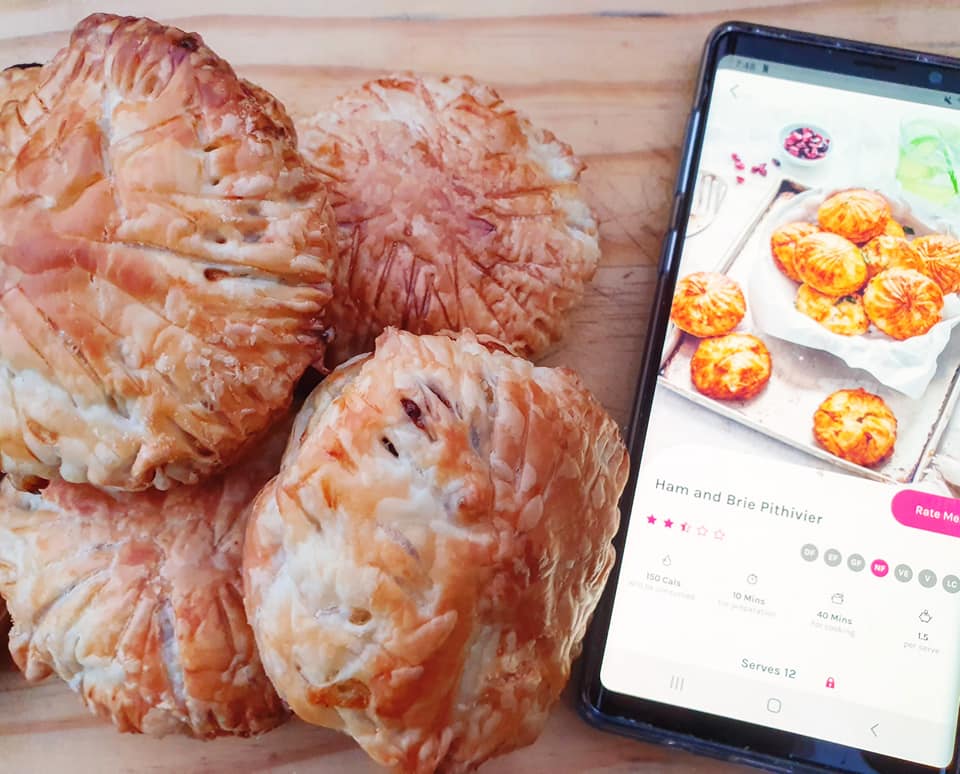 This ham and brie pithivier is the ultimate savoury snack that your kiddos will love. Think toasted ham and cheese sandwich upgraded. And best of all they can easily hold this in their hand. Serve warm or cool.   To access the recipe join 28 Day Weight Loss Challenge.
Cheese and Vegemite scroll

What child doesn't love pizza? These 2 ingredient scrolls can be customized in so many ways. Fill with tomato paste, pineapple, ham and cheese; tomato paste, sun-dried tomato and feta; tomato paste, basil and cheese or Vegemite and cheese to name a few. Get the recipe.
Kentucky Baked Chicken and Coleslaw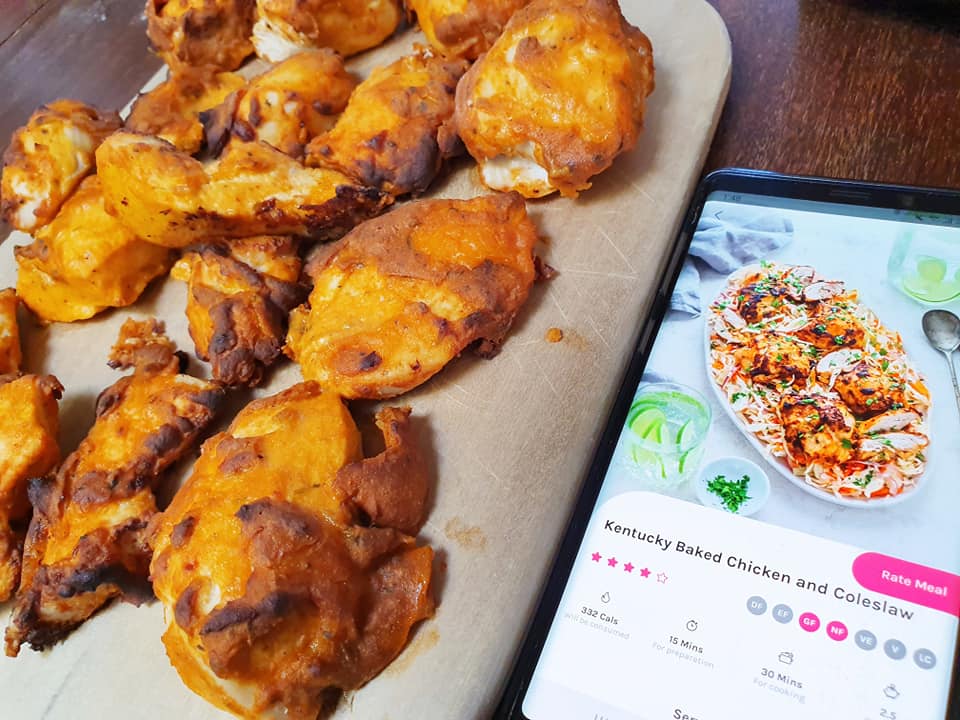 Did someone say Kentucky and Chicken? Here is something even yummier! These bite-sized nuggets can be easily popped into lunch boxes or served warm as an after-school snack.  To access the recipe join 28 Day Weight Loss Challenge.
Healthy Chocolate Coconut Brownies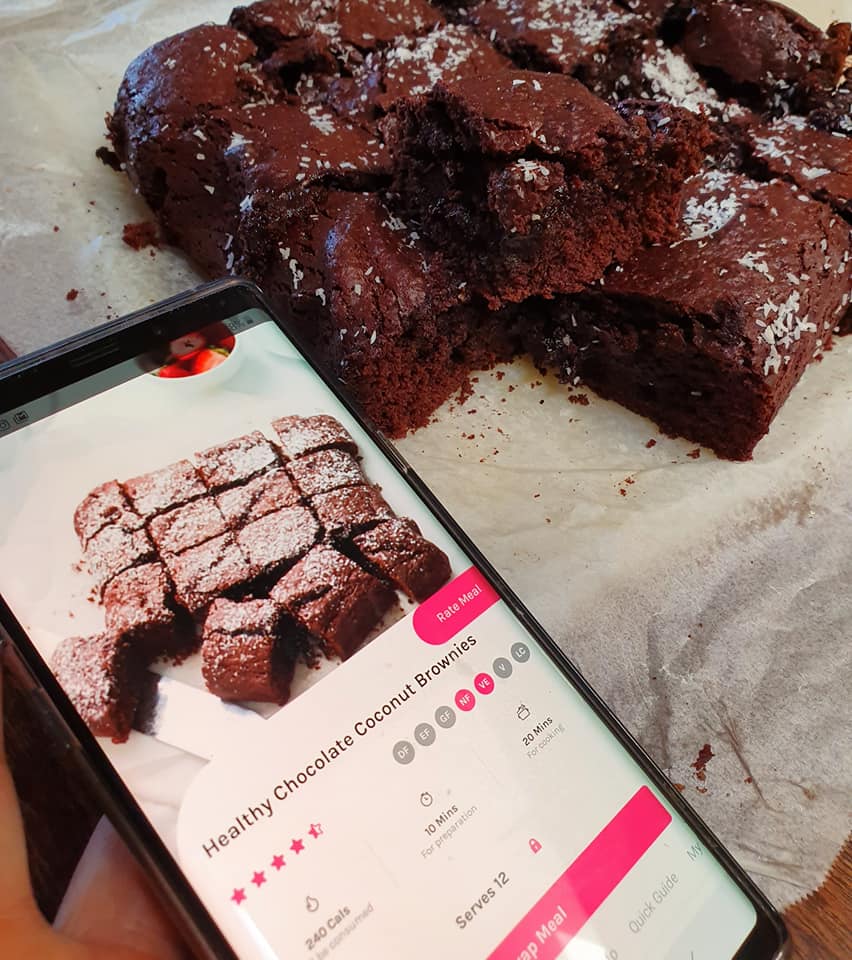 Who doesn't love a chewy chocolate brownie? This recipe is easy to prepare and creates delicious, gooey Chocolate Coconut Brownies. Get the recipe. 
In addition to snacks on The Healthy Mummy meal plan, Eleanor keeps it simple by including other items in her kid's lunch boxes such as:
Muesli bars
Popcorn/corn chips/normal chips occasionally
Sandwich
Yoghurt and berries
Fruit
Cut up carrots and dip
Boiled eggs
Then after school, she says it's usually fruit and cheese and crackers or tomato and crackers and boiled egg etc.
She says "the kids eat everything we do. They have all bar two grown up with The Healthy Mummy as Healthy Mummy has been in our life for over 6 years now.
They all eat pretty much a full serve of meals."
Wow, Eleanor! We are blown away with all that you are juggling at the moment and you are still managing to crank out delicious, picture perfect snacks for your family!
Thank you for sharing how you make The Healthy Mummy plan work for your entire family and the simple healthy lunch box snacks you have shared.
The Healthy Mummy team think you are a rockstar and we send our love to your family and wish your hubby a speedy recovery once his treatment is over.
Read 6 Swaps to make your kids lunch box healthier 
Get more recipes like this to help make your kid's lunch boxes amazing!

Grab the Healthy Kids Lunch Boxes eCookbook which has over 100 recipes and ideas for your little ones and is a MUST have if you make lunch boxes – or if you want to get your kids eating healthier foods.
Want to kick start your weight loss?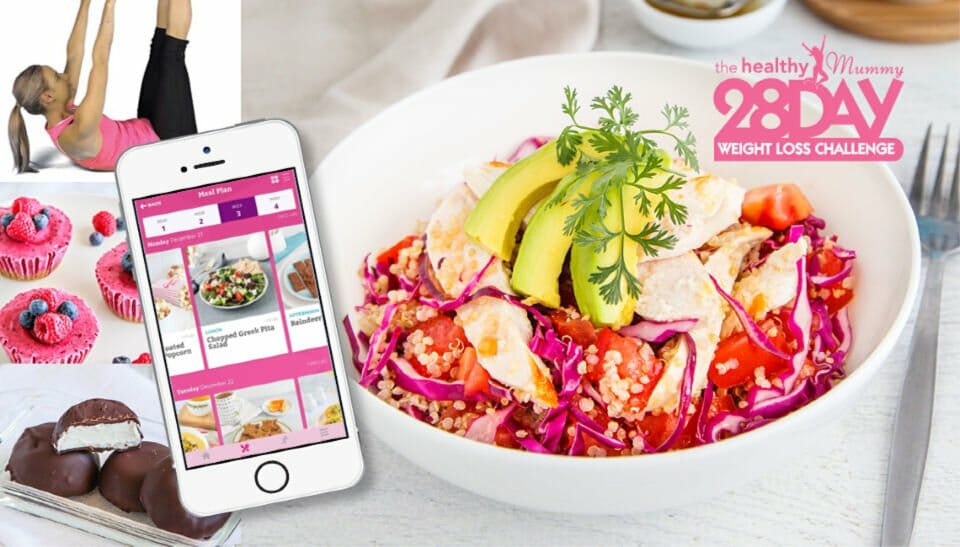 If you are interested in kickstarting your weight loss and want to improve your energy – not to mention – improve your overall health and wellbeing – our 28 Day Weight Loss Challenge is an awesome program to check out. And it's family friendly.
Our 28 Day Weight Loss Challenge includes:
28 days of at home exercise routines (no gym needed) – with video instruction
Customisable and breastfeeding friendly meal plans (including a 7 day cleanse)
Time-efficient exercises for busy mums – under 30 mins
Challenge combines Pilates exercises with interval and circuit training (HIIT)
Suitable for basic to advanced fitness levels
Home to thousands of EASY-TO-MAKE recipes!
To learn more about our 28 DAY WEIGHT LOSS CHALLENGE CLICK HERE