How many calories in rice plus 5 rice recipes
It wouldn't be unfair to say that rice is one of the most ubiquitous foods in the entire world.
It seems that just about every nation on earth has its rice-based cuisine making it a staple part of many people's diets and it forms part of meany healthy meal recipes
In fact, it's estimated that around half of the people in the world get around 50% of their calories from rice which makes it a pretty important little grain indeed!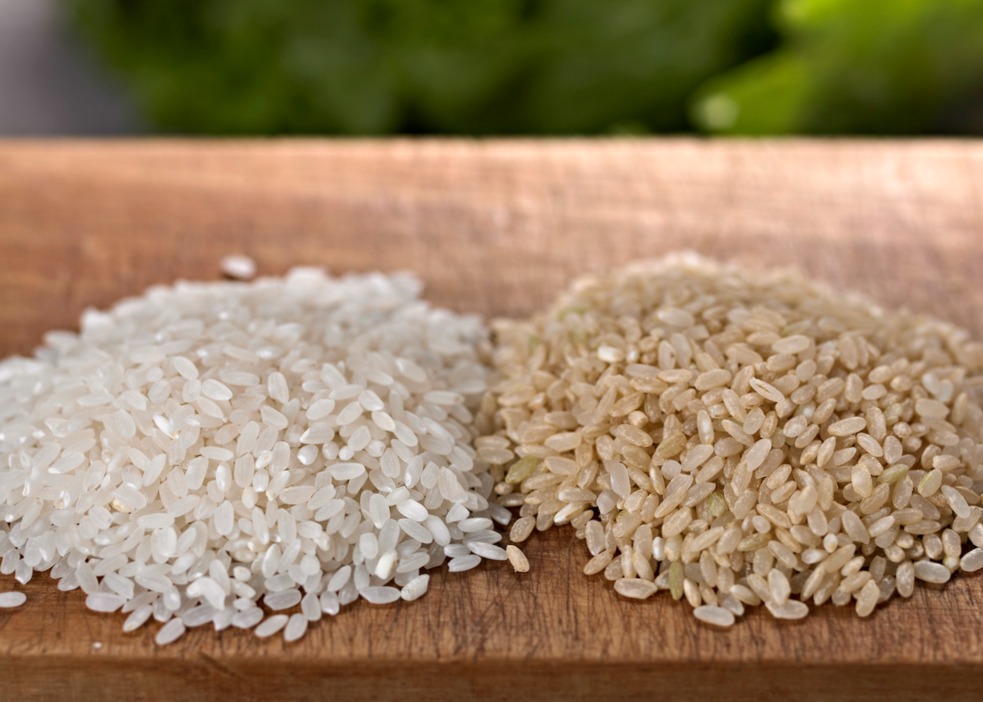 But is it healthy? Well, the answer to this all depends on what type of rice you eat, how it's been processed, and the method in which it was cooked.
One of the most significant factors determining whether or not rice is good for you is if you decide to eat white or brown rice.
The difference between white and brown rice
Interestingly, white and brown rice is made from the same grain; they are just milled differently. During the milling process, brown rice's kernel keeps its bran layer intact, whereas this layer is polished away with white rice.
For this reason, white rice is considered unhealthy by many people as it's more highly processed and is missing many of the vitamins, minerals, and nutrients present in brown rice.
You see, most of the "goodness" that's present in brown rice is located in the fibre-rich gran and germ. Once you take this away, you're left with white rice, which is considered to be "empty carbs."
With that said, all hope is not lost for those that prefer white rice over brown as you can usually purchase white rice that has been enriched with added nutrients such as iron and B vitamins making it somewhat less "empty."
How many calories in white rice
Raw white long-grain rice –           365 calories
Cooked white long-grain rice –    130 calories
How many calories in brown rice
Raw brown long-grain rice –           370 calories
Cooked brown long-grain rice –     111 calories
Does the method of cooking affect the calorie count?
Interestingly, according to the USDA, boiled rice is said to contain fewer calories than steamed rice. This is because when you cook rice in water, some of the calorie-rich starch is drained away as well as some other water-soluble nutrients.
The USDA states that 100 grams of boiled rice contain 28.17 grams of carbs compared to 33.88 grams in steamed rice. So if you're watching your waistline, it's time to get steaming your rice (and make it brown while you're at it!).
And scroll below to see 5 rice recipes that make very healthy meals
Mexican stuffed chicken with broccolini and brown rice
This healthy dinner idea comes to us courtesy of 28 Day Weight Loss Challenge member Cassie Wight.  Cassie uses budget friendly chicken thighs as the base for a healthy chicken meal that the whole family will love.Cassie says 'This meal is super easy with only 10 minutes of prep time and 40 minutes cooking time.'As part of the 28 Day Weight Loss Challenge you can make the most of budget ingredients (like chicken thighs) to help you lose weight while saving money.  Think Apricot Chicken, Stir Fried Chilli Plum Chicken, or Chicken and Corn Pot Pie.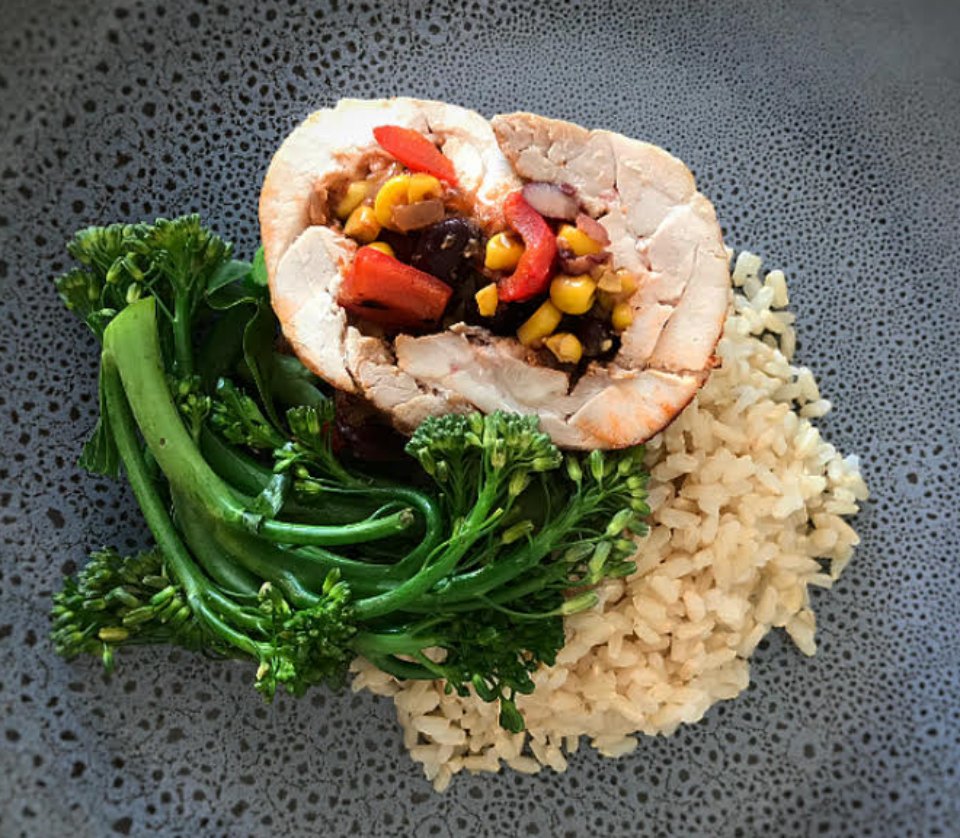 INGREDIENTS

600 grams chicken thighs skinless
1/2 red capsicum diced
120 grams kidney beans drained and rinsed
1 whole corn cob kernels sliced off
3 tbsp salsa
3/4 cup brown rice cooked as per packet instructions
1 tsp smoked paprika
1 tsp extra virgin olive oil
1/2 tbsp extra virgin olive oil
1 bunch broccolini
1 tbsp Parmesan cheese grated
INSTRUCTIONS
Heat the 1 tsp olive oil in fry pan on high heat. Add corn kernels and capsicum to pan, sauté until browned.

Transfer cooked capsicum and corn into a mixing bowl, add kidney beans and salsa, then mix well.

Flatten each chicken thigh out with a meat tenderiser or rolling pin.

Lay a piece of baking paper on top of a piece of foil then lay chicken thighs on top of baking paper.

Spread Mexican mix over chicken thighs, sprinkle Parmesan over it, and roll into a log. Wrap first with the baking paper then tightly wrap the foil over the baking paper in a big burrito style.

Place on baking tray and bake for 30 minutes.

Remove from oven carefully and remove foil and baking paper.

Drizzle ½ tbsp olive oil on top and sprinkle with paprika.

Place back into oven and bake for a further 10 minutes. Allow to cool for 5 minutes before slicing into 4 serves.

Steam broccolini and serve with the Mexican chicken and brown rice. Check this out for more delicious

broccoli recipes

!
Sticky Chicken Thigh and Fried Rice Tray Bake Recipe
This  Asian inspired 'all-in-one' tray bake dish is just like a Chinese takeaway,  all in the one pot!It's a perfect 'fakeaway' meal for the weekend or midweek without all the calories or cost. It just takes 15 minutes to prepare and cooks in under an hour.It's a great recipe to make ahead of time and reheat when you're ready to eat. The perfect, healthy, family-friendly meal.  And at just $1.80 per serve, it's budget-friendly too.This chicken thigh recipe comes straight from our 28 Day Weight Loss Challenge. Members have access to thousands of recipes, from noodles to burgers and everything in between.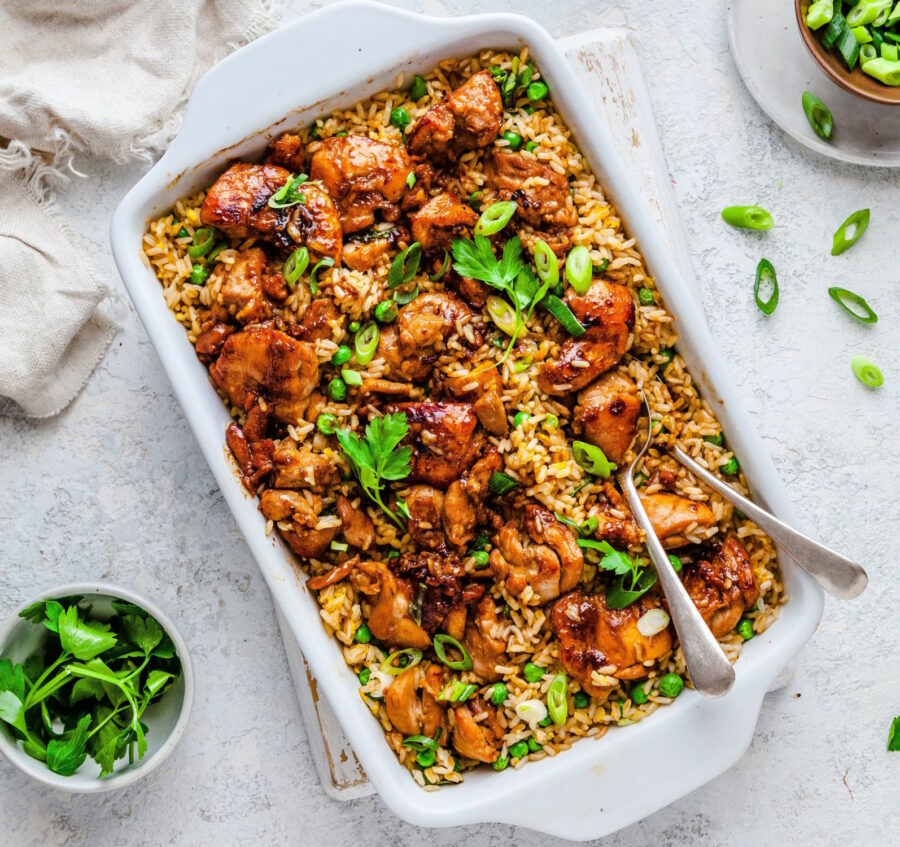 Sticky Chicken and Fried Rice Tray Bake

Serves 4
INGREDIENTS

1 cup basmati rice uncooked
1/2 cup salt-reduced liquid chicken stock
1 cup water
2 tbsp tamari (gluten free soy)
1 tsp sesame oil
500 g chicken thigh fillets trimmed and chopped
2 tsp honey
2 cloves garlic minced
2 tsp fresh ginger minced
2 spring onions sliced
1 cup frozen peas defrosted
2 free ranged eggs beaten
INSTRUCTIONS
Place rice in a deep baking dish with stock, water, half of the tamari and all of the sesame oil. Cover with foil and cook for 30 minutes.

Meanwhile marinate the chicken in honey, the remaining tamari, garlic and ginger.

After the rice has been cooking for 30 minutes, remove from the oven and stir through the spring onions and peas.

Make four holes in the rice and pour a little beaten egg into each hole. Place the chicken on top of the rice.

Return to the oven and cook for a further 20-25 minutes or until the chicken is cooked through.

Toss the rice and chicken together to combine with the egg.

Divide between four bowls to serve.

Leftovers can be stored in an airtight container in the fridge for 2-3 days, or freeze for up to 3 months. Another delicious 

stuffed chicken breast recipe

!
Healthy Chicken and Pineapple Fried Rice Recipe
Why even think about takeaway when you can whip up this delicious and Healthy Chicken and Pineapple Fried Rice.This is a fried rice recipe meal that can be enjoyed on the 28 Day Weight Loss Challenge and the whole family will LOVE it.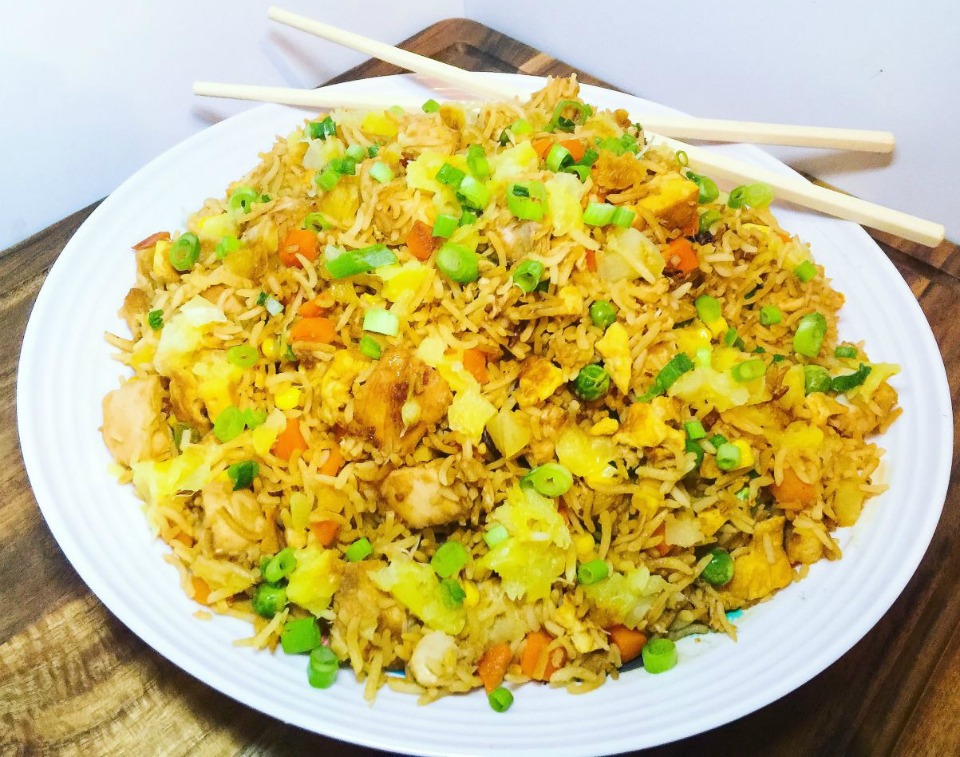 Healthy Chicken and Pineapple Fried Rice
INGREDIENTS

200g chicken breast or use leftover chicken
2 cups basmati rice uncooked, or use leftover rice
2 cups pea, carrots and corn frozen vegetables
1 cup crushed pineapple + 2 tbsp pineapple juice
3 eggs beaten
2 tbsp kecap manis sweet soy sauce
2 tbsp sweet chilli sauce
1 tsp soy sauce
½ tsp chilli powder optional
¼ tsp sesame oil
1 tsp ginger minced
1 tbsp garlic minced
Spring onion to garnish
INSTRUCTIONS
Cook the rice according to packet directions and set aside (or use leftover rice). Cook the chicken in a frying pan with a little olive oil, then set aside to cool (or use leftover cooked chicken).

In a non stick fry pan on a medium heat, pour in the beaten egg and spread all over the pan. Cook for a few minutes on each side like an omelette. Remove from the pan and roughly chop

In the same pan add the sesame oil, then add the rice and the pea, carrot and corn mix, cook for 3-4 minutes.

Chop up the chicken. Once the rice and vegetable mix are heated through add the chicken, egg and crushed pineapple.

In a bowl mix the kecap manis, soy sauce, sweet chilli sauce, ginger, garlic, pineapple juice and chilli powder. Once mixed well pour over the fried rice and mix well. Cook for a further 4-5 minutes.

When finished top with spring onions.
RECIPE NOTES

Serves 5 people at 317 calories per serve
Rice, Avocado And Tuna Sushi Bowl
The delicious meal is like a deconstructed sushi roll. Prepare the rice ahead of time so you can just assemble everything quickly when ready to serve.We love meals like this that you can make in advance to save precious minutes at meal time. Why not make enough for the whole week?This recipe comes from our 28 Day Weight Loss Challenge, helping mums lose weight with thousands of delicious recipes for meals and snacks.Find out more about the next challenge HERE.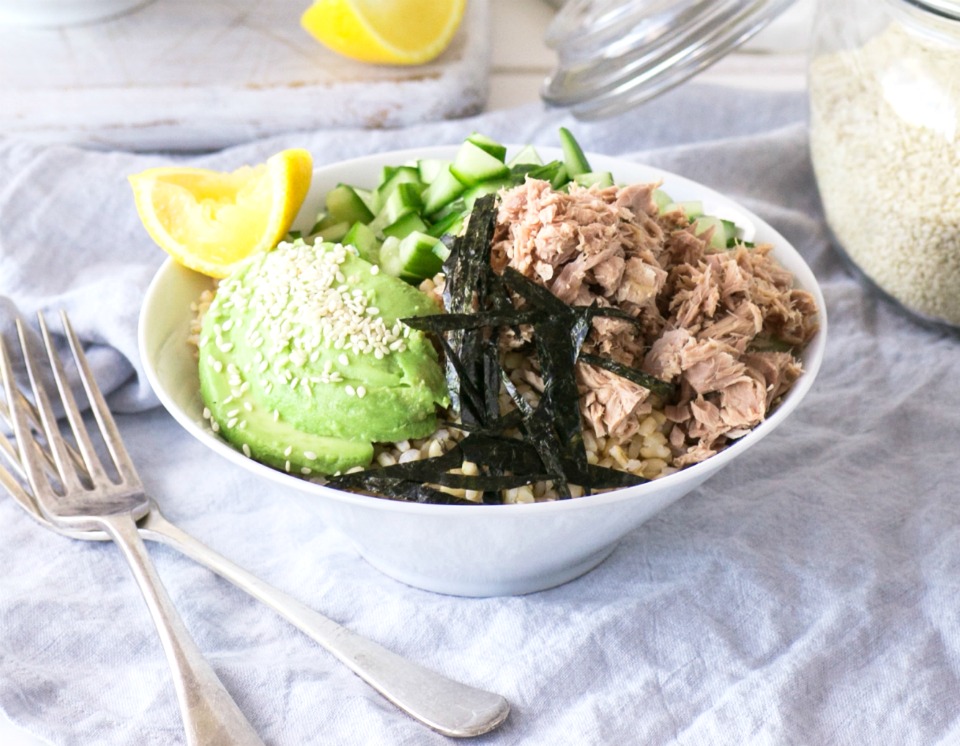 Rice, Avocado And Tuna Sushi Bowl
INGREDIENTS

1/4 cup brown rice uncooked
90 grams tinned tuna in water
1/4 Lebanese cucumber chopped
1/4 avocado chopped
1 slice sushi seaweed
2 tsp lemon juice
1 tsp sesame seeds
INSTRUCTIONS
Prepare the rice according to packet directions.

Drain tuna and slice seaweed.

Top prepared rice with tuna, cucumber, avocado and seaweed pieces.

Drizzle over lemon juice and sprinkle with sesame seeds to serve. check these out for more delicious

sushi recipes

!
Easy Spanish rice with chorizo
Need a quick and easy dinner? This Easy Spanish Rice with Chorizo will be a hit with the whole family.You can make this super speedy meal if you prepare the rice beforehand and then reheat it so it's steaming before you cook the rest. Why not make a double batch and freeze individual serves to use for lunches on busy days?This recipe comes from the 28 Day Weight Loss Challenge. The photo was shared by Brooke Jones in our Healthy Mummy support group on Facebook.Join thousands of mums on the 28 Day Weight Loss Challenge who want to lose weight the healthy way, with delicious recipes like this.As a member you'll be able to access hundreds of recipes like Prawn Pad Thai Salad, Piri Piri Chicken with Cous Cous, and Sweet Chilli Pesto Pizza to name a few.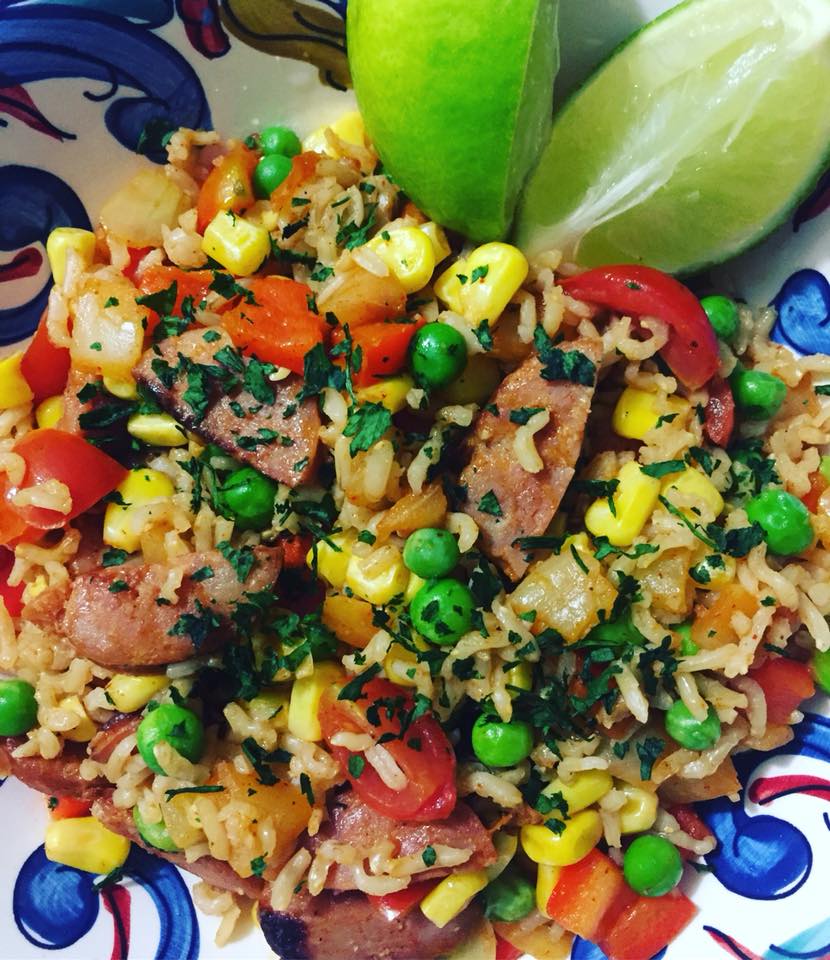 Easy Spanish Rice with Chorizo
INGREDIENTS

1/2 cup brown rice uncooked
1 chorizo sausage chopped
1/2 brown onion diced
1/2 teaspoon smoked paprika
2 Tomatoes diced
1/2 cup frozen peas
1/2 cup corn kernels fresh or tinned
1/2 red capsicum diced
2 teaspoons fresh parsley
2 wedges fresh lime
INSTRUCTIONS
Cook brown rice according to packet instructions or reheat already cooked rice until piping hot.

Place a non-stick fry pan over a medium heat and cook chorizo slices on both sides for approximately 3 minutes until edges are crisp. Transfer to a plate and set aside.

Add onion to the pan and cook for 2 minutes or until it starts to turn golden. Add tomatoes, vegetables and paprika. Toss to combine and cook for 3 minutes or until vegetables are lightly tender.

Add cooked rice and return chorizo to the pan. Toss together and garnish with parsley.

Arrange on serving plate with a wedge of lime per serve.
Want more recipes? Join our 28 Day Weight Loss Challenge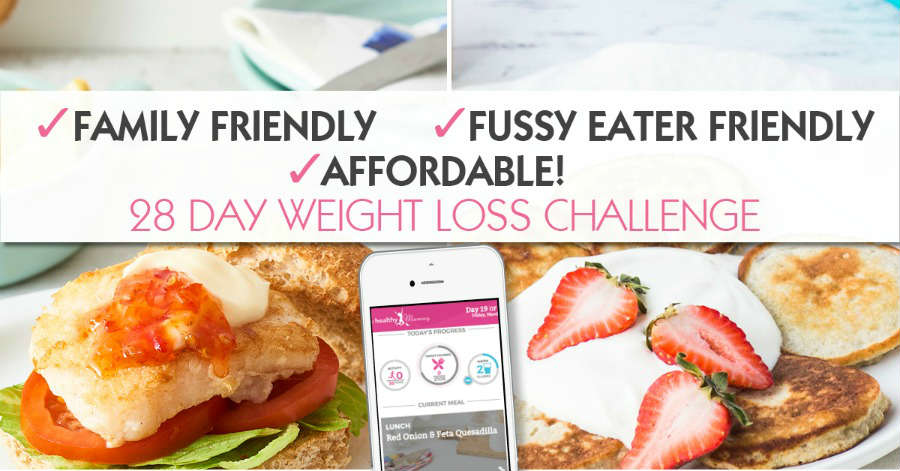 Want to shift your baby weight but feel like you have NO TIME in your day to exercise and eat healthily? That's where the Healthy Mummy's 28 Day Weight Loss Challenge can help.


Our Challenge entails: 
28 days of at home exercise routines (no gym needed) – with video instruction
Customisable and breastfeeding friendly meal plans
Time-efficient exercises for busy mums – under 30 mins
Challenge combines Pilates exercises with interval and circuit training (HIIT)
Suitable for basic to advanced fitness levels.
Home to thousands of EASY-TO-MAKE recipes.
To find out more on the 28 Day Weight Loss Challenge click here.