Lauren's lost 14.5kg and on track to smash 2020 wedding weight loss goal
Bride-to-be Lauren, who has lost 14.5kgs following The Healthy Mummy 28 Day Weight Loss Challenges is on track to smash her 2020 wedding weight loss goal.
Mum of two and bride-to-be Lauren Styles, who has already lost 14.5kgs by following The Healthy Mummy 28 Day Weight Loss Challenges shares her MAIN motivation for losing weight. And it might surprise you!
While Lauren is looking forward to looking her best on the big day she says her main motivation for losing weight is to have the energy to be more active with her two young kids and show them what a healthy lifestyle looks like. Awe…the Healthy Mummy team can't love her anymore for this!
Read about her weight loss journey below.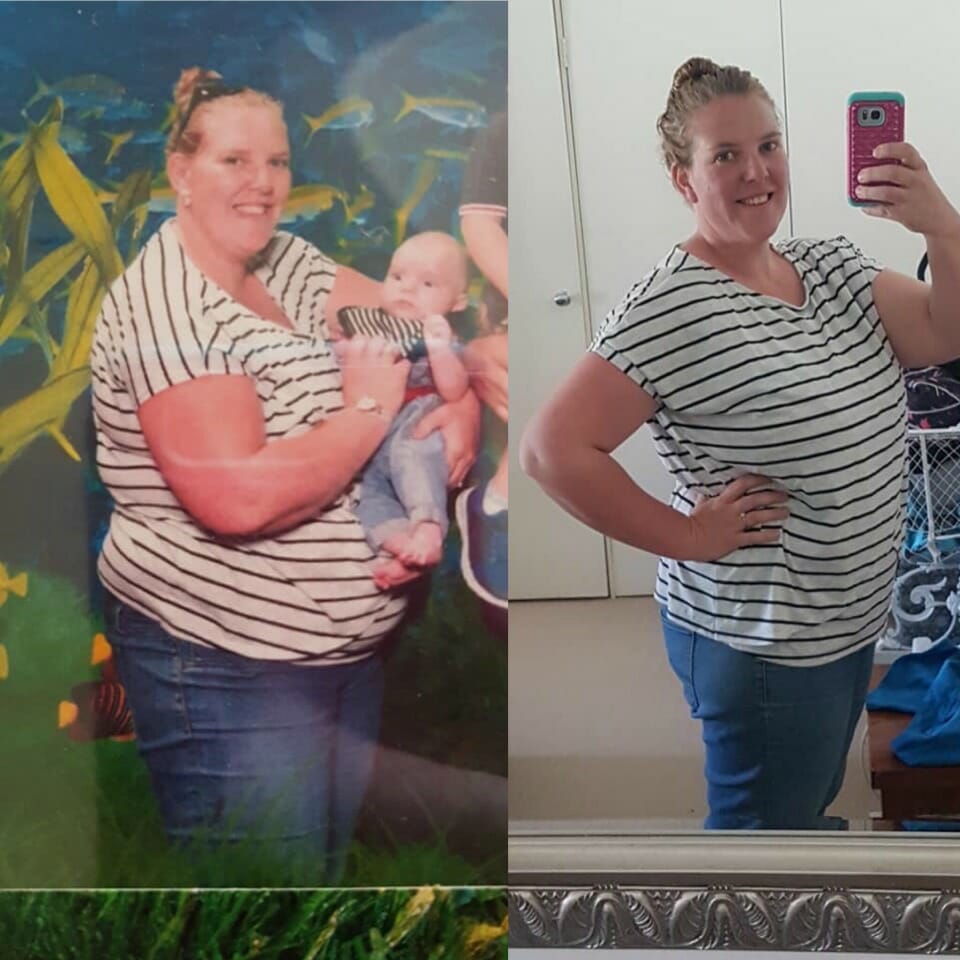 "I am lighter than I was when I 1st fell pregnant 3 years ago!"
Delighted with her results so far Lauren says "The first photo I was over 115kg with an 8-week-old baby. The 2nd photo I am 102kg and bub is 8 months old.
I am so happy! Jumped on the scales and I am lighter than I was when I 1st fell pregnant three years ago!
Still, a ways to go but seeing the numbers drop each week gives me the drive. I love The Healthy Mummy lifestyle!".
Weight loss journey
Lauren is a mum of two boys, ages 3 and 8 months and lives on a cattle and cropping property in country NSW.
Before Lauren discovered The Healthy Mummy she says "I was so unhappy in my body, I needed to make a change desperately.
I have tried fad shake and juice diets with good results but they aren't sustainable and I put the weight back on.
I'd seen The Healthy Mummy on Facebook so I bit the bullet and signed up".
After joining The Healthy Mummy Challenges Lauren says "I could see a difference in the first week. My energy levels improved, I was happier, and found my love of cooking again.
I did my first challenge in May. Finding recipes that my fiance and toddler would eat was a bit challenging in the beginning.
And living so far from town and doing a weekly or fortnightly shop was difficult as I had to learn how to substitute and alter recipes but keep them healthy".
But Lauren soon got the hang of it and is loving the journey!
Results with The Healthy Mummy 28 Day Challenge
Not only has Lauren lost 14.5kg, her partner has lost 12kg.
She says "It's taken six months (and several falls off the wagon) to lose 14.5+kg but I am so happy to see such a big difference! Bring on the next 30kg loss!"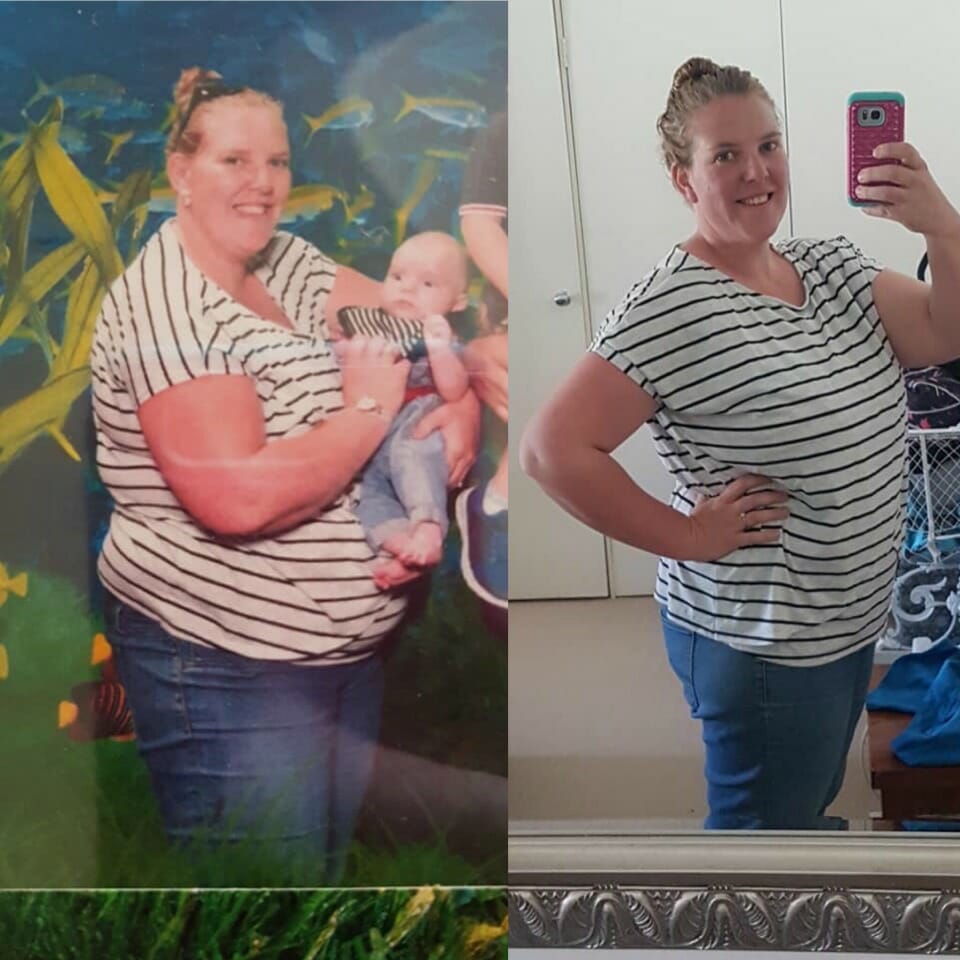 Overcoming hurdles
With a back injury that flares up occasionally Lauren tailors her workouts to suit her ability at the time. She says "When I can't exercise I just stick to the 28 Day Weight Loss Challenge meal plans and I've managed to maintain or continue to lose weight!.
The app has made meals so much easier and healthier.
I don't have to stress about what's for dinner because it's all laid out for the week.
Plus our grocery bill has dropped dramatically!"
Lauren's favourite recipes
"I love the lentil and chocolate balls and the choc coconut brownie snacks". See gluten and dairy free raw chocolate brownie recipe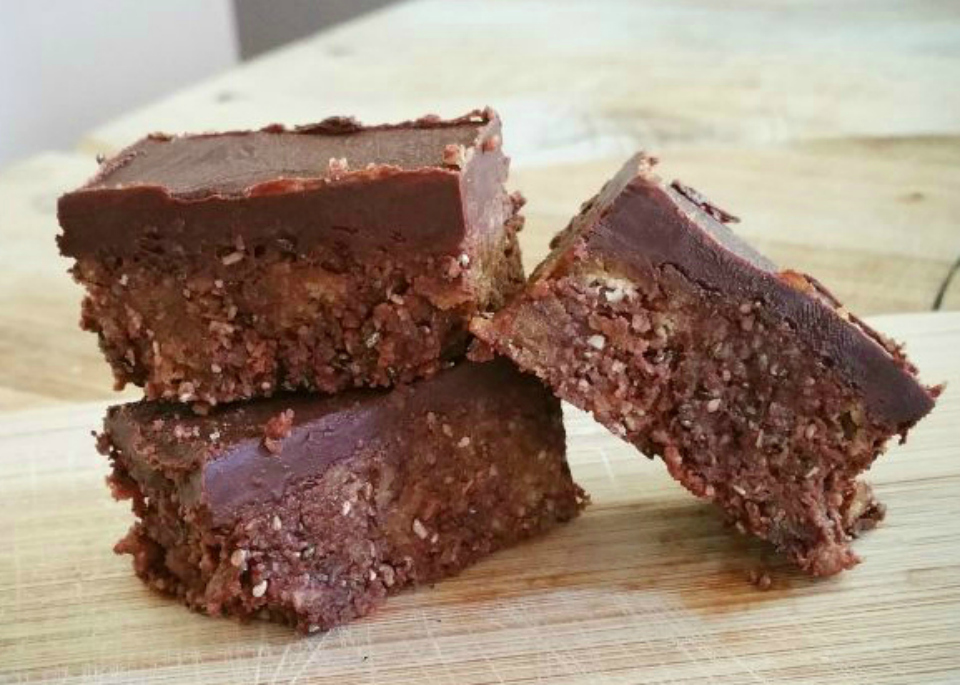 "We regularly have devilled sausages and any of the fried rice dishes which are a big hit with my 3 year old son". See deviled sausages and sweet potato mash recipe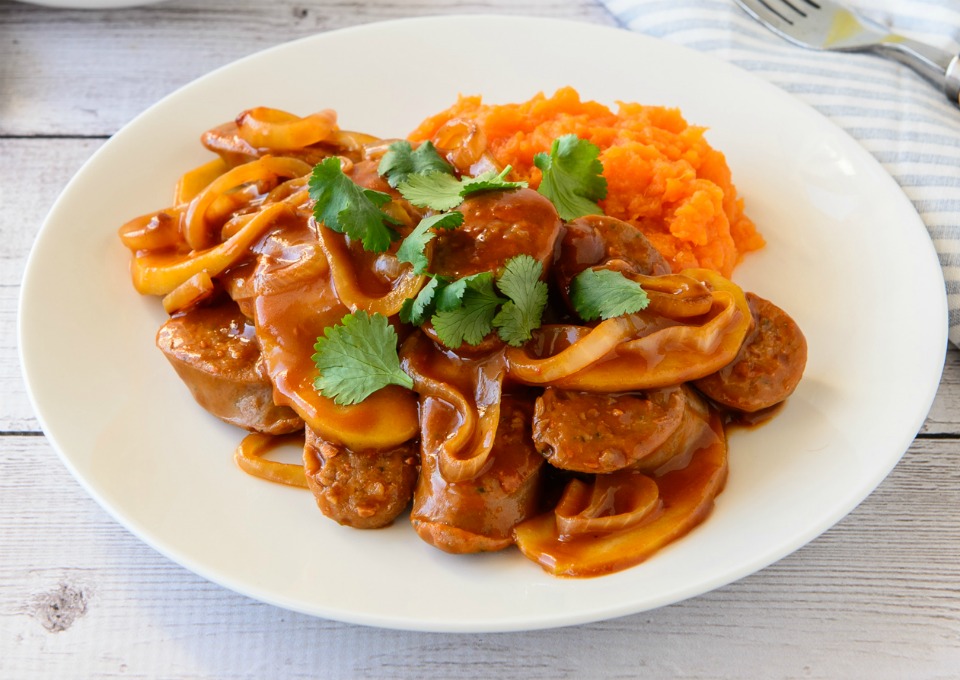 Motivation for staying on track
Lauren has a good reason for getting healthy. Not only does she have two young children to chase around after, she is getting married!
She says "We are getting married in 2020 so the wedding is my big motivation for weight loss but also just for myself.
To have more energy to be active with my kids and help them lead a healthy lifestyle.
Seeing and feeling the change in my body has been a huge motivation, I love seeing the numbers on scales get smaller each week!"
I am so happy today! Jumped on the scales and I am lighter than I was when I 1st fell pregnant three years ago!
Still, a ways to go but seeing the numbers drop each week gives me the drive. I love the healthy mummy lifestyle!"
How Lauren's life has changed so far
About her life since losing the weight Lauren says
"I have more confidence socially and I'm much more comfortable in my clothes.
Rather than wearing bleak monotone or neutral colours I've found myself buying bright bold clothes that have more shape rather than baggy "hide the flab" items.
I'm not back in a bikini yet but that's definitely a goal.
Over the past four months, I've become more flexible, I can play on the floor with my 8 month old and it doesn't take me 10 minutes to work through the back pain and get moving again.
I can run around with my 3 year old and I'm not out of puff.
I haven't been on a trampoline for years but now I can jump around and play again.
I think the happiness I see in my son when we play is just as much a reward as fitting into jeans I haven't worn in 5 years".
The Healthy Mummy team would like to thank Lauren for sharing her weigh loss journey with us.  We look forward to supporting her as she continues to work towards her wedding weight loss goal but also in being a healthy mummy to her children.
Are you ready to become a Healthy Mummy?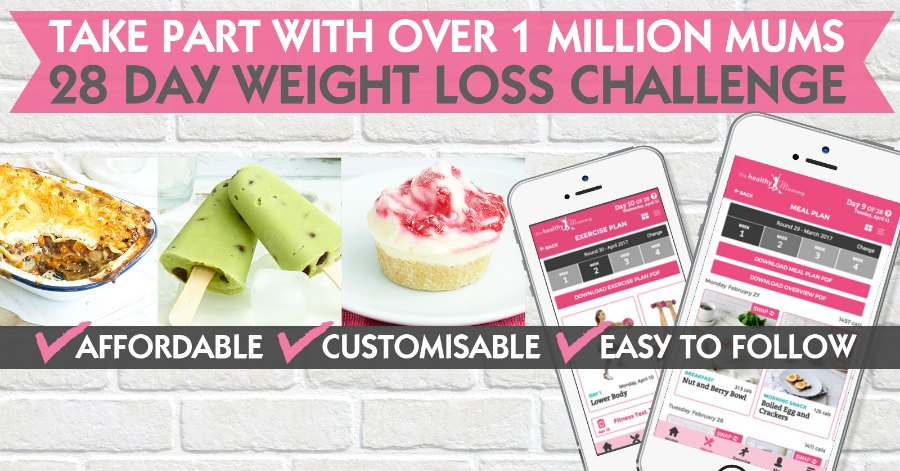 If you are interested in kickstarting your weight loss and want to improve your energy – not to mention – improve your overall health and wellbeing – our 28 Day Weight Loss Challenge is an awesome program to check out. 
Our 28 Day Weight Loss Challenge includes:
28 days of at home exercise routines (no gym needed) – with video instruction
Customisable and breastfeeding friendly meal plans (including a 7 day cleanse)
Time-efficient exercises for busy mums – under 30 mins
Challenge combines Pilates exercises with interval and circuit training (HIIT)
Suitable for basic to advanced fitness levels
Home to thousands of EASY-TO-MAKE recipes!
To learn more about our 28 DAY WEIGHT LOSS CHALLENGE CLICK HERE or PURCHASE SMOOTHIES HERE.
PLUS get a FREE Budget Cooking recipe pack!