MARRIED!!!! How this couple found LOVE through The Healthy Mummy!
Crystal Gubecka and Kylie Jane have found love and shared some beautiful wedding day snaps from their magical big day!
Crystal Gubecka and Kylie Jane have found love and shared some beautiful wedding day snaps from their magical big day!
The beautiful couple have not only overhauled their lifestyle and between them, they also lost a whopping 46 kilos through the 28 Day Weight Loss Challenge.
Then they ended up connecting via The Healthy Mummy's Private Facebook Support group.
This connection led to love, an engagement and now marriage. BIG congratulations, guys. You both look incredible on your big day!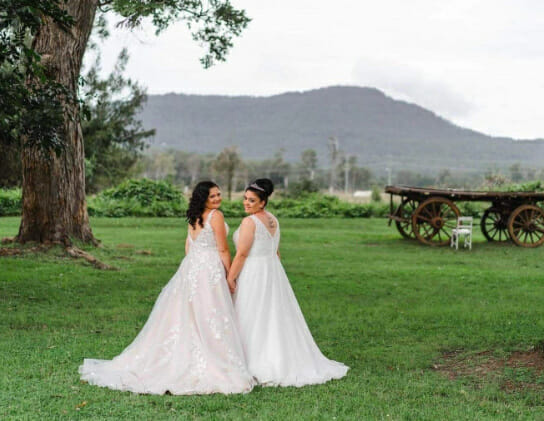 See more of the wonderful photos from the gorgeous day
"Our ceremony was perfect. It encapsulated our love in the perfect country rustic setting," says Crystal.
"We exchanged our personal vows surrounded by those we love the most. It really was a perfect celebration of our love. Mrs and Mrs Gubecka!
"We are both still on cloud nine to be honest. We then had group photos with our friends and family, before our location photos. Our location photo shoot was amazing!
"Our photos really capture our love for one another. They turned out beautiful, and we will treasure them always."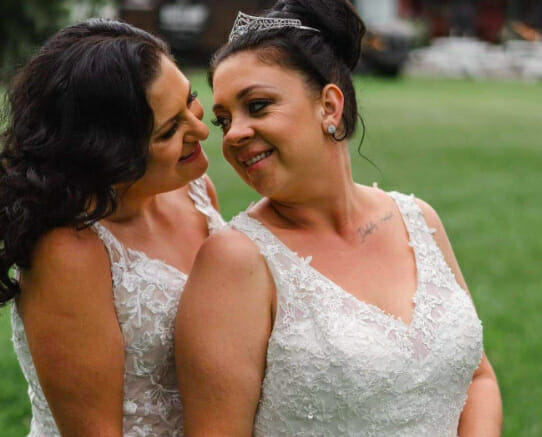 The special day took place on 10th of May, 2022 at  Mount Tamborine. And amazingly, these beautiful brides were following The Healthy Mummy right up until their wedding day.
"Kylie was walked down the aisle by her son Cooper. I cried when I first saw Kylie walk down the aisle.
I was walked down the aisle by Uncle," says Crystal.
"My Dad passed away nearly two years ago and my children couldn't be there, so I had pictures of them on my bouquet. I felt them all with me as I walked down the aisle to marry my best friend."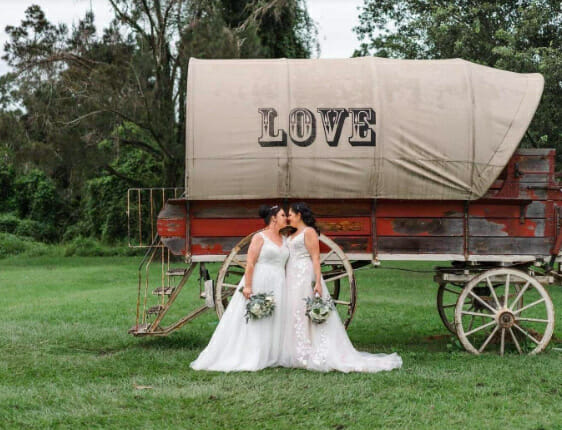 Guests were served sliders, wings, onion rings, ribs  and the first first dance was to 'Kiss the Girl' from the Little Mermaid.
"I forgot everyone was there for a minute as I looked into my beautiful brides eyes. We did our sparkler exit, and enjoyed the night with an intimate dinner with family and friends afterwards," says Crystal.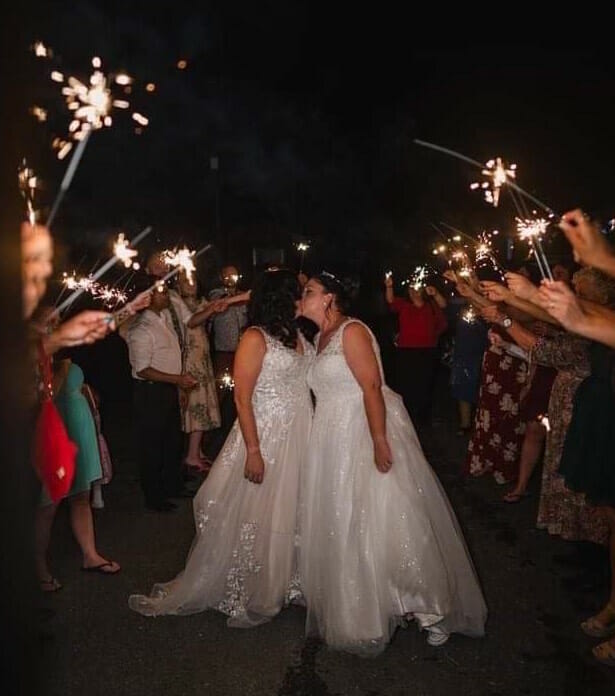 "Kylie Gubecka and I would love to thank The Healthy Mummy community for your support over the past few months in the lead up to our wedding.We are so very happy, and truly blessed to have found one another. Our day was exactly as we had envisioned!
"We have had a week off Healthy Mummy but now we are straight back into it! Much love!"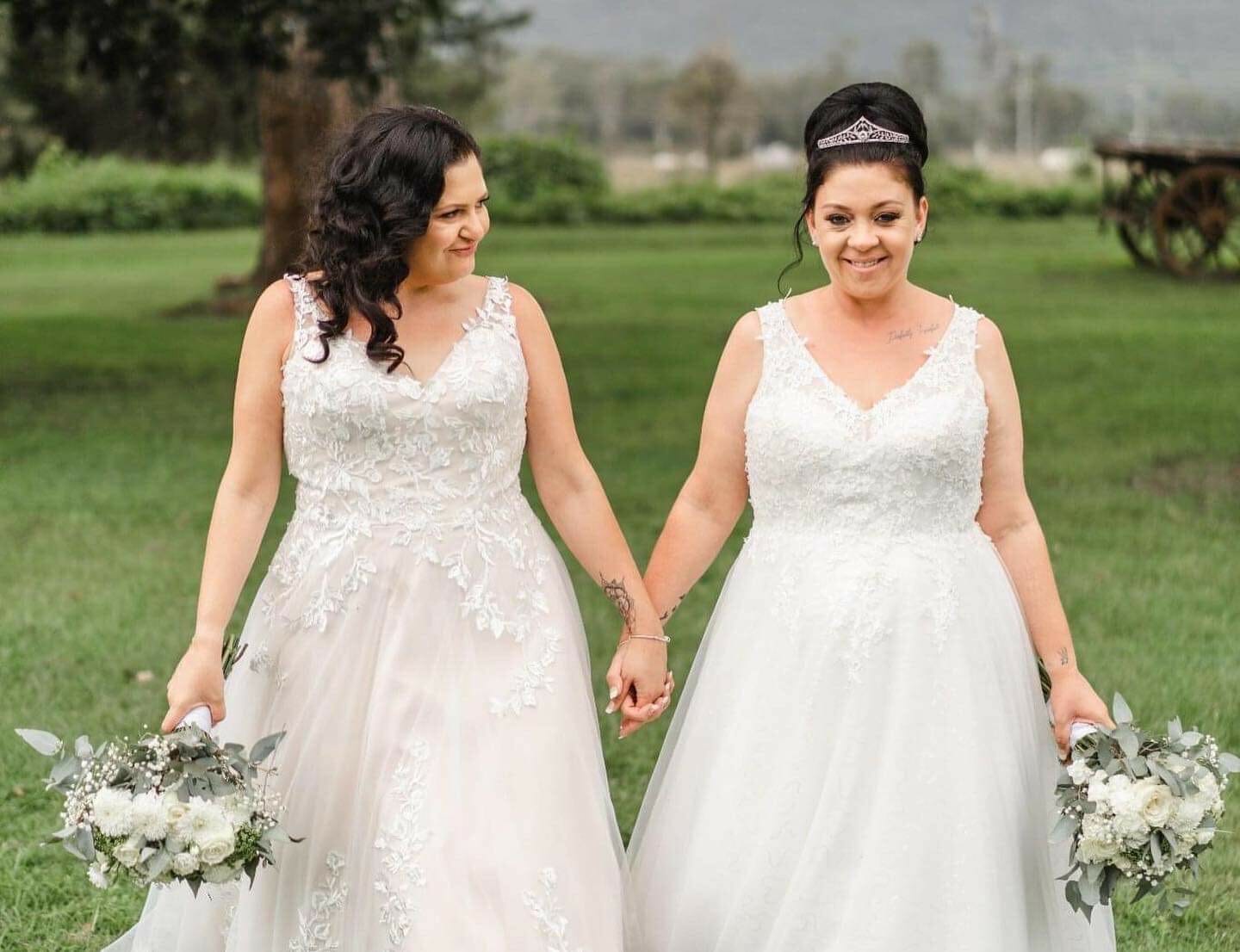 How Kylie and Crystal got into shape ahead of their big day
Kylie and Crystal say in the lead up to the wedding, they wanted to be as healthy as possible.
"We continued our Healthy Mummy meal prep and walked together nearly every day. We have both lost 25kg with the Healthy Mummy over the last couple of years," says Crystal.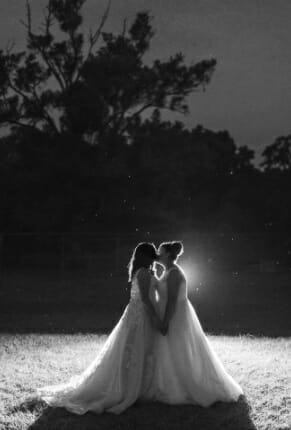 "We are lucky enough to have made some lifelong friends thanks to the Healthy Mummy and 2 of them were at our wedding. Chelsea and Cass both helped my get ready and I will be forever grateful for their friendship."

Our top tips for other brides:
– Meal prep, trust me it's one less thing to worry about
– Get a wedding planner book and write everything down
– Be firm with RSVP
– Don't listen to anyone else, do what's right for you and your partner
– Enjoy the process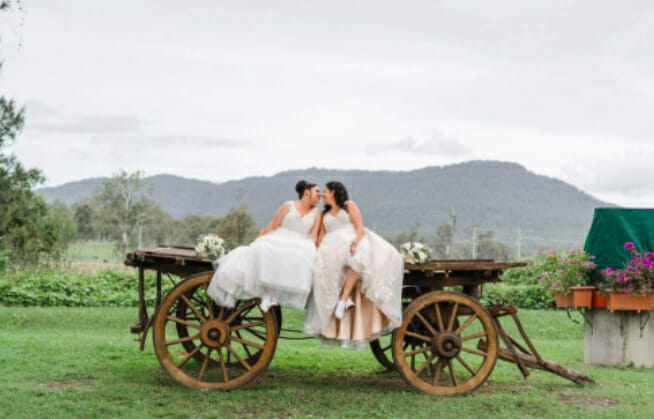 Crystal and Kylie's incredible love story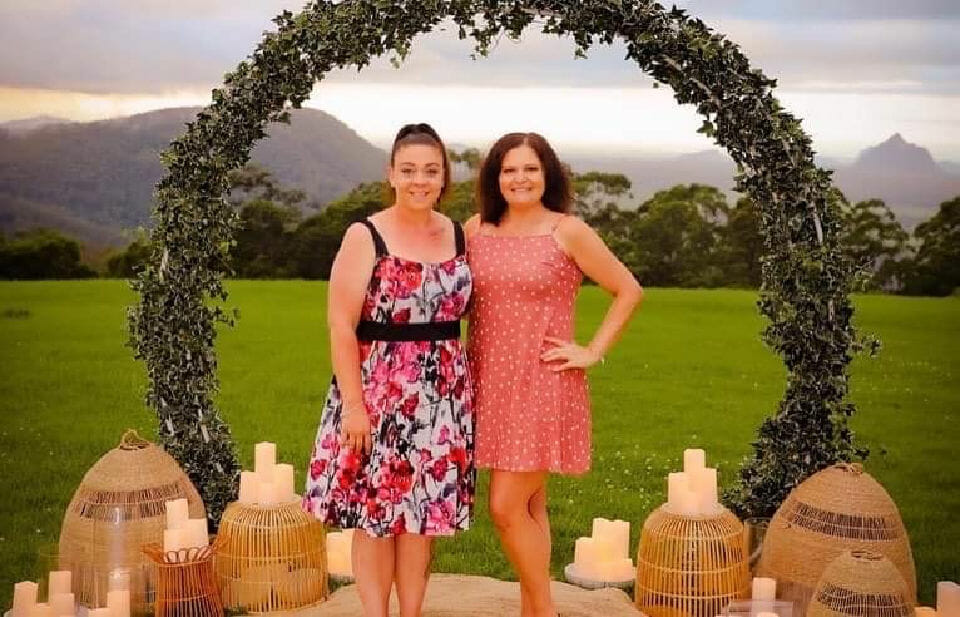 Crystal gushes that The Healthy Mummy has changed her life in more ways then one!
"I met Kylie Jane through Healthy Mummy in May 2020, and the rest as they say is history. We have lost weight thanks to The Healthy Mummy but found so much more," she says.
"We found true love within each other. I asked her to marry me and she said yes!"
Watch their incredible engagement below
They have lost 46 kilos between them!
Crystal's amazing weight loss story – she has lost over 25kg through The Healthy Mummy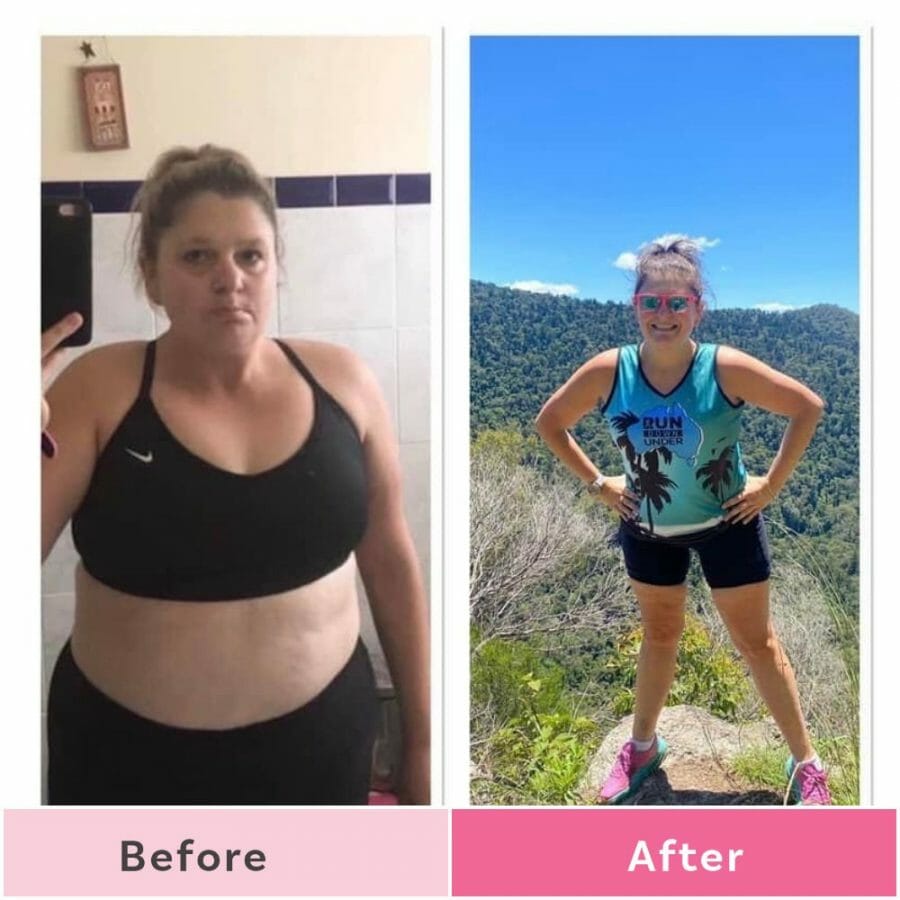 Brisbane-based Crystal has a blended family with five kids with Kylie. Incredibly, she lost 25kg through The Healthy Mummy's 28 Day Weight Loss Challenge.
"It's honestly one of the best things I've done for myself. With our wedding coming up, my goal for this challenge, is to keep losing centimetres and kilos to fit into the perfect dress," she says.
"Since losing weight, I have had so many benefits! I find I have so much more energy, and can be much more physically active. In October I completed a 50 km ultra marathon!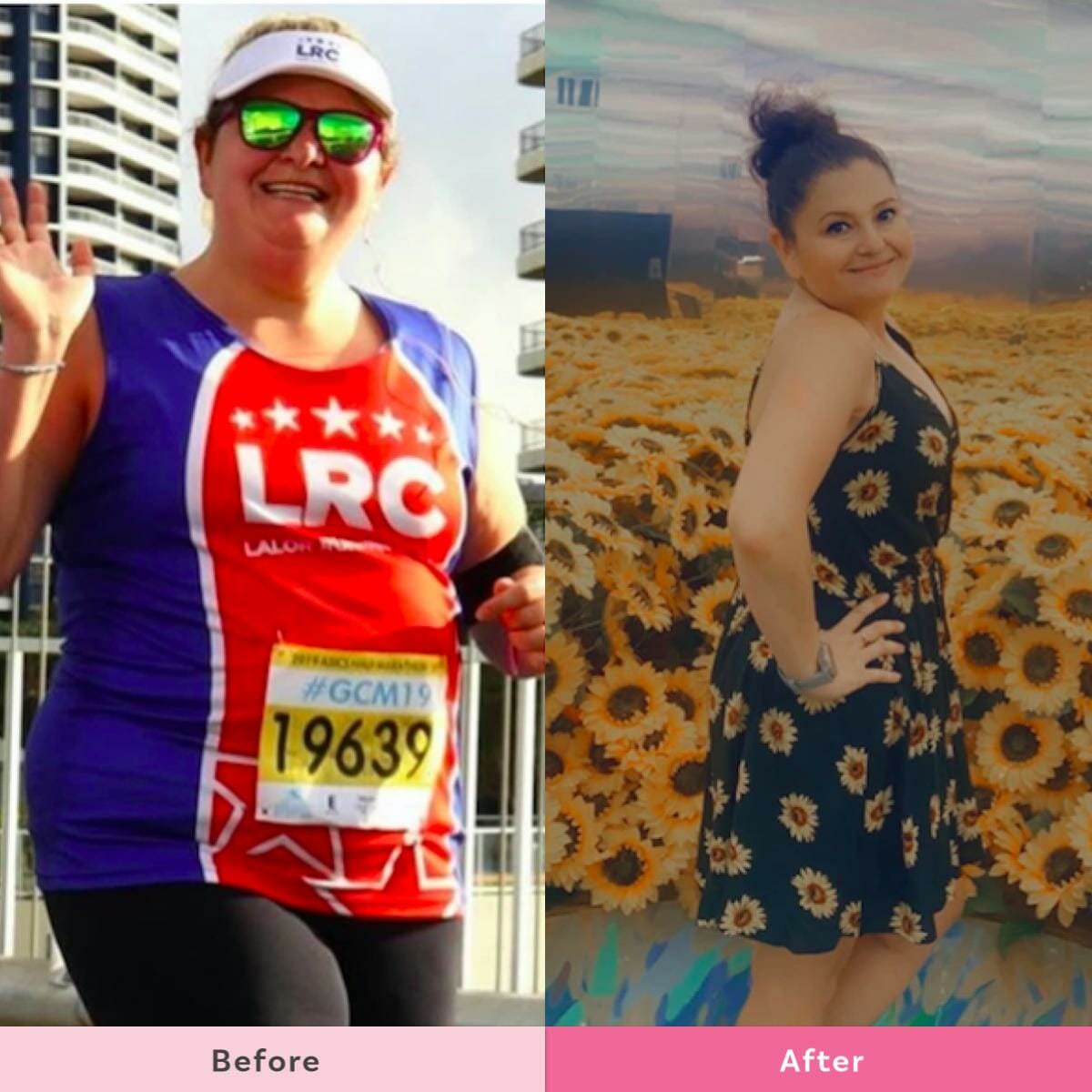 "I am doing Healthy Mummy as I love having a program to follow. It's been so easy to incorporate into my daily life, and my partner Kylie and I love the meals."
Her favourite is the Mexican One Pot Casserole, as it's "so quick and easy to make, tastes delicious and also freezes well."
You can find this recipe on The Healthy Mummy app recipe hub.
Crystal's top three tips for getting started are:
Write down some realistic goals for yourself
Take measurements and before pics!! Very important as you won't always see a change on the scale!
Join The Healthy Mummy Facebook community! It's so helpful and everyone's so friendly.
Kylie has lost 21kg through The Healthy Mummy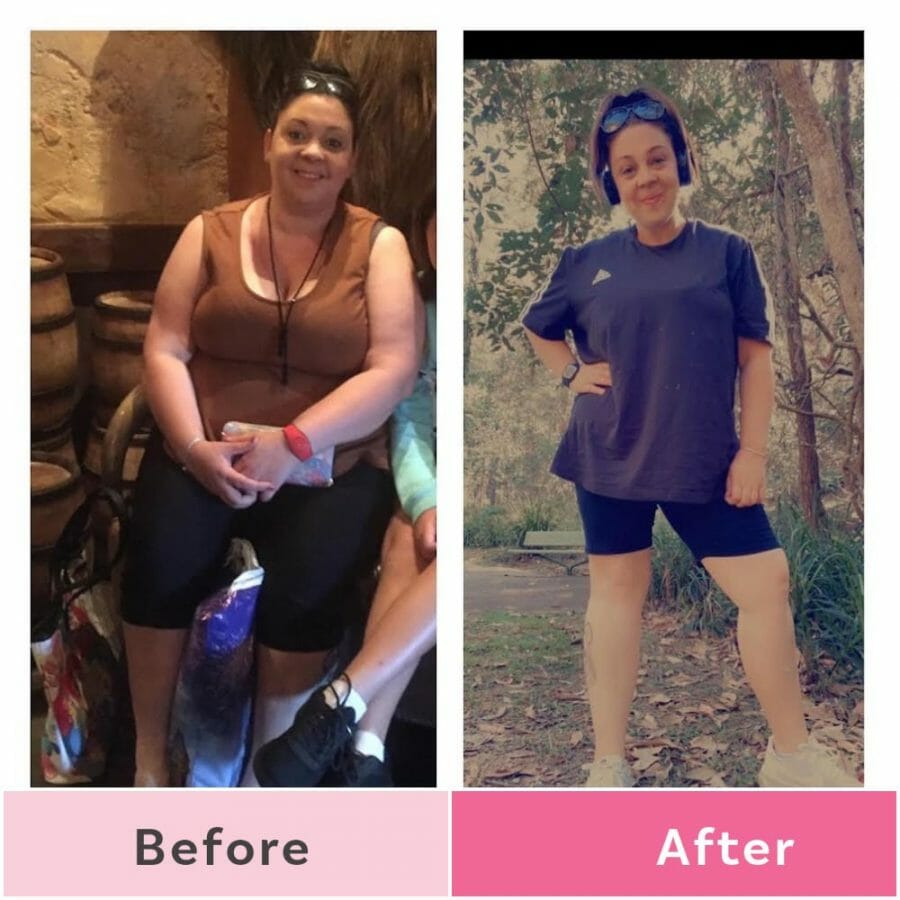 Kylie, who is also Brisbane-based has lost a total of 21kg through the The Healthy Mummy.
The 33-year-old mum, who has three kids of her own, says she began her journey after taking her kids to Disney world in 2019.
"A few months later I was looking at the pics from my sister's camera that were full body was just extremely depressing, I couldn't believe I had let myself get so heavy," she says.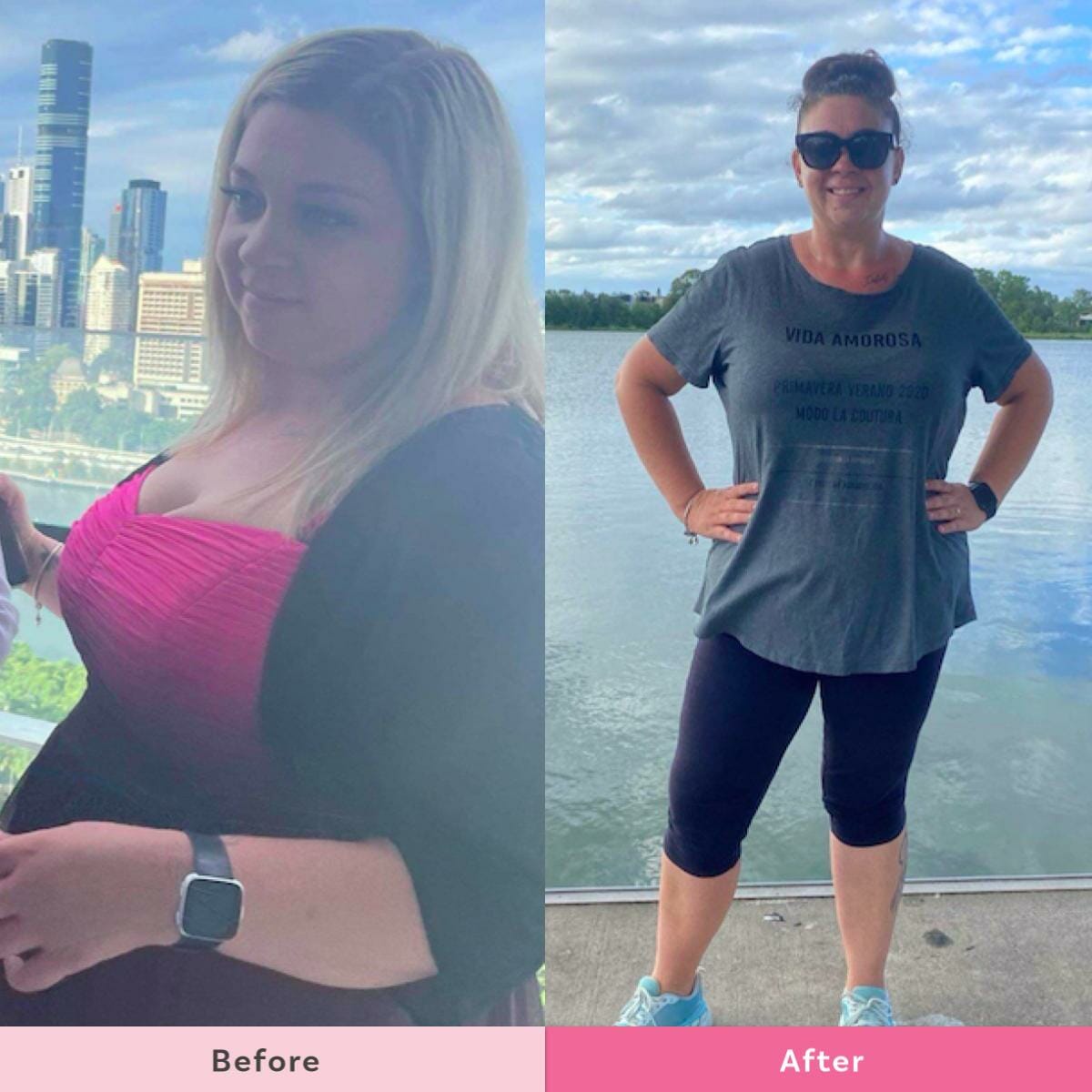 "Watching the posts and  recipes on The Healthy Mummy's Private Support Facebook Group inspired me. A year later I bought some of 
The Healthy Mummy smoothies.
"
Kylie says she has more energy and feels happier within herself.
Kylie's tips for success
It's okay to have a treat every now and then
I also weigh myself every few days to help me stay on track
Think about what your eating before you eat.
Don't give up when the results are not what you want, the weight gain didn't happen overnight so be kind to yourself when it takes time to come off.
"I just wanna thank my beautiful partner Crystal who cooks all the meals and encourages me every step of the way, we are on this journey together and I couldn't be more lucky to have someone as supporting as her."