Mum makes 89 servings of meals and snacks for just $91 – that works out at just over $1.02 per serving!
Listen up ladies, this clever mama has some AWESOME tips to help you MEAL PREP your way to successful weight loss.
Nikola Green has lost 17kg following the 28 Day Weight Loss Challenge and she swears by getting organised and prepping her food ahead of time.
This week she's customised the 28 Day Weight Loss Challenge Meal Plan and made enough food to simply heat up and eat, without fuss and dodge junk food temptation.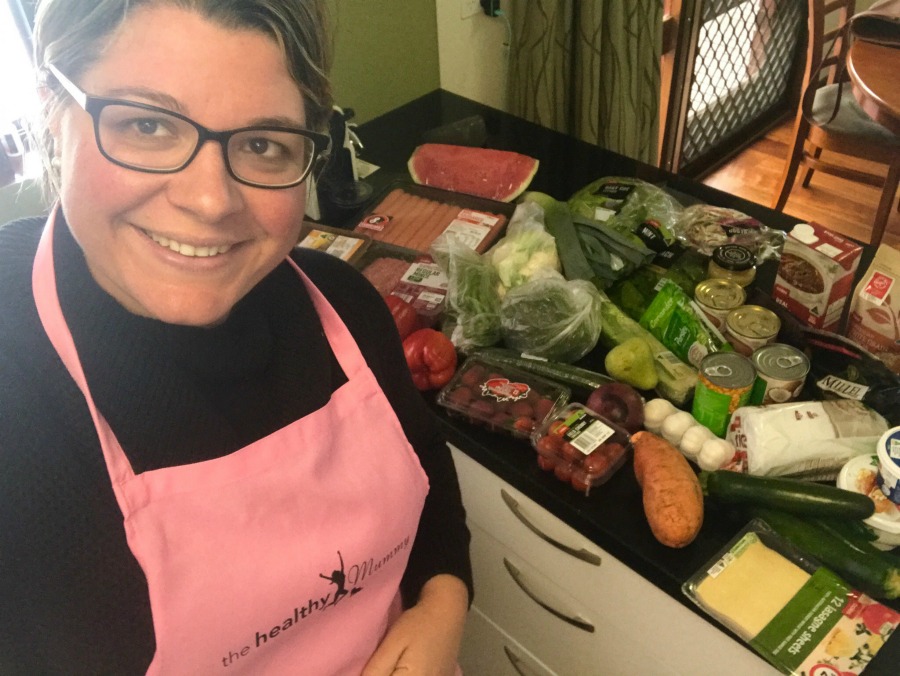 Mum makes 89 servings of meals and snacks for just $91 – that works out at just over $1.02 per serving!
Nikola says she is a HUGE fan of the 28 Day Weight Loss Challenge meal plans as "there is so much variety". Nikola adds, "The Challenge takes away the thinking of what to have for dinner and I love that I can fully customise the meal plan to suit my taste and budget."
The single mum-of-two reveals she has been meal prepping since she started following the 28 Day Weight Loss Challenge and considers herself a bit of a pro now.
Number one weight loss tip…MEAL PREP!
"Meal prepping would be my biggest tip to anyone starting out! You don't need to go crazy though and spend hours in the kitchen," she says.
"Start off simple and make it work for you. The first thing I do when meal planning is use the Challenge App to customise my meal plan. I take out things I don't want and swap for other things."
Nikola reveals the reason she does this is for either budget or taste.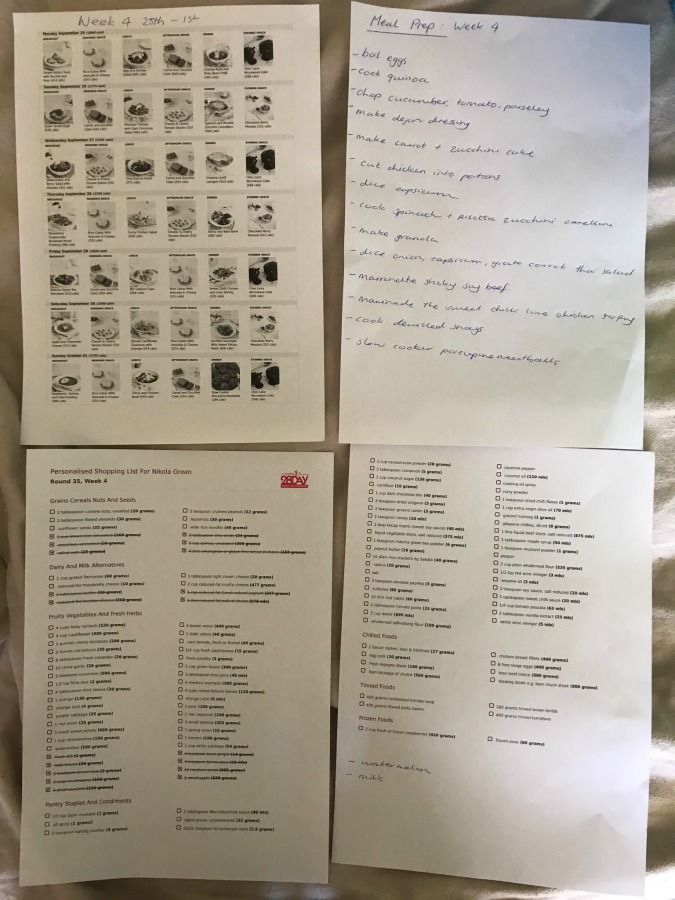 "I don't eat fish so I'll swap the fish dishes for another protein like chicken or swap the meal completely," she says.
"Once I've customised my meal plan, I print off an overview, so I know what I'm having for the week. Then I do my shopping list.
The power of shopping lists
"I love that the 28 Day Weight Loss Challenge meal plan provides me with a shopping list.
"All I need to do is tick the things I already have in the pantry / fridge and it automatically removes it from the list.
"It's so quick and easy, which is what our busy mums want," Adds Nikola. 
What Nikola made for $91
Choc Peanut Butter Icy Poles x 8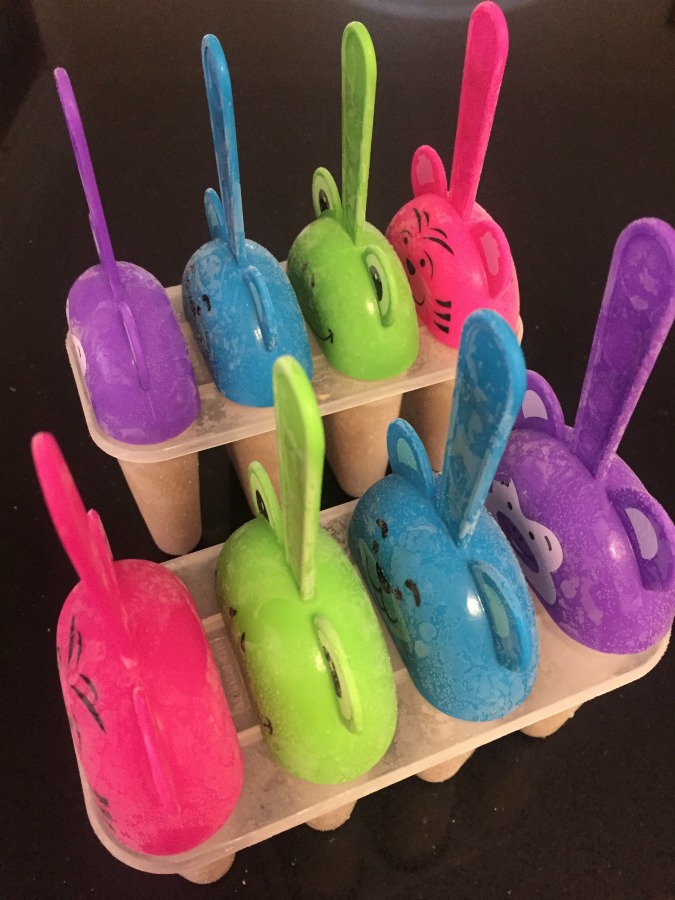 A delicious and simple icy pole recipe that is not only better for you than buying packaged icy poles but also kinder to your wallet.
This recipe works out at 113 calories per serve.
This recipe is available for Challenge members and can be found on the 28 Day Weight Loss Challenge.
Overnight Oats x 4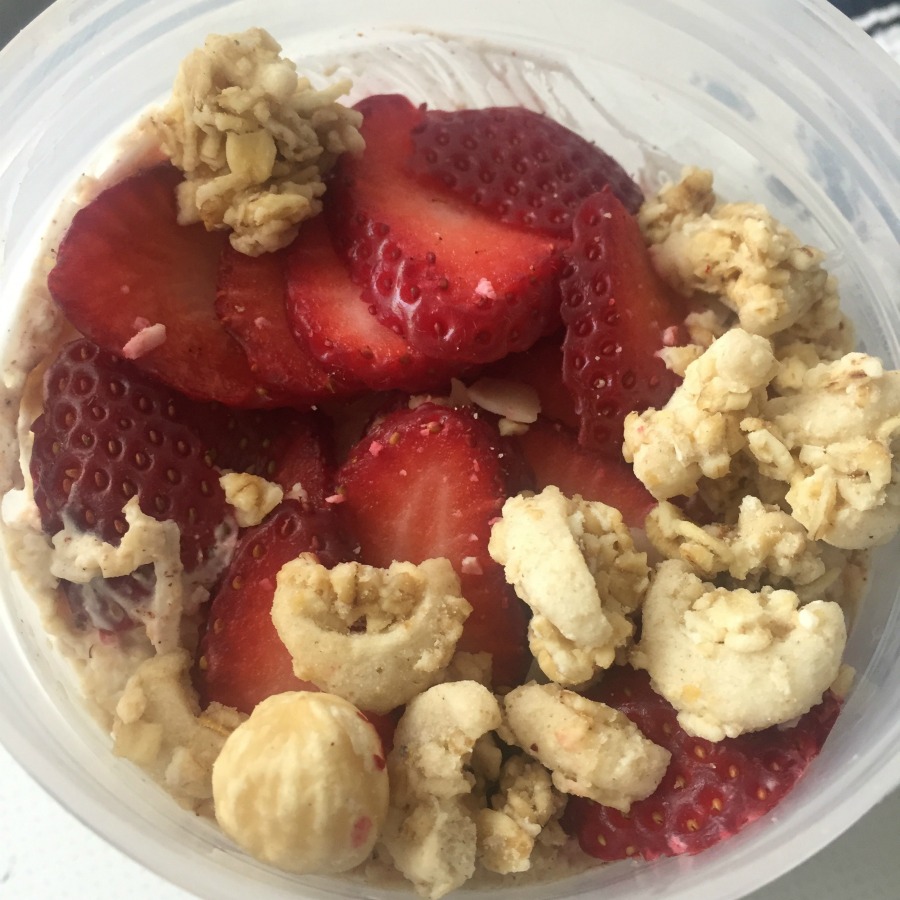 This healthy recipe is perfect for busy mums who don't have any time in the morning. By combining all the porridge ingredients into a bowl the night before, you are taking the hard work out of the morning dash. You can add any fruit you like to them too. Nikola has added strawberries.
This recipe works out at 325 calories per serve.
Check out the full recipe for the Overnight Oats here. 
Peanut Bubble Crunch x 24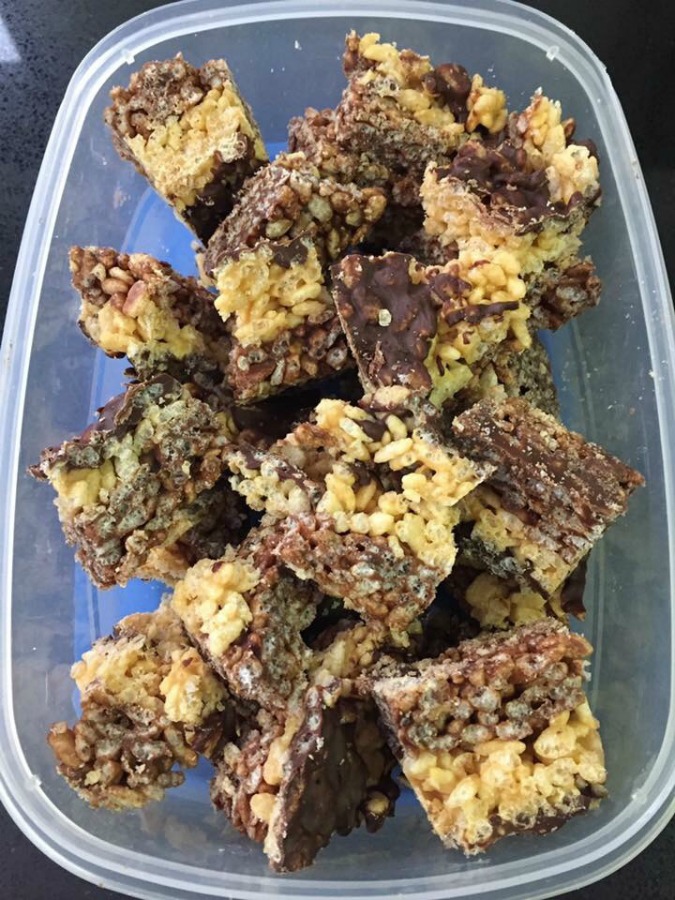 With rice bubbles, peanut butter and chocolate, both you and the kids will absolutely adore crunching this scrumptious slice which works well as an afternoon tea treat.
This recipe works out at 134 calories per serve.
For the full recipe, click here.
Sausages for Devilled Sausages x 6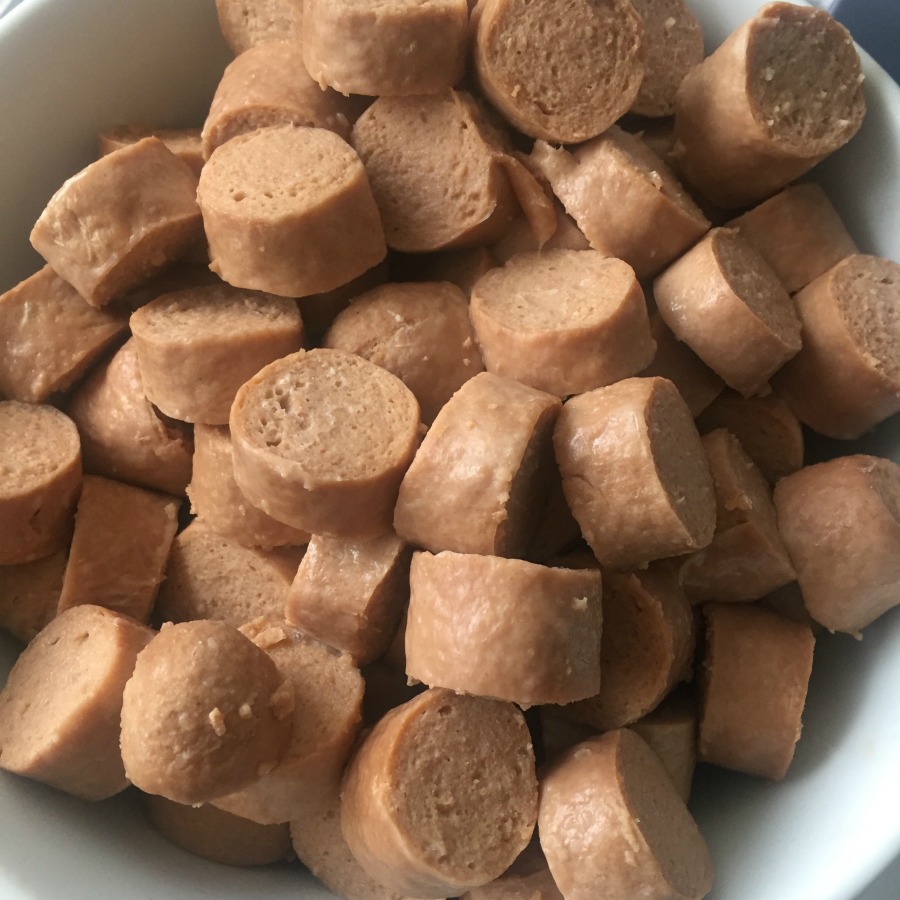 For a budget friendly meal that is easy to prepare and sure to please the whole family, try these devilled sausages with sweet potato mash.
The Devilled Sausages recipe is 408 calories per serve. You can also find this recipe on the Challenge  hub.
Carrot and Zucchini Muffins instead of cake x 12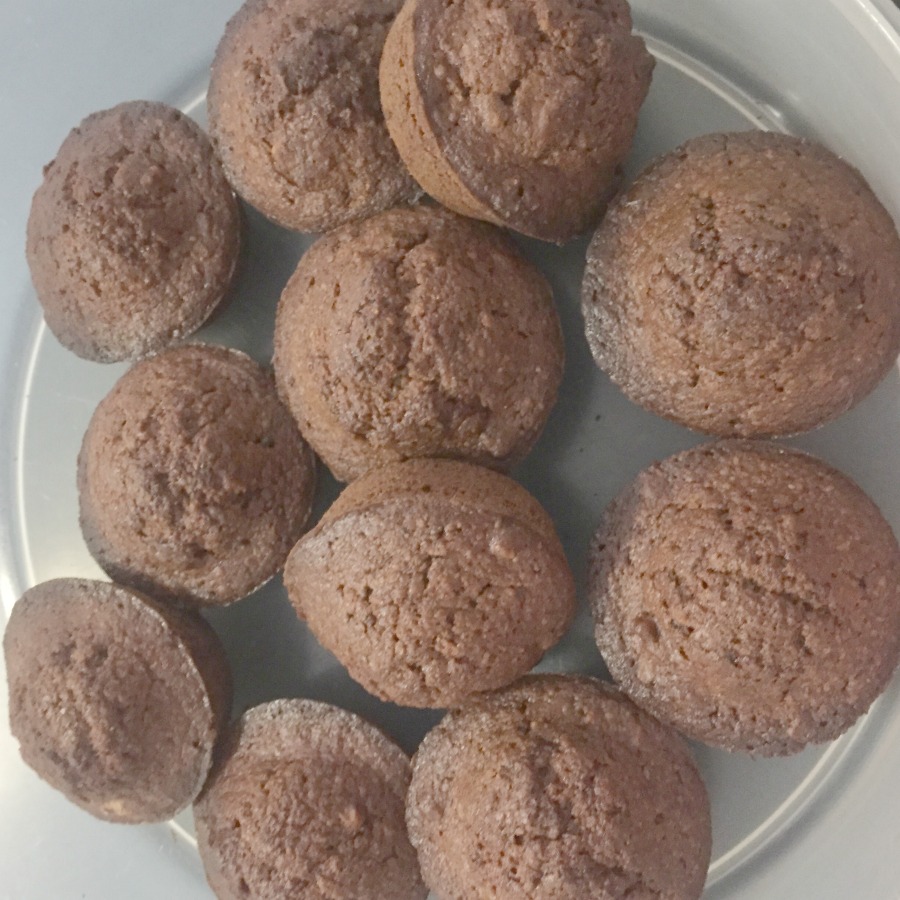 While it's still what you might call a 'sometimes' food, this cake is higher in fibre and lower in added sugar than most pre-made options. Instead of making it as a cake, Nikola often makes it as muffins instead.
These muffins are 203 calories per serve.
For the full Carrot and Zuchinni Muffin recipe click here.
Watermelon Sorbet x 2
Freeze the watermelon ahead of time for this sweet refreshing sorbet which is ideal for the warmer months.
Watermelon sorbet works out 132 calories per serve.You can find this recipe on the Challenge recipe hub.
Porcupine Meatballs x 6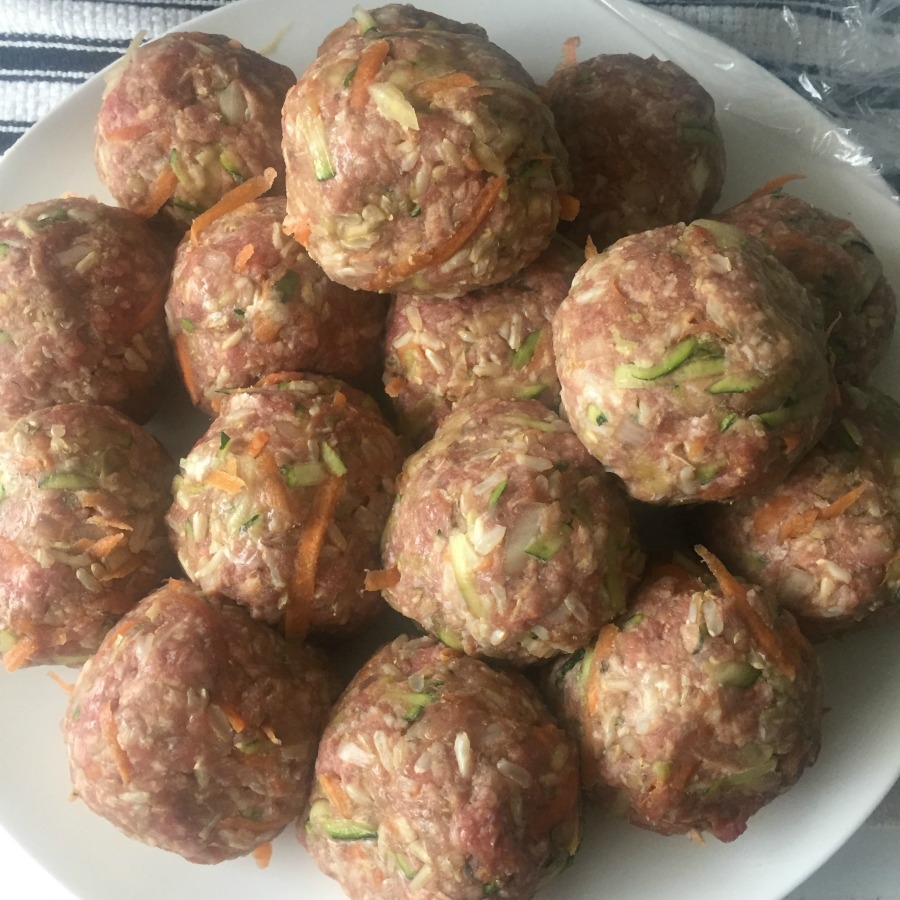 Slow cooked, delicious and full of hidden veggies. These healthy porcupine meatballs can be enjoyed on their own, with mash, pasta or even wholemeal bread to soak up the delicious sauce.
These work out at 225 calories per serve.
You can get the full recipe here.
Spicy Chicken and Corn Soup x 4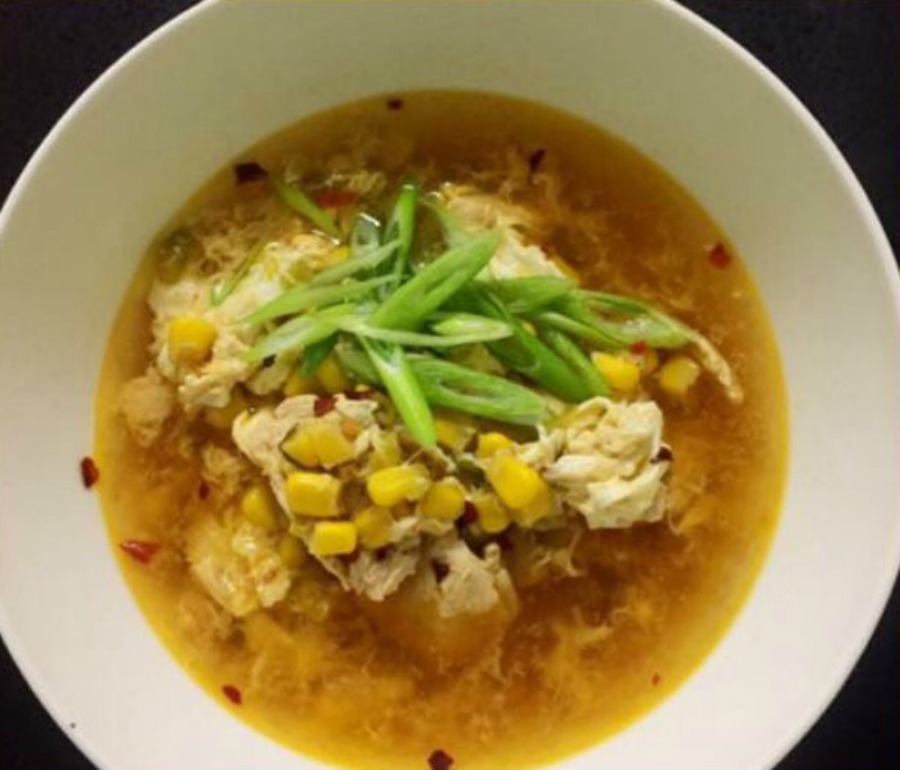 Chilli and ginger are thermogenic ingredients that create heat in the body and in turn boost your metabolism. This soup is easy to prepare and great if make in a large batch so you can store leftovers to enjoy another time. Adjust levels of chilli to suit your tastes.
This soup works out at 406 calories per serve.
You can find this recipe on the 28 Day Weight Loss Challenge recipe hub.
Mexican Chicken with Corn Couscous Salad x 1
A brightly coloured, spiced, Mexican inspired couscous salad. Get organised with meal prep and marinate the chicken ahead of time so it's ready when you are going to cook.
This salad is 463 calories per serve. You can also find this recipe on the 28 Day Weight Loss Challenge recipe hub.
Spinach and Ricotta Dip x 4
This dip is a perfect snack for dipping chopped veggies into when you're feeling peckish.
What Nikola also made to FREEZE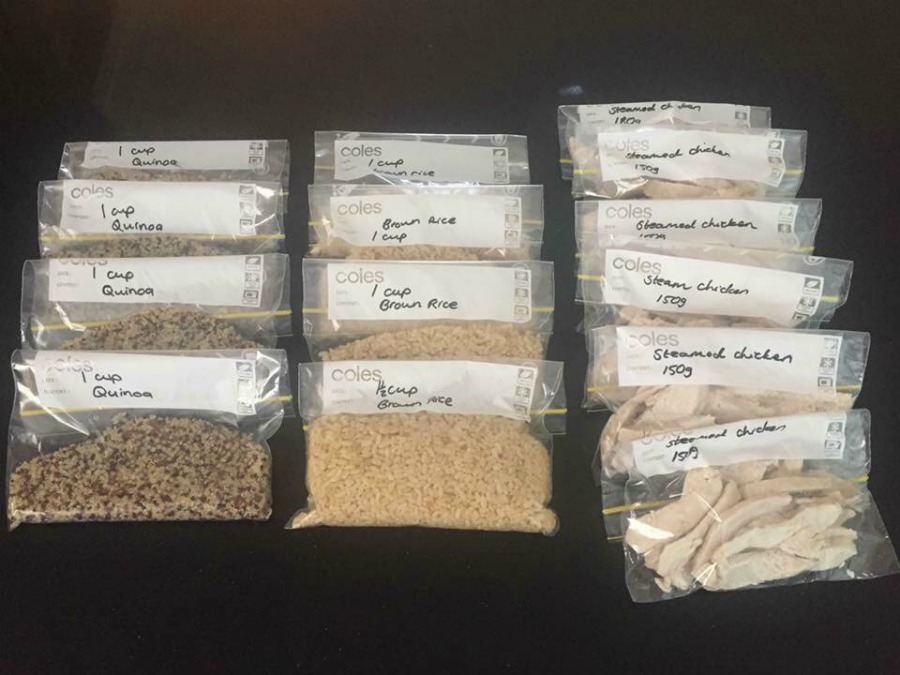 Quinoa bags x 4
Brown rice bags x 4
Steamed chicken x 2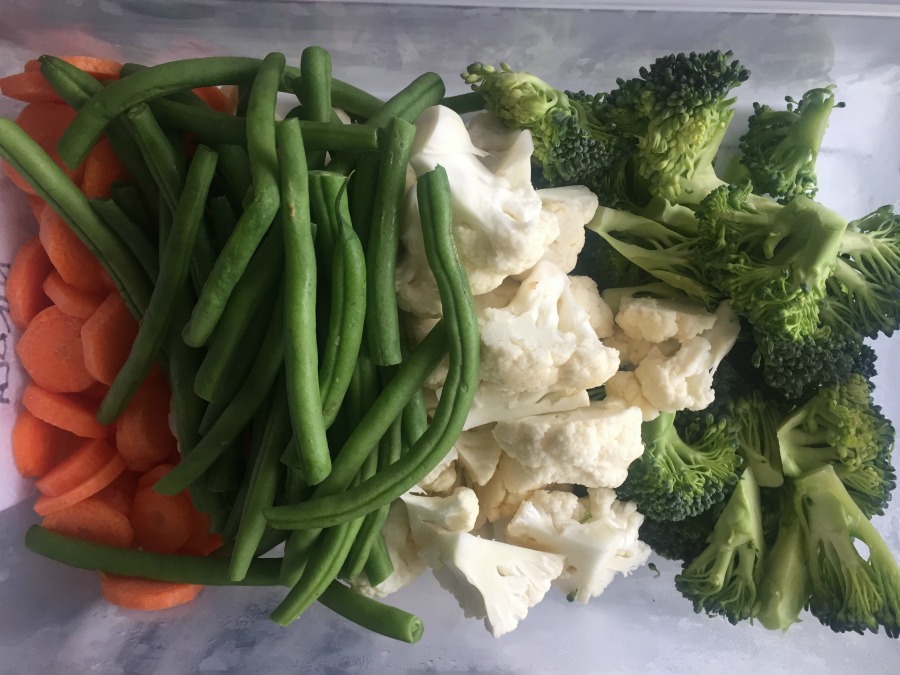 Veggies cut for dinners x 2
Boiled Eggs x 6
Nikola's top tips for mums who are starting to meal prep
1. Planning
Every 7 days I take time out, to sit down and menu plan for the coming week. I find trying to plan and meal prep – all at once – is too intimidating and time consuming. Breaking these two things up has been really helpful for me.
When I menu plan I figure out what the main meals and snacks for the week will be, the ingredients of those recipes, what I need to buy to make them (I generally have most ingredients at home already) and what day I will do the bulk of my prep.
I try to choose meals that use similar ingredients within my recipe plan to save on the costs of groceries as this means I can buy ingredients in bulk.
2. Make double dinners
Double the ingredients so you have two dinners, it helps save money and time. You could always freeze one meal for those busy times when you've not got anything to eat – it saves you ordering takeaway.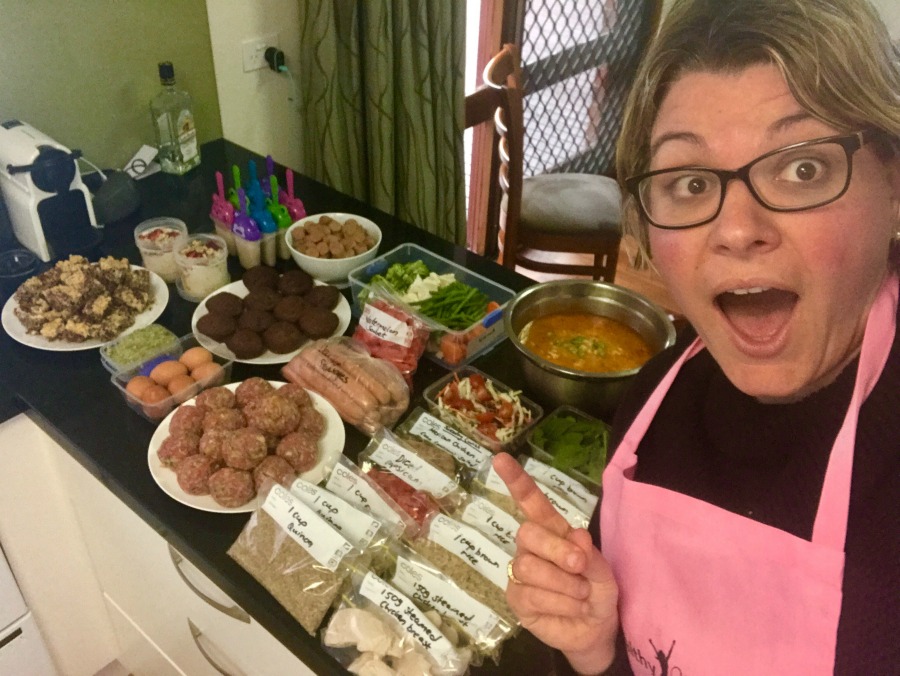 3. Make healthy snacks
I boil some eggs to keep on hand as a snack or I make muffins or bliss balls. You can freeze these and grab as you need.
4. Don't over complicate it
You don't have to do lots of baking, if you don't have time to bake snacks like muffins and slices you can keep your snacks simple and opt for things like dips, yoghurts, crackers with cheese and nuts. Make it work for you.
5. Prep things you know you'll eat often
I always prep brown rice, quinoa and steamed chicken breasts, as I eat them a lot and they can be frozen and pulled out to add to any meal I make.  I freeze a lot of my snacks too as I find after 2-3 days many just aren't as fresh as I'd like them to be.
Things like muffins and cakes I freeze in snack sized snap lock bags. I also freeze things like bliss balls so they are always ready to go when you just want a quick snack to grab.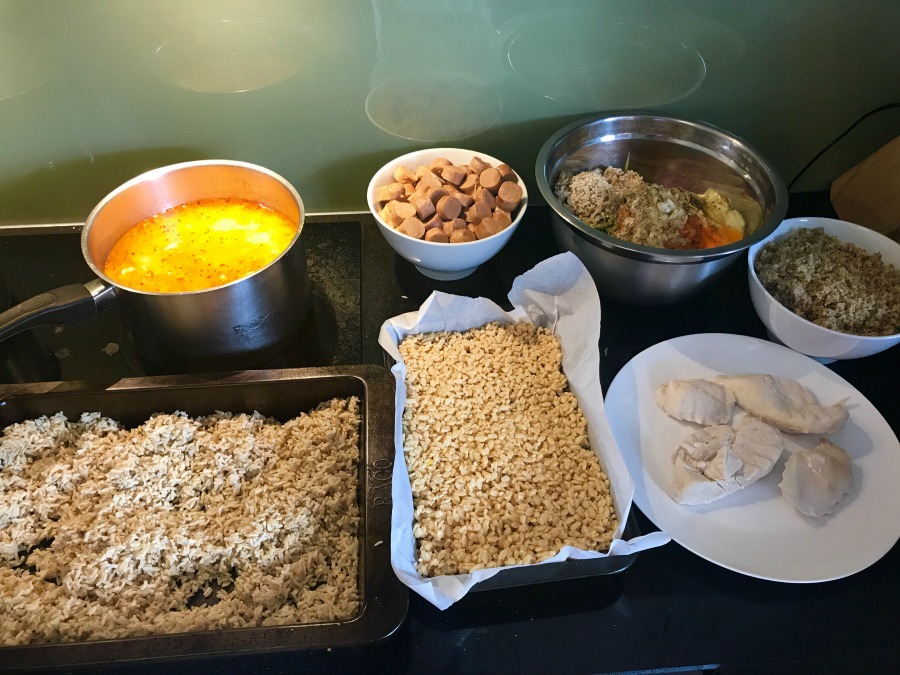 6. I try to make kitchen mess minimal
I'll used the electric wok to cook my recent meal prep. One meal after the other.
Doing this saves on washing up and saves on space by not cluttering the bench with pots and pans everywhere. I just gave the wok a quick wipe out after each finished dish and then started the next meal.
If I'm baking I make all the mixtures at once and have them poured in tins ready to pop in the oven rather than waiting for one to cook then starting another cake. Rinsing dishes and cleaning as I go also makes prepping easier, faster and less chaotic in the kitchen.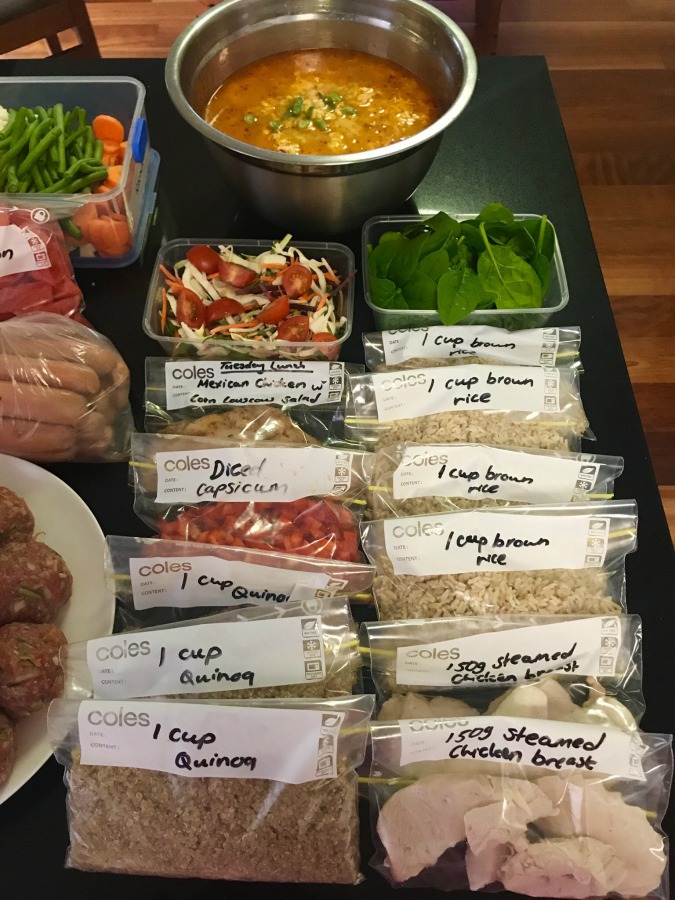 7. It's all about portion control
I use plastic take away containers to store meals in for the freezer as they stack well and are good to put straight in the microwave for re-heating.
I also use the snap lock bags for portioning; the snack size bags are perfect for putting in 2 bliss balls, 1 muffin, a slice of cake etc. By having snacks portioned and frozen in this way, it also stops me from having that sneaky "extra muffin".
Because most of the time I'm only cooking some meals for myself I find portioning them up before I eat is the best way to stop myself having a larger than normal portion or a second helping.
Fantastic tips, Nikola! Thank you so much for these.
Check out Nikola's incredible 17kg* transformation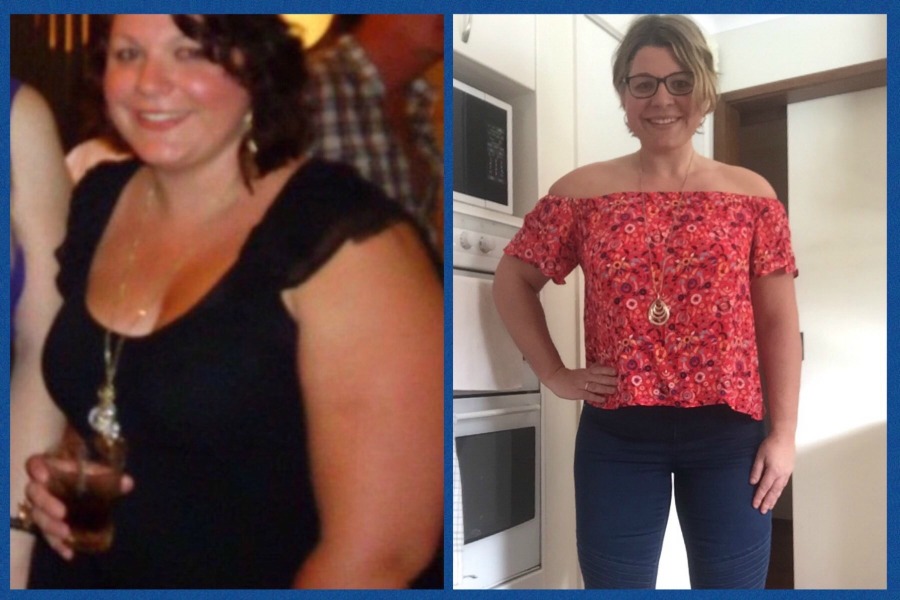 Nikola has lost 17kgs* using the Healthy Mummy's 28 Day Weight Loss Challenges and drinking the Smoothies.
"I'm a single mum to 4 year old twins and they are a huge support of mine and one of my biggest motivators," says Nikola.
"I'm changing my lifestyle for myself, but also so that I can be a better mum to them. I want to join in with them, not sit on the sidelines and watch."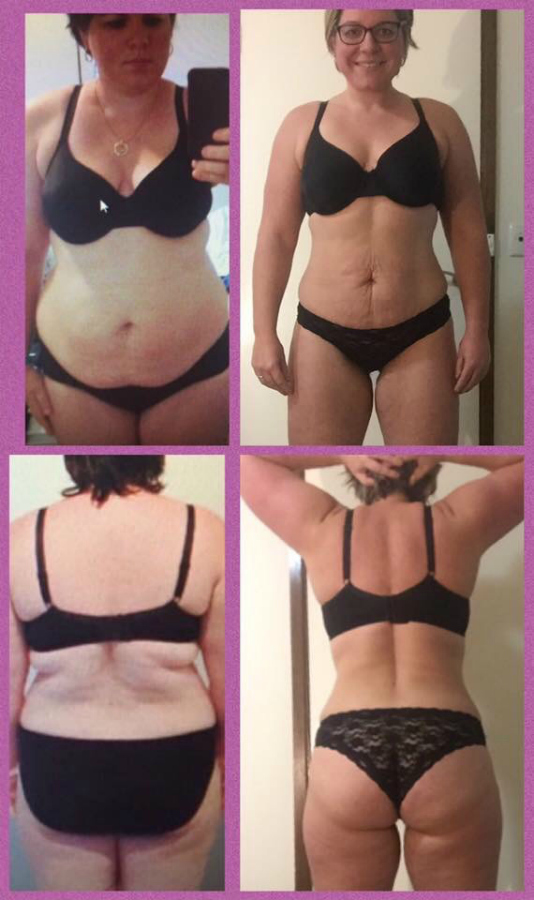 "I lost 4kgs* during my very first time on the 28 Day Weight Loss Challenge and was shocked (and delighted)! I was eating yummy food that you wouldn't expect to be healthy (because it tasted so good!) and I was dropping weight," says Nikola.
"I especially loved how easy the recipes were to follow, that my weekly menu was planned, my shopping list provided and all I had to do was shop and cook."
Meal plan like a pro with the 28 Day Weight Loss Challenge!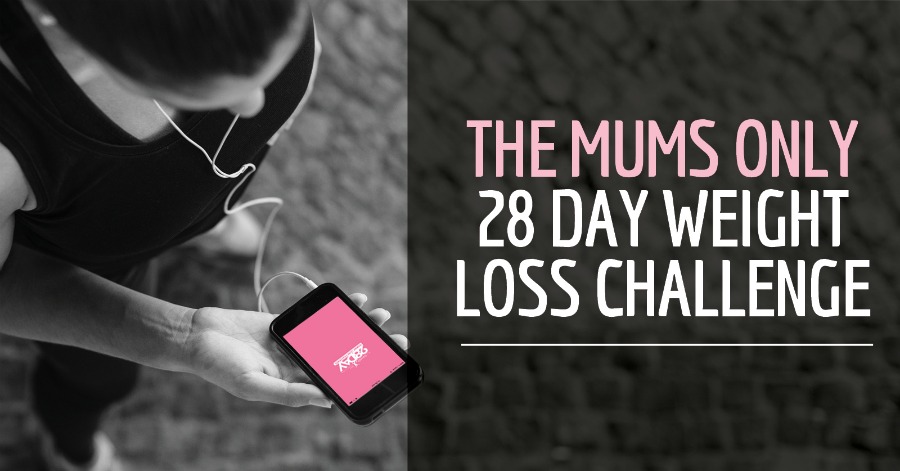 Are you ready to take your meal planning to the next level? Eager to tackle your eating plan and fitness regime? Then join our 28 Day Weight Loss Challenge. 
We have helped our community of mums lose more than 2 million kilograms – how incredible is that?
The 28 Day Weight Loss Challenge is HOME to thousands of recipes, hundreds of fat-burning exercises and 24/7 support to help busy, tired mums shift the baby weight.
For more information about our Challenge click here.
So what are you waiting for?