'I am comfortable in my body again and it is the BEST feeling!' Mum lost over 9 kilos and is back in her favourite jeans!!
Mum Kate was determined to wear her favourite jeans, and in 5 months lost over 9 kilos and is now wearing the jeans with pride!
When Mum of 2 Kate Kernan was faced with the dilemma of either throwing out her favourite jeans that were too small, or doing something about her health and weight, she opted to get on top of her weight loss goals!
Kate was determined to see herself wearing those jeans, and so with the Healthy Mummy App  in hand, she has smashed her goals, losing over 9 kilos and now wearing the jeans with pride!
"I feel SO good! I am no longer ashamed to look at myself in the mirror"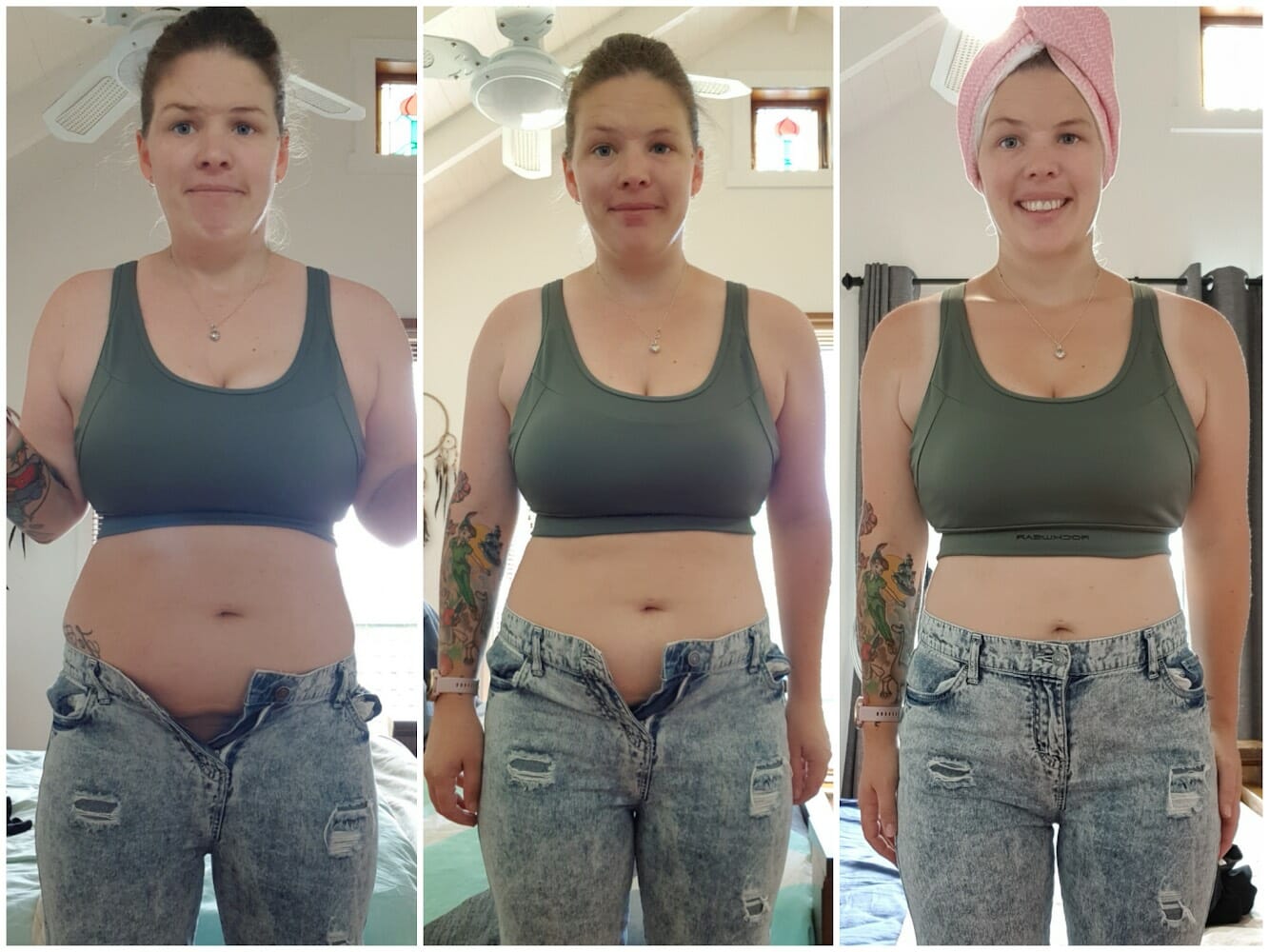 About Kate
Kate Kernan is 28 years old, lives in Legana Tasmania and is mum to two children.
Last year, Kate was upset at having to give in and start buying larger clothes as the bigger clothes in her wardrobe were getting tight!
Kate shares "I also really disliked stepping out of the shower and seeing myself in the mirror, I was embarrassed by the way I had let myself go and let those silly excuses take over, I didn't even like my Husband seeing me without clothes on."
Kate also found a few items of clothing that she had bought without trying them on. When she discovered once she got home that they were actually too small, she packed them away hoping that one day she'd fit into them.
"I was going through my cupboard and thought do I throw them out? But instead I told myself enough was enough, I took pictures of myself in them, as far as I could get them up.. and told myself no, I have to try my best, I want to see myself in these! So I made this a goal."
Fast forward 5 months and by following the 28 Day Weight Loss Challenge and using the Healthy Mummy App, as well as using the Healthy Mummy Smoothies, Kate has absolutely smashed that goal! She's down 9.2kgs and has lost 39.5 cm from her body.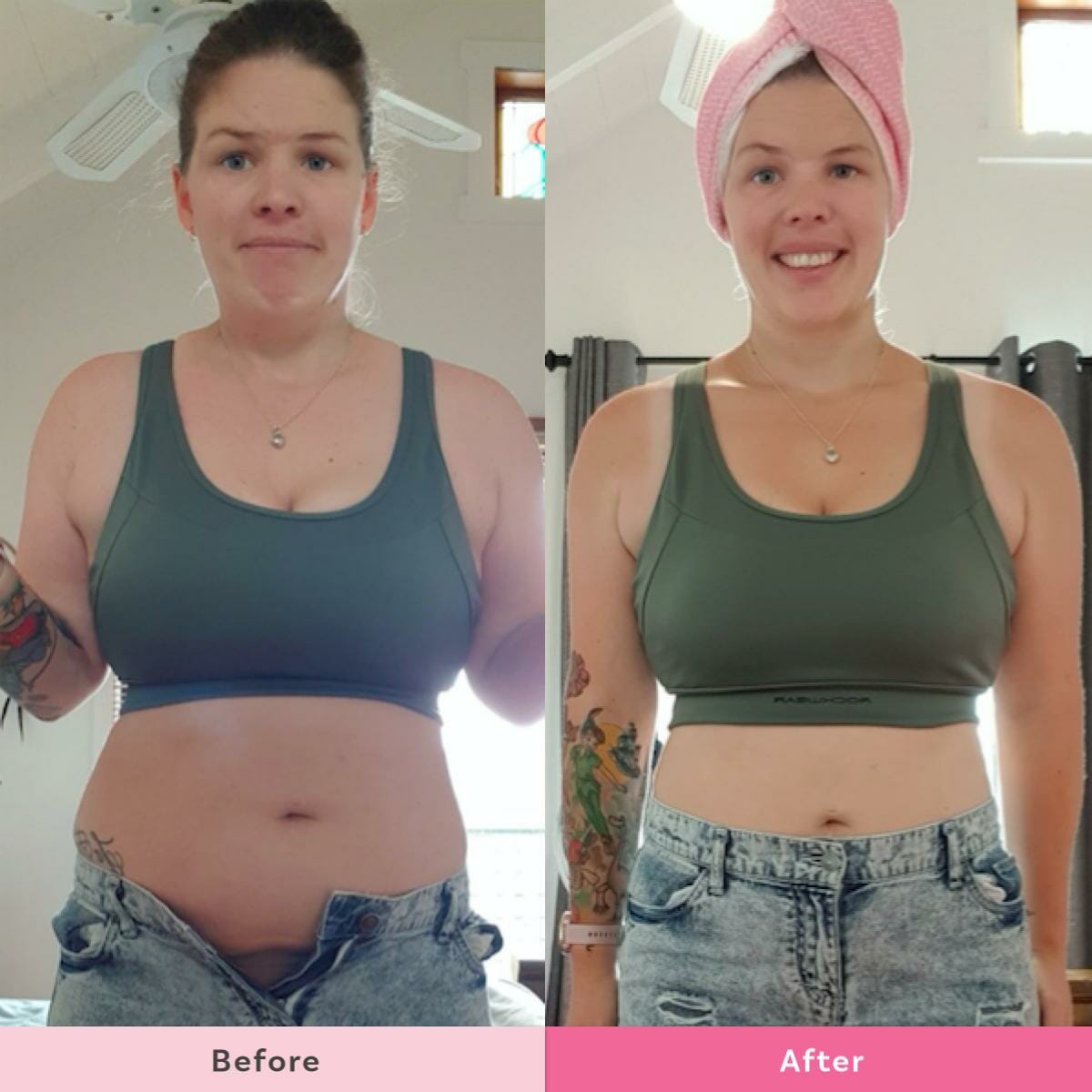 "Is there a better feeling than trying on jeans that have never fit and have them pull right up? I do not think so!"
"I feel SO good! I am no longer ashamed to look at myself in the mirror, I am really liking what I see and I don't have to stress about what I am going to wear each day. I am comfortable in my body again and it is the BEST feeling!"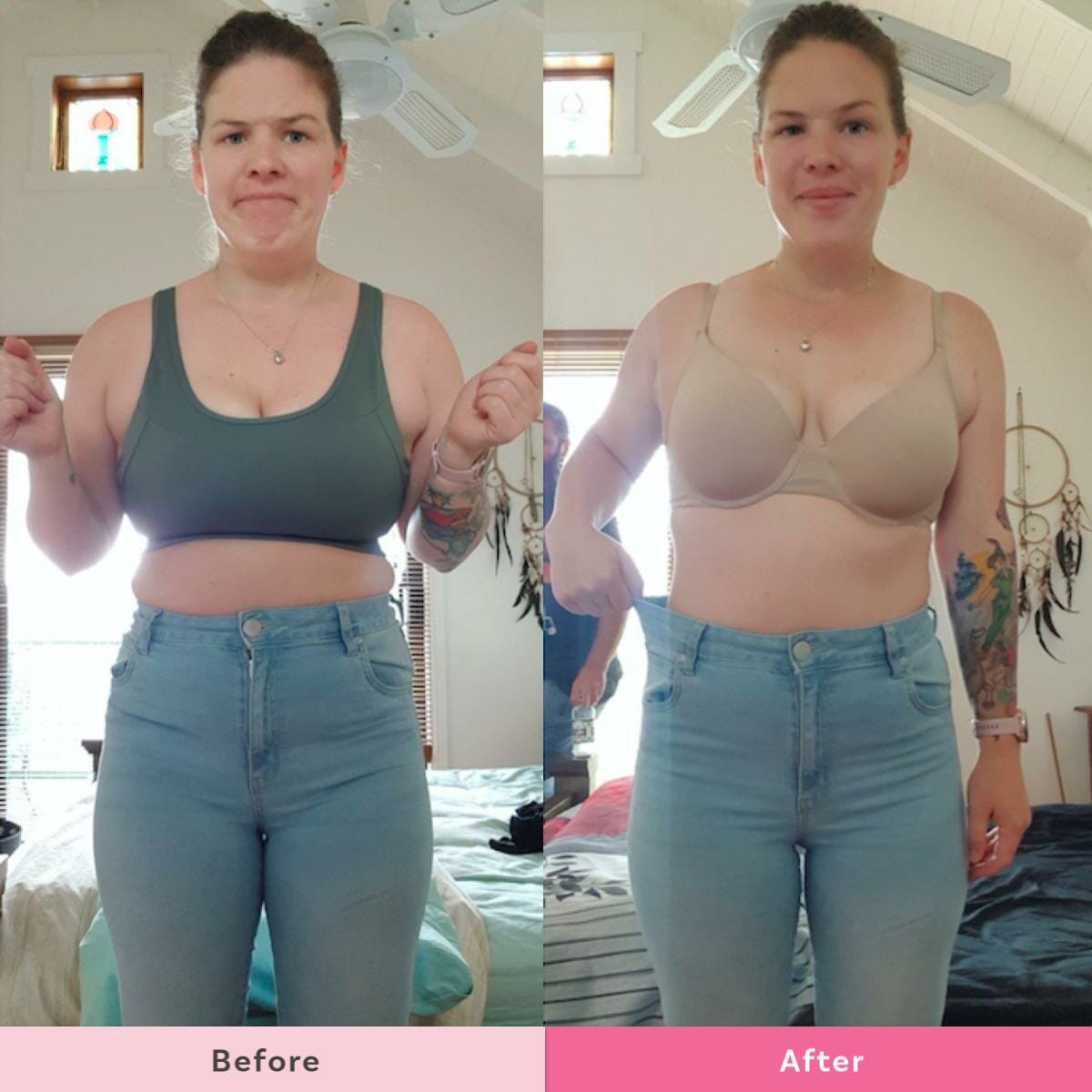 What's more, Kate is enjoying some of the other health benefits that can come with weight loss.
"I was getting sooo bloated at night time, every single night my stomach would blow up like a balloon, I would be in so much pain! Since utilising the app, tracking my food and actually caring about what I am putting into my body this has ceased! No more bloating!
My skin has been a lot better too, I have Psoriatic Arthritis so often have dry patches of skin, usually on my face/scalp/legs, this hasn't been the case over the past few months."
Kate has incorporated the Healthy Mummy Smoothies into her weight loss and now maintenance routine having one everyday for breakfast.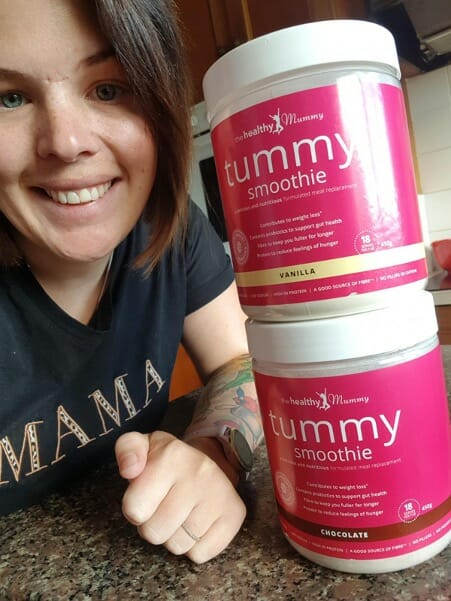 "My current favourite is the Biscoff Smoothie, in the Healthy Mummy App  – YUM!"
Kate also uses some other key Healthy Mummy products that have helped her lose weight. She uses:
She is also a BIG FAN of the Healthy Mummy's Skin Range.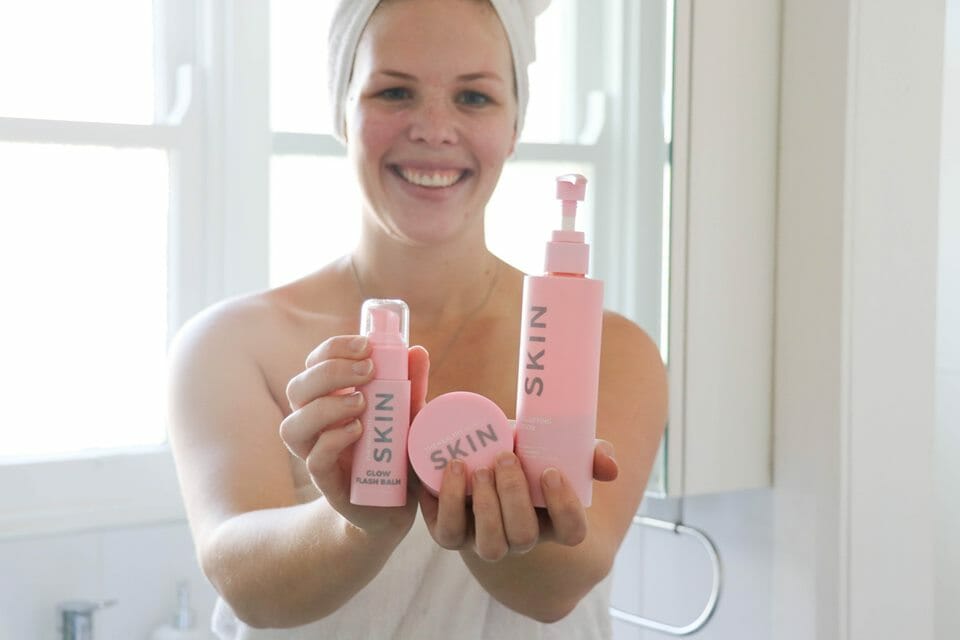 Kate has also found that by upping her exercise had been really good for her mental health.
"I find that doing regular App workouts is incredible for my mental health, I feel fantastic afterwards and it really keeps me going. I have noticed my fitness is improving too!"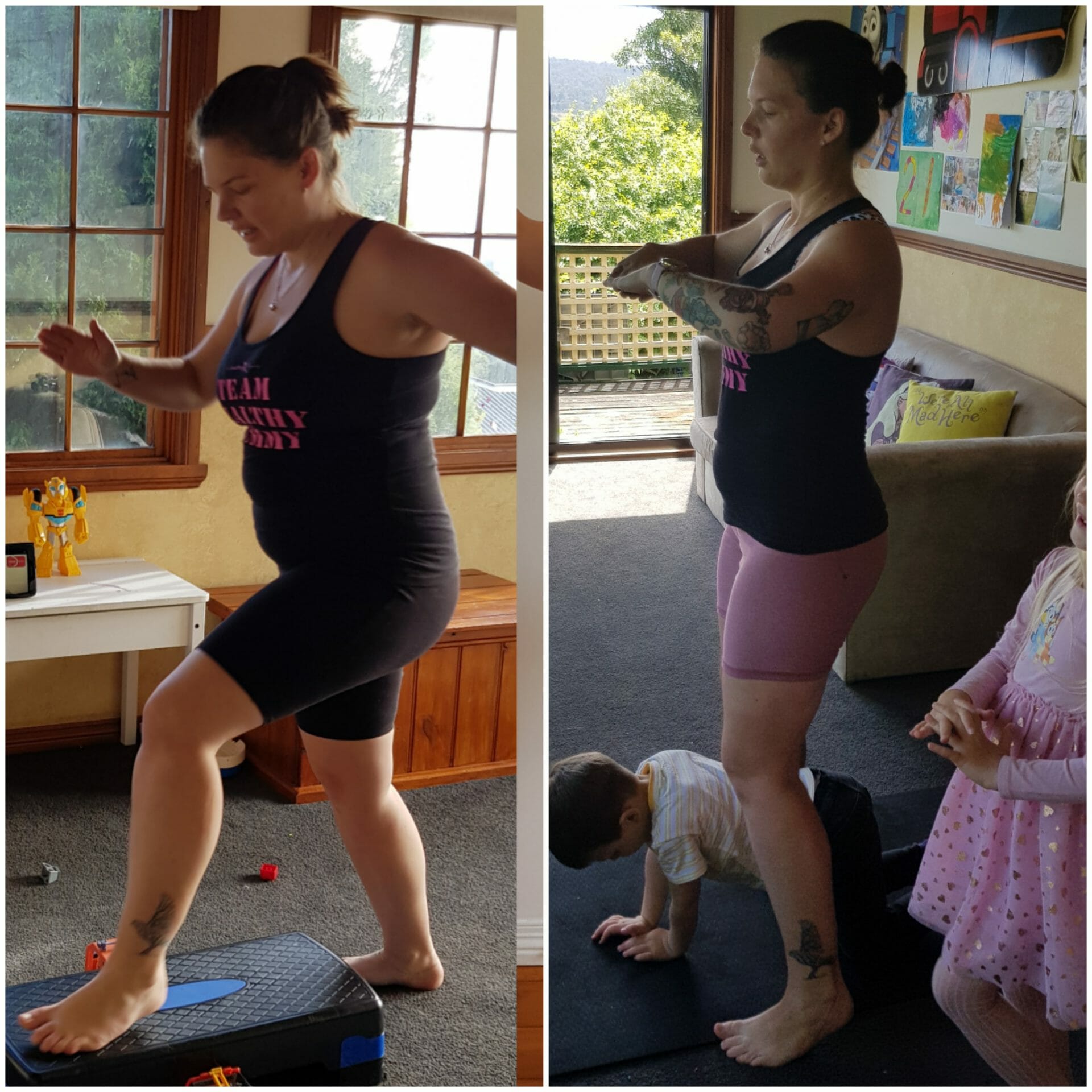 Since losing the weight, and getting back into her favourite clothes, Kate is feeling AMAZING!
"I am actually proud of myself and can't believe I found the determination to smash my goals!!"
Kate's Day on a Plate
"I love SIMPLE! You'll often see me repeating snacks and lunches."
I have a Healthy Mummy Smoothie for breakfast, I've been loving the Salted Caramel Smoothie lately.
Boiled eggs for my morning snack.
Pesto Spinach & Ricotta Rolls/Rice Cakes with cheese/Bacon, Corn & Cheese Loaf for lunch.
A Choc Peanut Snack Bar for my afternoon snack.
Simple Beef Pies with Mushy peas/Easy Fried Rice/Roast Pumpkin & Feta Gnocchi.
Kate's Favourite Healthy Mummy Snacks.
Caramilk Rocky Road
Pretzels with dipping Sauce
Puff Pizza Bites
Chocolate Butter Cookies
Peanut butter Rice Cups
Favourite Lunches
Pesto, Spinach Ricotta rolls, so simple to make a bulk lot and freeze.
Pumpkin & Sweet potato soup.
Rice Cakes with Cheese.
Bacon, Corn & Cheese Loaf.
Bacon, chili & cheese scrolls (without chili!)
Favourite Dinners
Simple Beef Pies with Mushy peas
Easy Fried Rice
Beef with Oyster Sauce
Roast Pumpkin & Feta Gnocchi
Burnt Butter Gnocchi with Roast Pumpkin
Beef & Vegetable Stir Fry
Kate's Favourite Workouts in the Healthy Mummy App
Kate enjoys doing the at home workouts from the App, and regularly involves her kids too!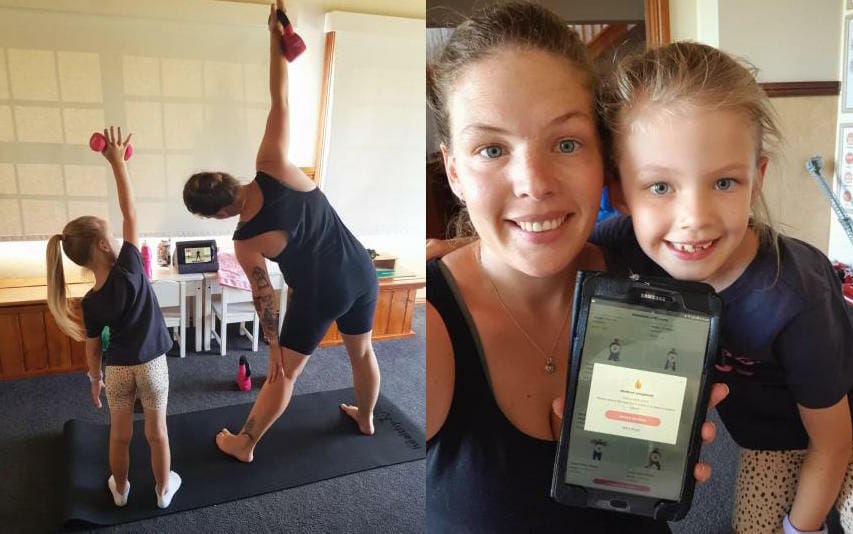 "I really enjoy the Take 10 workouts and I LOVE the step workouts and Boxing!! The Take 10 Hand Weights with Laura are AMAZING . I'm loving the new Afterburn with Jade and Kettlebells with Laura!"
Find out more the Afterburn workouts here!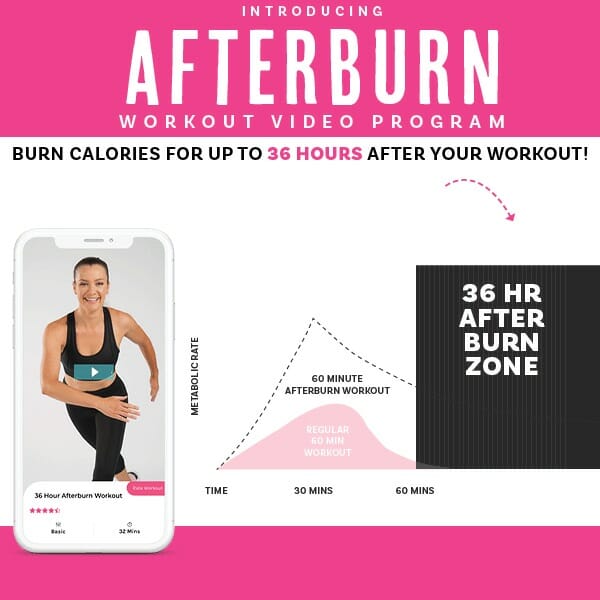 Know your goals and make a plan to to achieve them!
Kate has some great advice for any other mums wanting to take control of there weight.
"Don't overthink it and reach out if you need help!
It can be super daunting starting out, not knowing where to start and feeling like you may fail yet again BUT you have so many tools and resources available. The Healthy Mummy Support groups are fantastic for support and assistance, there is always someone there to help, whether it be an Admin or Community member.
The Healthy Mummy App has so many incredible features, which means it can take a little while to understand and get used to, but that will come in time.
Know your goals and make a plan to to achieve them!
Remember, EVERY healthy and active choice is a huge step forward. Some days you may feel like you're doing a terrible job BUT feeling like this means you are changing, also one not so great day won't ruin all of your other great choices throughout the week. Keep trying and pushing yourself daily and you will get there!!"
Kate's Four Top Tips tips for success
1. Set realistic goals.
Try not to use numbers, you'll soon give up if you're not seeing what you want to see.
Things such as reaching your Target Calories daily, moving your body for a certain amount of time per week, cooking a healthy meal once per day.
2. My biggest tip, PUSH YOURSELF!
This is the one thing you NEED to do.
You won't feel like it to begin with (obviously), however the more you push yourself, the easier it will get over time. If you don't tell yourself to do these things, you won't see changes. If you have a spare half an hour & you're sitting on the couch, get up and do a 10 minute App workout. EVERY healthy, active choice is a huge step forward.
3. Push the excuses aside.
Often we use "too tired/i'm on medication/i've got an injury/I don't have time" and so on..
As much as you don't want to believe it, these are excuses and you won't see progress until you stop using them OR work around them. I used the medication card for much too long, having Psoriatic Arthritis & severe anxiety, taking daily medication & weekly injections, one day I told myself "nothing will change , if I change nothing" and here I am smashing goals while still on the same medications.
4.  Make it work for YOU & your family.
The Healthy Mummy App is a tool, use it to help you. Customise your meal plans, ask your family what they want to eat and find similar recipes, adjust recipes to suit. Repeat snacks to make daily life easier, switch in smoothies for breakfast if mornings are tough. Make the App work for YOU!