These mums share their amazing transformations and advice to help motivate other mums!
One of the things we love to hear in The Healthy Mummy Community is how one mum's success has motivated another mum to keep going in her health and weight loss journey.
One of the things we love to hear in The Healthy Mummy Community is how one mum's success has motivated another mum to keep going in her health and weight loss journey.
These six mums have seen amazing success and want to share with others how they did it, what keeps them motivated and tips for other mums.
Read their stories below…
Mums share their successes and how they stay motivated in the hopes to motivate others
Tarryn Hensler – 22kgs – "I'm excited every day to make and reach new goals"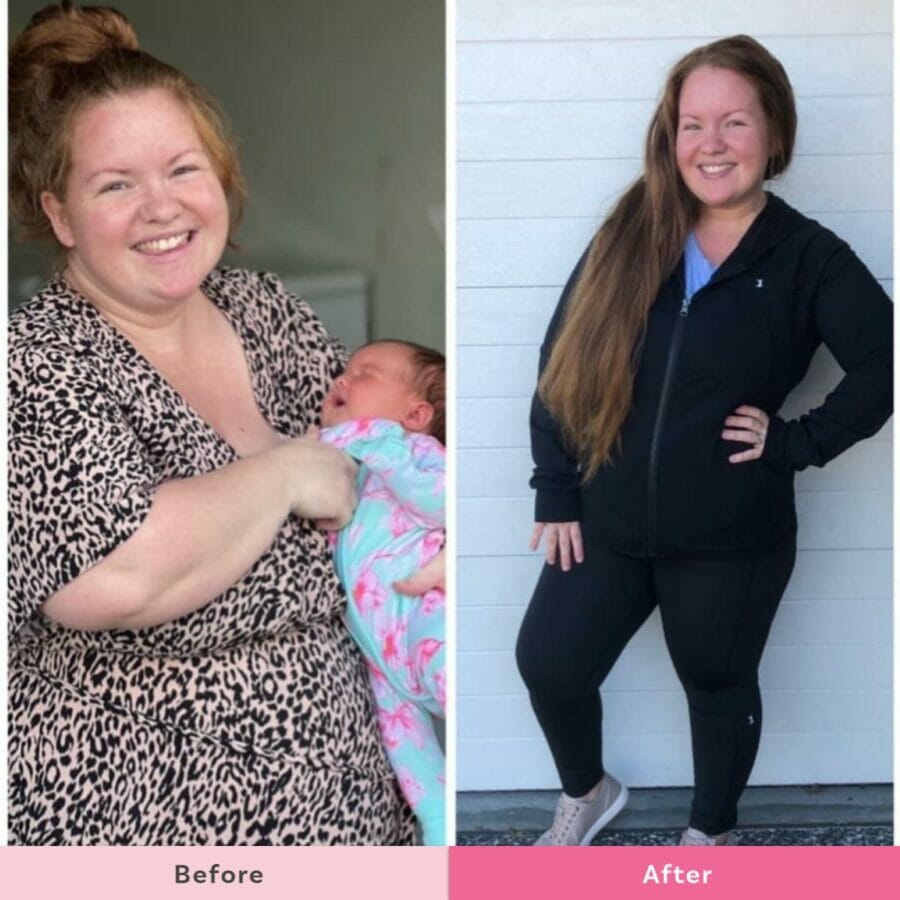 Tarryn is a mum of six from QLD who homeschools her kids and joined the Healthy Mummy after the birth of her sixth baby in February 2022 and has lost 22 kg and found new confidence, energy and motivation.
"I'm a homeschooling Mumma to 6 from QLD. I began my Healthy Mummy journey after the birth of my 6th baby in early February 2022. I was heavy, exhausted, unmotivated and sad! Since February, I have lost a total of 22 kilos and countless cms with The Healthy Mummy app, Healthy Mummy Smoothies and Healthy Mummy workouts, and I'm so glad I took the chance on myself."
"I feel like I now have all the tools to continue on my journey and reach more of my health goals. Since beginning my journey, I feel like I have so much more energy and motivation and even the sadness I once felt is gone!"
She's now so excited about what she can do in the future and what the future holds. She's also not the only one who's benefited from her lifestyle changes, her husband and kids have too.
"I'm excited every day to make and reach new goals and see the changes in my body and mind! My husband and children have benefited from this journey too, and feel like they've got a better version of me now, which is absolutely priceless! I'm excited to see where this journey takes me."
Randa Jaide – 35kgs – "I had no focus on the scales; I just wanted to be fit and healthy"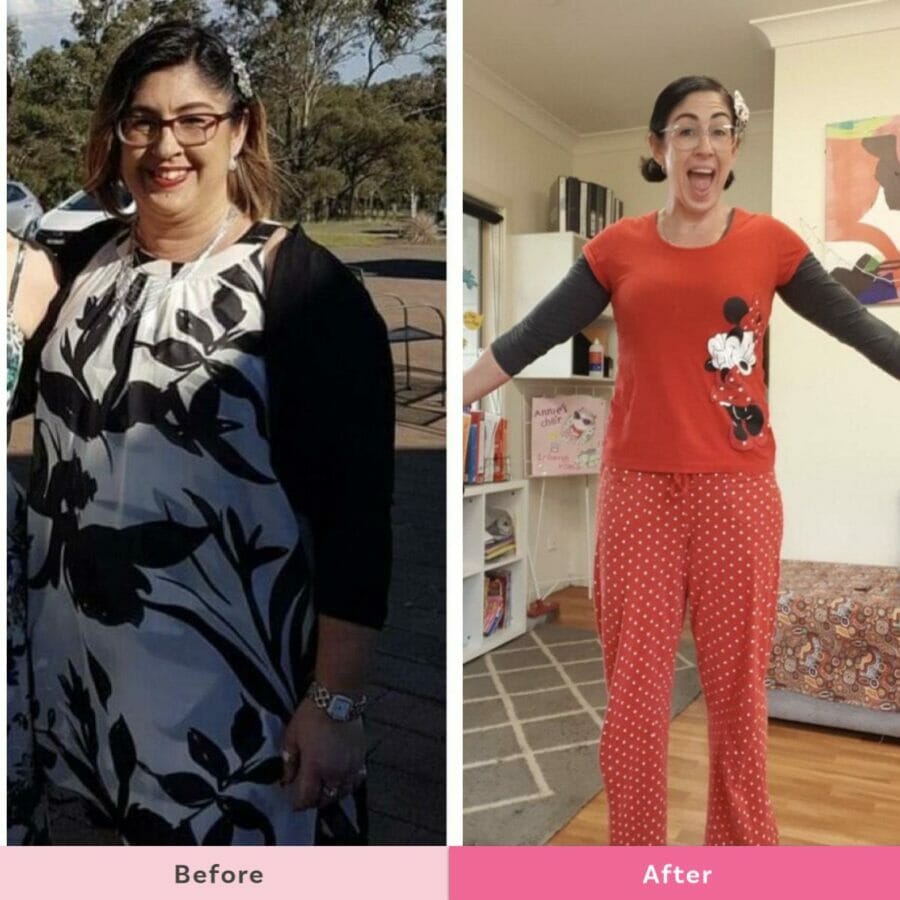 Miranda or Randa Jaide is a 40-year-old mum of 3 kids aged 3, 8 and 9 from Brisbane who lost 0kg in 8 months, then switched it up to lose another 15kg and focused on improving her fitness and toning. With a total weight loss of 35kg, which she's maintained for 2 years, Miranda credits The Healthy Mummy Smoothies, meal plans and workouts for not only transforming her body but her family's health as well.
"I joined the Healthy Mummy 3 years ago at 6 weeks post-partum, at 104kg, and in a very foggy headspace. In the first 8 months, I lost 20kg, then slowly chipped away at the next 15 while focusing on fitness and toning. I'm now where my body is supposed to be and have maintained the 35kg weight loss for almost 2 years.
"I started with the original vanilla smoothie and metabolism support tabs, and 3 years later, I still have them every morning. I love all the smoothies, but I still go back to where it all started with the original vanilla."
"My whole family enjoys all the meals and over the years, we've developed some faves like devilled sausages, stuffed capsicums, chicken and spinach pasta, sausage bake and the list goes on. I like to make muffins for easy snacks as well as the Weetbix slice, choc mint balls and the belly-blasting protein balls, too everything is yummy quick and easy."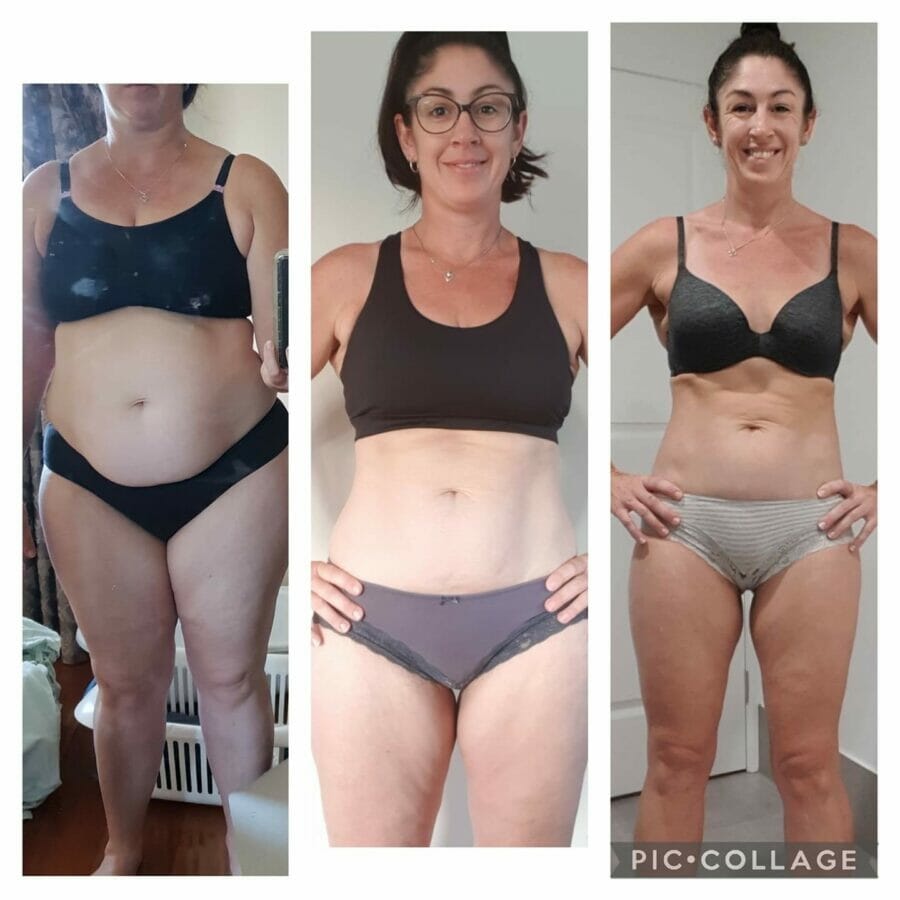 She started small when it came to exercise because she didn't want to push too hard and give up but eventually moved on to eventually build up the fitness to be running in half marathons, something she never thought possible.
"I first started with walking 3-5km a day, and then I incorporated app workouts such as dance strong and Tabata. I then worked my way up to running while on my walks and now can run half marathons (which I never thought possible) I also enjoy the kettlebell and boxing workouts along with pilates, and well, I just love them all, really."
"One thing that really worked for me when I first started my journey was that I didn't have a goal weight or size in mind, so I had no focus on the scales. I just wanted to be fit and healthy, of course seeing the scales drop was awesome but the non-scale victories (NSV) are what kept me going, like trying my shoes with ease, fitting in a seat properly, wrapping a towel around myself, my kids being able to put their arms around me to hug me, fitting in playground equipment, these are the true wins and lifestyle changes so please don't just focus on the scales look at the whole picture because it's so much bigger than you think."
Her message to other mums just starting out is this:
"So let's do this ladies, let's make it our time to really shine and make those good choices a habit."
Fi Redding – 13kgs (34kgs after the previous baby) – "Every day is a new day, every minute is a new minute"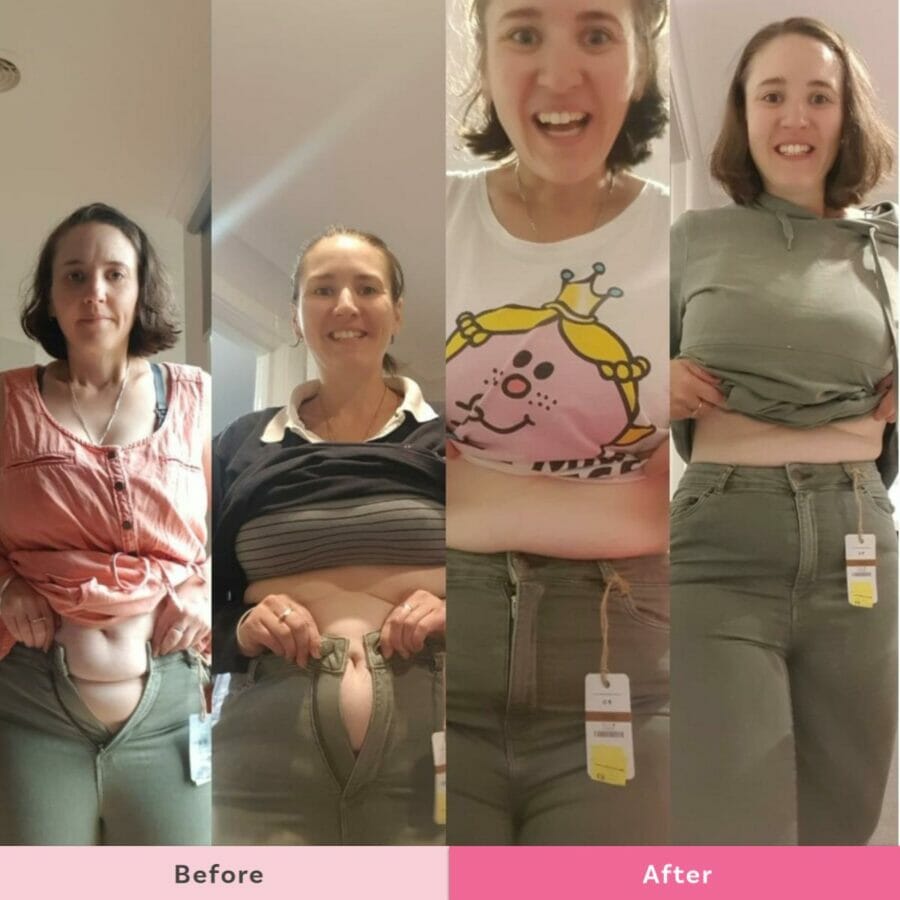 Fi is a 34-year-old Melbourne mum to 2 kids who are almost 3 and 8 months. She's lost a total of 34kgs with The Healthy Mummy after her first baby and has lost 13kg after bub number two with a goal of dropping another 6 or 7 kg. She's a huge fan of using photos or family as her biggest motivation to keep going and stay on track and remind herself that it's a healthy lifestyle change that she's truly passionate about.
"After my first bub, I lost 34kg using the Healthy Mummy and have so far lost 13kg after this bub with 6 to 7 to go. I use photos to stay motivated and track my progress. And my family are my motivation. I also found I love living this healthy lifestyle and am passionate about it, and I find this really helps."
"The Plant-Based Smoothie, I can't live without them. Control X and Carb X, Super Greens and the Immune Smoothie Boosters."
"All these products work for me, and I love them."
"It's so hard to choose just one recipe that I love. I guess if I had to pick just one. The Nacho hotdogs."
"There are so many snack recipes I love. It would be a toss between the Healthy Weetbix slice and Mint Bubble Crunch."
"The workouts are all great, but I personally love any of the weights, kettlebell/full body weights and the no equipment."
What would Fi say to other mums looking to get started?
"Every day is a new day. Every minute is a new minute. Set small goals you have the power to do amazing things."
"Give it ago, and set small achievable goals for both food and exercise. Even a 5 Min walk is better than nothing."
Jessica Lewis – 30kgs – "This is a journey – not an overnight solution"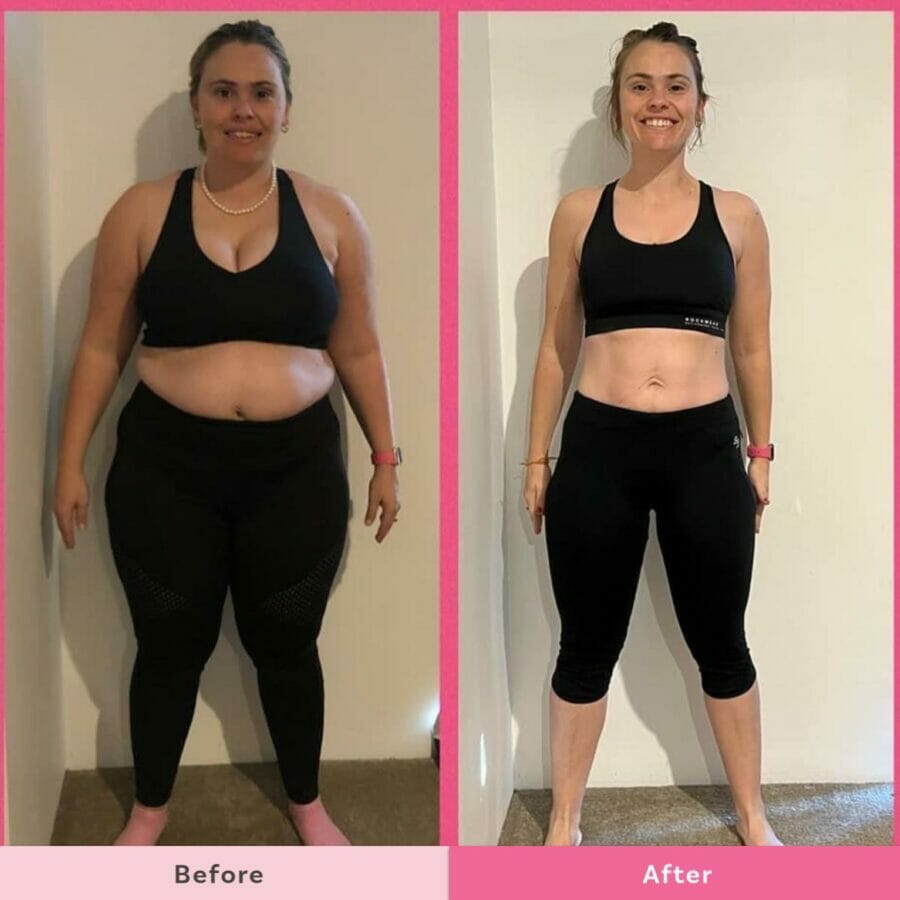 Jess is a 32-year-old Gold Coast mum of 3 aged 7, 5 and 16 months. With the help of The Healthy Mummy she's lost 30kgs in 10 months, but she's been with the Healthy Mummy for 13 months where she's learned that the scales are the key to your weight loss journey.
"I remind myself of my why all the time. I also think rewarding results along the way and making short-term and long-term goals has helped as well as having the support of my family – it's a family lifestyle."
"I love so many of The Healthy Mummy products! Love the Healthy Mummy Smoothies, the Smoothie Boosters, Super Greens, Protein Powders, ahh too many!"
"My favourite recipes include the sticky chicken fried rice tray bake, baked chicken spaghetti, chicken enchiladas oh yes we love chicken! We love them all."
"We also love the chocolate brownie cookie, chocolate flourless cake and yes love chocolate! Biscoff cheesecake is another."
"My favourite workouts are the Take 10 workouts as they are so quick and versatile, keeping me engaged."
Jess's advice to other mums.
"Don't focus on the weight solely, as it can become an obsession."
"Start small and focus on making those changes into habits and slowly increase as you go. It will make those changes a forever thing and support the weight not coming back on!"
"This is a forever change, but you need to remember that and don't just focus on the short term but know you've got this."
Her number one tip for other mums?
"Please be kind to yourself. This is a journey – not an overnight solution, a lifestyle change – not a fad diet. The wins will come, but they will take time. Believe in yourself, and you can achieve anything, but be kind! Also, don't compare yourself to others because you are unique and amazing in your own right!"
Vanessa Matteucci – 17kgs – "I feel much healthier and fitter since starting Healthy Mummy"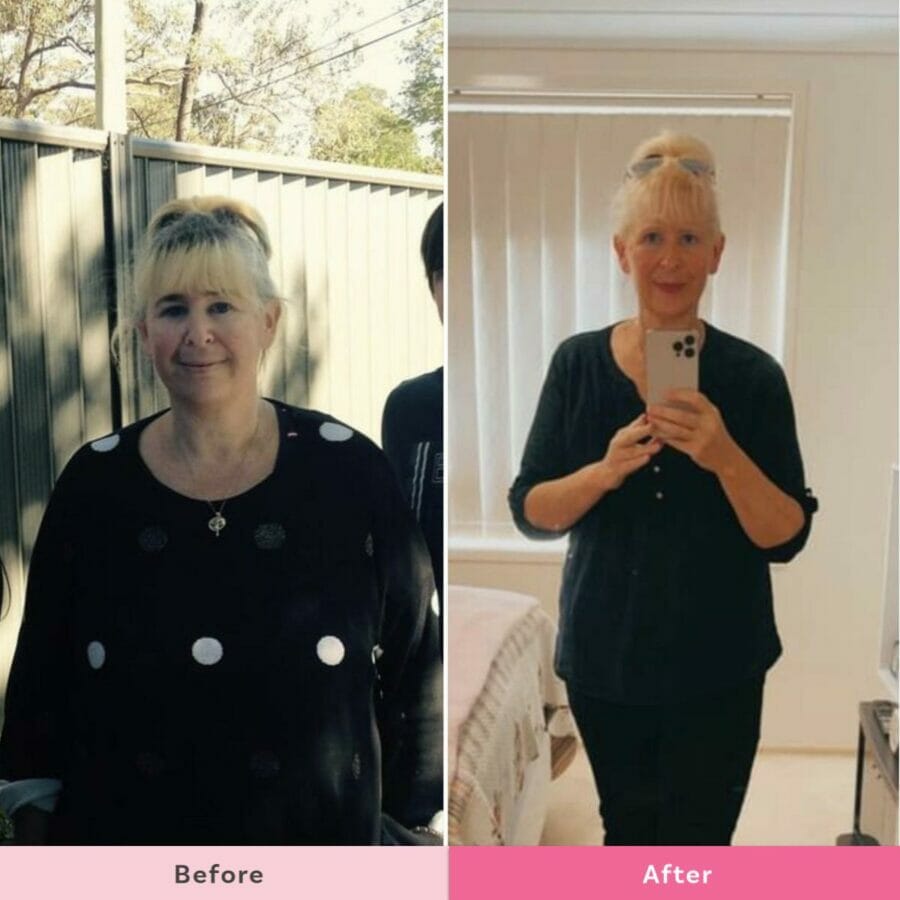 Vanessa is a 45-year-old mum to 3 kids that lives in the beautiful Blue Mountains in NSW. She's lost 17kg since January, and although it's taken approximately 6 months to get these results, she is totally happy with her results so far.
"I have lost 17 kilos since mid-January and dropped 1 dress size by almost 2!! (I am hopeful!) it has taken me roughly 6 months to get here and I am very pleased with my results so far."
"I feel much healthier and fitter since starting Healthy Mummy. I love how the app keeps me accountable for my calories for the day and how easy this is to stick to."
"Exercise is also very important to my success as well I love to go walking and if I am not doing that I use my cross trainer but walking is great, and I love getting some fresh air whilst burning calories and is a very good way to start the day." 
"I decided to start my Healthy Mummy journey so I could be happy and healthy not only for myself but for my family."
"My goals are to work out every day if I can! do more meal prepping so that when things get busy at home or with the study, I have healthy, nutritious meals I can warm up and make things easier for myself. I would also like to try more workouts from the app that I have not had the chance to yet so many great ones to choose from."
"I also would like to add how incredibly tasty and nutritious the Healthy Mummy Smoothies are my personal favourite is Chocolate, and these are incredibly handy when you are time-poor and need to have a meal or snack on the run! and with so many amazing flavours to choose from, why wouldn't you stock up on these? So good!!"
"My favourite meal from the Healthy Mummy app, without a doubt, is the Honey soy chicken and rice, Zucchini & bacon slice, and for dessert, you cannot go past the Healthy chocolate Weetbix slice! Yum!!"
"I cannot wait to share my journey with you all and support and inspire you all and watch you succeed with all your healthy mummy journeys. Have a fabulous day."
Meagan Collins – "I have achieved many different types of results" – "Don't fully put your trust in the scales. A picture says a 1,000+ words"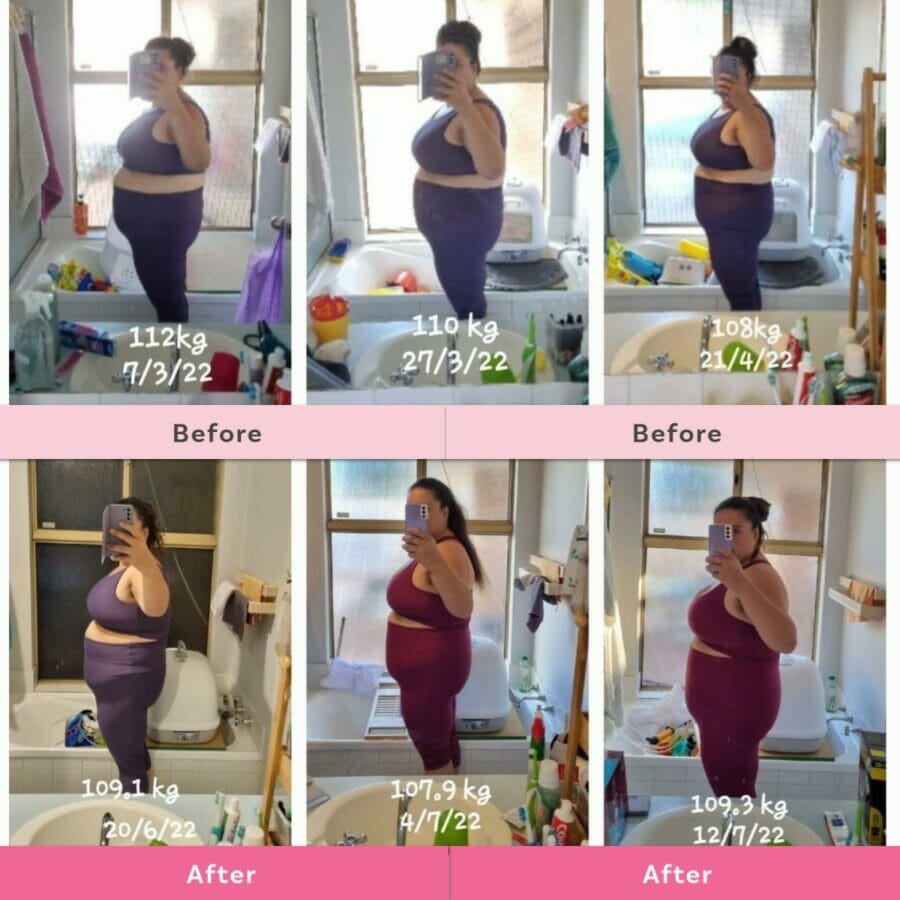 Meagan lives in the beautiful Swan Valley in WA with her family of 2 sons (1yr and 5yr) plus her fabulous husband! She's achieved so many things with The Healthy Mummy but believes bringing her confidence back has been her biggest achievement.
"I have achieved many different types of results thanks to The Healthy Mummy. The biggest result I have achieved is bringing back my confidence! I now see myself in a totally different positive way! Plus, I have also learnt that it's alright to put myself first!"
I followed (The Healthy Mummy) for many years after my first son was born. I used many of their free articles and recipes. But it wasn't until the start of this year I fully committed and got my first membership. Knowing that we finally had our second child and life was settling down, it was time to focus on myself."
"I decided that 2022 was The Year Of Me! The Healthy Mummy has been a wonderful tool for helping me achieve this!"
"One of the biggest health benefits I have achieved from this wonderful program is that I'm so much more active! I look forward to doing the daily workouts. I have so much energy to get through my day. Plus I can finally keep up with all my boys now!"
"After constantly looking at photos of myself and then putting myself down about the way I felt, with the way I looked, this finally made me decide it was time for a change. I was missing out on many special moments with my kids and constantly letting them down by saying no. It was definitely time for a change!"
"My goal for August is to get my weight below 105kg! This is a goal I have been trying to achieve for a while. But I'm hoping with daily weight checks and workouts, I can achieve this goal!"
"I love starting my day with a Healthy Mummy Smoothie. They are quick and easy plus full of goodness! Having the smoothies in my home now means I never have an excuse to skip a meal!!"
"My favourite meal from the app is the new mug pizza! My biggest weakness is the peanut butter pie. Plus, I love to end my day with a 28 Day Stronger workout from the Healthy Mummy app and breathwork from the Healthy Mummy Wellness app."
For all new mummies, here are a few tips Meagan has to help you on this journey:
Don't fully put your trust in the scales, and a picture says a 1000+ words
Small numbers are a better
It's OK to take a step backwards. Just take 2 steps forward!