Back by Popular Demand! Pescatarian Meal Plan Available this September Challenge
We are excited to announce that we have introduced a NEW Pescatarian Meal Plan to the 28 Day Weight Loss Challenge and Healthy Mummy App.
Available in the new September Budget Challenge 2022, the Pescatarian Meal Plan is customer's choice this 28 Day Weight Loss Challenge in the Healthy Mummy App.
By popular demand, the Pescatarian Meal Plan is back! In the Healthy Mummy App for the September 2022 challenge,  it is ADDITIONAL to all the below meal plans we have including:
Beginner
Vegan
Vegetarian
Budget Time Saver meal plan
Standard Variety
Higher Calorie
Along with all these meal plan options, there are over 6000 healthy and family friendly recipes in the Healthy Mummy App, with filter functions to make searching for your favourite recipes really easy!
More About The Pescatarian Meal Plan
Our team of expert nutritionists have come up with a new meal plan for anyone wishing to follow a pescatarian diet.
If you eat fish and vegetables, but not meat, this is a great meal plan option for you! Full of family friendly recipes with whole grains, nuts, legumes, fresh veggies and healthy fats, with seafood playing a key role as a main protein source, this meal plan would suit any pescatarian wanting a meal plan just for them!
What is a Pescatarian and what do they eat?
A pescatarian is someone who follows a vegetarian diet, i.e. doesn't eat meat or chicken, but does eat fish and other types of seafood like prawns and shellfish. It consists of eating mainly plant-based food, like veggies, grains, nuts, legumes, with the extra protein coming from the fish and seafood. Many pescatarians also eat dairy and eggs.
Why do people follow a Pescatarian Diet?
There are many different reasons for someone wanting to follow this type of meal plan.
Health Benefits

Most fish, particularly fatty fish is full of Omega 3 fatty acids which are great for heart health as well as brain function and mood. Studies have shown that people who eat fish have lower blood pressure, and a lower risk of abnormal heart rhythms.
Apart from the fish and seafood, this meal plan includes heaps of vegetables which can reduce the risk of coronary heart disease. As well as being a lean protein, lots of different types of fish and seafood contain b12, zinc and selenium which can help boost memory, help metabolism and brain function.
Environmental and Ethical concerns
People have very different reasons for not wanting to eat meat, from concerns about the impact of raising livestock on the environment, to ethical reasons, to simply not liking the taste. Whatever your personal reasons, be it health, environment or ethics, it is good to know there are other meal plan and diet options available.
Check Out These Recipes From PREVIOUS Pescatarian Meal Plans
1. Salmon Tray Bake
This low carb high protein salmon recipe takes just 10 minutes to get everything ready then goes straight in the oven – all in one dish. Who doesn't love less washing up! 362 calories per serve.
2. Roast Veggie Couscous
This colourful vegetarian couscous salad is really versatile as you can use any of your favourite veggies or what you have on hand. Great to serve along side some freshly grilled fish.
3.Super Simple Prawn Mariana
It doesn't get much easier than this flavour packed prawn pasta recipe. It's a show stopping dinner that's sure to impress. 446 calories per serve
4.Coconut Fish Hot Pot
This is a fantastic one pot wonder recipe with the flavours of fresh fill, ginger, chilli and veggies all in a coconut milk broth. 389 calories per serve
Get the recipe on the 28 Day Weight Loss Challenge
5. Zucchini Parmesan Fritters
For a healthy hot vegetarian lunch, these Gluten Free Zucchini And Parmesan Fritters need only a few key ingredients. Just 272 calories per serve.
6. Ginger Turmeric and Lemon Fish
Ginger, turmeric and lemon are the ultimate trio of flavours that lend themselves perfectly to the subtle flavour of fish. This is a really simple yet flavoursome meal you can have on the table in just 15 minutes.  400 Calories per serve.
Get the recipe on the 28 Day Weight Loss Challenge
7. Healthy S'mores Tart

S'Mores are often a family favourite around a camp fire. This recipe takes them to the next level by turning them into a delicious tart. Just 169 cals per serve
Ingredients
1 cup almonds
1/4 cup chia seeds
1 cup Natvia
1/2 cup peanut butter
2 free range eggs
1 cup dark chocolate chips
1 cup long life reduced fat coconut milk
1 tsp vanilla extract
2 cups mini marshmallows
Method
Preheat Oven to 180c.
Place almonds chia seeds and Natvia into a food processor and process until the mix resembles bread crumbs.
Add peanut butter and eggs and process until it comes together.
Press into a lined pie dish and bake for 10 – 15 minutes, until golden brown. remove from the oven and allow to cool completely before filling.
Place chocolate chips, coconut milk and vanilla extract in a saucepan and melt over a medium heat until well combined and smooth. Pour this chocolate mix over the cooled base.
Place the tart into the fridge for two hours or until the chocolate layer is firm.
When ready to serve, preheat the oven grill. Cover the chocolate layer with the mini marshmallows and then place the tart under the grill for about 5 minutes, just until the marshmallows start to colour (keep an eye on them as they can burn easily).
Remove from the grill and slice into 16 pieces. One piece is one serve.
Leftovers can be stored in an airtight container in the fridge for 4-5 days.
Where to find the Pescatarian Meal Plan
The Pescatarian Meal Plan will be available in Healthy Mummy App in September 2022 (Theme Budget Challenge). To find this meal plan, simply press the downward arrow on the meal plan type to find all the meal plan options.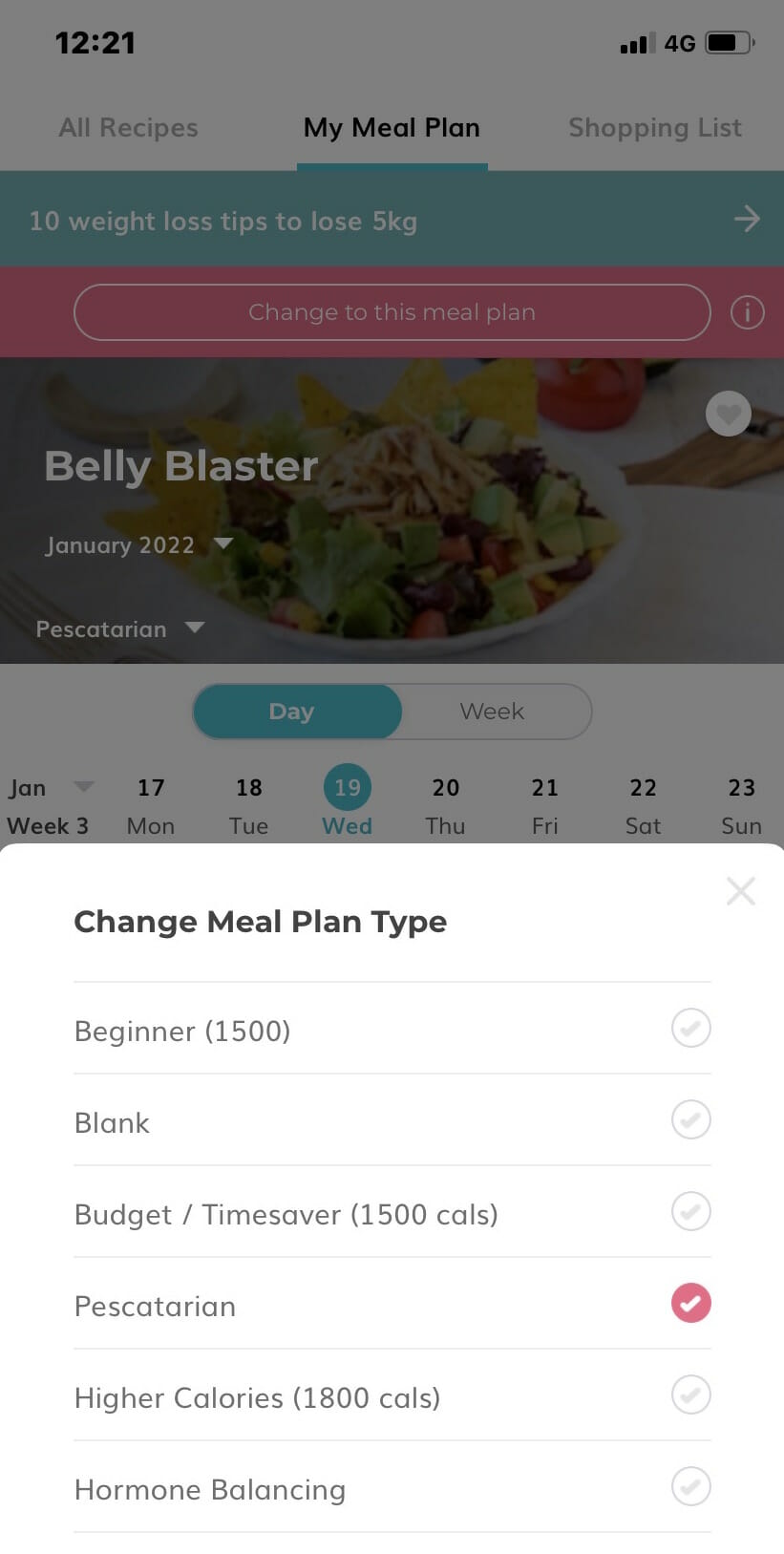 If we have moved onto a different month and theme, press the downward arrow underneath the current month, to find all previous Challenge themes. The Pescatarian Meal plan will be found in the January 2022 Belly Blaster, and Gap Week Healthy Holiday Eating theme.
For more about customising to different meal plans, click here
Want access to all these recipes and thousands more? Join the 28 Day Weight Loss Challenge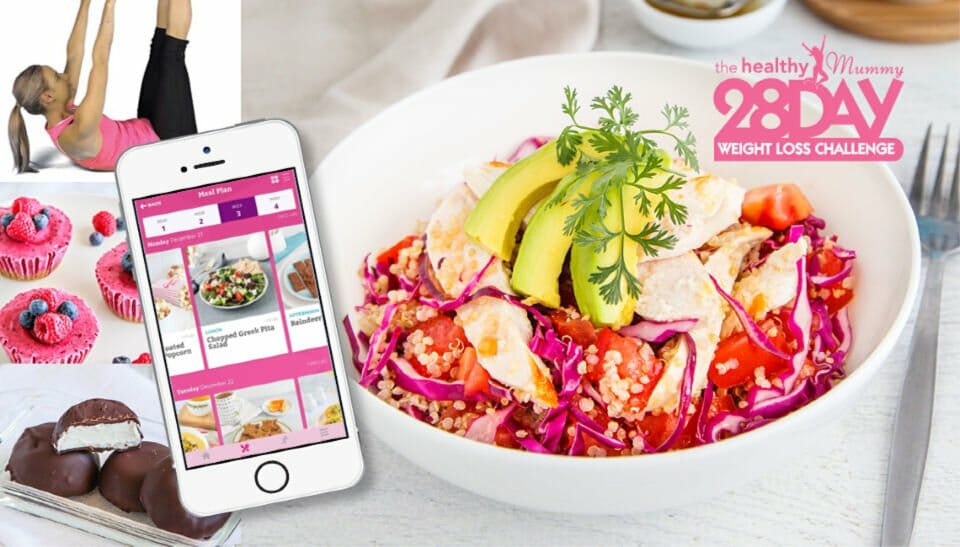 If you are interested in kickstarting your weight loss and want to improve your energy – not to mention – improve your overall health and wellbeing – our 28 Day Weight Loss Challenge is an awesome program to check out.
Our 28 Day Weight Loss Challenge includes:
28 days of at home exercise routines (no gym needed) – with video instruction
Customisable and breastfeeding friendly meal plans (including a 7 day cleanse)
Time-efficient exercises for busy mums – under 30 mins
Challenge combines Pilates exercises with interval and circuit training (HIIT)
Suitable for basic to advanced fitness levels
Home to thousands of EASY-TO-MAKE recipes!
To learn more about our 28 DAY WEIGHT LOSS CHALLENGE CLICK HERE