Can your belly button reveal your unborn baby's gender?
Can you determine the sex of your baby by the shape of your pregnant belly - frowning for girls and smiling for boys?. Or is this just an old wives tale?
One of the first things everyone asks a pregnant woman: Is it a boy or a girl? While most parents rely on modern technology to accurately determine the answer, it may be as simple as looking at your belly button to see if it is 'smiling' or 'frowning'.
That's according to Healthy Mummy community member Jess McLeod's midwife during her recent check up. Or… maybe, well.. very likely, she is just pulling Jess's leg. Fact or 'old wives tale', it's had the Healthy Mummy HQ pondering the question.
We have therefore asked some of our community members to share their experiences with us.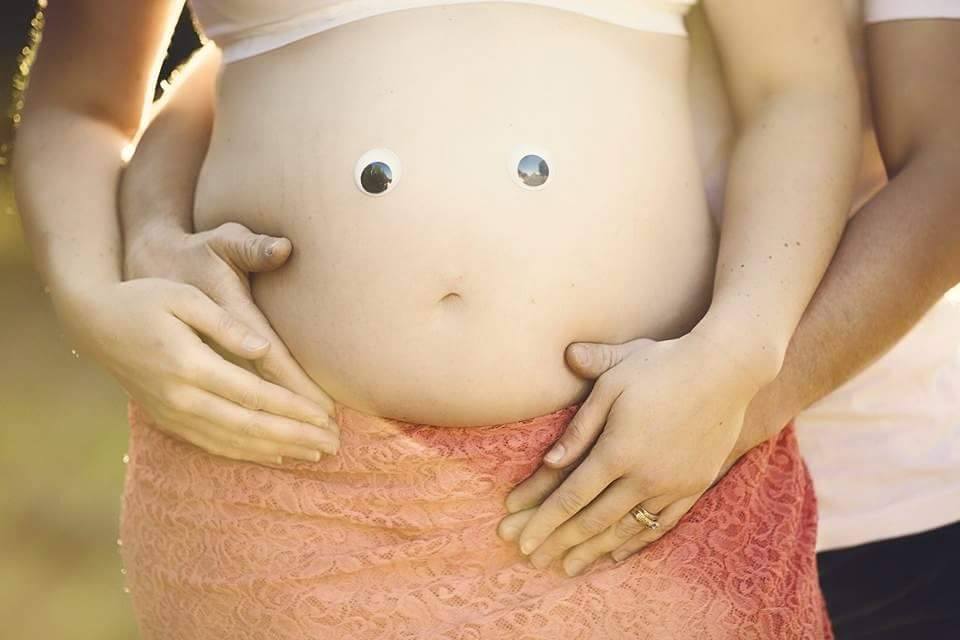 Gender Prediction Traditions From Around the World
Finding out the gender of your unborn baby is a very personal decision and one that has divided camps. Those that are desperate to know so they can start buying blue or pink items IMMEDIATELY and others that are desperate to hang on to the 'element of surprise' (much to the annoyance of all their friends and family!).
And while modern technology guarantees a pretty high degree of confidence in accurately identifying your babies sex, in past generations mothers would try less scientific methods.
Take the Distaff Gospels for example. This collection of medieval European women's medical lore recorded in the late 15th century has some clangers.
First foot forward
"Walk with your right foot first, you're having a boy; the opposite, you're having a girl".
A sprinkle of salt
"When a woman is carrying a child and she wishes to know whether she is carrying a boy or a girl, you should sprinkle salt on her head while she is sleeping, so gently that she is unaware of it. When she wakes, note what name she says first. If she says a man's name it will be a boy and if she says a woman's name it will be a girl".
The foods you crave
"Because girls are naturally sweet, if you're carrying one, you'll crave sweet foods; boys, on the other hand will have your craving sour and salty foods".
Urinating on wheat
In Ancient Egypt, the sex of an unborn child was predicted using wheat and barley. The mother-to-be would urinate over seeds of both barley and wheat. If the barley sprouted then the woman was carrying a boy and if the wheat sprouted she was carrying a girl.
Fathers weight
If the father-to-be gains weight while his wife is pregnant, it's a girl. If he doesn't gain weight, it is a boy. A study was carried out in Denmark with 100 fathers-to-be who were suffering from such symptoms, and the results were quite alarming. Off the 100 dads who gained weight, 95 of their partners gave birth to a girl and just five to a boy.
Many of these popular gender reveal 'wives tales' have carried on to today's generation. Though never proven, there is always a 50/50% chance of being accurate. Here are some more Myths re guessing the gender of your baby.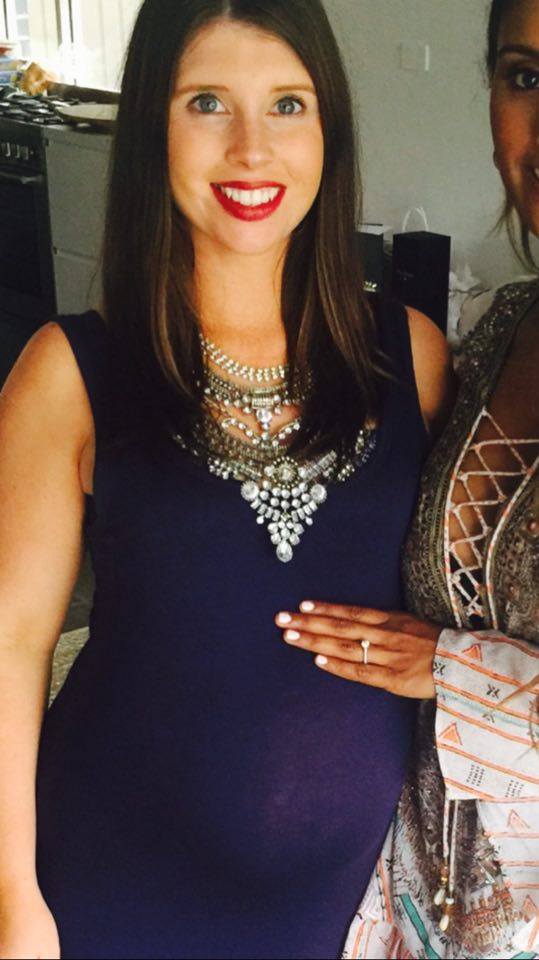 Belly button – gender reveal
The belly button 'frown' or 'smile' is a new concept to us and pregnant mum Jess McLeod (above).
After going for her regular check up today she says:
"I had a new midwife today and she asked if we knew what we were having. I told her we are having a surprise.
She said if your belly button is a smiley face it's a boy and if your belly button is a frown it's a girl! She was so serious when she said it. I was thinking – is she having me on? I have never heard of this one before! And particularly not from a midwife ".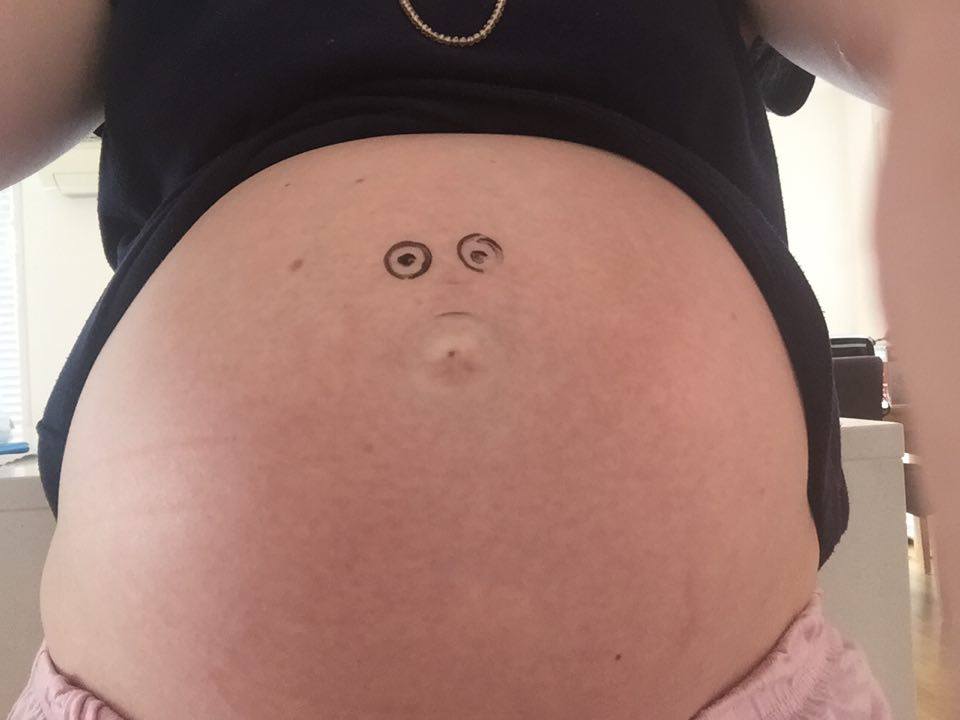 What do you think of Jess's delightful bump? Boy, girl? According to this myth – looks like a girl to us!
Alisa Nyquist shares her beautiful 23 week baby bump with us. That looks remarkably like a smiling belly button to us. But according to modern technology, Alisa is having a girl, not a boy! Or maybe Alisa is just in for a big surprise?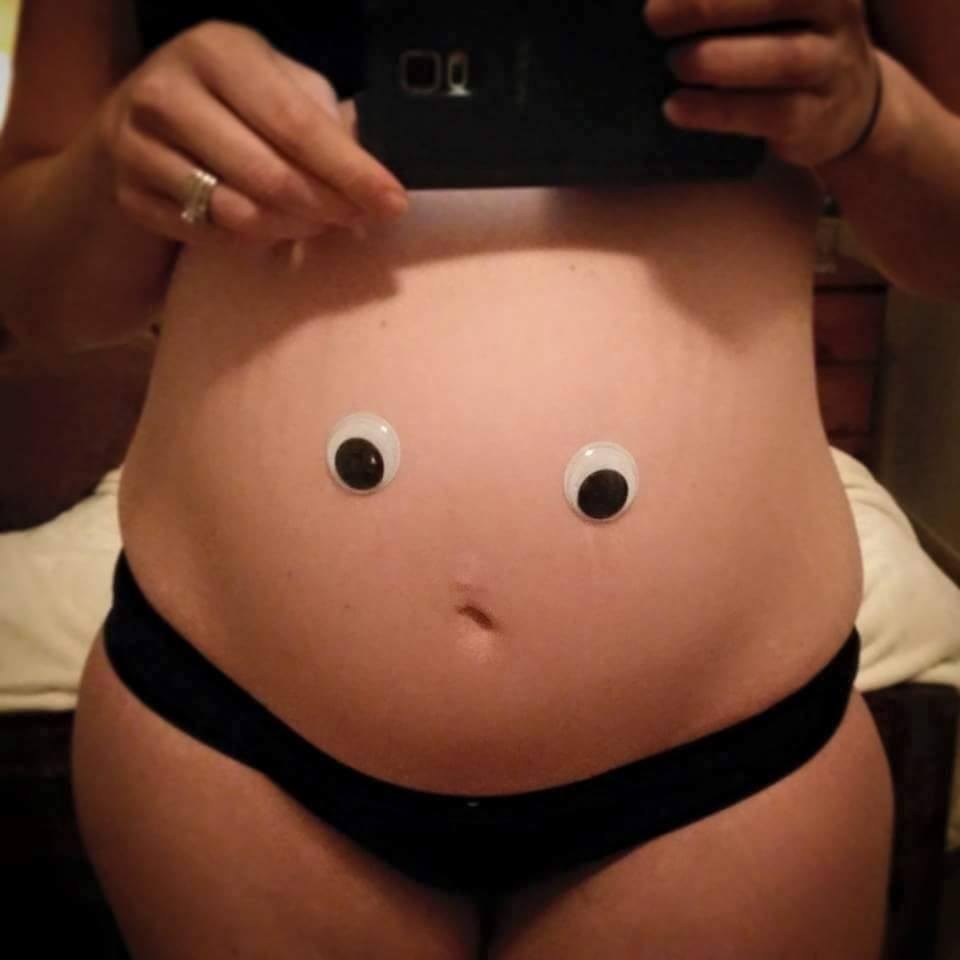 Kirstie Anderson says of her gorgeous 37 week bump here "Not sure what you call this… but we had a girl!" Hmmm … Looks very much like a frown to us Kirstie! Another successful result with the belly button method!
The Healthy Mummy Pregnancy Smoothie
*Please note that The Healthy Mummy Pregnancy range promotes healthy weight gain in pregnancy*
Another way to help boost your protein and iron levels during pregnancy is through out Healthy Mummy Pregnancy Smoothie.
Pregnant women need additional calories and nutrients in pregnancy and our Pregnancy Smoothie and Eating & Exercise Book have been specially formulated to help women reach these additional calorie and nutrient needs.
The Healthy Mummy Pregnancy Smoothie is designed to complement, not replace, your prenatal vitamin intake. Our nutritionists ensured that the vitamins and minerals in the smoothie are at a low level so there is no risk of doubling up on any pregnancy vitamins.
It is ideal as a high-protein, high-calcium snack in pregnancy.
Purchase the The Healthy Mummy Pregnancy Smoothie
About The Pregnancy Smoothie
The Healthy Mummy Pregnancy Smoothie is a convenient and easy supplementary food, designed to complement your existing pregnancy vitamins or supplements, to help you meet the extra protein, vitamin and mineral requirements during your pregnancy.
Please read below for all the information on the smoothie – you can also see the FAQ on the smoothie here.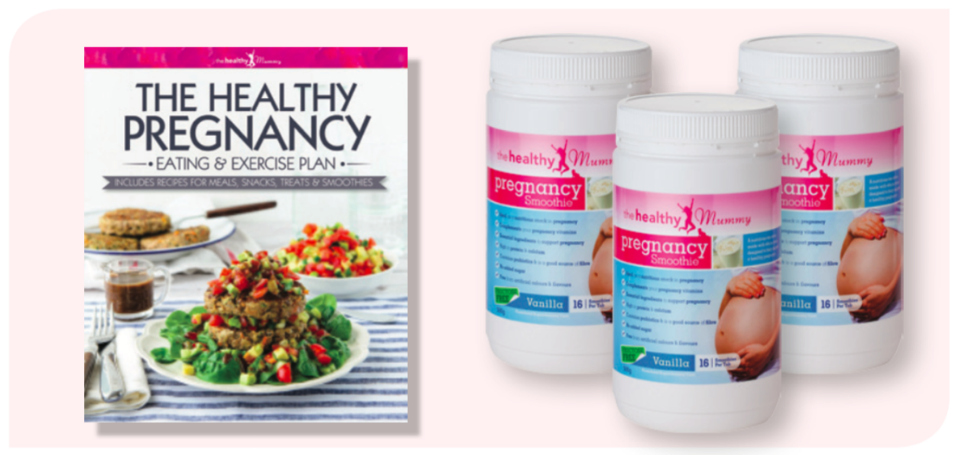 The pregnancy smoothie is also free of all chemicals, fillers and artificial ingredients, has no fructose in, no added sugar and uses high quality dairy protein sourced from grass fed cows in New Zealand.
How Can The Pregnancy Smoothie Help?
HEALTHY INCREASED CALORIES – Additional nutrients and calories are needed in pregnancy to support the mum and the baby – and the smoothie is a convenient and tasty way to increase your calories in pregnancy whilst nourishing your body.
MORNING SICKNESS – If you are suffering from morning sickness and find eating food difficult – the smoothie is a great way to nourish your body with a easy to drink smoothie- it also contains ginger.
TIREDNESS – If you are feeling exhausted, the smoothie is a nutrient dense snack high in protein, B vitamins and low constipation iron to help keep energy levels up.
CONVENIENT- if you are struggling to find the time or energy to eat nutrient dense and healthy foods then the smoothie will be a great help. You could also have it as a quick breakfast by adding fruit, oats and vegetables to your smoothie to further increase calories.
PROTEIN & CALCIUM – It is ideal as a high-protein, high-calcium snack in pregnancy with each smoothie giving you 30% of your protein needs
Nourish Your Body In Pregnancy
During pregnancy the nutritional demands on your body are greater in support of the growing baby along with alterations in maternal tissues and metabolism. The requirements of protein and nutrients, particularly folate, iodine, calcium, iron and zinc are higher.
During the second and third trimester additional protein is required for the growth of foetal, placental and maternal tissues, and estimated energy requirements are also higher.
Key Nutrients Needed For Pregnancy
The Healthy Mummy Pregnancy Smoothie provides a Good Source of Vitamins & Minerals – providing extra nutrition, including protein, vitamins & minerals for expectant mums
Folate – contributes to maternal tissue growth during pregnancy. Consumption of at least 400mcg† per day, at least one month before & three months following conception may reduce the risk of fetal neural tube defects
Vitamin B12 – necessary for normal cell division, neurological structure & function, & contributes to normal blood formation, which are important processes during pregnancy
Calcium – necessary for normal teeth, bone structure, important for baby's development
Iodine, Phosphorous, Vitamin D & Vitamin B12 – contribute to normal growth & development, including that of the baby
Vitamin C, Vitamin B2, Vitamin B3, Vitamin B6, Vitamin B12, Folate & Iron– contributes to the reduction of tiredness & fatigue, symptoms often experienced by expectant mums
Protein – necessary for tissue building & repair, normal growth & development of bone & contributes to the growth of muscle mass
Probiotics – contribute to gastrointestinal health & the maintenance of beneficial gastrointestinal microflora, which can benefit pregnant women
Fibre – aids in regular bowel motions, which can become irregular during pregnancy.