Four ingredient healthy lemon sponge cake
Bursting with the zesty flavour of lemons and boasting a soft, airy texture, this lemon cake is a perfect guilt-free indulgence. Whether you're hosting a gathering or simply want to treat yourself to a slice of happiness, this recipe is a must-try.
Imagine a light and fluffy lemon sponge cake that not only satisfies your sweet tooth but also fits perfectly into your healthy lifestyle. Introducing the ultimate guilt-free indulgence – a healthy lemon sponge cake recipe that will leave you wanting more. Packed with zesty lemon flavour and made with wholesome ingredients, this cake is the perfect treat to enjoy without the guilt.
Whether you're a fan of citrus desserts or simply looking for a healthier alternative, this healthy lemon cake recipe from The Healthy Mummy is sure to become your go-to for a delicious and nourishing dessert option. Get ready to delight your taste buds and satisfy your cravings with this scrumptious and wholesome lemon sponge cake.
Just four ingredients are needed for this one – eggs, coconut sugar, lemon, and almond meal. We love it when baking can be so easy.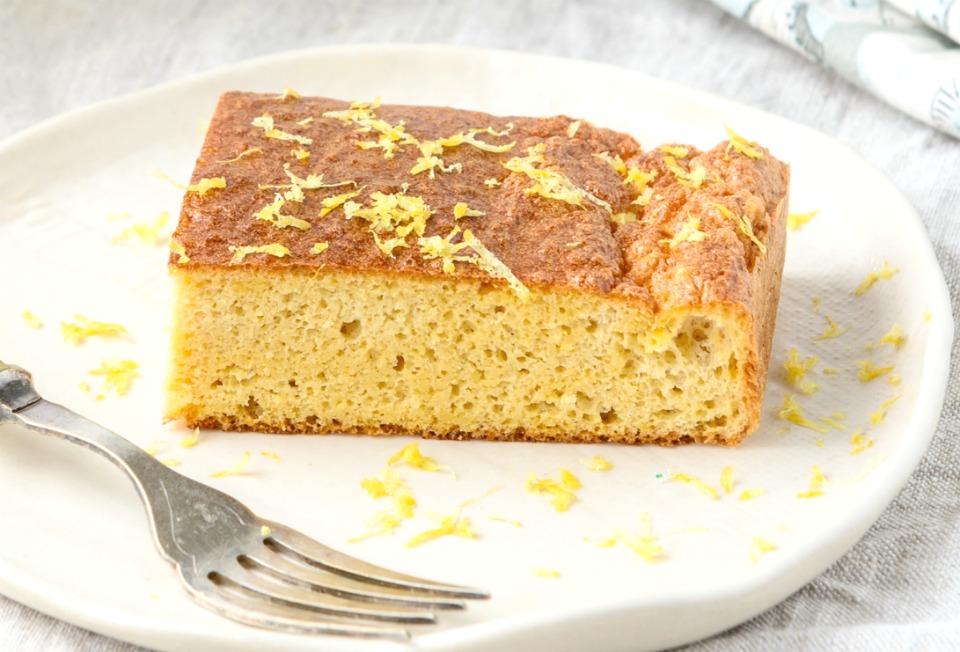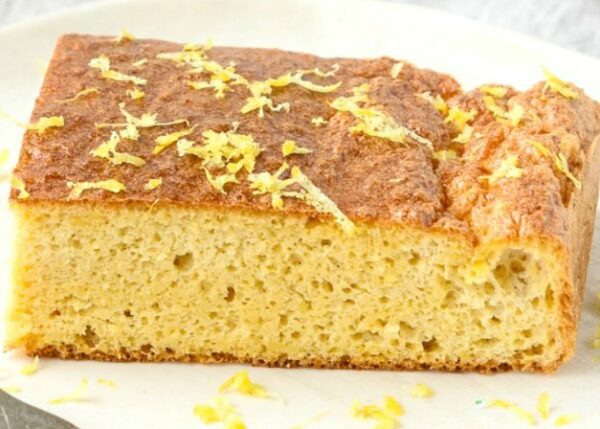 cooking oil spray

4

free-range eggs

1

cup

almond meal

3

tablespoons

coconut sugar

2

tablespoons

lemon juice

2

teaspoons

lemon zest

Pinch salt
cooking oil spray

4

free-range eggs

1

cup

almond meal

3

tablespoons

coconut sugar

2

tablespoons

lemon juice

2

teaspoons

lemon zest

Pinch salt
Preheat oven to 180C. Grease an 8 inch (20cm) square cake pan with cooking oil spray and line with baking paper.

Separate eggs, placing whites and yolks in two different medium bowls.

Combine egg yolks, lemon zest and 2 tablespoons of the coconut sugar.

Beat with an electric mixer for 2 minutes until thick and creamy.

Stir through almond meal and half the lemon juice.

Beat the egg whites and a pinch of salt to soft peaks. Briskly stir a third of the egg whites into the almond mixture to loosen. Gently fold in remaining whites in two batches.

Tip batter into prepared pan, smooth top and bake for 18-20 minutes until a toothpick inserted into the centre comes out clean.

While cake is baking gently warm remaining 1 tablespoon of lemon juice and remaining 1 tablespoon of coconut sugar until sugar is dissolved.

Remove cake from oven and immediately brush with syrup. Cool in pan for 10 minutes then remove and cool completely on a wire rack.

Cut into 6 slices. 1 slice is 1 serve.
Tired of wondering what to cook?
Now you can easily meal plan with our personalised plans & over 6,000 family & budget friendly recipes catering to a wide range of dietary requirements.
The Healthy Mummy is a holistic program to nourish your body with nutritious food and help you stay active in your busy, everyday life. Yours and your families well being should be a priority so let us take the hassle out of it.
Unlock the key to sustainable life changes that will leave you feeling your absolute best.