Strawberry Cheesecake Smoothie is here and MUMS LOVE IT!!!
There's a Brand New Premium Smoothie flavour on the block and mums are saying the Strawberry Cheesecake flavour  tastes ABSOLUTELY Amazing!
Have you heard the latest news?! There's a Brand New Premium Smoothie flavour on the block and mums are saying the Strawberry Cheesecake flavour  tastes ABSOLUTELY Amazing!
Introducing the LIMITED Edition Premium Smoothie that tastes just like a Strawberry Cheesecake! YUM!!!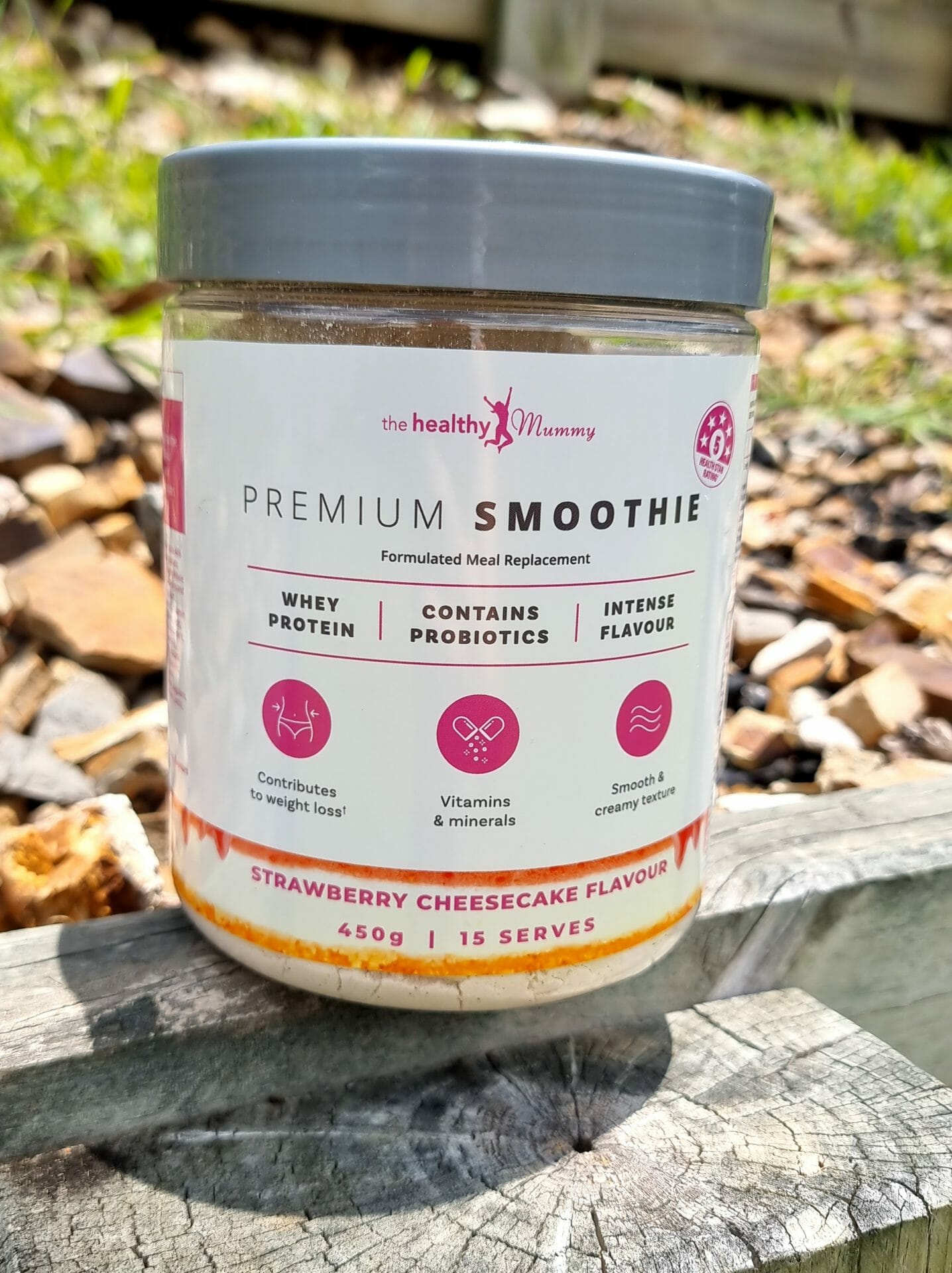 The Premium Smoothie range has been an absolute hit with Mums! With intense flavours and creamy texture, the Premium Smoothies are packed with vitamins and minerals, are high in protein and fibre, AND provides the health benefits of probiotics.
And now we have a brand new flavour! Along with Double Chocolate, Vanilla, Espresso, Choc Mint, Caramel, and Banana Sundae we now have the Limited Edition Strawberry Cheesecake flavour!
This one is totally going to sell out so get your hands on the new flavour by visiting our shop here.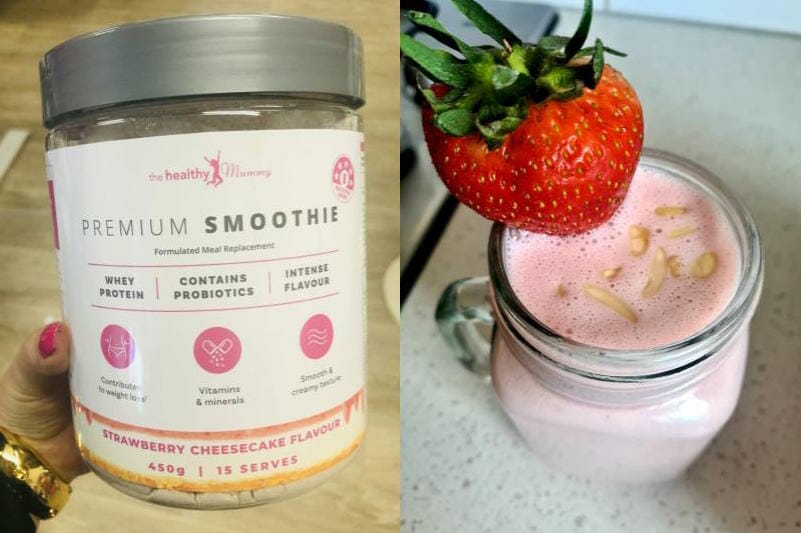 The Premium Smoothies are helping mums SMASH their weight loss and health goals. As a whey based meal replacement, the Premium Smoothies are low in carbs but high in fibre and protein to keep you fuller for longer.  Due to their intense flavour, you don't necessarily need to add extra ingredients either. Just shake it up in your favourite shaker and off you go.
Who doesn't love a slice of Strawberry Cheesecake? And now you can have that exact flavour in a glass with all the extra nutrients and vitamins of the Premium blend.
Whether you have the new Strawberry Cheesecake Premium Smoothie for breakfast, lunch or an afternoon pick me up, this creamy, fruity and oh-so-tasty meal replacement will help you SMASH your health and weight loss goals.
Real Mums give their Review of the NEW Strawberry Cheesecake Flavour!
Some lucky mums in the community got to taste test the new flavour and they could not believe how good it tastes!
'This bad boy is my new favourite!'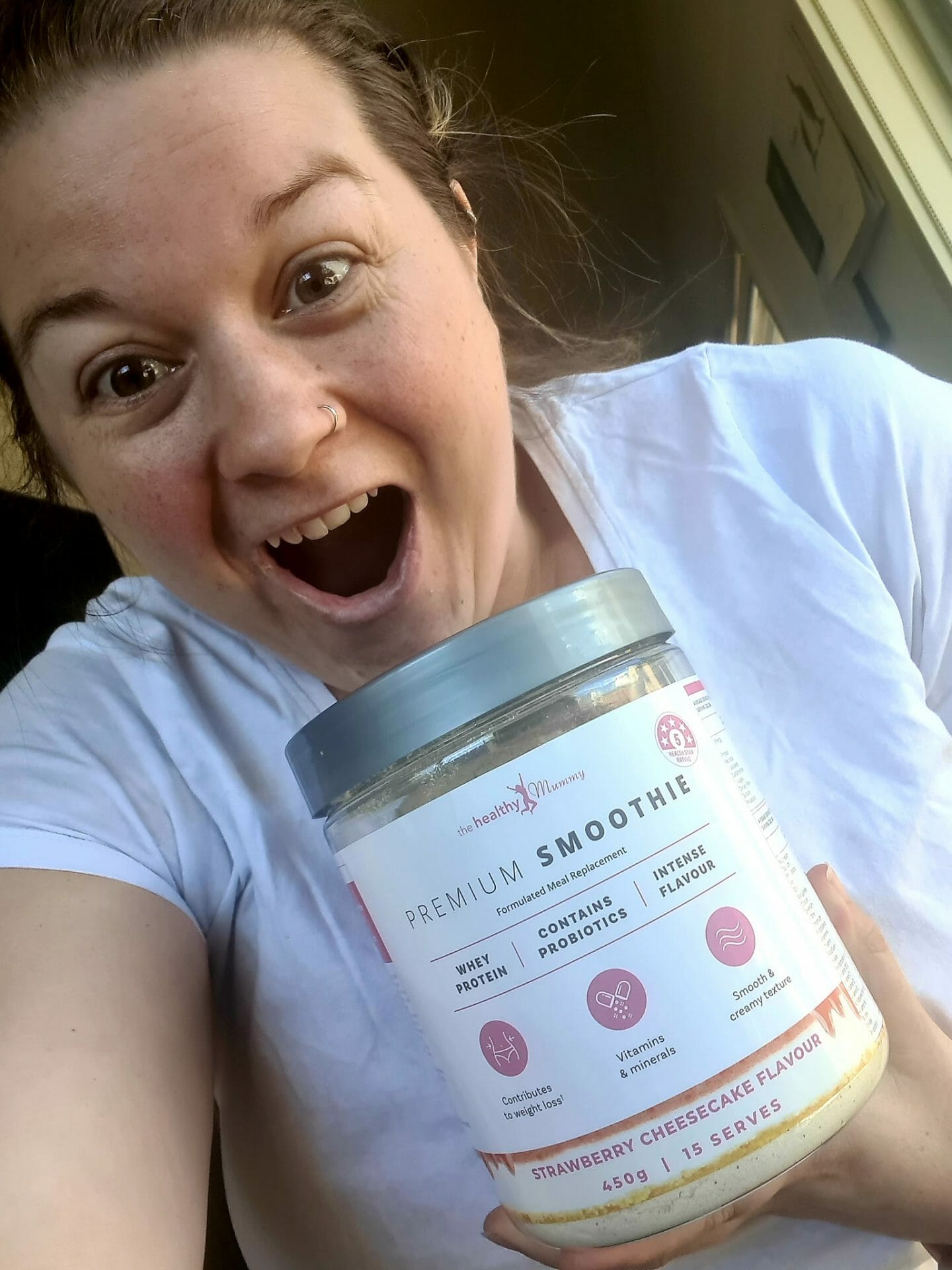 Shelley Moore couldn't wait to let us know what she thought! Shelley said, " I was SO excited to try the Premium Strawberry Cheesecake smoothie because I love fruit flavours and it did not disappoint! Even mixed with just milk, it is delicious! Fruity and refreshing without being overpowering or too sweet, and blended with frozen strawberries –  OMG. I have just pre-ordered 3 tubs because this bad boy is my new favourite!'
"It's creamy beyond belief"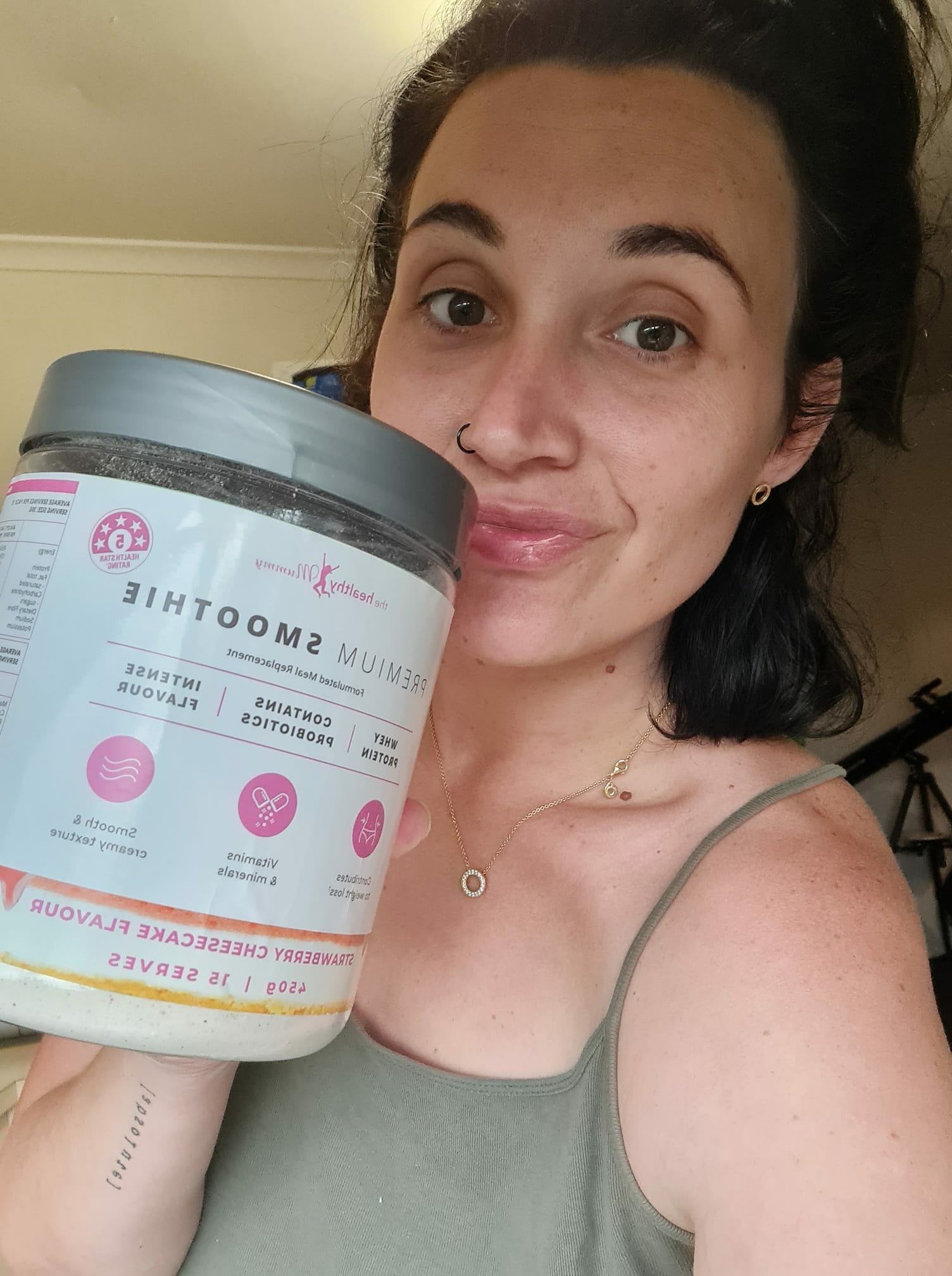 Melanie Arnold-Stemm say  "I'm a foodie at heart, and it's not often I go for a smoothie as my first choice, but this is EXACTLY what I've been doing these past few days whilst work has been super crazy. It's creamy beyond belief, and the taste is as satisfying as one of the famous Ekka Sundaes we have here in South-East Qld once a year (except I can have it any day I want!)
I'd been craving something sweet but not too heavy in the heat, and this has hit the heartstrings, and could definitely be my new favourite since the original banana smoothie."
"It's like having a slice of strawberry cheesecake!" 
Mum of 2 Lina has found new go-to for afternoon tea.  She says, "The Premium Strawberry Cheesecake is so delicious, it's like having a slice of strawberry cheesecake. Perfect for my afternoon tea smoothie while doing school pick up."
Definitely a Winner!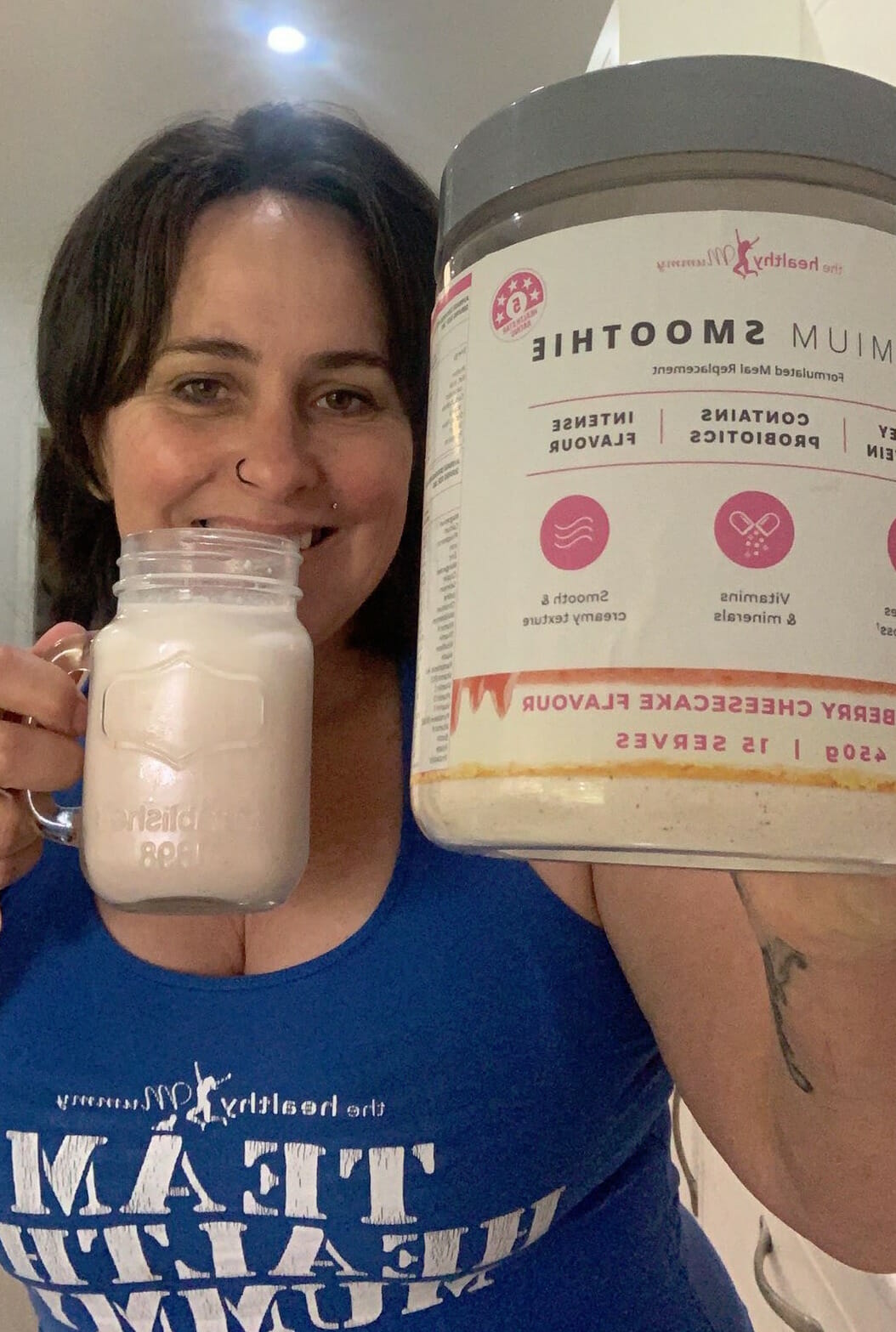 Mum and Granny Michelle Knight has just created her favourite sweet snack! She says,  'Do you have a sweet tooth? Then the new strawberry cheesecake smoothie is for you. My days are like every other woman in the world. Crazy hectic. But the one thing that makes my day a little easier is the healthy mummy smoothies. And the new strawberry cheesecake flavour is now a big part of my daily routine.
Late night sweet cravings have been sorted simply by adding some of the amazing smoothie mix to some Greek yoghurt add some berries, choc chips and some crushed nuts and I have myself a delicious dessert.
Definitely a winner and thank you Healthy Mummy for creating this delicious smoothie flavour . They just keep getting better and better.'
It's the Best!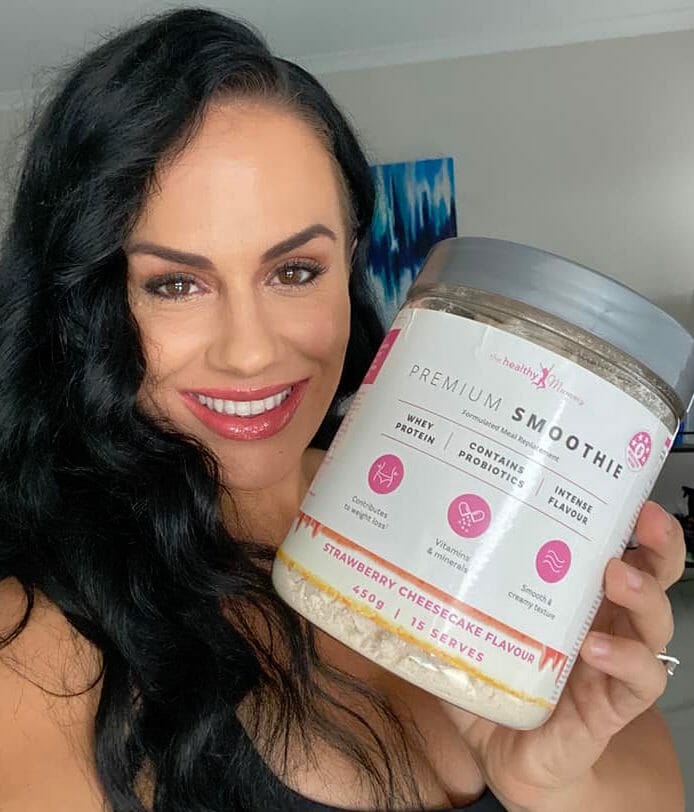 Melissa Timmer says "Strawberry cheesecake smoothie has blown my taste buds away. I love that flavour and the smoothness of this premium shake. I can add extra ingredients or have it on its own. Either way it's the best and definitely one of my new favourite flavours."
Can't wait to try for yourself! Get in quick, this is limited edition and will sell out quick!
Want some inspiration for how to use your Strawberry Cheesecake Premium Smoothie? Try these yummy recipes.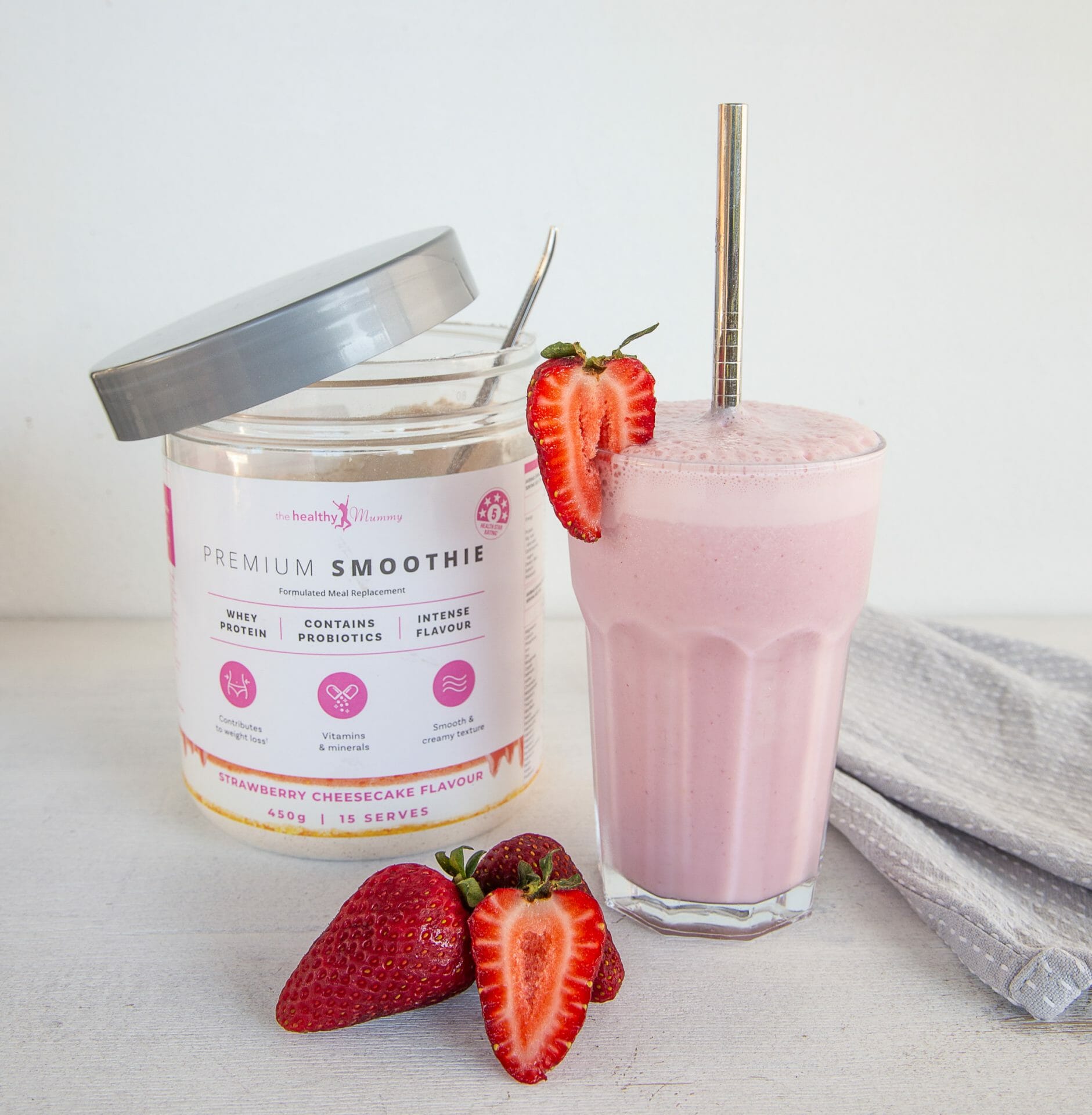 Reasons to Love the Premium Smoothies
Protein blend with 80% whey protein
Insanely creamy and smoother formula
23 vitamins and minerals
Probiotics for enhanced gut health
Intense flavour
Just shake and go – DELISH!
No artificial colours, flavours or preservatives
Join our next 28 Day Weight Loss Challenge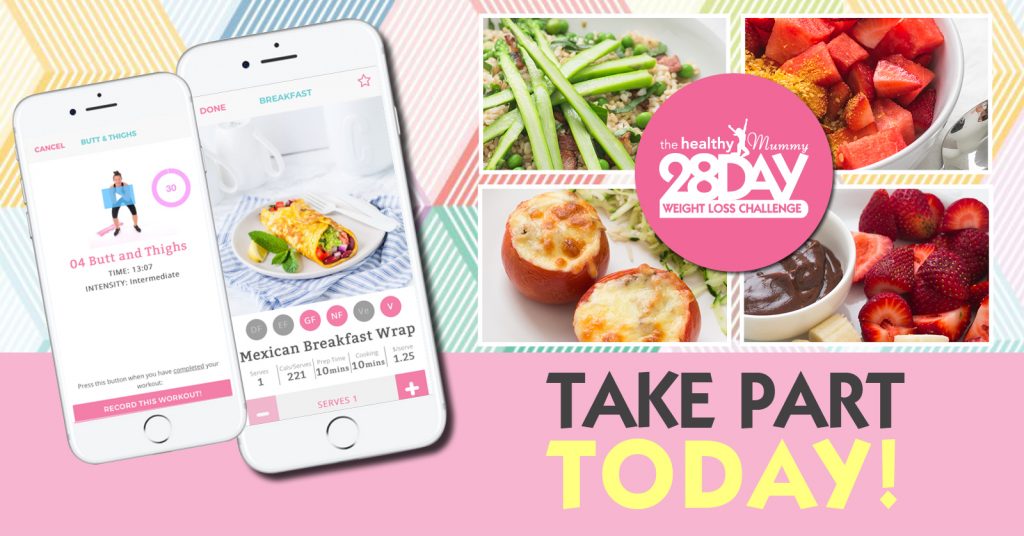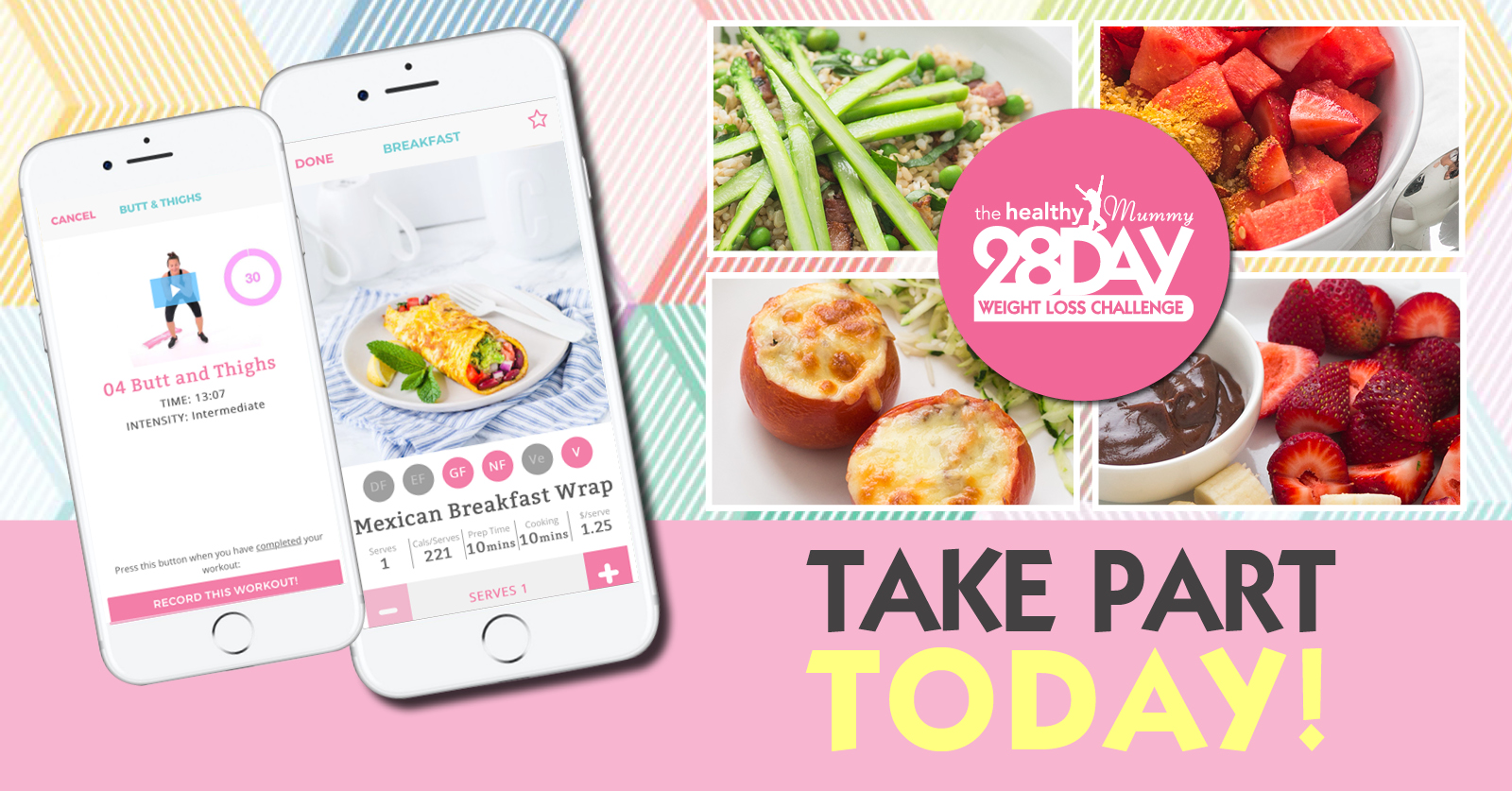 The Healthy Mummy exists to help tired, busy mums like you SHIFT THE BABY WEIGHT and REACH YOUR GOAL WEIGHT.
Join the 28 Day Weight Loss Challenge and have 4,000 recipes at your disposal!
The 28 Day Weight Loss Challenge is an affordable, breastfeeding-friendly and realistic program that helps mums tackle their diet and improve their overall health through weekly (and customisable) meal plans, at-home exercises and 24/7 social support.
Our Challenge entails:
28 days of at home exercise routines (no gym needed) – with video instruction
Customisable and breastfeeding friendly meal plans
Time-efficient exercises for busy mums – under 30 mins
Challenge combines Pilates exercises with interval and circuit training (HIIT)
Suitable for basic to advanced fitness levels
Home to thousands of EASY-TO-MAKE recipes!
JOIN THE 28 DAY WEIGHT LOSS CHALLENGE HERE!