The trampoline workout
You don't need expensive gyms to smash your fitness goals! Check out this heart-pumping Trampoline Workout for you all to try at home.
Here at The Healthy Mummy we are huge fans of incidental exercise and making the most of what time you do have to exercise.
And Kat and Rae have come up with this super fun, heart pumping trampoline workout for you all to try at home.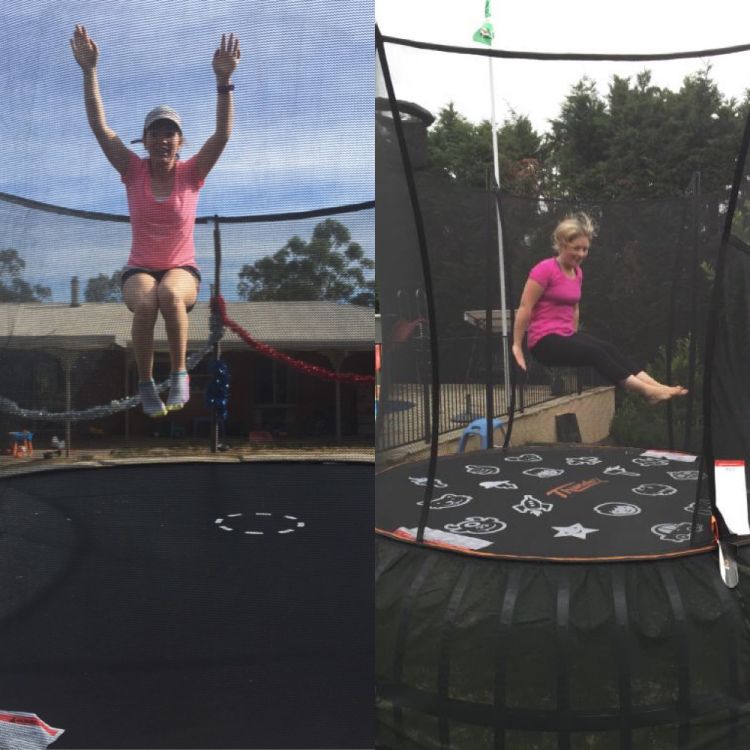 ******PLEASE make sure that you do not have ANY pelvic floor issues before attempting this workout******
It can often be hard to find the time to exercise with being a busy mum, the kids want to play with you and you keep thinking to yourself " I need to get a workout in". Now you can combine the two!
Get your kids involved in counting to 30 while you are doing your exercises, get them to join in with you if they are old enough.
If you want a break from the kids- get Dad to watch them or have a big bounce once they are snuggled up in bed.
Trampoline workout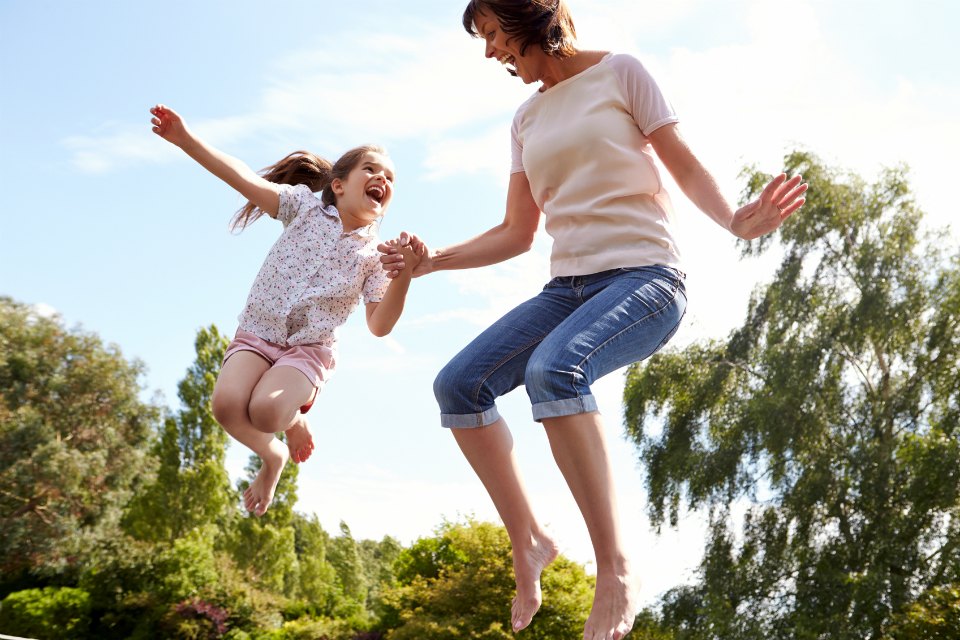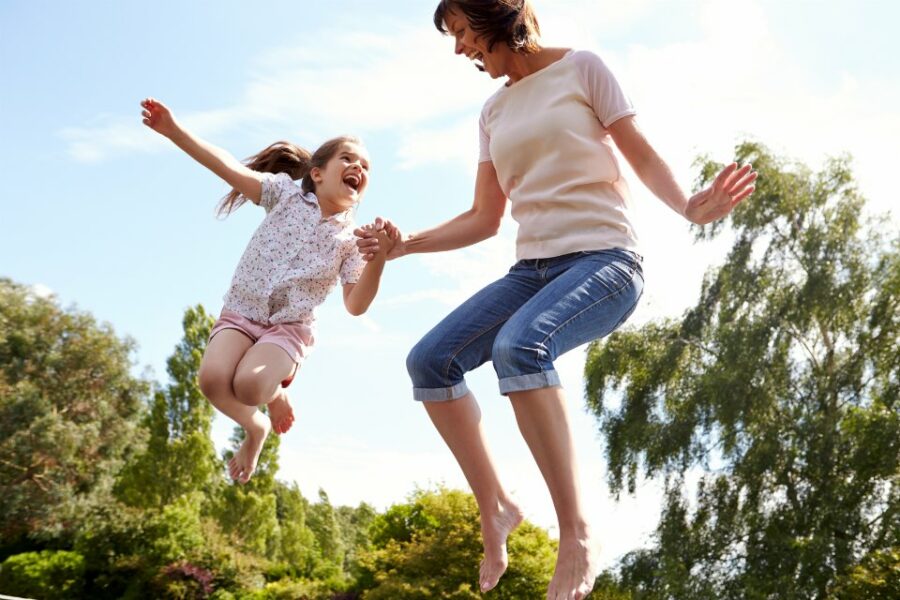 1 Round for Beginners/2 Rounds for Medium Fitness/3 Rounds for Advanced
50 Second Run around the edge of your tramp to warm up
30 High Knees– get your knees up as high as you can
10 Light Bounces
30 Seated Land To Knees– jump up high, land in a seated position, bounce back up and land on your knees
10 Light Bounces
30 High Straight Jumps With Arms Above Your Head– big high jumps with your hands kept up above your head
10  Light Bounces
30  Squat Jumps– jump up from a squat position and land in a squat
10  Light Bounces
30  Tuck Jumps With A 180 Turn– jump up high bringing your knees up and turn 180 deg
10  Light Bounces
30  High Jump To Star– jump up as high as you can bringing yourself into a star position
10 Light Bounces
30 Second Plank– hold your 30 second plank
You can do as many rounds as you like and they can be broken up throughout your day if that makes it easier for you.
Try to utilise the bounce of your trampoline, ALWAYS have your core activated as it will help to keep you stabilised and listen to your body
You can read Kat's weight loss story here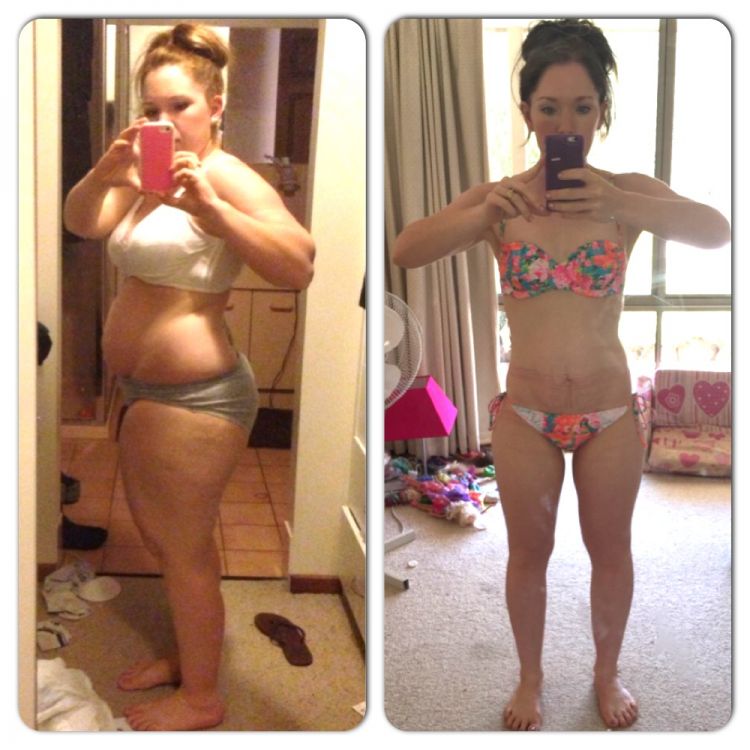 And Rae's weight loss story here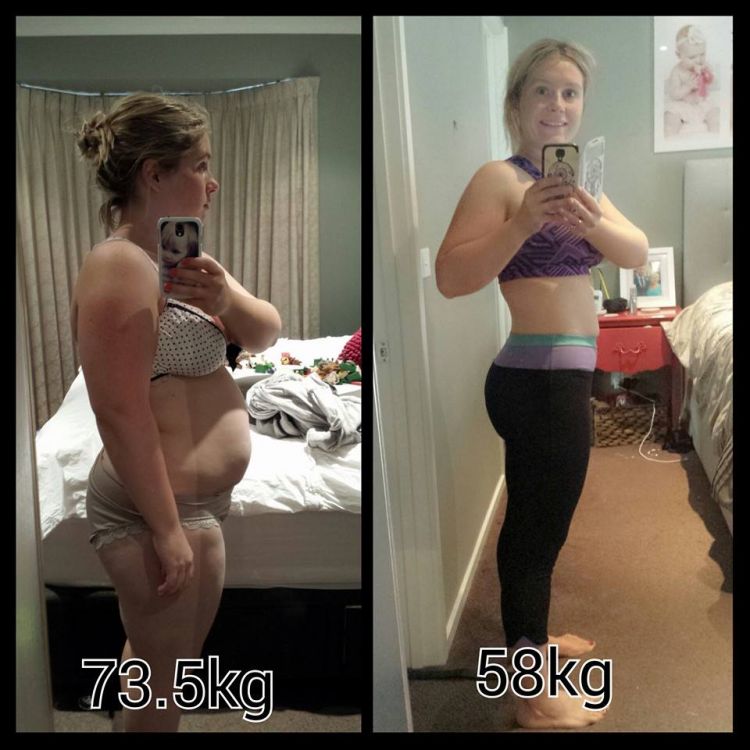 Please note that this site is for information only and should not replace any medical advice from a doctor taken before undergoing any weight loss campaign or change in exercise and diet routine post pregnancy and whilst breastfeeding.
We also do not recommend any exercise or stomach exercises until you have had full clearance from your doctor or Physiotherapist post birth – which for mums who have had C-Sections could be many many months post birth and trying to do exercise before you are ready could lead to severe injury.
How does jumping on a trampoline help you lose weight?
Do you ever feel sweaty and out of breath when you jump on the trampoline in your backyard with your kids?
This is because the g-force that is used to bounce up and down firms up every part of your body, including your legs, thighs, arms and even your stomach!
Trampoline exercises are also convenient and enjoyable, and this may be beneficial to those who dislike exercising.
Plus, jumping can help improve your endurance and relieve stress as well as tension.
The added bonus is that if you have any injuries, trampolining is usually easy on your body parts.
However, if you do have any injuries or concerns, we advise you to speak with your doctor.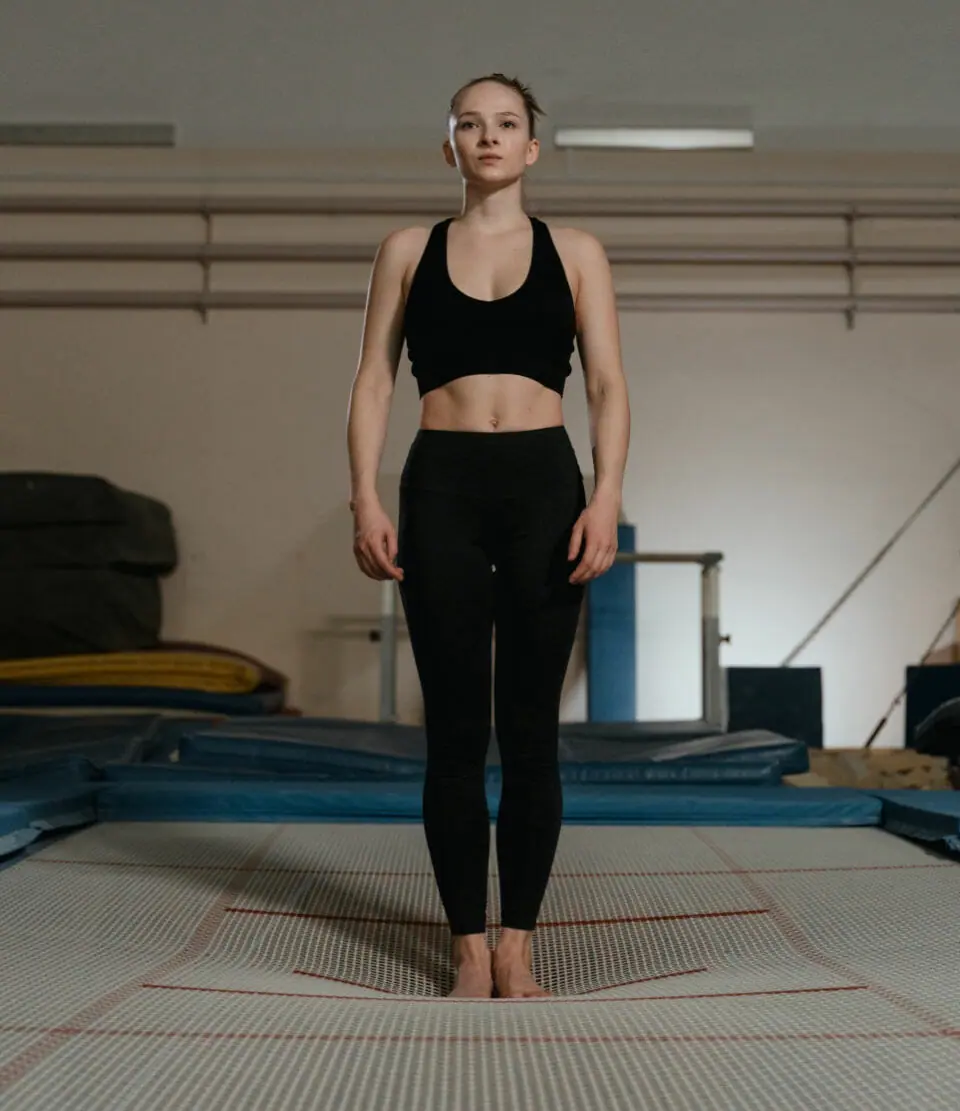 Studies on losing weight while jumping on a trampoline
A small study featured in the Journal of Sports Medicine and Physical Fitness found that obese women lost weight through trampolining.
These women took part in a mini trampoline workout program for 12 weeks; they lost body fat, were fitter and also gained muscle and improved their blood pressure.
Meanwhile, another study by NASA found that trampoline jumping is 68% more efficient than running or jogging!
Experts found it the best exercise to rebuild the lost bone tissue of astronauts while they were weightless in space.
How long do I need to jump on a trampoline to lose weight?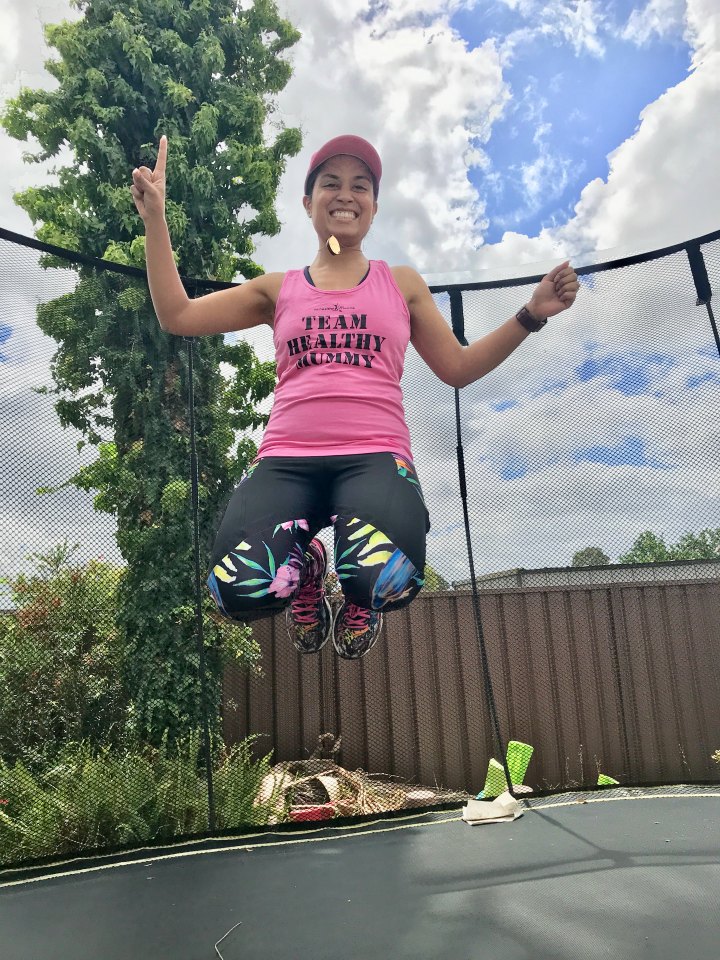 Figures show that women can burn an average of 9.4 calories per minute during a trampoline workout.
What's more, you can burn around 564 to 744 calories from 60 minutes of trampoline jumping.
One of the best ways to start might be doing 30 minutes a day.
It can often be hard to find the time to exercise being a busy mum, the kids want to play with you, and you keep thinking to yourself, 'I need to get a workout in'.
But now you can combine the two!
Did you know that a ten-minute jump on a Springfree Trampoline is as much of a cardio workout as a thirty-minute run?
We know which we'd find more fun!
7 health benefits of using a trampoline for exercise
If you thought trampolining was just for kids, you'd be wrong! There is actually a multitude of benefits for adults who exercise on a Springfree Trampoline. 
Cardiovascular benefits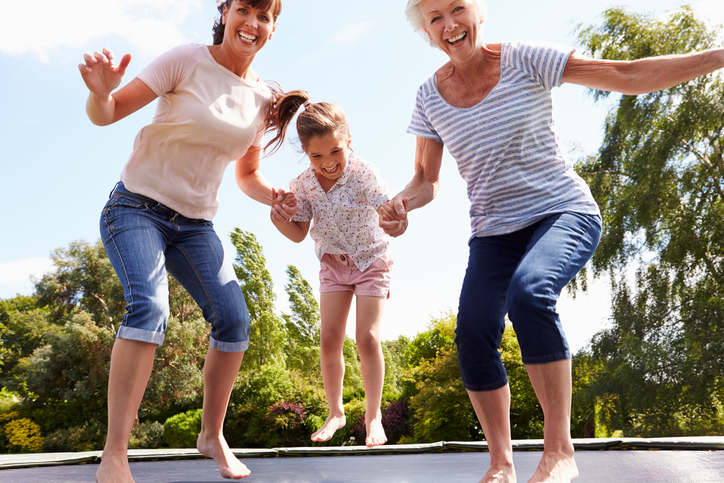 Increasing your heart rate with 10 minutes of jumping a day will give you a great cardio workout, equivalent to a 30-minute run, and strengthen the muscles that are needed for a healthy cardiovascular system.
Calorie Burning
Jumping on a Springfree Trampoline actually burns more calories than running!
Gentler on Joints
Whilst running is high-impact and can cause stress on your joints, jumping on a Springfree Trampoline is actually a low-impact cardio exercise because the trampoline mat absorbs 80% of the shock.
It takes the pressure off your knees and prevents the jarring of your ankles and spine by removing the stress of a hard surface workout. So you can rest assured that you're protecting your joints whilst still exercising your muscles.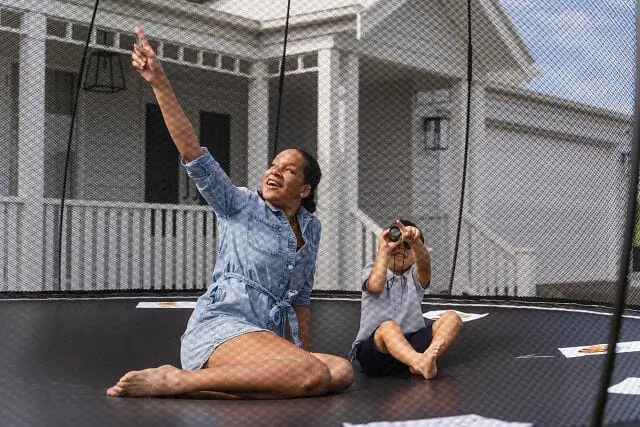 Stronger Bones
Jumping strengthens your bones and helps prevent bone diseases such as osteoporosis.
Improved Motor Skills
The combination of jumping high, maintaining balance and concentrating on executing the move will help to improve your motor skills – all in one go.
Jump for Joy
Being active makes you feel happy, positive and self-confident, and trampolining is no exception!
Endorphins, the positive mood-enhancing chemicals released during exercise, are triggered when jumping and help to improve your mental health.
After all, who can resist a smile when you're jumping up and down?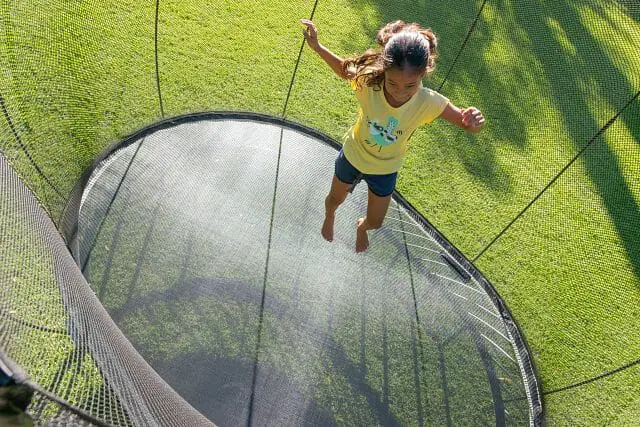 Coordination Boost
As well as the cardio workout of jumping, keeping your balance and concentration on doing the move helps to improve your coordination!
Healthy Mummy Trampoline workouts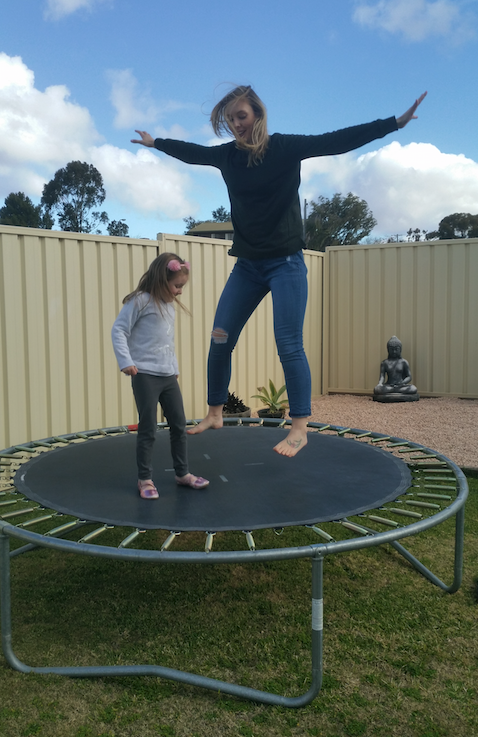 The great news is that we've got two NEW fantastic Springfree Trampoline workouts on our app so you can experience the full benefits of working out on a trampoline.
You can learn more about Springfree Trampoline here!