Win 12 Month's of Premium Smoothies For You AND Your Friend
And the winners are…..Victoria Williams and Charlotte Nicolson. Congratulations both!
This competition is now closed.
 We are so excited! The Healthy Mummy products are now officially stocked in Priceline stores (you can see all the products in our store here and all are Aussie made in Byron Bay)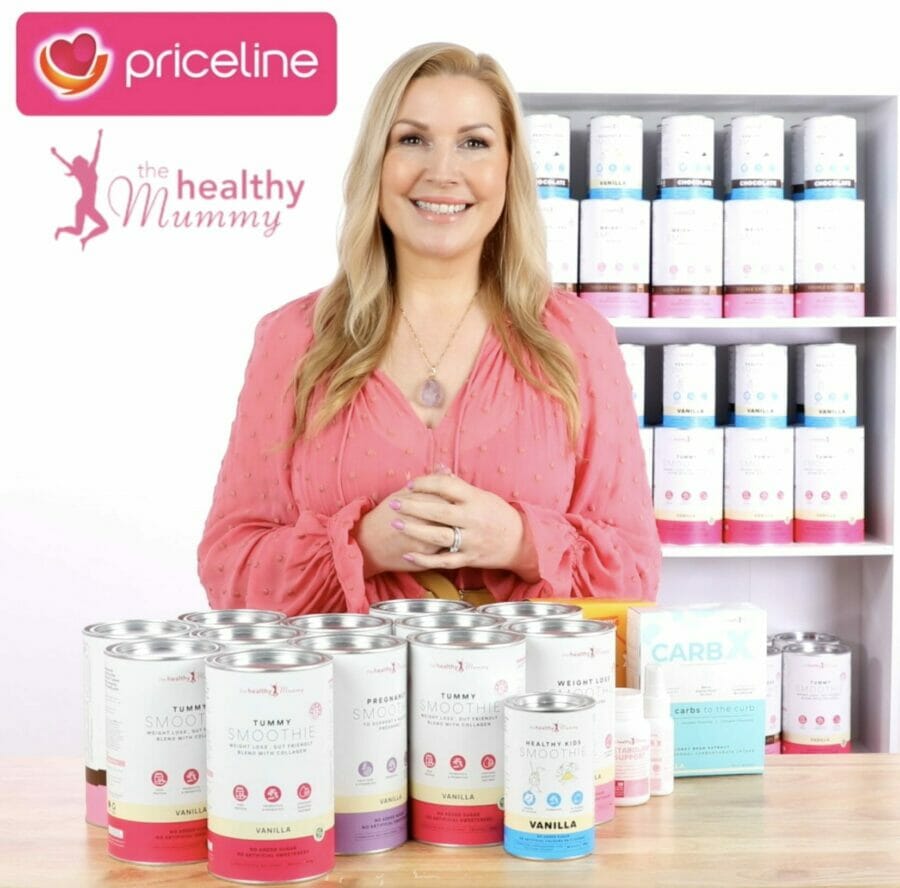 And to CELEBRATE you can also win this awesome prize of smoothies for a YEAR for you AND your friend when you buy instore at Priceline or online at Priceline here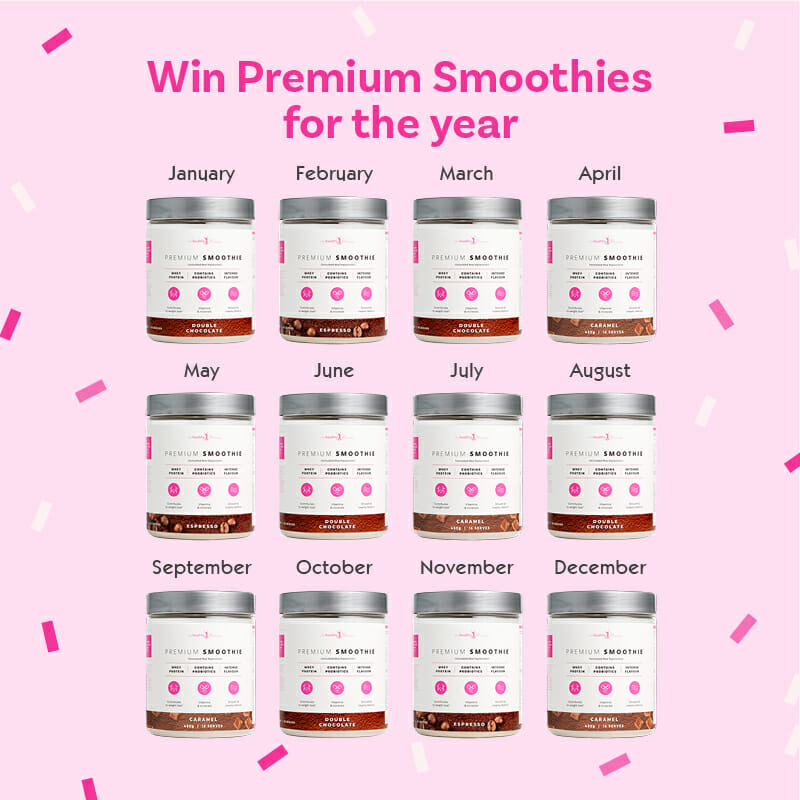 And you can see all the FAQ on the Priceline launch here
Enter your details below to win
The prize includes: 12 x Healthy Mummy Premium Smoothies for you and your friend and will close at midnight on Sunday October 31st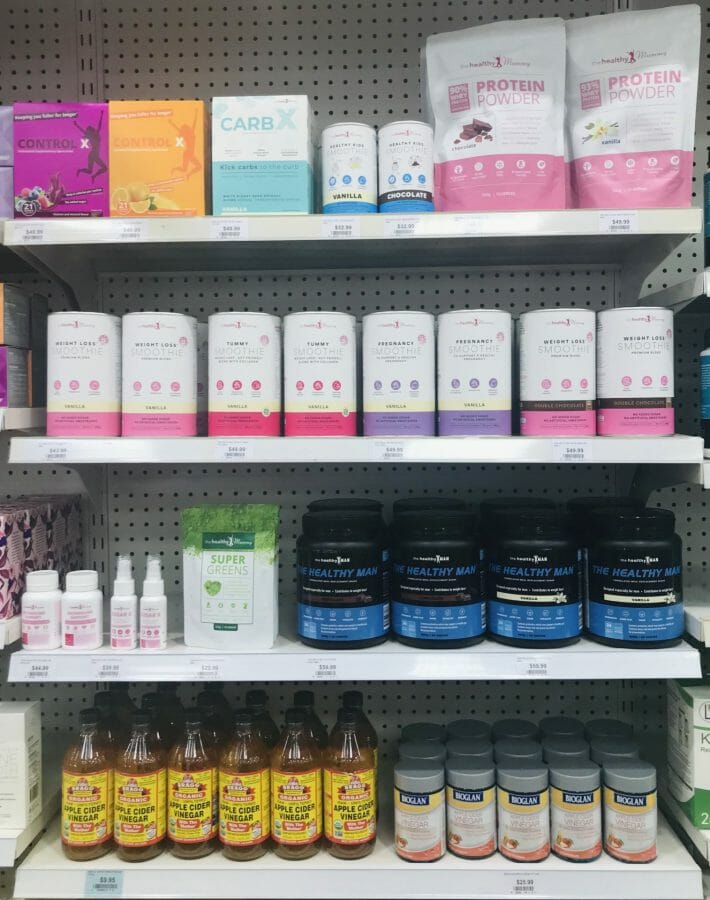 The winners of this competition will be contacted via email and also posted on our 'Competition Winners' blog posts (posted healthymummy.com).
Winners have 14 days to claim their prize once their name has been announced.
What Makes Our Smoothies Different?
As our Healthy Mummy Smoothies are very different to other 'shake' based products and smoothies on the market, we thought we would outline why they are very different and what makes them unique.We have a range of different types of Smoothies which are all nutritionally dense formulated meal replacements and can be used as an effective tool to help you lose weight. The entire range contains a mix of high fibre and natural ingredients so you feel fuller for longer. Some of the range also includes probiotics. They all contain essential vitamins, minerals, nutrients and important antioxidants.
The Healthy Mummy Smoothie Range
Premium Healthy Mummy Smoothies – Premium Whey Blend Meal replacement with 24 vitamins and minerals AND probiotics. Creamy and smooth in 7 flavours.
Tummy Smoothie – Premium Tummy Complex and Whey Based Meal replacement with 24 vitamins and minerals AND probiotics. Low allergy, collagen and gut busting. Creamy and smooth. In 3 flavours
Original Dairy Free Healthy Mummy Smoothies – Plant Blend Meal replacement with 24 vitamins and minerals.
Healthy Man Meal Replacement – Meal replacement created for men designed to help weight loss, energy, hair health, nutrition and stamina.
What's in our Smoothies
High in fibre
All our Smoothies contain a range of high fibre ingredients which aids weight loss by providing a calorie controlled, low carbohydrate, high fibre and high protein meal replacement – which is a satisfying meal and keeps you feeling full.
Low sugar
Sugar provides our bodies with energy but it's the types of sugar we choose and how much we eat that can potentially lead to poor health and long-term issues.  All of our Healthy Mummy Smoothies are 96% sugar-free and some of them are 100% fructose free, meaning there are no added sugars.
Low GI
As part of a healthy eating and weight loss diet, foods which are Low GI help to release glucose more slowly which leads to a more stable blood glucose level.
Breastfeeding friendly
Safe for breastfeeding mums! We have included fenugreek into some of our weight loss smoothies, which is said to boost a mother's milk supply. Made with whole foods, the smoothies have been specially formulated to give you the boost of vitamins and minerals needed to support you if you're breastfeeding.
Ingredients Included in our Smoothie Range
Flaxseed meal – healthy fats (omega 3 fatty acids) & high fibre making it an ideal ingredient for post birth nourishment
Pumpkin seed meal – adds bulk to assist a sense of fullness & contains a high level of essential fatty acids, protein, zinc & iron.
Psyllium husks – a water-soluble fibre and excellent for digestion
Probiotics
What's not in our Smoothies
No accelerants
Used to speed up weight loss, accelerants are modified ingredients added into weight loss smoothies. These give the impression that you have energy when in fact, the accelerant is giving you energy. These artificial fillers make our tummy feel temporarily full, are not natural and the long-term effects are not known. The Healthy Mummy weight loss smoothies are packed with natural energy vitamins and minerals which give the body all the energy it needs.
No artificial ingredients
Many weight loss smoothies or shakes contain fillers and weight-loss accelerants to trick your body into short-term and unhealthy weight loss. These artificial fillers make your tummy feel temporarily full, are not natural and the long-term effects are not known.
No caffeine
Other than the Espresso Premium Smoothie, our Smoothies do not contain caffeine. Many weight loss smoothie products use caffeine as an ingredient to sustain hunger pangs, give elevated energy to make up for the lack of nutrients in the product, and for a metabolism boost. This is not a natural way to lose weight.
They are all a formulated meal replacement & pass international standards
Our Healthy Mummy Smoothie range is a formulated meal replacement and has passed International Food Standards. They provide your body with vitamins and minerals and the focus is on optimal nutrition. Some other 'shakes' on the market are only a protein shake or supplement.
Lose weight the healthy way 
As you will see from the fantastic results, Mums across the world are enjoying the health benefits that come with it, including weight loss.
Many mums like to use the Smoothies in conjunction with our 28 Day Weight Loss Challenge.
You can see the AMAZING results achieved by Mums drinking our Smoothies here.

Mums share their amazing Healthy Mummy transformations!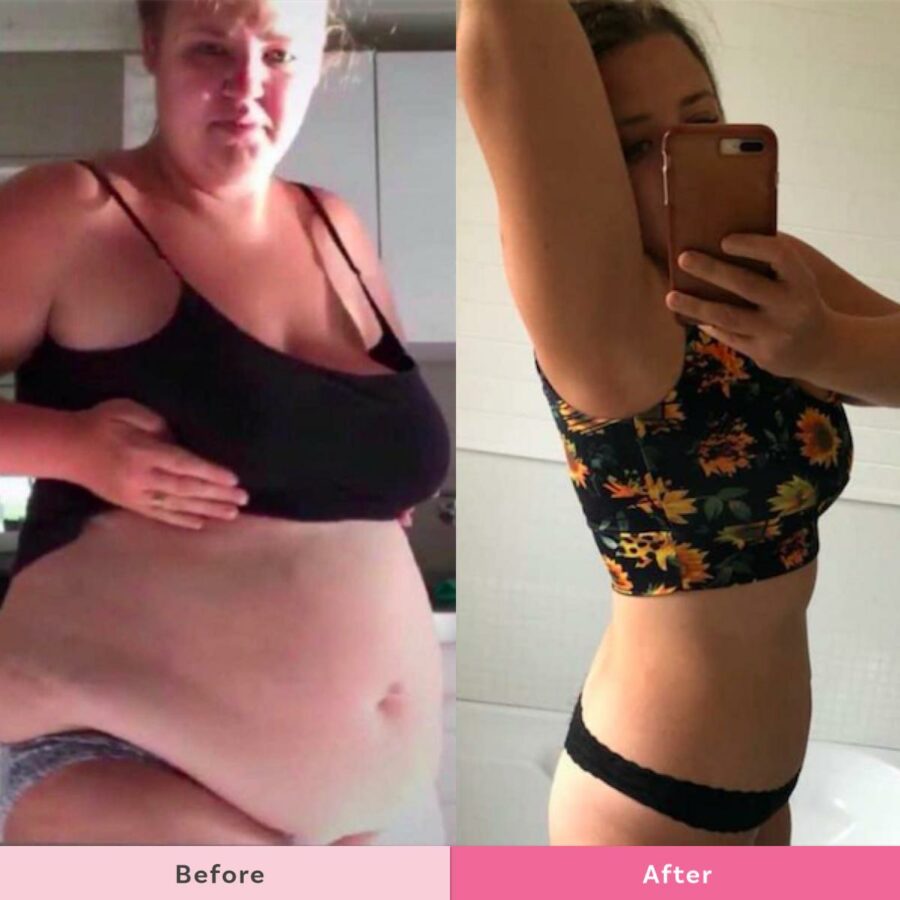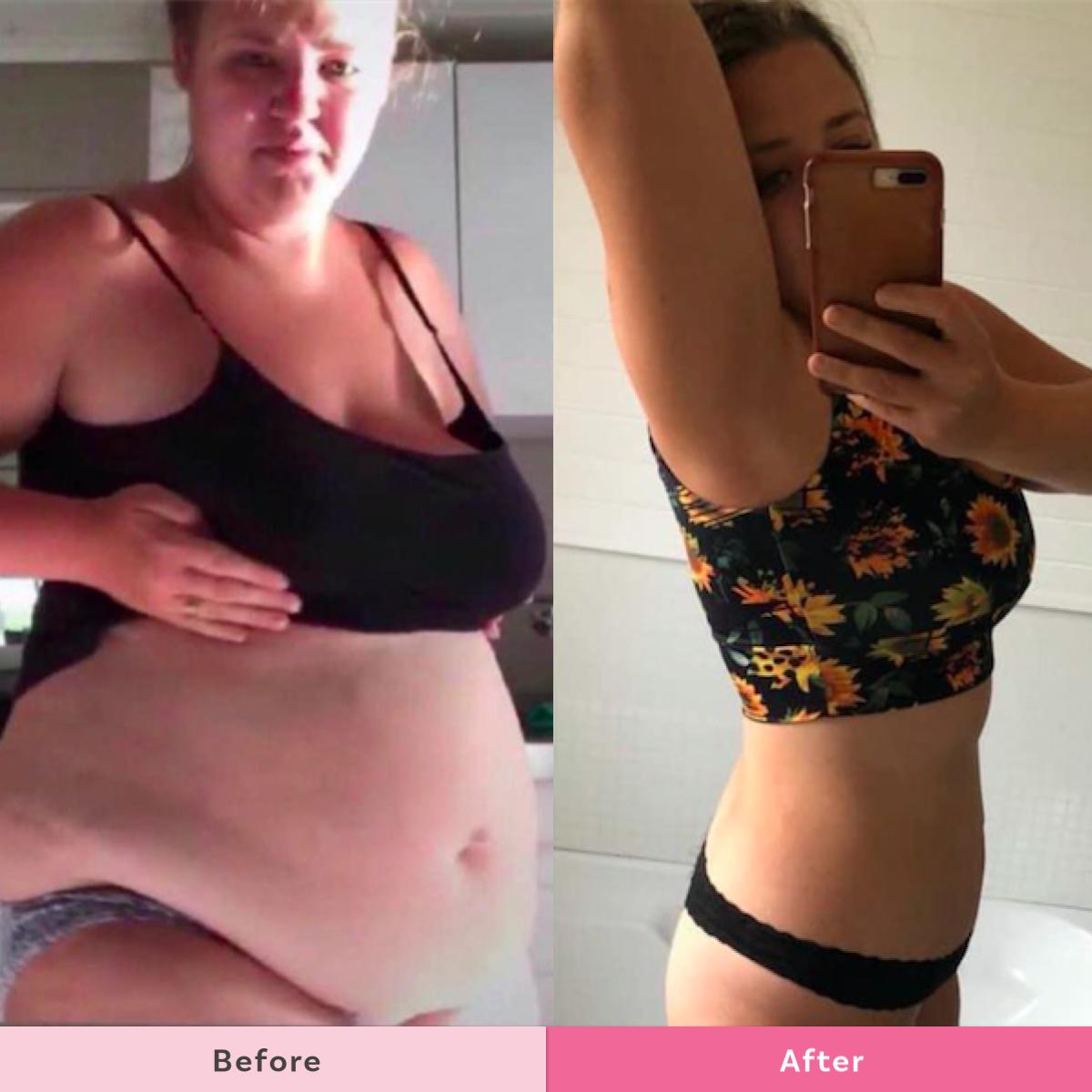 Cicily Goodwin- 35Kgs Lost
Mum of two Cicily started her journey with The Healthy Mummy in July 2016. In the first few months, she lost 20kgs by using The Healthy Mummy Smoothies twice a day and making the 28 Day Weight Loss Challenge meals. She lost another 35kgs over the next year.
Cicily says "I started the year at 110kgs and got to 75kg!! The lifetime goal I've dreamed of my whole life! "
Cicily admits that her when she started her journey it was all about weight loss but after living a healthy lifestyle it became a lot more about happiness.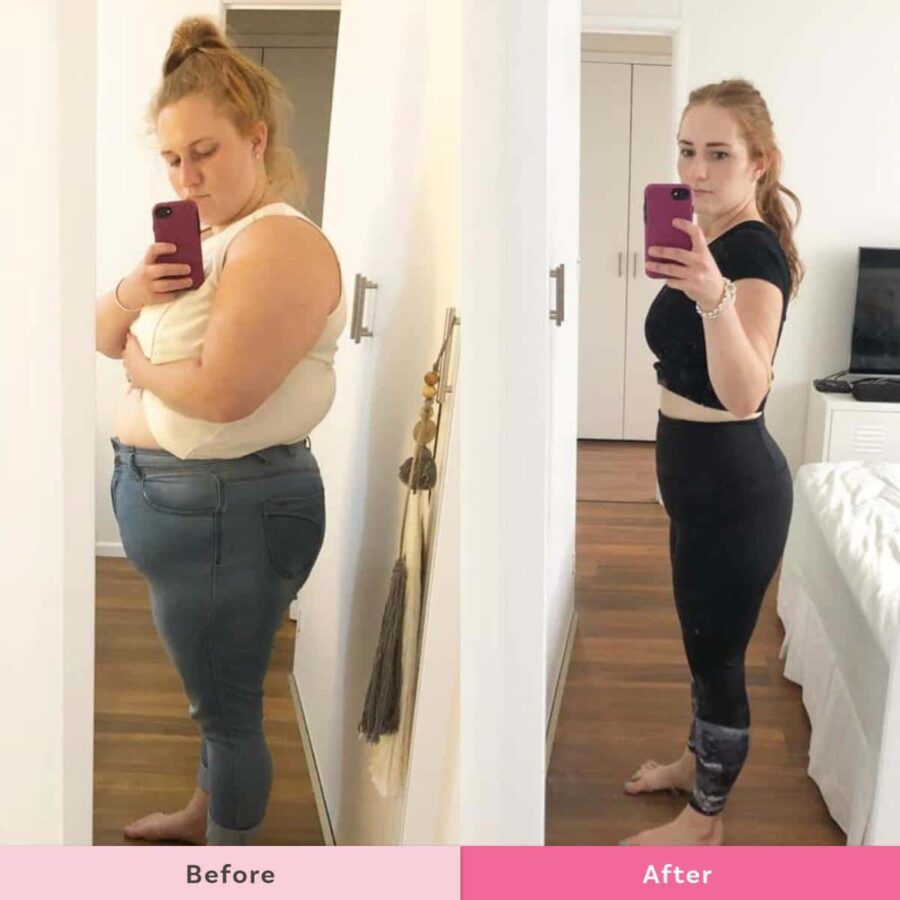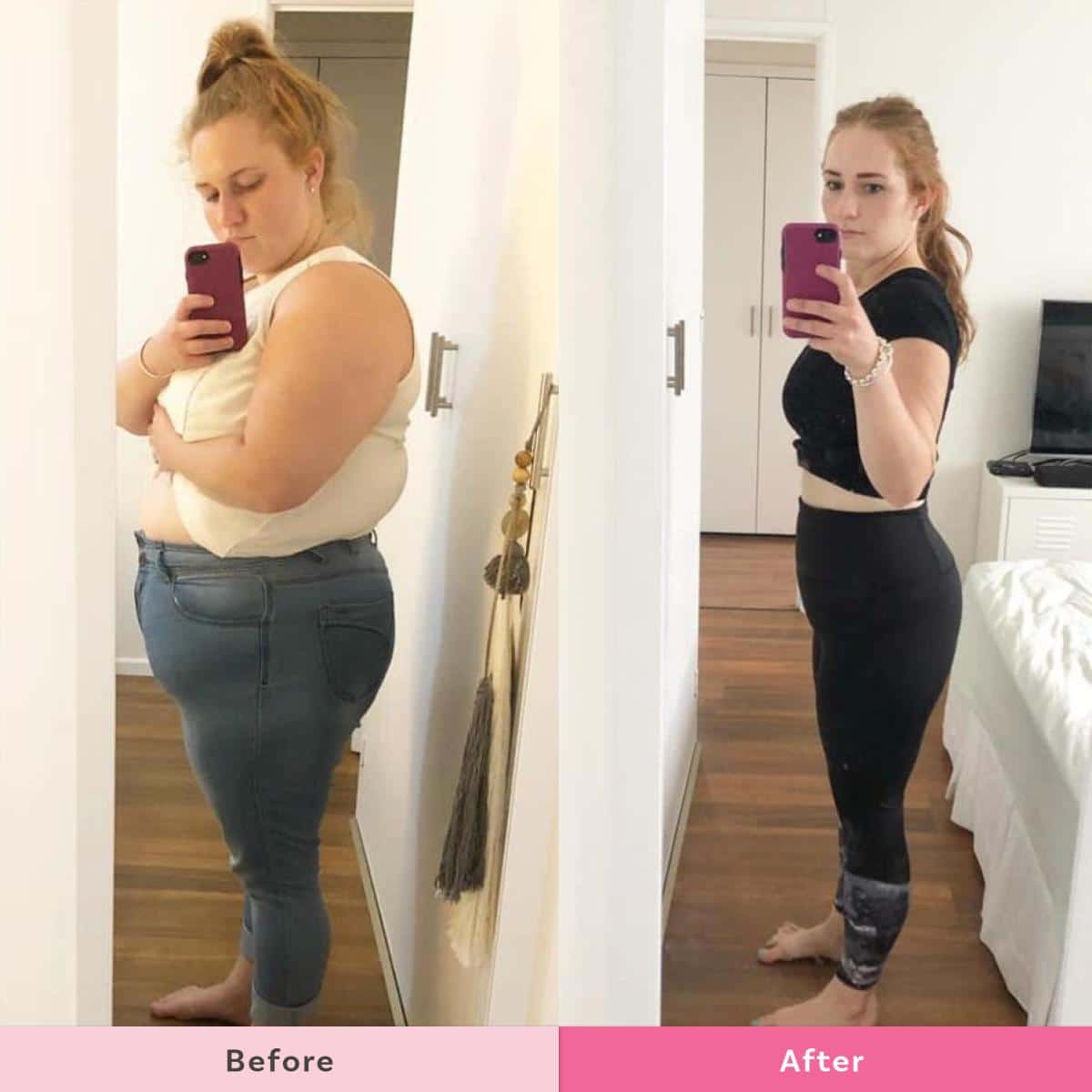 Zoe Terry – 41.7Kgs Lost
Zoe shares, "July 2019 – March 2020 – 41.1kgs gone and definitely not missed! I never thought I could do it. I never thought I would enjoy it. But Healthy Mummy has made it easy and fun!
I have found that 2 smoothies, 3 snacks and a healthy main meal paired with daily exercise is what's worked for me!"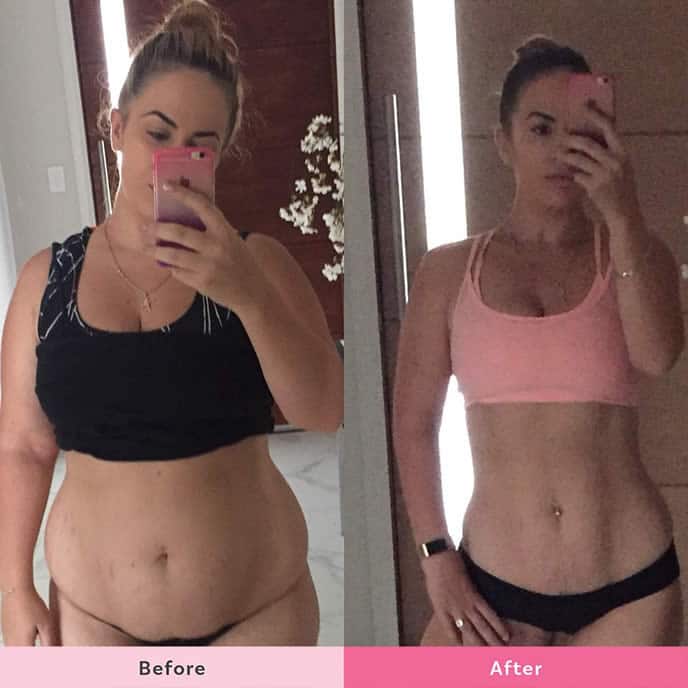 Melissa Timmer – 37kgs Lost
The Healthy Mummy which has helped her take back control and within 18 months, she had lost a whopping 37 kg and has been maintaining her weight for three years.
Even though Melissa's weight fluctuates up and down a little she says "I couldn't care less because this journey is about being happy and if you feel happy in your skin, no matter how much you weigh or what size you are, that's all that matters. "We are all different and beautiful so don't be stuck on what scales say all the time."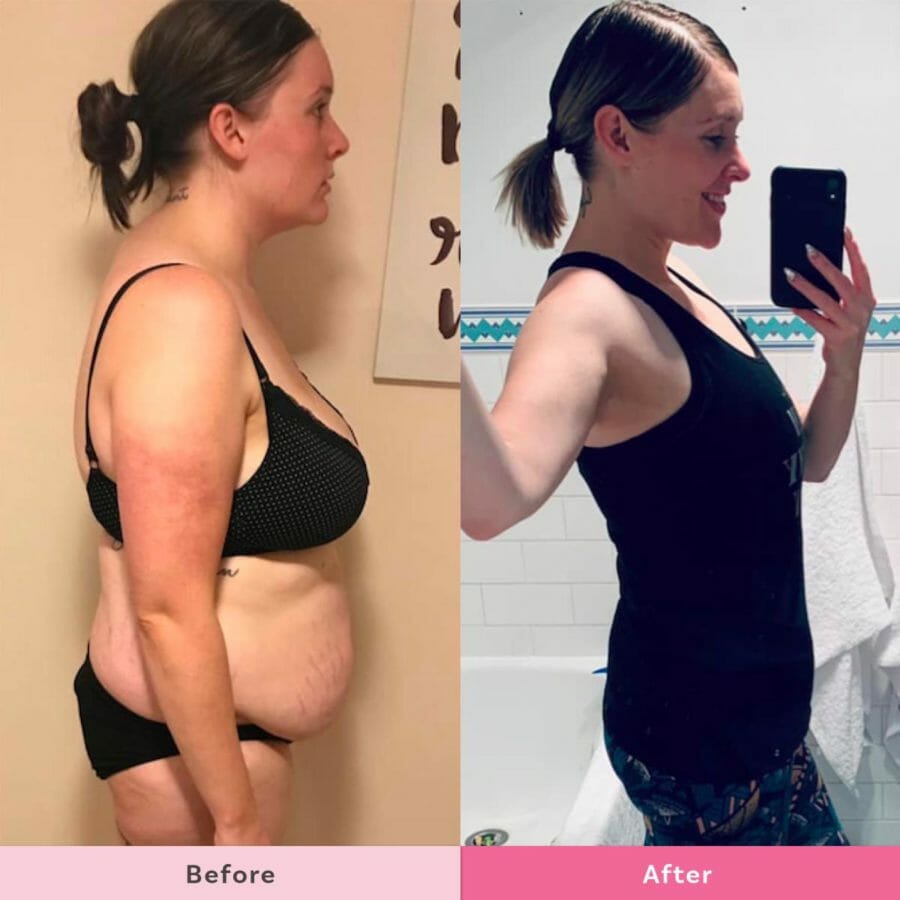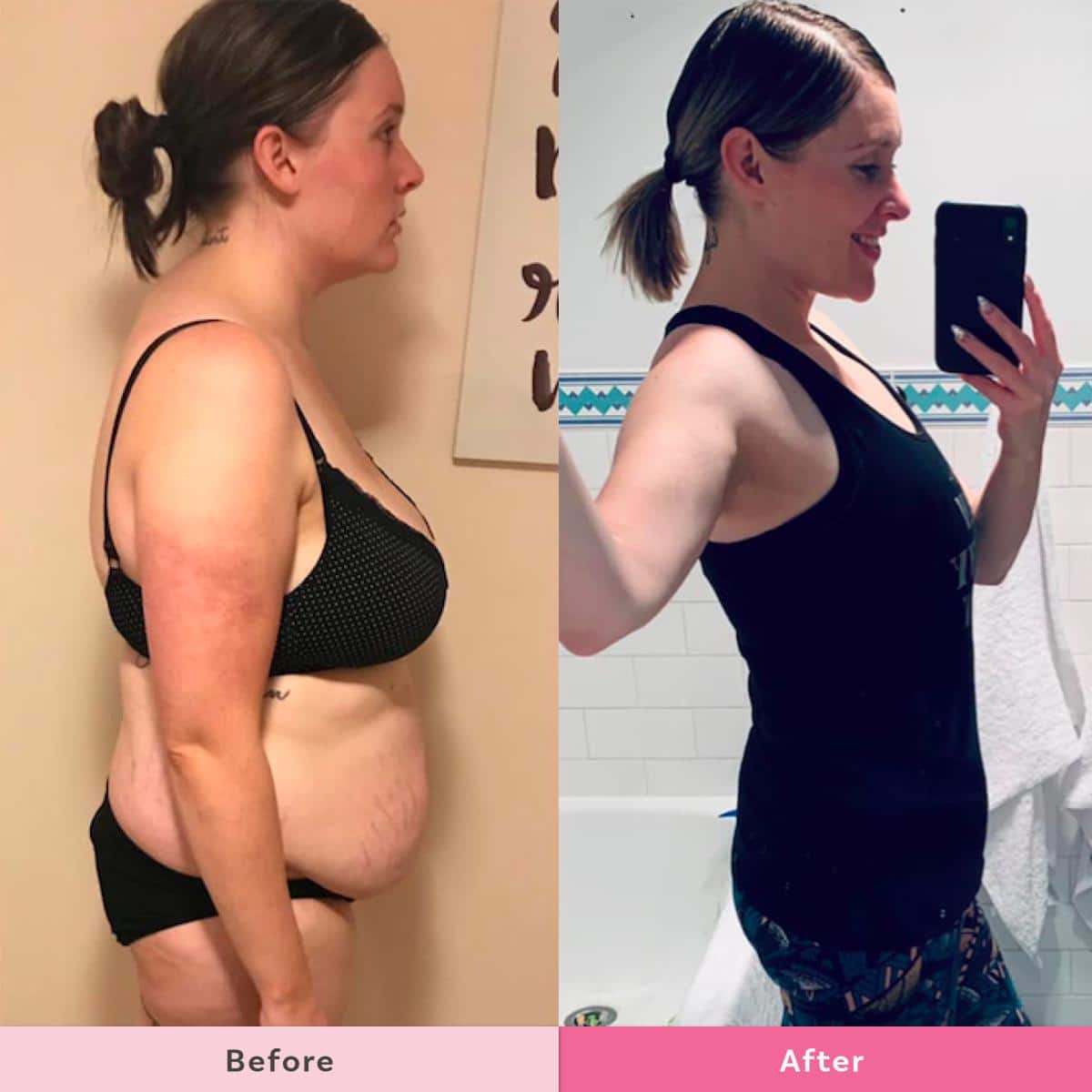 Tarryn Eames – 30Kg Lost
Tarryn says:-
From 97KGS to 67KGS
From a size 18/20 to a size 10/12
From lethargic to energetic
From miserable to genuinely happy
From hating my body to appreciating it.
"At the beginning of my journey,  all I wanted was to lose weight. I never aimed to gain anything. However, all I've gained means more to me than the kilos that are now gone and the cms that have disappeared too. Somewhere along the way, I gained the energy to be able to play with my children and the confidence needed to do that in a public setting.
I gained many beautiful and like-minded friends. I gained confidence. I gained strength both physically and mentally. I gained self-love. I gained knowledge about nutrition and exercise. But most importantly I gained happiness."