4 slow cooker recipes that make insanely good leftovers
Is there anything better than coming home from work/errands/school drop off to the smell of dinner waiting for you?
This kind of heaven can be yours if you plan ahead and pull out your trusty slow cooker to do all the hard work for you, using recipes from the 28 Day Weight Loss Challenge.
Haven't got a slow cooker yet? Read our guide here on which one does what.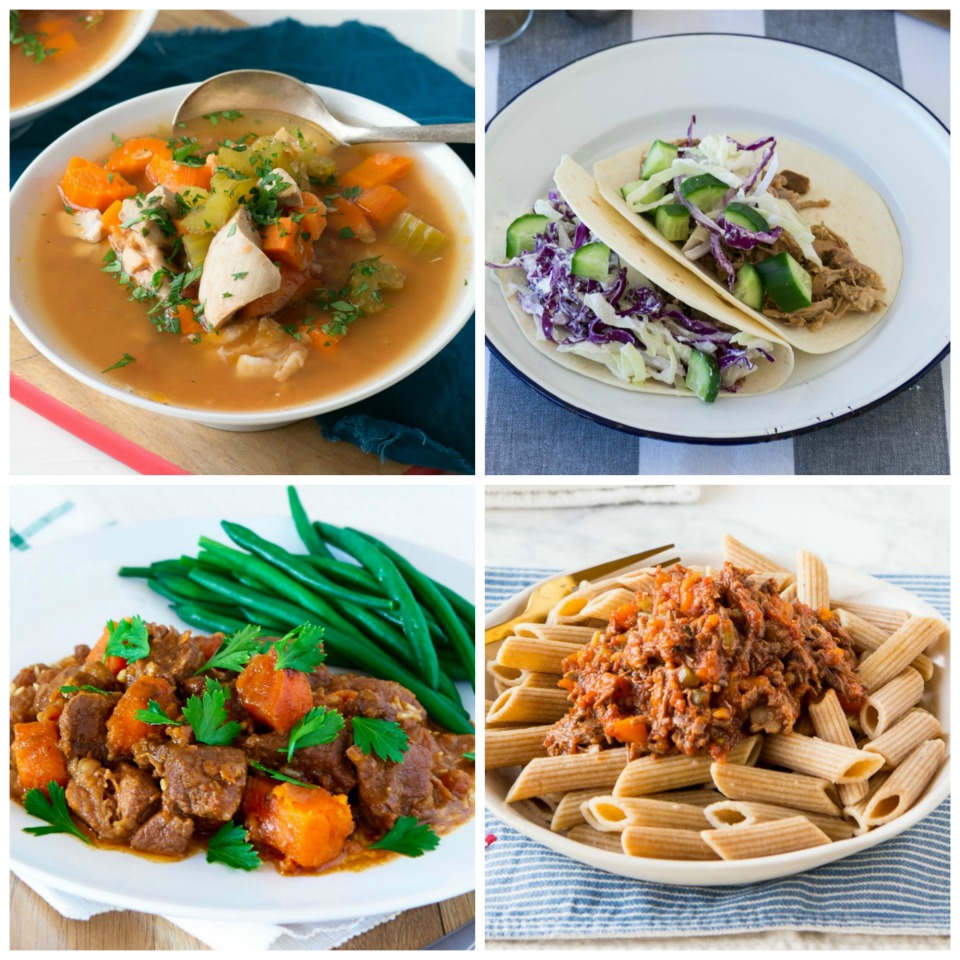 The benefits of slow cooking
Slow cooking has many benefits, besides being able to walk away and get on with your day (which we think is pretty great).
Slow-cooked meals from the 28 Day Weight Loss Challenge are usually budget and family-friendly, easy to prepare and clean up from, and are loaded with nutrients that are sometimes lost when cooking quickly, using high temperatures.
Once you've tried a few slow cooking recipes, you'll never look back and can stock the freezer with a range of healthy meals.
That way you won't be tempted to call for a takeaway, as you'll have soups, curries, and casseroles ready to go in the freezer. Just double the recipes, or save leftovers to use for another meal.
The 28 Day Weight Loss Challenge has lots of amazing slow and bulk cooking recipes and we are SO excited to share our super easy pulled pork recipe below.
Slow Cooker Beef with Sweet Potato and Pine Nuts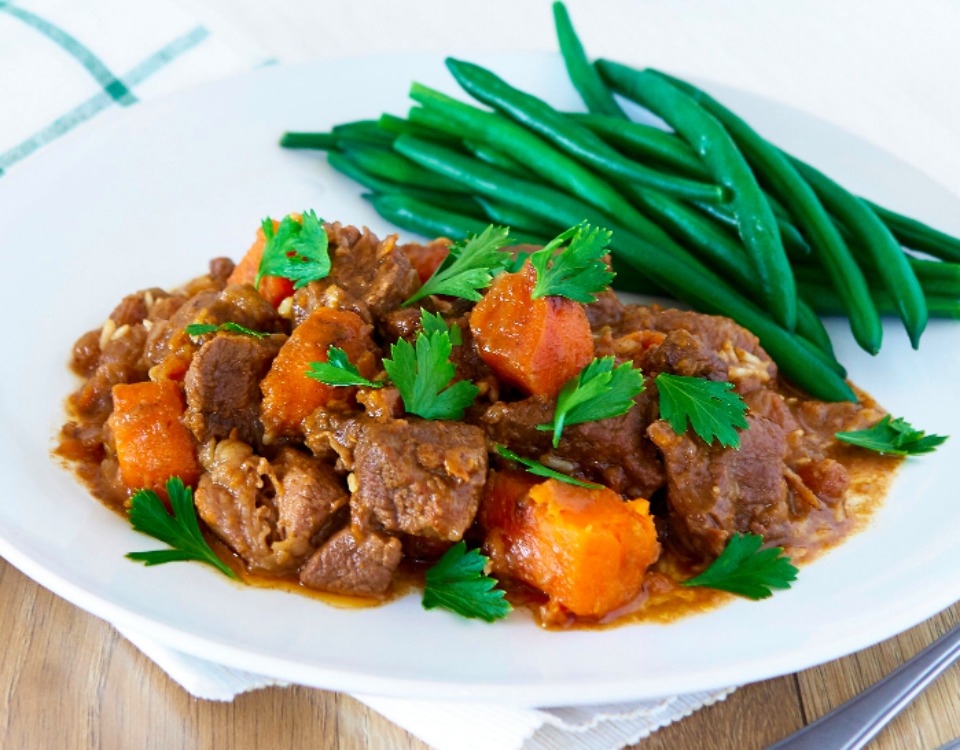 Load the slow cooker in the morning with all the ingredients for this delicious stew and let the cooker do all the work so you have a healthy meal ready at dinner, just 359 calories.
This freezes well too – just defrost it overnight in the fridge the night before you want to eat it. Another delicious slow cooker beef recipe!
The recipe is available to members of the 28 Day Weight Loss Challenge.
Slow Cooker Ragu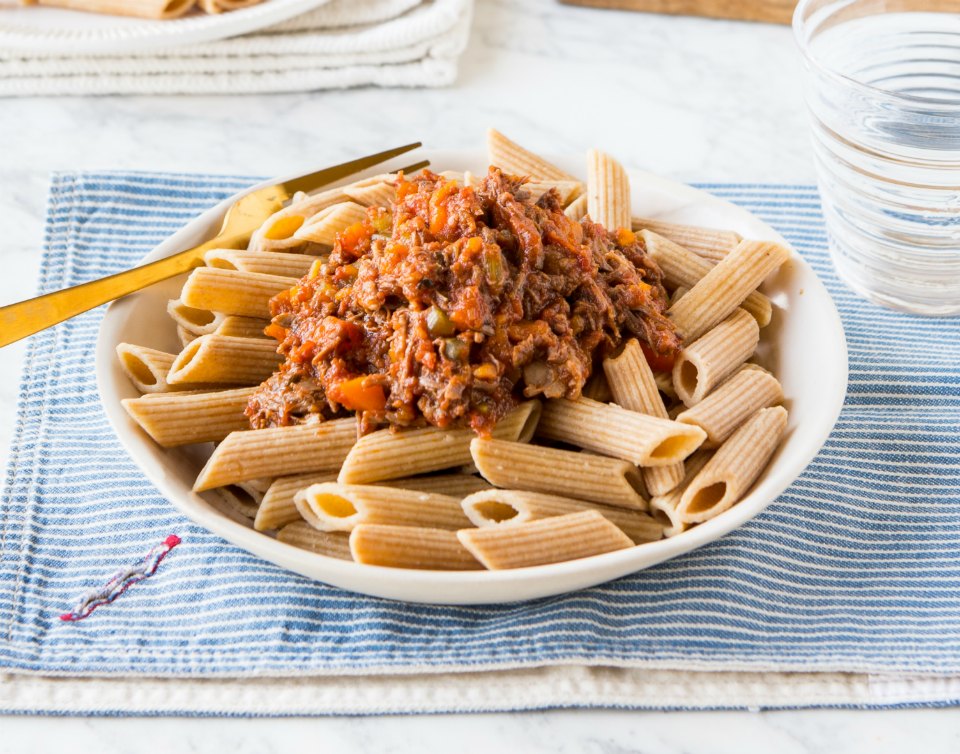 If ever a sauce was made to be doubled, this is it. Freeze single or family-sized portions to use on a cold night when you come home late. You'll be so glad you did. Just 314 calories including the pasta (why not add a green salad too?).
Curried Chicken and Lentil Soup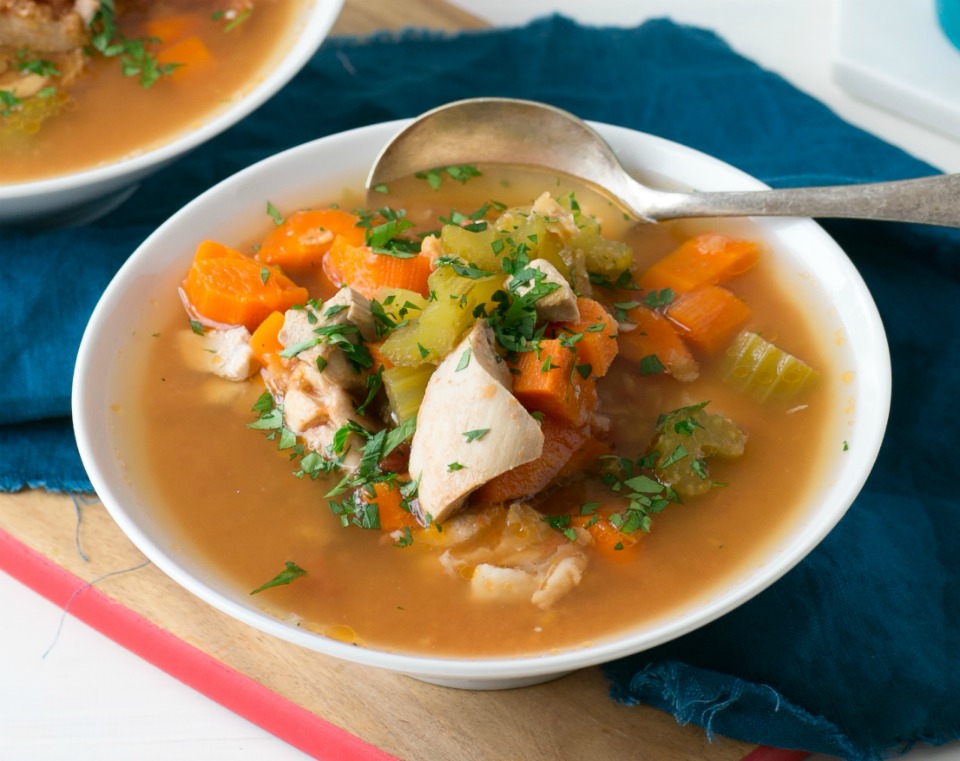 Soups really benefit from a low slow cook, and this chicken breast recipe is comforting food at its best. Whether you cook it in the slow cooker or on the stove, it's winner winner chicken dinner and just 327 calories.
Then freeze single serves to use for a quick and easy lunch another day. Another delicious Slow Cooker Chicken Recipe!
The recipe is available to members of the 28 Day Weight Loss Challenge.
Slow-Cooked Seasoned Pork with Crunchy Salad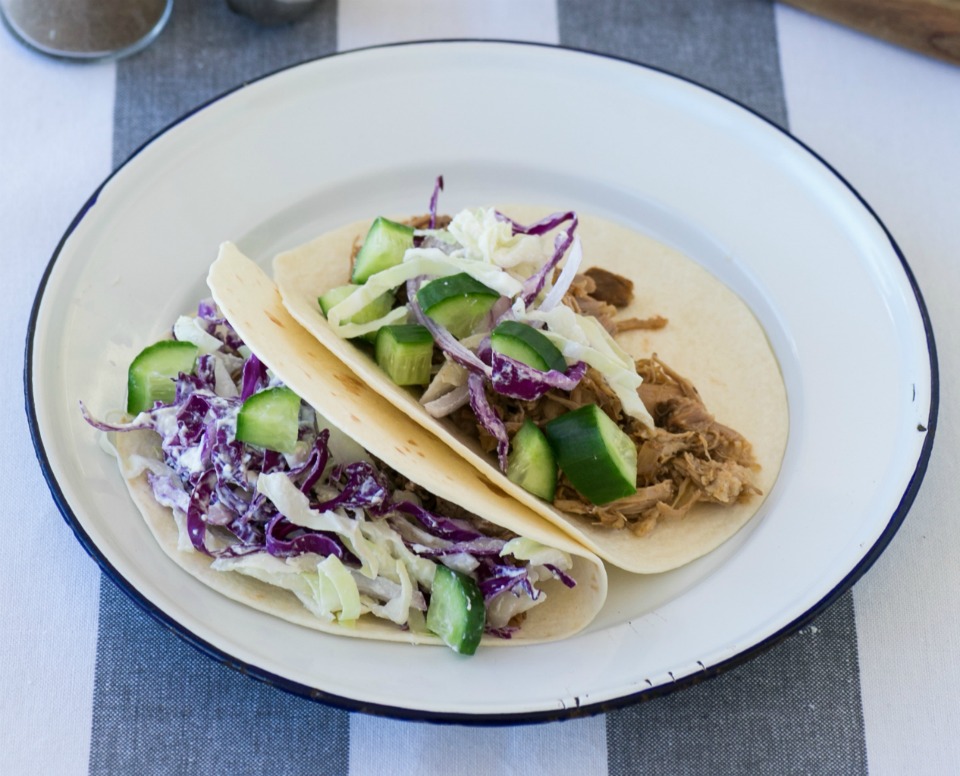 If you haven't jumped on the pulled pork bandwagon, consider this your official invitation. You can either cook this in the oven or the slow cooker.
Serve it that night with the tasty coleslaw and it's just 368 calories.
Why not use a bigger pork shoulder and then use leftovers to top a jacket potato another night, or in a wrap with some avocado, cheese, and leafy greens, or as a topping for your homemade nachos.
This recipe comes from the 28 Day Weight Loss Challenge.
Ingredients
3 cloves garlic
1/4 tsp cinnamon
1/2 tsp smoked paprika
1/4 tsp ground coriander
1/4 tsp dried oregano
1 brown onion
165ml lemon juice
1/2 cup orange juice
1 to 2kg pork shoulder, trimmed of fat (serve 100g meat per person)
Cooking oil spray
2 cups purple cabbage
2 cups white cabbage
1 green apple
1/2 red onion
1 Lebanese cucumber
1/3 cup reduced-fat Greek natural yogurt
8 mini tortilla wraps
Method (slow cooker)
If using a slow cooker: place the first nine ingredients into the cooker and cook it on low for 8 hours. Then follow on from step 5 below.
Method (oven)
Preheat oven to 160C.
Lightly spray an ovenproof casserole dish with cooking oil spray over medium-high heat. Add the garlic, onion, cinnamon, paprika, ground coriander, and dried oregano. Saute 1-2 minutes until the onion softens. Add in 1⁄2 a cup of the lemon juice and all the orange juice and mix to combine well. Remove mixture from the heat and allow it to cool slightly.
Place the pork into the dish and cover it all over with the juice and spice mix.
Place some foil over the top of the dish and cover with the lid. Cook in the oven for 3 hours or until the meat is very tender and falls apart when shredded with two forks.
Allow the pork to cool slightly then pull apart with two forks and combine shredded meat with cooking juices. Prepare the salad by combining the cabbages, apple, onion, and cucumber.
Combine the yogurt and remaining 2 tablespoons of lemon juice and drizzle over salad, toss to combine well.
Heat wraps according to packet directions.
Add some shredded pork (100g per person) and crunchy salad to each wrap and serve 2 wraps per person.
Recipe serves: 4.
Want to access thousands more healthy recipes like these?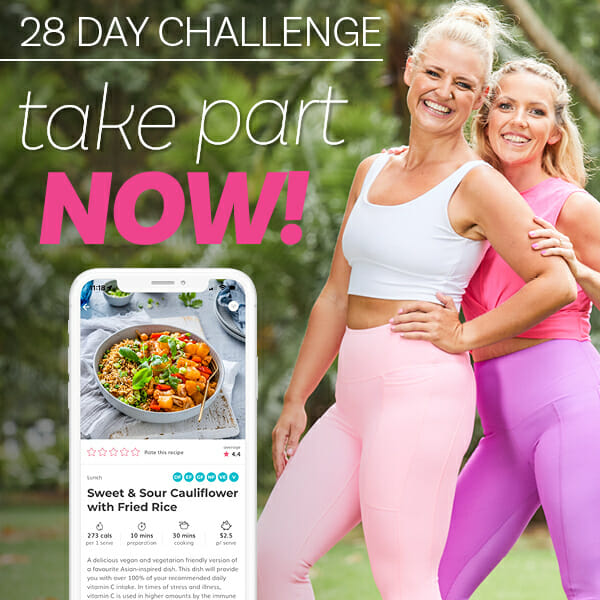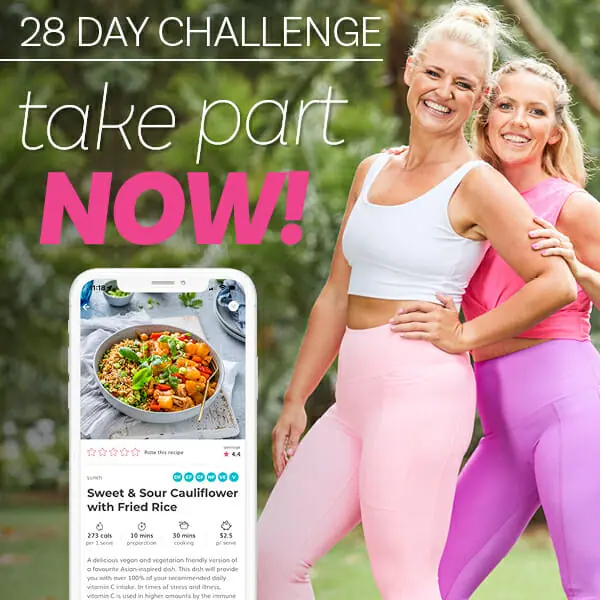 Love the sound of these delicious recipes? Want access to thousands and thousands MORE healthy recipes just like it? Then be sure to check out our 28 Day Weight Loss Challenge.
Our 28 Day Weight Loss Challenge is a family-friendly, breastfeeding-safe program designed FOR MUMS to help them tackle their health and lose weight. 
Every week you are given a different meal plan to follow and each month we add 100+ NEW recipes to our Challenge Recipe Hub. That way, you'll never get bored and stay on weight loss track while digging into healthy, yummy recipes.
Learn more about our 28 Day Weight Loss Challenge HERE.