Do's and don'ts of prepping food before baby arrives
Midwife, Lactation consultant (IBCLC), Child and Family Health Nurse, baby wearing consultant and mum of two, Bel Moore, explains how to prep food before your baby arrives.
Meal prepping has many benefits for everyone like saving time and money but is especially awesome when you're a new mum.
Tiredness, pain, cluster feeding sessions and a baby that just wants to be cuddled means that preparing a meal is usually the last thing on your mind and at times impossible. It also helps those maternity dollars go a little further!
Do's and don'ts of prepping food before baby arrives
Do:
Pick meals that freeze well – things that are 'sloppy' go well in the freezer, try soups, stews, casseroles and pies.
Avoid freezer burn – use good quality containers and freezer bags to reduce sublimation ( freeze drying) and exposure to air which causes freezer burn.
Stock up on pantry essentials for any extra snacks or meals you want to make – wholemeal flour, oats, coconut oil, healthy mummy smoothie powder, wholemeal pasta, brown rice, canned tomatoes, shredded coconut, and nuts all have long shelf life and can be stored unopened in the top of a cupboard for later use.
Prep one handed meals and snacks – cut meat and veggies up small so that can be eaten with just a fork or spoon as baby's seems to know when you're just about to sit down to eat, and want a feed too.
Organise a weekly fruit delivery – most fruit doesn't defrost well so get it delivered to your door. Not only does it save time and effort ( especially if you have a baby who hates car rides) but will reduce impulse buys.
Buy good quality, airtight, freezer safe containers that stack well in the freezer will maximise space in small freezers.
Clearly label each meal with the name, date and any cooking or heating instructions. Then your partner, family or even a guest can pop it on if you get caught up with baby.
Keep a list of all meals stored in the freezer on the fridge and cross off when you use them, so you know what's left!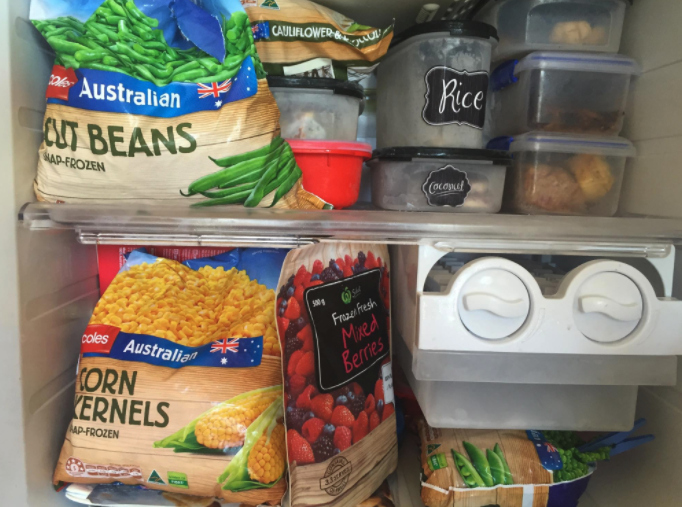 Don't:
Don't freeze meat bought in supermarket packaging, it's designed to let oxygen in to keep the colour bright, which is fine for refrigeration but will lead to freezer burn when frozen. Use snack lock bags with the air pushed out or airtight containers.
Don't fill containers to the brim – liquid will expand when frozen, so leave at least 3 cm at the top of containers to allow for this.
Don't leave meals on the bench to defrost. Food needs to be kept in a certain 'safe' temperature range to reduce the chance of bacteria multiplying. Get it out in the morning to defrost in the fridge or use a microwave.
Don't be scared to give family and friends a few recipes that you like so that they can prepare them and bring them around once baby is born.
Don't be too worried about the foods in your frozen meals causing issues for your baby. Unless there's a family history of an allergy or you're using A LOT of an ingredient, it shouldn't go through to your milk and cause gas issues to baby.
If you are looking for some meal inspiration to make before your baby comes, then check out this blog on 8 healthy recipes to make ahead of your baby's arrival.
And if you decide you want to lose some of the baby weight – then be sure to join our 28 Day Weight Loss Challenges. These challenges are made for mums, have over 4,000 family and budget friendly meals and over 350 exercises.
Above is an example of a menu – and the GREAT thing is that it is all customisable (you can increase serve sizes, swap meals, swap recipes, adjust shopping lists) and you can bump your calories up or down to suit your BMR and needs.
Our 28 Day Weight Loss Challenge is an affordable, customisable weight loss program PROVEN to help mums reach their weight loss goals.
Our Challenge entails:
28 days of at home exercise routines (no gym needed) – with video instruction
Customisable and breastfeeding friendly meal plans
Time-efficient exercises for busy mums – under 30 mins
Challenge combines Pilates exercises with interval and circuit training (HIIT)
Suitable for basic to advanced fitness levels
Home to thousands of EASY-TO-MAKE recipes!
To find out more on the 28 Day Weight Loss Challenge click here.