Grandma proves age is no barrier when it comes to improving your health!
Deb Robinson, 62, from Bendigo in Victoria is a mum of five and a grandma to seven. After suffering from type 2 diabetes for 20 years, Deb decided it was time to turn her life around.
"If a 62 yr old nanny can do it, anyone can!" says Deb.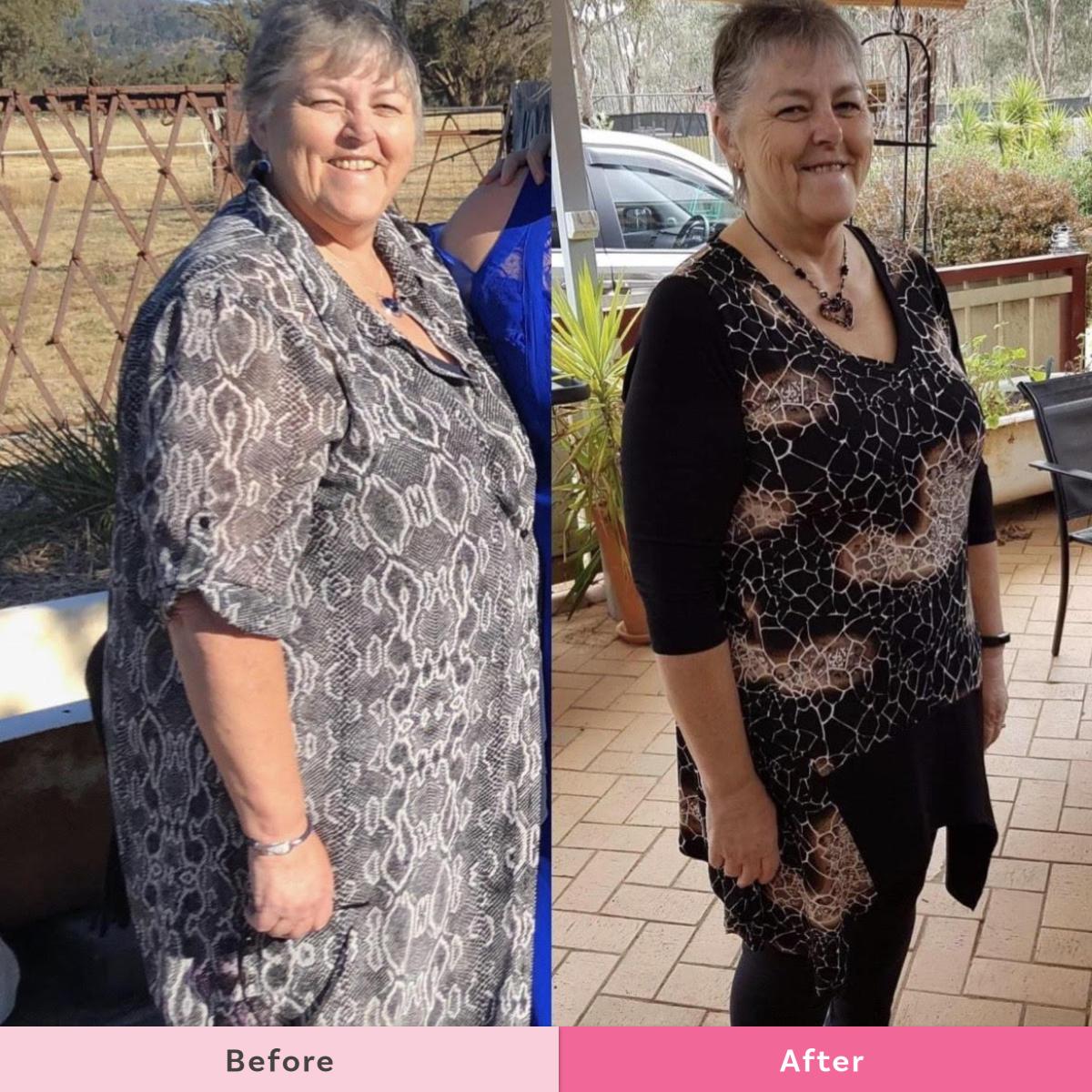 Grandma spent 20 yrs with type 2 diabetes loses 27 kilos with The Healthy Mummy and changes her life!
This gran of seven proves age really is just a number, and nothing should stand in your way when it comes to taking control of your health. Not even a knee replacement!
Deb, 62,  has two sons aged 37 and 28, and three daughters aged 35, 32 and 31 yrs.
Her seven grandchildren range from 3 weeks to 10 years old.
Deb has been following The Healthy Mummy 28 Day Weight Loss Challenge since 1st December 2018 after doing a lot of research into weight loss programs.
Debbie's weight loss journey
Debbie was diagnosed with type 2 diabetes around 20 years ago. Deb says it was kept under control for around 10 years with tablets, but then she had to start injecting insulin once a day.
Deb says, "After 9 months with The Healthy Mummy, I have lost 27 kilos and 107cms. My diabetes is well under control, with levels from my last blood test "almost pre-diabetic" according to my GP. Such awesome news after nearly 20 years with type 2 diabetes."
"First time in 40 years that I have been under 100 kilos."
Debbie adds, "My blood pressure readings are on the decrease as well. My arthritis pain and medication are significantly reduced to almost nothing. My fibromyalgia flare-ups are few and far between. My fatty liver has reduced to normal readings. It has happened over a 15 month period, but definitely thanks to The Healthy Mummy, according to my specialist recently. He no longer wants to see me after 5 years." 
Debbie has also had both knees replaced! The first knee was done 12 years ago, then her second knee was just two yrs ago. She admits it has limited a lot of exercises she can do but adds, "it goes to show, you can still lose weight without having to be extra fit!"
Debbie's favourite recipes
Pumpkin & feta tart
Pumpkin & sweet potato soup
Chocolate weetbix slice
"I also have Healthy Mummy Smoothies every morning for breakfast."
Debbie's top 3 tips
One day at a time is how I have stayed on track.
Believe in yourself. Your the only one that can make the changes that will benefit you.
Follow the guidelines from Healthy Mummy and watch your results happen.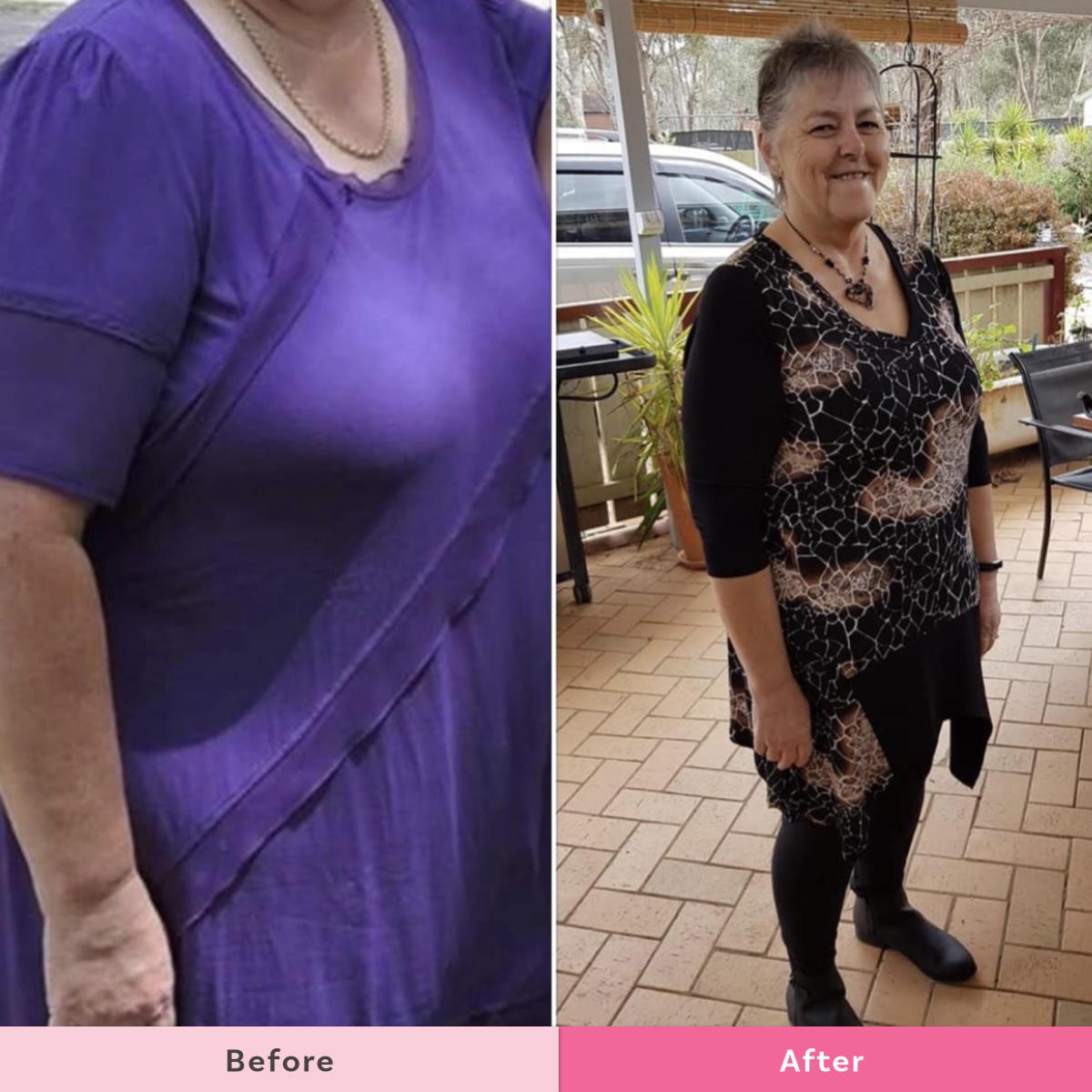 Deb says "27 kilos gone for good! My troublesome fatty liver has returned to normal levels after struggling with it for four years. My sugar levels have dropped dramatically and my irritable bowel has settled down with not so many flare ups. All this since the 1st December 2018, thank you so much Healthy Mummy."
Community support is the key!
Debbie says if you are thinking of giving up, don't! Turn to The Healthy Mummy Facebook page and talk to others on the same journey, ask for their help or advice, because there are so many supportive people waiting to share their ideas and support with you.
"Think about what you have achieved towards your healthier lifestyle & how your family will also benefit from a healthier, happier you", advises Debbie.
"Remind yourself why you started your journey, bad days can happen, so what! Get back on the right track knowing it is still achievable.
"Set little goals, to begin with, they will grow as your body changes right in front of your eyes.
"I love being part of the Healthy Mummy community, there is so much comfort and support given from the whole community and I look forward to where it will all take me. Bring it on!
"I have plateaued on my weight for about 4 weeks now but I am not worried at all, I know if I keep working at it I will start to lose again. 
"My advice to anyone contemplating this program is to go for it! The support from these Community groups is amazing."
What is type 2 Diabetes?
Type 2 diabetes is a progressive condition in which the body becomes resistant to the normal effects of insulin and/or gradually loses the capacity to produce enough insulin in the pancreas.
People are at a higher risk of getting type 2 diabetes if they:
have a family history of diabetes
are older (over 55 years of age ) – the risk increases as we age
are over 45 years of age and are overweight
are over 45 years of age and have high blood pressure
are a woman who has given birth to a child over 4.5 kgs (9 lbs), or had gestational diabetes when pregnant, or had a condition known as Polycystic Ovarian Syndrome.
Symptoms include:
Being excessively thirsty
Passing more urine
Feeling tired and lethargic
Always feeling hungry
Having cuts that heal slowly
Itching, skin infections
Blurred vision
Gradually putting on weight
Mood swings
Headaches
Feeling dizzy
Leg cramps
If you want to make a change join the 28 Day Weight Loss Challenge today!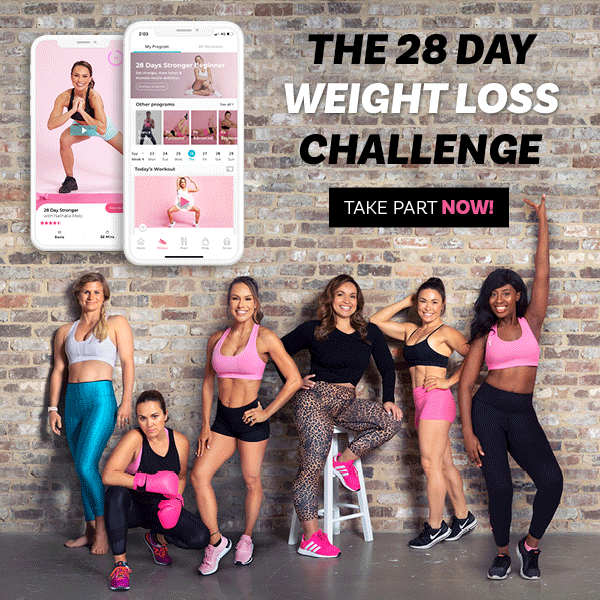 The no.1 mums only weight loss program PLUS the brand new 28 Day Stronger fitness app has launched!
Take part now in The 28 Day Weight Loss Challenge
You get unrestricted access to :
● Over 400 AT HOME WORKOUTS
● Nutritionist designed weekly meal plans
● Personal Trainer crafted At-home workouts
● Daily Motivation from My Coach
● Personalised Shopping lists to make life easy
● Over 4,000 healthy and delicious recipes at your fingertips