How to prepare a budget platter to entertain a crowd
You don't have to spend heaps of money on expensive meats and cheeses for a grazing platter. Get this recipe from the 28 Day Weight Loss Challenge.
Don't you just LOVE grazing plates?
Healthy Mummy founder Rhian Allen does!
"I am a big fan of them as it makes entertaining EASY! Here's one of my recent ones…"
Rhian Allen shares how she makes a HEALTHY grazing plate
Whether you're hosting a party or you've been asked to bring the 'chips and dips' to an event, with a little bit of planning and a smack of creativity, you can create a SUPER IMPRESSIVE platter, like this one from the 28 Day Weight Loss Challenge that will wow your guests.
And what's more, it doesn't have to cost the earth either!
The basics of making a grazing platter that works year-round
The idea of a grazing platter like this is that it displays a lovely mix of little bites of food, like cheeses, dips, fruit, crackers and meat, all laid out that look so inviting you're not sure what to try first!
You don't need to go out and buy lots of expensive meats and cheeses either! To make an impressive platter, you just need the right mix of colours, textures and tastes presented in the right way.
Before we get on to what food to include, here are some tips on how to pull it all together.
1. What platter to use?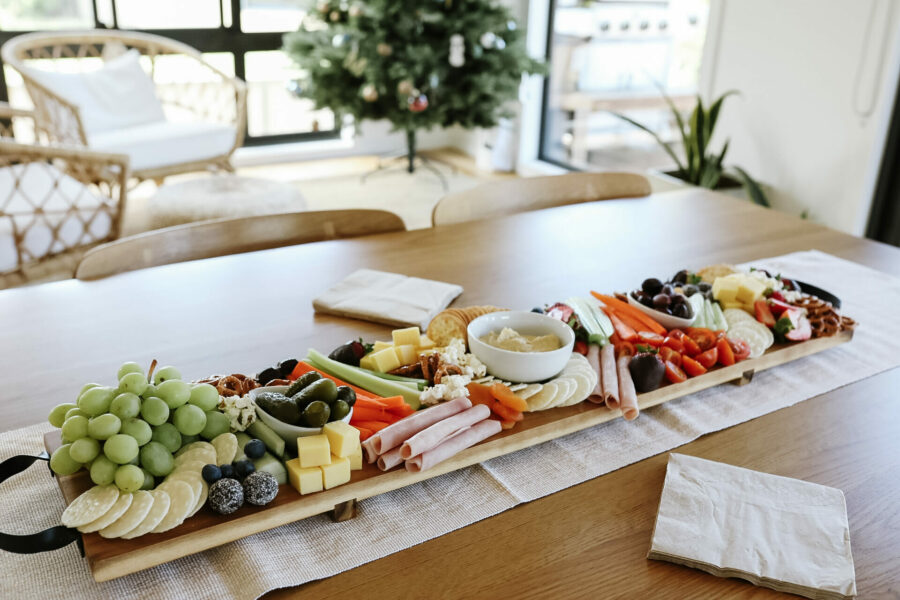 Don't despair if you don't have a super long wooden board just for entertaining! There are plenty of other things you can use as a platter.
A large breadboard or chopping board work well, or even a cookie or baking tray. Trays with sides are particularly good if you want to pre-assemble your platter to take to a party.
2. Include bowls for dips and things
Not only do little bowls break up the platter, but they also offer a practical way to store dips and things. They don't need to be matching either. Just use a mix of bowls or ramekins or even small glasses.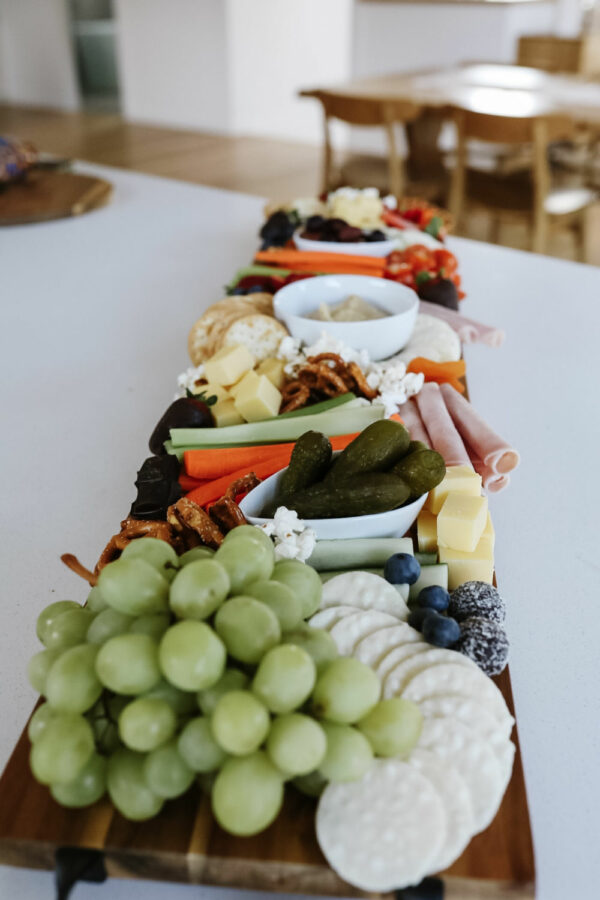 3. What to include on the platter
The key is getting the right mix of things to include. This platter from the 28 Day Weight Loss Challenge will comfortably serve 10 and comes in at around 400 calories per person.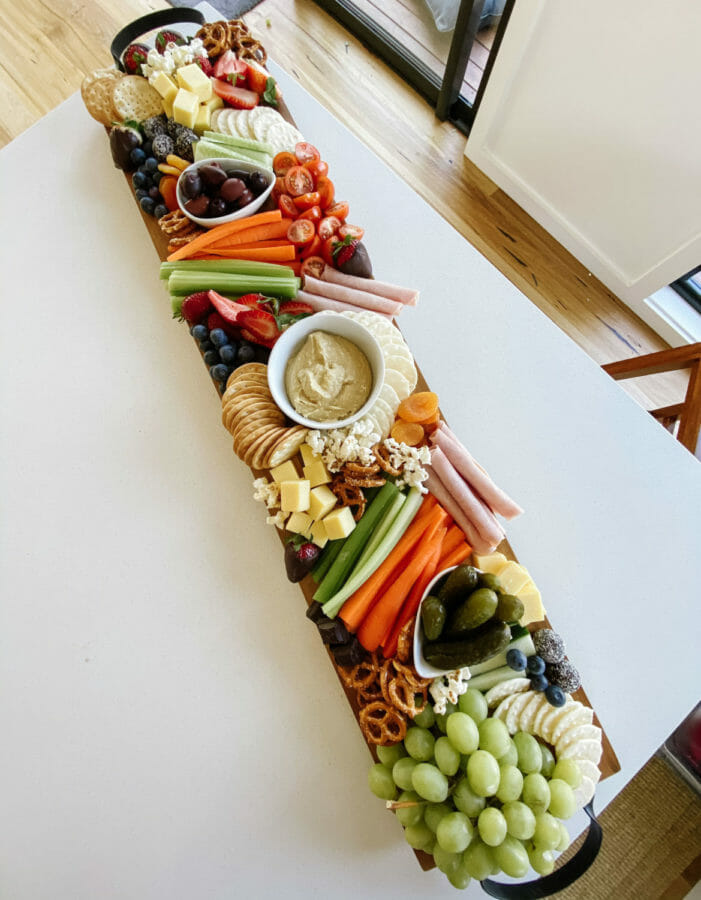 4 medium Carrots cut into sticks
1 large Cucumber cut into sticks
6 x Gherkins 180g
200 grams Tasty cheese, cubed
1 tub Hummus
450g green Grapes
Half a packet of Water Crackers
Half a packet of rice crackers
75g Pitted Olives
1 x punnet of Strawberries – (melt 1/3 block dark choc and do half dipped in choc.
50g Pretzels
100 grams of Ham sliced and rolled
250g Cherry tomatoes
4 x Celery sticks
1/2 block dark chocolate
8g plain salted popcorn
250g blueberries
4. How to Assemble the Platter
This is the fun bit! Once you have all of the prepared items on your kitchen bench and you have chosen the appropriately sized platter:-
Start by laying your cubed cheese across the bench.
Then space out your bowls and fill them with hummus, gherkins and olives.
Lay down the bigger items like grapes and tomatoes.
Next, add the rolled-up ham and veggie sticks.
Add the crackers in groups, spacing them out.
Fill in the gaps on your board with the little bits of fruit, chocolate, popcorn and pretzels.
5. Make a list, and check it twice!
With so many items included on this platter, it's not a bad idea to have a list of all your ingredients so you don't miss something or leave it in the fridge.

6. Last little bits
Seeing as you've already cubed the cheese for your guests, you won't need to supply an array of cheese knives, but it's a good idea to have some toothpicks or cocktail forks for some of the smaller items.
You should also provide a couple of little bowls for things like the strawberry tops And last but not least, don't forget the serviettes.
Now, relax and have a great time!
For more GRAZING PLATE ideas – have a look here 
Tired of wondering what to cook?
Now you can easily meal plan with our personalised plans & over 6,000 family & budget friendly recipes catering to a wide range of dietary requirements.
The Healthy Mummy is a holistic program to nourish your body with nutritious food and help you stay active in your busy, everyday life. Yours and your families well being should be a priority so let us take the hassle out of it.
Unlock the key to sustainable life changes that will leave you feeling your absolute best.