Mum is staying in shape by climbing the walls in her home, literally! DIY climbing wall inspo
When mum Randa Jaide began her Healthy Mummy weight loss journey 11 months ago, she never imagined she would be 23kg lighter and climbing walls in her home for fun. But that she is!
After her wonderful partner Peter built a climbing wall in their garage, Randa decided to give it a go. And now she is hooked!.
She combines climbing with HIIT workouts for the ultimate cardio burn when the children a sleeping. See her awesome climbing wall below.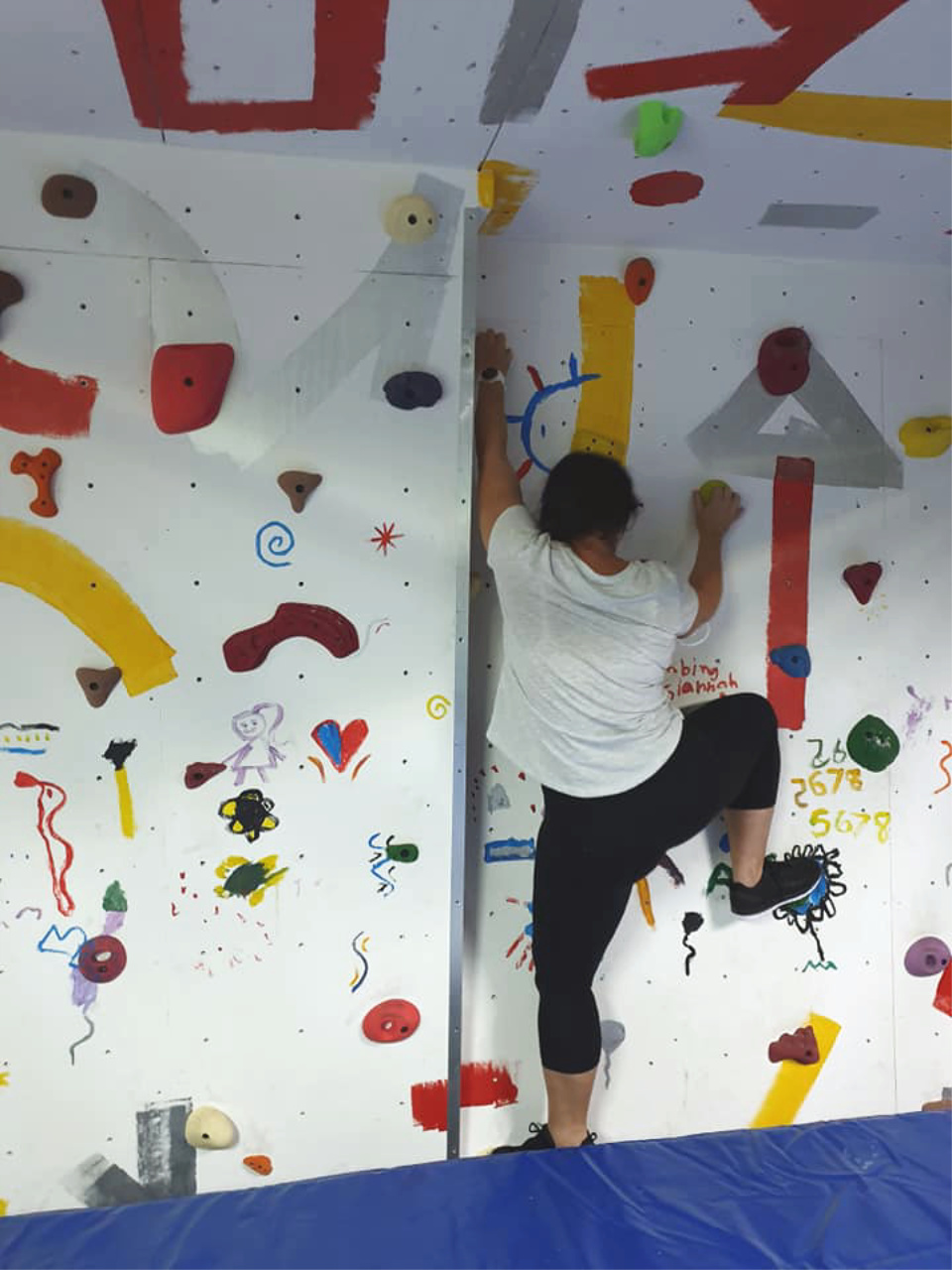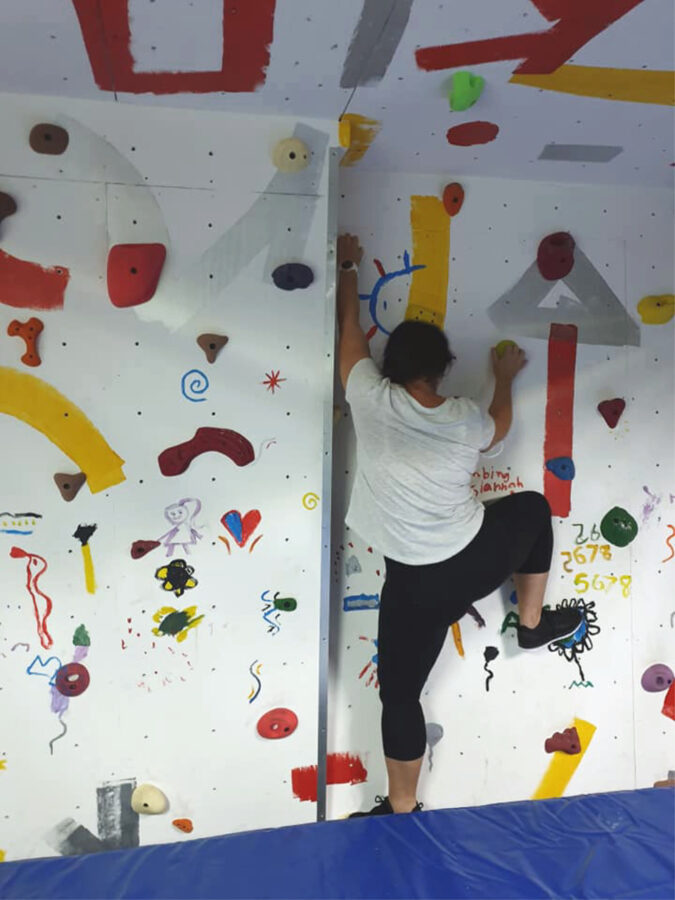 Randa's weight loss journey – 23kg in 9 months
Randa spent from 2016 to September 2018, living a very unhealthy lifestyle. She says "I was eating and drinking my grief after suddenly losing my partner and father of my eldest daughter.
Thankfully I found a super supportive person who loves me for me, and now with our combined family we have 3 children – 7, 5 and 10 months.
He helped me to see I was worthy and needed to look after me so I began my journey of healing and healthy living.
I've been following The Healthy Mummy 28 Day Weight Loss Challenges since mid June 2019 (2 months post partum) and in that time I have rid 23kg from my body, loads of cms including 11cm from each thigh which I'm most excited about (as that's my problem area).
I love exercise! Walking and running are my go to now as well as workouts from the App. Healthy eating and better choices just seem to come naturally to me now and I always start day with a Healthy Mummy Smoothie!".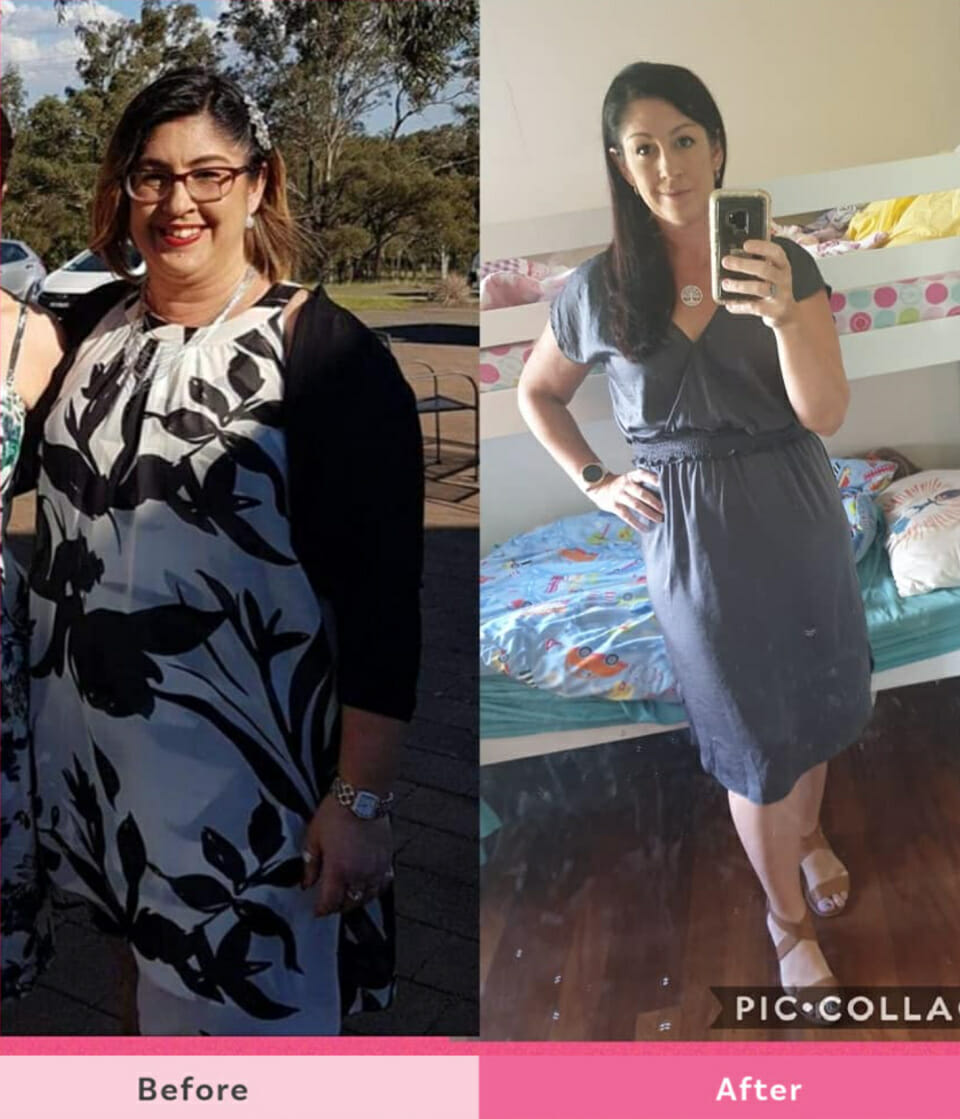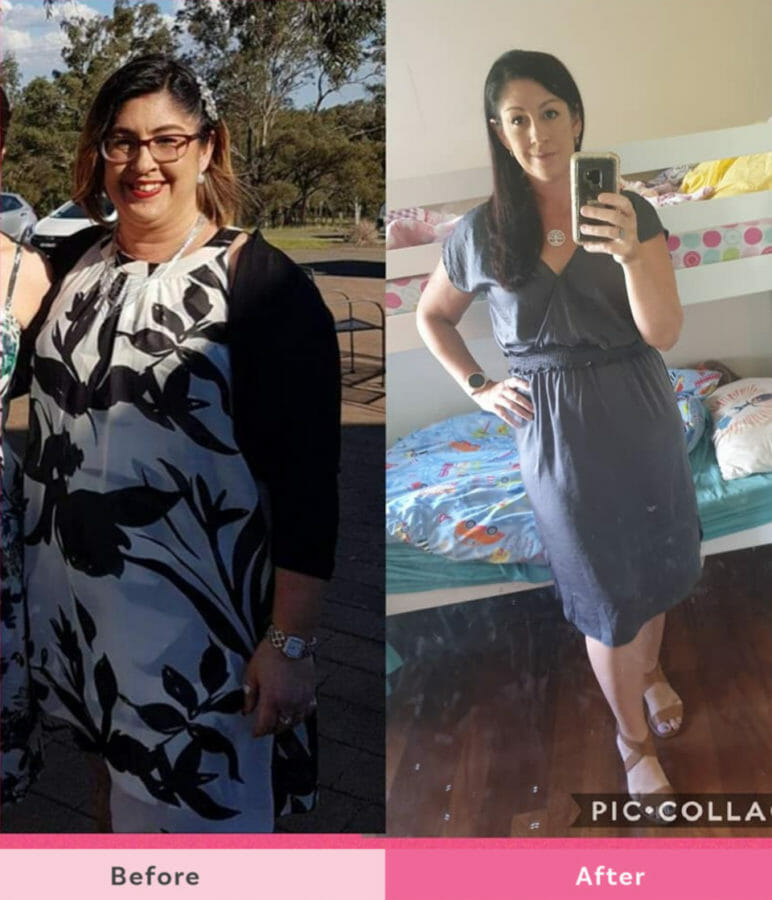 7 months between these photos, that's 7, 28 Day Weight Loss Challenges that's a whole lot of we squat Wednesday's, a whole lot of App workouts, a whole lot of Healthy Mummy recipes and it's made a whole lot of change
size 18 to a size 12
learning how to rock climb
confident
comfortable in my own skin
and the list goes on and on
Read more about Randa's Healthy Mummy journey here.
Discovering a love of climbing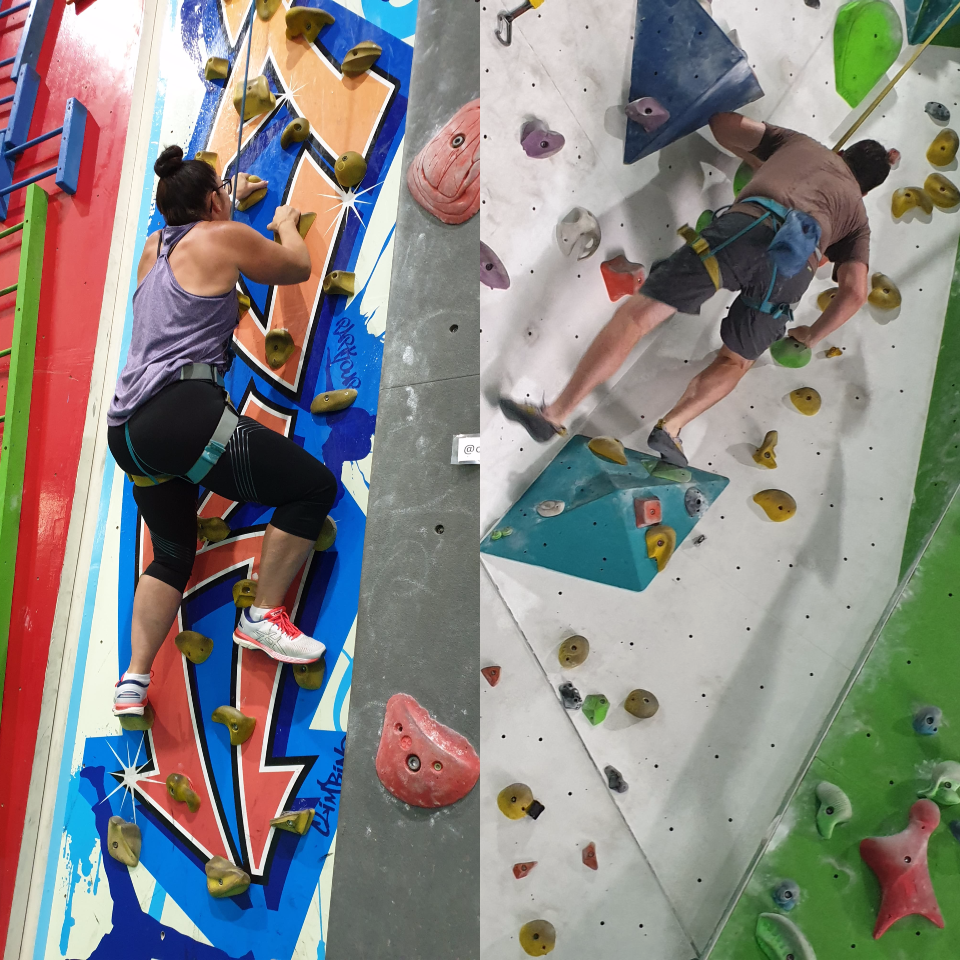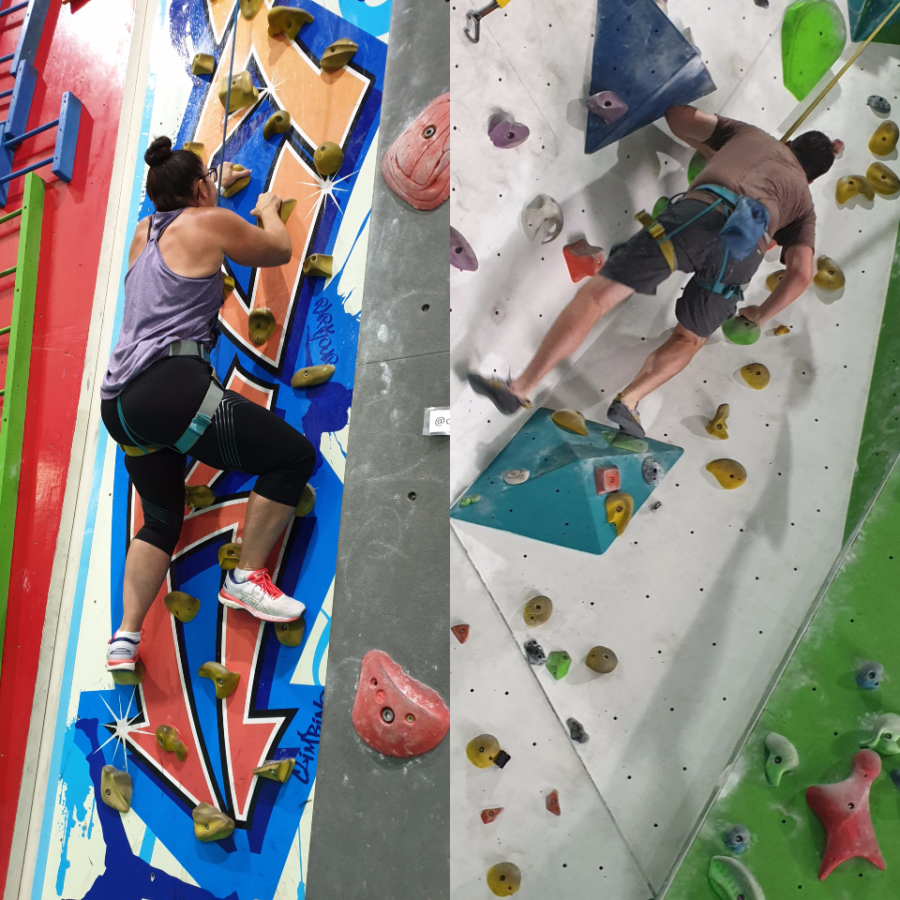 When Randa and her partner Peter purchased their house 12 months ago Peter joked that he could build a climbing wall in the garage because it was so large.
He had been a climber long before Randa met him and after introducing the kids (aged 7 and 6) to climbing he realised they enjoyed it too.
Randa says "I had never been climbing and when he first mentioned it I was a bit (roll the eyes) yeah what-ever!.
However after losing 20kg and all the stars aligned we were able to go as a family, and I immediately loved it".
Putting climbing wall plans into action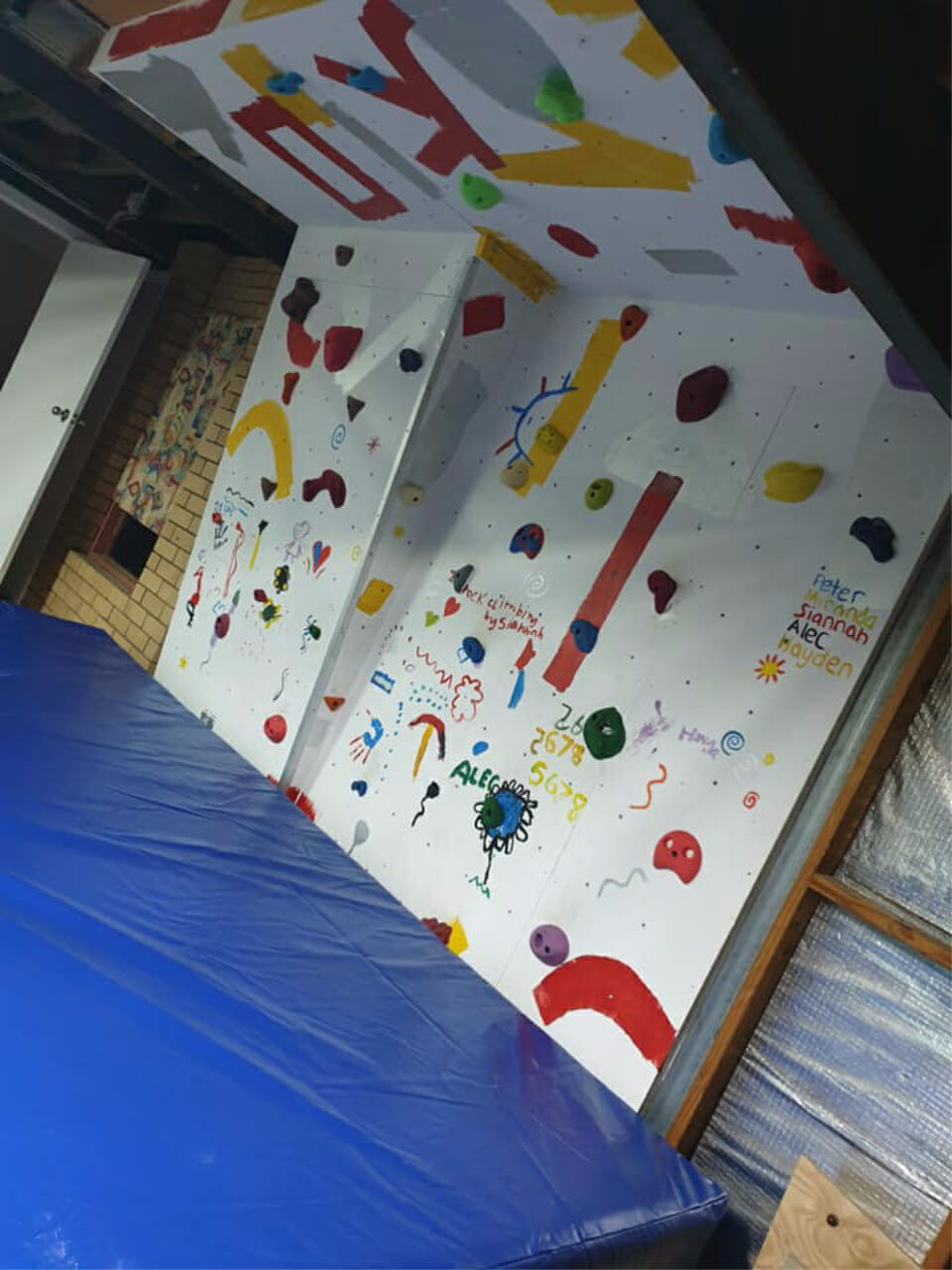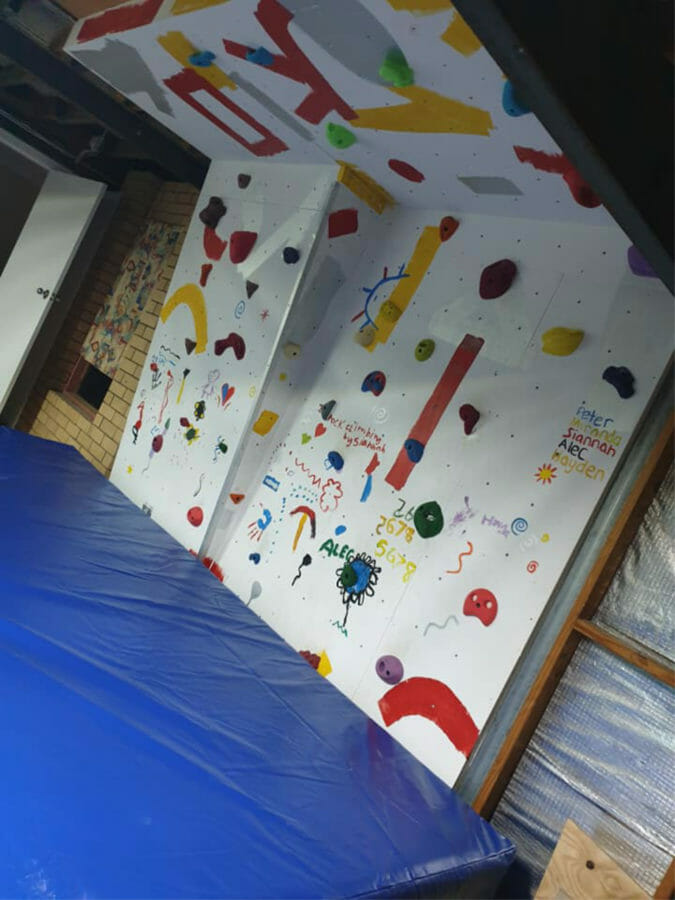 It wasn't long before Peter put his thoughts into action and embarked on building the wall in his spare time.
Although not a carpenter Randa says "he is creative and pays a good attention to detail".
The wall is made of large sheets of plywood, and is 2.6m high and 3m wide. As there is an overhang Peter and Randa made sure there was a HUGE mat made specifically for the space, which the kids can comfortably fall onto.
"It was a great family project"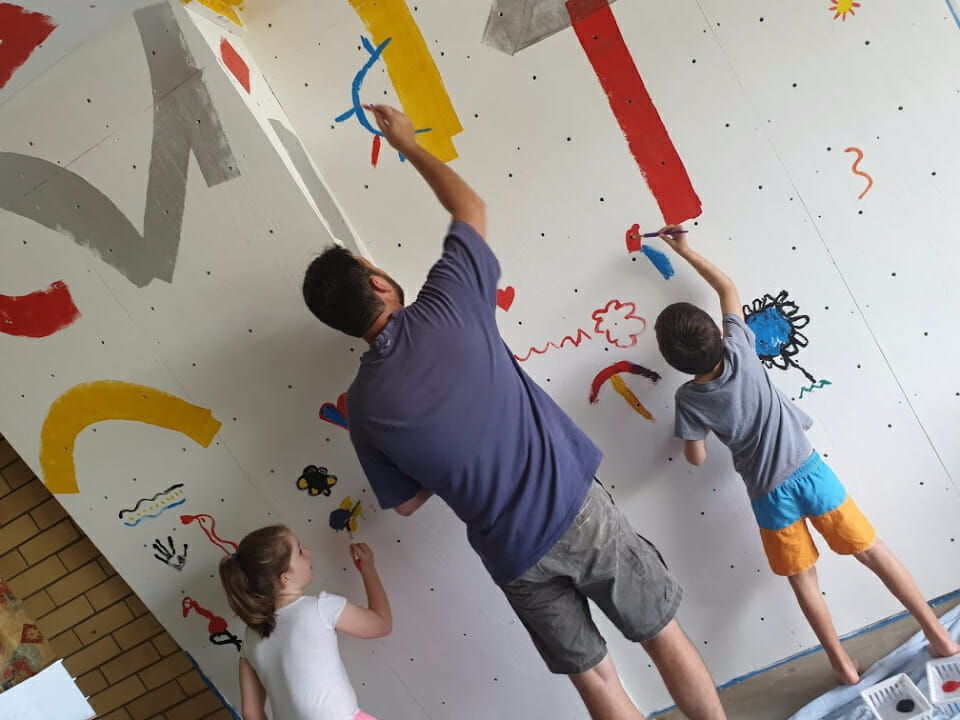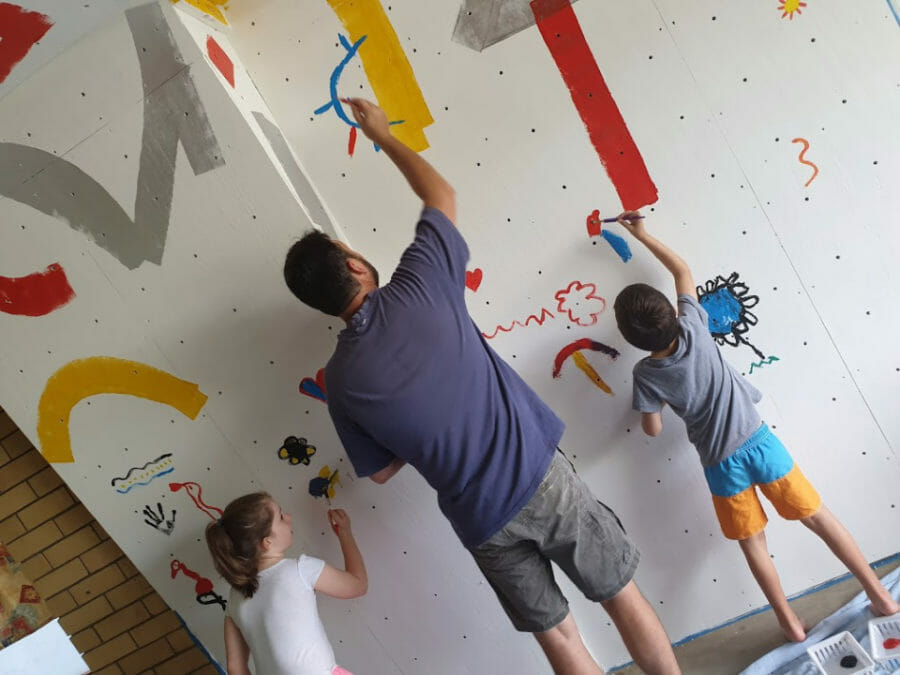 With all hands on deck the whole family added personal touches to the wall. Randa says "It was a great family project to paint the wall. We all added our own touches to it even little miss 10 months".
Working on strength and agility
Since losing 20kg and improving her fitness dramatically Randa couldn't wait to get the project finished and work on her strength and technique.
She says "I really like the challenge and have set myself a goal of being able to do overhangs by the end of this year!
It may not sound like much but it requires a lot of strength and agility.".
Peter was keen to build up his strength so he could climb better at the local climbing gyms and also wanted a wall for the kids to enjoy and help build up their confidence.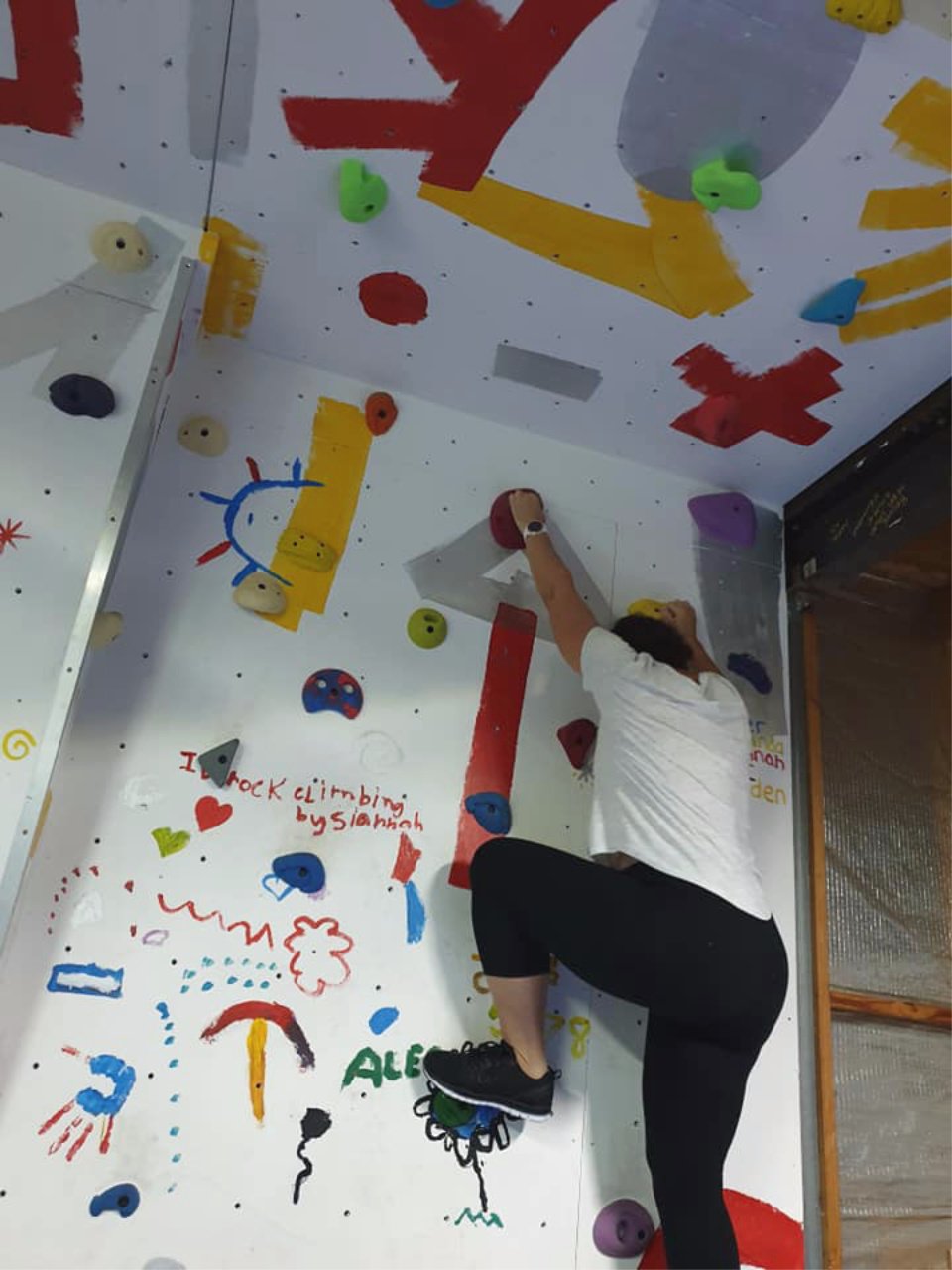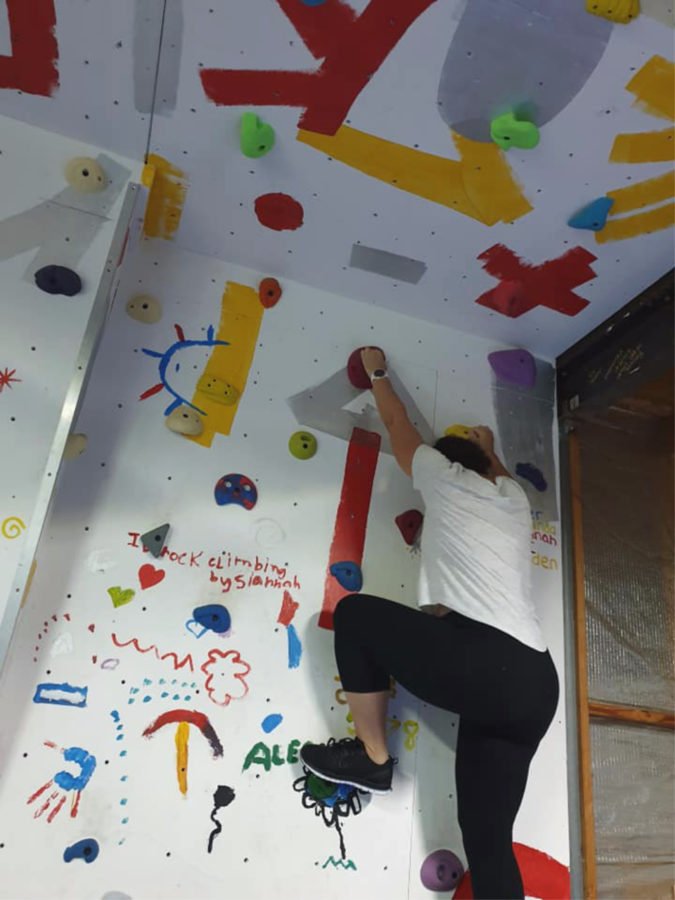 "Trying something new is pretty awesome"
Randa says "We utilise it together as a family, but also after the kids go to bed we both go down and have a climb.
Peter helps me with my technique, gives me suggestions on foot placement and hand holds. In between climbs I ramp the workout up with some lower body high intensity interval training (HIIT)workouts and boy do I get my sparkle on!
HIIT gets my cardio and heart rate up and it's a great workout! See Easy At-Home HIIT Workout to Shred 500 Calories
I never imagined I would have been interested or even able to do rock climbing especially 35kg ago, 23kg of which I lost through The Healthy Mummy. And 10 months after giving birth.
The Healthy Mummy and the gorgeous ladies in the group have given me the confidence and always try something new attitude that has allowed me to embrace rock climbing along with the rest of the fam bam!".
Excited about her new climbing wall Randa says "I can't wait to nail the overhang. Thank you Healthy Mummy!".
Wow! What an inspiration Randa is!.  The Healthy Mummy team would like to congratulate Randa for living her happiest and healthiest life and for being such a great role model to her kids. And let's not forget Peter for being such a legend in building that awesome climbing wall!.  We know Randa will be nailing the overhand in no time!.
Are you ready to life your happiest, healthiest, life?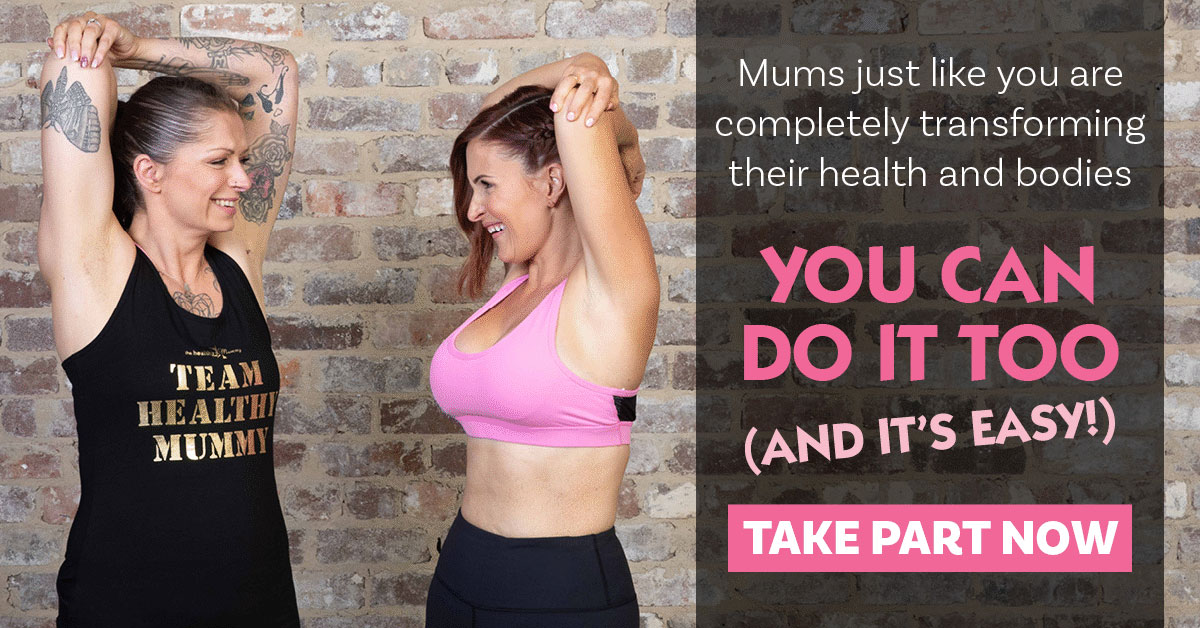 If you are wanting to lose weight and improve your energy – not to mention – help improve your overall health and wellbeing – our 28 Day Weight Loss Challenge is an awesome program to check out.
Our 28 Day Weight Loss Challenge includes:
28 days of at home exercise routines (no gym needed) – with video instruction
Customisable and breastfeeding friendly meal plans (including 7 Day Cleanse)
Time-efficient exercises for busy mums
Challenge combines Pilates exercises with interval and circuit training (HIIT)
Suitable for basic to advanced fitness levels
Home to thousands of EASY-TO-MAKE recipes!
To learn more about our 28 DAY WEIGHT LOSS CHALLENGE CLICK HERE or purchase our breast-feeding friendly Smoothies.