A nutritionists review of The Healthy Mummy Smoothie 45+. What's the verdict?
We asked a nutritionist who with a special interesting in female hormones and menopause to give us her feedback on the NEW Healthy Mummy Smoothie 45+. This smoothie is specially developed to support the health and nutritional needs of women over 45.
In creating The Healthy Mummy Smoothie 45+ we looked carefully at the foods and nutrients that would help women feel their healthiest, happiest and most vibrant. We'd love to share what we added and why we added it for you!
We also asked Sonia McNaughton a qualified nutritionist, naturopath and herbalist running a busy clinic with a special interest in thyroid conditions, female hormones and menopause to give us her feedback on the smoothie as well as a break down of the key ingredients and how they are beneficial to the health of women over 45.
Sonia also helped The Healthy Mummy team develop the Healthy Mummy Smoothie 45+ to make sure it helped support the health of women over 45.
Read her full review below.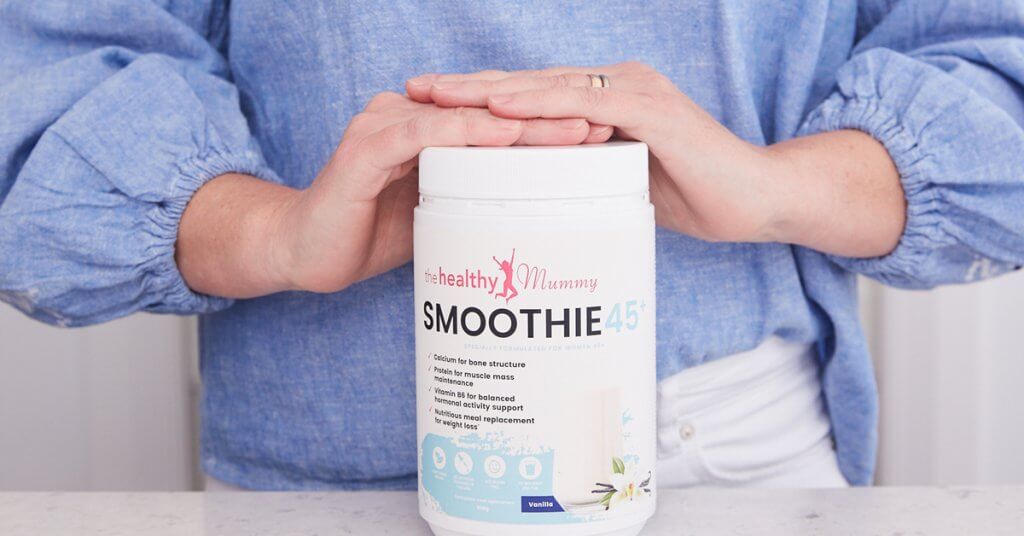 A nutritionists review of Healthy Mummy Smoothie 45+
The Healthy Mummy Smoothie 45+ is a great source of plant-based protein and fibre. Getting enough protein and fibre at each meal and snack means feeling satisfied for longer. Often feeling tired and moody in the afternoon is caused by crashing blood sugar levels after a high sugar breakfast like cereal or toast. We also chose to add in extra chromium and magnesium to re-enforce this effect.
The protein in the smoothie comes from soybeans, a wonderful source of phytoestrogens (phytoestrogens are oestrogens found in plants). We blended in flaxseeds for their plant-based oestrogens as well. Soybeans and flaxseeds help to balance oestrogen which is why they are the basis of The Healthy Mummy Smoothie 45+. They help cope with the hot flushes, changes in mood, poor memory, vaginal dryness and bone loss of peri-menopause and menopause.
The fibre in the smoothie not only helps keep you full and satisfied it feeds the bugs in your gut that you need to enjoy a healthy and happy tummy. The smoothie is filled with gut loving nutrients like digestive enzymes to help break down protein for added absorption. Plus healthy bacteria, zinc, Vitamin A and Vitamin D were included as they are the specific ingredients needed to support a well functioning gastrointestinal tract.
The smoothie has liver-loving herbs dandelion root and green tea, amino acid l-methionine, and nutrients B6, B9, B12, vitamin C, selenium and molybdenum. Loving your liver is an important part of managing your health through menopause as it helps to clear the hormones no longer needed by the body as well as make bile to break down fats.
Magnesium, calcium and B6 in The Healthy Mummy Smoothie 45+ help support mood and sleep as well as bone health. The good news is the type of magnesium and calcium in the shake is the high-quality absorbable form: magnesium citrate and calcium citrate.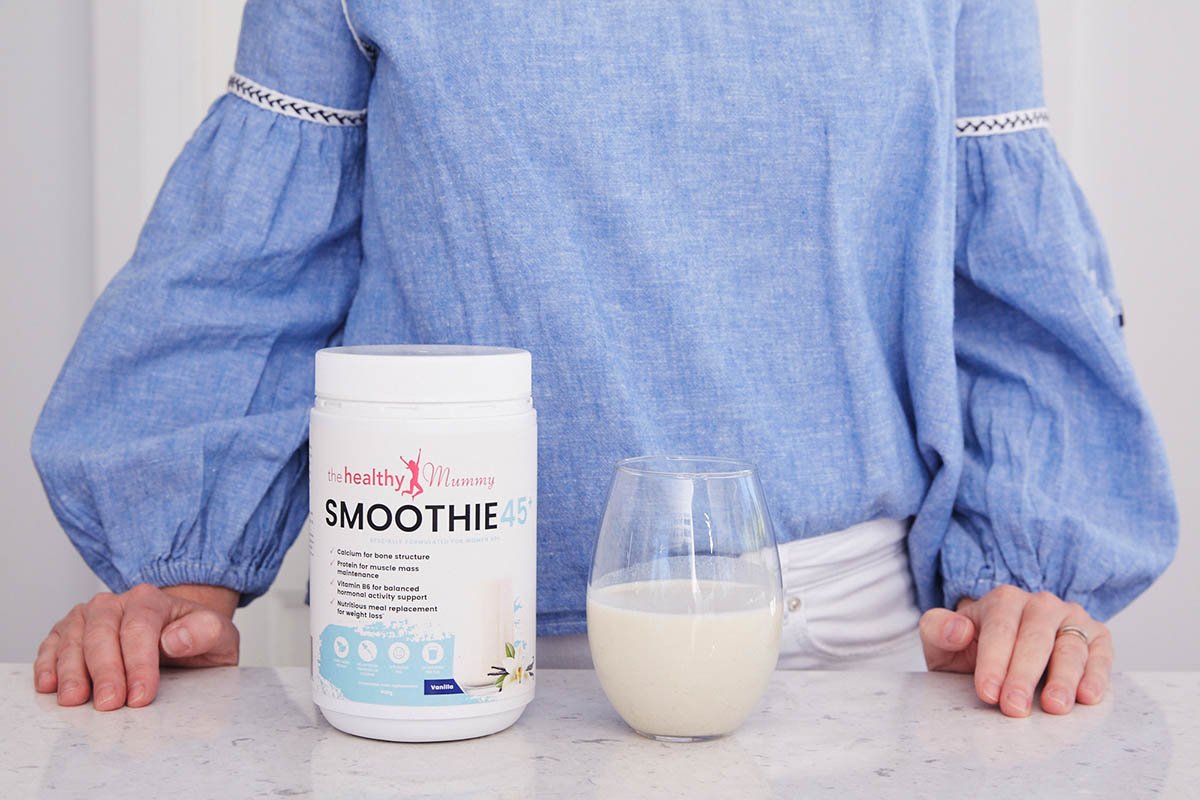 Vitamin C, zinc and B vitamins help to nourish the adrenals, the organs in a woman's body that produce stress hormones. After menopause, the adrenal glands take over the job of making female hormones. So women who have lived a lifetime of chronic stress not only feel burnout and tired they can be more vulnerable to experiencing worse menopausal symptoms.
To fuel energy and resilience The Healthy Mummy Smoothie 45+ has iron, brain-boosting B12, and herbs like Green Tea and spirulina.
Eating foods containing iodine, selenium, zinc, vitamin A, vitamin D and biotin supports thyroid health. Your thyroid influences your weight, fatigue levels and temperature so nourishing this vital organ is important during menopause.
Cranberry has been added as it is well known for preventing urinary tract infections and may even be useful for menopausal women's memory and heart health.
Grape seed extract has been tested on menopausal women and found to be effective in improving the physical and psychological symptoms of menopause while increasing muscle mass and reducing blood pressure.
Our intention when creating this smoothie was to blend together, in one delicious scoop, ingredients for women over 45 so they can enjoy the life they choose to live with health, happiness and vibrancy.
Try this delicious Happy Hormone Super Smoothie with your Healthy Mummy Smoothie 45+.
Please also note that we ONLY ever used non genetically modified soy in our smoothies.
Get your hands on our Healthy Mummy Smoothie 45+ today!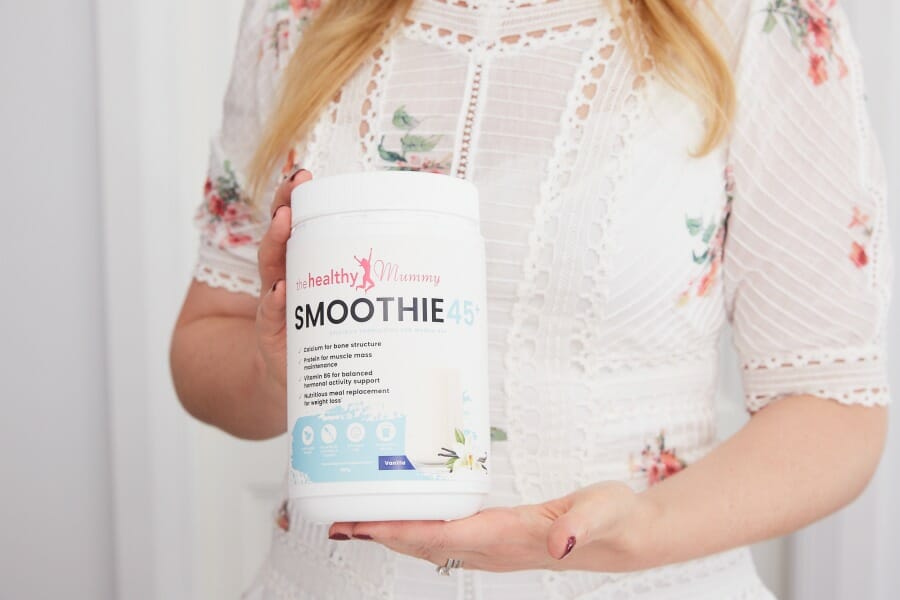 Healthy Mummy Smoothie 45+ contains a unique combination of ingredients designed specifically to support the needs of women over 45 years old'
Vitamin D with Calcium to enhance bone mineral density
50% of your Vit D RDI which is critical for bone health
Good source of Protein for muscle mass maintenance
Vitamin B6 for balanced hormonal activity support
Zinc, Vitamin C + E to protect cells from free radical damage
Find out more and buy our Healthy Mummy Smoothie 45+ today!
Join our Healthy Mummy Over 45 Facebook support group to get advice and support from other mums who are over 45.