Top tips to consider for getting started with postnatal exercise
Here at The Healthy Mummy we are continuously improving and expanding on our 28 Day Weight Loss Challenge App and features.
We pride ourselves on providing helpful, safe and effective fitness programs and meal plans for busy, tired mums wanting to lose weight and tackle their health from the inside out.
For sometime, we have received countless emails and requests from mums in our community wanting more specific postnatal exercises – which brings us to our exciting news. 
We are so proud to announce the launch of our NEW Postnatal Fitness Videos in our Challenge App!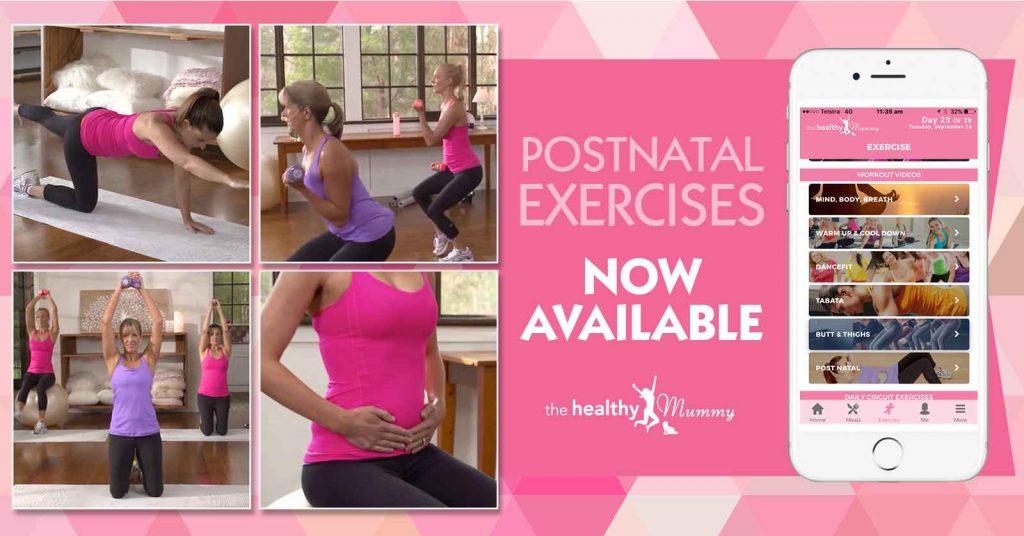 What you need to know about postnatal exercises
The early days and weeks after having a baby are a time for rest and recovery.
Performing simple pelvic floor and core exercises and walking within comfort is all you need to think about at this stage.
Once you have regained your core and pelvic floor strength and if all else is going well, you can commence low impact exercises, generally around 6 weeks after giving birth.
Women who had had a caesarean section can also commence pelvic floor retraining and gentle core recruitment soon after delivery, but avoid any activity that strains your midsection for a good 12 weeks.
As a guide, avoid lifting anything heavier than your baby until you are well healed. You too can gradually return to low impact and low load exercise. You should prioritise your core, pelvic floor and posture in this time.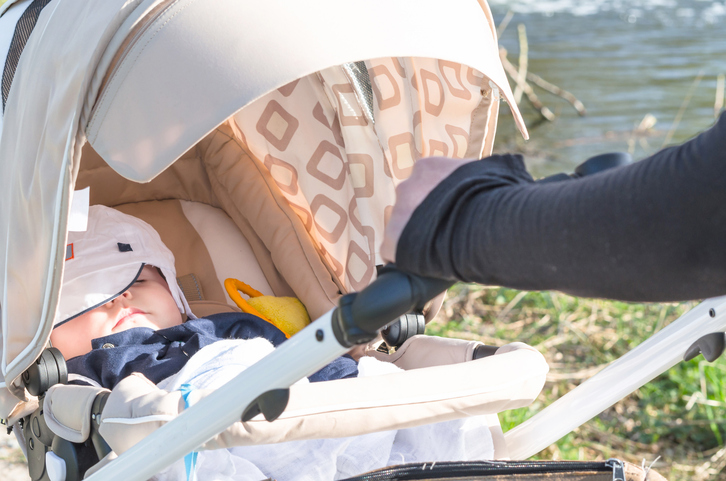 Our postnatal expert and 10 minute workout videos
Our Postnatal Fitness Expert, Lisa Westlake, has created a selection of 10 minute workout videos that you can choose to follow if you're getting back into exercise following the the birth of your baby.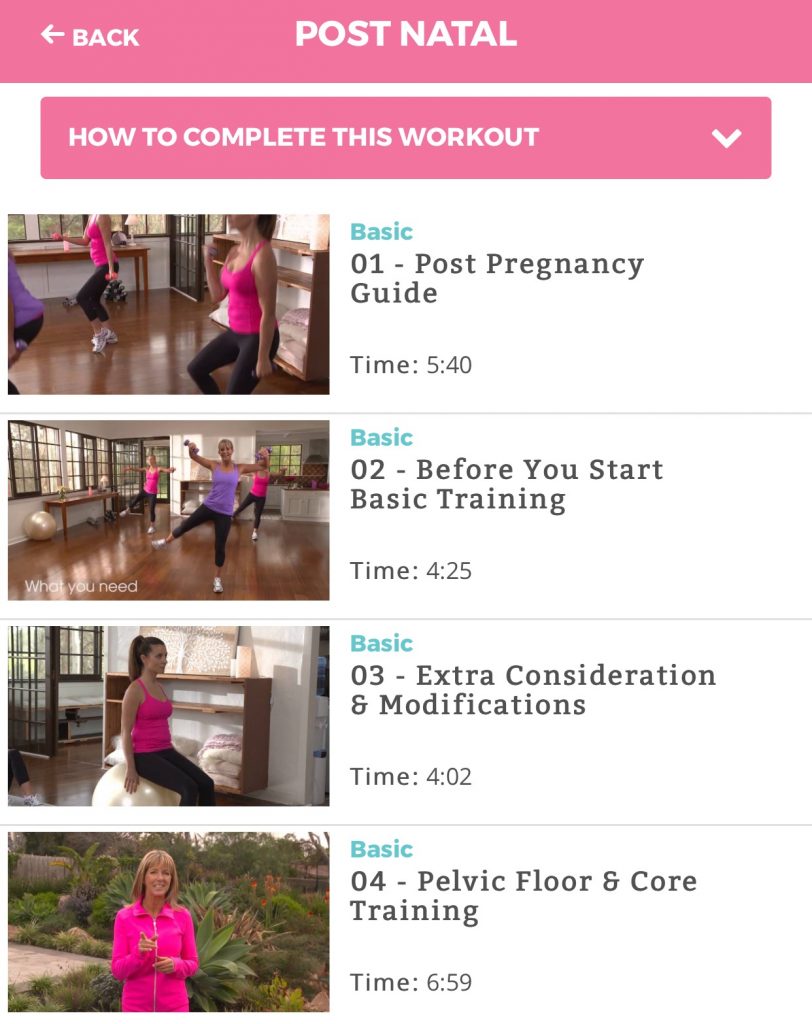 You can find these workout videos under the exercise tab on the 28 Day Weight Loss Challenge App NOW!
We have also included a 'Before You Get Started' video guide, to provide an introduction to exercising again and a series of low impact, toning and conditioning workouts.
Have a sneak peek of the workouts here!
Top tips to consider for Getting Started with Post Natal Exercise
Prioritise your pelvic floor and core
Be kind to yourself, listen to your body and be patient
Include rest and relaxation into your well-being plan. Consider using the Healthy Mummy Mind.Body.Breath sessions
Enjoy a healthy diet of fresh food, lean protein and drink plenty of water
Get out and enjoy the fresh air
Exercising for 10 minutes here and there in your day is both realistic and easy on your body
Check your posture frequently, especially when you are feeding
Team up with other mums. Walk and talk.
If you are worried about your physical or emotional health, talk to your doctor, family or a friend
Not a 28 Day Weight Loss Challenge Member but LOVE the sound of the NEW postnatal workout videos?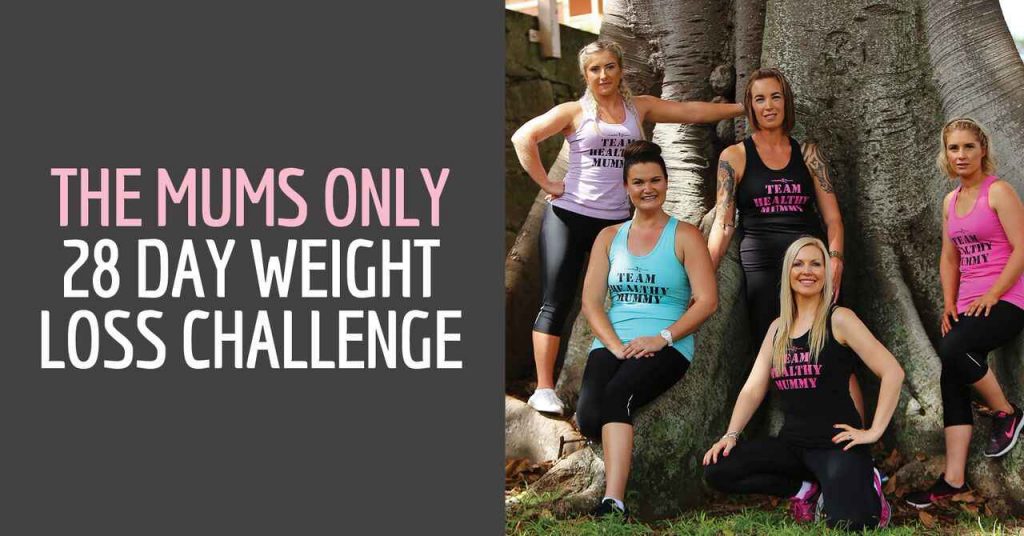 If you are not a Challenge member and would love to tackle your health, weight and fitness (not to mention check out our NEW postnatal video exercises) be sure to sign up to our 28 Day Weight Loss Challenge.
More about the Challenge
Think of the challenge as the best value personal trainer, dietitian, meal planner, chef and motivational coach that you have access to every day – without the high cost and all created JUST FOR MUMS.
Every month is DIFFERENT with over 100 NEW recipes added each month. EVERY MONTH you receive NEW 28 Days of FAMILY FRIENDLY customisable meal plans, daily exercise plans with videos and daily support. It's also breastfeeding friendly.
Our exercise routines are time efficient and effective and have been designed to burn maximum fat in minimum time and include long play DVD style workouts.
To learn MORE about the Challenge click here.