See why these mums RAVE about Healthy Mummy Smoothies!
The Healthy Mummy Smoothies have helped thousands of mums not only lose weight but maintain it too. These mum explain why they can't live without them.
All of these mums have had incredible weight loss success with The Healthy Mummy and all of them credit the Healthy Mummy Smoothies as playing a major part in that success!
"I would never be without them" 
"Absolutely adore the convenience and versatility of them in my life."
"The Healthy Mummy smoothies are AMAZING!!!!!"
"I've been having the smoothies for so long now they are an automatic part of my morning routine."
So Why Are the Healthy Mummy Smoothies so good?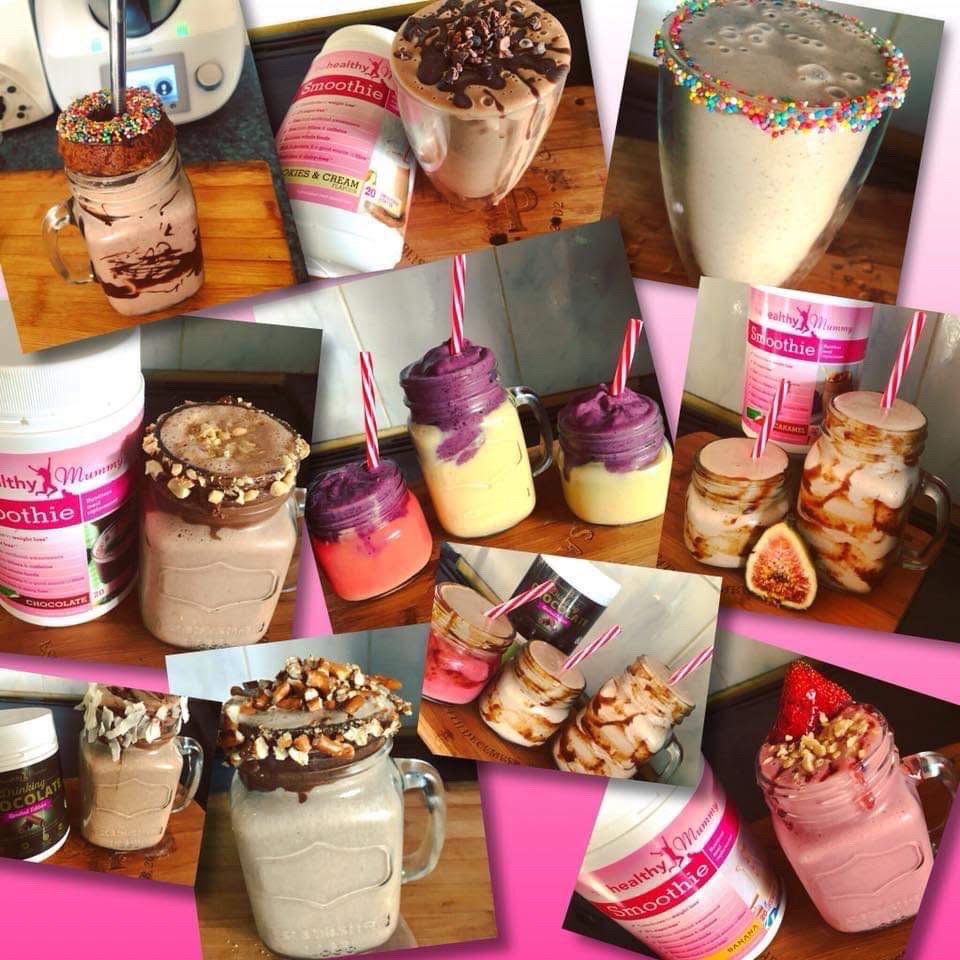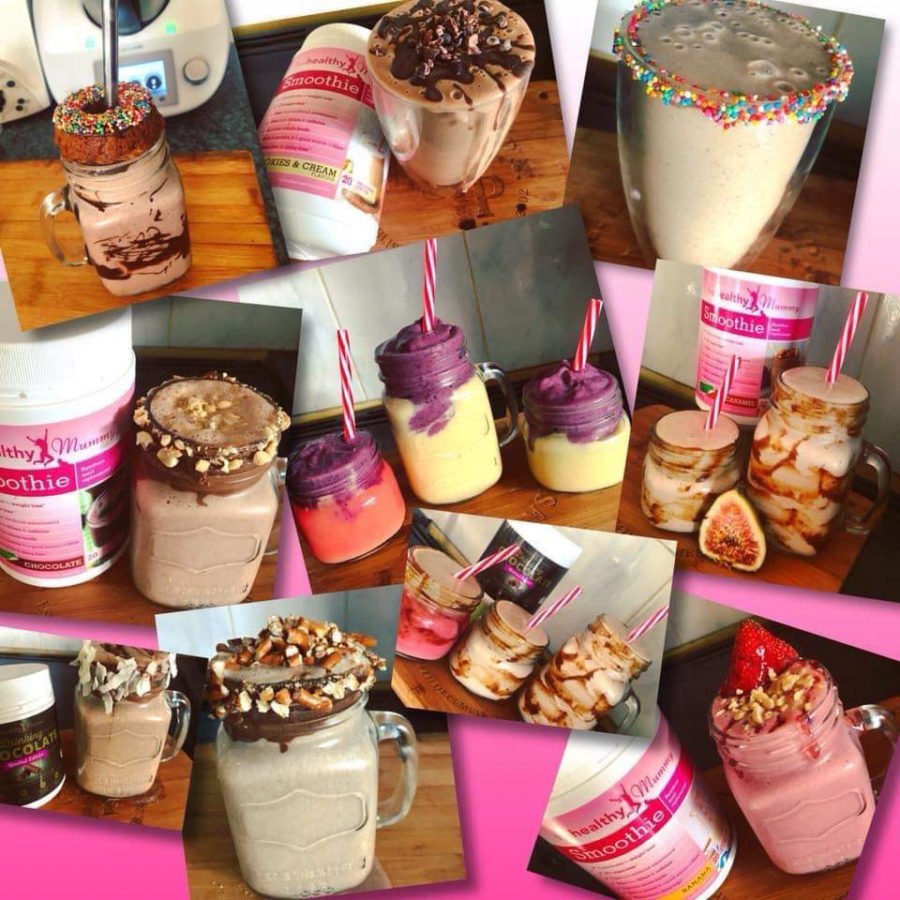 Mums have been losing weight with Healthy Mummy Smoothies for 10 years! They are packed with vitamins and minerals and are high in both fibre and protein that means they'll fill you up and give you a nutritious boost. With 10 different flavours, the possibilities are endless for a delicious meal or snack.
They literally are the perfect start to the day and so many mums have had great weight loss success by using Healthy Mummy Smoothies every day for breakfast.
Our Healthy Mummy smoothies are so easy to make, you will never skip breakfast again!
For these Mums, The Healthy Mummy Smoothies are one of the main reasons why they have not only lost weight but have been able to maintain that weight loss and live their healthiest lives.
Hear why these mums say they can't live without Healthy Mummy Smoothies

Bec Ashworth has lost a whopping 55 kilos and says she would never be without Healthy Mummy Smoothies!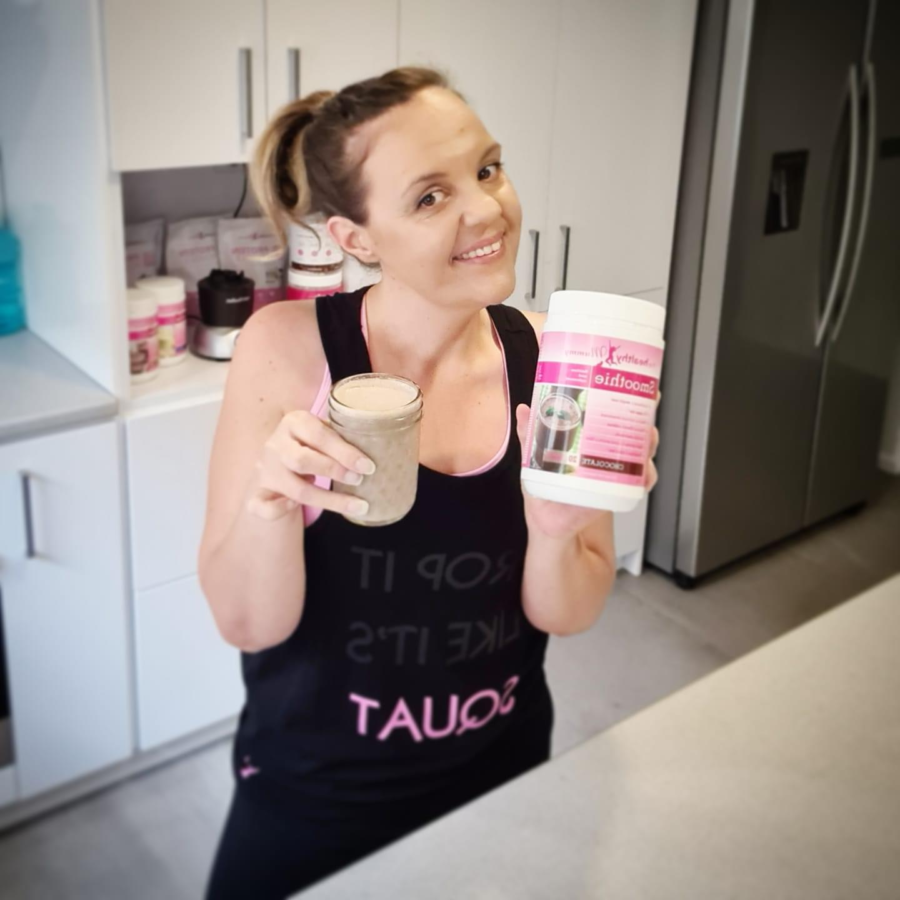 Bec says "I have lost an amazing 55kgs thanks to the Healthy Mummy Smoothies!
They are super convenient and fast.
Before the Smoothies I was terrible at eating breakfast and always skipped the most important meal of the day. Not anymore and the results, speak for themselves! I have maintained my 55kg loss for 6 years now including 2 health mummy pregnancies."
"I would never be without them"
The New Premium Smoothie Range
The Standard Healthy Mummy Smoothie range has helped thousands of mums lose weight for the past 10 years, and this New Premium Smoothie Range is not replacing it. There are some key ingredient differences and is just an alternative option to the standard range.
What are the differences?
The standard Healthy Mummy Smoothie is a plant-based meal replacement smoothie (with 22 vitamins and minerals) and is a high fibre and high protein product but occasionally, mums who are not used to a plant-based protein or high fibre meal replacement have said they would prefer a smoother, creamier texture.
The Premium Smoothie contains the new Healthy Mummy premium protein blend which is predominantly whey-based.  The whey protein delivers a very smooth and creamy texture and is a completely new and different formula.
The Premium Smoothie also has a much more intense flavour so there is no need to add any additional ingredients, just shake it up in your favourite shaker and off you go.
It delivers 23 vitamins and minerals, is high in protein, high fibre and additional to the standard smoothie also provides the health benefits of probiotics.
Our New Premium Range comes in two delicious flavours Double Chocolate and Espresso and are just 217 per serve! for more smoothie recipes try this apple smoothie recipe!
Hear what Real Mums are saying about it!
Laura Jane from Canberra loved how it kept her full with no bloating!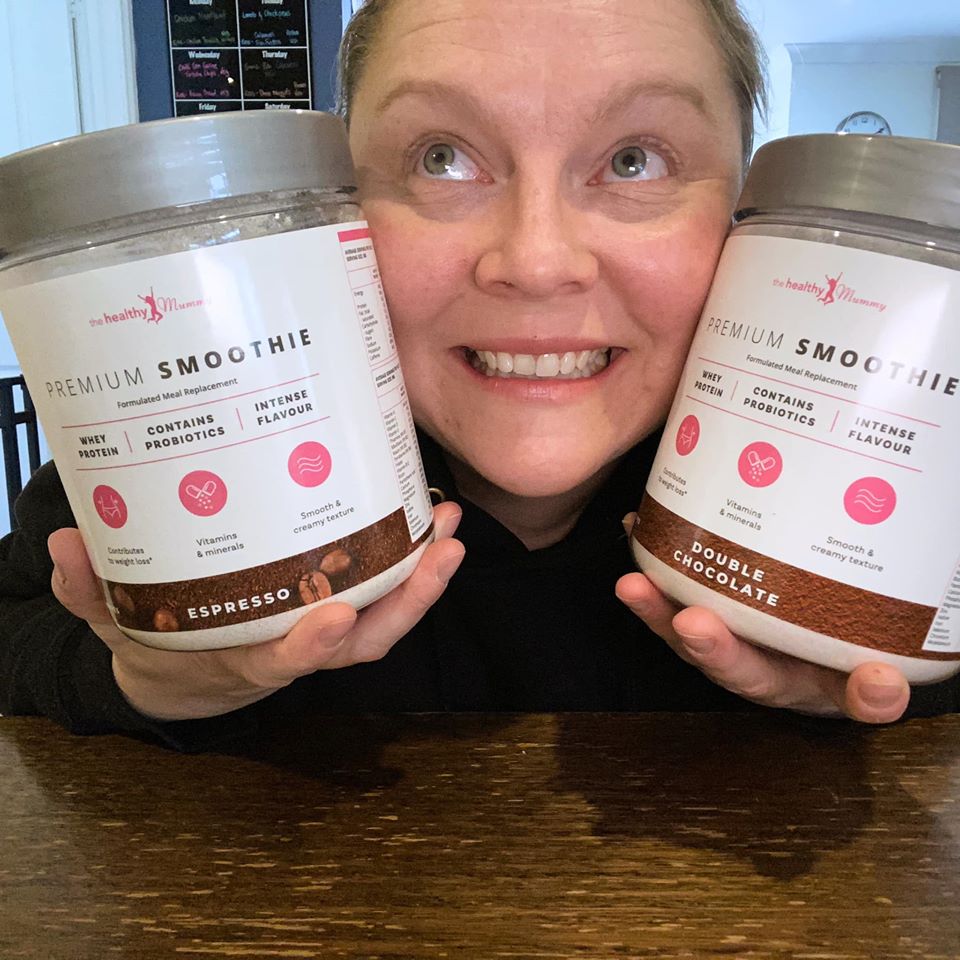 Laura Jane said, "OMG! The Healthy Mummy has NEXT LEVELED it with this new PREMIUM Smoothie range!"
"A Whey based Protein meal replacement, these are FULL of flavour, creamy and FLUFFY! It kept me full all morning without any uncomfortable bloating! With these smoothies being high protein AND low carb they are going to be an ESSENTIAL part of my day!"
Mum of three Julie from NSW has fallen in love with the Espresso flavour!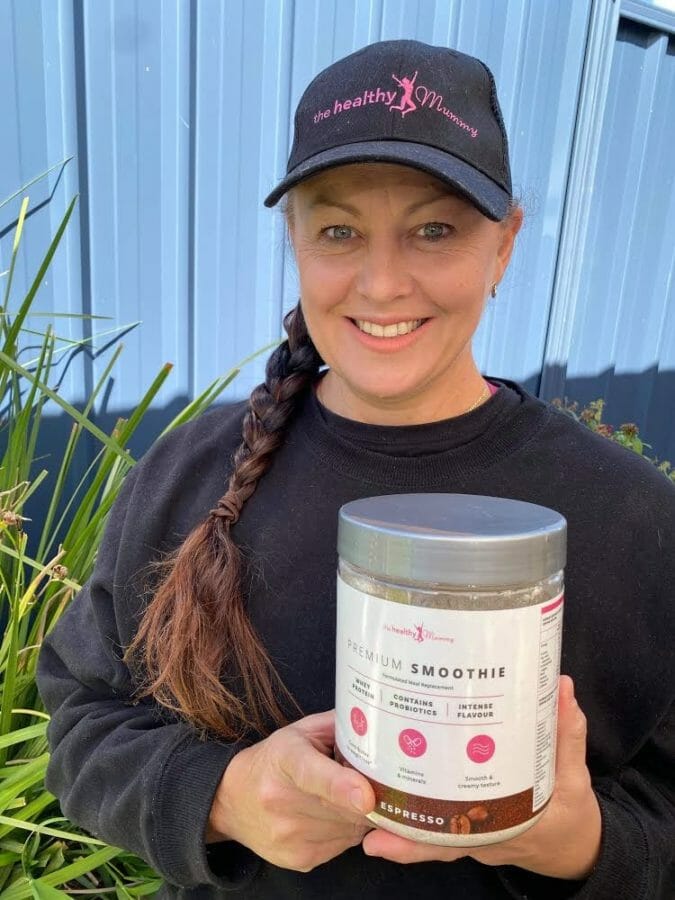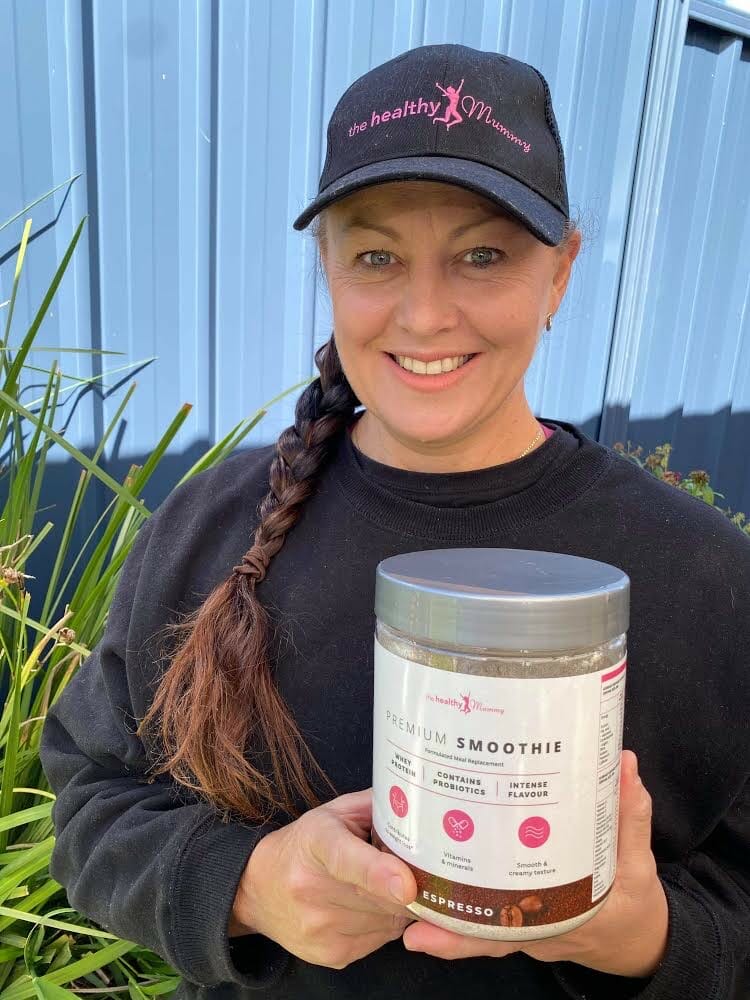 Julie says "I am Super excited that I can SHAKE & GO with the new Premium Smoothies! These are SUPER creamy and have a SMOOTH AMAZING flavour. If you love iced coffee then you'll LOVE the Espresso flavour!!!
The Healthy Mummy Smoothies have really helped me and contributed to my weight loss journey. The new Premium range will definitely hit the spot to help me maintain and stick to my goals! This is a game-changer!"
Elle Temple lost 25 kilos using Healthy  Mummy Smoothies after her first pregnancy and is currently on her second weight loss journey following her second baby.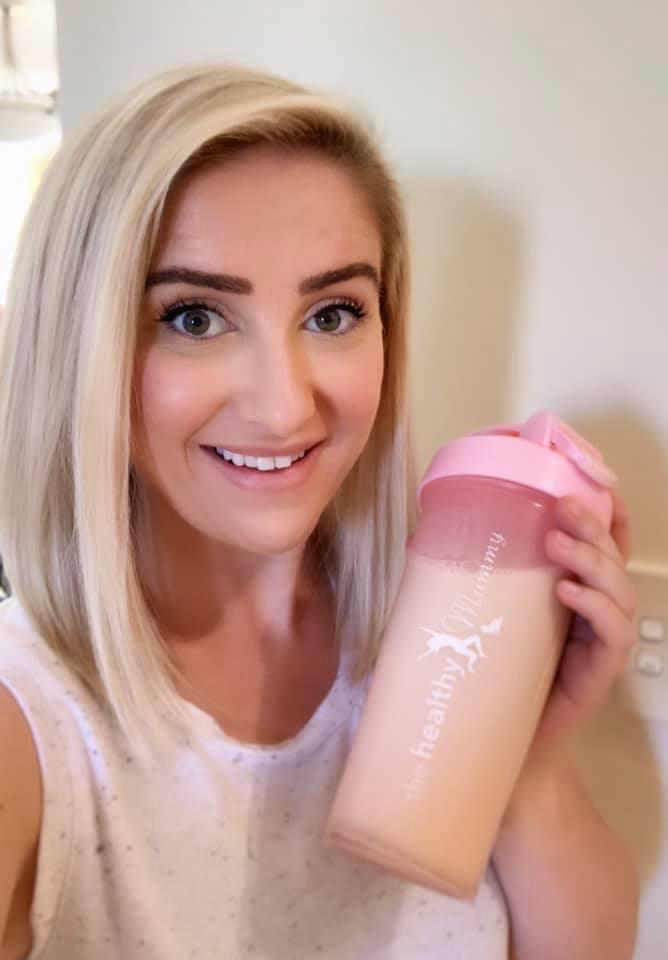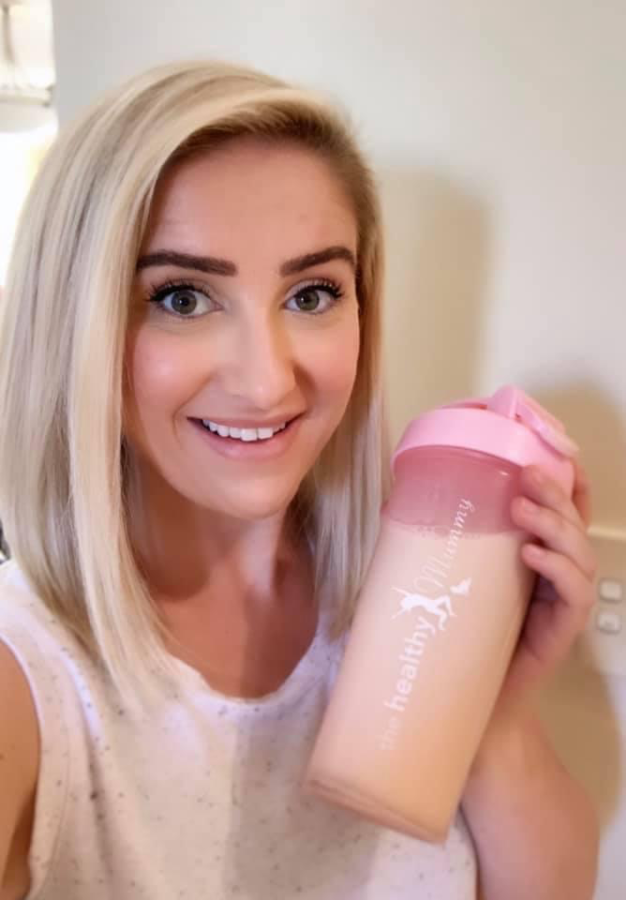 Elle says,  "I started using Healthy Mummy Smoothies back in 2014 after I had my first baby. I was searching for something breastfeeding friendly and something really quick to prepare with a newborn. I fell in love with the strawberry flavour but now I keep all different flavours on rotation so I am never bored."
"I love how filling the smoothies keep me up until lunch and the convenience of being able to consume them on the go. The smoothies have been a great way to sneak in lots of vitamins and minerals into my day to keep up my energy running around after a family.
Sandra Gee lost 22 kilos in her first year and believes Healthy Mummy Smoothies were a key part in her weight loss success.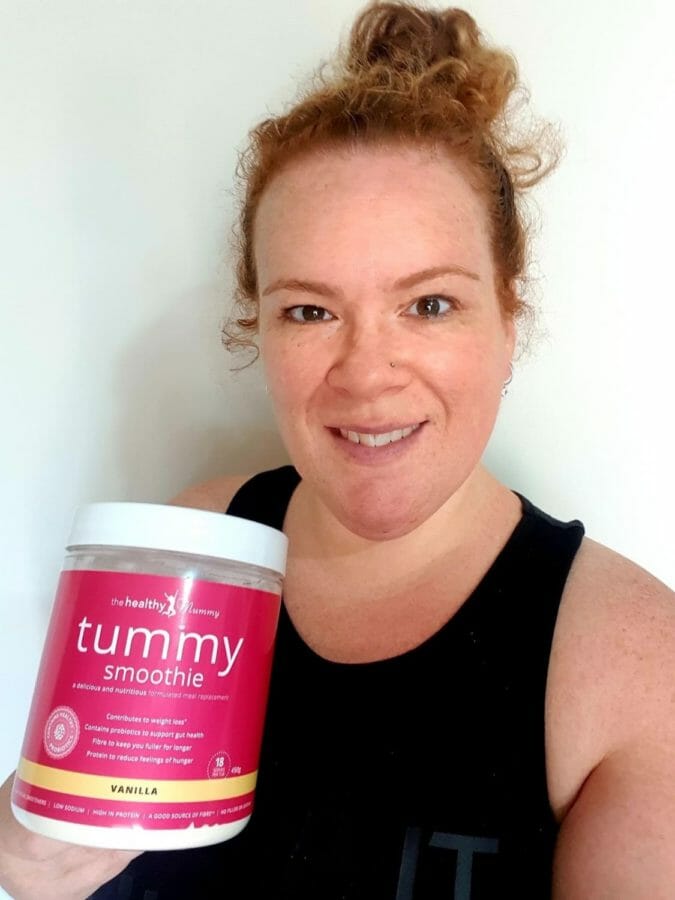 Sandra says, "I have been using the Healthy  Mummy Smoothies for the last 6 years and absolutely adore the convenience and versatility of them in my life.

The vitamins and minerals have helped improve my breastfeeding experience, increase my energy, and have benefited my health overall.

My favourite at the moment is the Tummy smoothie. As someone who has suffered from bloating, the added probiotics have greatly improved my gut health and reduced the pain and discomfort associated with dietary and hormonal bloating. I have also seen a greater lose of cm's on my stomach since starting them. 
The smoothies were a key part of my success with the Healthy Mummy and I truly believe that without their convenience I would not have lost 22kg in my first year."
Kate Kernan has lost 26 kilos and has made Healthy Mummy Smoothies part of her daily routine!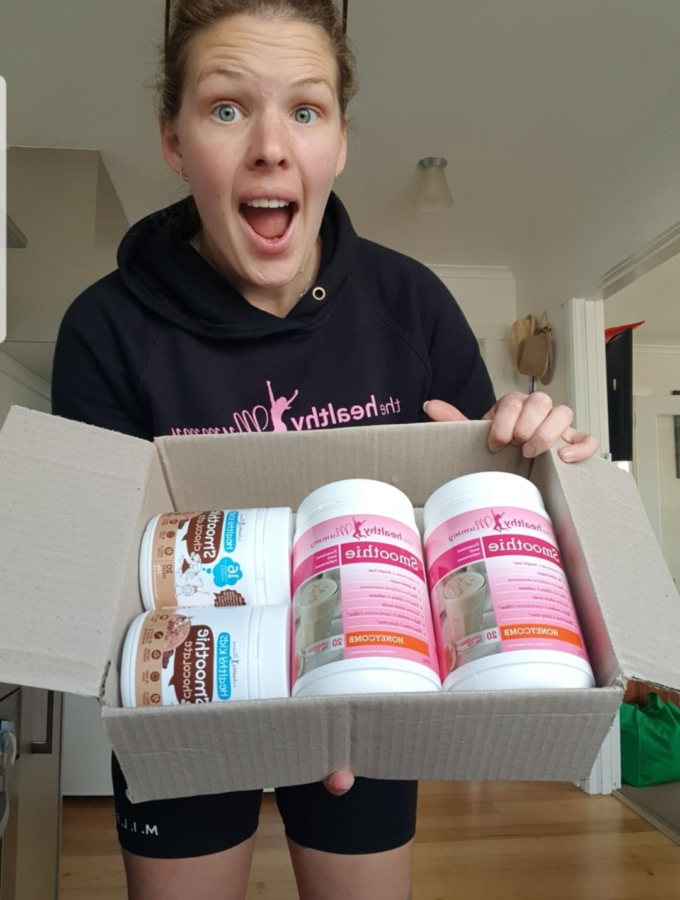 Kate says, "The Healthy Mummy Smoothies are my go-to! I have them daily for breakfast, sometimes lunch and dinner too.
There is something for every craving, no matter what I feel like at the time I have that option in all the different The Healthy Mummy smoothie flavours.

Rushing the kids out the door, it's typical to skip feeding yourself, but the Healthy Mummy smoothies make it SO easy to make a nutritious meal in 2 minutes to take with you and enjoy.

Packed full of vitamins, minerals, they are an awesome, delicious meal!  I love them!"
Fi Redding has lost 32 kilos with The Healthy Mummy and is still going!

Fi says, "The Healthy Mummy smoothies are AMAZING!!!!! I love how quickly I can make a delicious meal or snack to have at home or out and about. They are fantastic by themselves, or mix it up by adding fruits and vegetables!!
My favourite combination at the moment is chocolate, with added spinach and peanut butter. Fantastic for busy mums on the go!!!
Tegan Palmer has lost 30 kilos with The Healthy Mummy and loves the convenience of the Smoothies.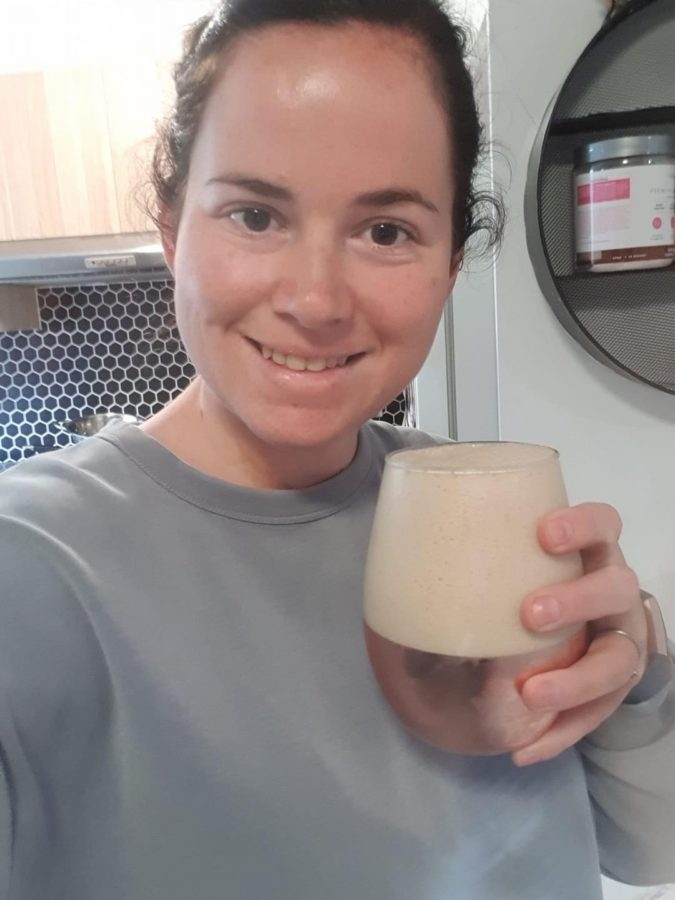 Tegan says, "I've been a Healthy Mummy for three years and have been having The Healthy Mummy Smoothies every morning for 2.5 years and I really credit them helping me to lose 30kgs.

The main reason I started using them was because they sounded convenient! And they seriously are. They are one of those things that are just so simple to make but taste delish and I take them everywhere with me.  They are quick and easy to make which has been such a huge help. 
I've been having Healthy Mummy Smoothies for so long now they are an automatic part of my morning routine. What makes the smoothies even better is that they can be used for any meal type, and they have definitely saved me with a few lunches and snacks."
Cassie McKay has lost 10 kilos and believes the Smoothies not only helped to lose the weight, now help to maintain it.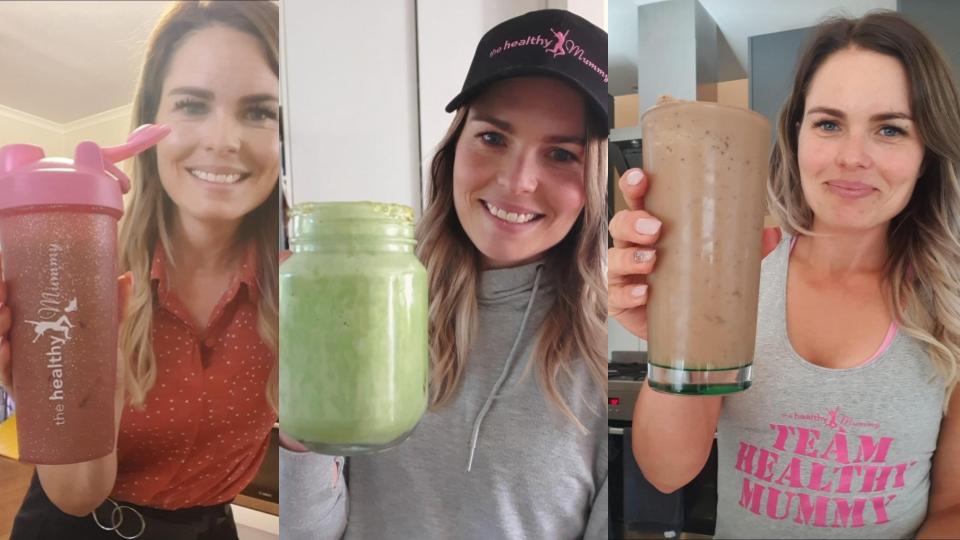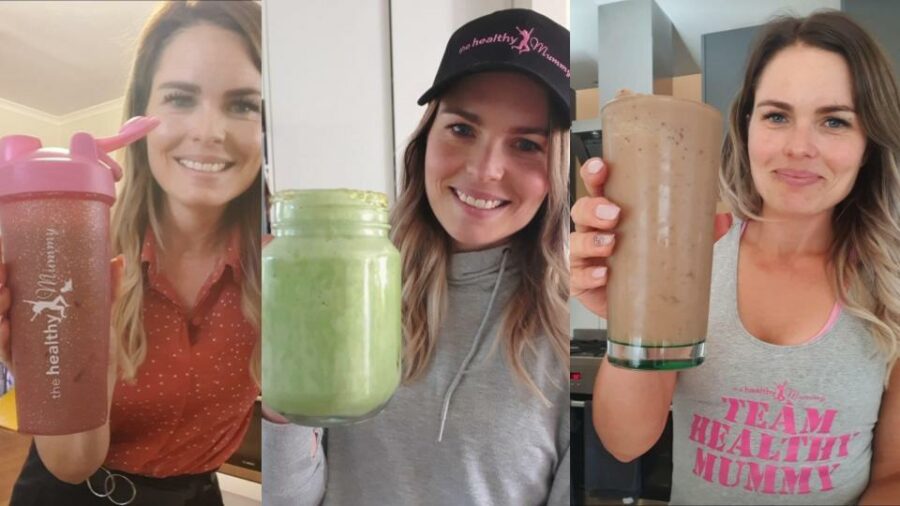 Cassie says, "The Healthy Mummy Smoothies have played a big part in me losing 10kg and maintaining that loss.

I used to think I didn't have time for breakfast,  which would lead to eating whatever was around and generally not making great choices.  It takes just a few minutes for me to make a smoothie and the great thing is I can take it with me to work, on the school run or to appointments."
Get your Healthy Mummy Smoothies Here
New Smoothie Range
Along with the original Healthy Mummy Smoothies, there is also now a Premium Range and the Tummy Smoothies with added Probiotics.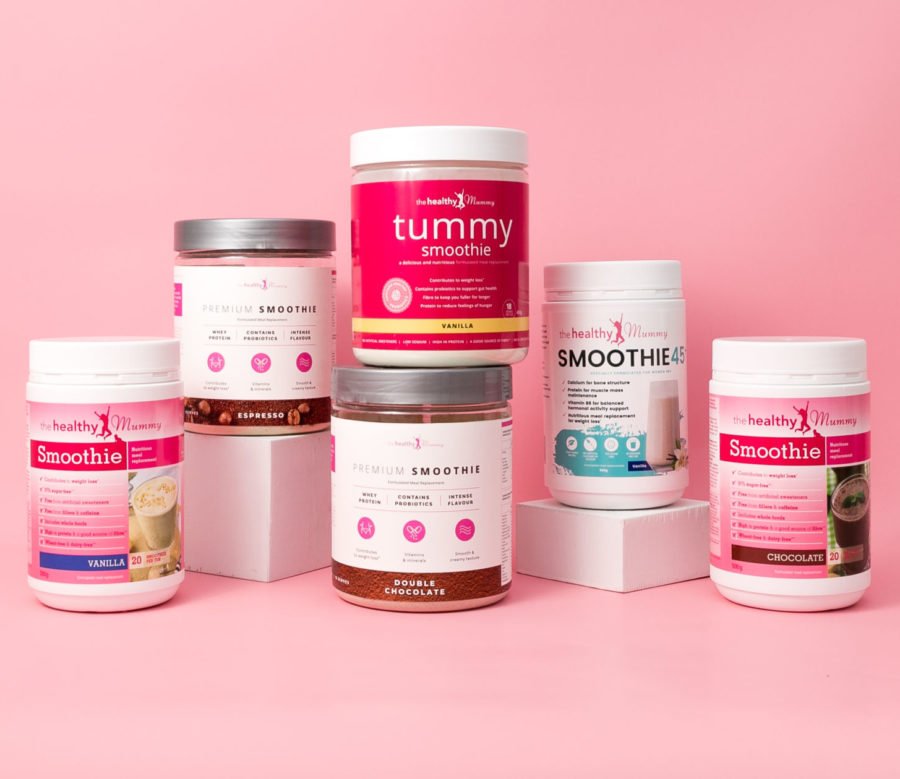 Find out what is the best weight loss smoothie for you HERE
More on The Healthy Mummy Smoothies
Our meal-replacement Smoothies have been formulated by leading nutritionists to be the perfect companion to a busy mum's life when trying to lose weight. They're breastfeeding-friendly.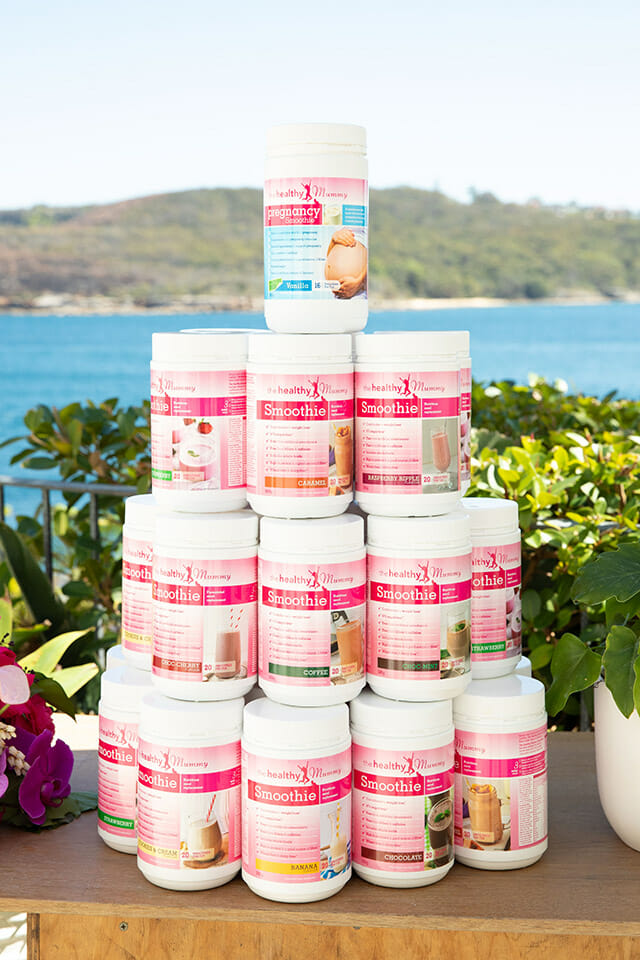 How can Healthy Mummy Smoothies benefit you?
Healthy Mummy Smoothies are an excellent source of essential vitamins, minerals, nutrients & important antioxidants
They don't contain weight loss accelerants, caffeine, gluten and are dairy-free. They are also a non-Genetically Modified product.
They can help with weight management when used as part of a diet and exercise plan
They provide the best possible nutrition for energy
They're breastfeeding-safe and are designed to help to support milk supply
They're 96% sugar-free and 100% fructose free
They're low GI & high fibre which helps you feel fuller for longer and aids digestion
They're quick and easy to prepare and taste delicious
They're high in protein & lower in sugar than any other product on the market – see a comparison table.
To learn more about our Smoothies and or to purchase yours CLICK HERE.