Simple tips for quick and healthy (and delicious!) smoothies
Looking for healthy smoothie recipes? Here's 5 great recipes and super simple tips for prepping.

Healthy smoothies… whether you use them as a snack, a treat, or a meal replacement, they're a great way to pack extra nutrients into your diet. But mixing in fresh fruits, vegetables, and milk can mean you'll need to set aside a lot of prep time. And who wants to roll out of bed and do a bunch of meal prep first thing in the morning?
Luckily, all of our favourite healthy smoothie recipes are really easy to prepare ahead of time!
We wanted to share tips for making your prep time more efficient, answer common smoothie questions we've heard in our community, and share some of our favourite Healthy Mummy Smoothie recipes.
Smoothie prep in 6 simple steps
1. Go shopping
If you're planning to enjoy at least one smoothie a day for the next week, you'll probably need to pick up some extra fresh fruits and veggies. So head to your local fruit and veg shop, farmers' markets or grocery store, and pick up your favourite in-season fruits and vegetables. Or grab the ingredients you'll need to make the healthy smoothie recipes we've listed below.
Tip: In-season fruits and veggies will be cheaper and taste better! But if you're in an off-season (you know, like that awkward part of the year where there's basically just apples), check out the freezer section and grab some delicious frozen mango, raspberries, and blueberries.
2. Gather your supplies
If you're going to prep your smoothies ahead of time, you'll need some extra, freezer-friendly containers to store them in. Our top choice would be some nice, big jam jars which you can save from your recycling OR buy from somewhere like Kmart or IKEA. But if you prefer, you could use zip-lock bags (they'll take up less space if you have a small freezer) or plastic containers.
You'll also need a sharpie or some kind of label making tool because you'll need to put dates and descriptions on all the smoothie mixes you prep.
3. Chop chop
There's no getting around it – nearly any healthy smoothie recipe requires some chopping! So grab all those delicious fresh fruits and veggies you bought and chop them up. Make sure your knife is nice and sharp because it'll make your life a whole lot easier. We like to have a nice big chef's knife, a paring knife, and a serrated knife on hand, depending on what we're cutting up. When you cut your ingredients, aim for around 1-2cm chunks so they're easy to freeze and easy to blend.
4. Measure, pack, and label
Now's the time to put it all together! Grab your containers of choice and divide up your chopped smoothie ingredients between them. You could follow one of the healthy smoothie recipes below or you could just mix things up based on what you think will taste good… experimenting can be the best way to find your new favourite flavours. Then seal up the bags or put your containers' lids on. Finally, it's time to label everything using your sharpie or label maker with:
What's inside
The healthy smoothie recipe you used (if you used one)
Any specific instructions for blending (like blend with chia seeds!)
What today's date is
When you need to use it by (we find it's best consumed within 3-4 weeks, but you could get away with using a frozen smoothie pack up to 2-3 months after you made it)
5. Freeze
Now it's time to freeze them! Try to arrange your jars or containers so there's a little breathing space between them for the cold air to flow through. While you're busy stocking up the freezer, now might be a good time to check if there's any expired food to chuck out or anything you can incorporate into this week's meals so you can create some more space.
6. Blend at your convenience
Take your frozen healthy smoothie mix out of the freezer and let it thaw for a few minutes. While you wait, you could set up your blender and grab the other ingredients. Then dump the frozen fruit/veg out of your jar, zip-lock bag, or container and into your blender. Next, add your chosen liquid – milk, almond milk, soy milk, and water are all popular choices. Finally, add your Healthy Mummy smoothie mix and any other dry mix-ins, like chia seeds and oats.
Blend it up until it's deliciously smooth (might take a few pulses or up to 3 minutes of blending). Then enjoy!
Check out our Meal Prep Queen Sascha's Smoothie hack to help you prepare.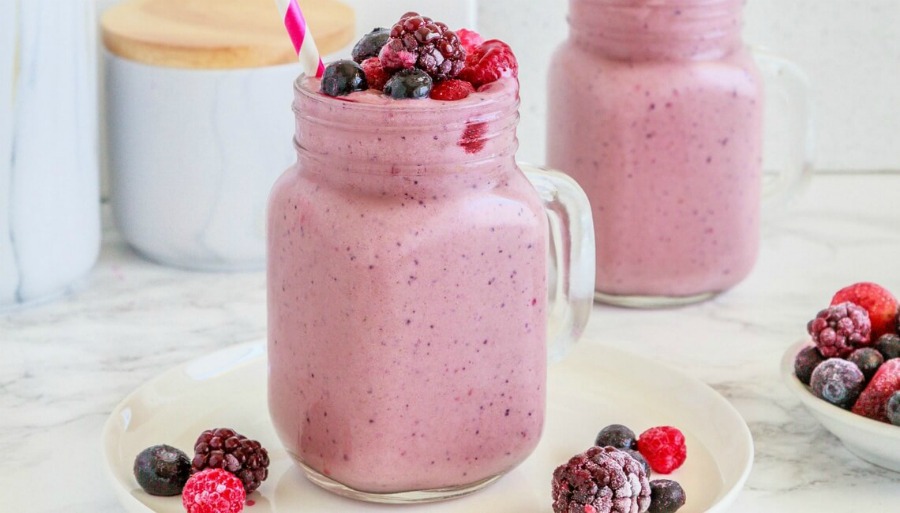 8 tips and tricks for enjoying frozen smoothies
Here are some handy tips from our Healthy Mummy community to help you get the most out of every healthy smoothie recipe you make:
Cut to size – cut your fruit and veg into smaller pieces (around 1-2cm) to help it freeze quicker
Freeze on trays – make it easier to blend up your frozen smoothie by spreading out your cut up fruit on trays lined with baking paper, then freezing them before packaging up. This will avoid the dreaded frozen fruit clump!
Thaw slightly – give your frozen smoothie mix a few minutes to thaw on the counter before blending, or sit the jar/ziplock bag in some warm water. The idea is that you want to be able to get the frozen fruit/veg out of the bag easily, but you don't want to completely thaw it!
Smoothie mix on top – adding the dry ingredients (like your Healthy Mummy smoothie mix) last will help you avoid getting a powdery patch stuck on the side of your blender
Frost is fine – don't worry if some of the frozen ingredients in your healthy smoothie recipe develop icy frost on them – it's just a bit of water and is safe to blend up and drink
Collect glass jars – glass jars are a great way to store frozen prepared smoothie as it's least likely to absorb odours from the other food in your freezer (and they're FREE if you reuse jars you've already got)
Remember food safety – if you're assembling a mixture of frozen and fresh fruit/veg for your pre-made smoothie jars, make sure the frozen fruits stay frozen so you don't end up thawing then re-freezing them – it's better food safety, that way!
Rinse your blender straight away – while we're talking about saving time and being more efficient… make sure you rinse out your blender straight after you use it and then flip it over to drain out properly. That way, it's super quick and easy to clean.
Our favourite healthy smoothie recipes
Whether you're looking for a fat burning smoothie or something to ramp up your nutrients without having to cook a full meal, we think you'll love some of our favourite healthy smoothie recipes we've listed below. Delicious, nutritious, and so easy to prepare.
1. Chocolate Nutty Weetbix Smoothie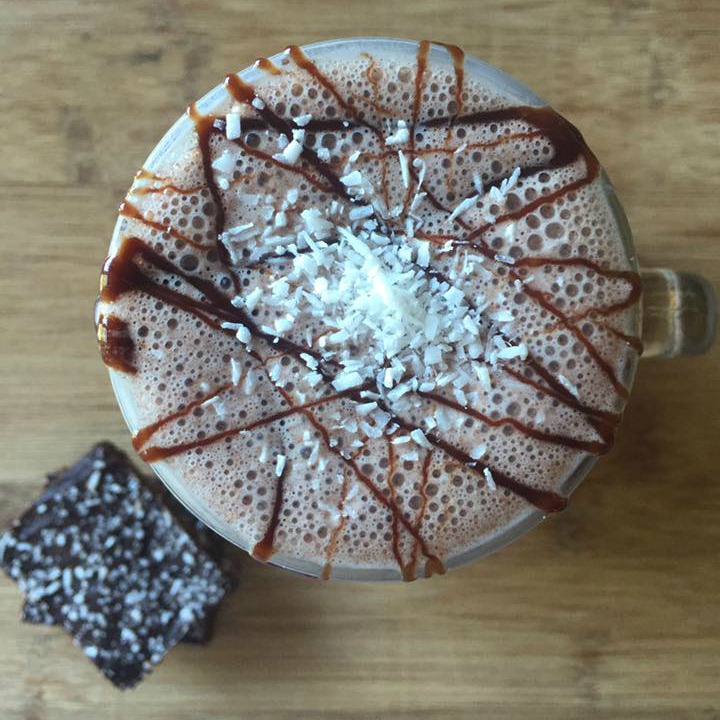 Every bit as good as it sounds – and perfect for the mum who loves chocolate and nut combos.
2. Caramel Cheesecake Latte Smoothie
This is just like a decadent iced coffee, but healthy!!!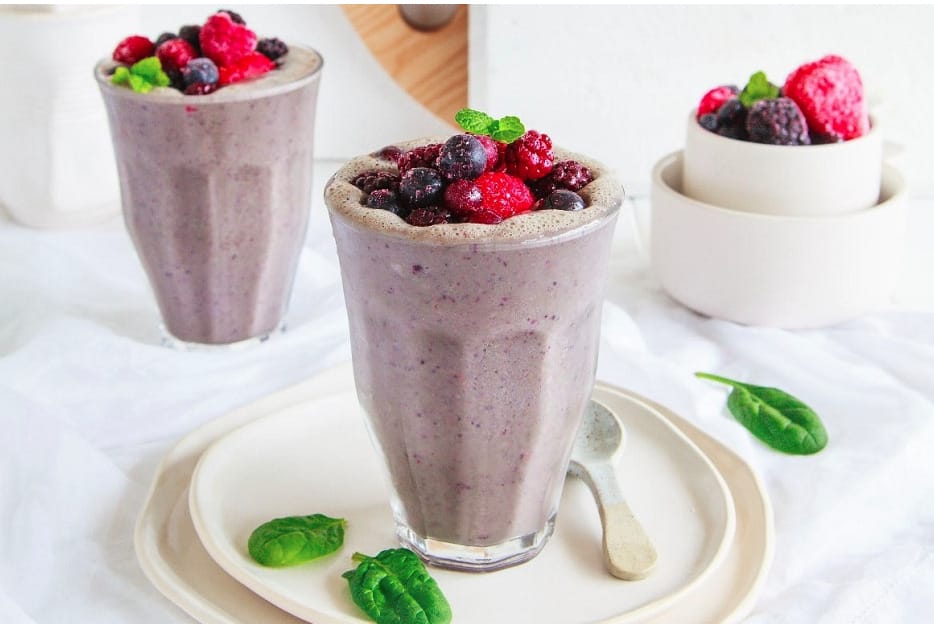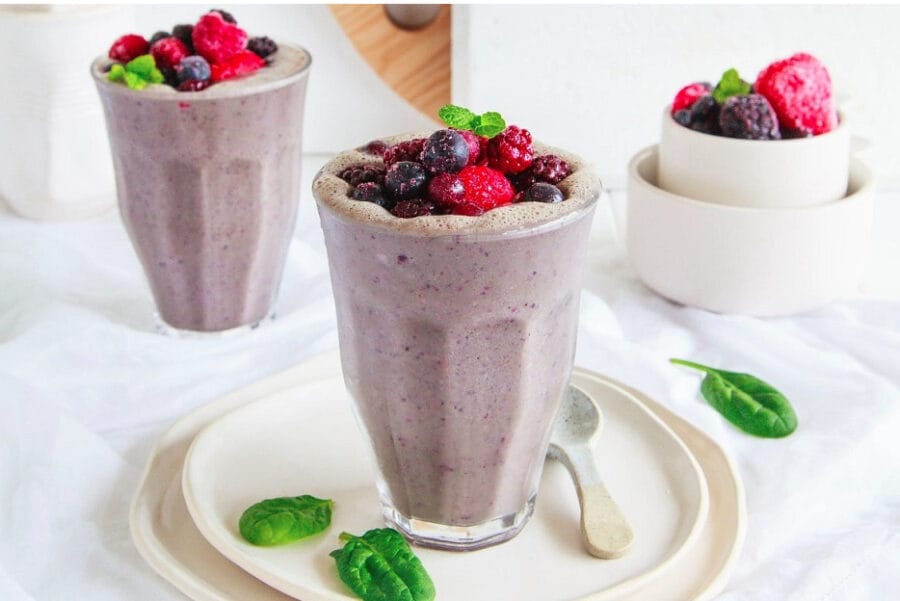 This is delicious and the antioxidants from the berries and greens help even out skin tone, and it looks so pretty too!
4. Biscoff Cheesecake Smoothie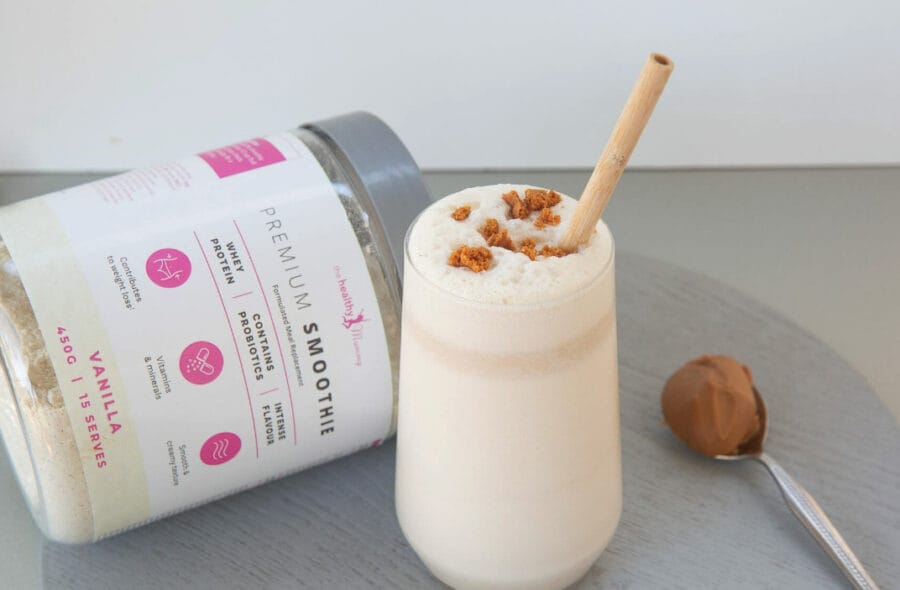 Rich and decadent, you can enjoy this smoothie for breakfast, snack or as a dessert totally guilt free.
5. Summertime Mango and Mint Smoothie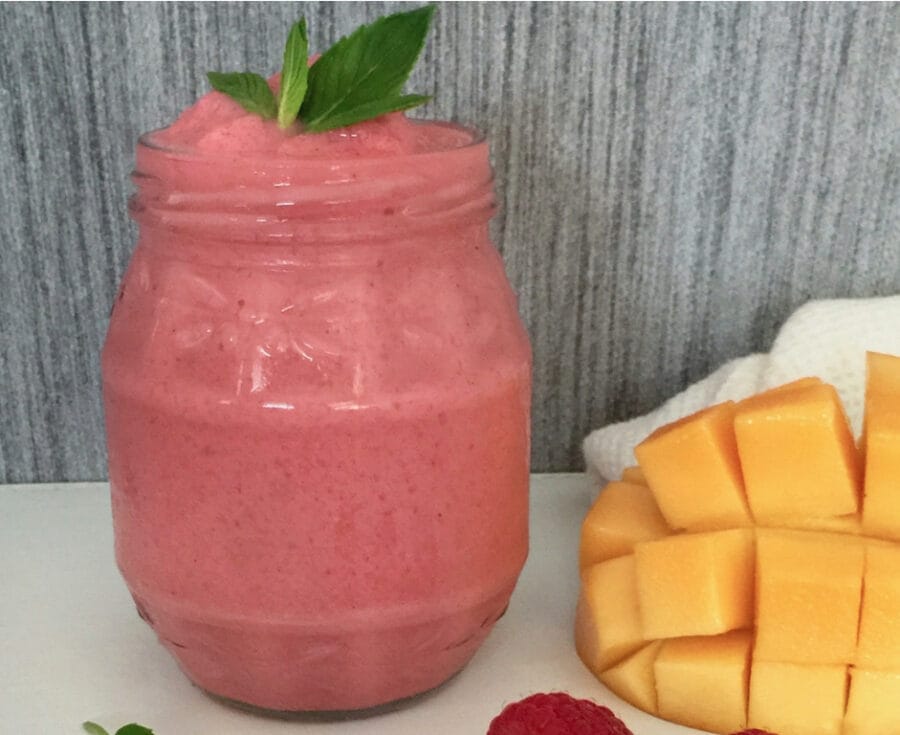 Always use fresh or frozen fruit but remember hat using frozen fruit will make the smoothie thicker.
Smoothie FAQs
What kind of blender do I need to make a frozen smoothie?
You'll need a fairly powerful blender to get your smoothie "smooth" when you're working with frozen ingredients for your healthy smoothie recipe. You might use a "bullet" style blender or a larger multi-blender. As long as it's got a sharp blade and goes fast enough to chop everything up into tiny pieces, it'll get the job done.
Check our picks for the top 5 food processors
Will a smoothie keep overnight?
Yes! If you've blended up a smoothie the night before, you can pop it in the fridge and it should be good to go in the morning. It might separate a little, but it'll still taste great. This can be a good option for enjoying a smoothie early in the morning without using a noisy blender, especially if the rest of your household is still sleeping.
Can you make your healthy smoothie recipe ahead of time?
Although you can blend smoothies up the day or night before you drink them and keep them in the fridge, the best way to prep a smoothie ahead of time is if you follow the steps above to chop, freeze, and pre-package your smoothie ingredients. Then all you need to do is blend it up and enjoy!
How long will a fruit smoothie last in the fridge?
A fruit smoothie will last up to 24 hours in the fridge. But if you leave it for more than an hour, it'll start to separate, leaving the fibres on top, and straight liquid on the bottom.
Skip the guilty shakes. This is a better way to Smoothie