The TODAY Show showcases the weight loss plan transforming mums lives
Channel 9 unveiled an online weight loss plan that's transforming the lives of Aussie mums and the best part, it puts an end to fad diets. With nine mums showing off their new body and body confidence.
Channel 9 unveiled an online weight loss plan that's transforming the lives of Aussie mums and the best part, it puts an end to fad diets.
The TODAY joined The Healthy Mummy team and nine amazing mums who have had their lives transformed by the 28 Day Weight Loss Challenge to celebrate eight years of The Healthy Mummy helping mums transform their lives, lose weight healthily and keep it off.
Nine mums who have lost 280kg show off their new confidence in a swimsuit shoot
After months of hard work, these nine mums have lost an incredible 280kg and transformed their lives forever.
After having a baby last year Amy Sims decided it was time to get serious about her weight losing 33kg. She told the TODAY Show, "I've always struggled with my weight and once I had my son, which was last year, I decided I really needed to do something whilst I was on maternity leave otherwise I just struggled to do anything. So I really threw myself into it and gave it my all and now here I am."
Kerrie O'Brien is normally in and out of hospital due to a heart condition and rheumatoid arthritis now at 48 years old and 18kg lighter she has never felt better. She told the TODAY Show "I feel so much healthier, fitter and don't walk around in mourning like an old woman anymore get out of bed and so energetic" and she is now strutting herself in a swimsuit.
So what's behind these mums weight loss success? TODAY chatted to Rhian Allen, founder of The Healthy Mummy, who said "It's about living a healthy life, it's about balance, I think if you try to lose the weight in a drastic and dramatic way I think common sense will tell anybody that if you don't maintain that it's
gonna fall off. So I think losing the weight in a sensible way, in a balanced way it means that you're gonna keep it off."
With more than 500,000 followers on Facebook where healthy recipes and fitness videos are posted regularly as well as amazing transformations and results from the mums who are part of the 28 Day Weight Loss Challenge.
Sarah Maynard has lost a massive 57kg and is loving life. The TODAY Show asked Sarah if she is hungry all the time her response showcases the best part of The Healthy Mummy 28 Day Weight Loss Challenge.
"No The Healthy Mummy you do not get hungry, you still eat pizza, you still eat pasta you still have burgers its just a Healthy Mummy version."
When asked what was the biggest change Amy has made to her diet and lifestyle, she said, "portion sizes and trying not to overeat, I think a lot of people struggle with comfort food and it's something I have in the past and just trying to tell yourself nope stop eating."
Kerrie added that she believed the old myth that you had to cut out carbs but continued, "that was wrong I eat so many carbs at six times a day my husband loves to tell everyone all I do is eat which sure yeah eating 2,000 calories a day you lose 18kgs."
Chatting to single mum of two daughter Samara Syed, TODAY asked about 'FEARLESS' the slogan Samara chose to have emblazoned on her black JETS swimsuit. When asked why she chose that slogan Samara said, "I know that before the weight loss and before finding The Healthy Mummy I was a very anxious person always worried about what other people thought of me, how other people were seeing me and I'm not anxious anymore I'm happy and I'm confident."
And some final words of inspiration and encouragement from Rhian,
"Life's too short to be scared of it lumps and bumps we have to enjoy it and your kids don't actually see that they just want to see mum hanging with them and running on the beach. I think it's a really important thing to empower yourself and empower your children to actually enjoy life."
Well we are definitely inspired by all the mums in The Healthy Mummy community.
Read more about these nine amazing mums and their weight loss journey.
If you too are inspired by these mums then join them on the 28 Day Weight Loss Challenge and transform your life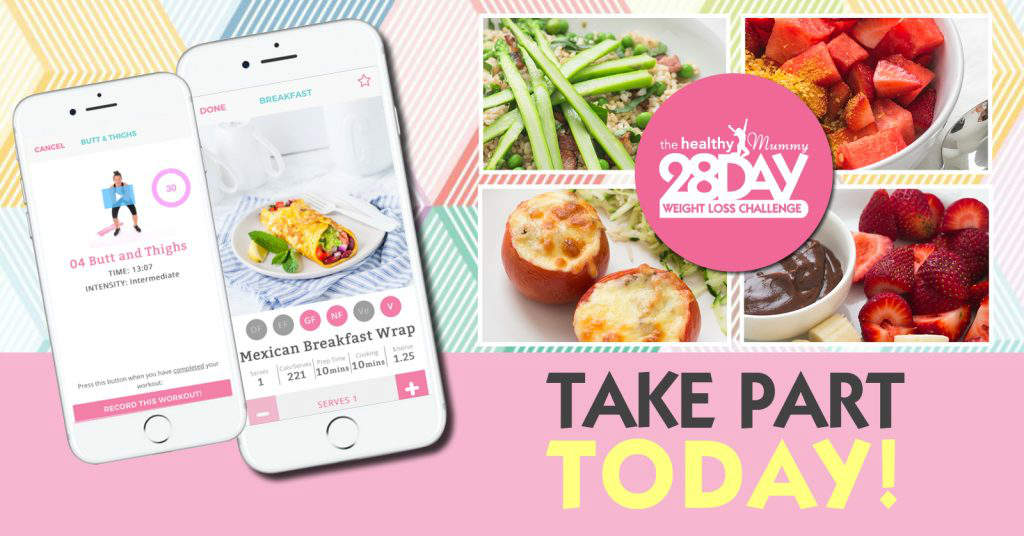 Taking part in the 28 Day Weight Loss Challenge means you get:
Nutritious meals designed to FUEL your body and help TONE UP
NO 1200 calorie restrictions so you don't go hungry!
Personalised shopping lists
Over 4,000 easy & family friendly recipes
24/7 support from thousands of mums
Find out more or sign up to the next 28 Day Weight Loss Challenge HERE.