10 amazingly creative and beautiful maternity photoshoot ideas
With all the changes going on in our bodies during pregnancy, embarking on a maternity photo shoot is often the last thing we feel like doing.
But once you have seen these 10 insanely creative and beautiful maternity photoshoot provided by our Healthy Mummy community mums, we hope you might be inspired to give it a go.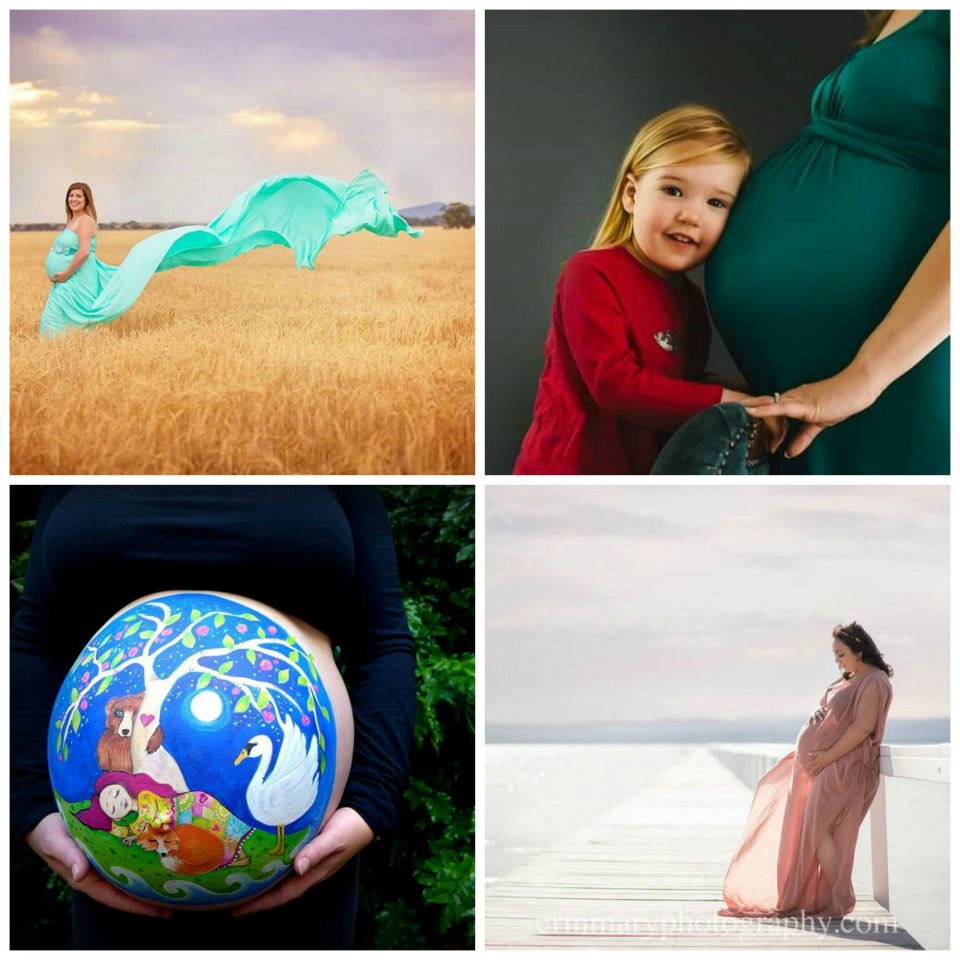 10 creative and beautiful maternity photoshoot ideas
1. Take a milk bath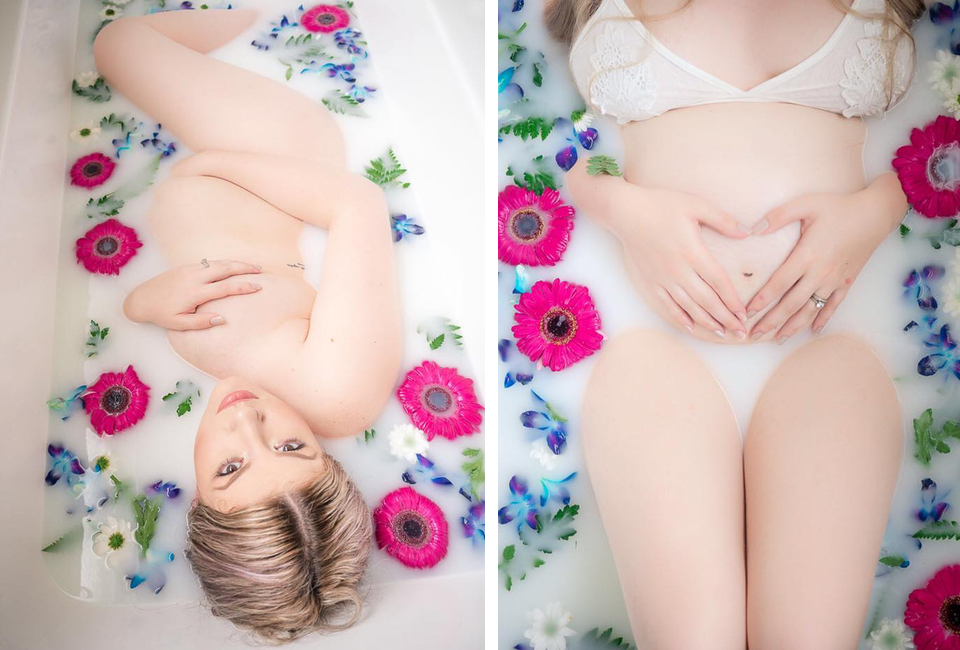 We love the artistic nature of this shot.  It's both colourful, yet calming and pure.
Briell O'Neil says she did the milk bath shoot in the comfort of her own home when she was 29-weeks pregnant.
"The overall process was pretty easy. We started off filling my tub with warm water and when it was around a quarter full; we began adding the powdered milk and cornstarch mixture. Then we used a whisk to evenly distribute the milk powder and cornstarch," she says.
"When the tub was about two-thirds full, I got into the bath and my photographer started positioning the flowers around me. From there it was all fun!
"The great thing about milk baths is the ability to create something unique and personal. I was able to choose the colours and flowers I loved. The blue orchids were a personal touch to me because they were my wedding flowers."
2. Wear a flowing dress with a long trail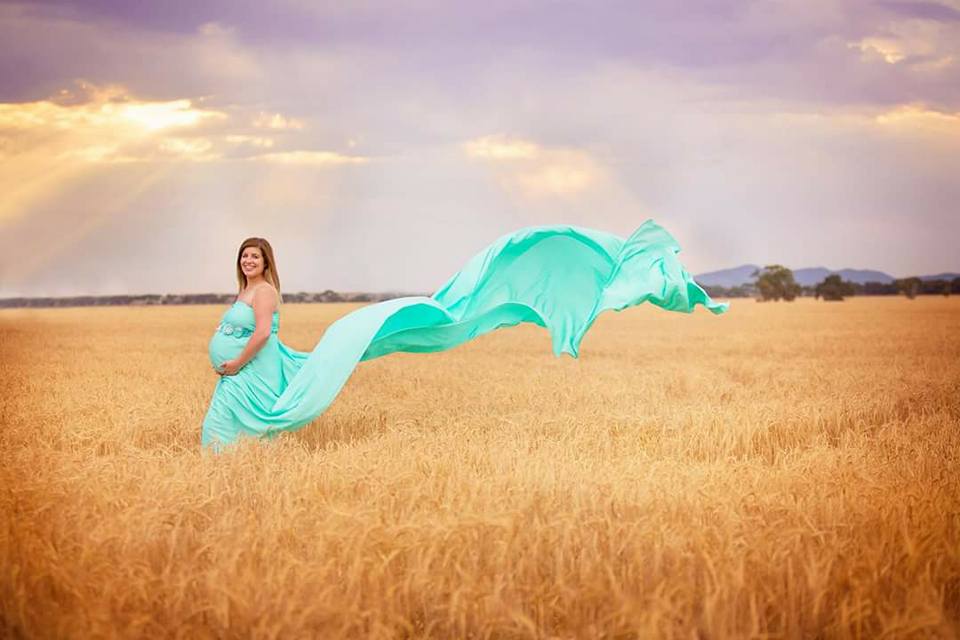 A flowing dress with a long trail swept up in the air creates a beautiful and powerful image. Almost like the mum has super powers, which of course we know all mums do!
Annette Palmer says she was 40-weeks pregnant in these photos and 'swollen like a champ because there was a week-long heat wave in Melbourne'.
"I had stalks of wheat poking me in all sorts of places! BUT when I got these photos back I very nearly cried. I felt beautiful," she says.
"To get the flying dress, my sister threw the material up and quickly got out the way. There may have been a little photoshopping too!"
3. Have your belly painted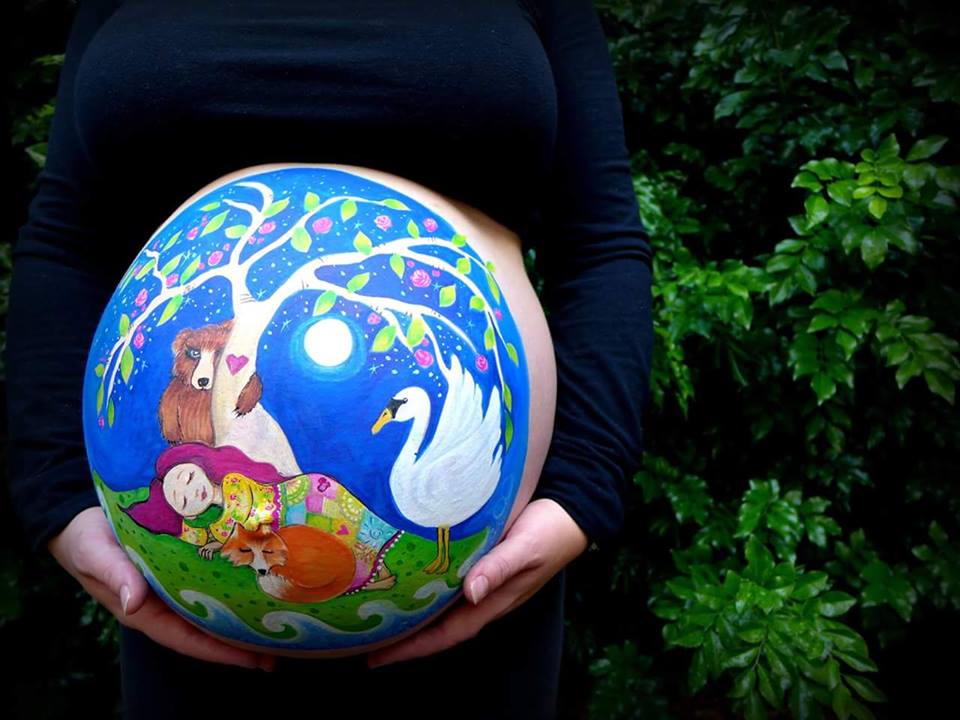 For something really unique, how about a belly art pregnancy shoot like Corrina McLean?
Corrina says she was 34-weeks pregnant when she had her belly painted by Kerriann from Colour FX Face and Body.
"I had been following her work online for a while and knew it was something I always wanted to do," she says.
"For my first baby we didn't know the sex but for my second baby we did. Kerriann came up with the designs each time.
"Each piece took around four-to-six hours to complete and I was sitting down during the process, with frequent breaks of course!
"Getting your belly painted feels amazing, I even fell asleep a couple of times!"
4. Embrace a country backdrop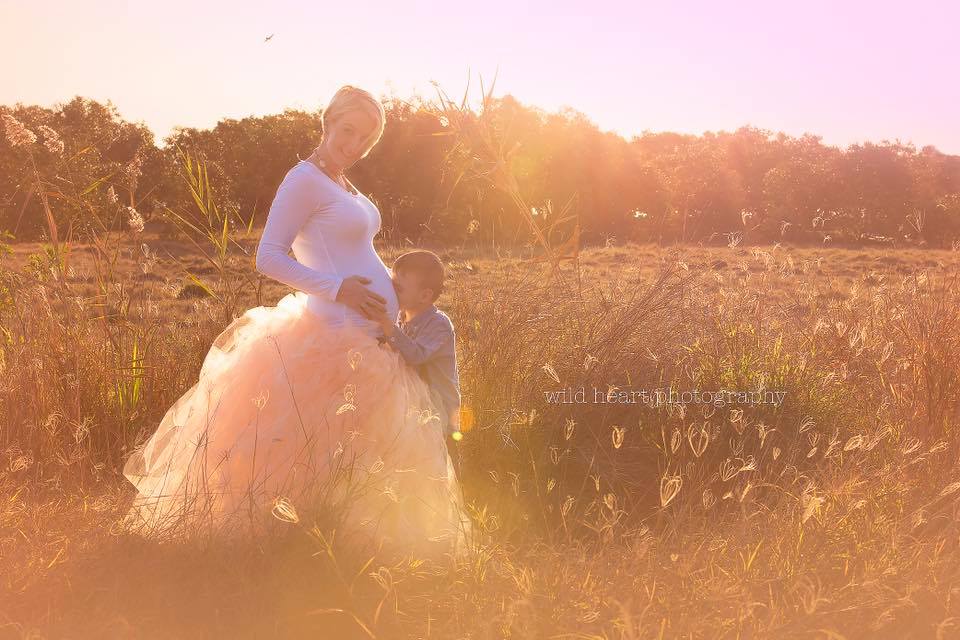 There is something magical and fairytale-like about wide open fields and countryside as a backdrop for maternity photos.
Kirsty Halliday was 22-weeks pregnant when she had her maternity photos done. The tutu style skirt enhances the romantic atmosphere of the shoot and her son kissing her belly is just the icing on the cake.
"My step-dad who was like a father to me passed away suddenly last year," she says.
"Knowing he would never be able to meet his new grandson I wanted a photoshoot that showed warmth through the lighting and colours to express the love between not only myself, son and baby, but the sky representing my dad."
Courtney Trotter also chose a country backdrop for her clever maternity photo shoot.
"We just love the country lifestyle and wanted our photos to reflect this. We lined up boots to represent each of our current family members and my husband and I stood in the background," she says.
This is totally adorable, right?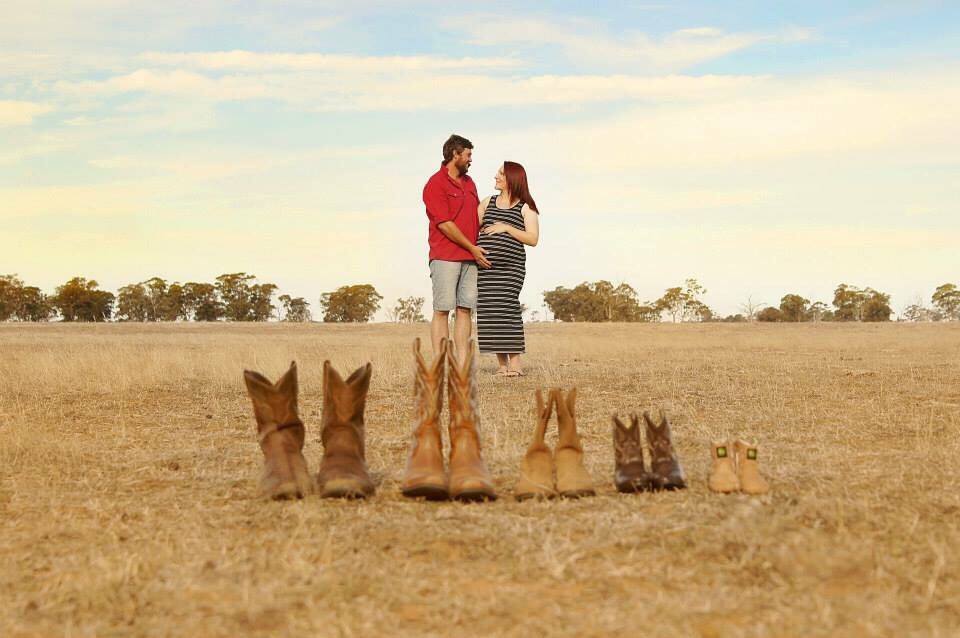 5. Go for reflections and high contrast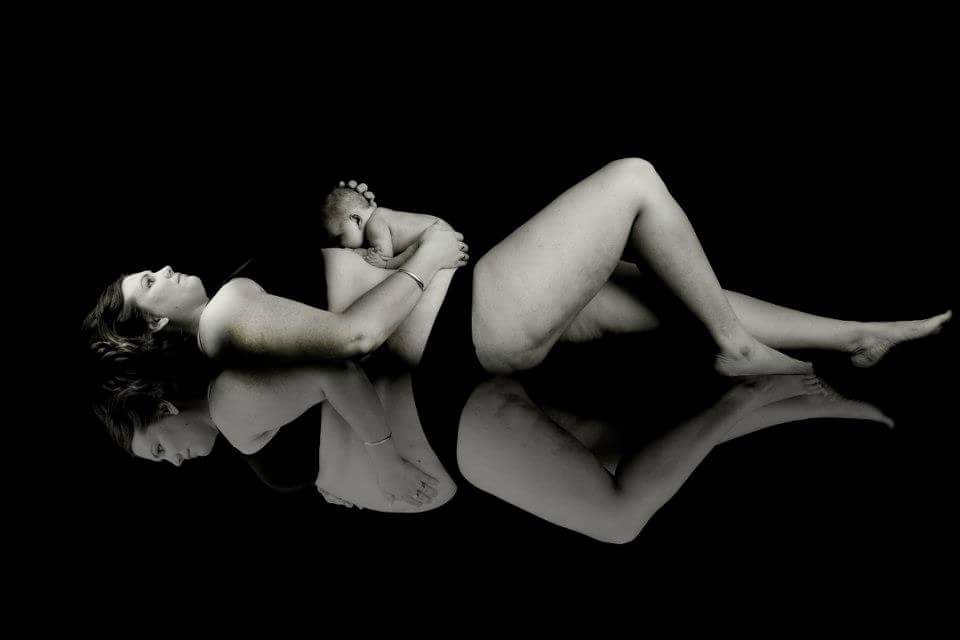 This may look like a simple reflection shot but upon closer inspection you will notice that it is two shots joined together. One is of Kirsty pregnant and the other of her with her baby on her belly.
Kirsty Pendlington says this is her favourite belly vs bub shot.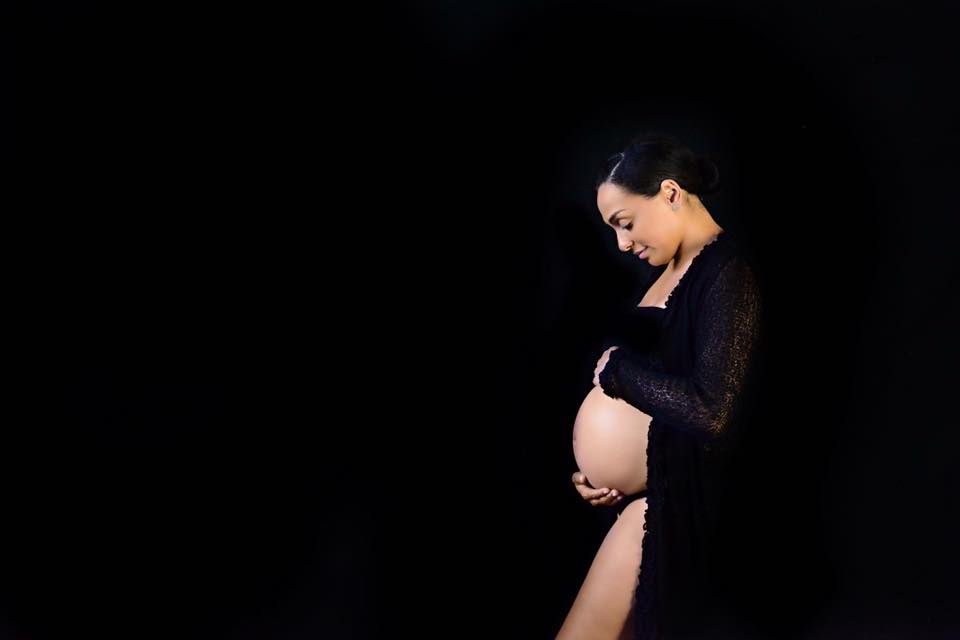 "I was 34-weeks pregnant with my second baby and the mirror image with my daughter on my tummy was at her newborn shoot around 10-days-old," she says.
"It wasn't a difficult pose, just a tad challenging with her as she was awake at that point in the shoot. I love how simple it is with the black background though so I'm glad we went that way."
Natacha Matheson also had a stunning photo shoot that she'll treasure forever.
"I've had a photo shoot for both my pregnancies as I think it will be nice to show my boys when they are older how I looked when I carried. A lovely memory for all of us," she says.
6. Wear a floral head dress or crown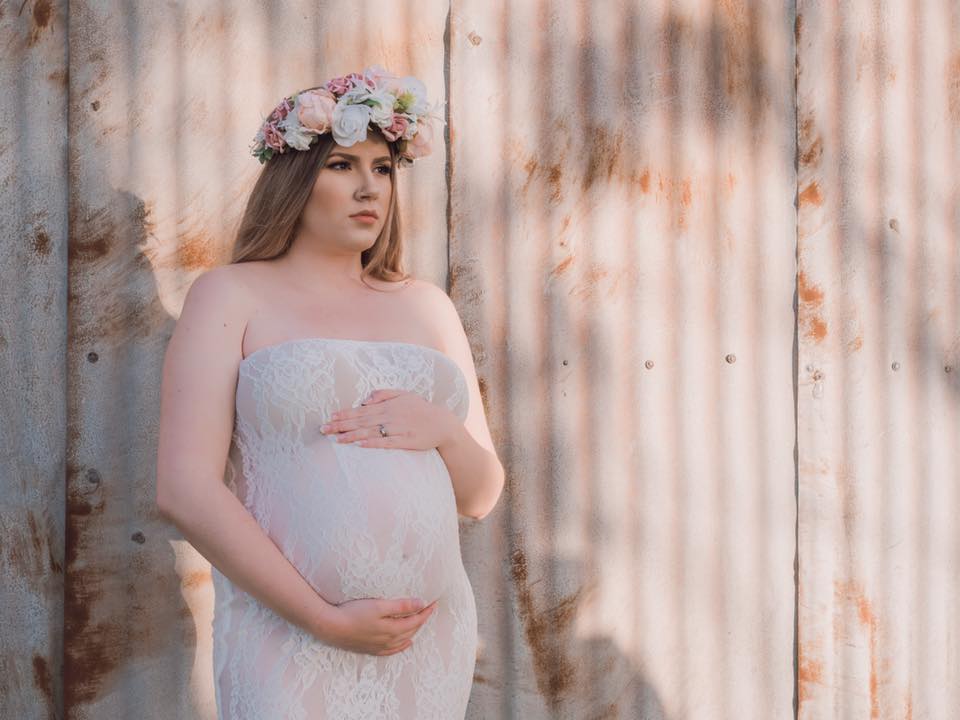 Floral head dresses and crowns are making a huge splash both in fashion and wedding photography. They look equally beautiful when worn in maternity photos. They can add a vintage, whimsical or bohemian vibe to your photos.
We love how Briell O'Neil pairs her floral head dress with a stunning lace dress to create a romantic, vintage vibe.
"With my first baby I really wanted to get maternity photos done but we didn't have the money. I told my husband come hell or high water that we would get them done with baby two," she says.
"We found a lovely photographer who has become my good friend and she has given us some AMAZING shots that I will cherish forever. I will never not have them done again."
7. Keep it fun and humorous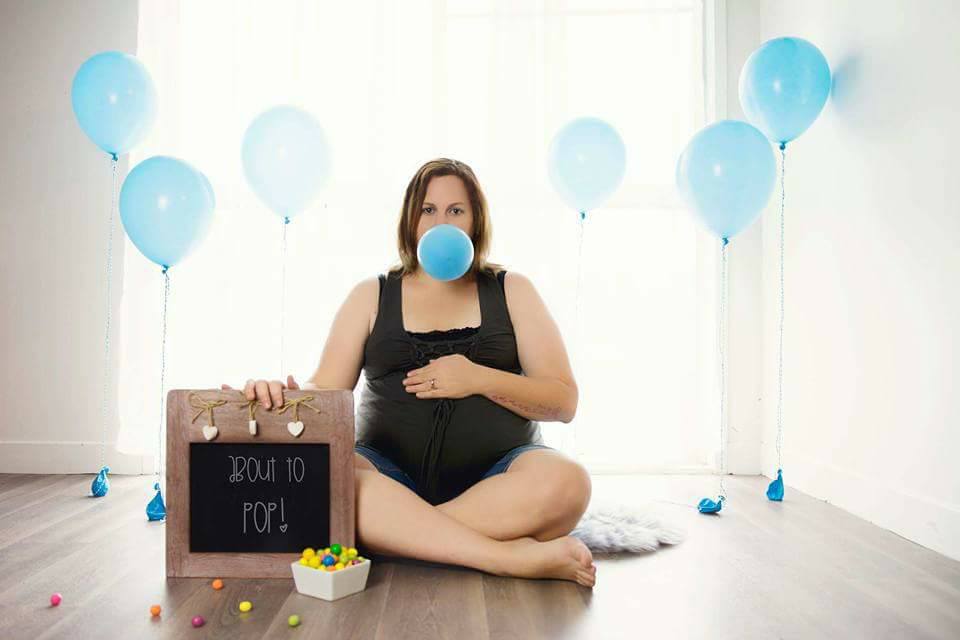 Not all maternity photos need to be serene and romantic. Here Sam Herbohn has chosen to capture her pregnancy in a fun and humorous way. We love the bubble gum and the sign that reads 'about to pop'.
Sam Herbohn says, "I decided to go for something fun and different for my photo shoot."
8. Try a silhouette shot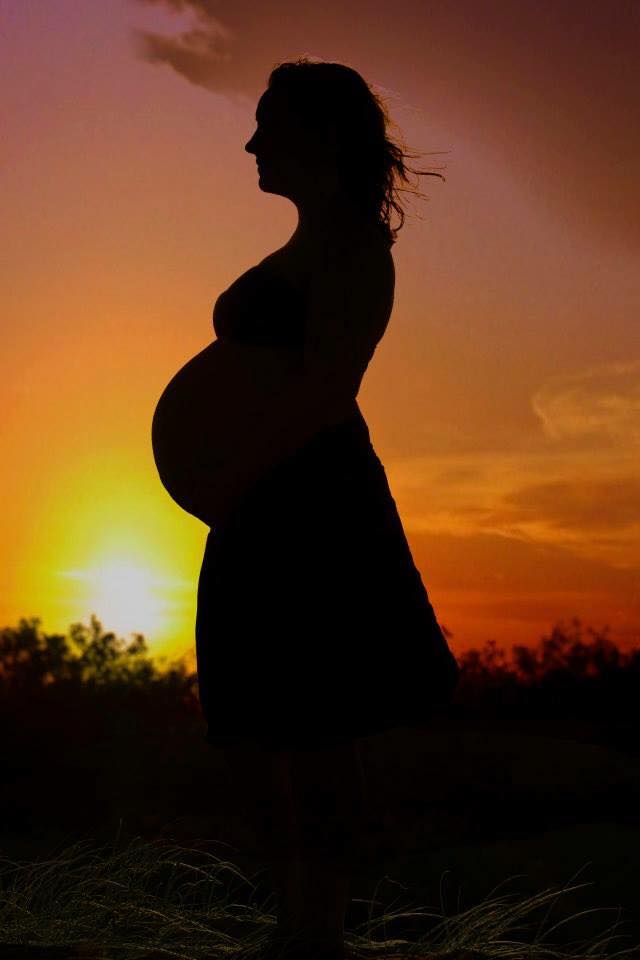 Silhouette photos are simple and always stunning. In fact these are pretty easy to do yourself. Grab your friend, have him/her face the sun during sunset while you (pregnant mum) stand in front of them.
Get them to focus the camera on the background  and snap away. The results will amaze you!
Libby Butler says she wished she'd gotten maternity and newborn photos with her first child.
"But I managed to convince hubby to let me do them with my second child. I'm so glad I did, I love them and I felt so beautiful," she says.
9. Include your children
Our children are the most important things in our lives so it makes sense to want to include older siblings in our maternity photos.
Although this is a maternity shoot, by dressing in green and shooting against a green backdrop Emma Horin's beautiful daughter becomes the star of the photo.
And who can blame her. What a beautiful face and a touching moment as she leans in and bonds with her unborn sibling.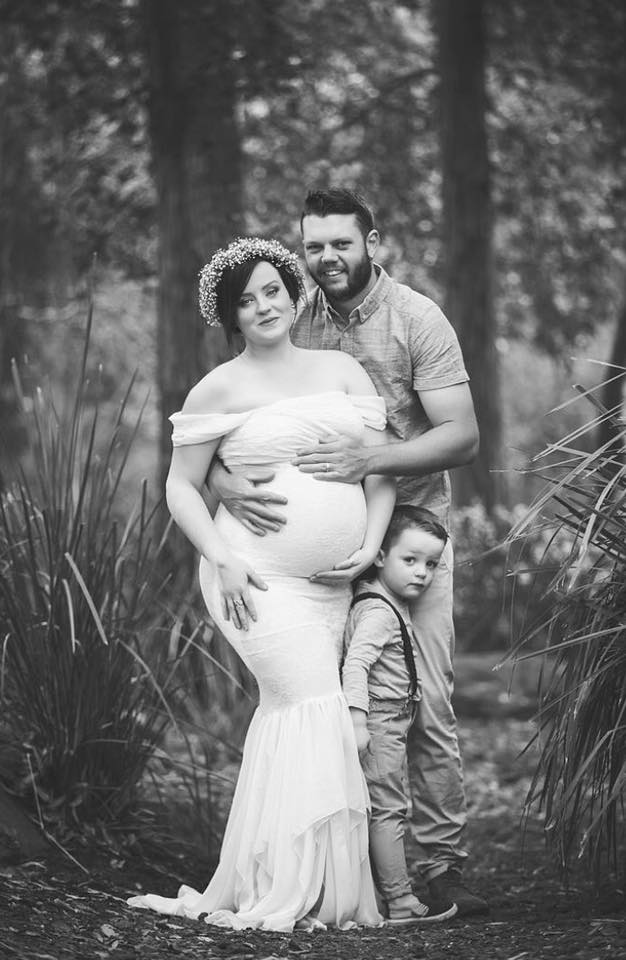 Chloe Paul and hubby also chose to include their son in their photo, and doesn't he look adorable?
To create an image with old-world elegance, they chose black and white photos. We love the composition of the family members and blurred out background.
"I think maternity photos are a beautiful way to celebrate your body and all the wonderful changes you go through becoming a mumma," she says.
"This is before we became a family of four. A photo I will cherish and a lovely keepsake for my kids to look on later in life."
10. Head to the water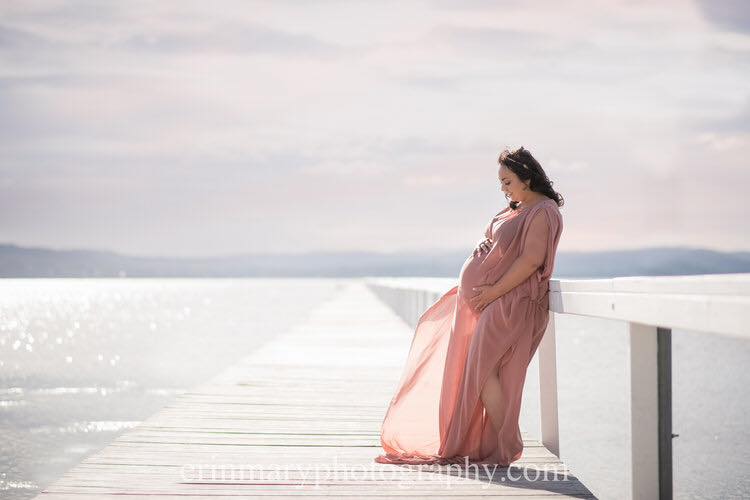 There is nothing more calming than water, so if you are looking for beautiful relaxed maternity photos head to a lake or seaside to capture the serenity.
We love the soft tones in Natasha's dress and how the jetty just disappears into the background.
Natasha Harrison says she was 34-weeks pregnant in her maternity photos.
"I had my hair and makeup done for them and felt like a million dollars. First time ever having maternity photos taken and if I was to ever have another baby, I will certainly do it again," she says.
"Thanks to following The Healthy Mummy free recipes and Facebook support groups I only gained 9kgs* this pregnancy, my third.
"So even though I started out off this pregnancy at my biggest, I didn't reach the weight I was with my daughter."
Check out how this mum embraces stretch marks in stunning pregnancy shoot and you will be stunned at this woman's unique photo shoot. 
To join thousands other pregnant mums receiving tips, advice and support for maintaining a healthy pregnancy, join the Healthy Mummy Pregnancy Support Facebook group.
You might also be interested in reading about our Pregnancy Smoothies.
The Healthy Mummy Pregnancy Smoothies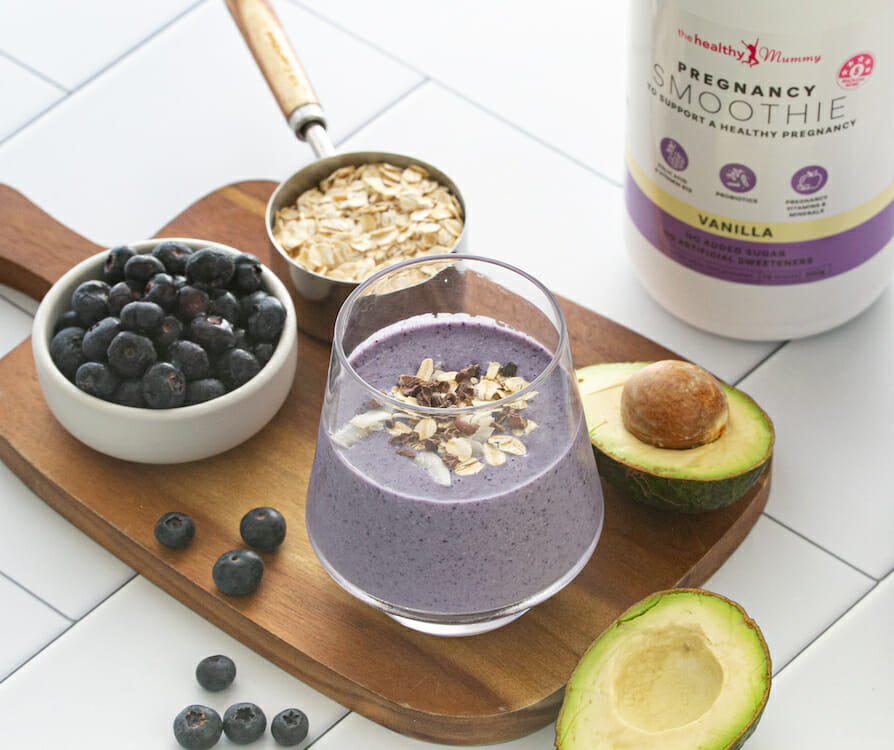 Are you currently pregnant? Then you should try our yummy Healthy Mummy Pregnancy smoothie.
The Healthy Mummy Pregnancy Smoothie is designed to complement, not replace, your prenatal vitamin intake. Our nutritionists ensured that the vitamins and minerals in the smoothie are at a low level so there is no risk of doubling up on any pregnancy vitamins.