3 reasons you WILL WANT TO go for a RUN this weekend.
Three Healthy Mummy mums share three reasons you will want to go for a RUN this weekend and they are not about weight loss and fitness.
For many mums, 'run' and 'fun' do not belong in the same sentence.  But maybe it is time to reconsider?
Three Healthy Mummy mum's share three reasons why you will want to strap on your trainers and go for a run this weekend.
And their reasons might just surprise you!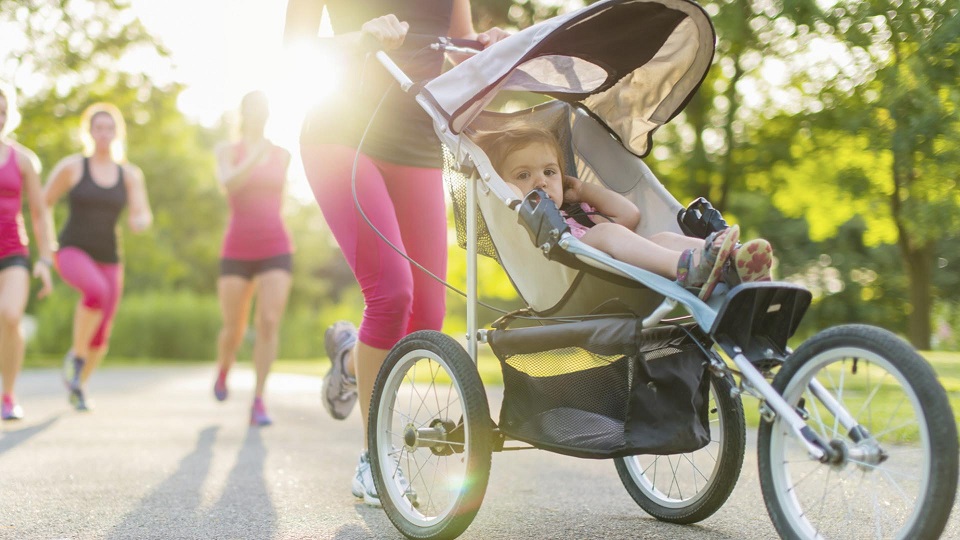 At The Healthy Mummy we have seen thousands of our members get into running for two simple reasons. They want to get fit and lose weight.
These are two very good reasons, yet in addition to the health and weight loss benefits, there are other reasons to give running a go.
Three Healthy Mummy mum's share their running experiences, and why you should try it
1. Your kids will love you even more
Sally Stepniewski says "One of the things I'm most proud of as part of my Healthy Mummy journey, is the role model I've become.
Little Miss 5 has been watching me run and wanting to run 'just like mummy.'
Well, today she joined the Junior 10 ParkRun Club and I couldn't be prouder!"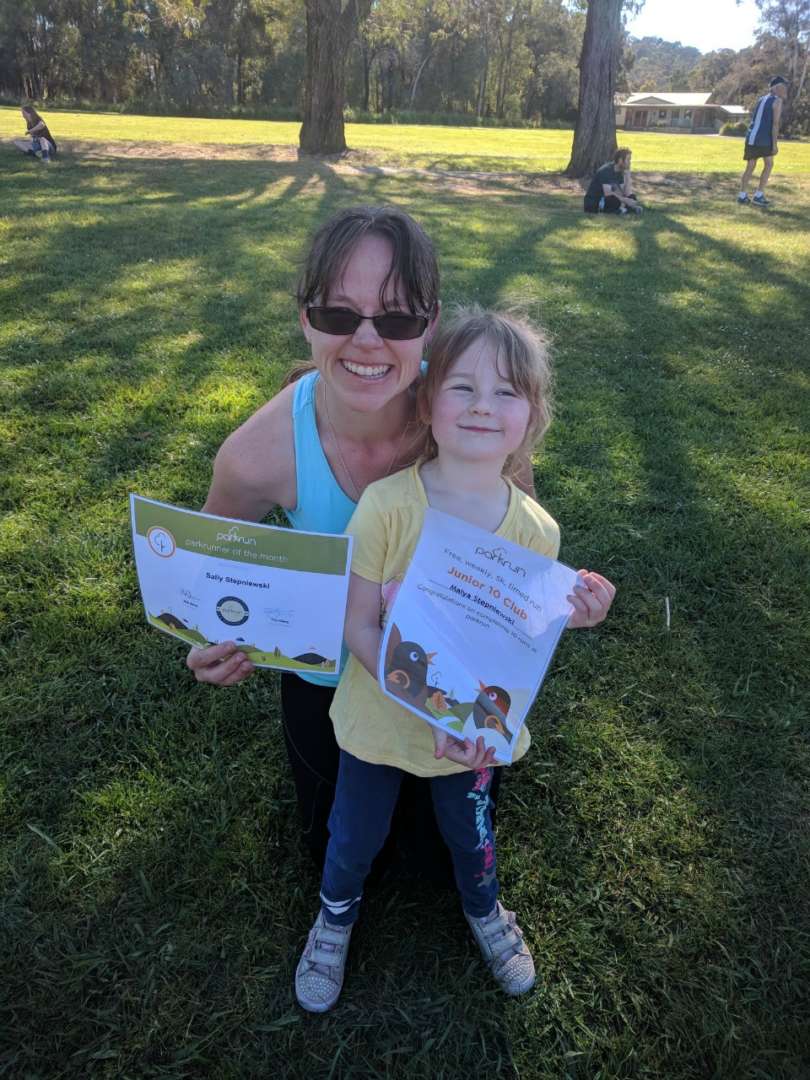 "Most impressive bit is her PB is currently at 34:46 – which for a 5-year-old is massive!
I don't make her run – she can go at any pace she wants – sometimes we run, sometimes we walk and look at the ducks – it's all her choice and we love spending the time together.
Just to add to an awesome morning – they announced me as Parkrunner of the month!
From never having run in my life one year ago, to being here today! Just wow.
Be the best role model you can be – they're always watching and want to be just like us!"
The Healthy Mummy team are so proud of you too Sally. What an inspiration you are to your daughter!
2. You'll meet new friends and enjoy the comradery and support
Phoebe Phillips says "Triathlon Pink was on in Sydney this morning!
Whilst I only completed in the fun run (I don't actually own a bike) I just wanted to give a massive shout out to the beautiful Healthy Mummy I saw competing in the triathlon itself!
I passed her many times while she was doing the ride leg".
Phoebe says she didn't know the other mum's name but noticed her black and silver Healthy Mummy top and wanted to say "you looked absolutely incredible, determined and strong doing your triathlon and I was so proud of you, even though I didn't know you!
I left before the triathlon had finished but I'm so hoping you see this so you can tell me how you went! Fantastic job Mumma!"
The Healthy Mummy team couldn't be prouder of both of these mums and hearing about mums supporting other mums like this has just made our day!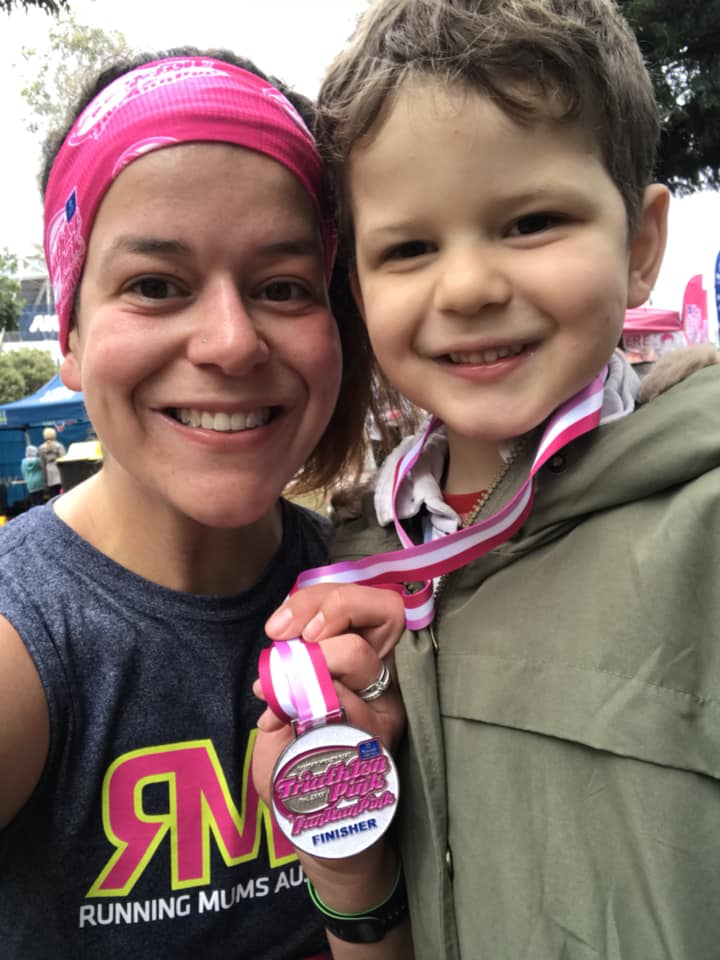 Phoebe competed in the 6km fun run and says "I finished in under 33 minutes and did a 5km PB too!
Never in my wildest dreams did I ever think I'd be able to run anything, but here I am doing fun runs for fun".
Hearing her son and husband cheering her on from the sidelines Phoebe said, "my heart melted!"
Way to go Phoebe!!! Congratulations on beating your personal best and thank you for being an example of why we love our supportive community so much!
Read more of Pheobe's Healthy Mummy story here.
3. The fresh air and exercise will make the whole family happy
Beth Azzopardi says "On Saturday my family does Parkrun together! We have been doing it since my youngest was eight weeks old!
We have made it our routine. It's our family time and exercise all in one.
Today I ran pushing my 2-year-old and my 4-year-old ran beside us (it was his 12th Parkrun.)
He loves it and just wants to run like mummy and daddy.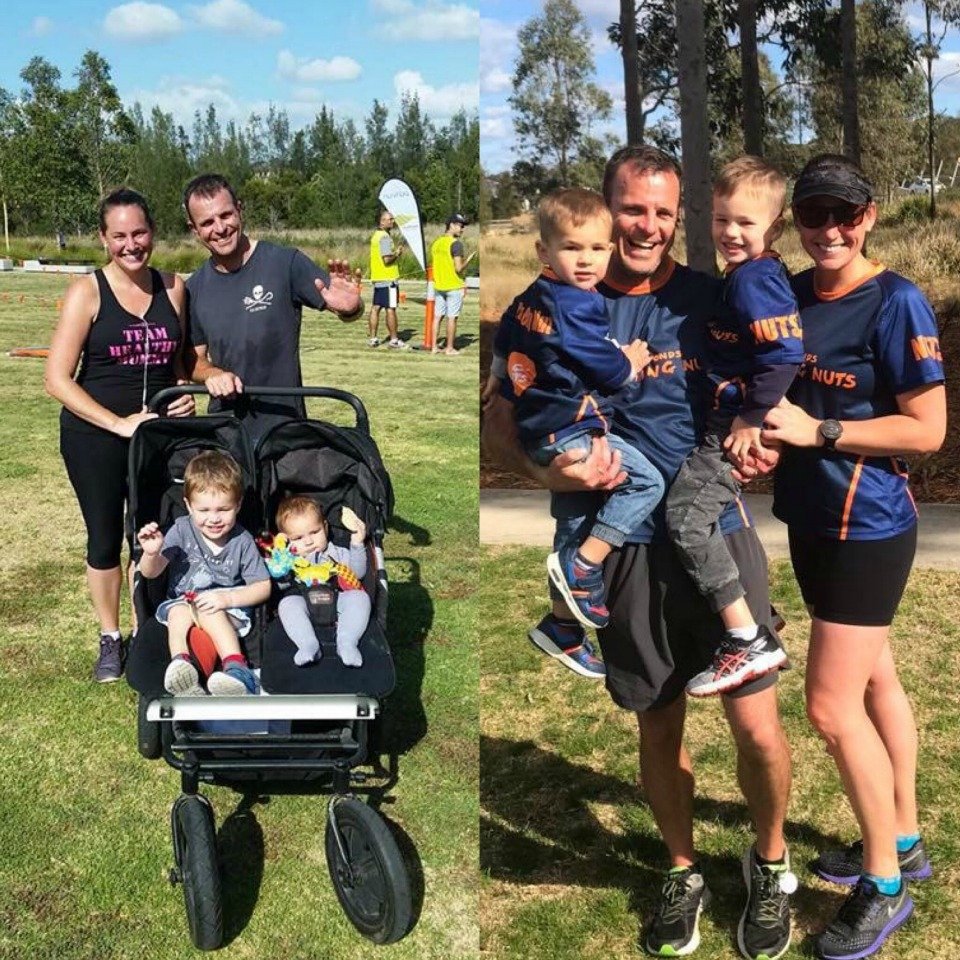 The photo on the left my youngest was 5 months. The one on the right was today nearly two years later".
Wow Beth! From those big smiles we can tell the whole family are having fun and that makes us very happy too!
We hope that you are inspired by these mums to get out in the fresh air this weekend and have a go. A simple run around the park with your kids can be way more fun than you ever imagined!
Are you ready to become a Healthy Mummy?
If you are wanting to lose weight and improve your energy – not to mention – help improve your overall health and wellbeing – our 28 Day Weight Loss Challenge is an awesome program to check out.
Our 28 Day Weight Loss Challenge includes:
28 days of at home exercise routines (no gym needed) – with video instruction
Customisable and breastfeeding friendly meal plans (including 7 Day Cleanse)
Time-efficient exercises for busy mums – under 30 mins
Challenge combines Pilates exercises with interval and circuit training (HIIT)
Suitable for basic to advanced fitness levels
Home to thousands of EASY-TO-MAKE recipes!
To learn more about our 28 DAY WEIGHT LOSS CHALLENGE CLICK HERE or purchase our Smoothies.