Take a break from chicken with these 7 HEALTHY pork recipes
While chicken is an awesome lean white meat, don't overlook pork as a healthy protein option. Try these 7 recipes from the 28 Day Weight Loss Challenge.
If you're trying to eat slightly less red meat, you probably have chicken on your meal plan rotation. While chicken is an awesome lean white meat, don't overlook pork as a healthy protein option. It's just as delicious and budget friendly and is a great way to jazz up your mid week dinners.
Just make sure you're using the right cut of pork. Pork belly and pork shoulder are higher in saturated fat but trimmed pork chops, tenderloin and pork loin are high in protein but also low in saturated fat. Lean pork mince is also a great alternative to beef mince for things like Bolognese or burgers or meatballs.
Pork is a rich source of vitamins and minerals your body needs to function like iron and zinc. It's also an excellent source of high-quality protein. Minimally processed, lean, fully-cooked pork eaten in moderation can provide certain benefits when added to your diet.
Plus, it's so versatile! You can make a million different types of meals, from curries, to cutlets, to dumplings. And it tastes great! Try it in some of these amazing recipes from the 28 Day Weight Loss Challenge!
7 Pork Recipes (when you're fed up with chicken)
1. Slow Cooked Pork Ramon – 390 calories
This is seriously delicious! Just 20 minute prep then let the oven do all the work to give you succulent pork. This is a great recipe for your meal prep so you have pork on hand for the week.
Healthy Crumbed Schnitzel – 395 calories
Who doesn't LOVE a pork schnitzel! This is a great mid-week budget and family friendly meal, using pork sizzle steaks.
Asian Pork Dumplings – 280 calories
If you've never made dumplings, it's time to give it a go! It's really easy and a great way to get the kids involved. Have them as a snack or add steamed greens or rice as a main meal.
BBQ Pulled Pork Fajitas – 495 calories
Get the slow cooker cranking for your next Mexican night! The pork and sauce go into the slow cooker for a good 12 hours for a yummy pulled pork served in  tortillas.
Oven Baked Pork Meatballs – 364 calories
This is recipe uses lean pork mince and konjac noodles for a lovely cheesy meal that will be a hit with the whole family.
Pork Fillet Jungle Curry – 424 calories
This is an easy to prepare and tasty Thai inspired curry that only takes 10 minutes to prepare and 25 minutes to cook. You can adjust the chilli level to suit your family.
Pork and Vegetable Ragu – 385 calories
You can't beat a good pasta dish for a mid week meal. The pork mince works really well with a tomato based sauce for pasta providing a more delicate flavour than beef.
Want more recipes like these? Join our 28 Day Weight Loss Challenge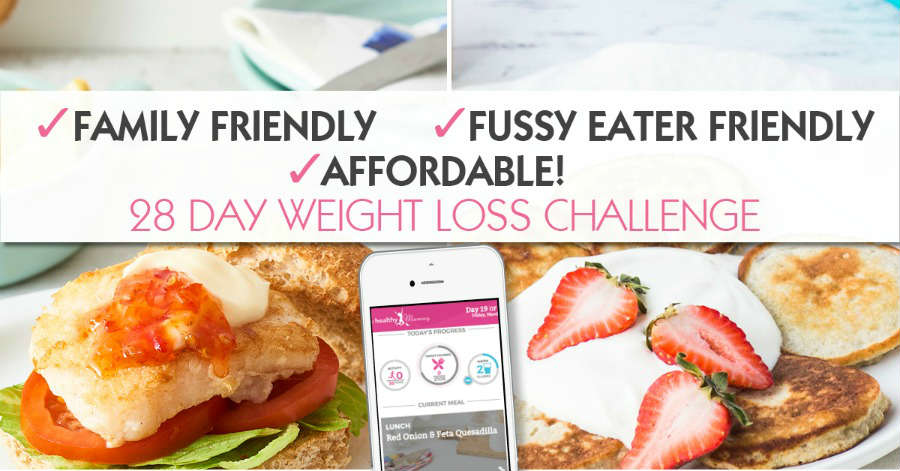 Want to shift your baby weight but feel like you have NO TIME in your day to exercise and eat healthily? That's where the Healthy Mummy's 28 Day Weight Loss Challenge can help.

Our Challenge entails: 
28 days of at home exercise routines (no gym needed) – with video instruction
Customisable and breastfeeding friendly meal plans
Time-efficient exercises for busy mums – under 30 mins
Challenge combines Pilates exercises with interval and circuit training (HIIT)
Suitable for basic to advanced fitness levels.
Home to thousands of EASY-TO-MAKE recipes.
To find out more on the 28 Day Weight Loss Challenge click here.